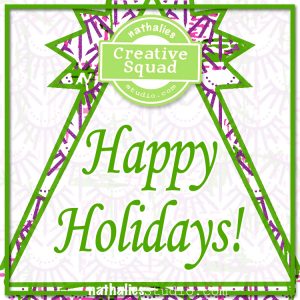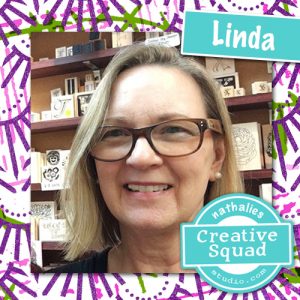 Hello from my Creative Squad and a post from Linda Edkins Wyatt today! Linda is sharing a unique project with a special New Year message. She's using my Manhattan and Broadway stencils and my Versailles foam stamps, and this month's theme: Happy Holidays – It is a time of year where we are celebrating and coming together and enjoying some merriment. Create something holiday related (whatever holiday you may be celebrating) and enjoy the season!
---
This month's theme for Nat's Creative Squad is Happy Holidays, and we're honoring the time of year where we not only reunite with friends and family, but also hope and plan for the coming year. One of the traditions in the art community is choosing a "word of the year" to represent the artist's hopes and dreams for the year ahead. In my online Facebook Paper Doll Trading group, we are exchanging flat paper dolls with New Year's wishes. I decided to go a step further and make a 3-D paintbrush doll to usher in the New Year.
My fascination with paintbrush dolls really started a few years ago when I began seeing them on Instagram and Facebook and in art and craft magazines. I finally broke down and ordered a kit from Retro Café Arts, and I'm sure glad I did. I have made two so far, and they adorn my studio storage space and paintbrush caddy. I recently rifled through our toolboxes and found an assortment of deliciously grungy used paintbrushes.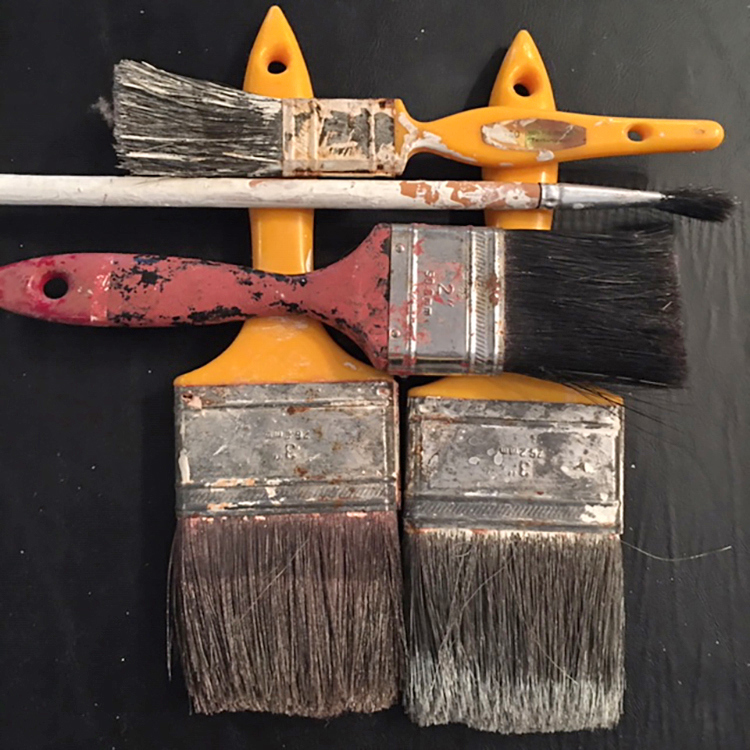 Naturally I wanted to use Nat Kalbach's stamps and stencils for my New Year's Paintbrush Doll. The trouble was deciding…which of her stamps and stencils should I use? And in what colors and textures?
I started by doing a quick test of my paintbrush doll idea using an assortment of Nat's stamps and stencils with black ink on white cardstock and created a working model of what I had in mind with her Broadway stencil.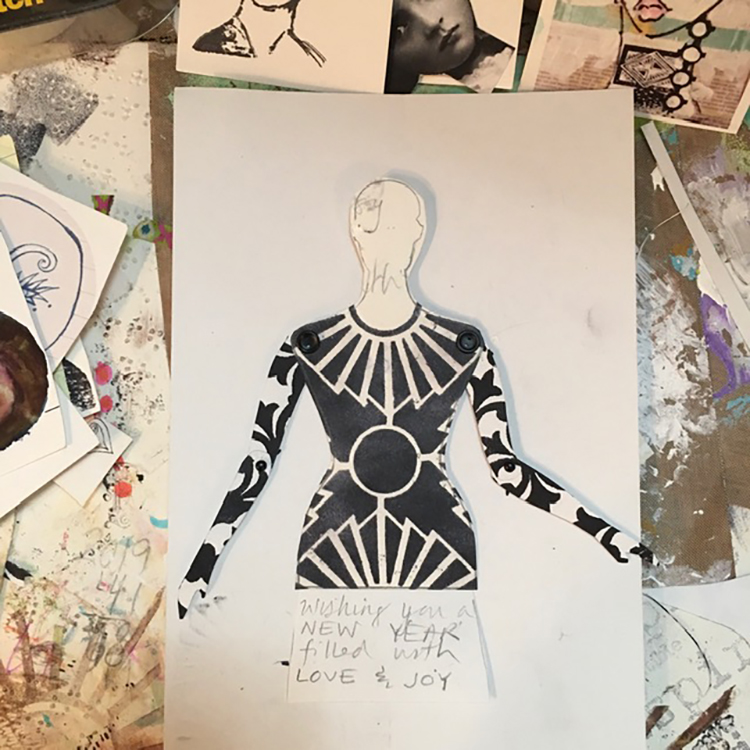 Next, I tested faces. Since I make a lot of paper dolls, I keep a box of parts handy. I rifled through it looking for just the right face. I had trouble deciding as you can see in the "audition" photo.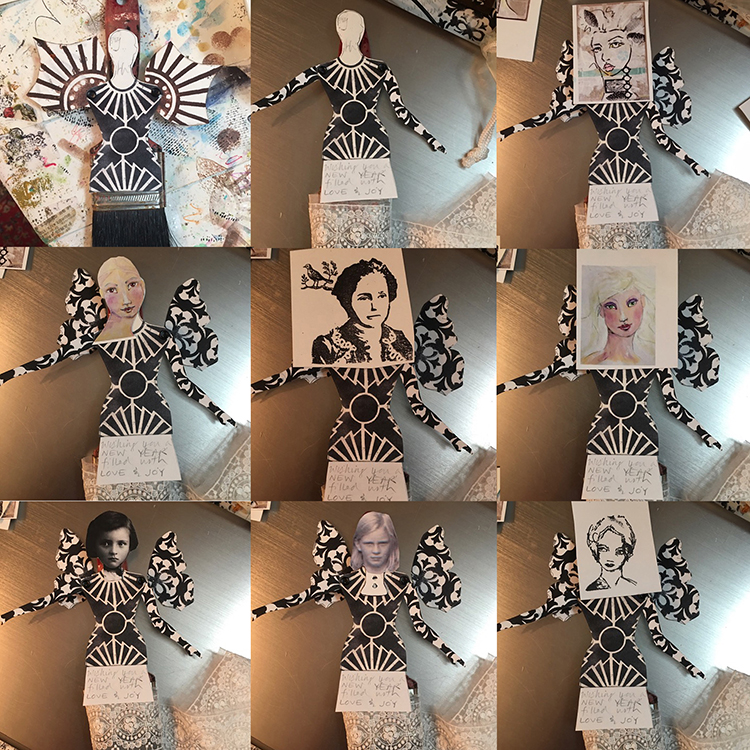 I snapped photos of each, then put the faces aside for later and concentrated on the body. I mixed up my favorite paint colors, got out my favorite embossing powders, and got to work. I placed the Retro Café Arts template over the finished papers to decide what I liked best.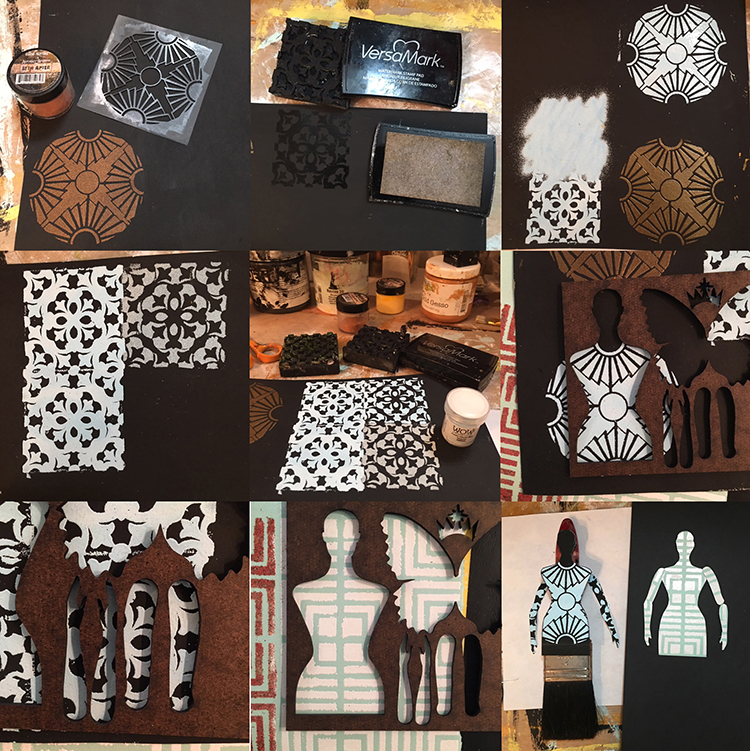 It turned out that I had two favorites (the Manhattan stencil done in white embossing powder on pale green painted paper, and the Broadway stencil done with ice-blue embossing powder on black cardstock), so I decided to try something I had never done before: making a two-sided doll! I also decided to use printouts of butterflies from The Graphics Fairy for wings rather than the wings that came with the kit.
For the black and ice-blue Broadway stenciled body, I cut arms from the mini Versailles art foamie, also printed in blue embossing powder on black paper. I added a strip of the mini Versailles print under the body.
Due to the width of the paintbrush, there would be about a ¾" gap between the two sides of the paintbrush doll. The backsides were a bit messy, so I decided to use some of the extra stenciled paper and extra faces to "line" the back of both dolls. (The reverse side is mostly hidden, but the extra elements add a little mystery to the finished piece.) You can see the interior section on the bottom left photo.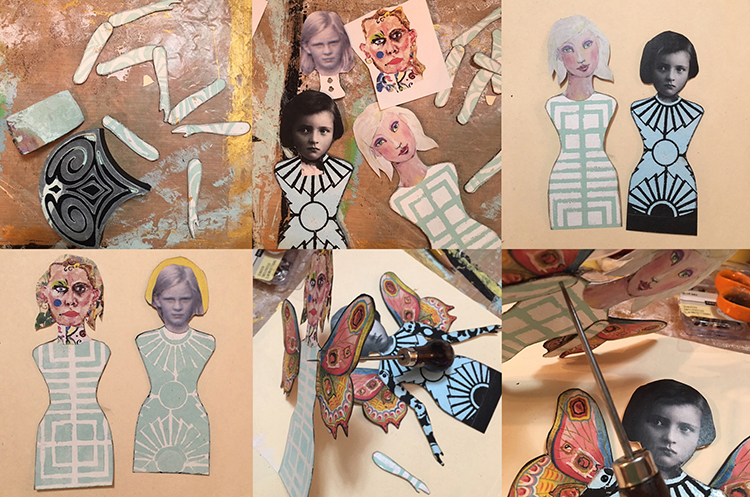 Once I selected the face, cut the bodies, and attached the arms and wings with mini brads (so they could be moveable and posable), I used E6000 glue to attach the doll bodies to the paintbrush handle. So that the doll could be hung, a short length of ball chain was threaded through the hole in the paintbrush handle; a tiny metal connector was used as a closure.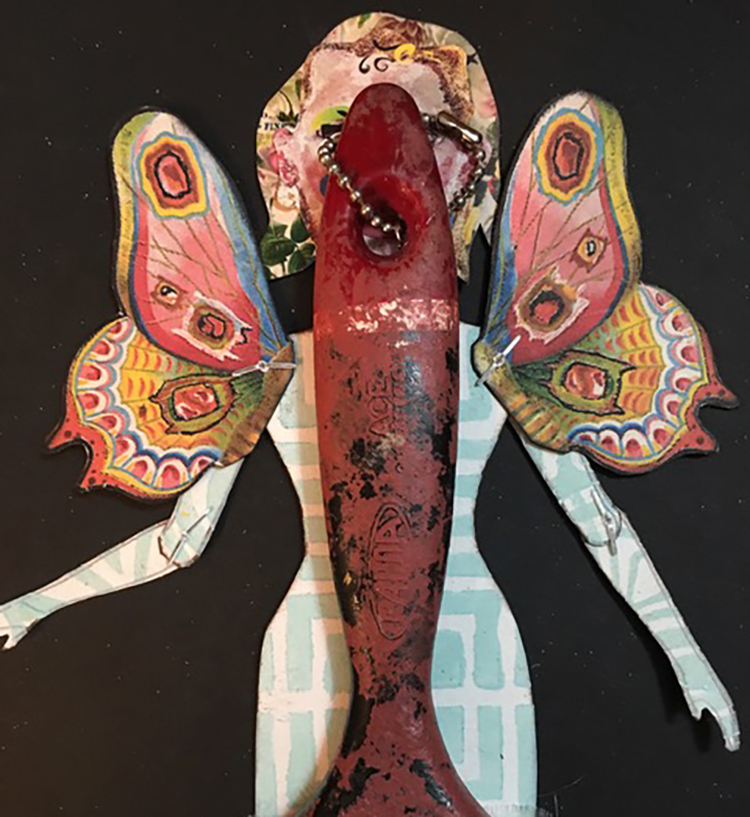 Once both sides were glued on, I added some beautiful sheer 2" lace and wrapped it around both sides, then carefully glued it in place.
The final touch was the New Year's words of encouragement. Side one, which has a doll-sized printout of a face I painted using Jane Davenport's beautiful faces method, holds a satin ribbon banner that says: "Wishing you PEACE, LOVE, and JOY in the New Year." Side two, which has a sweet vintage child's face from the Graphics Fairy, has a satin ribbon banner with the words "YOU ARE ENOUGH."
This two-sided paintbrush doll can be used on a tree, doorknob or mantle as a seasonal ornament, or displayed throughout the year as a little angel of encouragement.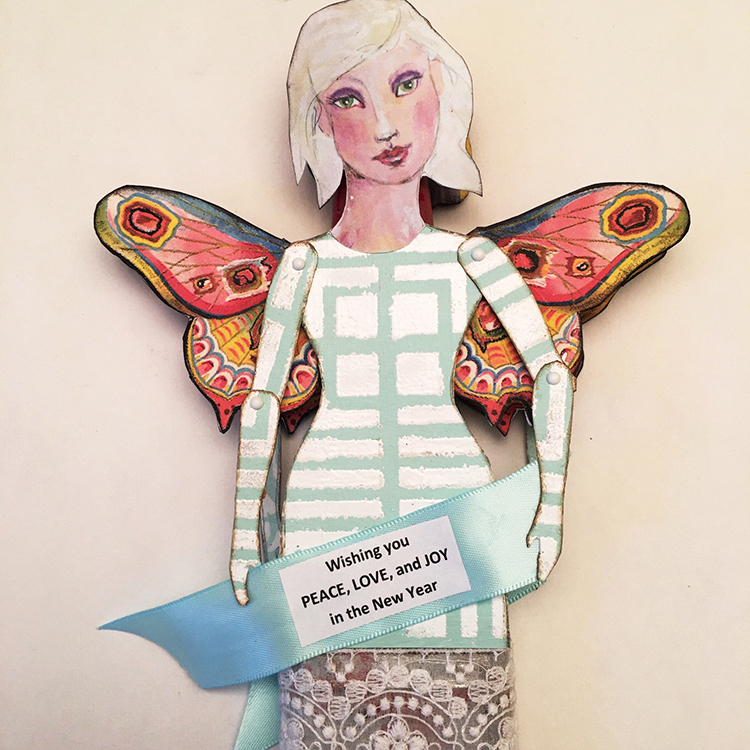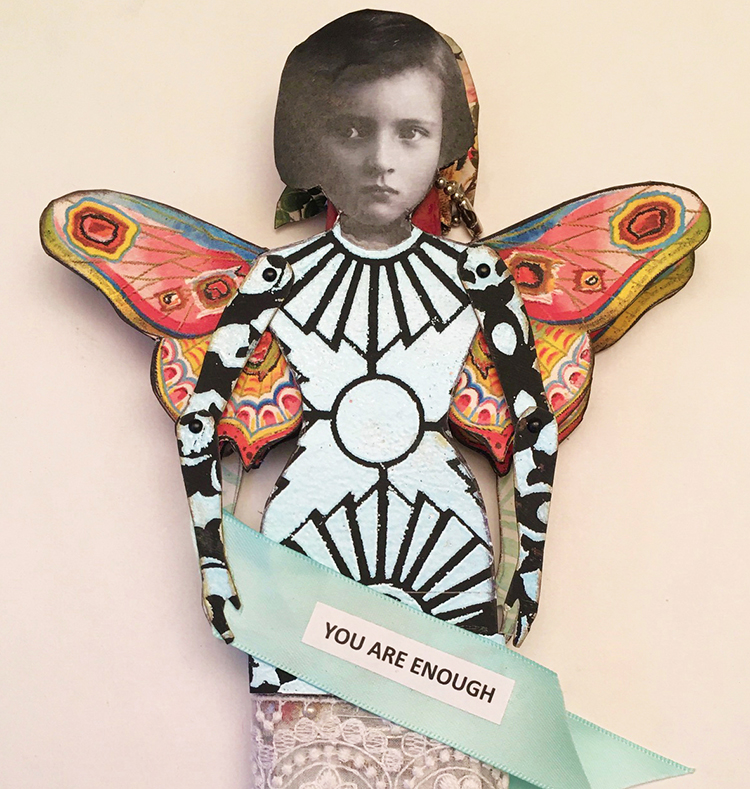 ---
Thank you Linda! This is such a cool project and what a great way to give a paintbrush a new life :)
Want to give Linda's project a try? You can find all my Stencils and Foam Stamps in my Online Shop and in addition to some old, well loved paintbrushes, here are some of the other supplies she used: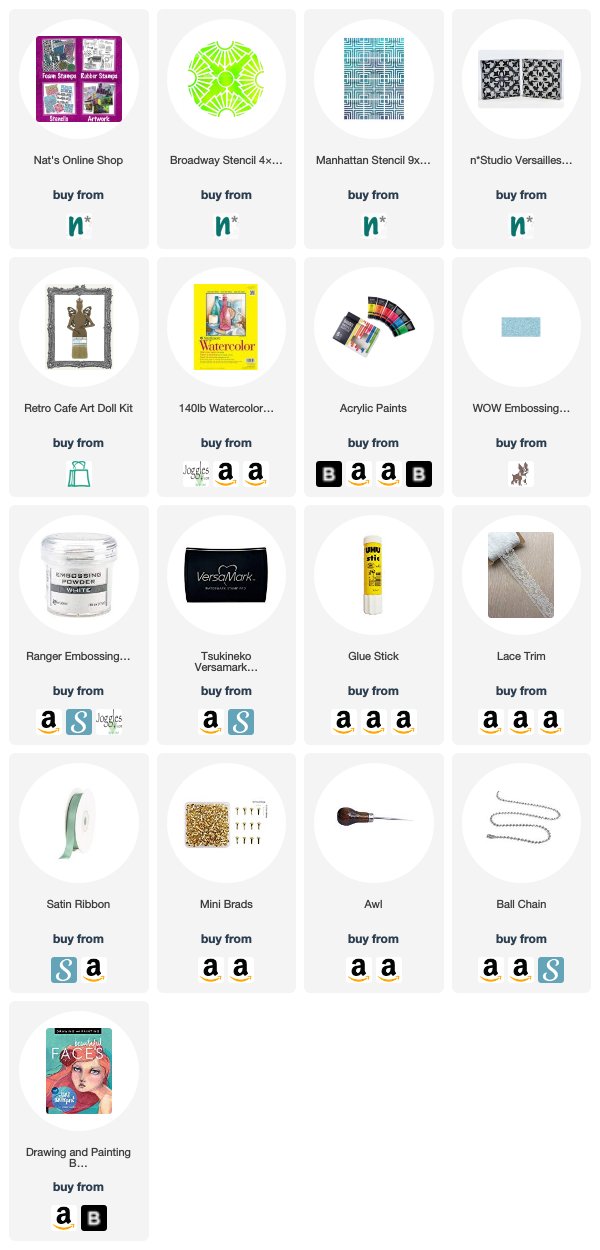 Feel inspired? Working on something yourself that you'd like to share? I love to see how you interpret our monthly themes. Email me or tag me #natkalbach how you used my stencils and stamps – I would love to share your projects in my next "n*Spiration From Around the Globe".