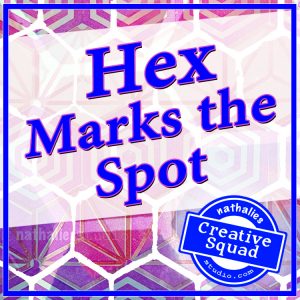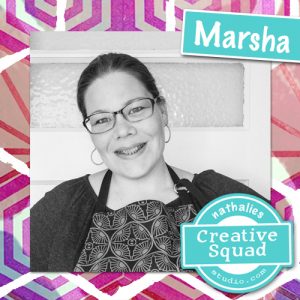 Hello from my Creative Squad! Today we have a post from Marsha Valk and she takes us on a journey into the mind of an artist – to show us how a theme can prompt a thoughtful art journal page. She is using my Hex Large set, Fan-fare, and Hex Small rubber stamps and this month's theme: Hex Marks the Spot –In the days of pirates and lost treasure, a map would lead you to gold and jewels. Today we treasure all sorts of things – our family, friends, experiences, meaningful objects, accomplishments, etc. Think about what you treasure and how you found your way there.
---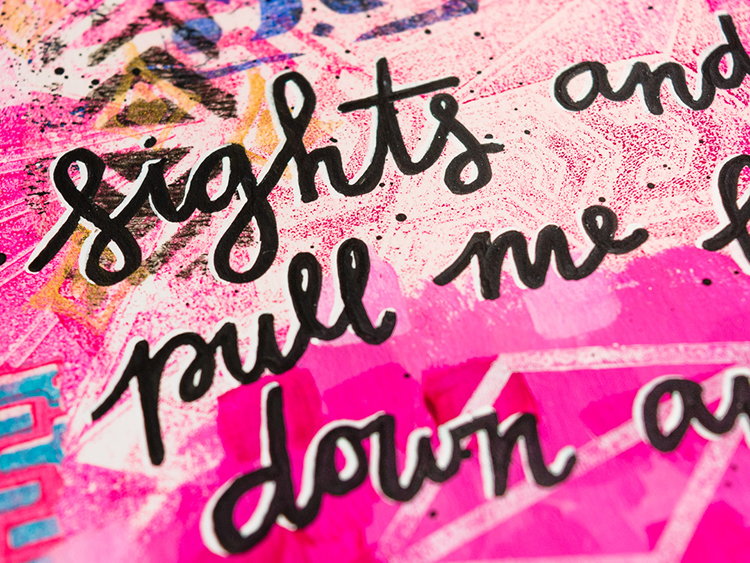 This month's prompt made me intensely sad. Somehow to me, to treasure something is like trying to prevent sand from slipping through your fingers.
Change is constant. People disappear from your life, things break, or an event can make you see things in a completely different light. Even you change.
I truly realized this during my scrapbooking years: as soon as I scrapped about something precious, things changed, broke, got lost, went away or something happened that just changed everything. I'm not even kidding. I'm not saying I jinxed things by scrapbooking about them, but documenting everything did make me painfully aware of all of the changes and losses.
I'm not sure why the prompt made me steer down memory lane via the sad route. Maybe it's because our neighbours are moving house, perhaps it's because last week two huge trees that have dominated my view for twenty years were cut down or maybe it's PMS… Things you treasure disappear all the time, and there is nothing you can do about that.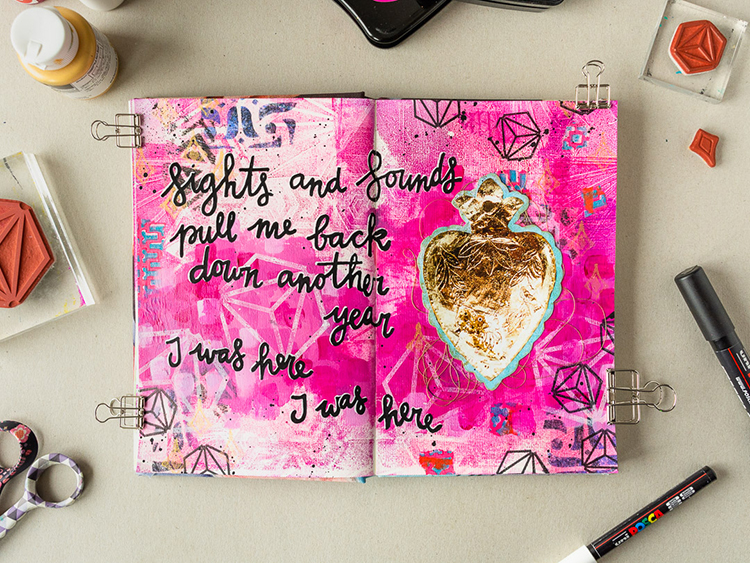 Good thing I know the perfect remedy for sad moods. It's called 'art journaling'. ;-)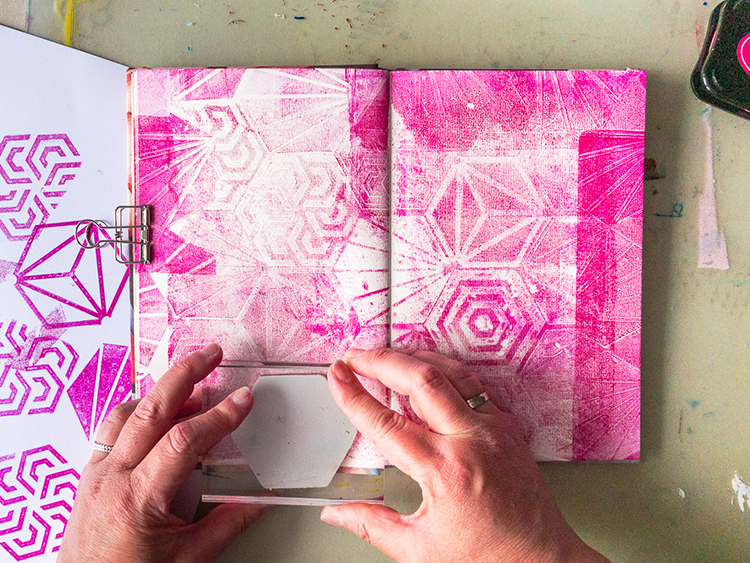 For the background, I applied StazOn to my gel printing plate. Then I used Nat's Hex Set Large stamp set to make marks in the ink. I pulled a print directly into my journal and used the leftover ink on the plate and a few stamped hexes to fill any of the remaining white spots.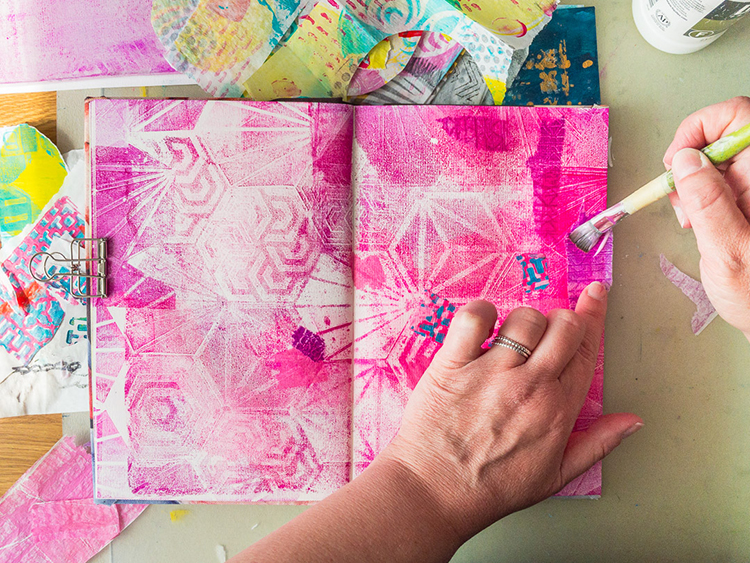 Next, I browsed through my folder of scraps leftover from previous projects using Nat's products and I pasted some of them to my page with Matte Medium.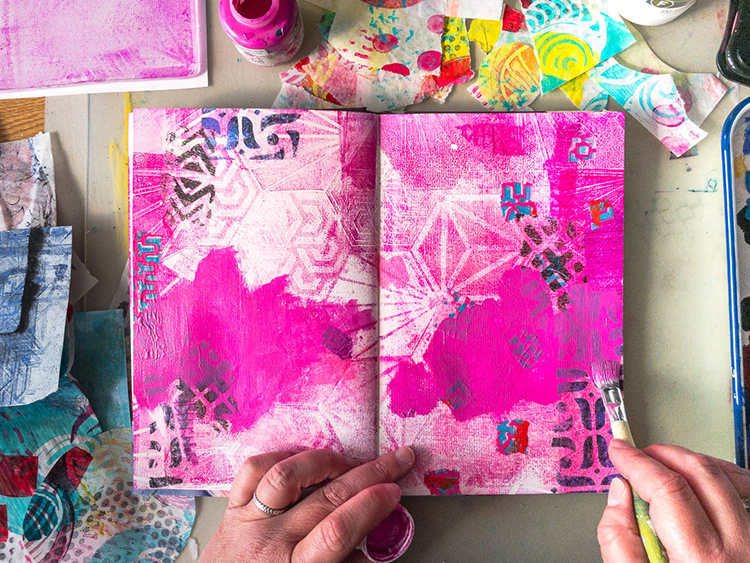 Then I randomly applied magenta and white paint with a brush.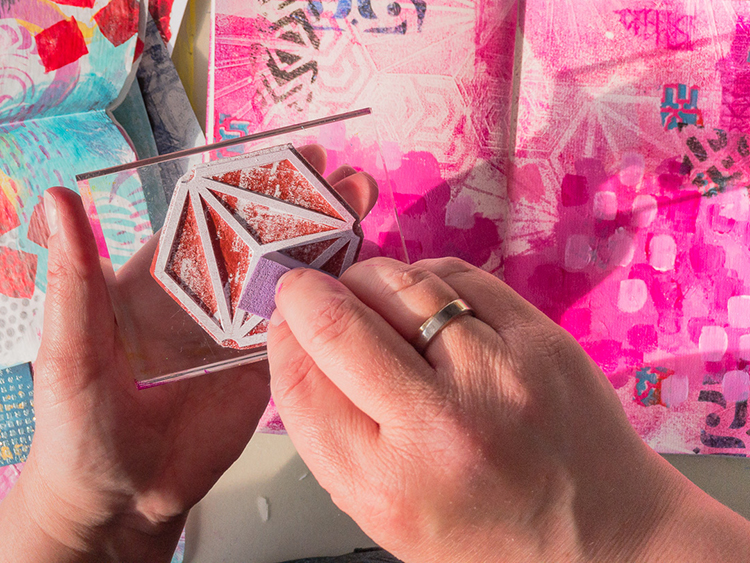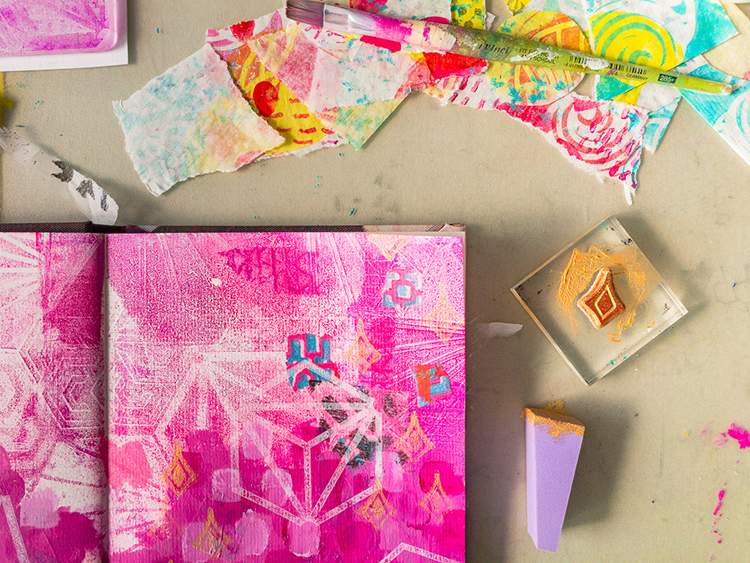 I stamped on top with the Diamond Hex Positive and white paint, and I also added a couple of diamond shapes from the Fan-fare set in gold paint, because what's a treasure without gold!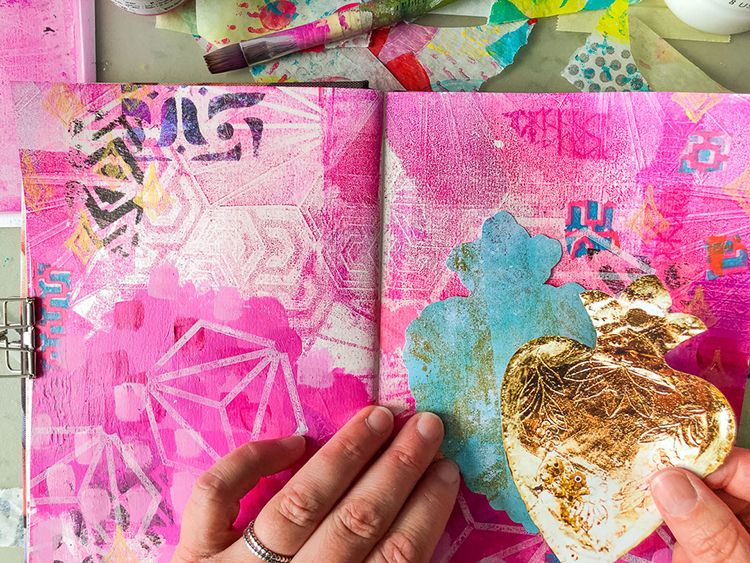 I remembered that I had also had a cutout of a gold heart in my collage stash, so I pasted that to a painted scrap of paper that I cut to the shape of the heart.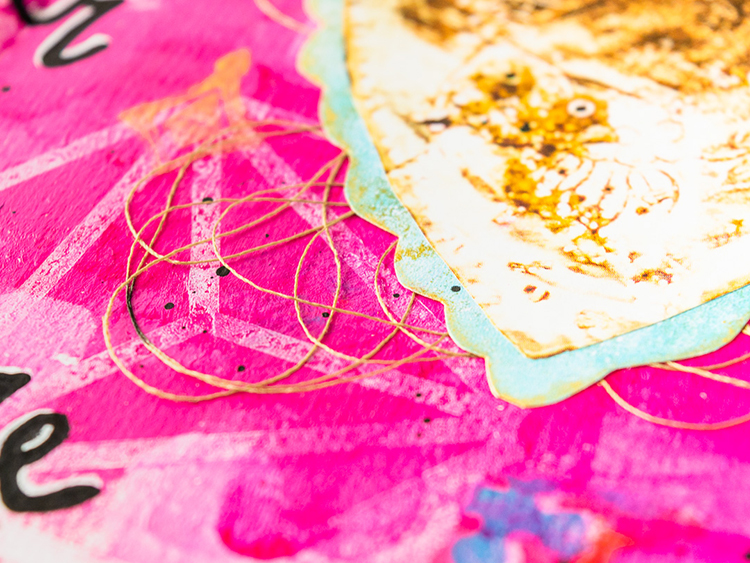 I tucked some sewing thread under the heart before adhering it.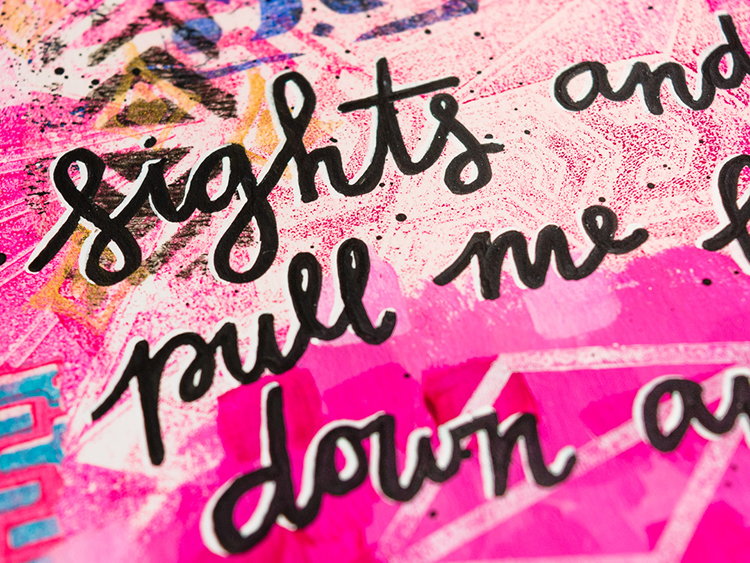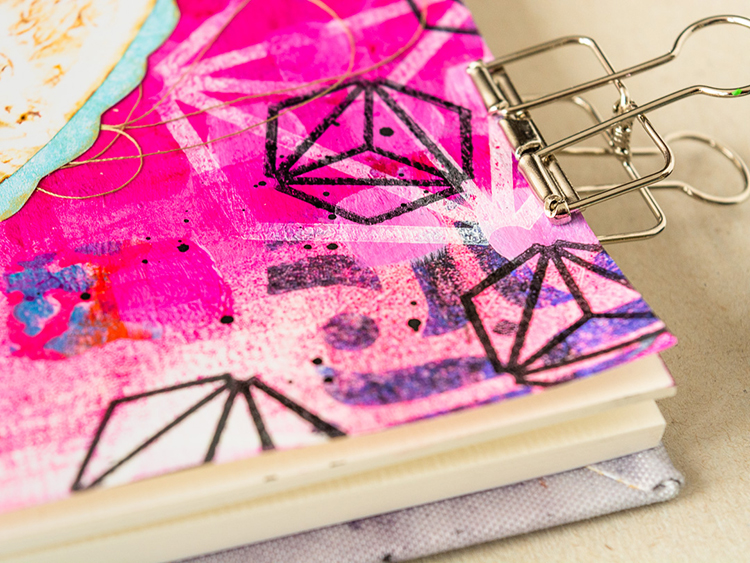 Then I wrote part of the lyrics to 'Gold Dust' by Tori Amos on the page, added black splatter and pulled the page spread together by stamping a couple of small Diamond Hex Positives in black ink.
---
Thank you Marsha! What a beautiful page and love that you used your art journaling to help work through all that. You can find all of my rubber stamps in my online shop. In addition to the gold heart collage element and the sewing thread, here are some of the other supplies Marsha used: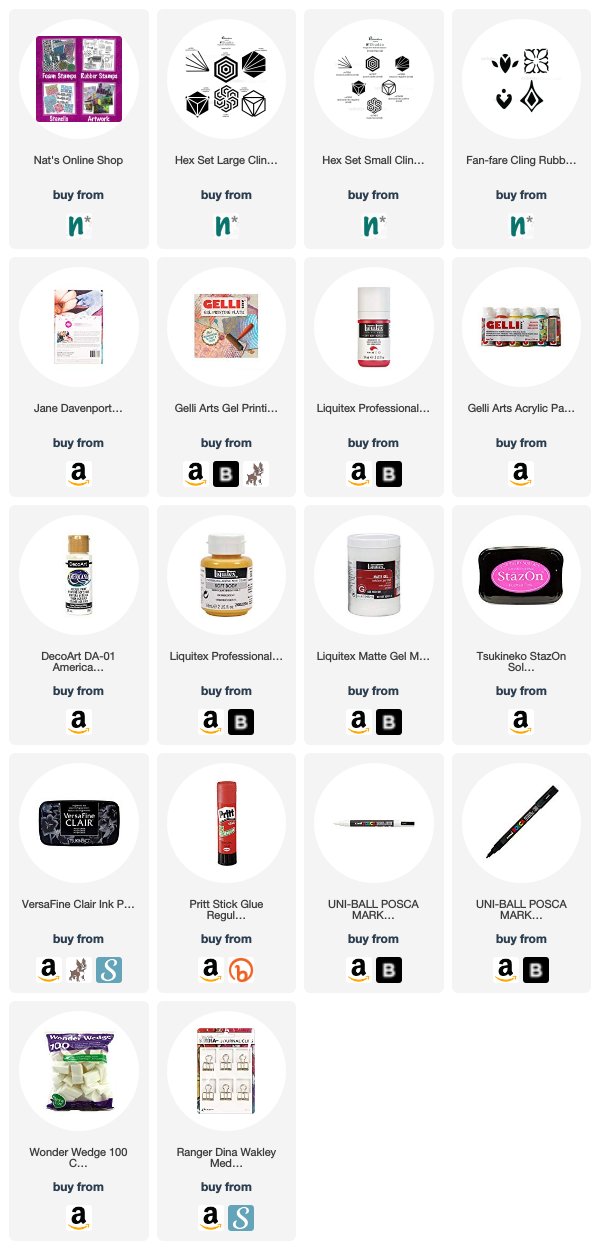 Feel inspired? Working on something yourself that you'd like to share? I love to see how you interpret our monthly themes. Email me how you used my stencils and stamps with the theme and email me an image – I would love to share your projects in my next "n*Spiration From Around the Globe".