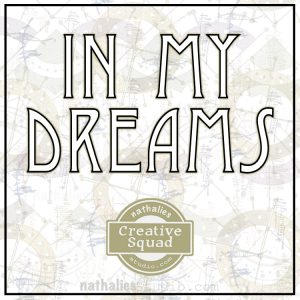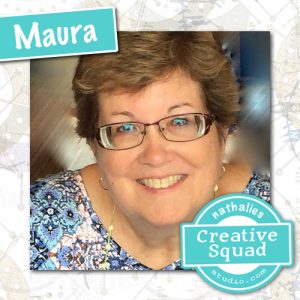 Hello from my Creative Squad! Today we have Maura Hibbitts sharing a mysterious dreamscape with us in her art journal. She is using my Wabi Sabi and my Mini Motifs rubber stamp sets for this and our theme: In My Dreams – A lot of folks are having crazy dreams these days. What visions do you see at night? Are you sleeping at all? Let us get a peek into your nocturnal adventures through your art.
---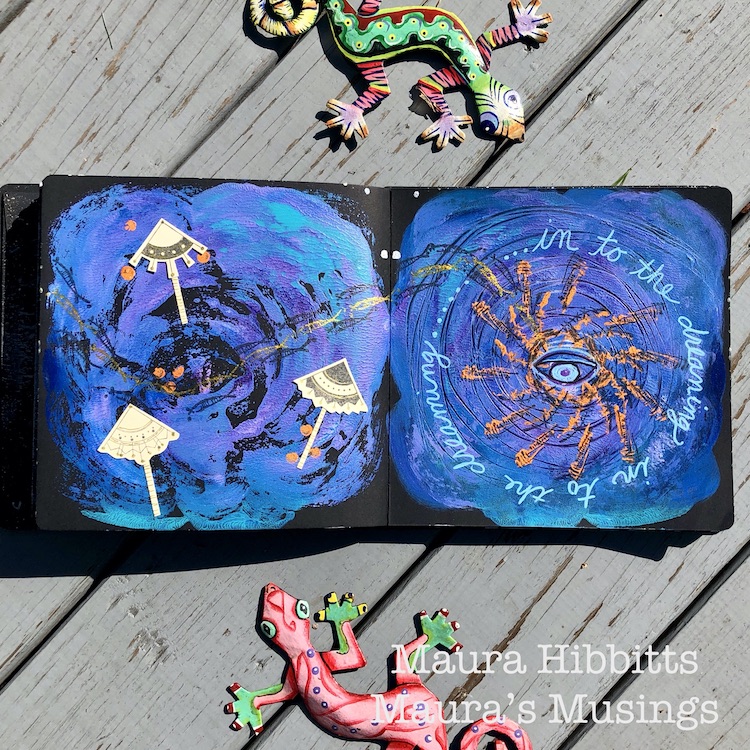 I don't know about you, but I have been having some very vivid and wild dreams these past few months. I had one dream that was so realistic, I could hear, see and feel what was occurring, and when I woke up I totally expected it to be real. I often see words and text in my dreams…maybe because I read before I go to sleep? And most of my dreaming is in blazing technicolor too. I have to say, my dream imagination is pretty darn vivid, and I think that helps guide my creative spirit.
I had this idea of showing my dream imagination as a cosmic swirling mass. I started in my art journal on the black background with blobs of paint – Cobalt Teal Hue, Primary Cyan, and a blend of Titanium White with Dioxazine Purple. I also added in some Glamour Dust to blend with the paint for a sparkly appearance. Then, I used the paintbrush to swirl and blend the paint around the center.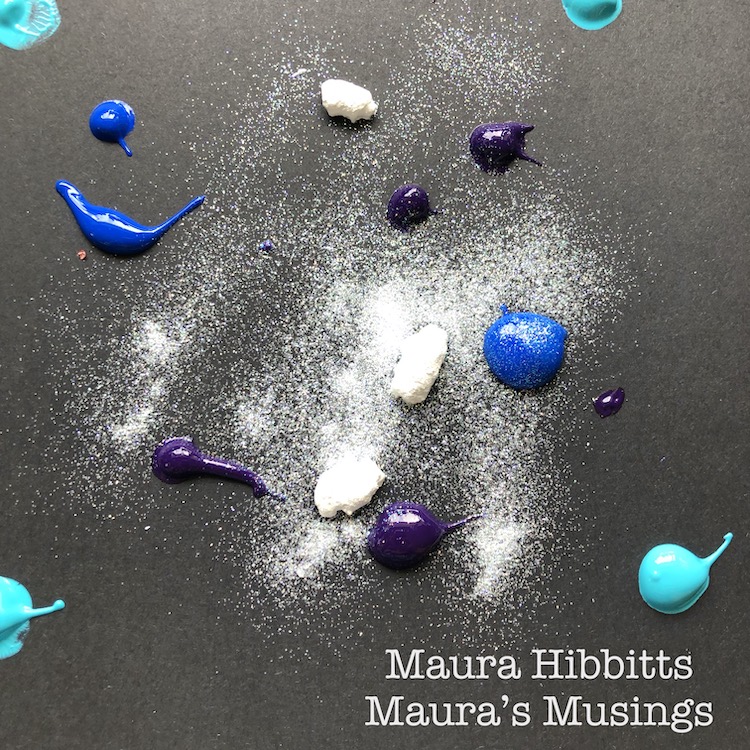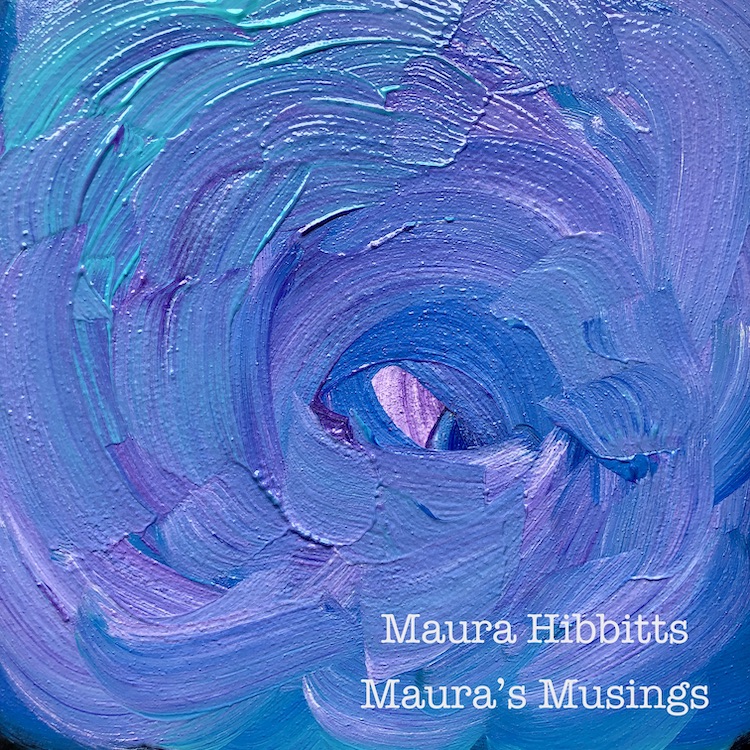 Since I had a rather thick layer of paint on the right hand side of the journal, I thought why not close it and see what happens? When I opened up the pages, I really loved the swirling on the left side. I went back to the right side, and scraped some circle marks into the paint with a dowel.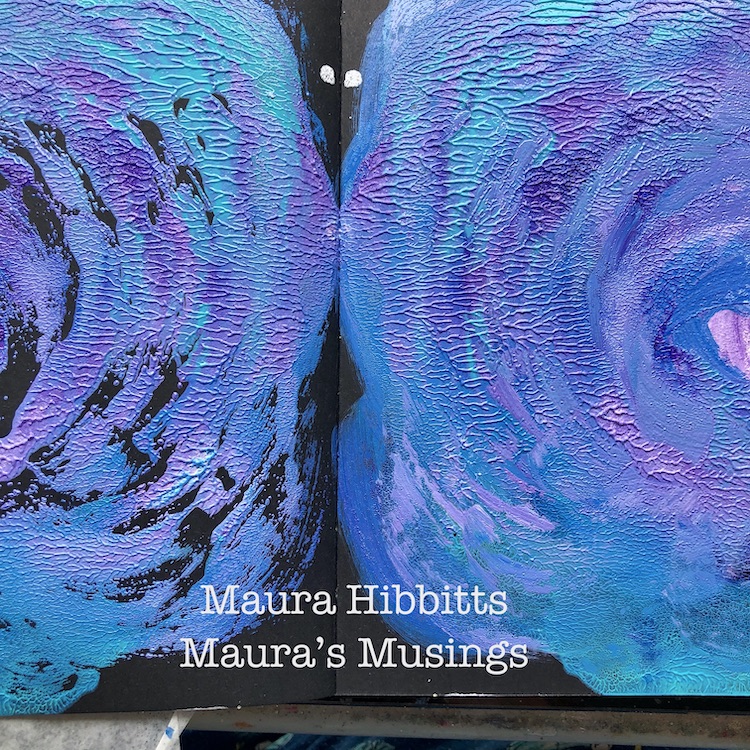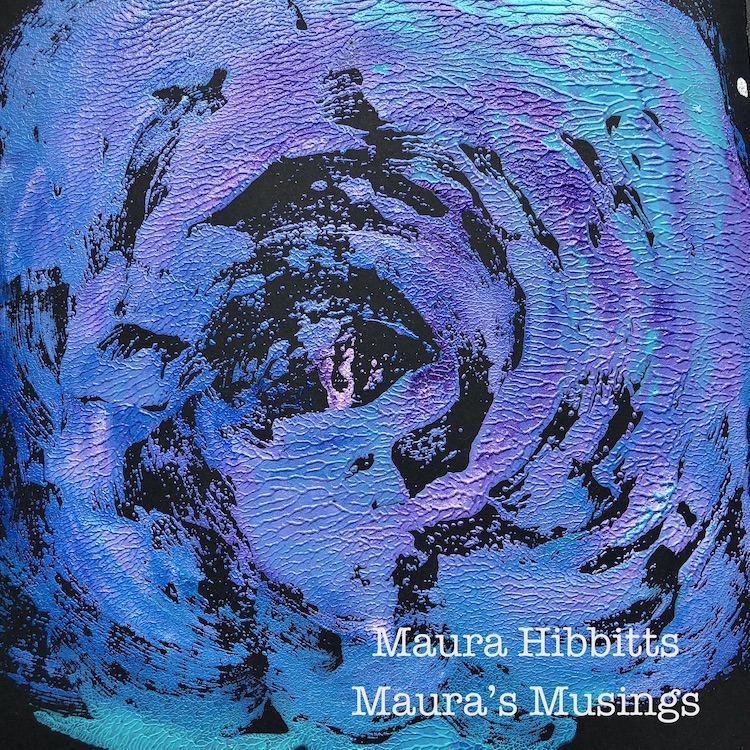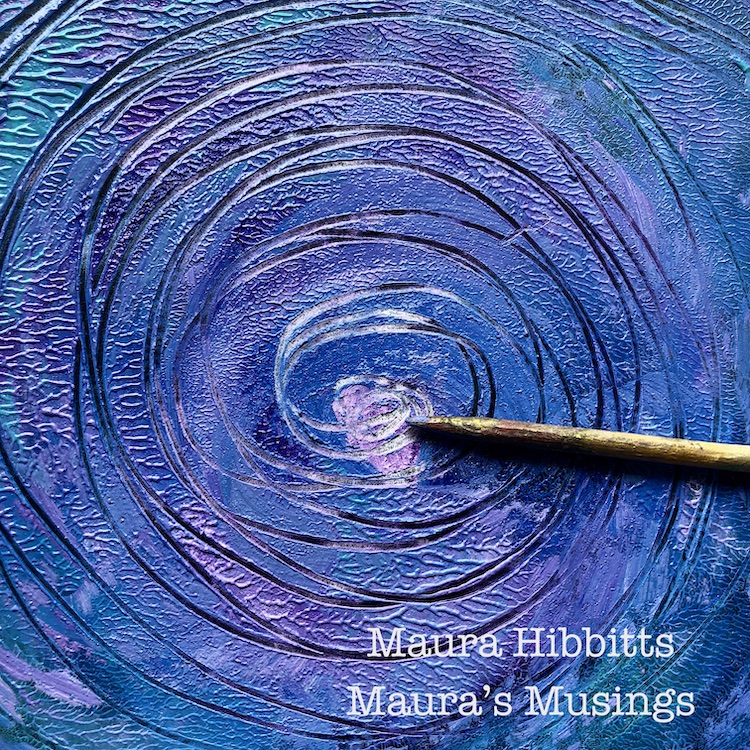 To create the feeling of a swirling cosmos, I stamped out from the center in a circle using the Groovy stamp and a mix of Titanium white and Cadmium Orange Hue for a contrasting color. I repeated another circle pattern using the Jazzed stamp with the paint. Note – when stamping with paint, be sure to clean your stamps right away. Since I had some orange paint left over, I used the end of the dowel and made a few paint dots on the opposite page.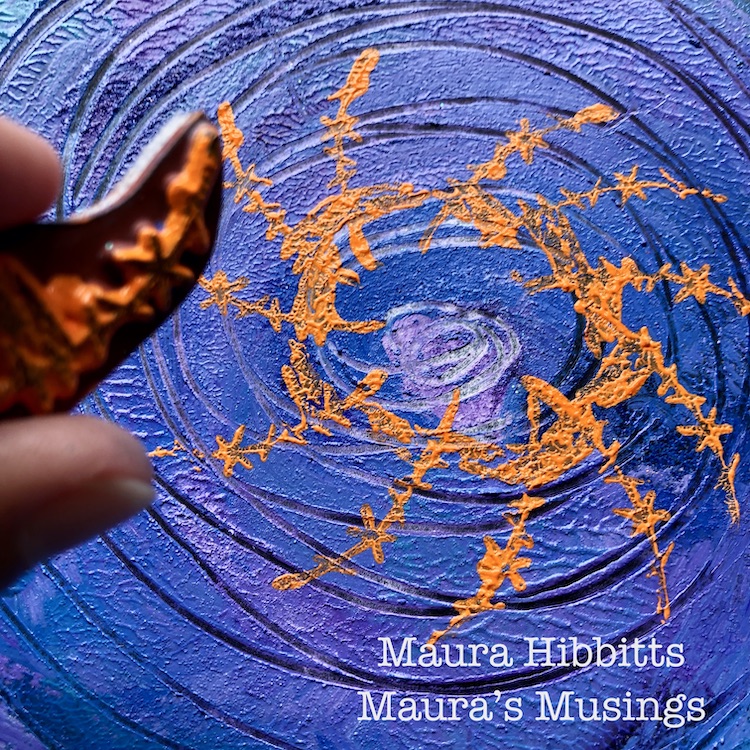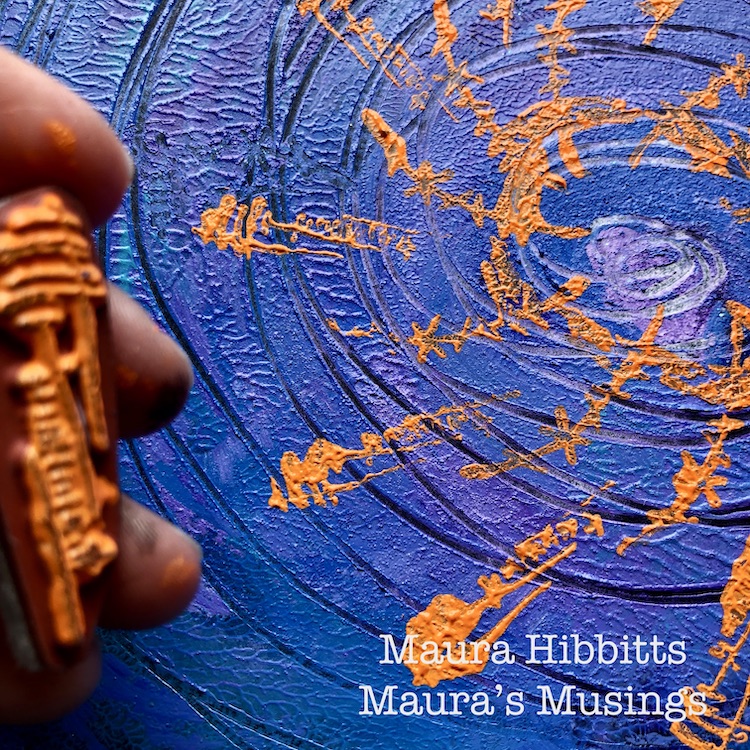 Next, I imagined a flowing school of fish coming out of the center of the cosmos and swimming across the other page. I used the Neato stamp (a favorite!) and stamped two lines of fish using black ink, then went back and stamped the fish using gold ink.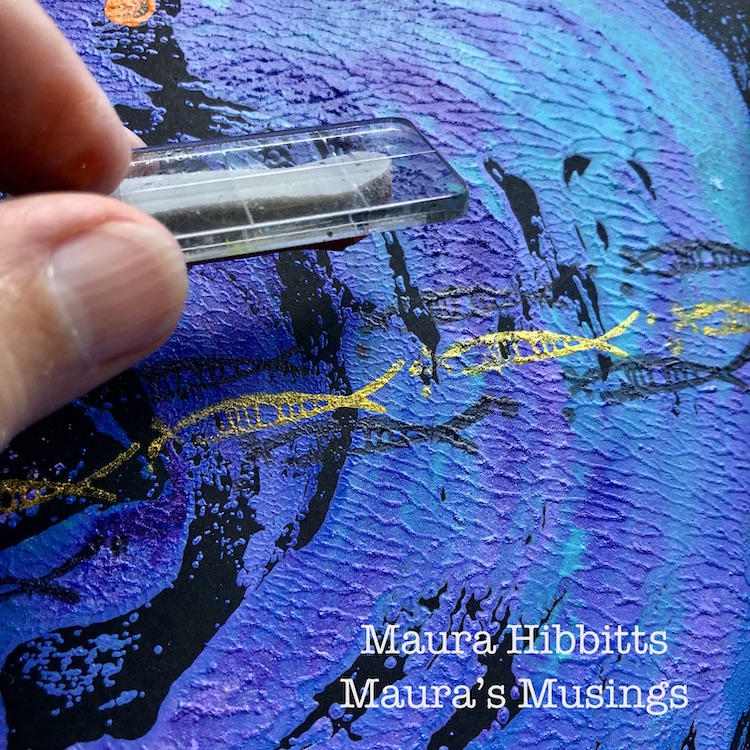 I went back to the galaxy, and stamped over the designs in the orange paint with black ink. I was trying to give them a bit more definition, as some of the painted stamping was not too clear. I also decided to draw an eye in the center of the galaxy with Posca pens.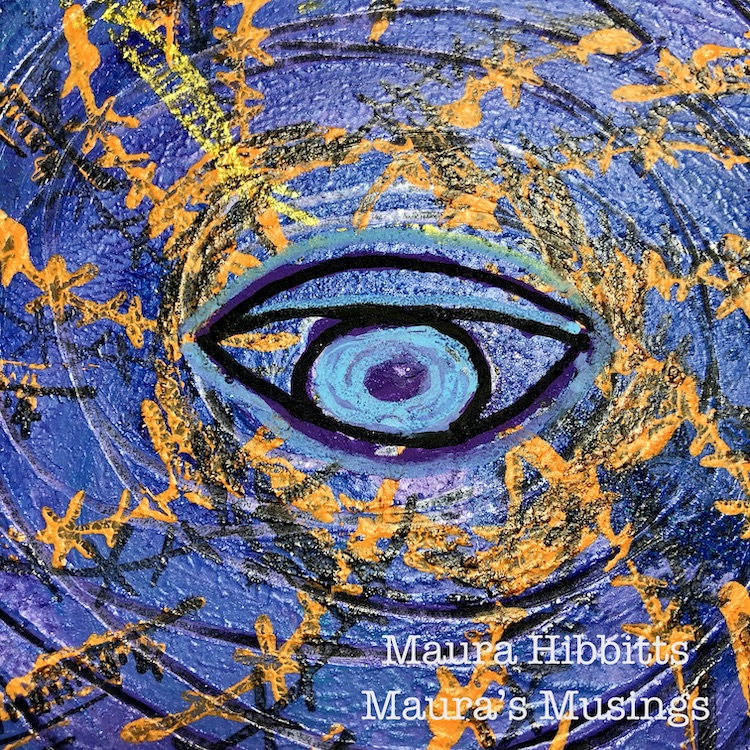 Sometimes we visualize our thoughts as bubbles or umbrellas, so I turned the Mini Motif stamps into umbrellas. I stamped the Arts and Crafts, Jugendstil and Mission Motifs onto manila tags using black ink, then cut them out into umbrella shapes. Also cut a strip of the tag to use as the umbrella handle. Doodle a bit on the designs with gold pen. Adhere three umbrellas onto the left page. (Good rule of thumb – use an odd number.)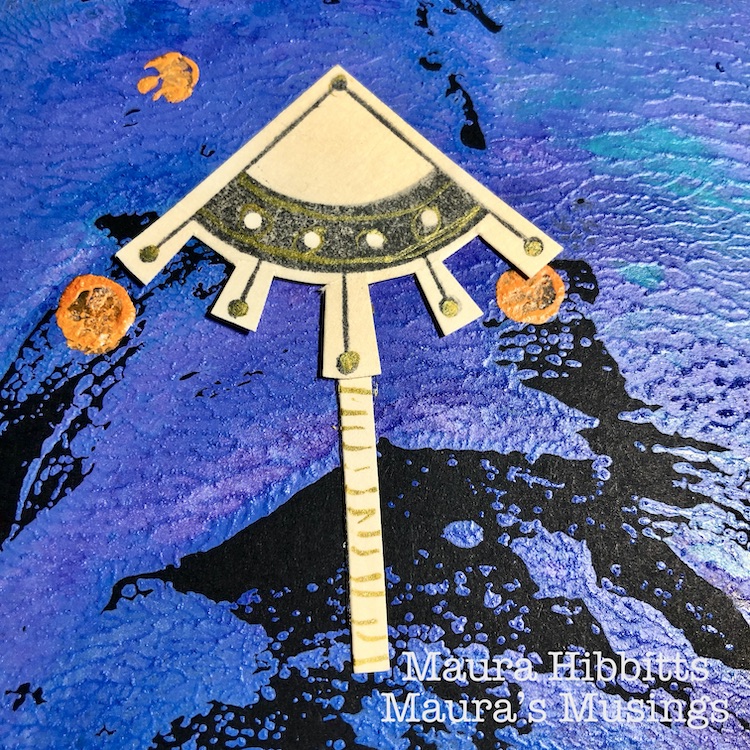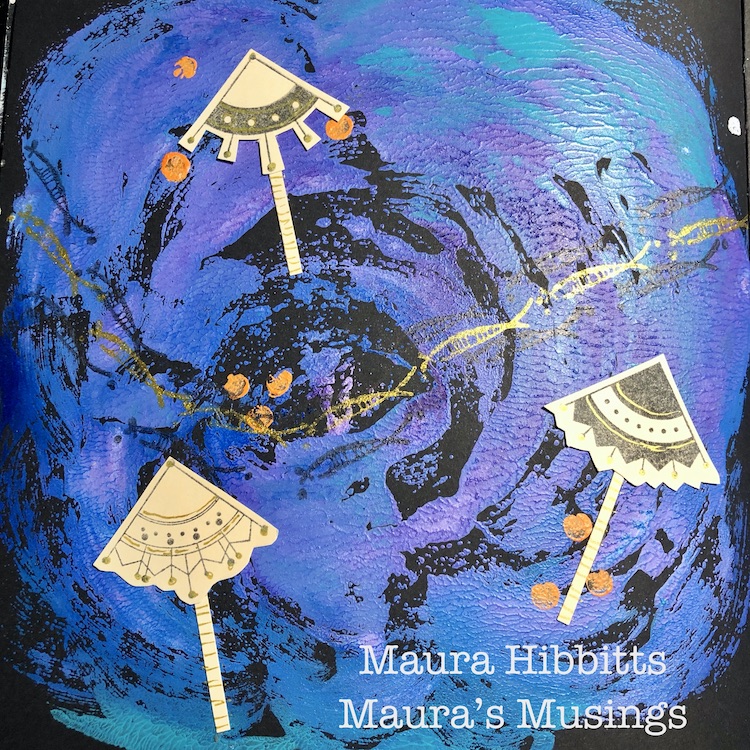 Head back over to the dreaming eye/cosmos page, and add the lettering " in to the dreaming" around the central design with a turquoise Posca pen.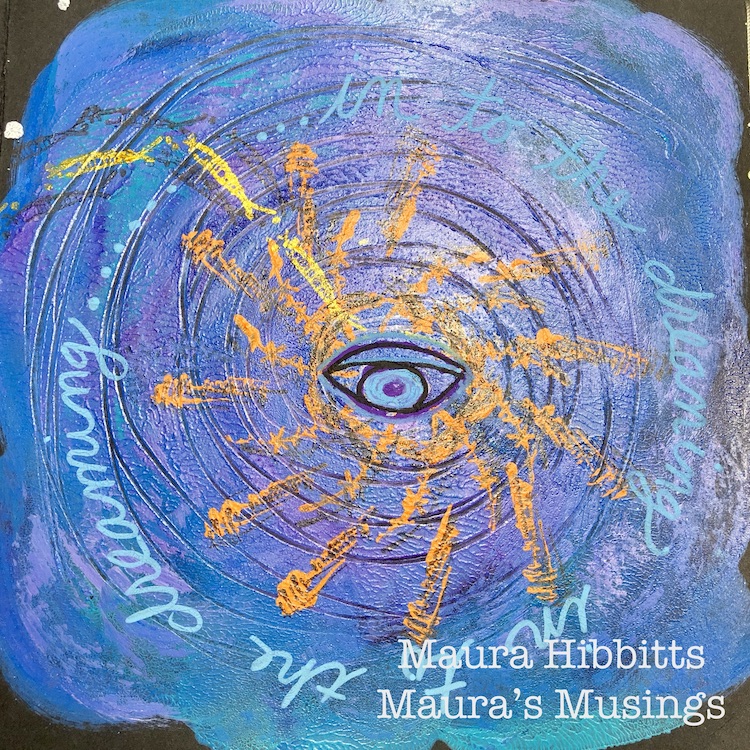 There are many images and stories at play on these pages, and maybe they don't seem to fit or make sense. But isn't that what a lot of dreams are like?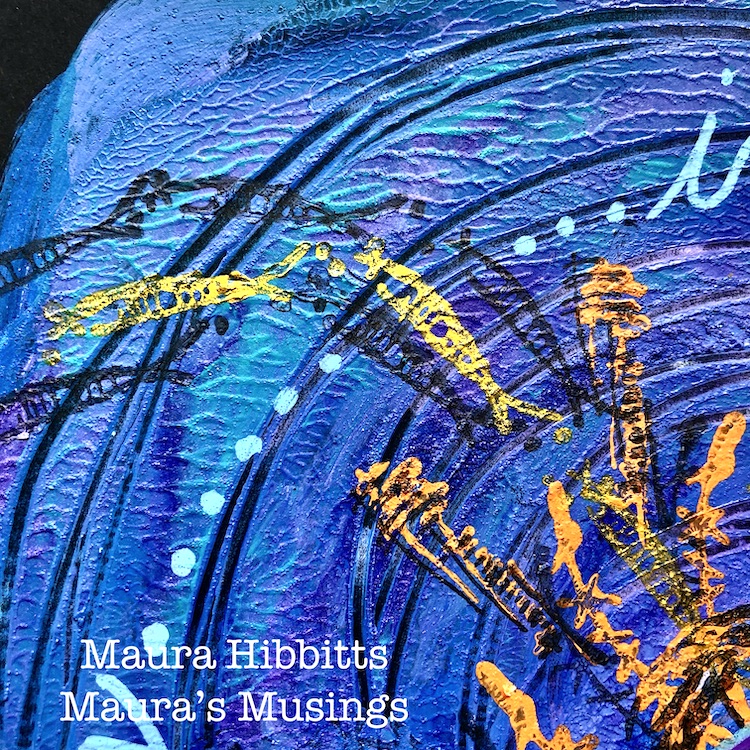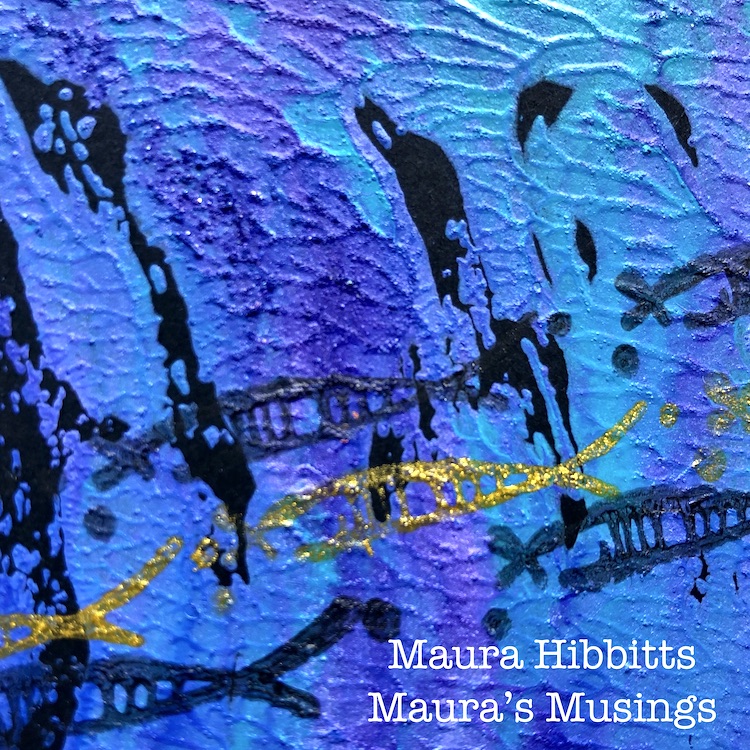 How do you imagine your dreamscape? I thought of mine as a swirling cosmos with an all seeing eye, umbrella thoughts and a stream of fish flowing through (the fish might come from my desire to visit the ocean, which I haven't been able to do this year). I think our dreams bring our subconscious to the surface of our thoughts, and help ignite our creativity. May you have some creative dreaming! – Maura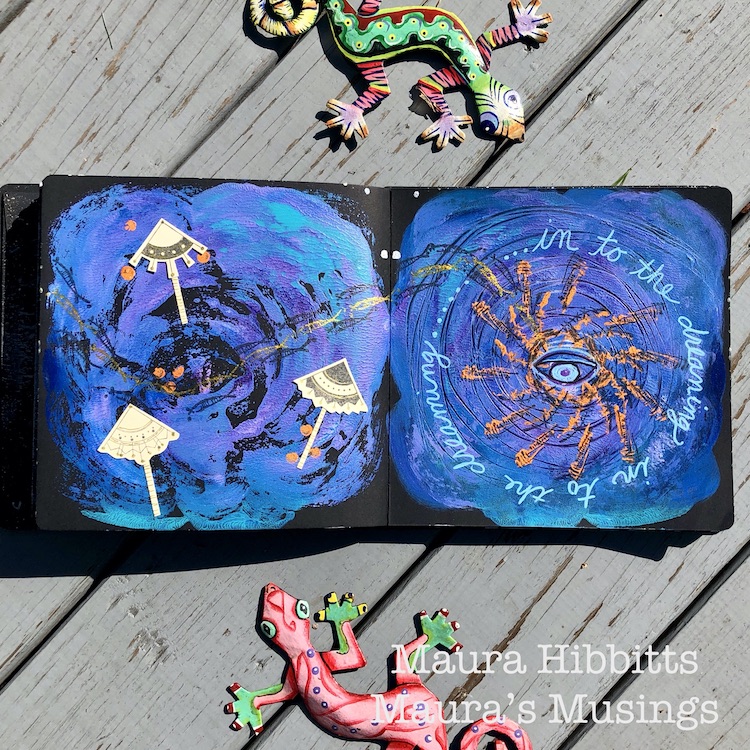 ---
Thank you Maura! I loved hearing about your vivid nighttime adventures of the subconscious and how you translated that strangeness onto the page. Very cool!
Give it a try: you can find all my Rubber Stamps in my Online Shop and in addition to a wooden dowel and some adhesive, here are some of the other supplies Maura used:

Feel inspired? Working on something yourself that you'd like to share?  I love to see how you interpret our monthly themes. Email me how you used my stencils and stamps with the theme and email me an image – I would love to share your projects in my next  "n*Spiration From Around the Globe".