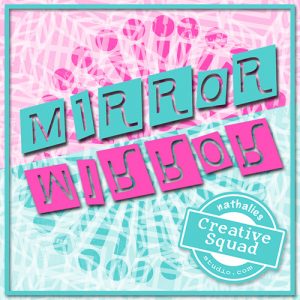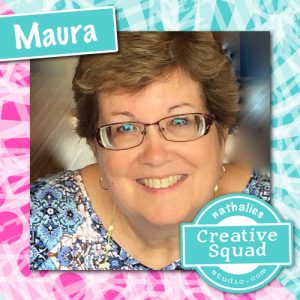 Happy Tuesday folks and welcome to a post from my Creative Squad. Today we have Maura Hibbitts sharing a colorful and intriguing art journal page with us that uses my Elephant Parade and Mesa Verde stencils and this month's theme: Mirror Mirror – A mirror can be a reflection of many things. We look into them every day and can see who we are outside and in. But they can also just be a fun visual tool to play with as we flip and reverse images and patterns. Play with reflection this month.
---
As I was looking through my stencils for this month's project, I came across Nat's Elephant Parade and knew I wanted to work with this one. A few days ago, I was speaking with a former student and her parents about her Peace Corps work in Botswana, I am so proud of her! Among the many things we talked about were elephants, as there is a large wildlife refuge near her village with lots of elephants. It also took me back to a trip to India a few years ago with my husband, and I know neither of us will ever forget our ride on an elephant. Color is always a part of my creative soul, and our autumn colors have been so beautiful this year. My sons have captured the reflections of trees and sky in the lakes here, in their photos. These are the ideas that meshed together in my art journal.
I decided to go with the primary colors with the elephant and began with the top one, using the Elephant Parade stencil, a cosmetic sponge, and yellow, orange and red paints. As I worked across the stencil, I blended between the colors a bit. Since I was changing colors as I worked, I took a bit of washi tape (since I have a huge collection) and taped it in place.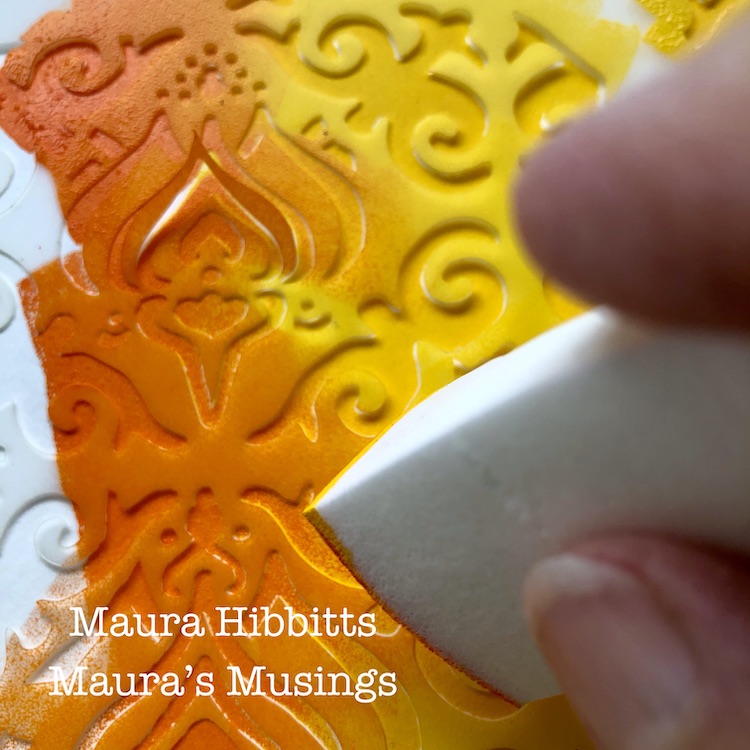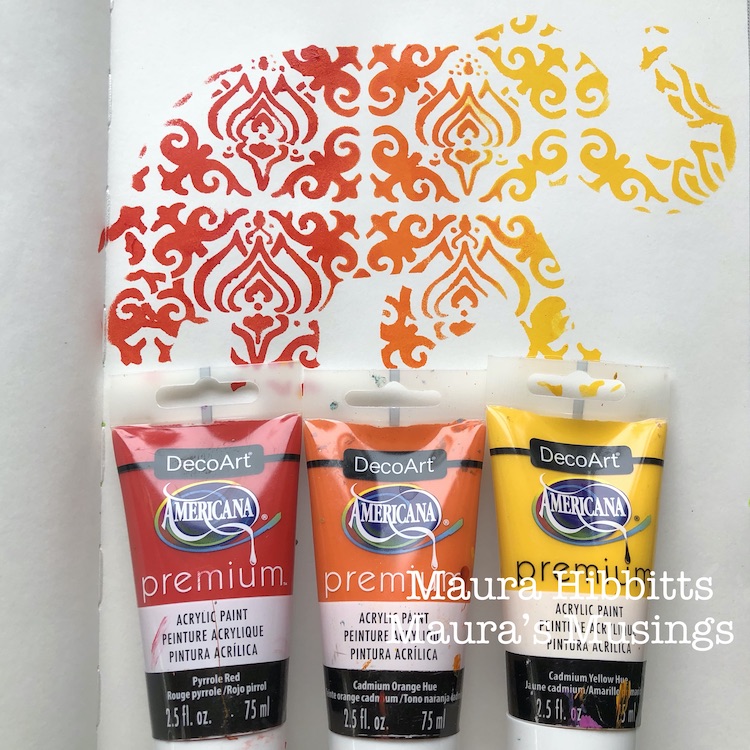 I turned the stencil upside down in my art journal, taped it in place, and started sponging in the contrasting colors, red with green, but then I goofed and put orange and purple together instead of orange and blue. Oh well, I still like how it looks with warm colors on top and cool colors below.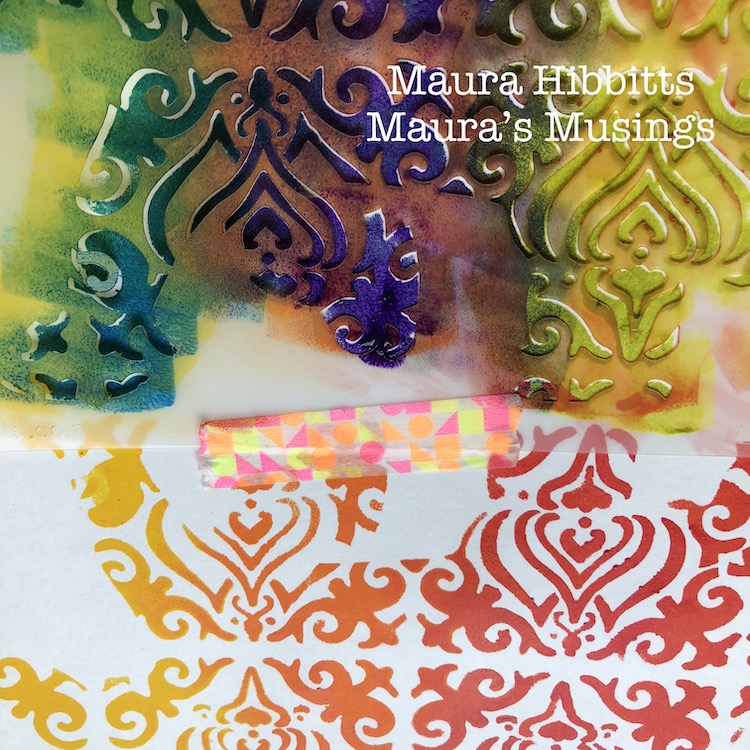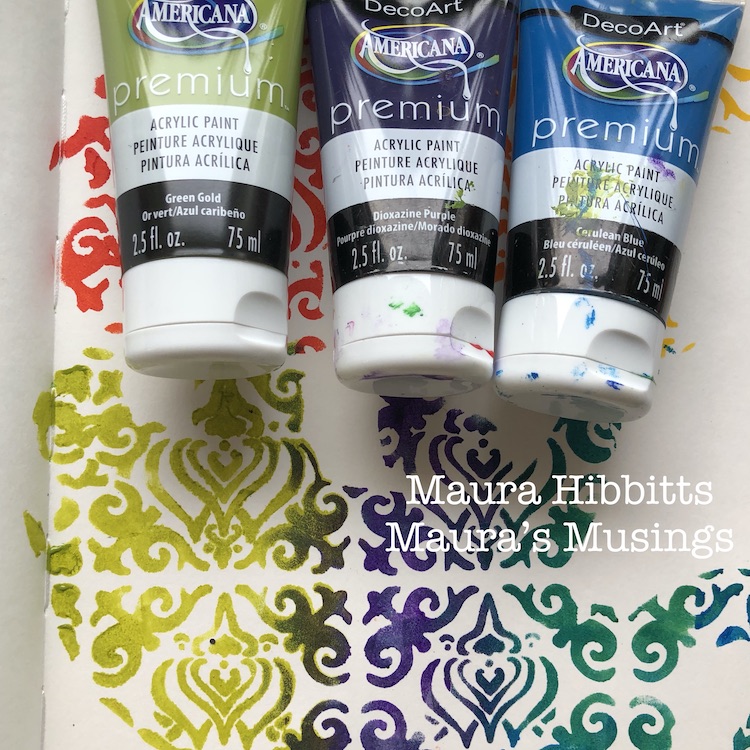 With colors left over from my palette, I decided to also do the opposing page (not in my original plan), so took the sponges and swiped the leftover paint onto the page in a circular motion.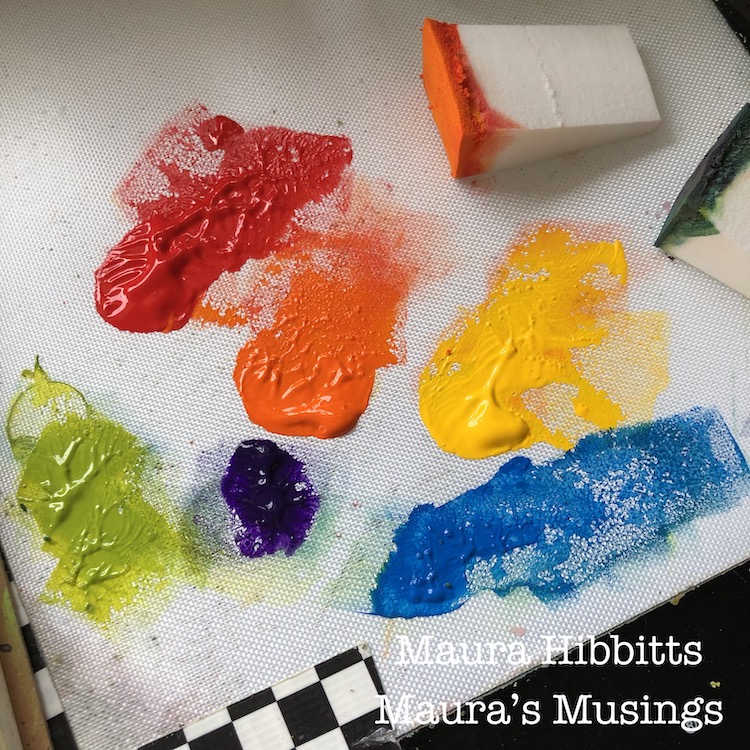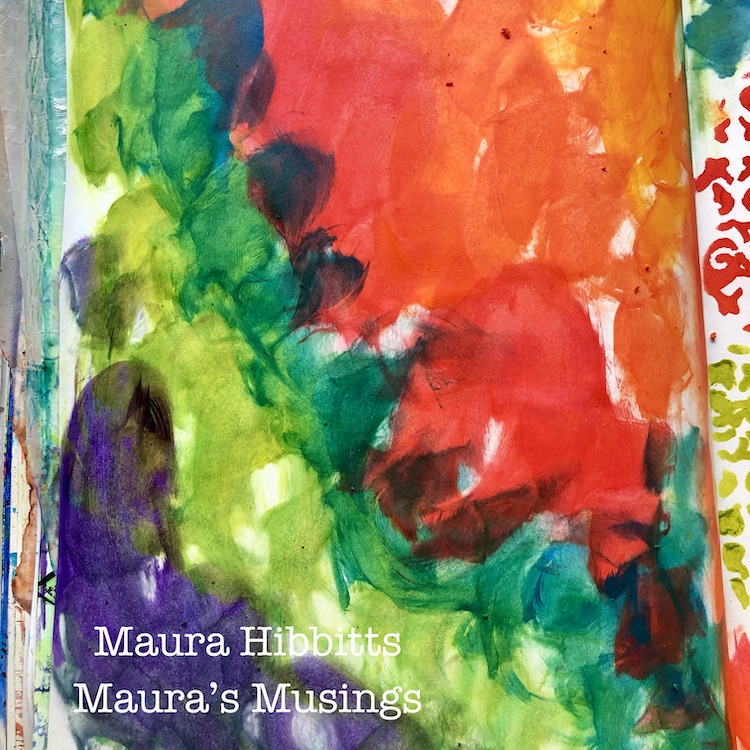 Now that I had a second page, I needed to work with it and wanted to find a stencil with an Indian feel to it to go with the elephants. Mesa Verde stencil to the rescue! I taped it in place, and used black paint over the dark colors, white over the light colors, and then I just had to add in some gold. (bright colors and gold remind me of India). After I finished the left side, I looked over at the elephant page, and decided to repeat with the stencil here also.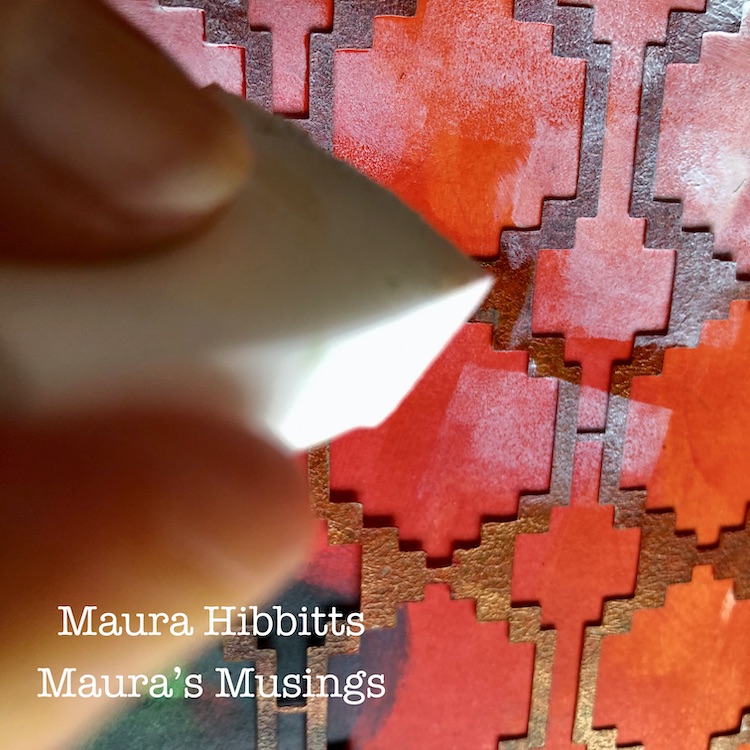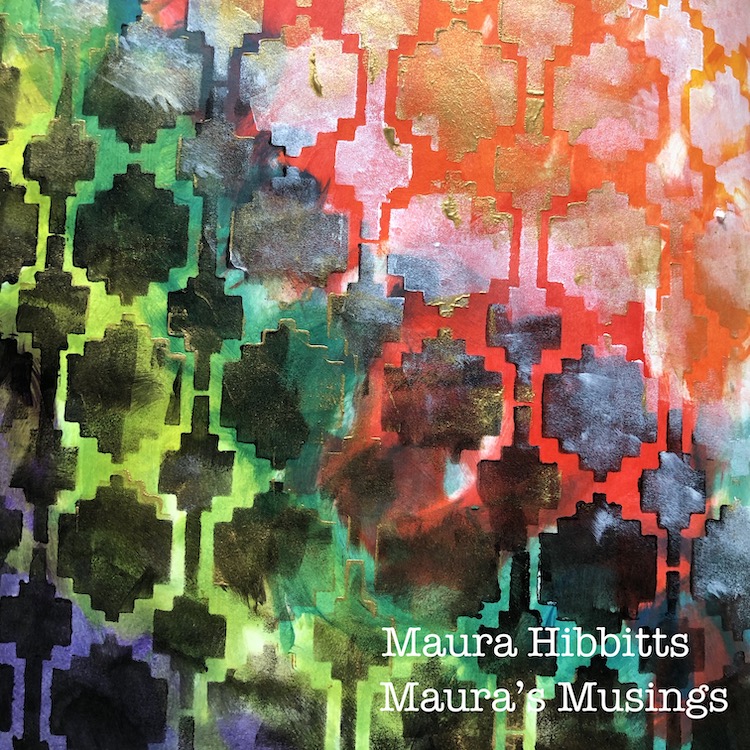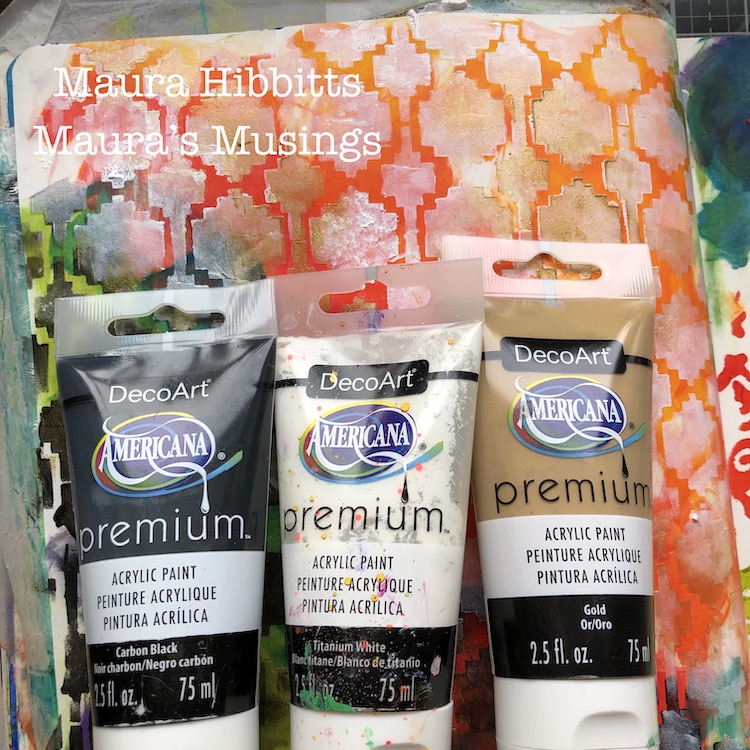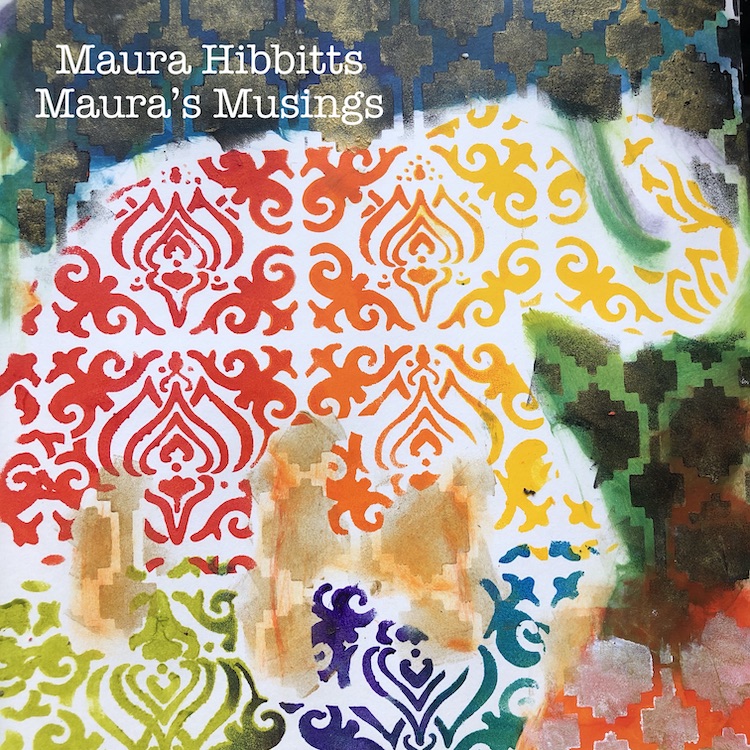 To create an idea of a reflection with the elephants, I added a line with the graphite pencil and water brush. Once that dried, I felt the elephants needed to stand out more, so added some scribbly lines with a carbon ink pen.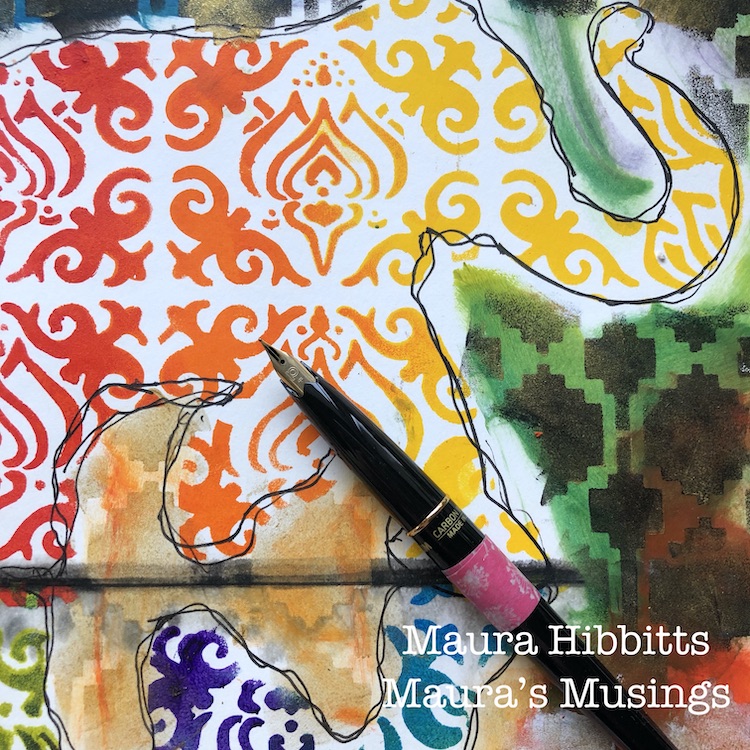 Now for the words…I started with Mirror at the top in hand lettering with a black paint pen. Then, I turned the page upside down and did a reverse of Mirror with a white paint pen, added gold and went around it with black to make it stand out.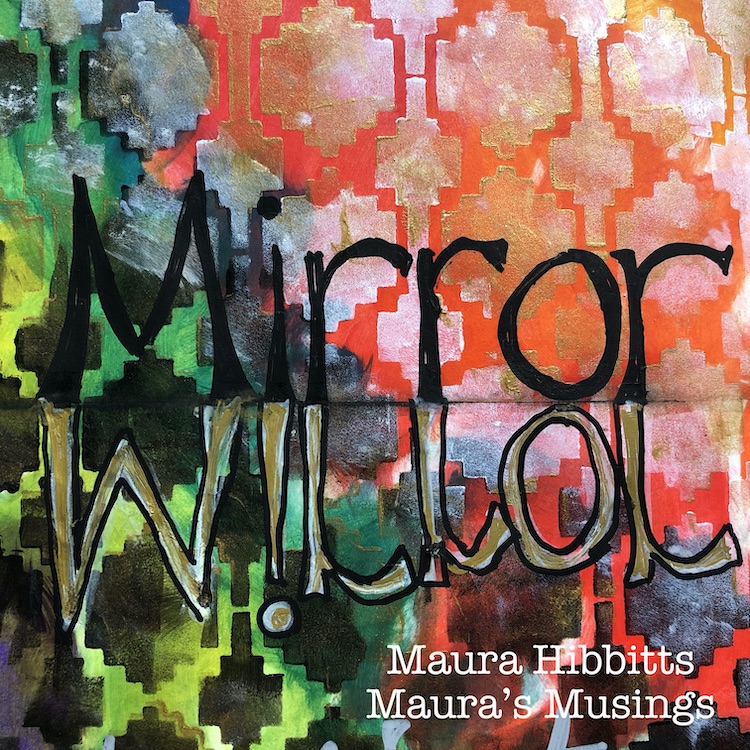 While I was writing my Mirror reflection I started thinking about mirrors showing us two images (or more), and how there is often two sides to every story, so I added these words in with a grey paint pen.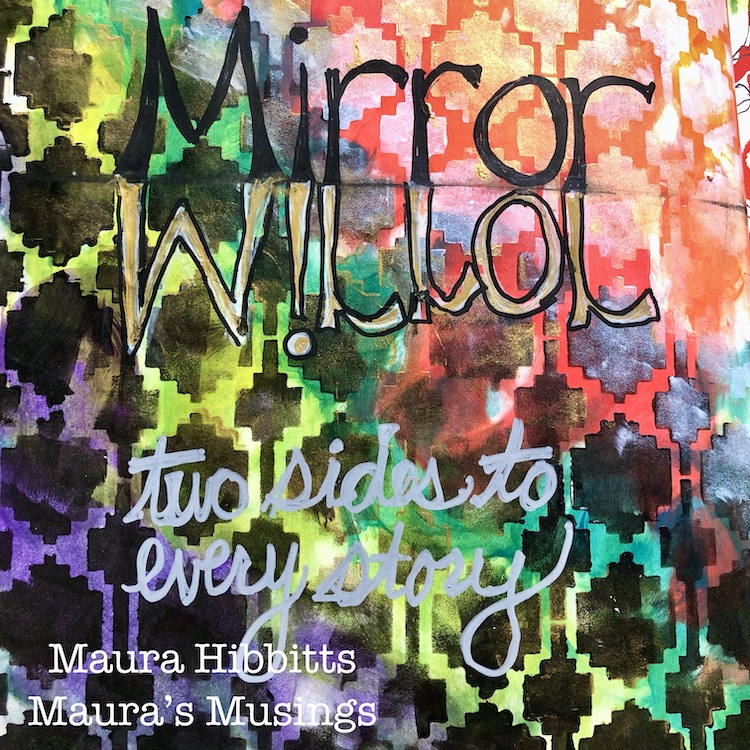 Bright colors, reflections, and journeys all play a part in my art journal pages.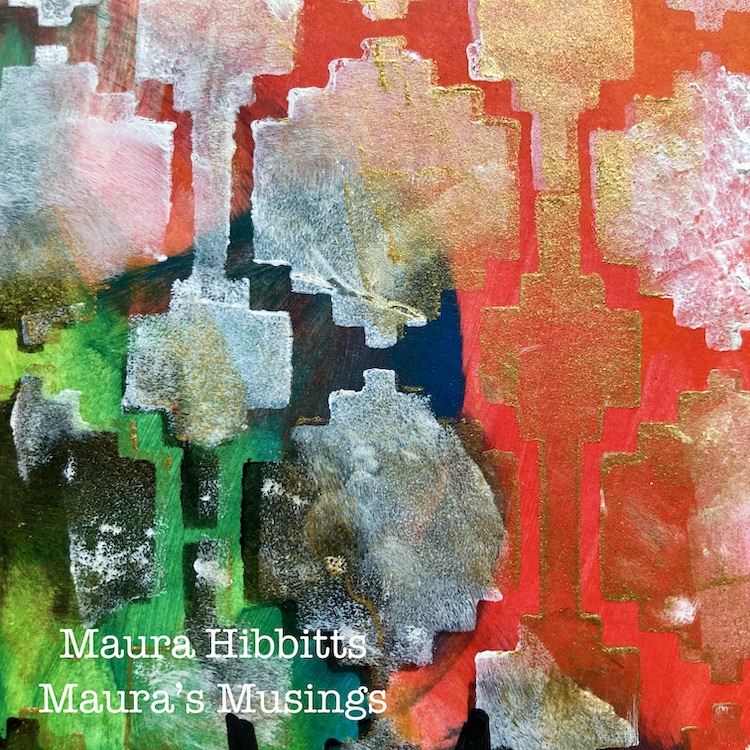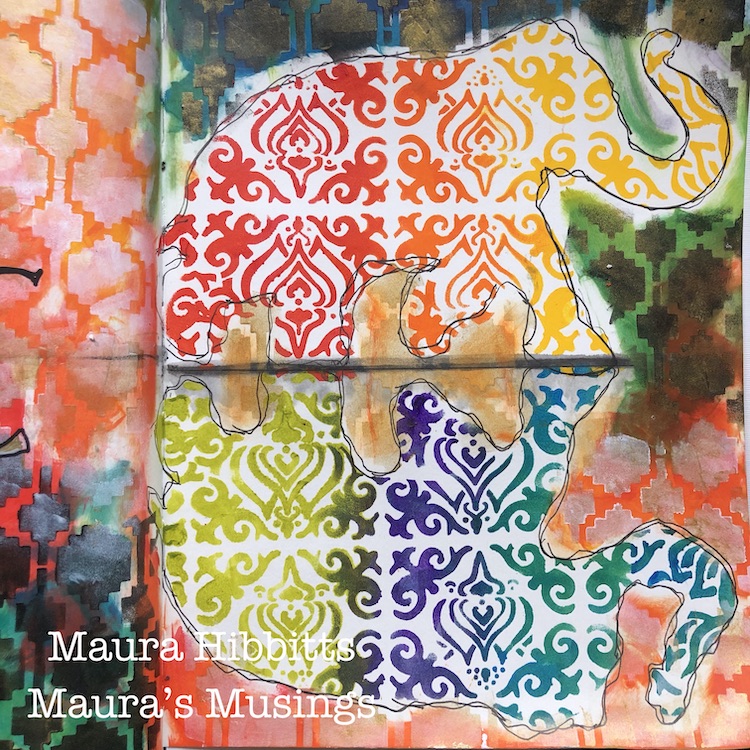 Mirrors can reflect our images, calm waters can act like mirrors to reflect the landscape and sky around them. Artists have used mirrors in their paintings, adding intrigue with a glimpse into that small bit of the painting. We find mirrors in fairy tales…"mirror, mirror on the wall"…and stories. I've been thinking about the stories on both sides of the mirror. Thanks for sharing my reflective journey, Maura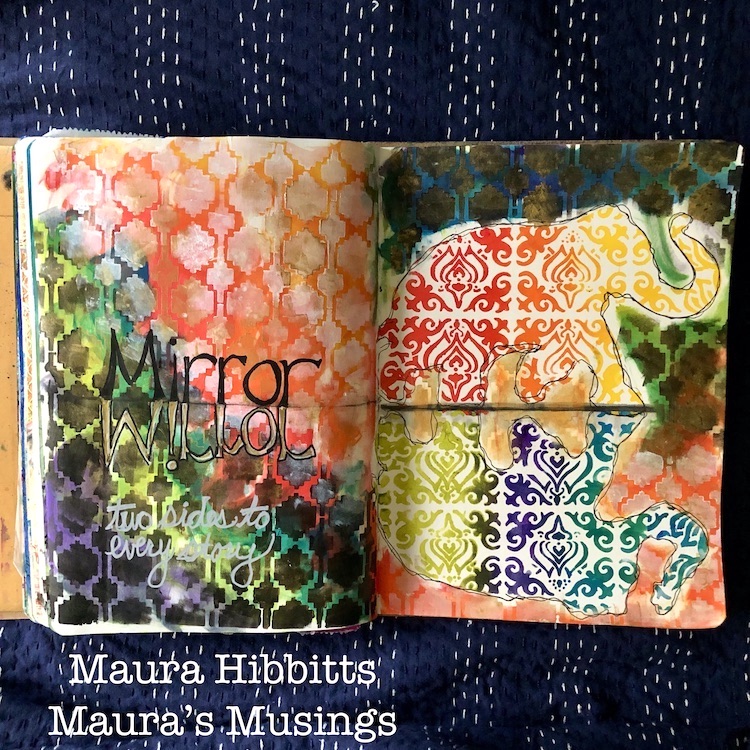 ---
Thank you Maura – love the resulting page with those lovely colors AND love your thoughts on mirrors and their stories.
Want to give Maura's project a try? You can find all my Stencils in my Online Shop and here are some of the other supplies Maura used:

Feel inspired? Working on something yourself that you'd like to share?  I love to see how you interpret our monthly themes. Email me or tag me #natkalbach how you used my stencils and stamps – I would love to share your projects in my next  "n*Spiration From Around the Globe".