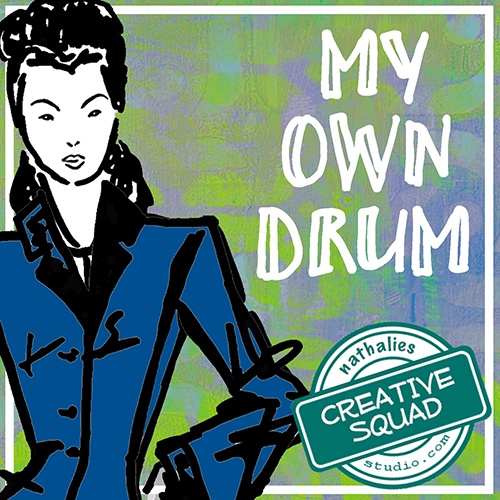 It's Tuesday again and time for my Creative Squad to share a project with you with this month's theme: "My Own Drum". Throughout the month of June, the team will use my new Fashion Dame Rubber Stamp Set to interpret the theme. This theme is all about inspiration, creativity, and personal expression. I asked my squad to create something that celebrates the power of individuality. March to the beat of your own Mixed Media drum this month!
This week we bring you TWO projects from Marsha Valk. Marsha gives us two super fun and colorful answers to the theme to inspire us today.
—————————————————————————————————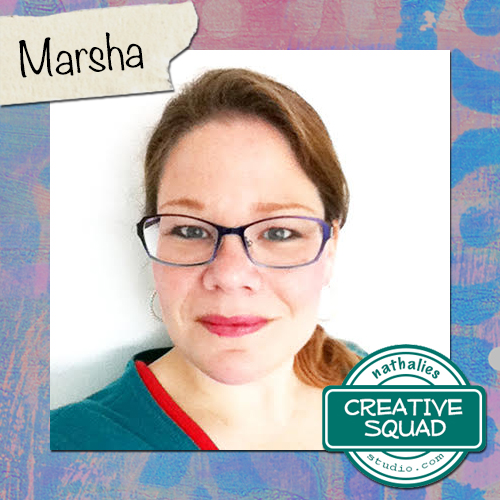 At first I thought this would be easy. That I could do whatever I wanted. But then I read the theme again and… I started overthinking: My Own Drum… What is my own drum? Do I have one? How does it beat? Is this the right beat? Is this the right drum?! Who do I think I am, claiming a drum for myself!
The best thing would be to just shut off my thoughts… But not before I had decided that my project had to involve a couple of things: it had to have a recycled element (preferably cardboard), colours are important to me so I wanted to choose a colour palette and of course I had to use the Fashion Dame.
Long story short, this is what I created: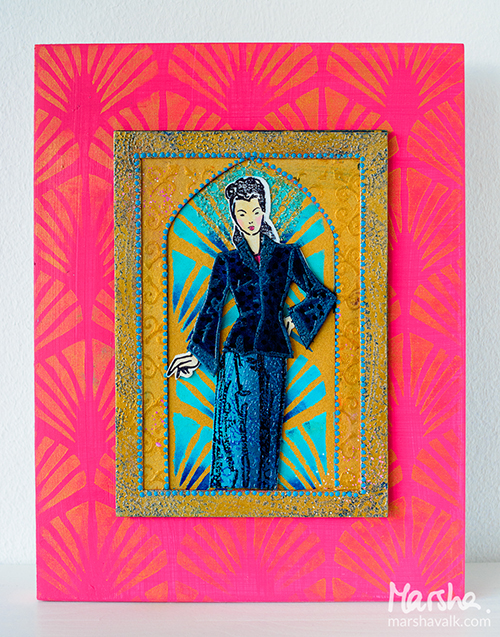 (If you want to find out more about how I created it, check my blog post for last weeks Stampendous Summer Blog Hop!)
But then I turned my thoughts back on. And I thought: this drum is fine, I can definitely march to it, but… I think my own beat is messier and free-er than this!
So I tried again, using all the messy stuff that was already there on my table. I had been mixing paint, cleaning brushes and dabbing paint off onto a sheet of grey board… And I decided to use this sheet as a base.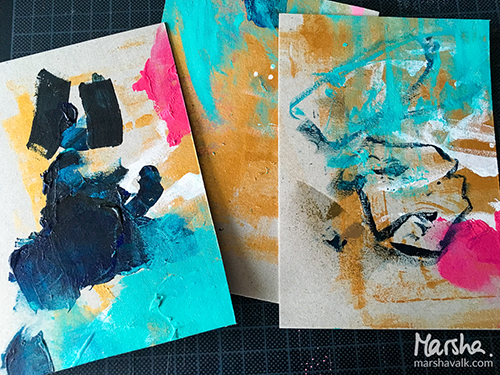 I cut the sheet into 4″ x 6" cards. I added more (leftover) paint and gesso to the cards, using a brayer, using stencils and a cosmetic sponge or an old plastic gift card and of course using my fingers.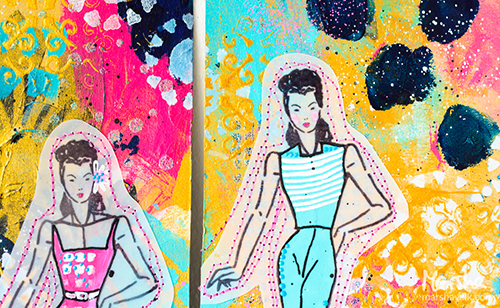 I had also spilled some embossing powder and I decided to use this on the cards, applying VersaMark through stencils, sprinkling the (mixed up) powders on top, tapping off the excess powder and then heat setting it.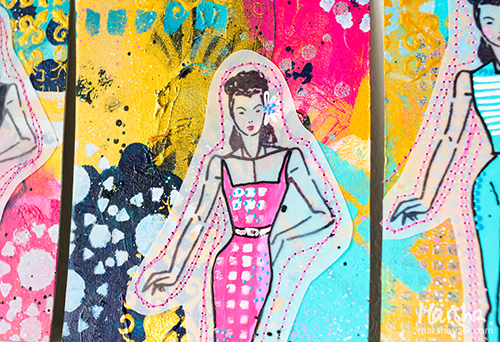 This time I stamped the Fashion Dames on vellum with Archival Ink. I didn't want to wait for it to dry, so I heat set it.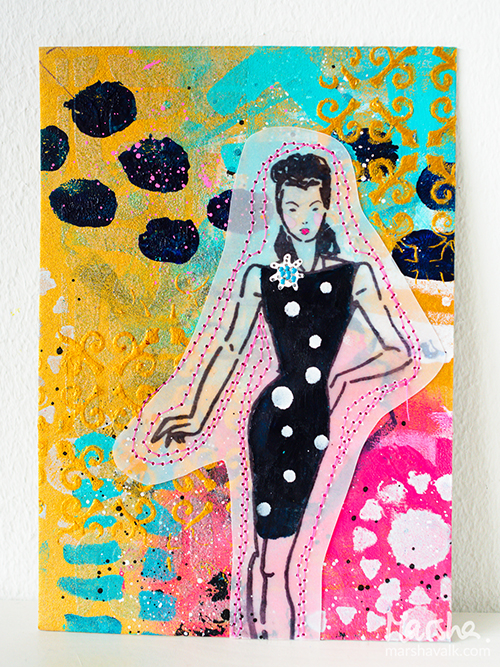 I wanted to machine stitch the Dames to the cards, because that's something that I used to do a lot, but hadn't in a while.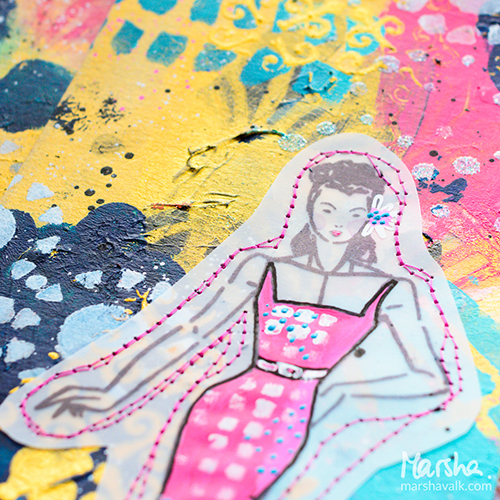 Once the Dames were stitched, I coloured them in with acrylic paint, Posca markers, Pearl Pen, Neocolor II's and I finished the cards off with some paint marker splatters.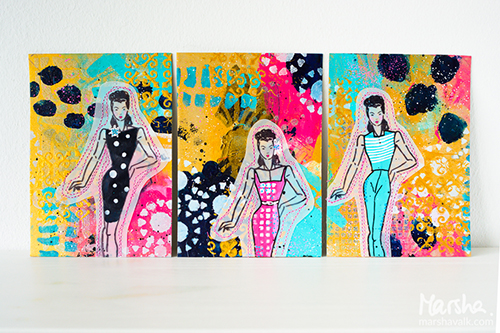 —————————————————————————————————
I love Marsha's super juicy backgrounds and that she wasn't afraid to get her hands dirty in the process!
In addition to Talens Acrylic Paints in Deep Gold, Lamp Black, Phthalo Blue, Turquoise Green, and Quinacridone Rose, a sewing machine and thread, and an old plastic card, Marsha used the supplies listed below (some are affiliate links):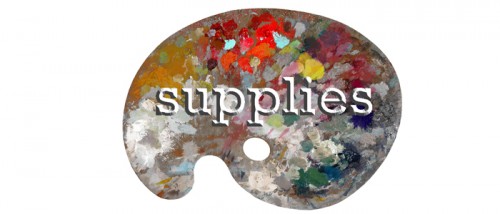 Maybe you will even play along with us -I would love to see how you interpret our monthly themes. Email me how you used my stencils and stamps with the theme and email me an image – I would love to share your projects in my next "n*Spiration From Around the Globe".
See you next Tuesday for another project from the Creative Squad!