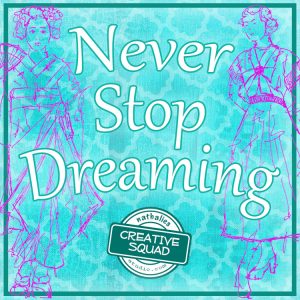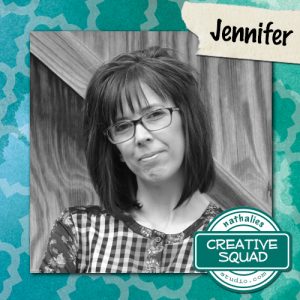 Today we have a post from Jennifer Gallagher from my Creative Squad. She is sharing some really nifty paper doll inspired cards that use my new Millie and Actually I Can stamps. This month's theme is:  Never Stop Dreaming – This month we're sending a message of confidence and empowerment to all those in the world (near and far and maybe even you!) who have been told "You can't", "That's not possible", or "Not you". Actually we can and we will! And we'll never stop dreaming either :)
---
This month we are creating with positive affirmations and the idea of female empowerment in mind. While pondering a fun way to use Nat's new Actually, I Can stamp set, I was reminded of all of the fun I had as a child playing with paper dolls. I would spend hours as a child daydreaming of parties with ladies wearing fancy clothes and shoes while changing the outfits on my paper ladies. This stamp set takes me right back to those days. I was inspired to create an encouragement card that plays on the idea of a paper doll.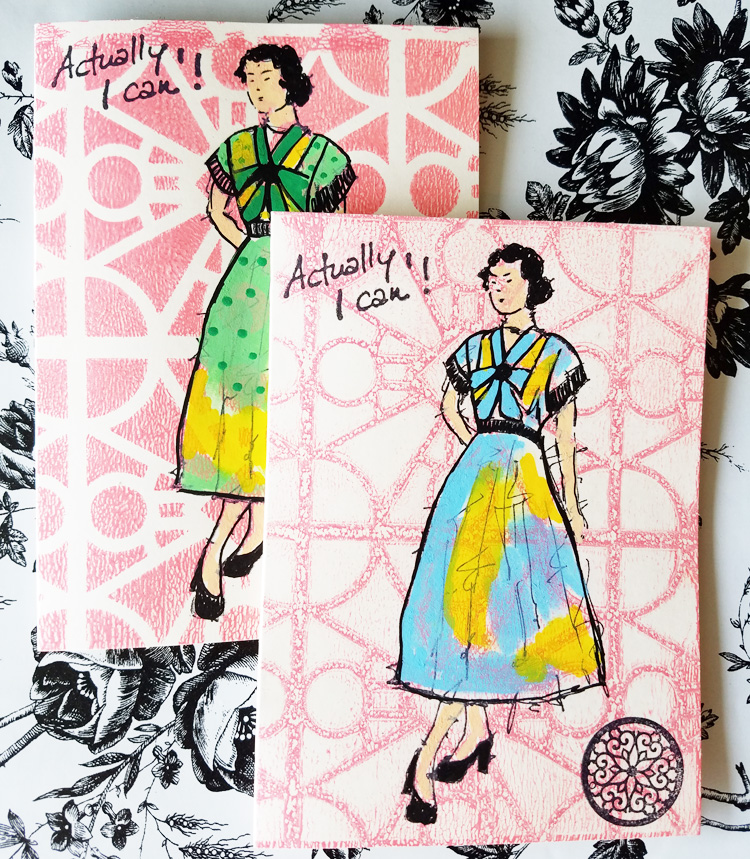 I began by stamping the Millie stamp in the center of a 4 x 5.5 inch ivory card base with black archival ink.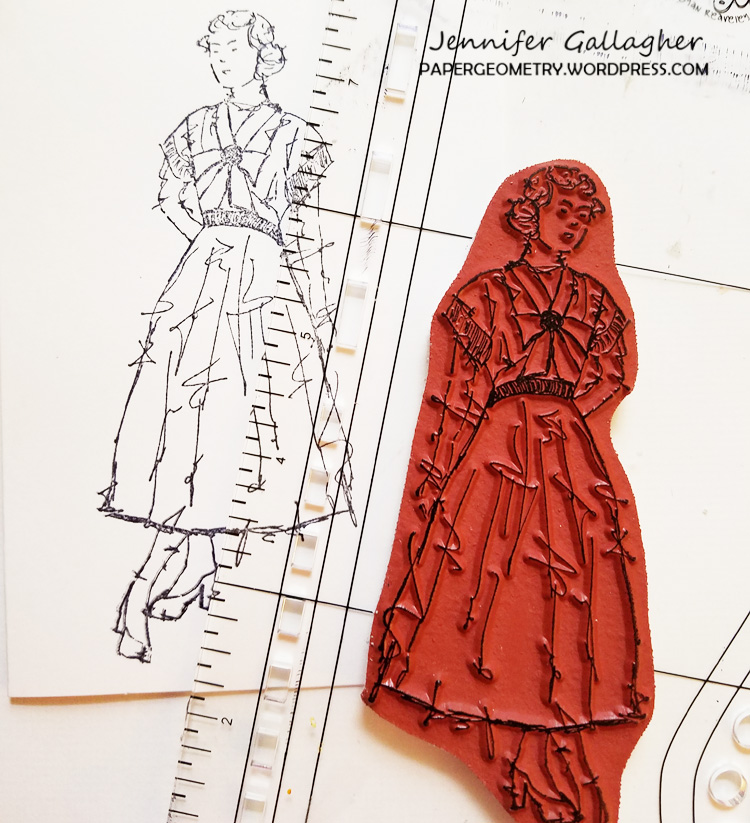 Next, I brayered out a mixture of Dina Wakley Media Acrylic paint in cheddar and magenta onto my 5×7 gel plate. After placing Nat's Buenos Aires stencil down onto the paint, I pressed my stamped card face on top of the stencil and pressed evenly across the surface.
I pulled up the stencil to find what is referred to as the "ghost print". I laid a second card base down to pull that leftover paint off the plate.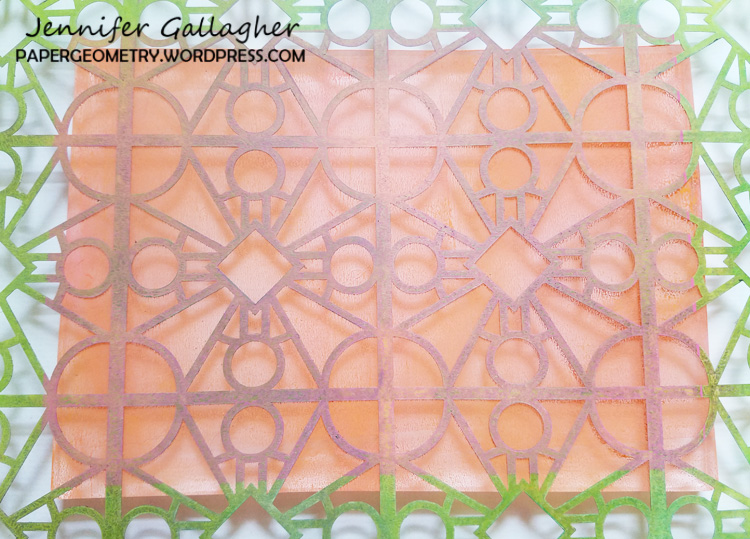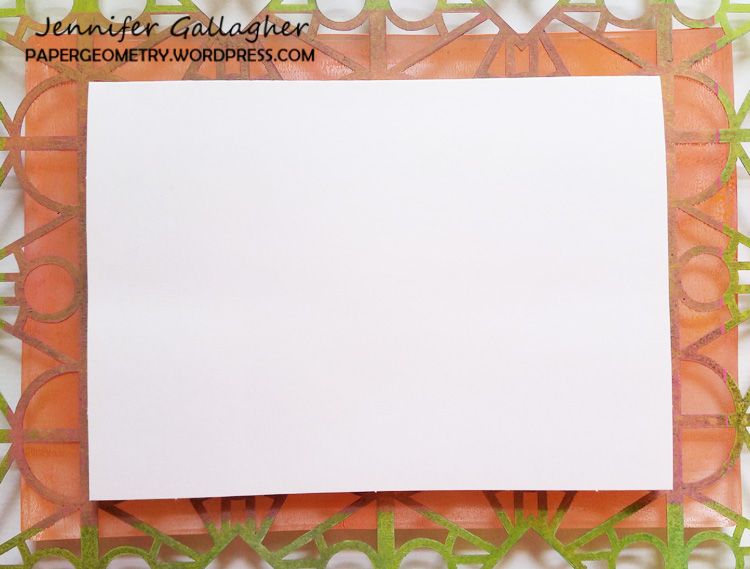 Once the gelli print is dry, I colored in the image starting with the skin using a Posca Pen in light orange. Her hair, dress, and shoes were also colored in with various posca pen colors. You can really have a lot of fun with this step adding stripes, polka dots, etc. I finished off the front with the "Actually, I can" stamp in the upper left hand corner and a stamp from Nat's Small Circle Jumble stamp set in the lower right corner.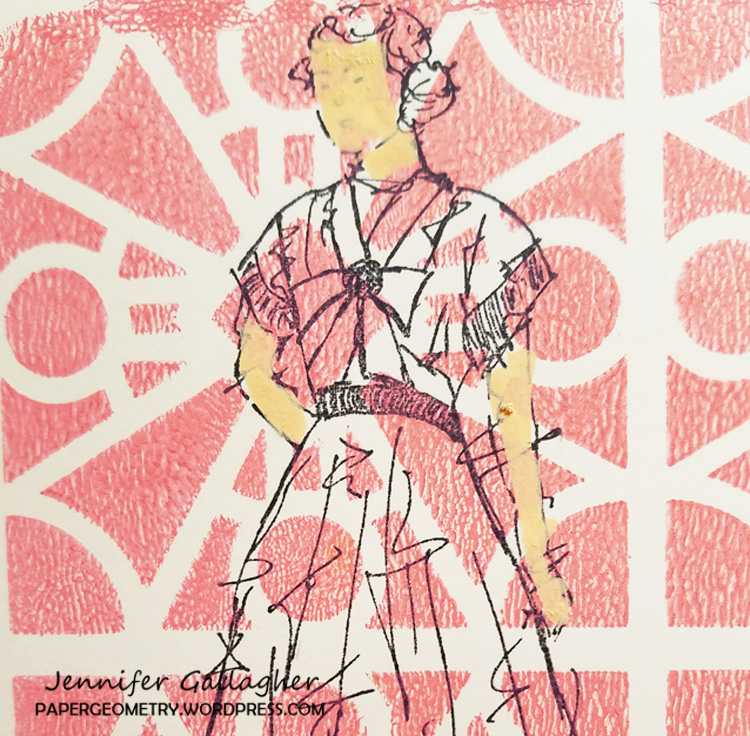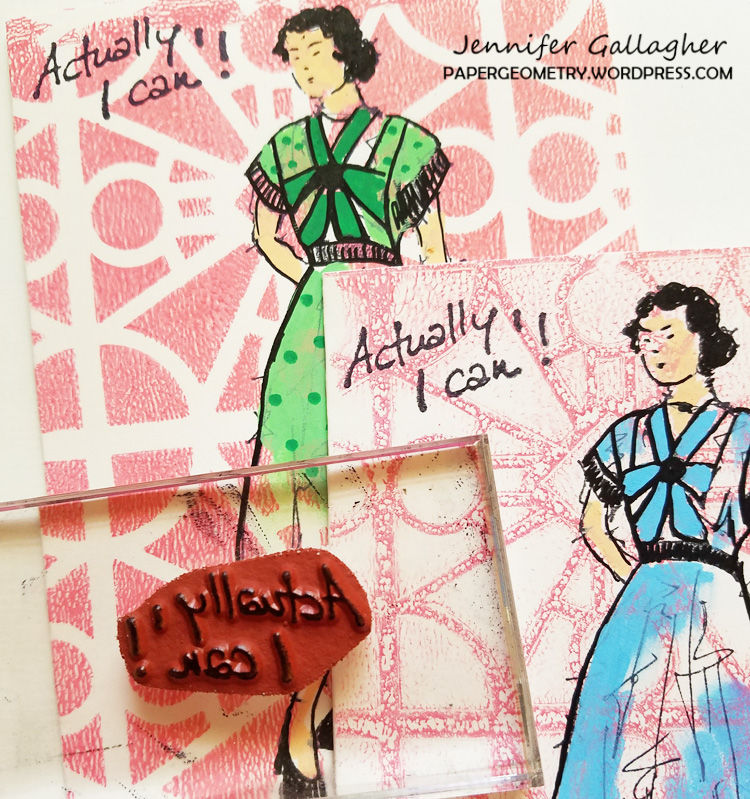 I took a few extra card bases and cut them in half. Then I stamped the Millie image on the front of each one. Next, I fussy cut around the edges of her dress and colored them in with my Posca paint pens to create a few changes of clothes for Millie. Once dry, I placed scor-tape on the back of the dresses and added them to the insides of my two cards.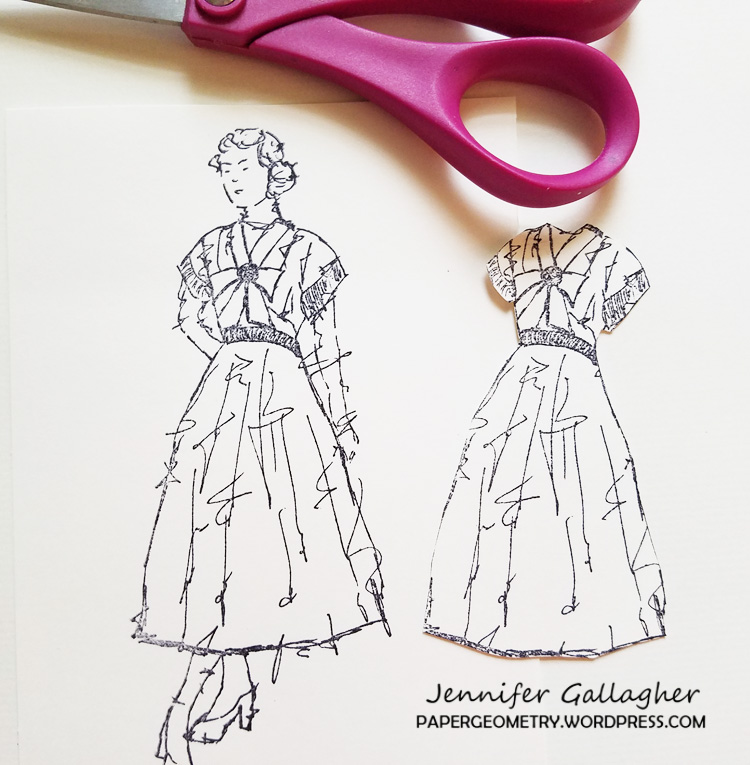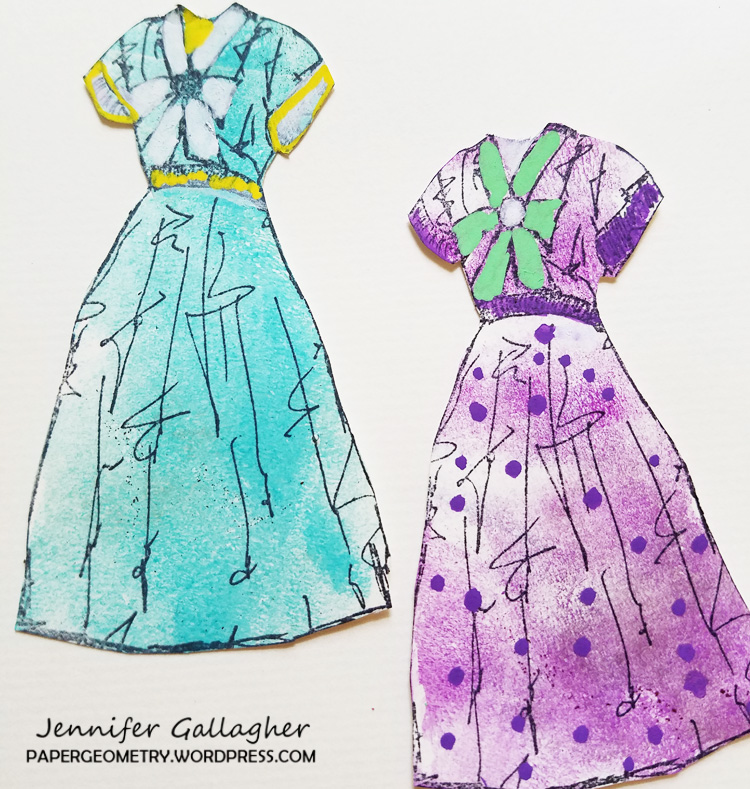 I took a Sakura Gelli Roll pen in black and drew a clothes hanger for Millie's dress. Later, when I send it I will write in an inspirational quote for the recipient beside of her new fancy party dress.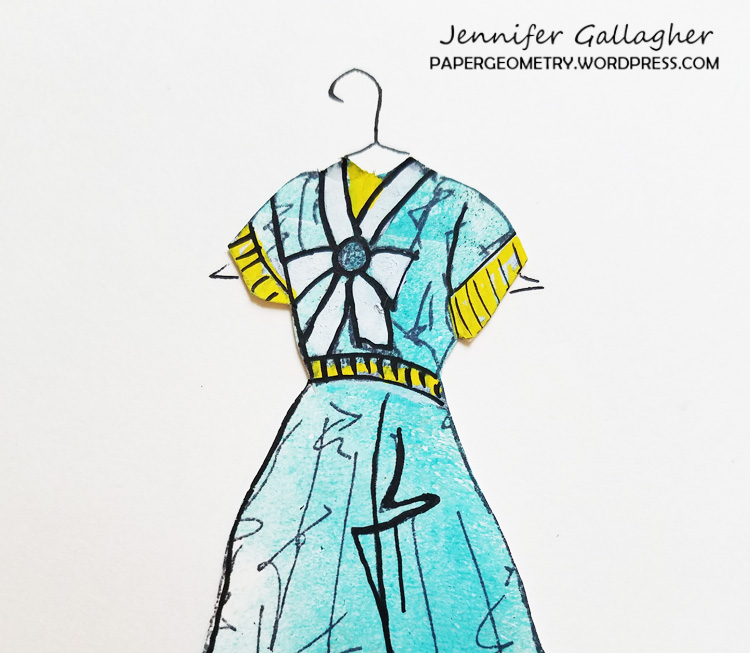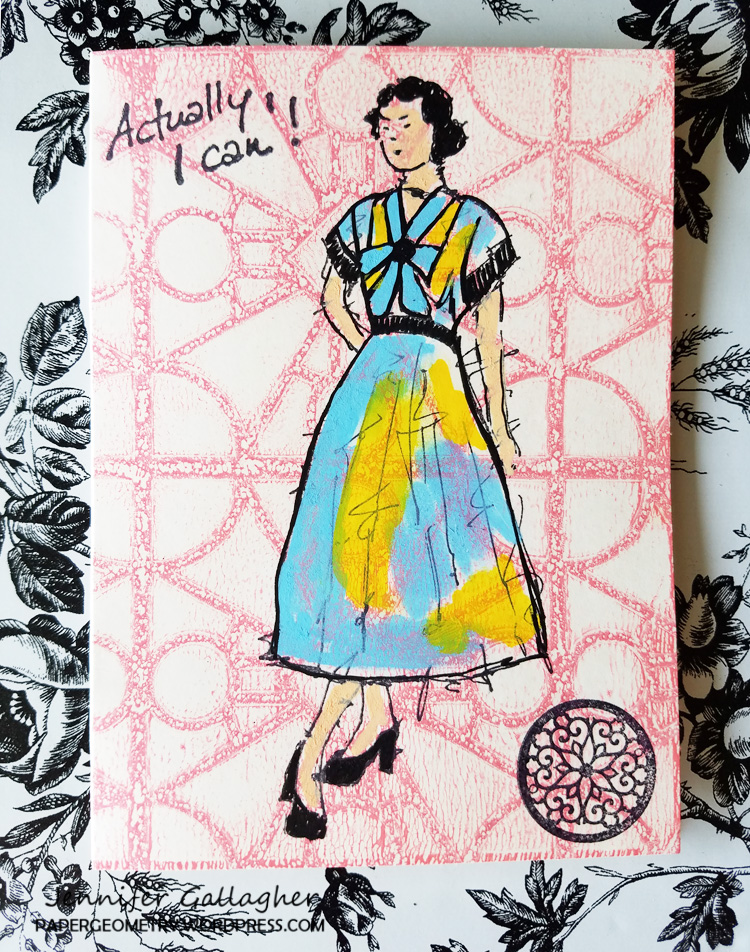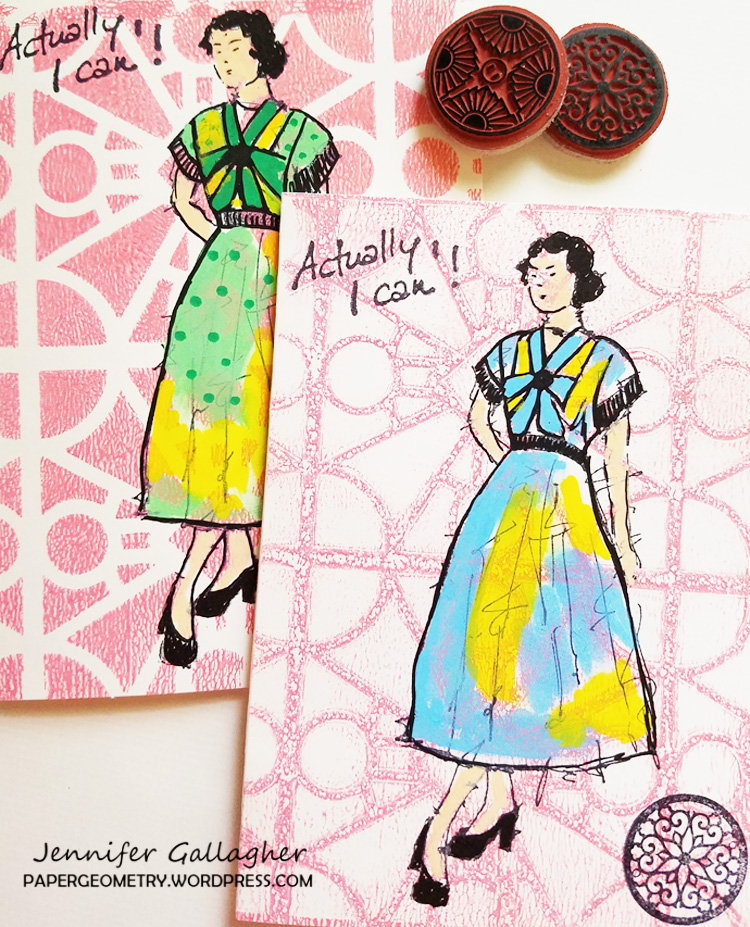 I hope you have enjoyed my paper doll inspired cards. Be sure to check back each Tuesday to see more from Nat's Creative Squad.
---
Thank you Jennifer! These are so fun and I know who ever receives them will love playing with Millie's wardrobe :) You can find my new Millie and Actually I Can stamps, along with all my products, in my online shop. Jennifer also used some of the following supplies:
Feel inspired? Working on something yourself that you'd like to share?  I love to see how you interpret our monthly themes. Email me how you used my stencils and stamps with the theme and email me an image – I would love to share your projects in my next  "n*Spiration From Around the Globe".