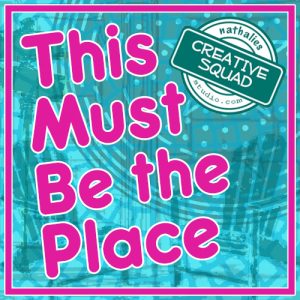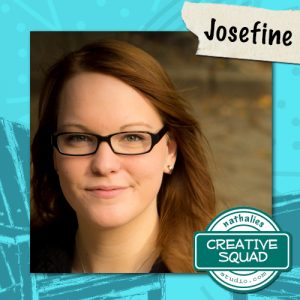 Hello from my Creative Squad! Today Josefine Fouarge is showing us how just playing around can loosen up your creativity and yield some beautiful results. Her tag uses stamps from my My Home is My Castle set, including the Adirondack Chairs and Windows and Door stamps, along with our February theme: This Must Be the Place –We're all on a journey to somewhere or something. Sometimes we're just making preparations for simple things like dinner or weekend plans. Other times we're aiming for bigger goals, bigger places. Whether it's a location or a state of mind, you'll know when you get there. Where are you headed?
---
Even small pieces of art can tell a big story. I love working on tags and playing with the smaller real estate. This one was the perfect size to create some dimension without it looking too busy.
Do you want to hear the story of this tag? Then read till the end ;)
I started with a mono printed background. I used a 5×7 Gel Press and added several colors of PaperArtsy paint on top. The second layer uses the same technique, but in a slightly different way. This time I used one of the Petite Gel Press plates and added the paint through Nat's Kassel and the Hamburg stencils. First the round one and then again with a square plate. While I was at it, I created a few more backgrounds on sandwich paper, some of them which I used for this project later on.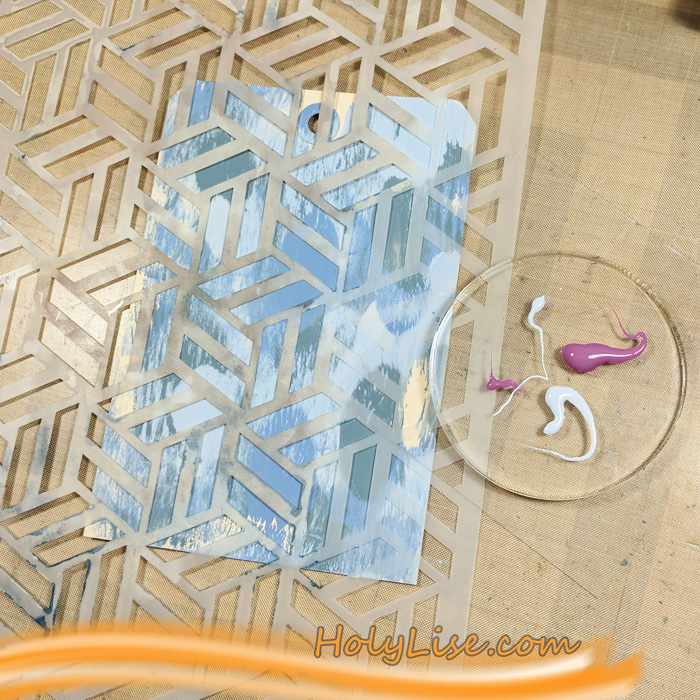 So far, I was "just playing around". That's what I like about mono printing – you don't need a goal. But here I started to see what I wanted my project to look like. I was envisioning a porch with other houses and a scenery in the background. I didn't want to stamp actual houses, so I created the idea of them by stamping the Windows and Door from the My Home is My Castle set.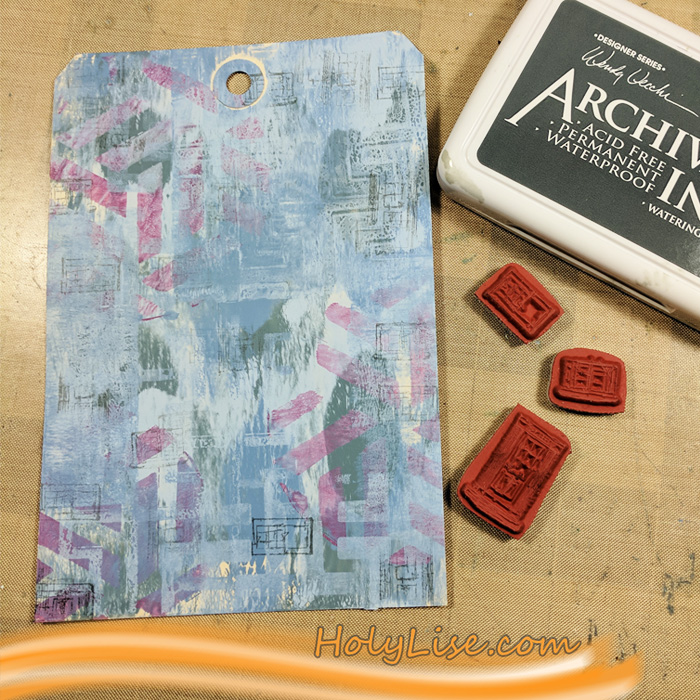 I needed something in the background though. After looking at all the houses and buildings from Nathalie's stamp sets, I picked Lady Liberty. I stamped her with black ink and colored her lightly with Pitt pens in grey and green.
Then I cut out a few circles from the other backgrounds and stamped Nat's Adirondack Chairs on two of them. I adhered both to the bottom of the tag and colored the chairs with Liquitex Paint pens.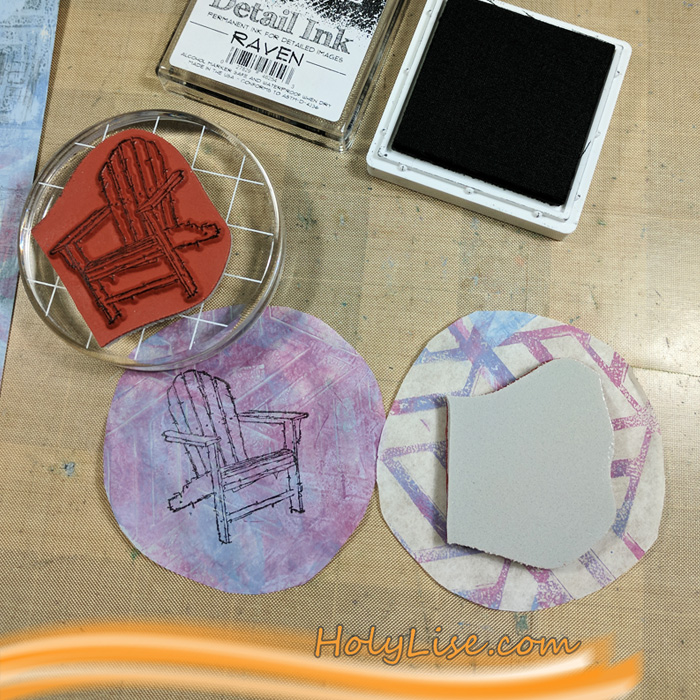 I added some shadows around the chairs and the circles and scribbled a love poem from Shakespeare around the circles as well.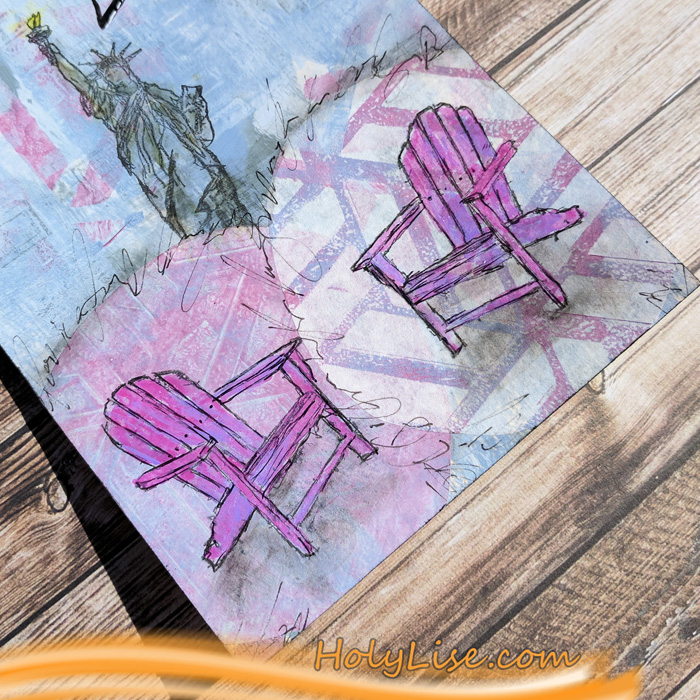 Now that I had my porch with the two Adirondack chairs I needed a sentiment. I imagined an old couple sitting on that porch, enjoying their lives together. They have seen everything they wanted and are now spending the rest of their days together, just the two of them. "This must be the place." Yes, the Love sentiment was the perfect finishing touch.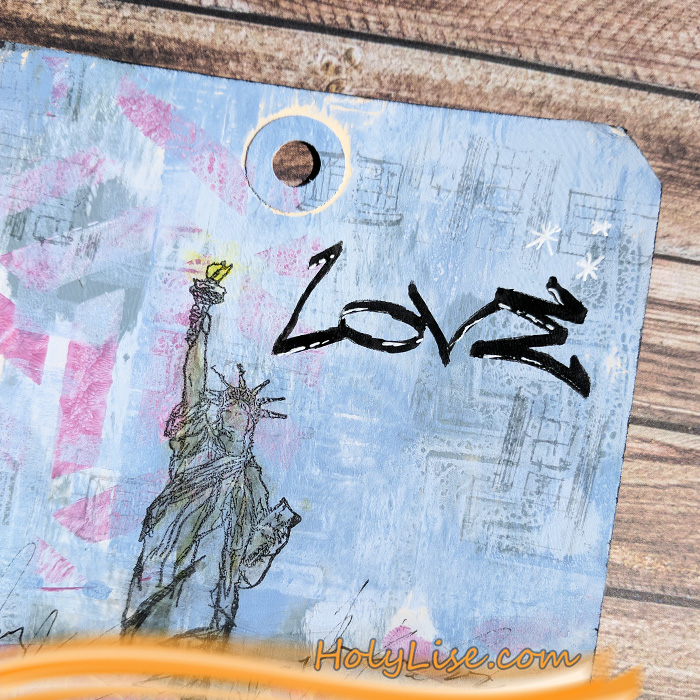 Here is the finished project. Can you see them sitting there, smiling?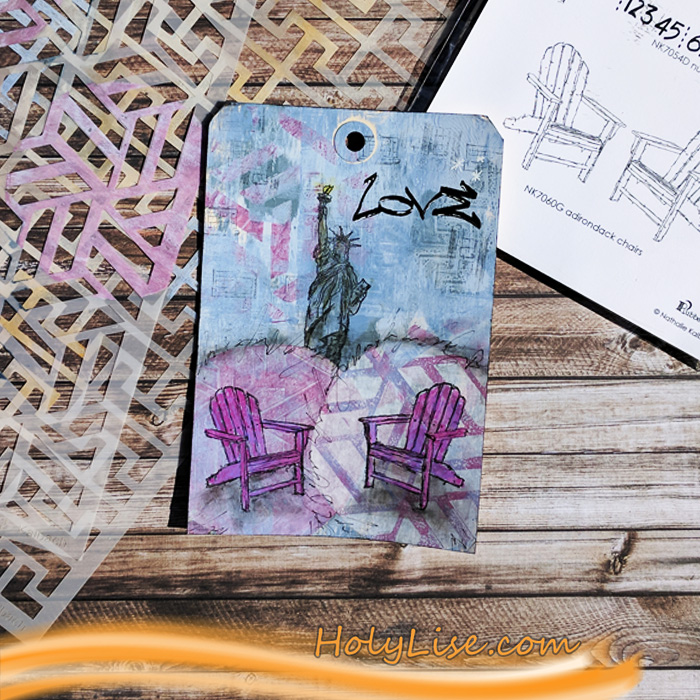 Thanks for stopping by. See you next month  :)
---
Thank you Josefine – your story made us feel very warm and fuzzy! Josefine used the following supplies in her project:
Play along with us too: I love to see how you interpret our monthly themes. Email me how you used my stencils and stamps with the theme and email me an image – I would love to share your projects in my next  "n*Spiration From Around the Globe".
Follow our new Creative Squad page on Instagram @NatsCreativeSquad and see even more projects from our awesome team of artists!