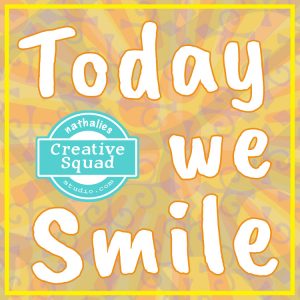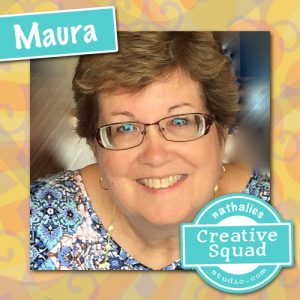 Hello from my Creative Squad! Today we have some cute little notebooks from Maura Hibbitts that will definitely inspire you! Maura is using my Marks stamp set, along with my Street Sign, Snail Mail, Numerals, and my Windows and Door stamp set and this month's theme: Today We Smile – They say smiling can lift our mood and maybe improve our overall health. Let's try it! Think about what makes you smile and share it with all of us. After all, smiles are also known to be contagious :)
---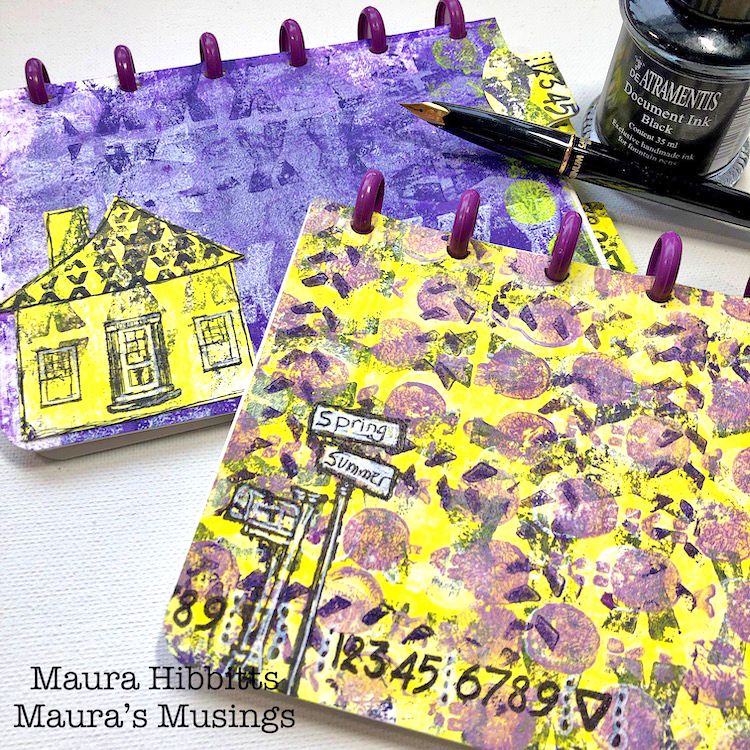 I've been inspired by all the wonderfully creative projects on Creative Jumpstart 2019, and I think that is why I've tucked in some home elements on my little notebooks. I immediately thought of working with bright yellow when I saw this month's theme, perhaps due to our dark winter this year. I chose purple as my complementary color (the color opposite on the color wheel). Somehow, along the way, the cards I was going to make, morphed into these little notebooks.
I pulled out my small gelli plate (6×6) and added Dioxazine Purple, then used the brayer to get a thin layer of paint. I randomly pressed one sheet of paper onto the plate to create a dark purple background. On my other watercolor sheet, I stamped X's from Nat's Marks stamp set with the dark purple. I went back in on my dark background with Translucent White and the X marks, and also layered in a bit of Lavender.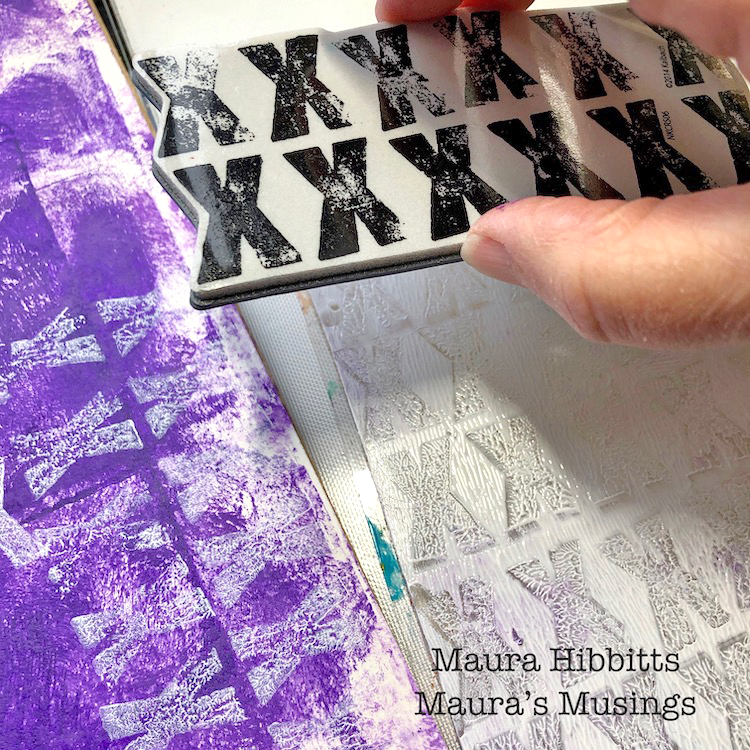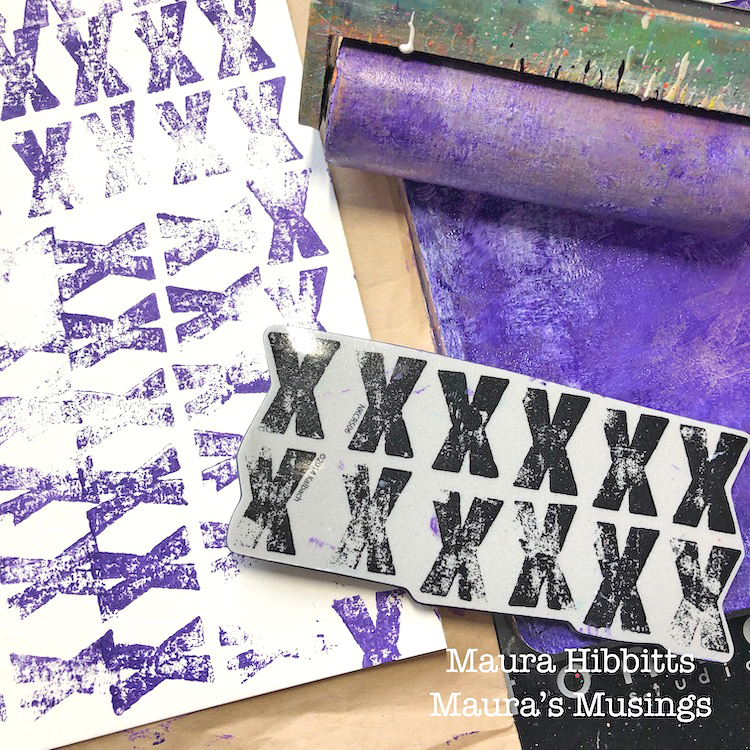 To create my yellow background, I mixed Neon and Light Yellow on the gel plate. Then, I stamped the hexagon gel plate into this and transferred it repeatedly onto my X paper. I also used the circle mark stamp from the Marks stamp set on the hexagon and stamped this on my paper. I stamped yellow circles onto my dark purple paper also.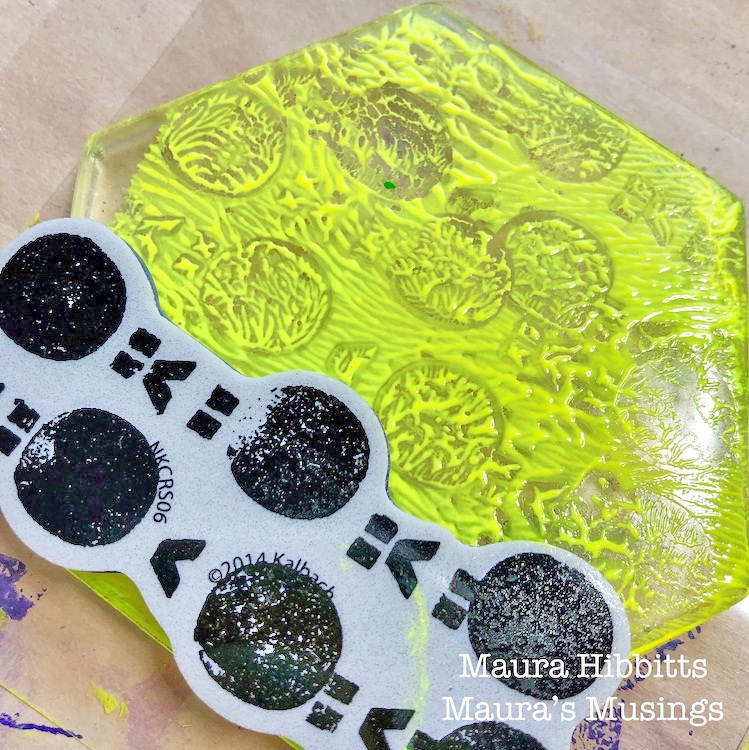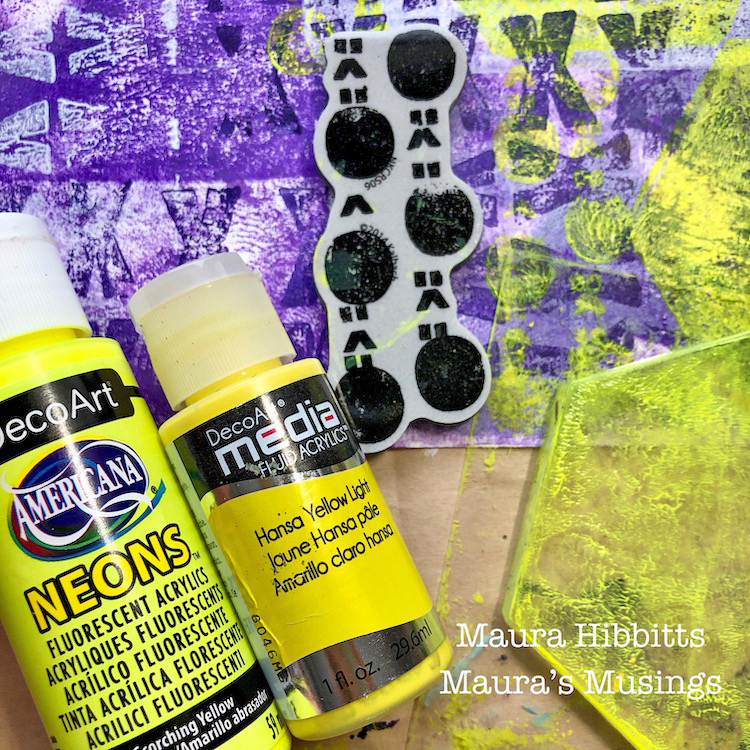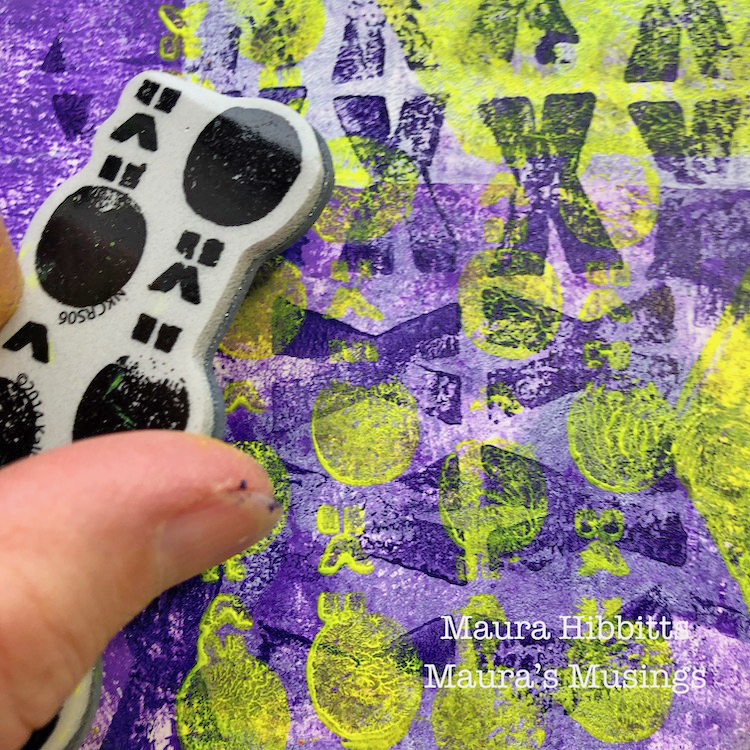 I decided to add a bit more purple to my Yellow paper, but wanted it lighter, so I mixed Translucent White with Purple Rain. Once again, the gel plate works as a great paint surface to stamp into, and I used the circle marks again. I then decided to add a bit more dark purple with the tread like mark and stamped in a random fashion.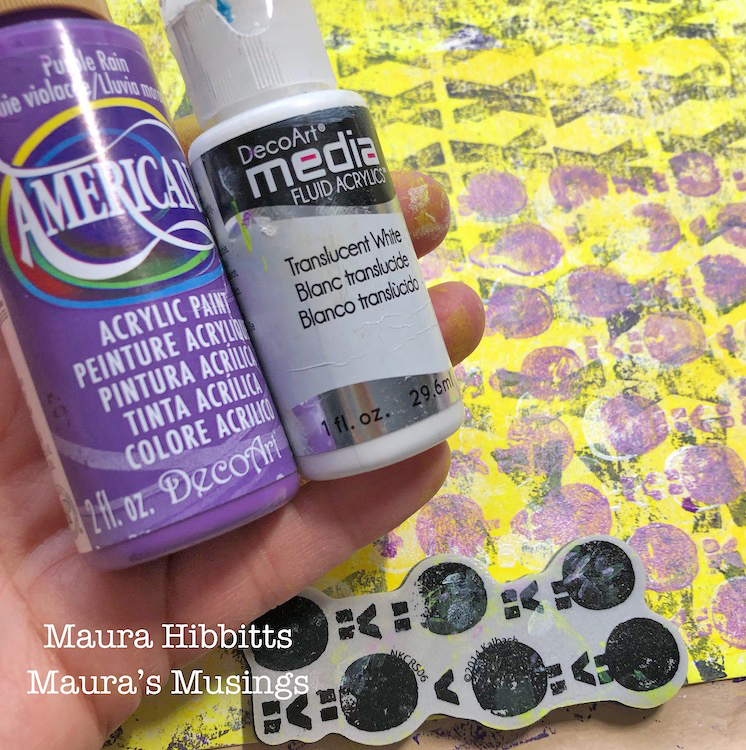 Now that my papers are made, I cut out four pieces 4 !/2 x 6" and rounded the corners of the bottom with a 1/2" corner rounder. I also used a tab punch to punch several tabs.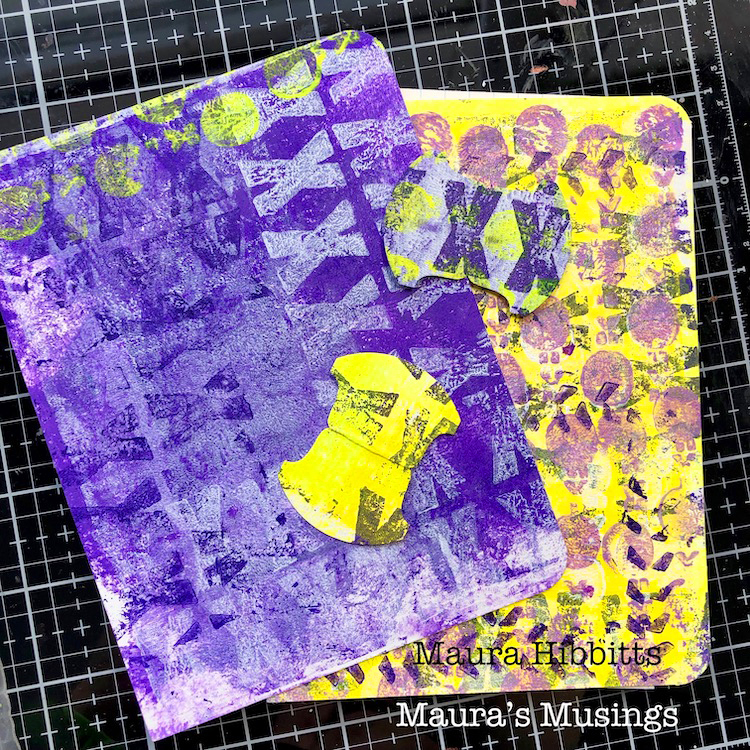 Time for the Rollabind machine.  Can you believe, I almost got rid of this? I hadn't used it in forever, and then I started to notice a lot of planners that use this system. Now, I am really glad I still have it! I used 4×6 index cards and A2 envelopes. Trim off the envelope flap before using the Rollabind in order to make this into a pocket. I adhered tabs to my pockets.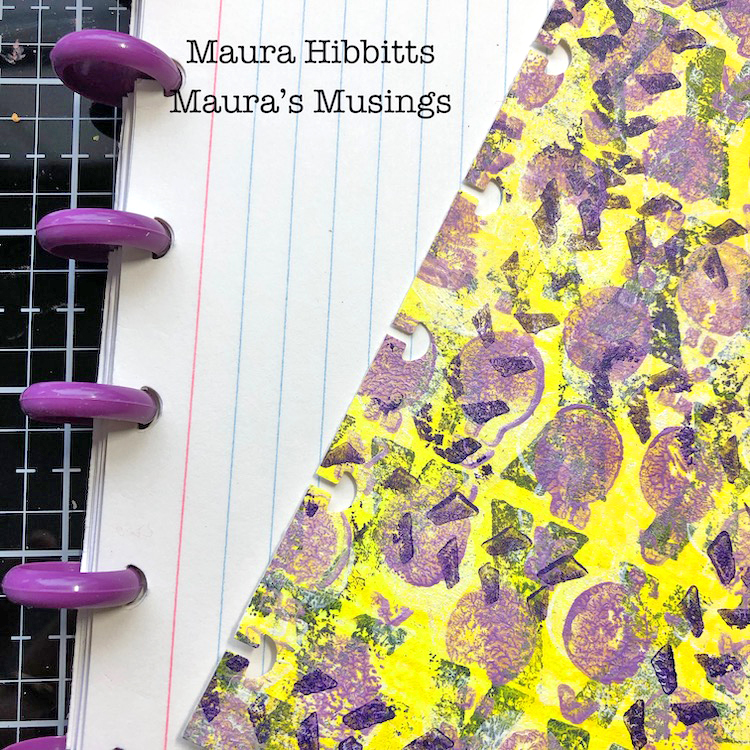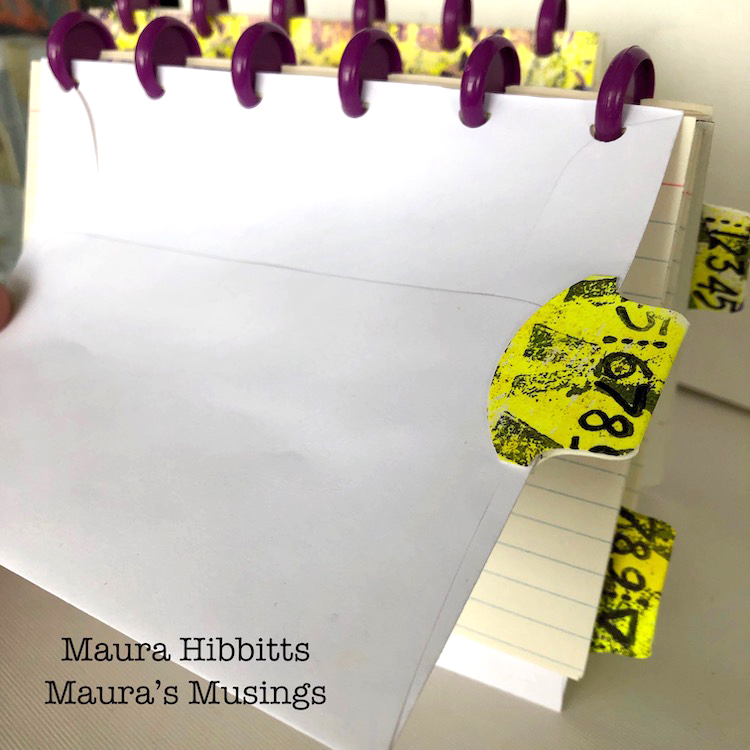 I stamped the Door and Window onto my purple notebook, but it really didn't show up well. Then I decided to stamp again on the yellow, and hand cut a wonky little house. I didn't sketch, I just went in with the scissors. I added some detail with black and white pens, and decided the roof needed more detail. I masked off the chimney, and stamped with the V marks and black ink. Then I adhered this to the front  of the notebook, along with a tab. I also stamped images on my yellow notebook and added in some white details. Then, thinking of our Smile theme, I wrote in Spring and Summer on the road signs, because that would make me smile!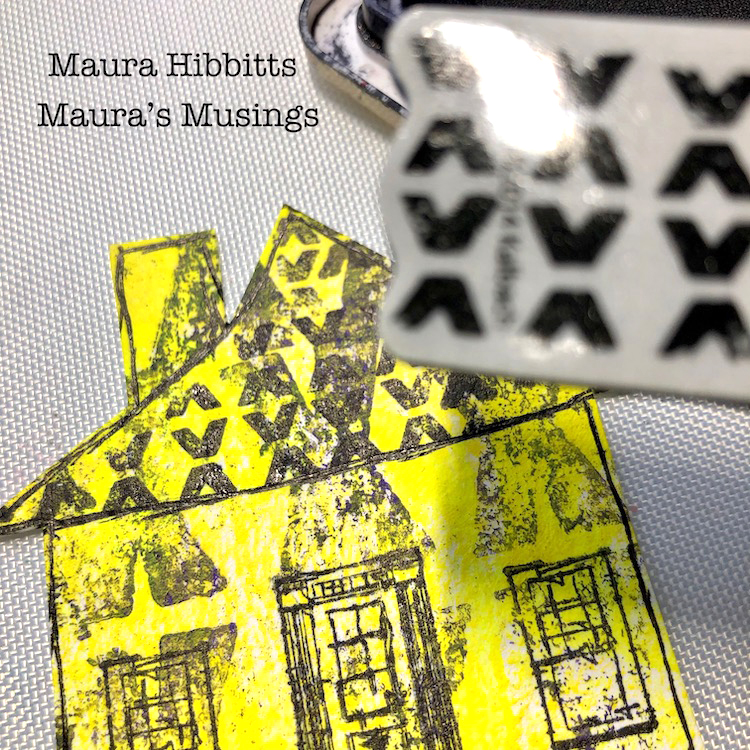 Here are some of the details of the covers. I thought it was pretty serendipitous to find the purple disks to use, as I had no idea what I had.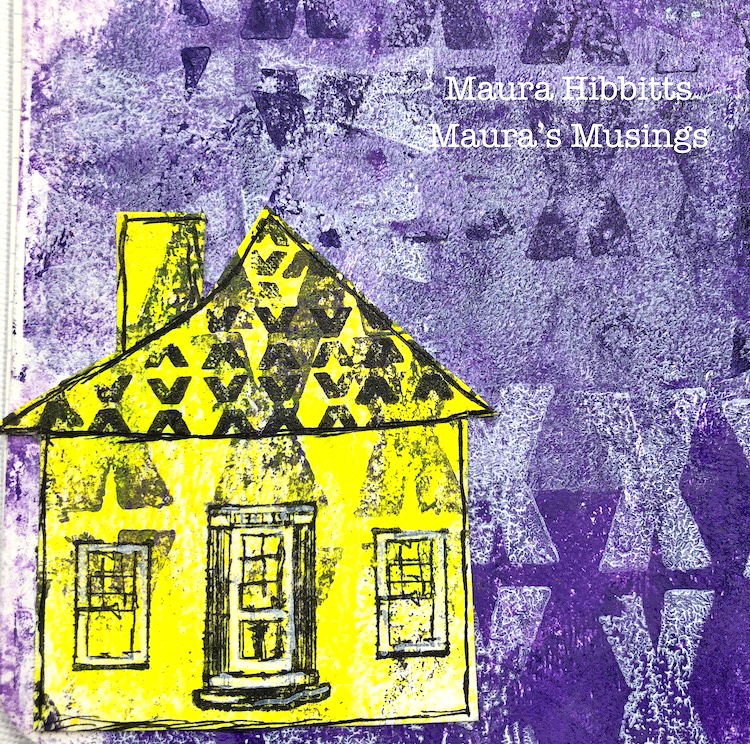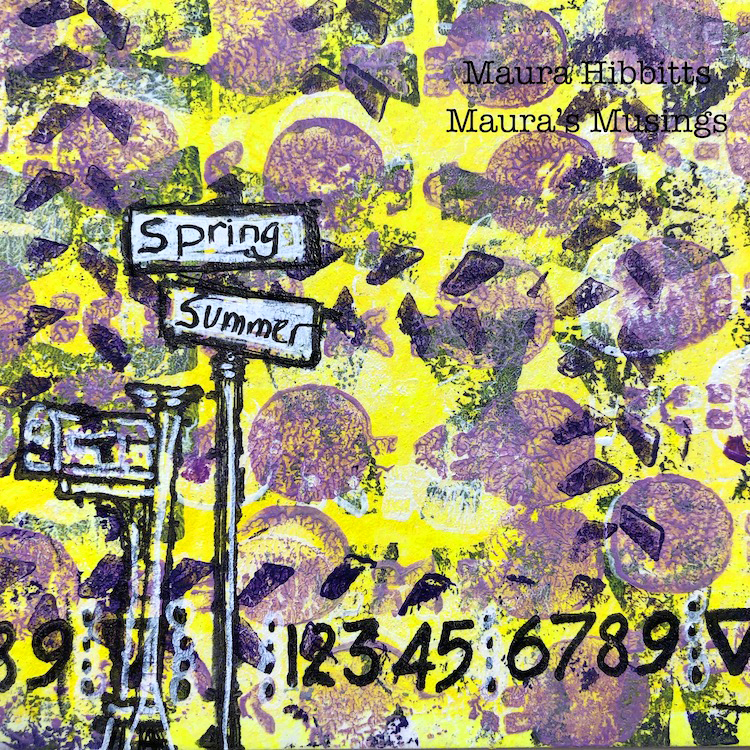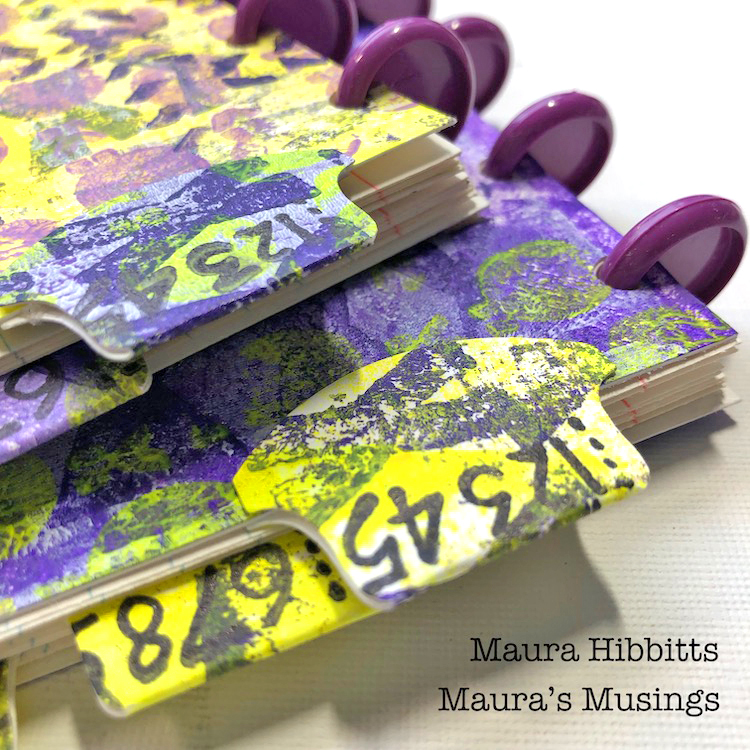 I enjoyed layering with stamps on this project. Stamping in different directions adds another element of fun. I'm smiling because I have two cute little notebooks I've made for gifts, and I think they will smile when they receive them. It's a smiling kind of day! Maura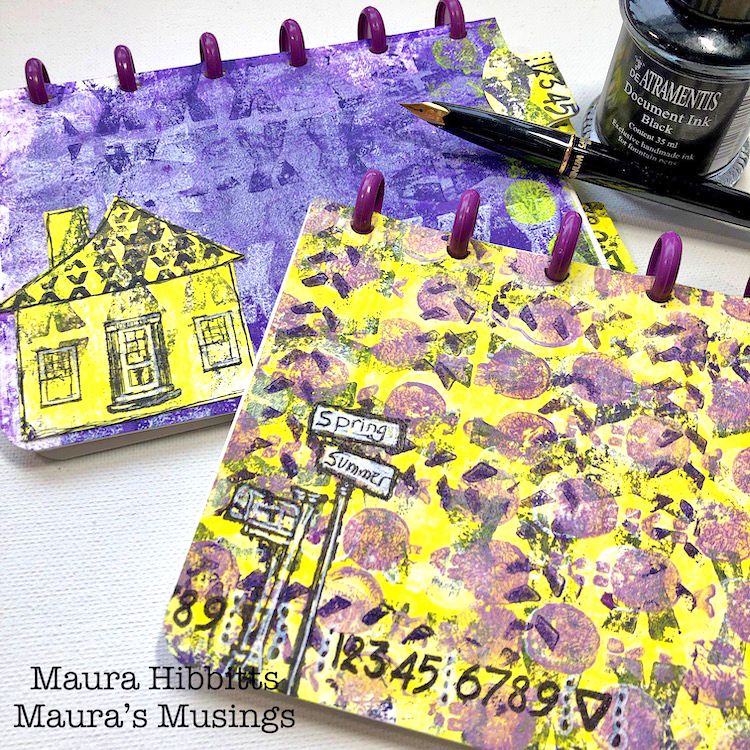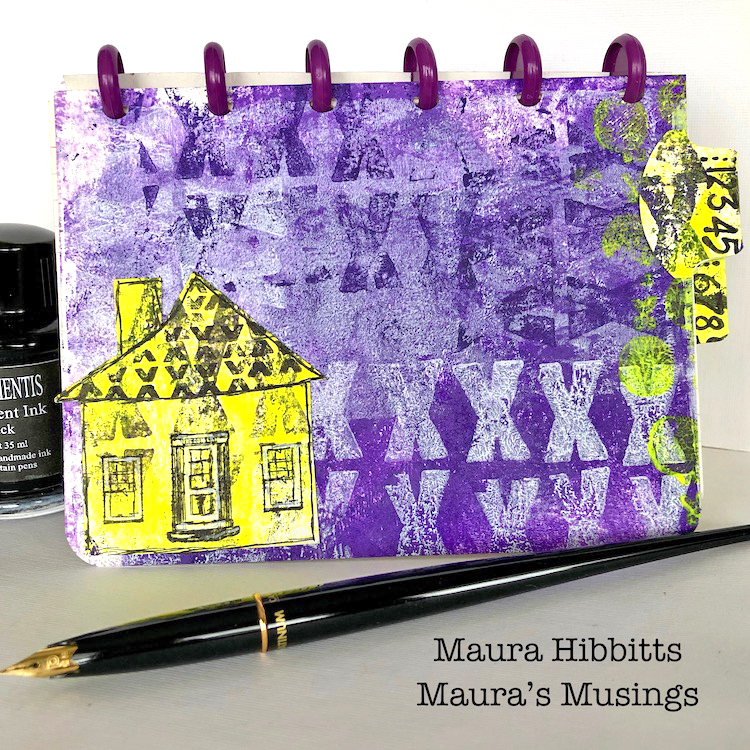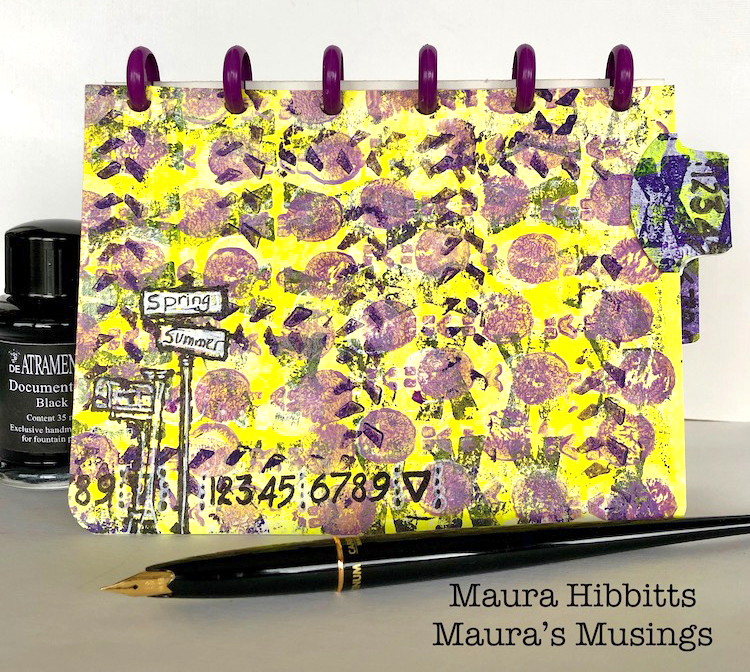 ---
Thank you Maura! I love that charming little house :) You can find my Rubber Stamps in my Online Shop . In addition to a tab punch and rollabind system and disks, here are some of the other supplies that Maura used:
Feel inspired? Working on something yourself that you'd like to share?  I love to see how you interpret our monthly themes. Email me how you used my stencils and stamps with the theme and email me an image – I would love to share your projects in my next  "n*Spiration From Around the Globe".