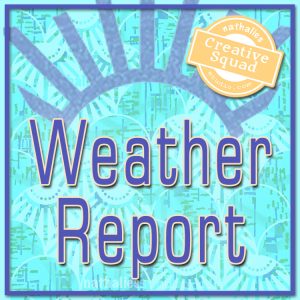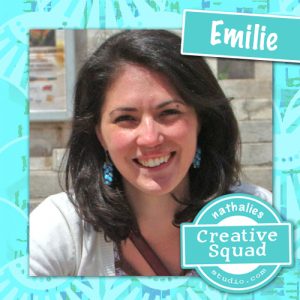 Hello from my Creative Squad and a BIG welcome to our newest member Emilie Murphy! Today is her first project with us and we are very excited to share this art journal page with you. Emilie is using my Santiago, Space Age Modern, and Exchange Place stencils and this month's theme: Weather Report – Let's talk about the weather! Do you love thunderstorms? The crisp air of Autumn? A good snowstorm? Are you a fan of endless sunshine? Create something inspired by that go-to topic of small talk – the weather!
---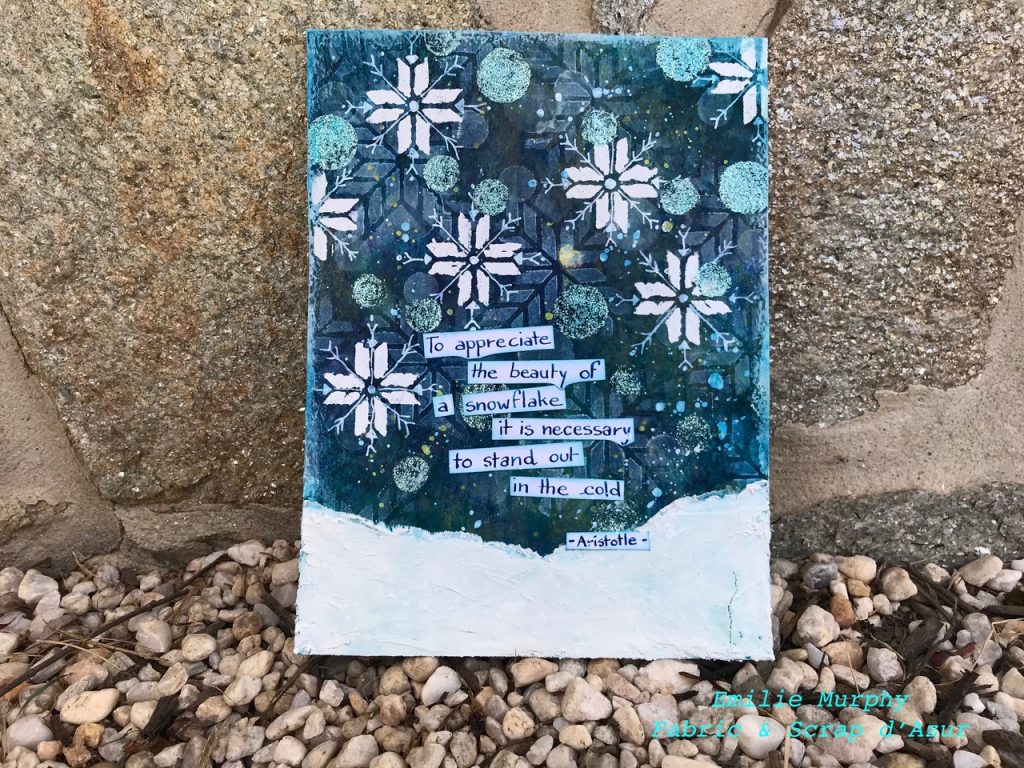 "To appreciate the Beauty of a snowflake, it is necessary to stand out in the cold." – Aristotle
Hi everyone! This is my very first project for the Creative Squad this month. I'm so happy to be a part of Nathalie's Design Team.
I have to say that Spring is probably my favorite season of the year, but as I didn't get any snow this year, at least where I live in Maryland, I decided to make an art journal page about snowstorms to illustrate our "Weather Report" theme this month.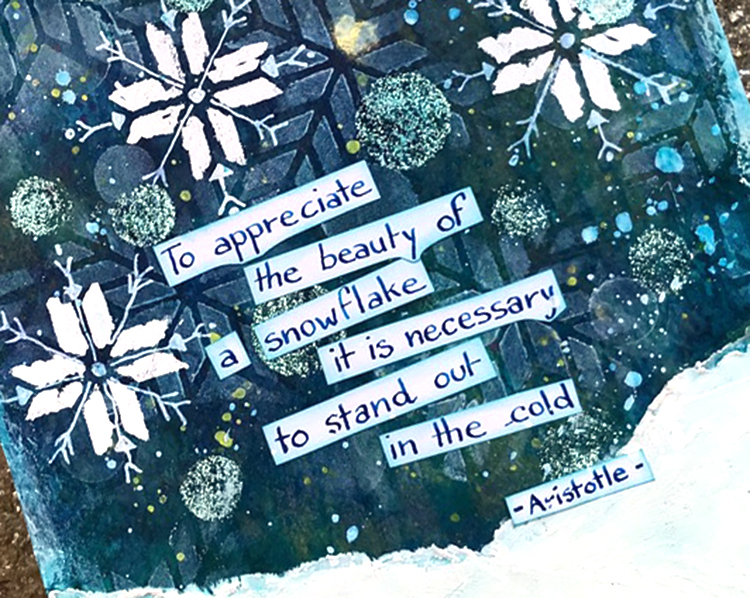 Let me guide you on how I made my journal page!
I started to spray some Dylusions ink on a 140lb. piece of watercolor paper until I was happy with the result.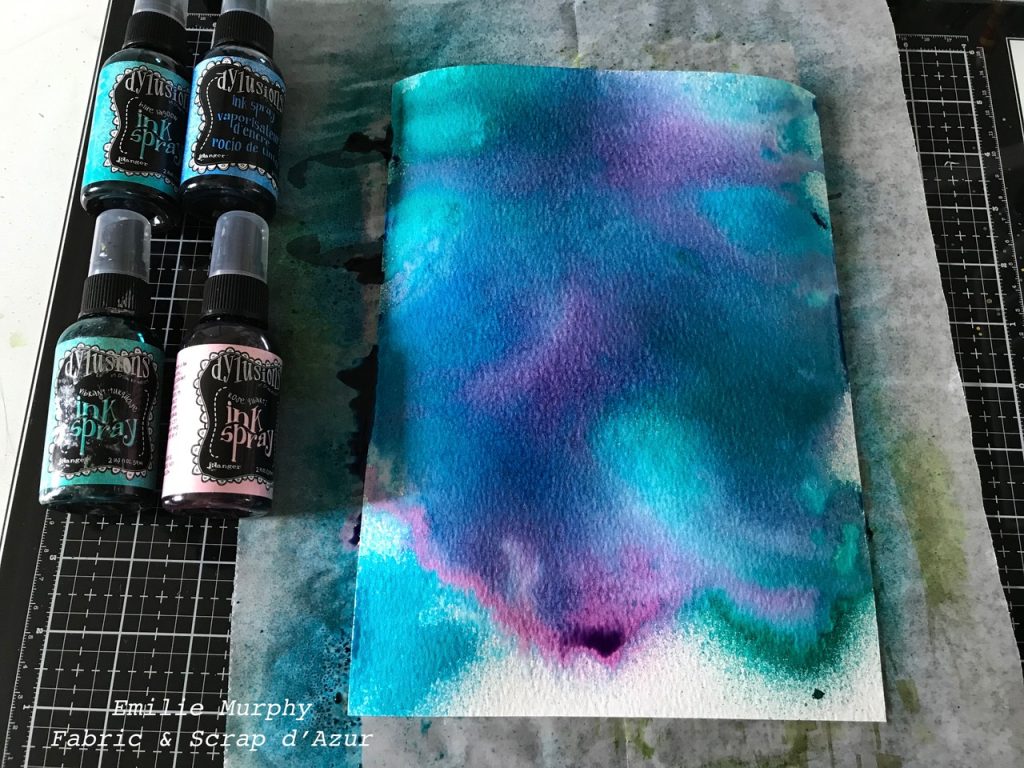 Then, to add some texture, I sprayed over the "Space Age Modern" stencil with the same dylusions inks. Let it dry.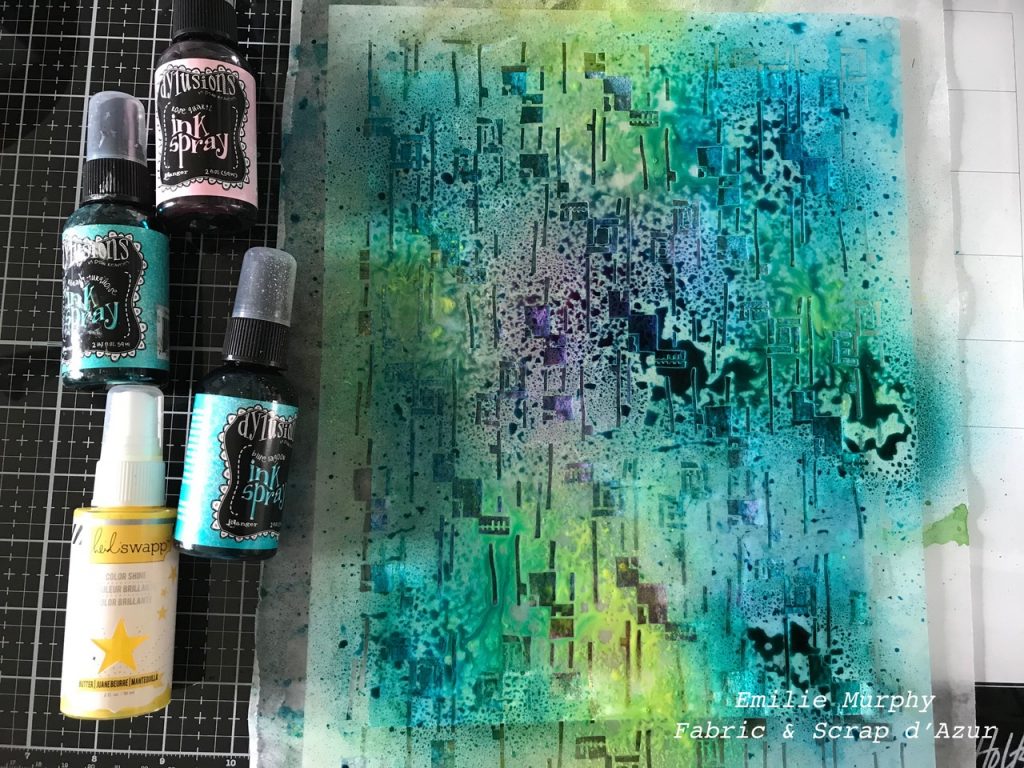 Then I sprayed again through the same stencil with some ocean glossy acrylic (new product of Dina Wakley) and let it dry.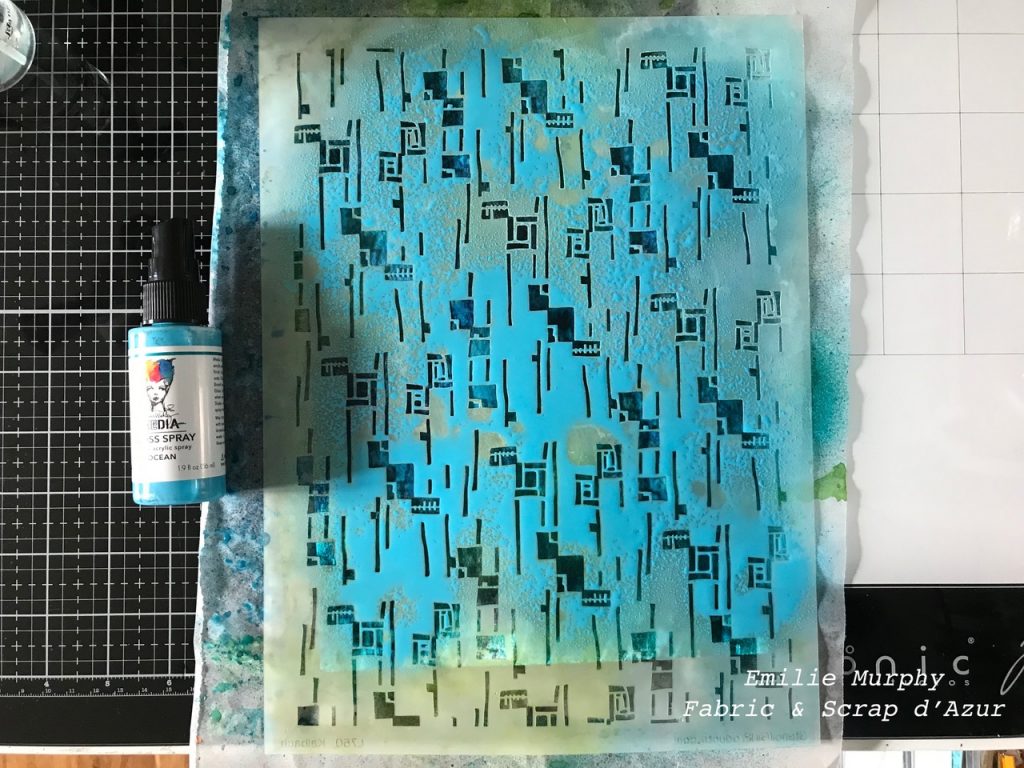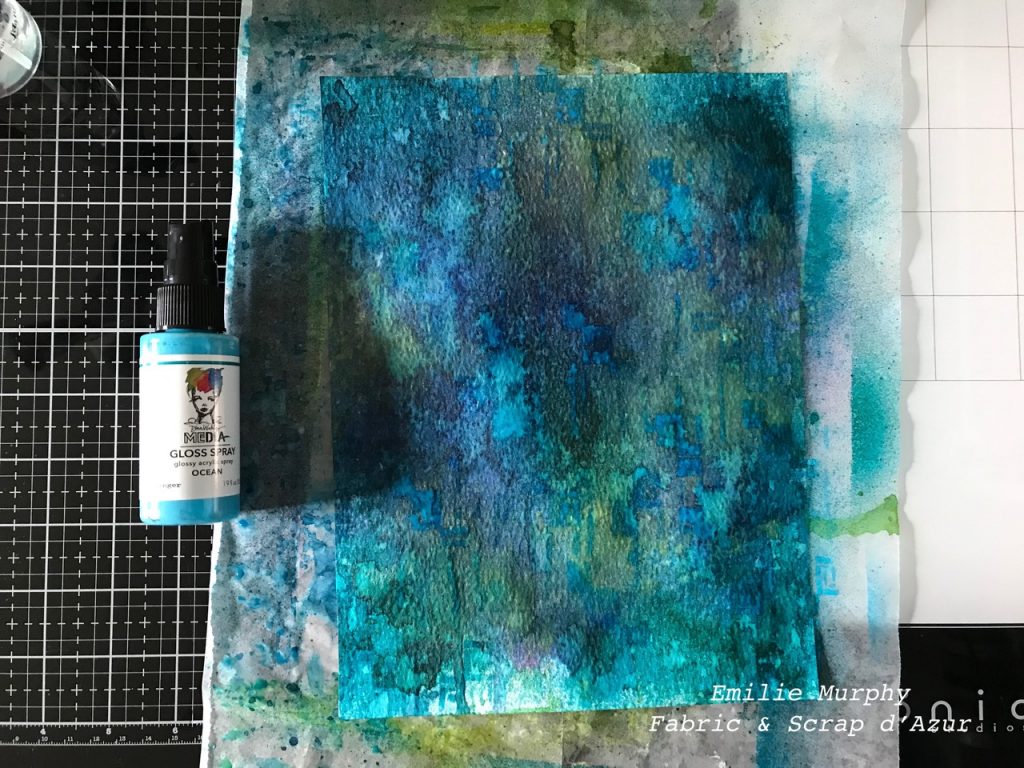 One thing that I like to do, in almost all of my journal pages is to add some splatters.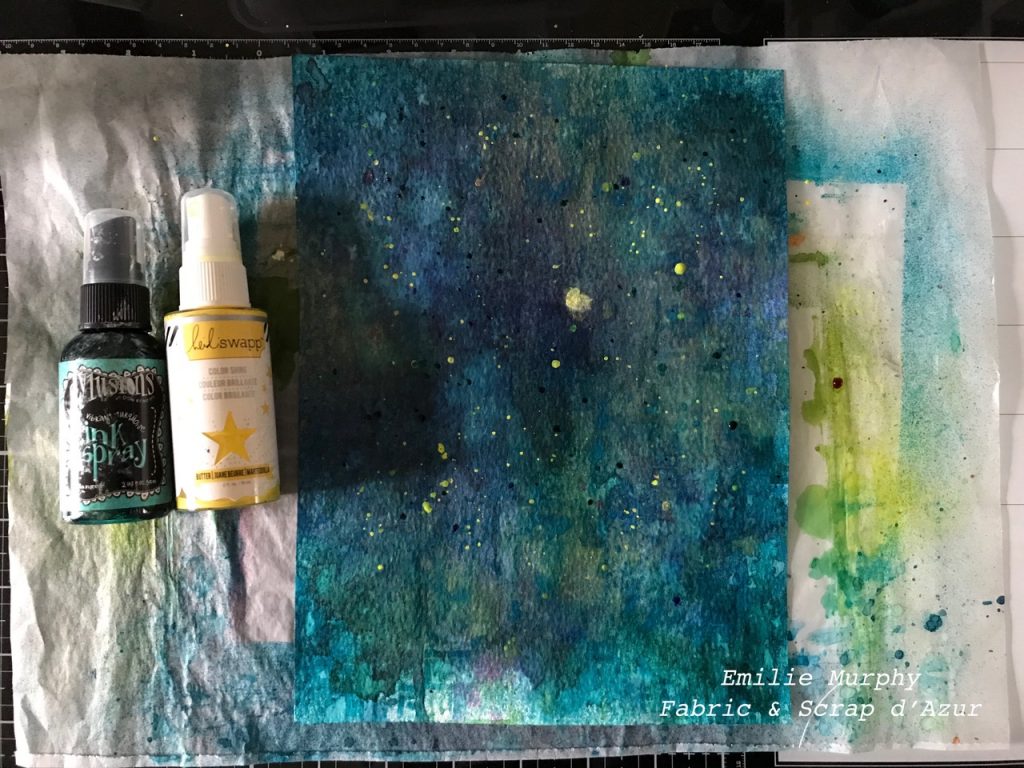 Next, I laid down the "Santiago" stencil and applied a thin coat of acrylic gesso with a sponge through only the portion of the stencil that looks like a cross. I saw Nathalie using it that way for one card of her "Deck of Cards" challenge last November 2019. What an awesome idea! Love this coat of gesso that stays transparent and gives a dreamy look to my background. That's exactly the effect I wanted.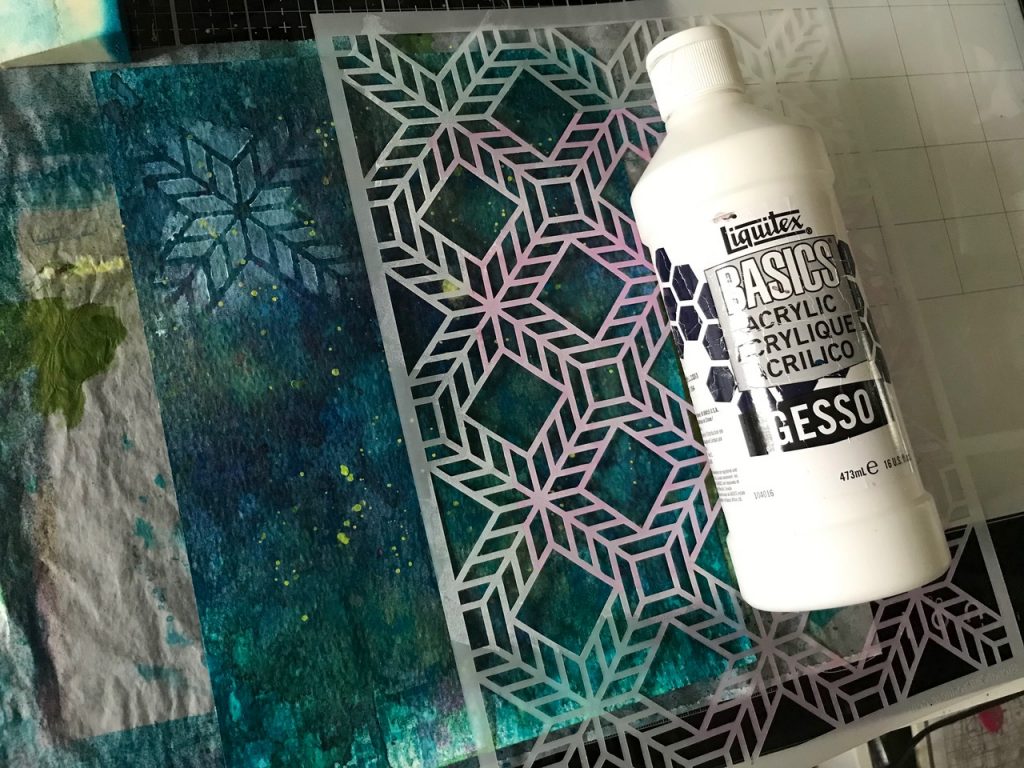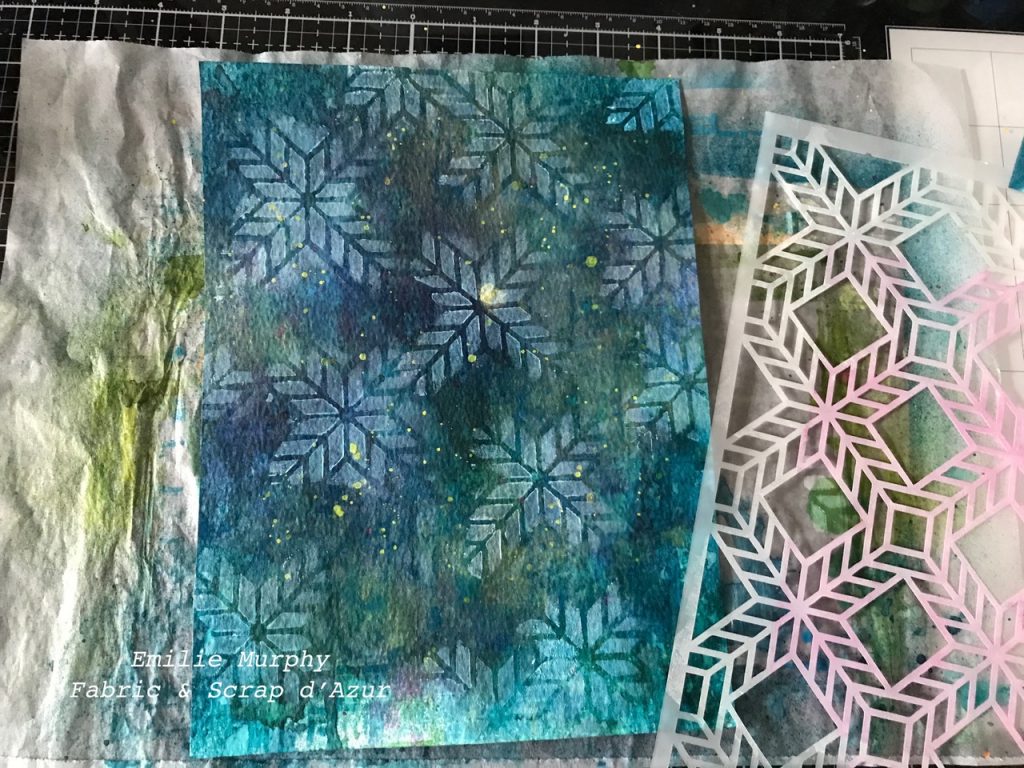 I repeated the same thing adding some circles from the "Exchange Place" stencil.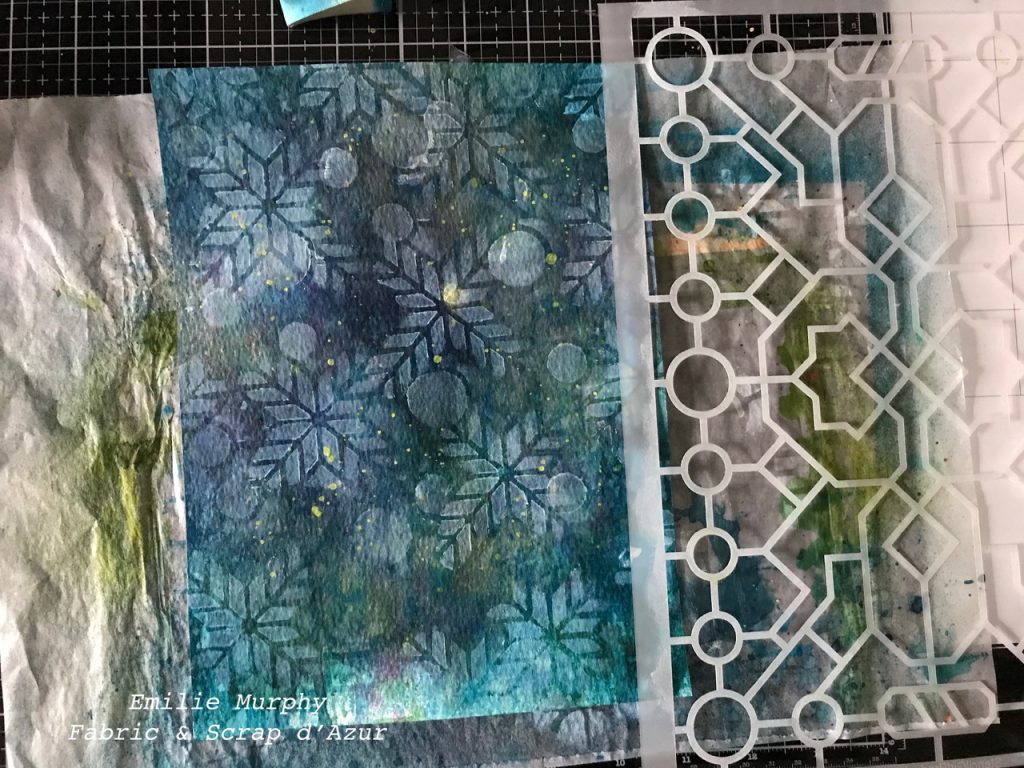 At that point, as I was satisfied with the background, I added a thick layer of texture paste to create some snow covering the ground. After I let it dry, I noticed that the ink stained my texture paste too much, so I kept adding some of this paste (about 3 coats) until I was satisfied with the sort of slight bluish whiteness of my snow.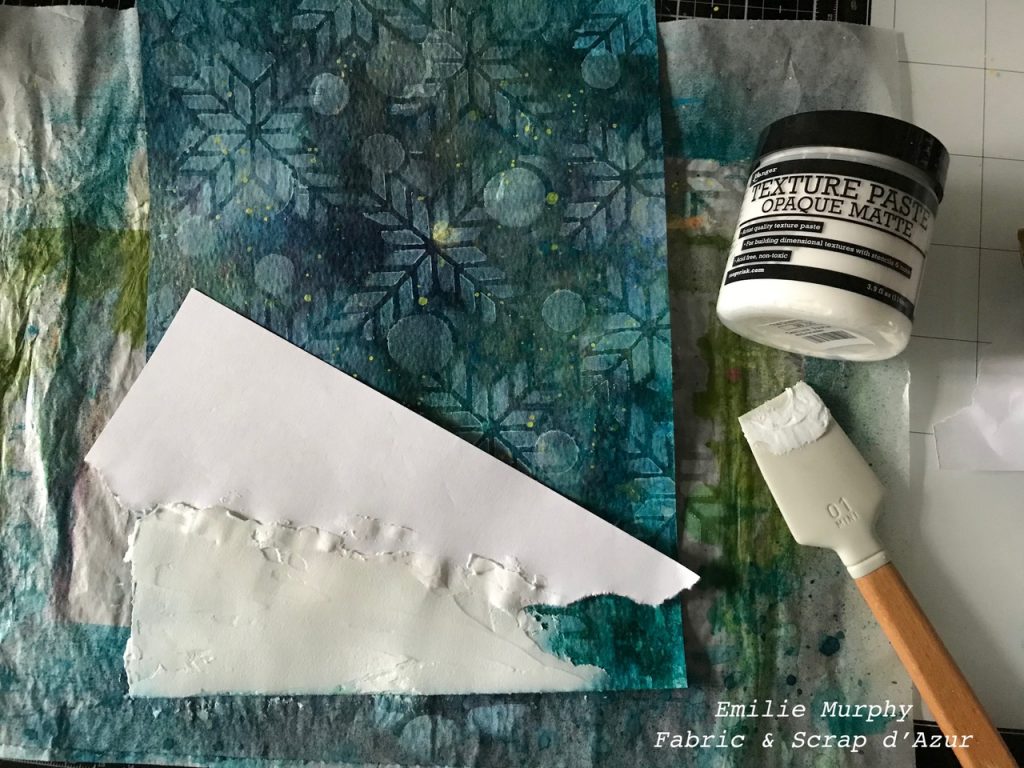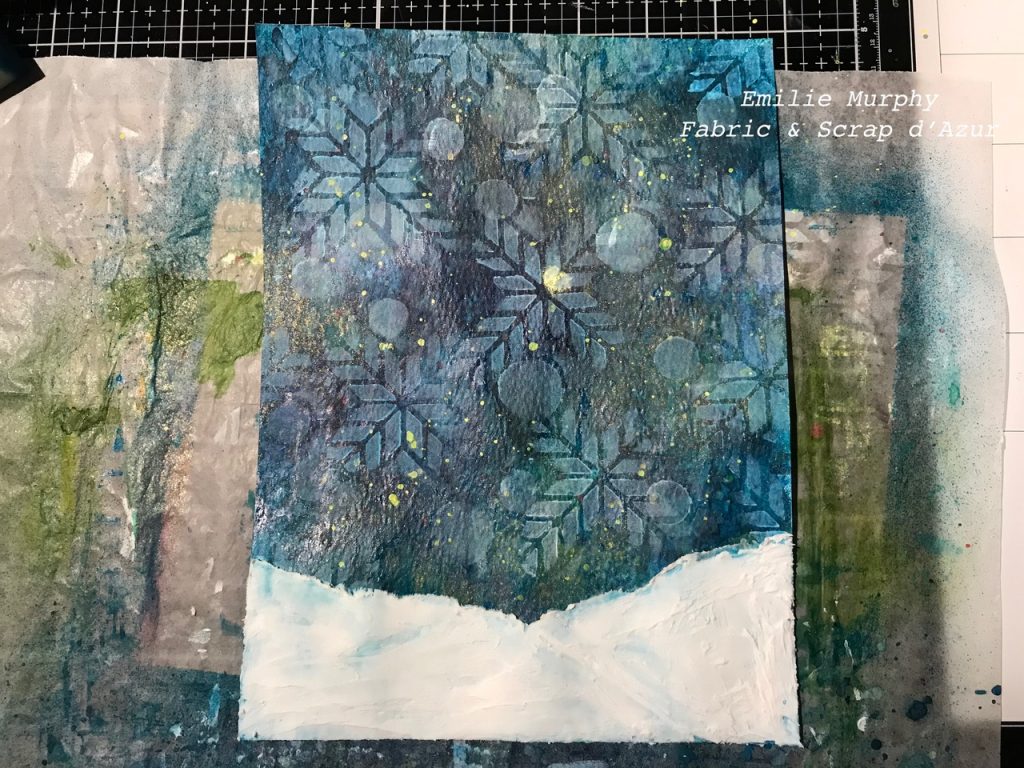 Again, I used the "Santiago" stencil to apply some white embossing powder. I used a VersaMarker watermark pen so that I got a more precise crossed shape from the stencil.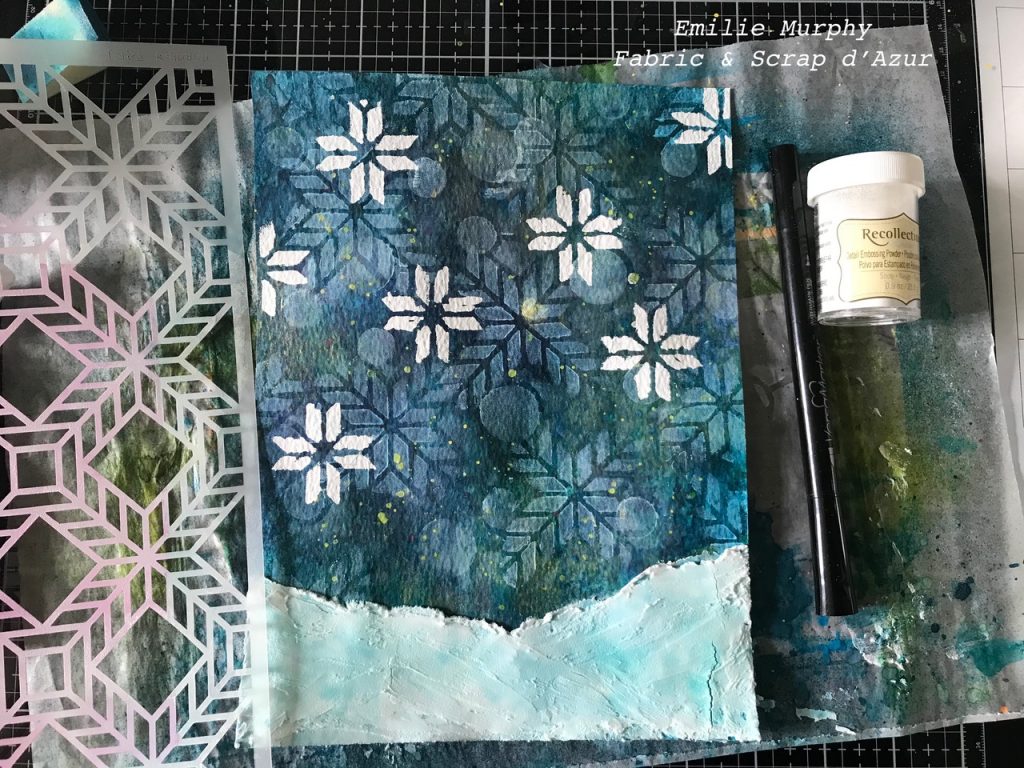 With a white Posca pen, I drew some details to complete the crossed shapes into some snowflakes. Adding some details is my favorite part.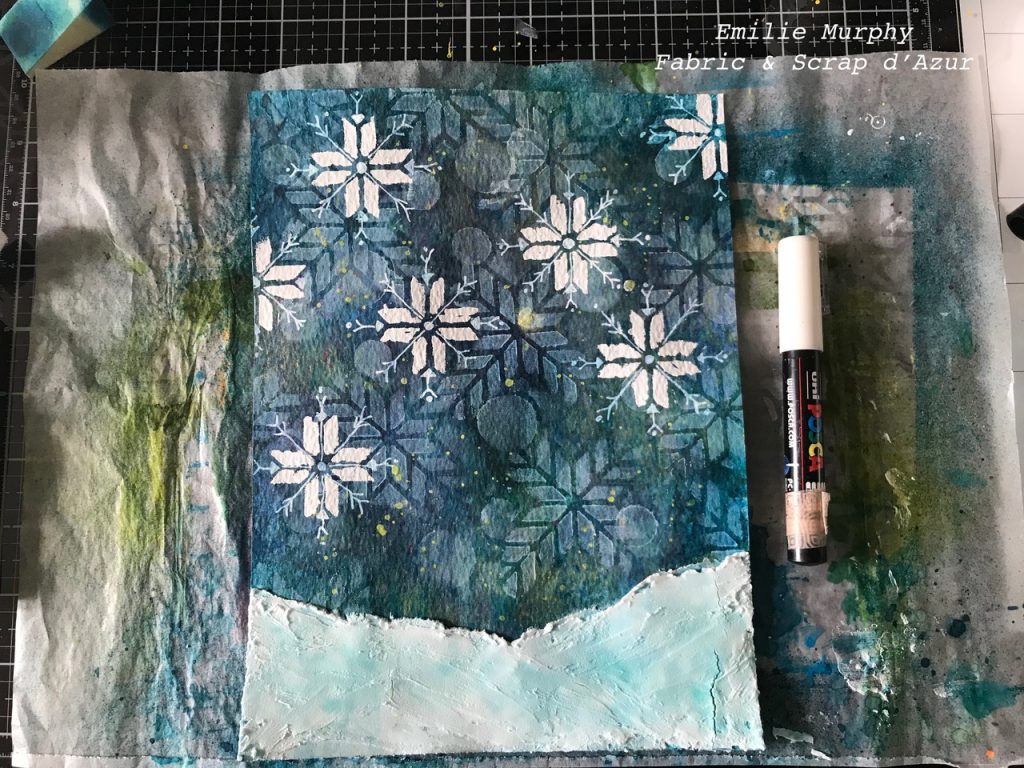 At that stage my journal page was looking nice, but staring at it a little bit longer, I thought that something was missing. I expected you to see the movement of the snow falling on the ground with a feel of cold and/or chill. Therefore, I applied some IZINK Diamond glitter paint with my finger through the circles of the "Exchange Place" stencil, which again, to give me that feel. Hope I succeeded and gave you the exact same feeling!
Also, I added a final coat of white gesso over my texture paste because even with the 3 coats I had applied, the ink was still tinting it too much and I didn't like the look of it.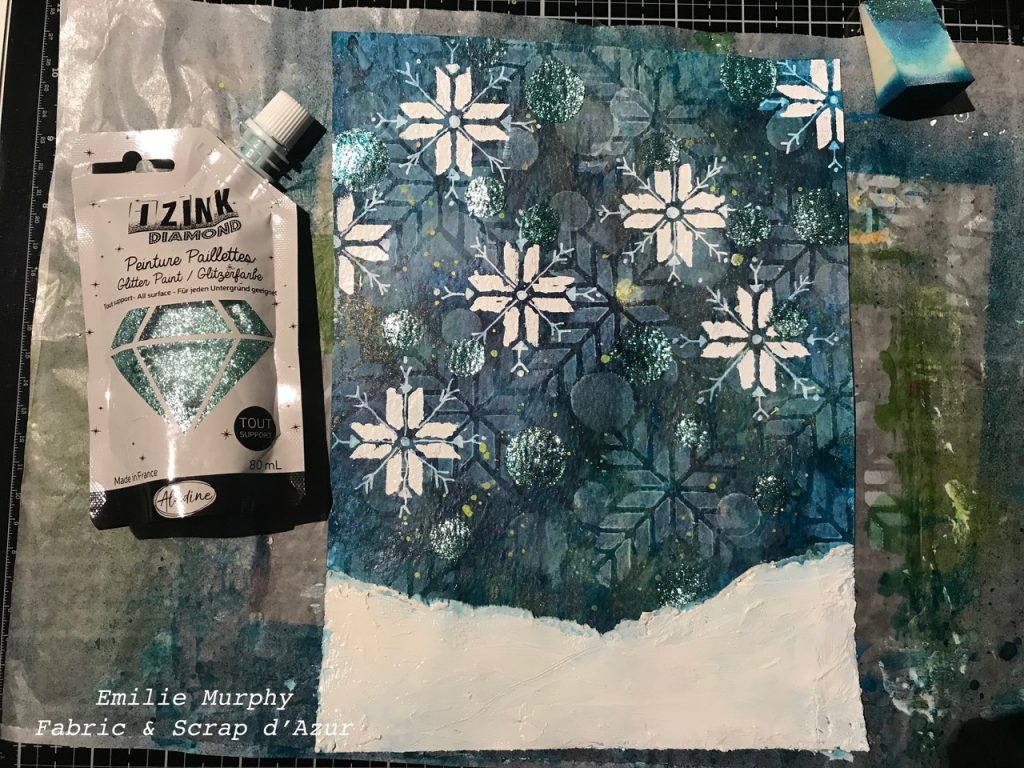 To finish my art journal page, I rubbed my finger with some white gesso around the edges of my paper, added more splatters with the white glossy acrylic, and then added this beautiful winter quote from Aristotle: "To appreciate the beauty of a snowflake, it is necessary to stand out in the cold".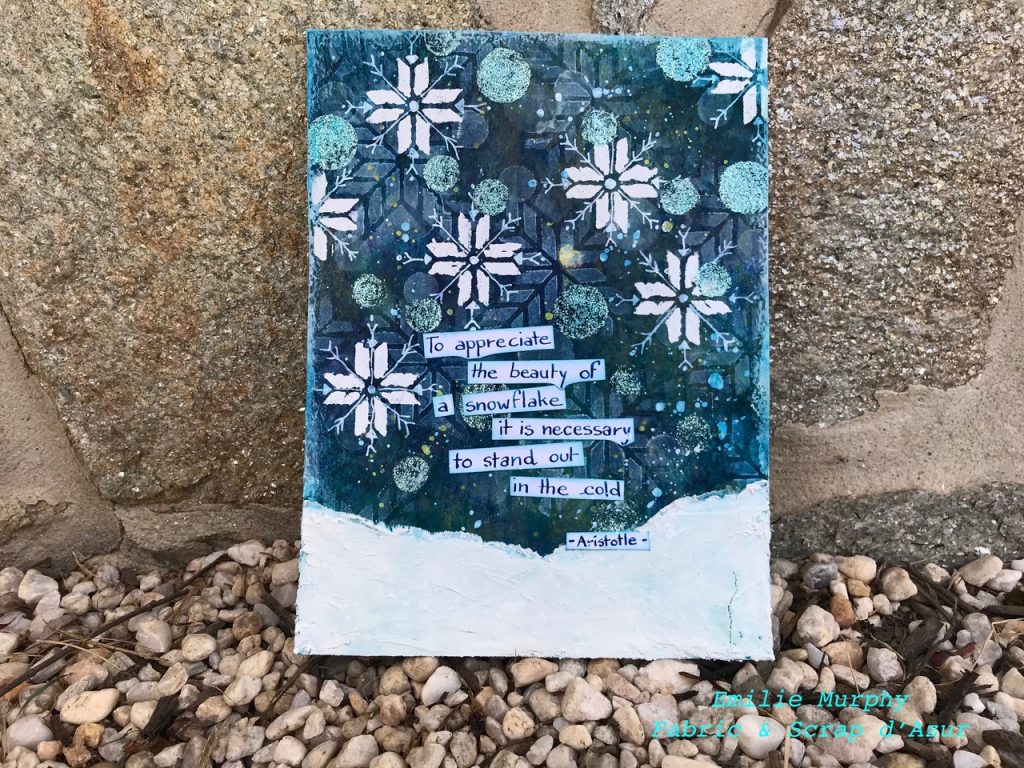 I hope you have enjoyed my process in making this journal page about snowstorms and perhaps you have been inspired to make your own.
Have a great day and see you next month! – Emilie
---
Thank you Emilie! What a magical representation of snow :)
Want to give Emilie's project a try? You can find all my Stencils in my Online Shop. Here are some of the other supplies she used: