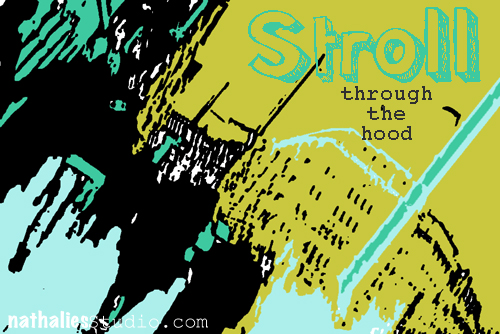 A lot of times I get asked what inspires me. And one of my key answers is always "a stroll through the hood". It might be street art, it might be thoughts or feelings connected with certain sights, it might be stuff I find to buy…in one way or the other you might find the photos, the thoughts, the feelings, the colors or anything from those strolls in my art journal, a mixed media project or a scrapbooking layout.
I would love to show you once a month what inspired me while strolling through my neighborhood. I hope you like the little insights into my daily life where I live . This is also a wonderful way for me to remind myself on the inspiring things in the hood. Maybe you get inspired by those posts and even invite ME to a stroll in YOUR hood – feel free to grab the logo and leave a comment for me on the post and share!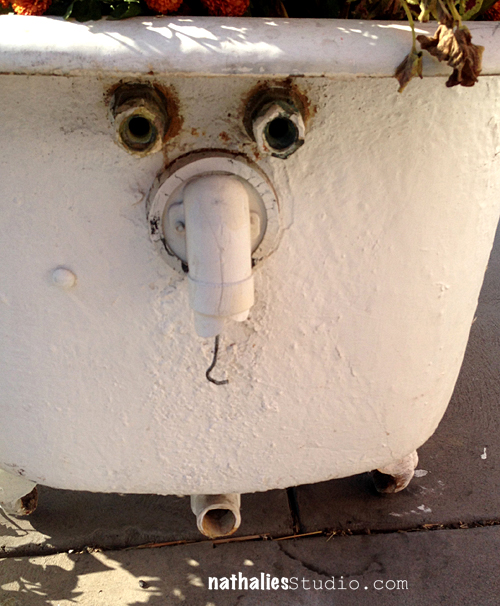 This bathtub used as a planter in front of a neighbor hood florist always makes me laugh…I see this funny face with a funny nose …hilarious! – You should know by now I am a weirdo…if not…LOL- Welcome to my world!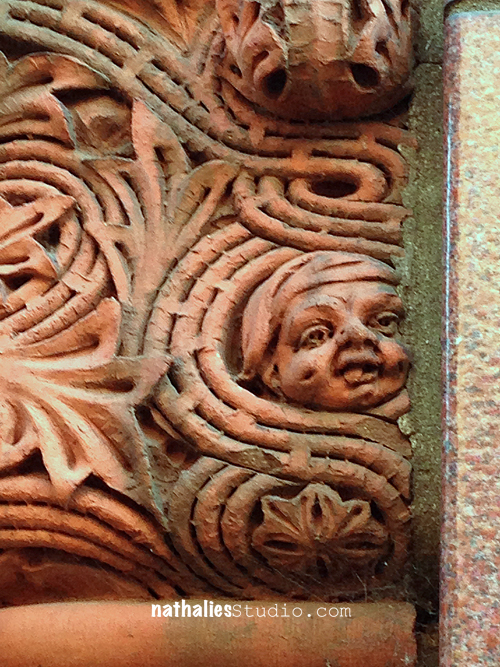 I did n't even see those faces hidden in our stucco at our apartment building till my friend Marsha visiting me from The Netherlands pointed them out. There are several different ones…very funny. I am intrigued to find out about the story here…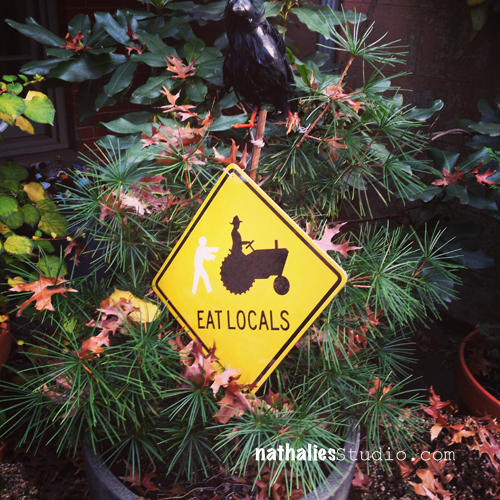 On the way to the Hamilton Farmers Market, I saw this sign…this makes me giggle ..I want this- LOL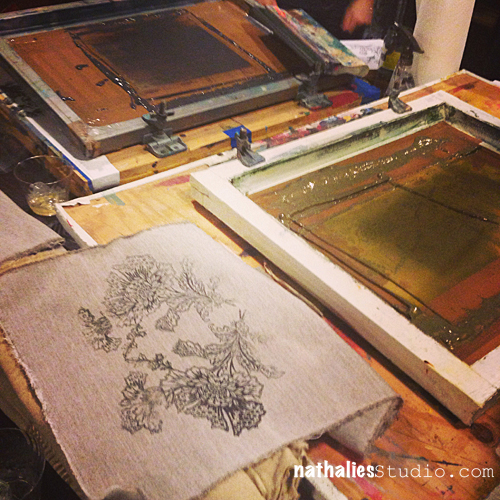 My sis in law and I took a screen printing class in my favorite store in J.C.  – Kanibal Home . The store is filled to the brim with wonderful home decor items, beautiful gifts, vintage furniture and cool clothing. The owner is amazing too and she probably thinks I am a weird stalker because my strolls through the hood let me end up in the store every second day – LOL.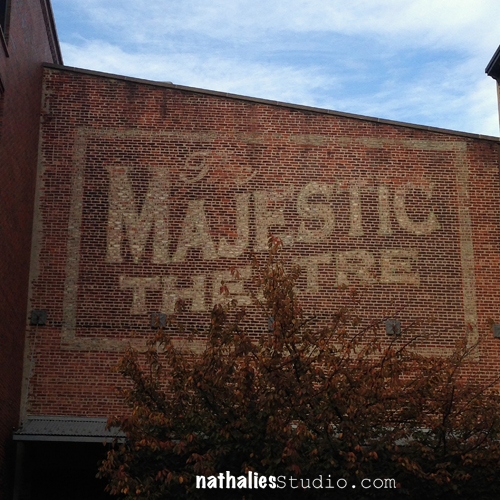 I love this old advertisement in the brick wall – you see a lot of those fading away in J.C. .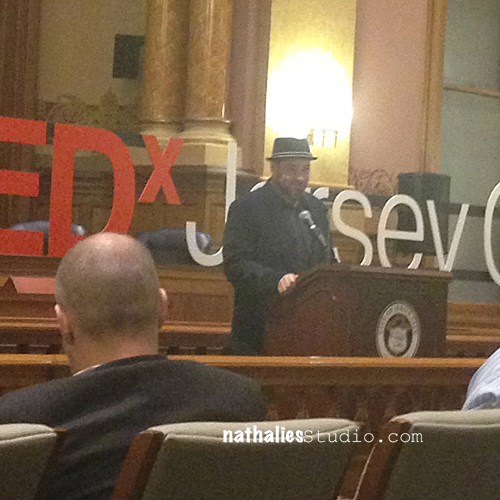 Last saturday we were at TEDx Jersey City. A lot of great and inspiring talks- my favorite one was by Ben Figueroa. Ben "Broken English" Figueroa is a self-taught writer, spoken word artist, and stage performer. His talk was on "Step Your Art Up: Creating Honest Art for Today's Youth". It was such an amazing and inspiring speech  – I hope it will be soon available so I can share with you. BTW – it blew my mind that there almost no people at TEDx here…if you ever have a chance to go to one in your hood- GO!!!!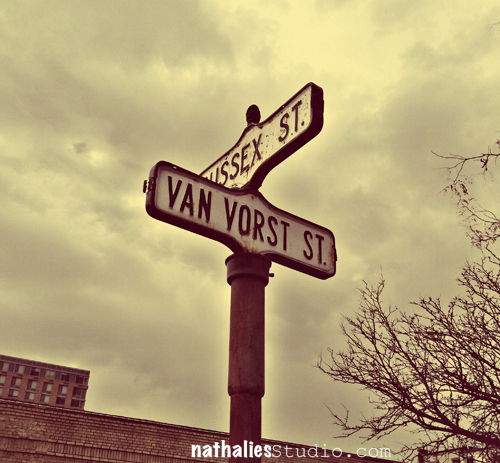 Some of the street corners still have the old street signs- I love them – I hope they will keep them!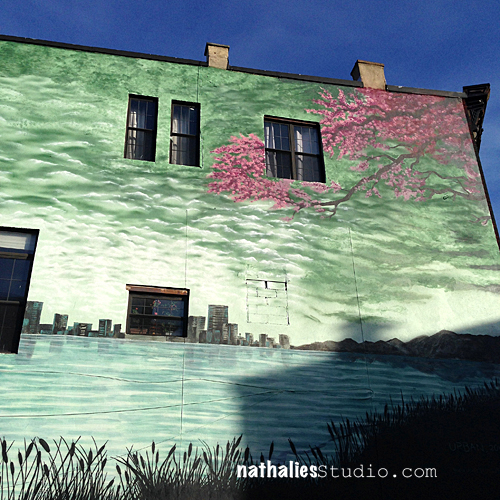 A new mural- I saw the progress of it and it was pretty cool how they sprayed it –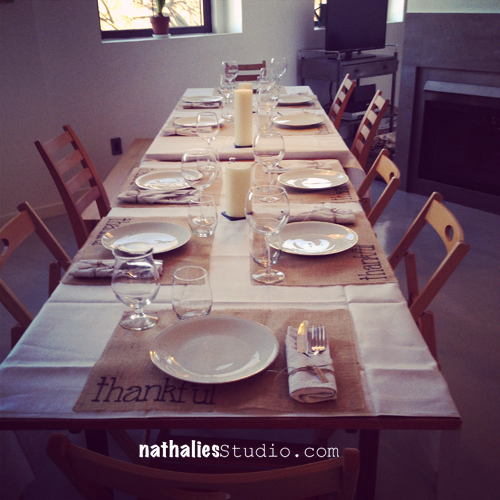 Other than strolls November was pretty crazy busy – so here is a stroll through our living-dining room where we hosted our house warming/home coming party and our first Thanksgiving Dinner in the states with our family. It was wonderful and we had a great time with our loved ones!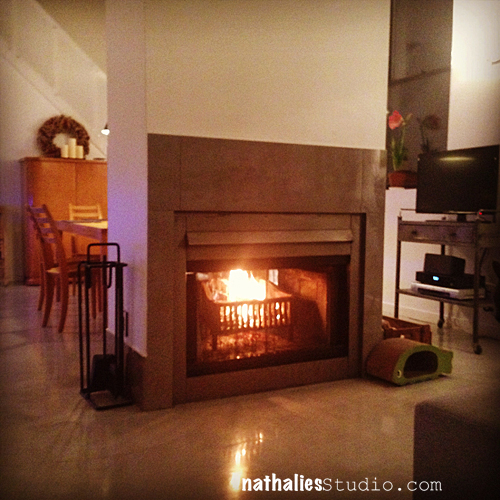 Time to snuggle up in front of the fireplace for a moment…before the next crazy bit of the year begins. Looking forward to my December strolls through the hood…although…the weather here is something I have to get used to. While cold weather in Hamburg is like Needles in your Bone, in NJ/NYC it is like scissors in your lungs and the wind is like a shovel in your back…or …actually …it is more like a shovel right in your kisser ;)
Have a wonderful day in or out :)
nat