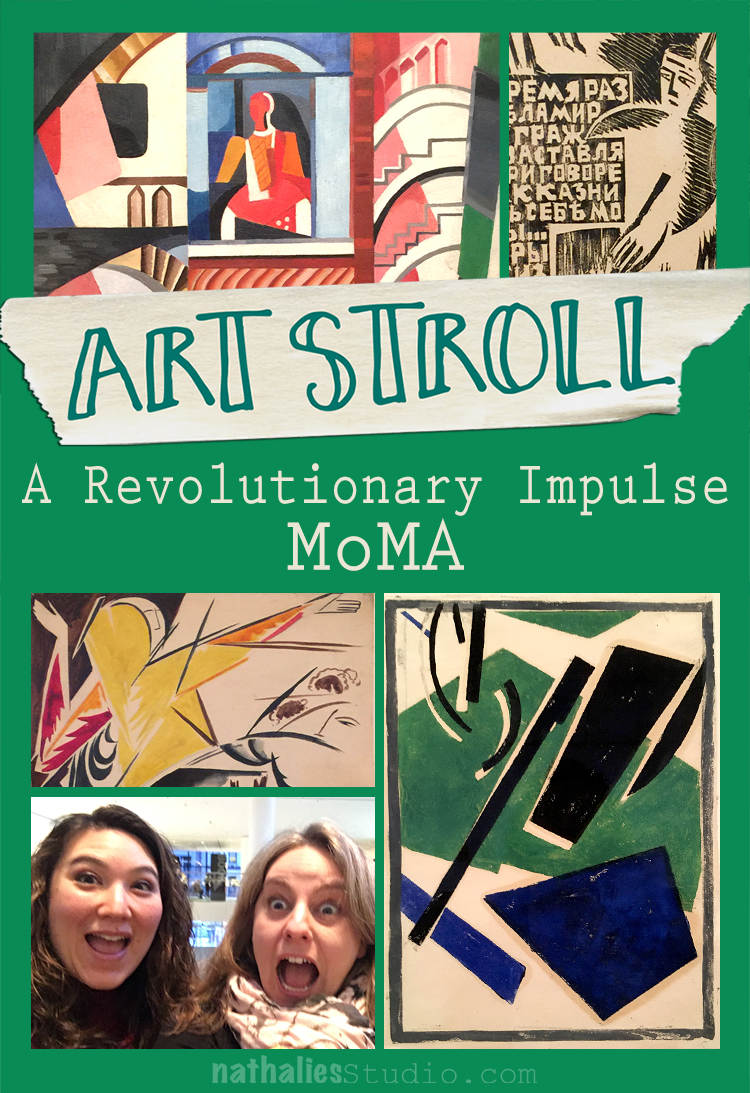 A couple weeks ago my friend Julie Fei -Fan Balzer was in town and we had an awesome day filled with good food, chats, laughter and of course…Art. We went to MoMA to see A Revolutionary Impulse – The Rise of the Russian Avant-Garde – a title that couldn't make it in it's entirety into my blog title- LOL.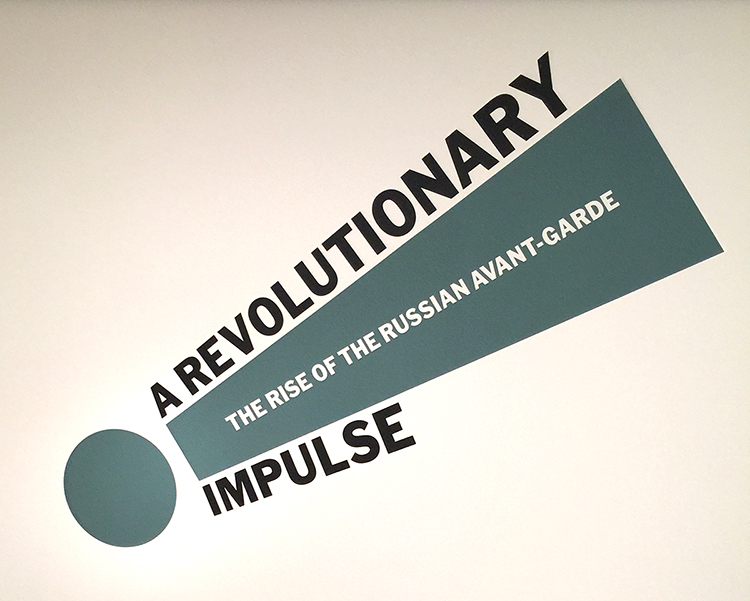 "During the early 1910's under the tsarist autocracy (in Russia) that had ruled for three centuries, avant-garde artists sought to overthrow entrenched academic conventions by experimenting with complex ideas that would transform the course of modernist visual culture. In 1915 as World War I raged, an abstract mode of painting called Suprematism abandoned all concrete pictorial references….With the October Revolution of 1917, Lenin's party took command. Avant-Garde artists put individual expression aside and developed a structured abstract language called Constructivism which they hoped could be embraced by the masses. Constructivists rejected easel painting in favor of practical objects like ceramics, posters and logos. …By the late 1920s, the government, now headed by Stalin, had placed restrictions on all aspects of life, including the arts, and was commissioning artists to produce propagandistic books, posters and magazines touting Soviet achievement….This exhibition spans the years 1912 to 1935…Conceived in response to changing socio-political and artistic conditions, these works probe the many ways and object can be revolutionary." From MoMA's wall text about the exhibition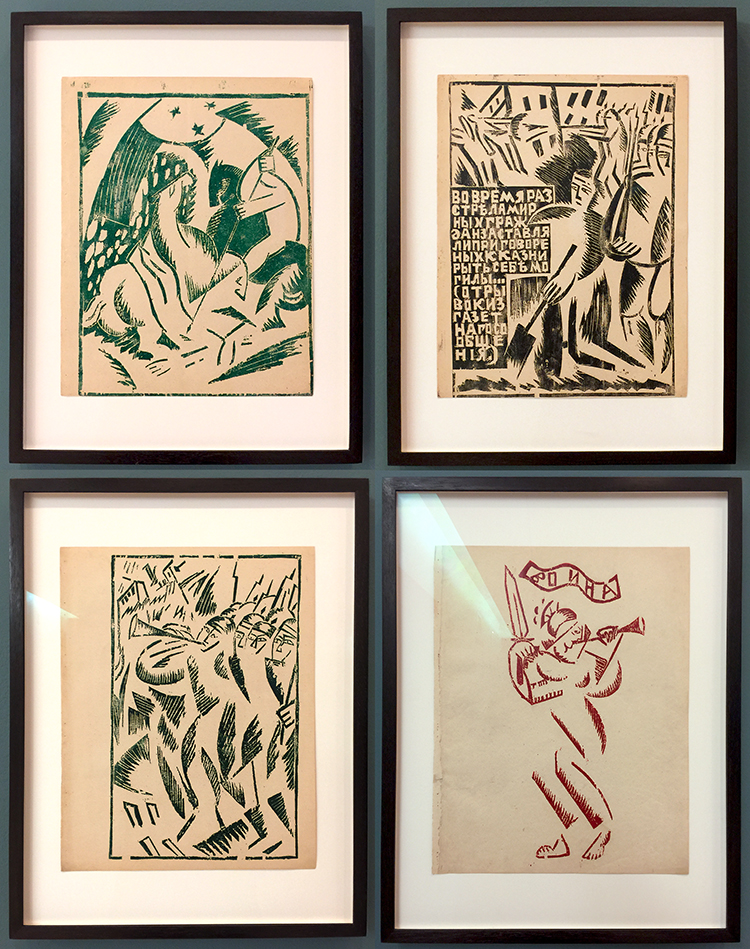 Olga Rozanova, War, 1916 – Linoleum cut illustrations out of a a book with ten illustrations.
The imagery for those lino-cuts is influenced by the abstracted forms of Cubism and Futurism but also by traditional Russian motifs. I was intrigued by the very simplistic way she created figures with crosshatching and just some hints of form here and there which your eye completes yourself as a person or else.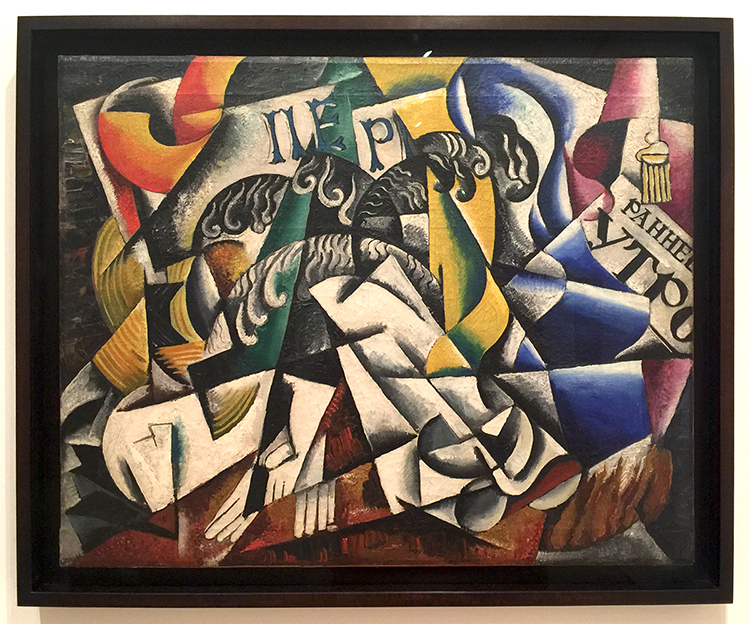 Lyubov Popova, 1914, Subject from a Dyer's Shop – Oil on Canvas.
Note that Lyubov is another woman …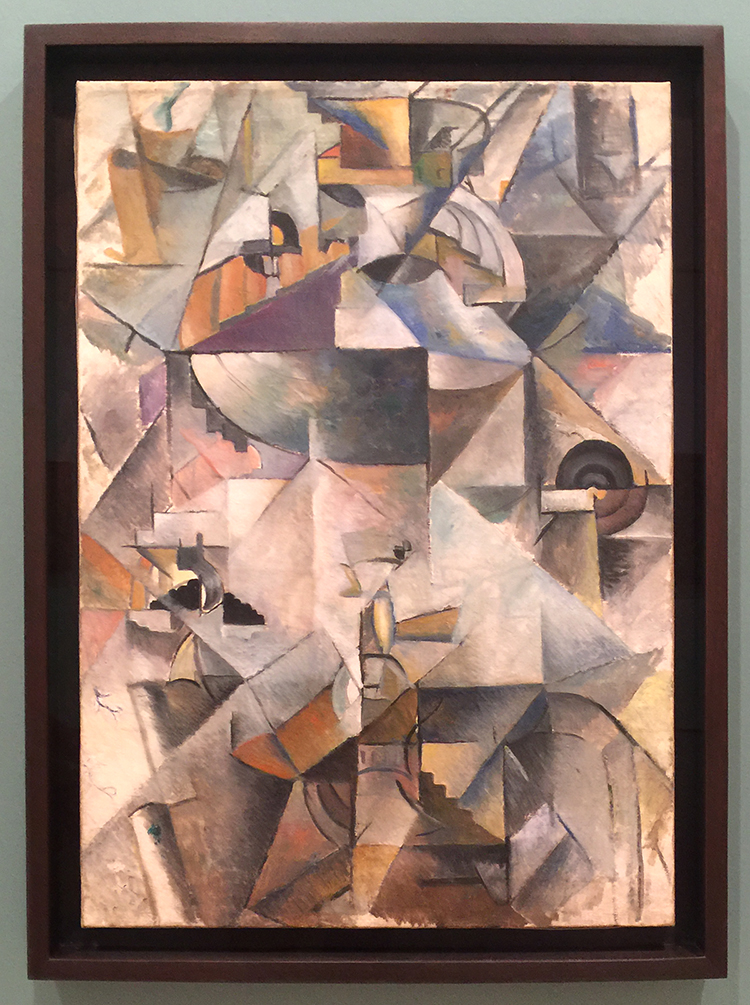 Kazimir Malevich, Samovar, 1913, Oil on Canvas. "A year later Malevich was painting cubes and lines and circles and balancing them in ways that had no relation to anything but geometry and the will to make something new. Malevich called his art "Suprematist," hoping that it would have supremacy over forms found in nature."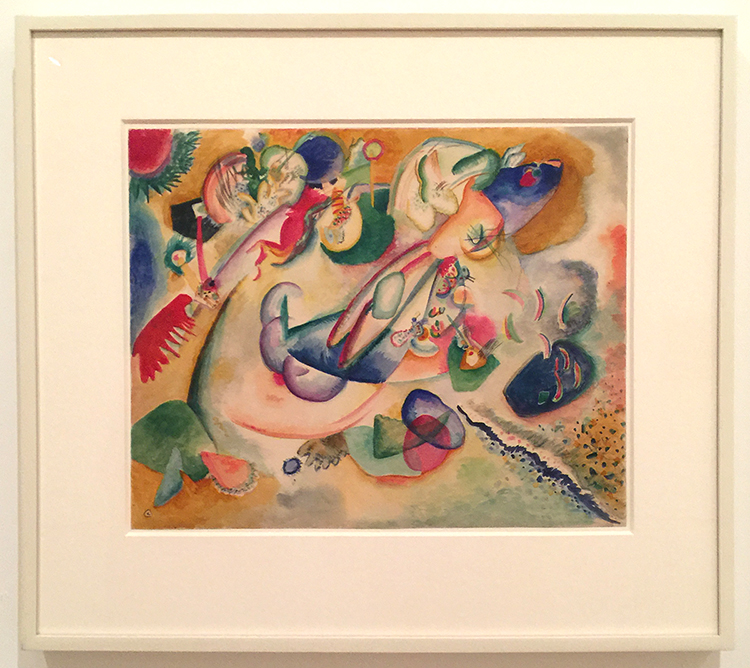 Vasily Kandinsky, Improvisation, c. 1915 – Watercolor and pencil on paper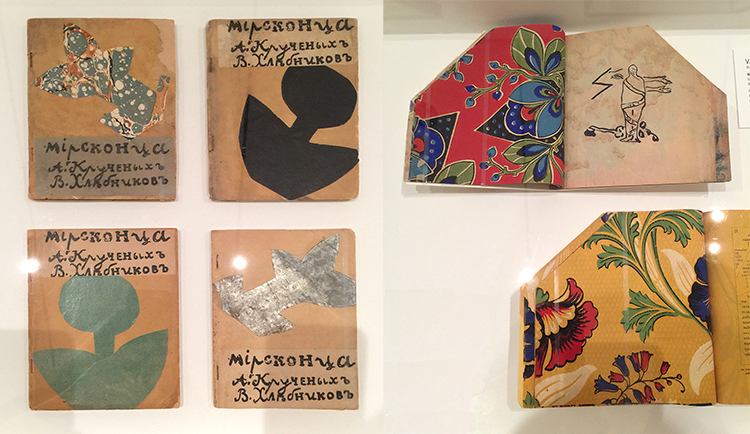 Various artist: Natalia Goncharova, Mikhail Larionov, Nikolai Rogovin, Vladimir Tatlin -Mirskontsa (Worldbackwards)-1912
These books were made with wall paper and I really love the shapes  too.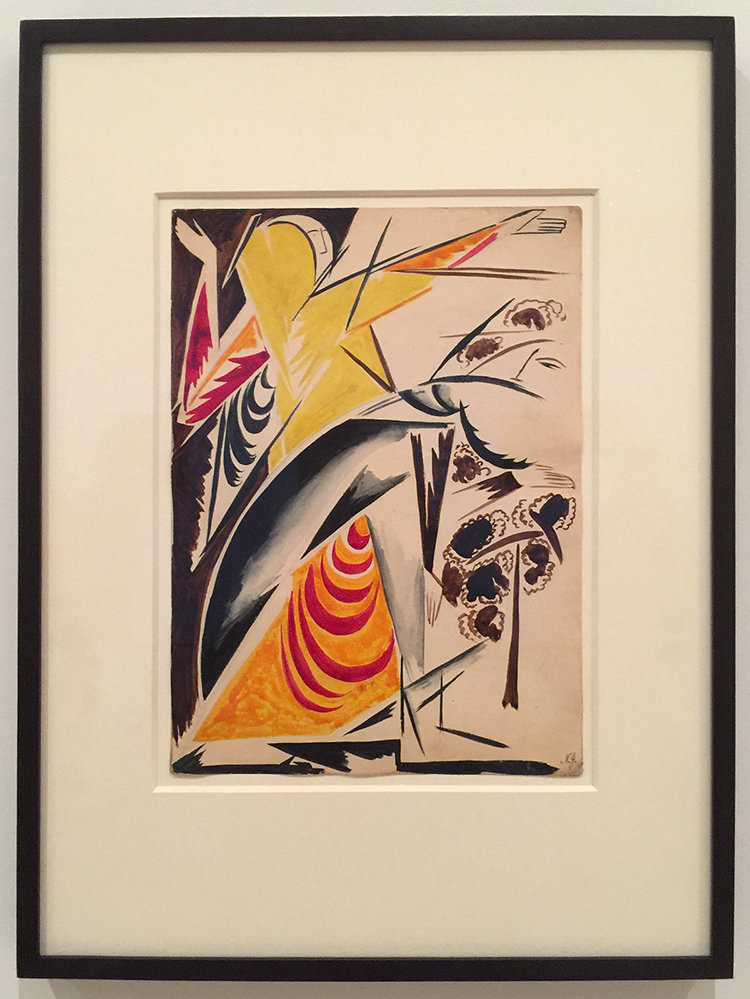 Natalia Goncharova Spanish Dancer –(c. 1914) . Isn't this beautiful?
And then things changed…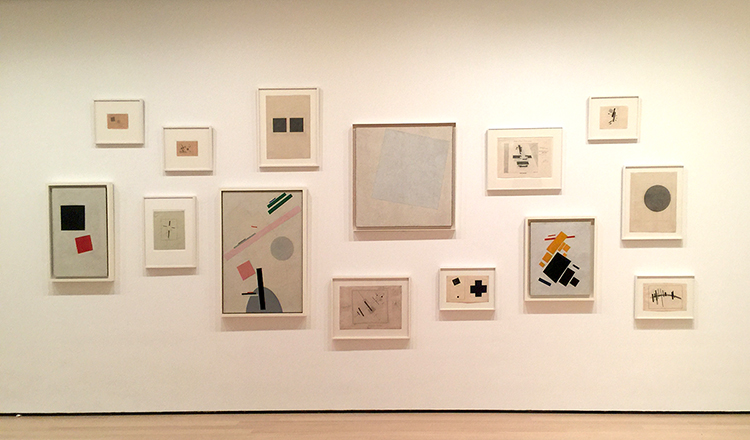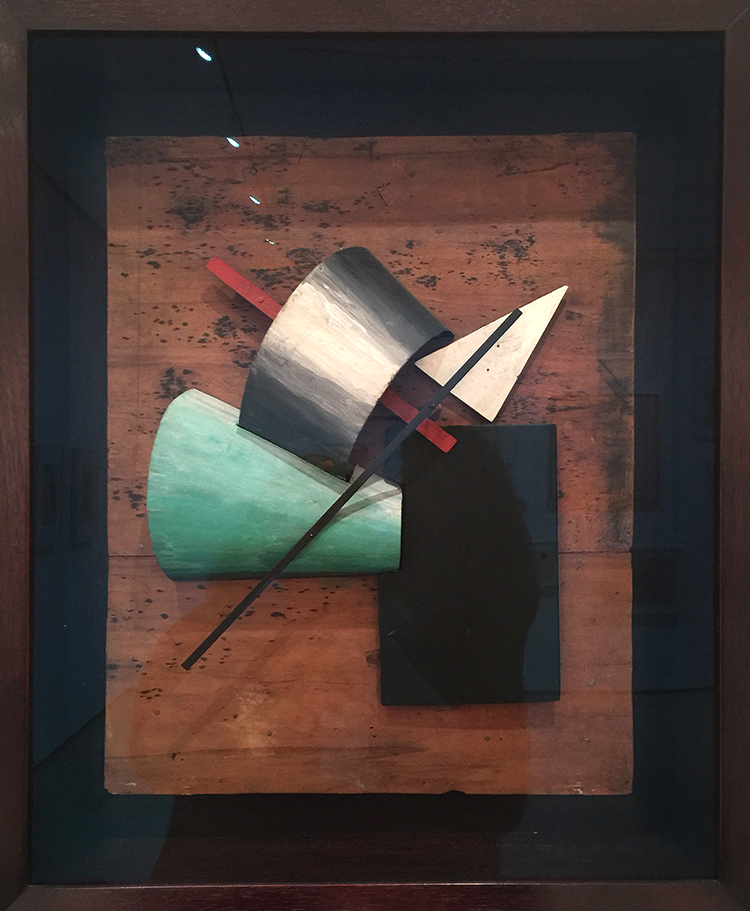 Jean Pougny, Suprematist Relief-Sculptures, 1920s – Painted wood, metal and cardboard, mounted on wood panel. I did love this one – I wish it wasn't behind a glass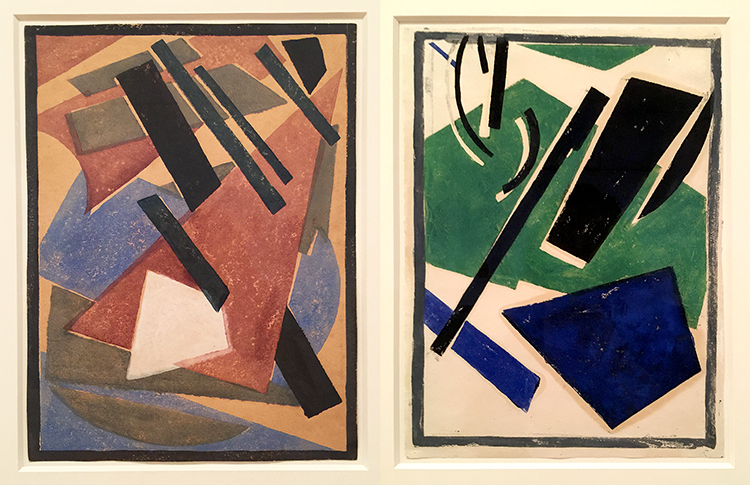 Lyubov Popova, Six Prints ca. 1917-19 – linoleum cuts with watercolor and gouache additions
A pioneer of the avant-garde, Popova developed a style in the late 1910s that combined floating forms inspired by Cubist collage and by Suprematism. She called this print series – there are four more- "painterly architectonics" . She wanted to depict layered shapes, so that they seem to be continually shifting and rotating.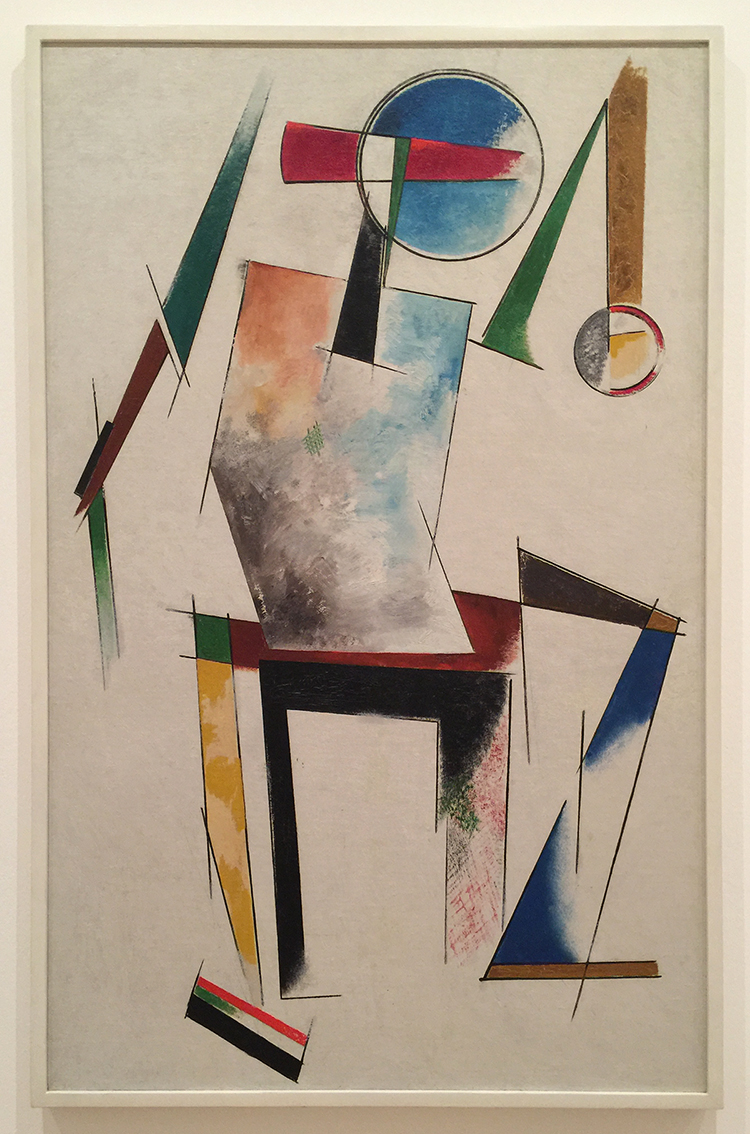 Varvara Stepanova, Figure, 1921 – This is in MoMA's permanent collection and I always loved this one. BTW …another woman :)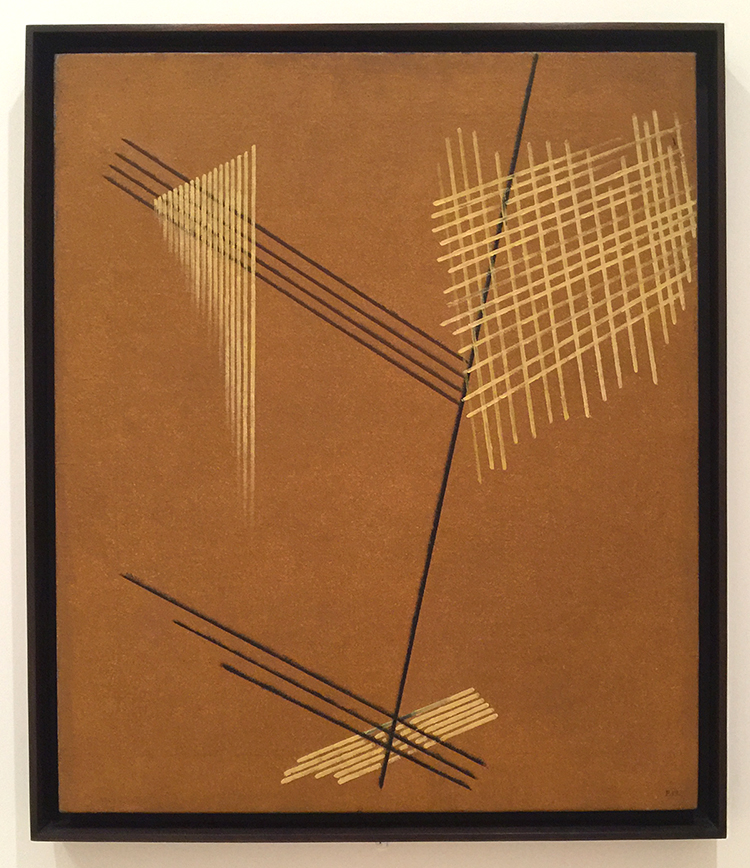 Aleksandr Rodchenko, Non-Objective-Painting 1919, Oil on Canvas
I love the crosshatching and the expanding lines.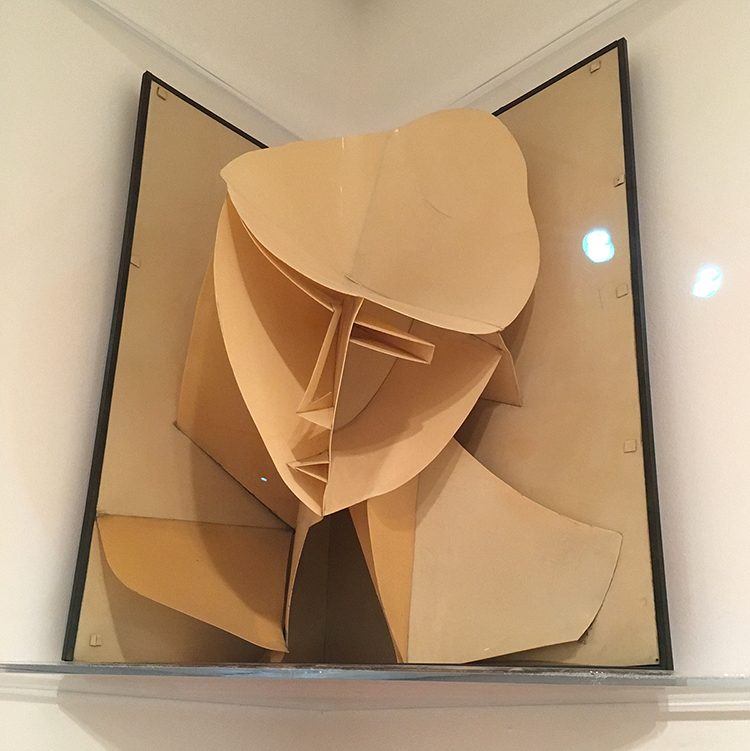 Naum Gabo, Head of a Woman, 1917-20 – Celluloid and Metal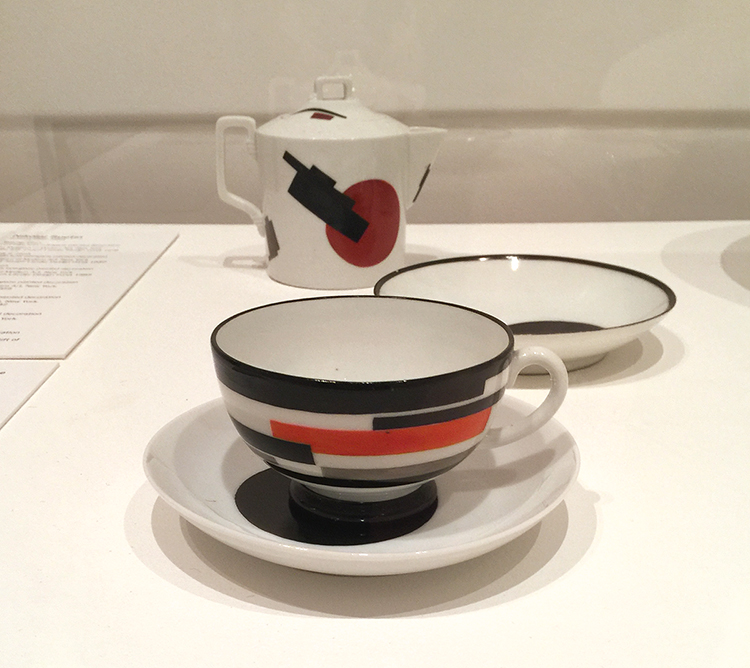 Nikolai Suetin – 1923
In 1917 the Bolsheviks seized control of the government and took over the State Porcelain Factory which used to manufacture porcelain for tsars in Petrograd (now St. Petersburg). Suetin a Suprematist artist was invited to make decorative designs for existing porcelain found in the factory. These ceramics, once meant for imperial tables, were now reimagined for the proletariat.
I would totally wanna have this set and use it – and I find it so interesting how the forms and shapes painted on canvas speak so much more to me on this tea set.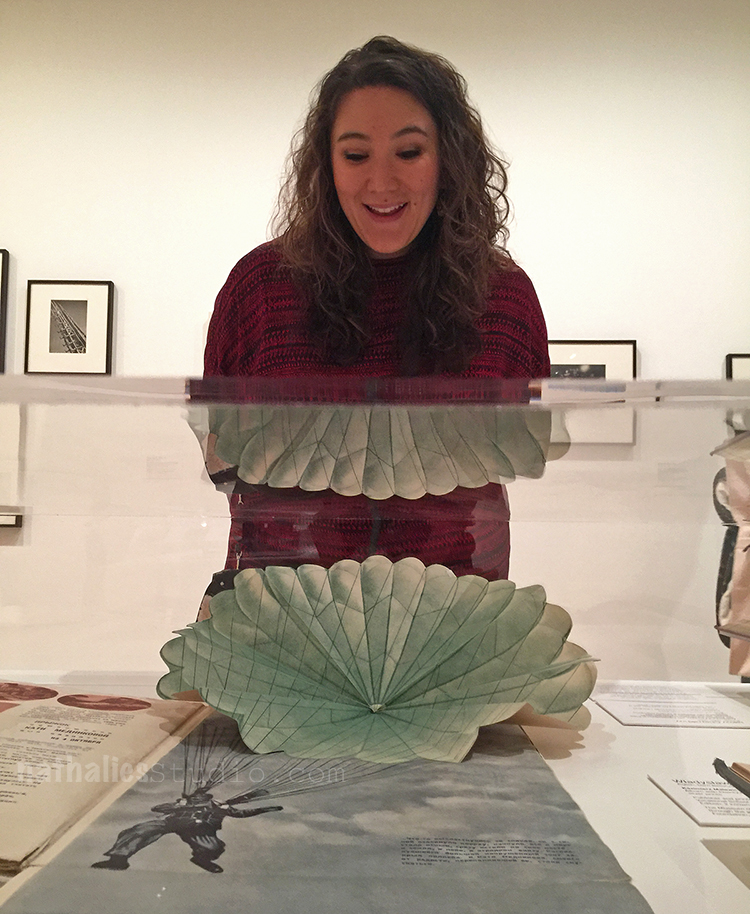 How cool is this pop-up parachute ? The reflection of it is also a bit funny – guess I made Julie a new outfit ;)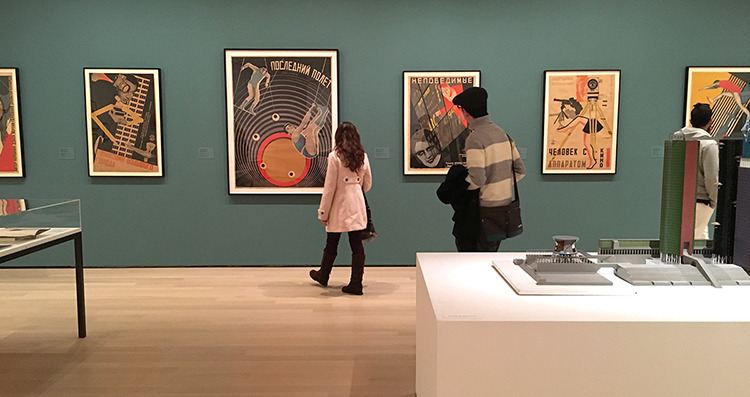 I enjoyed this exhibition. The most eye catching fact for me was just how many women were in this exhibition since modern women artists are very underrepresented at MoMA. I regret that the exhibition is coming to an end, as I feel there is so much about this that I didn't quite grasp and I more or less just floated around in this exhibition with a semi knowledge of the political time the art was created in Russia and a lacking mind for the ideas behind Suprematism and Constructivism. But you know what…I will be ok …I was still inspired ;)