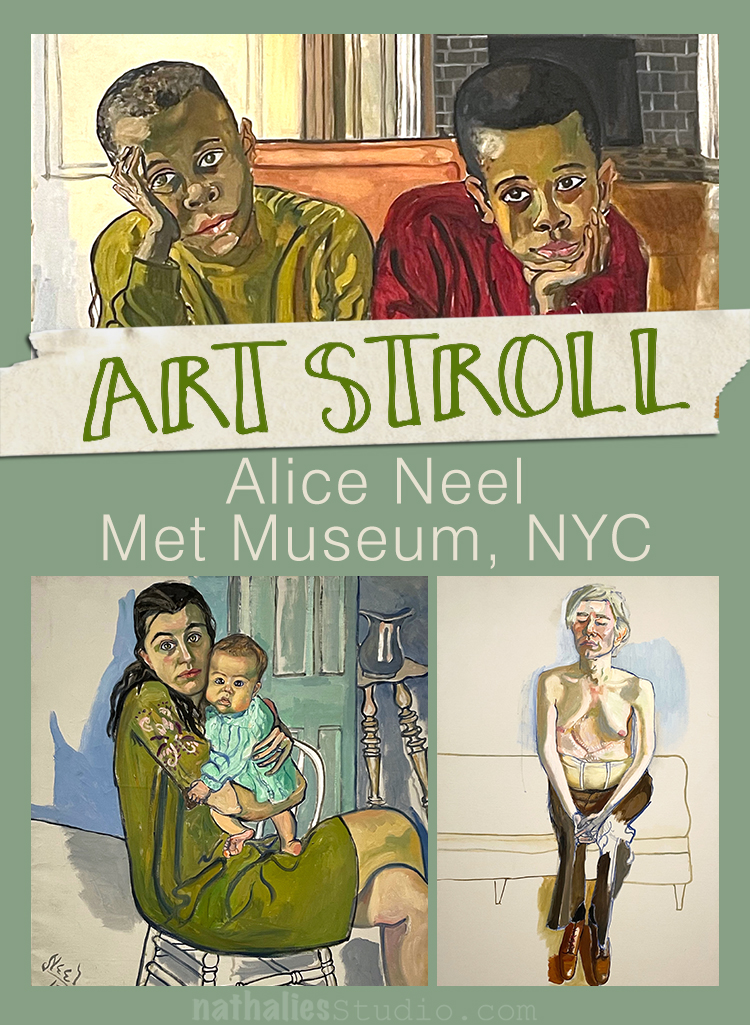 Last weekend we were able to visit a museum in the first time in over a year. The exhibition "People Come First – Alice Neel" was calling us and after the first hesitation of the thought to be in a closed area with other people I bought some timed tickets for 10am on a Sunday morning. Boy was that the best decision ever. Besides the fantastic exhibition, this was a once in a life time experience at the Met …we entered almost every gallery alone …it was amazing and after such a long time of no artstrolls, seeing art in person was exhilarating. But let's check out the fantastic Alice Neel exhibition.
"Fish Market", 1947
Alice Neel was born in 1920 and died in 1984. The earliest of hier paintings in the exhibition was from 1920 and the oldest one from 1984. Alice Neel saw herself as a collector of souls – painting pictures of people not portraits. She was a political painter in the choice of who she painted, what she painted and the way how she painted.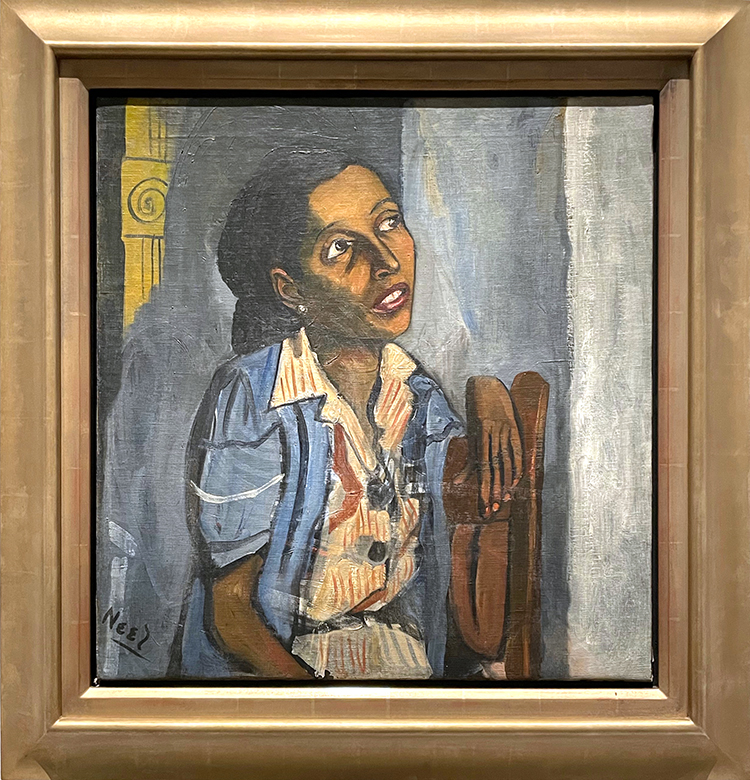 "Mercedes Arroyo", 1952
Mercedes Arroyo was a social activist in East Harlem. Neel declared in 1950 – echoing Arroyo's principles "East Harlem is like a battlefield of humanism, and I am on the side of the people here"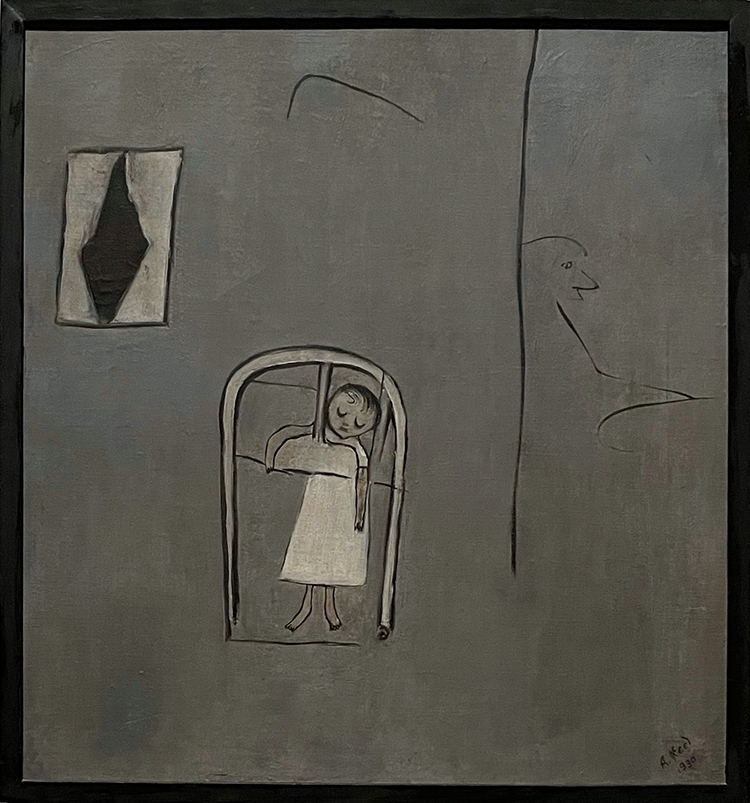 "Futility of Effort", 1930
This abstract painting is one of two experiences: of the loss of Neel's daughter to diphtheria and a newspaper article Neel wrote about a mother who lost her child when sie was ironing in the kitchen next door, when her child choked on the bars of her crib. Motherhood and the struggles tied to it is a reoccurring subject of Neels paintings.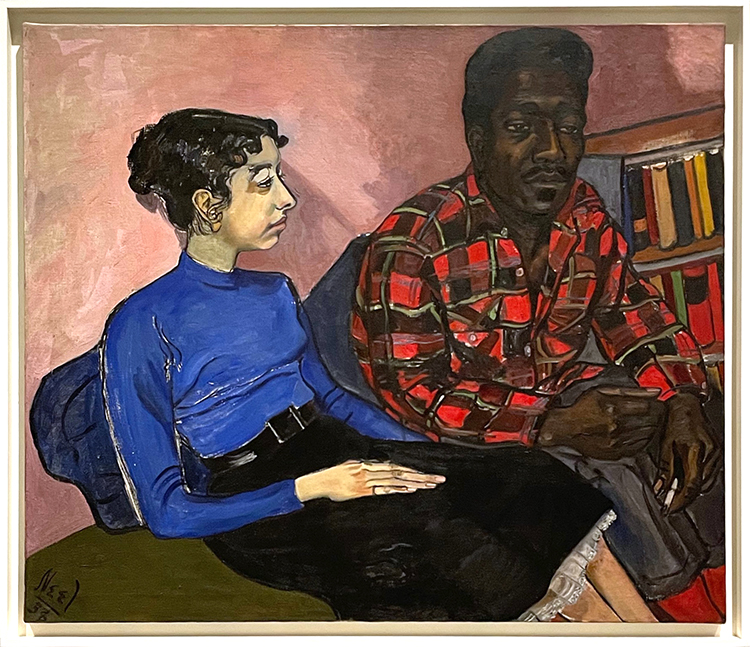 "Rita and Hubert", 1954. Hubert Satterfield, a writer and his girlfriend Rita (we do not know what she did).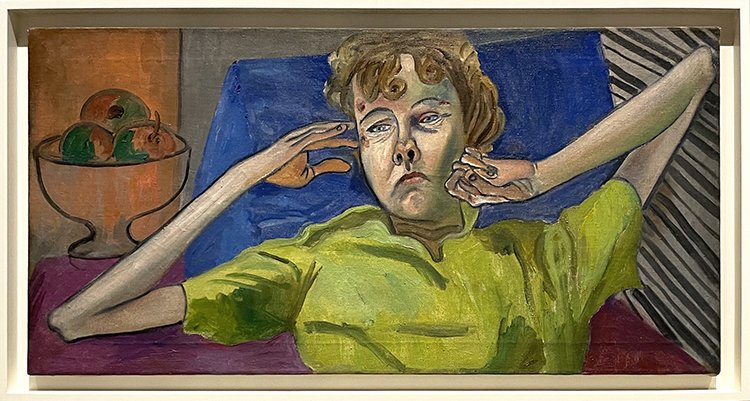 "Peggy", 1949
Peggy was a victim of domestic abuse and Neel chose to represent her with the bruises and abrasions left by her boyfriend's recent assault.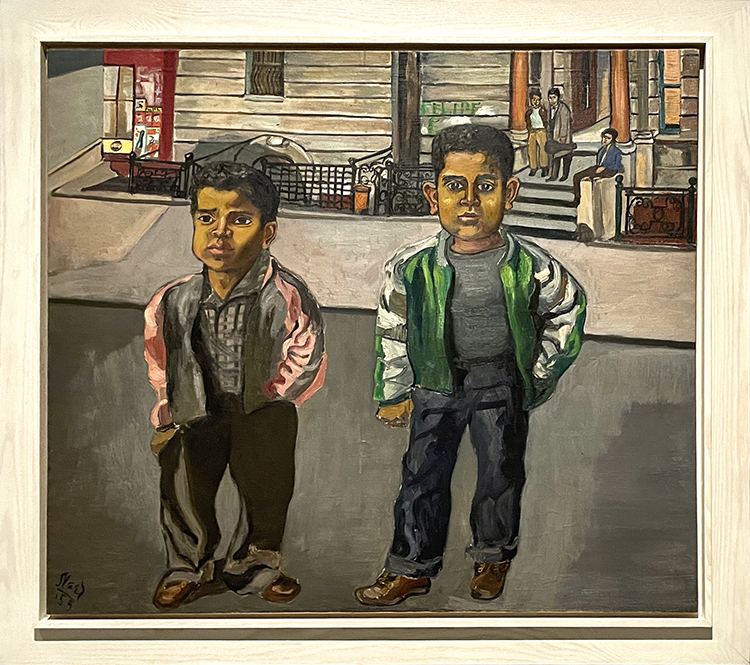 "Dominican Boys on 108th Street", 1955
While we know those are boys I find them so adult-ish in their gaze and demeanor.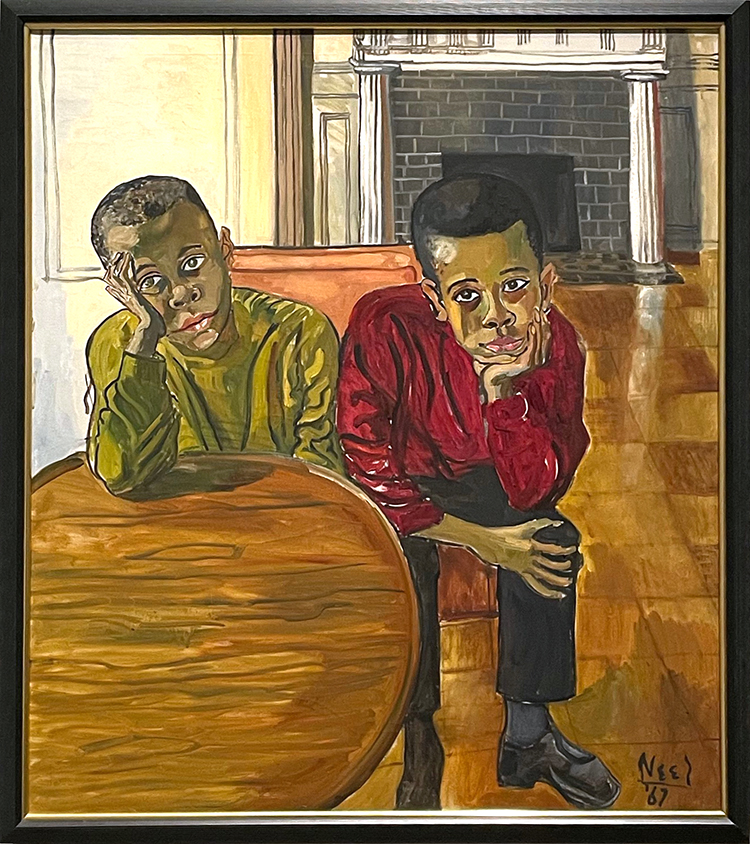 "The Black Boys", 1967
Neel made this painting of the two young boys Toby and Jeff Neal and I love how you can see the boredom but also discipline to sit this through in those boys. I loved reading an article on how one of the brothers has just seen the painting of him in the very first time after it was finished at the Met and the background story.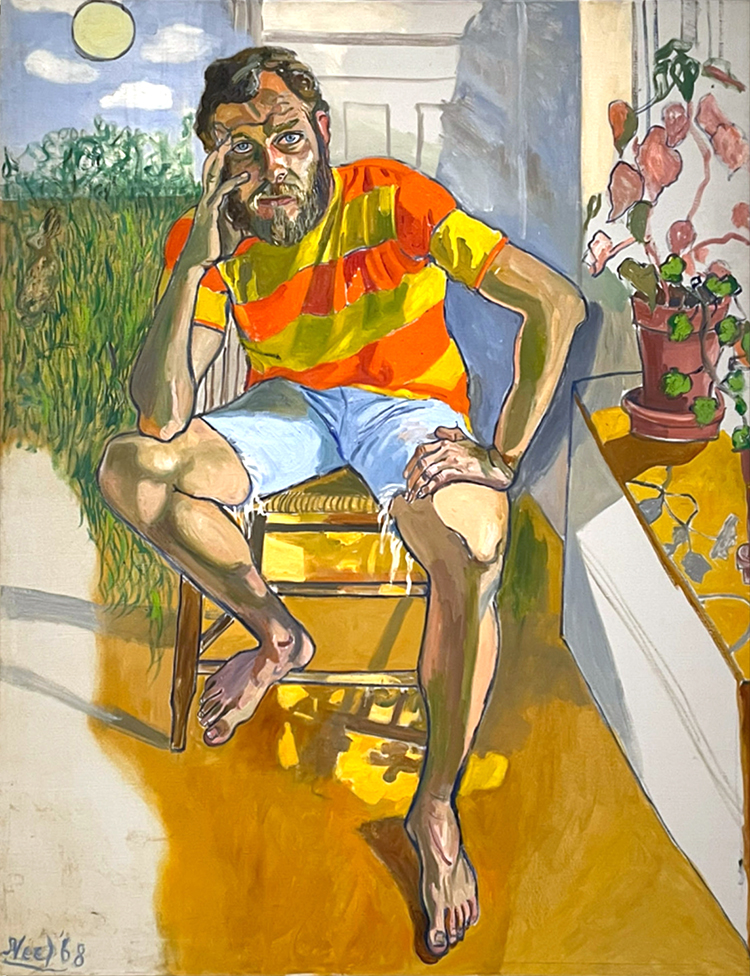 "Richard Gibbs" 1968
So vibrant – what is he thinking?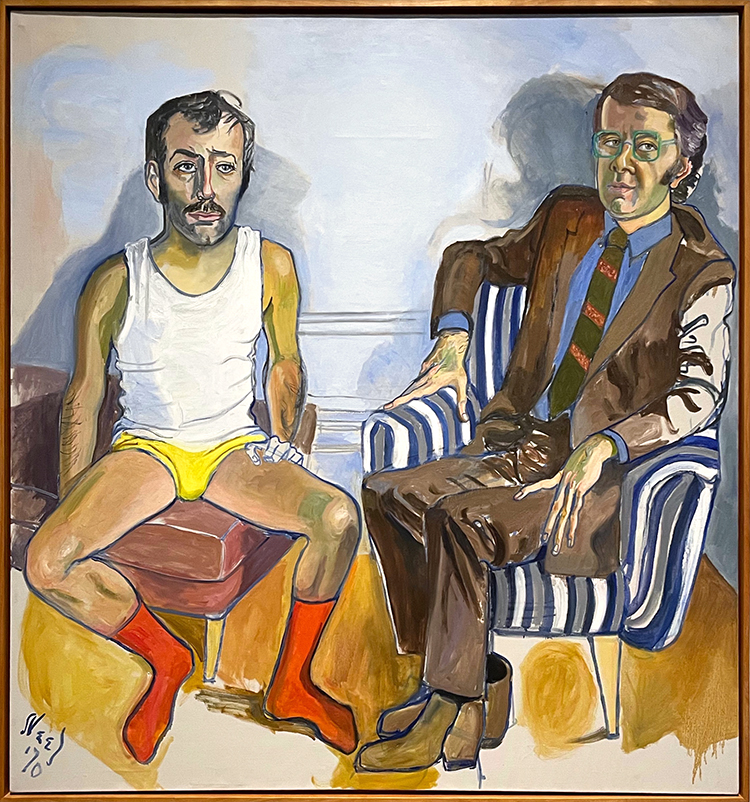 "David Bourdon and Gregory Battcock", 1970
Bourdon was an editor at Life Magazine, Battcock was an art critic. What a weird juxtaposition of someone in a suit comfortably sitting in an armchair and the other person in his underwear, on an ottoman.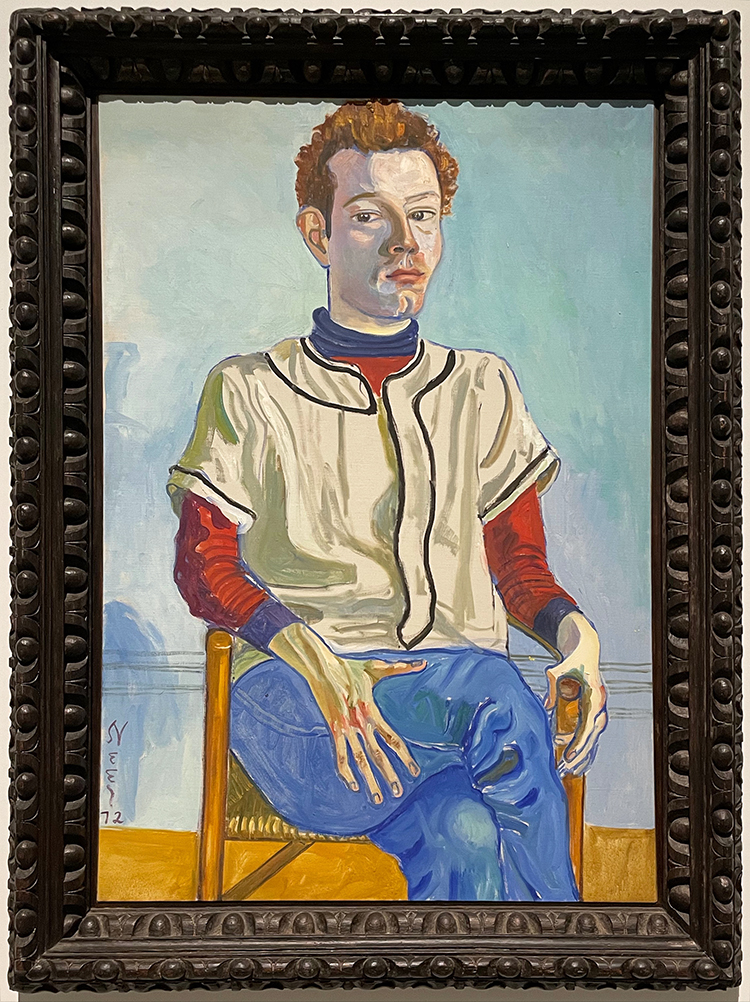 "Jackie Curtis as a Boy" 1972.
Jackie Curtis was a prominent figure in Manhattan's Lower East side and became very well known when entering the orbit of Andy Warhol. This painting was painted two years later than the one below. This painting reveals the other side of Curtis and play with gender.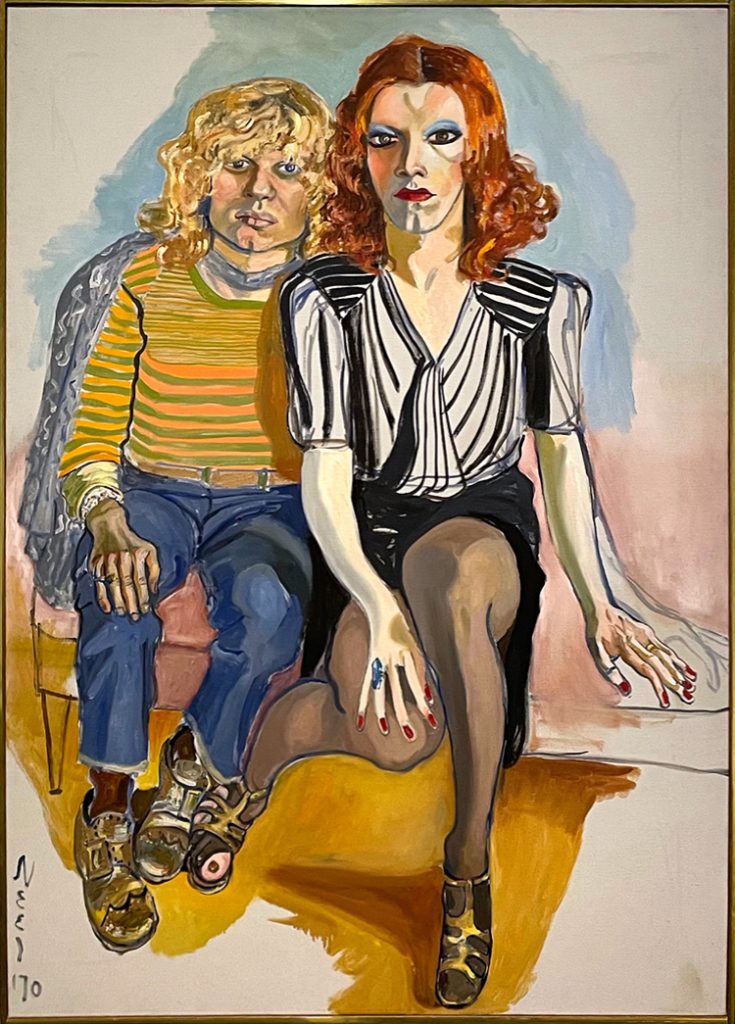 "Jackie Curtis and Ritta Redd", 1970
I love the torn panty hose showing the big toe!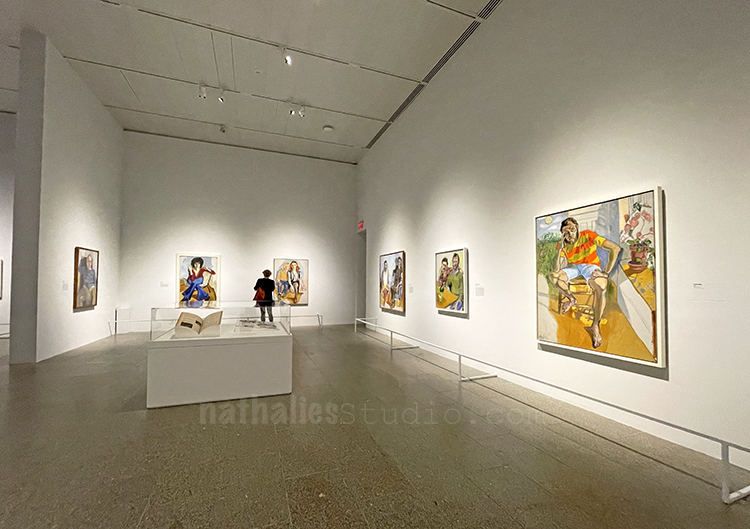 Here you get an idea how empty the galleries were. It was amazing.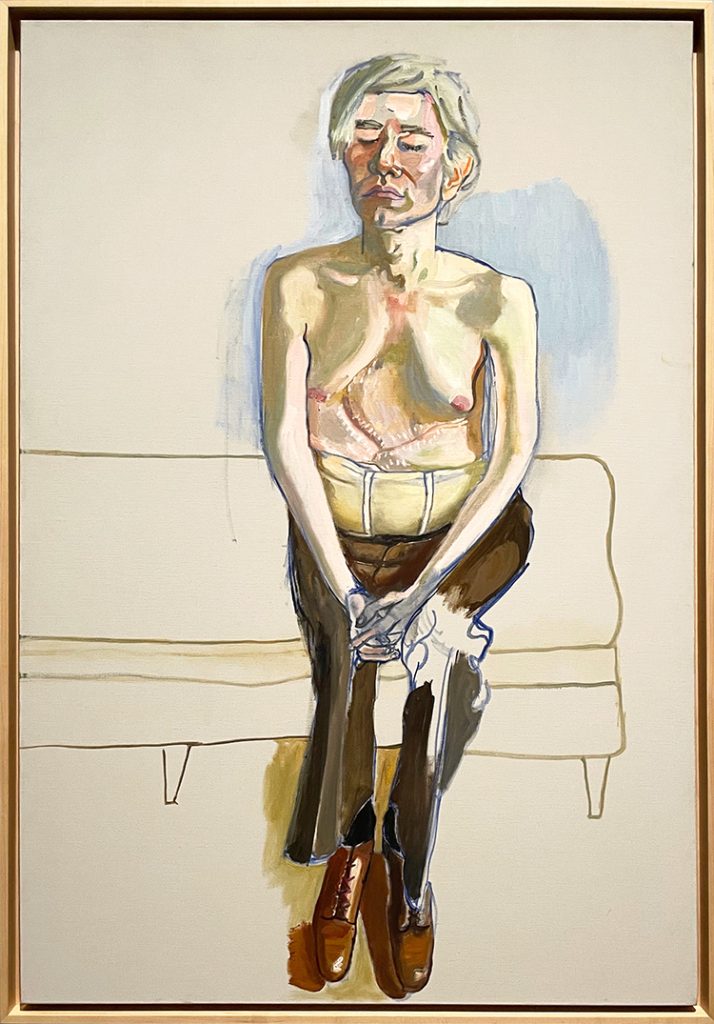 "Andy Warhol", 1970
Andy Warhol was shot in June 1968 and he had many operations to save his life. He is exposing himself to the viewer – his scars, his corset, his eyes are closed, the man who always looked. A very vulnerable painting of Warhol.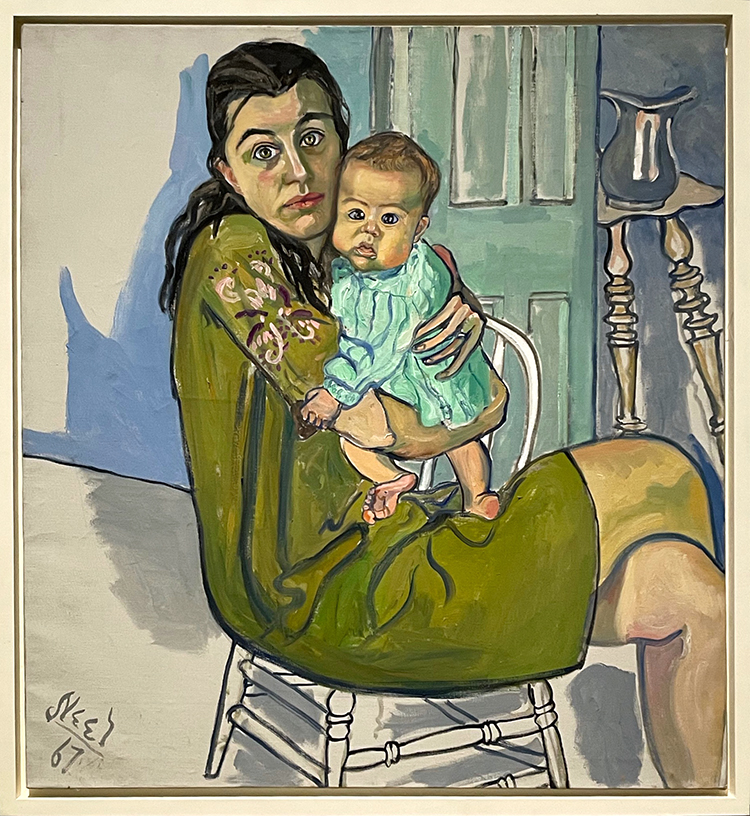 "Nancy and Olivia", 1967 – drawing from art history the subject of mother and child.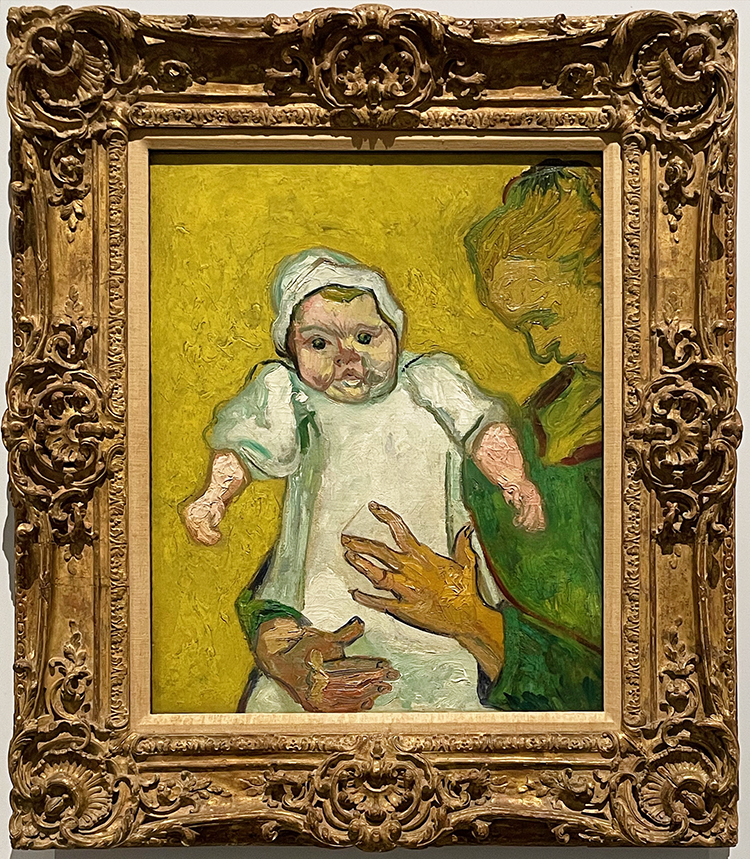 "Madame Roulin and Her Baby", 1888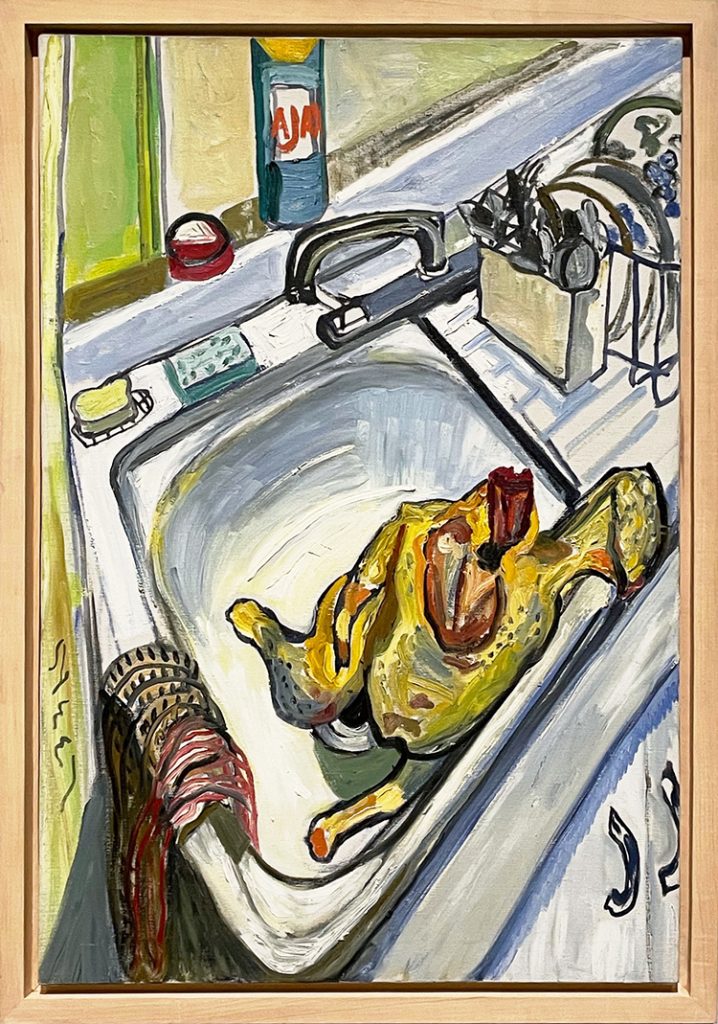 "Thanksgiving" , 1965
A funny painting and one that Americans well know! Neel was very well versed in art history – the reference below shows the same kind of loose brushwork and food painted into abstraction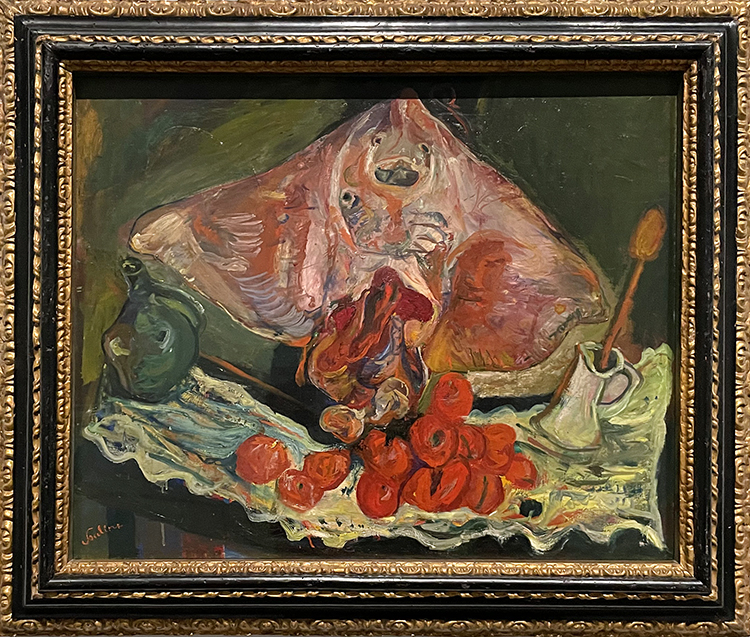 "Still Life with Rayfish" ca. 1924 by Chaim Soutine
I did not only love how Neel captured her subjects but also how much humor there was in her paintings.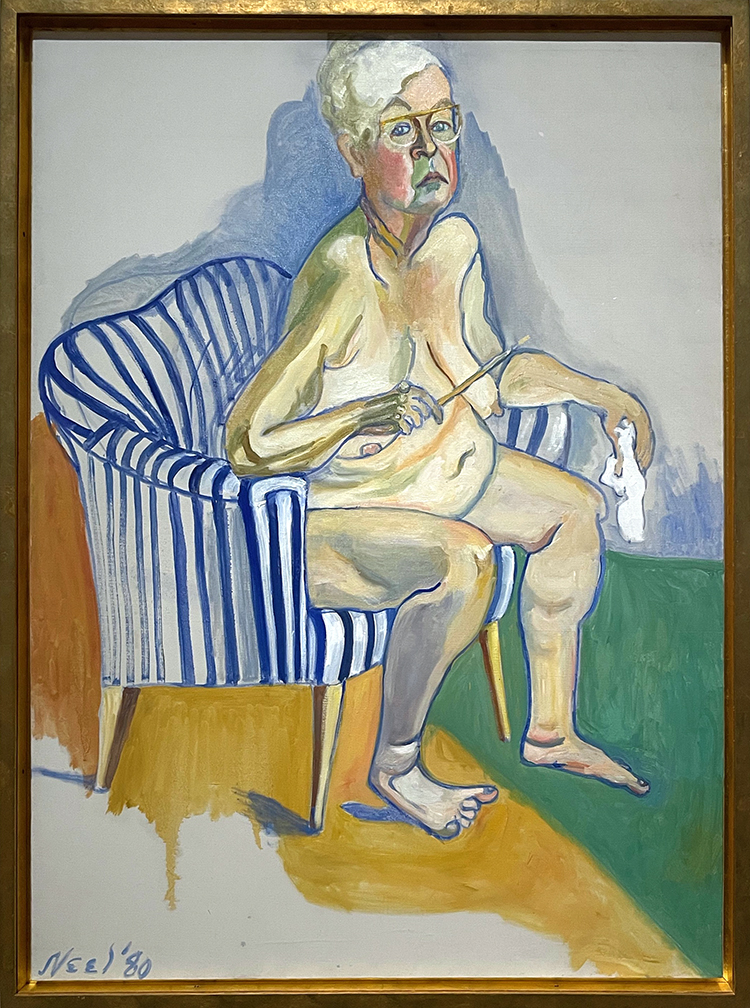 "Self-Portrait", 1980
One of her only true self portraits where she is a main subject. Provocative to paint herself nude as an older woman. Neel emphasizes her professional identity by showing the tools of her trade in this painting as well.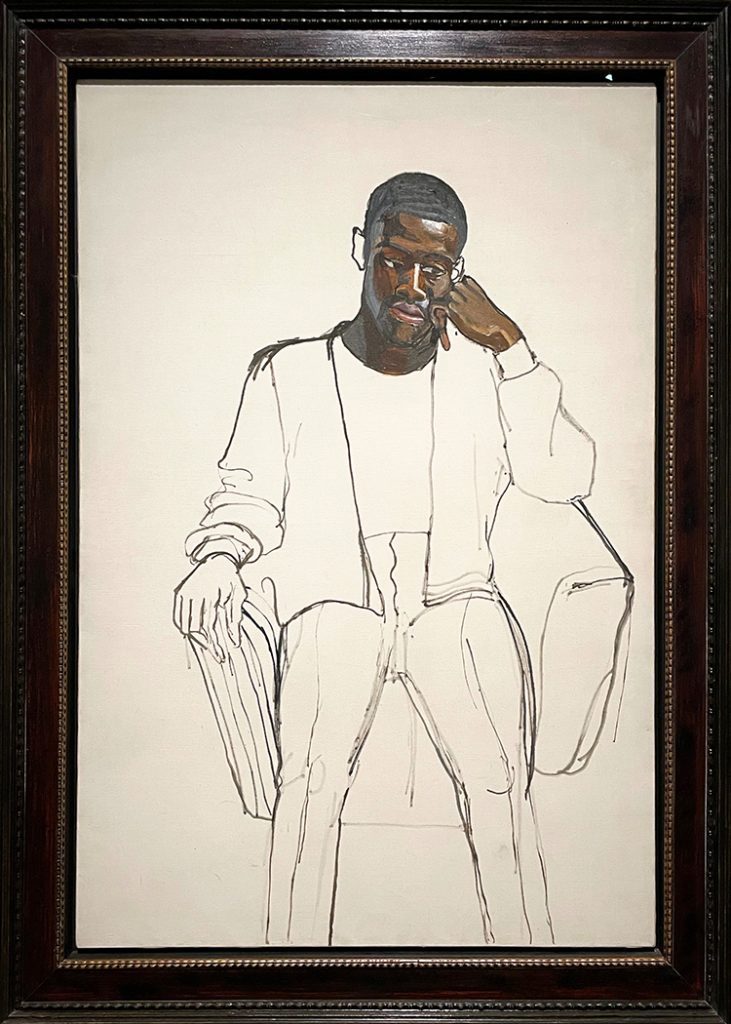 "Black Draftee (James Hunter)", completed 1965
Neel met Hunter on the streets of NY – he came for two sittings. The story goes that he was never able to return as he was called to the Vietnam War. Neel decided the painting is finished. This painting was so touching – for me today it told a different story as well .. the many unfinished lifes of Black Men in America!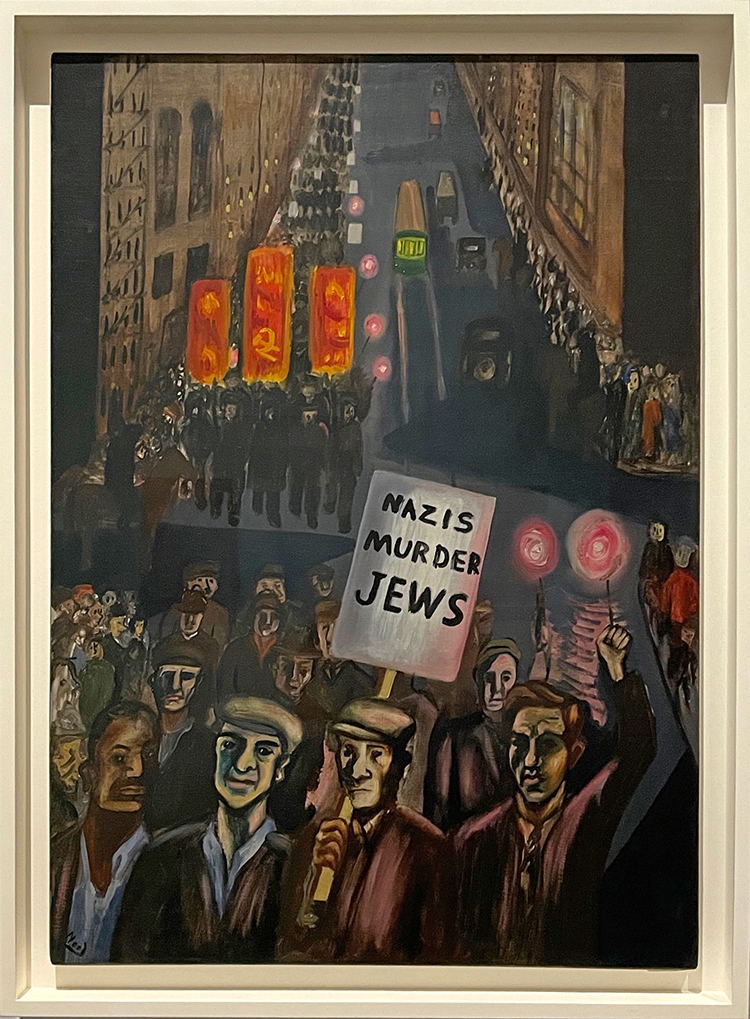 "Nazis Murder Jews", 1936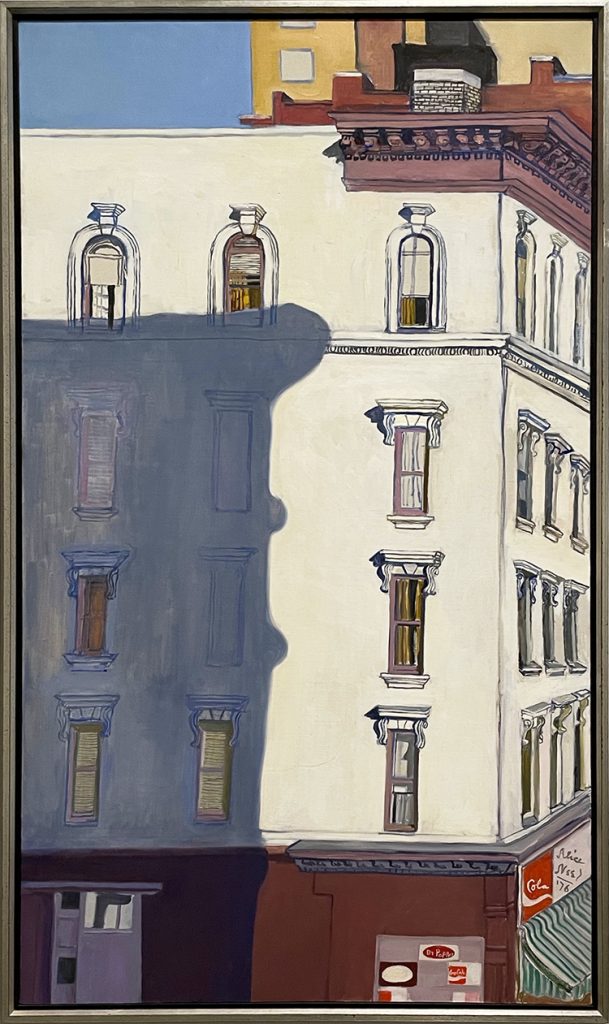 "107th and Broadway", 1976
This a view of Neel's final apartment on the the Upper West Side.I love this – the light, the shadow of the other building, the hint of the bodega on the corner. After looking at all the gazes of people Alice Neel painted, this gave me a little breathing time …maybe she used this view to rest a bit too from all the soul collecting she did, it must have been at times really exhausting.
A great exhibition – and if you are in the area, I recommend coming right at opening time of the museum with an already purchased timed ticket (New Yorkers of course for free). It was a wonderful experience and I felt safe the entire time.