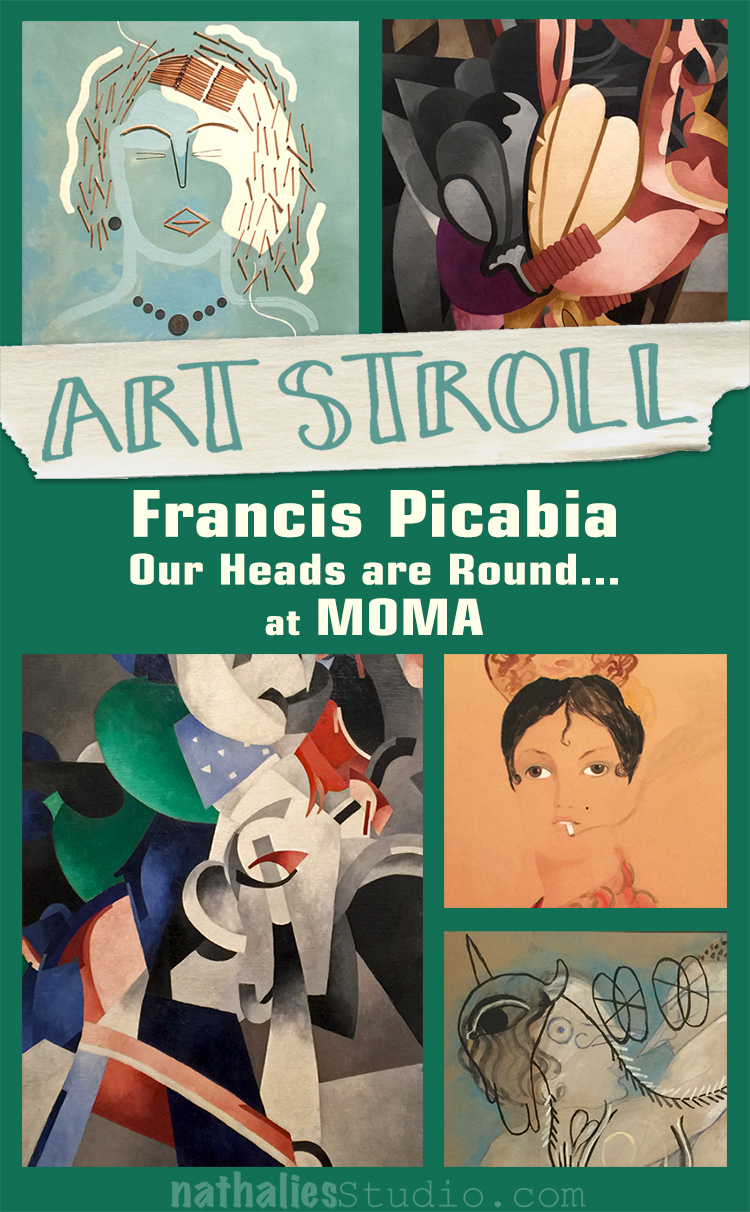 Last month I went with some of my friends to the opening of Francis Picabia "Our Heads Are Round so Our Thoughts Can Change Direction" at MoMA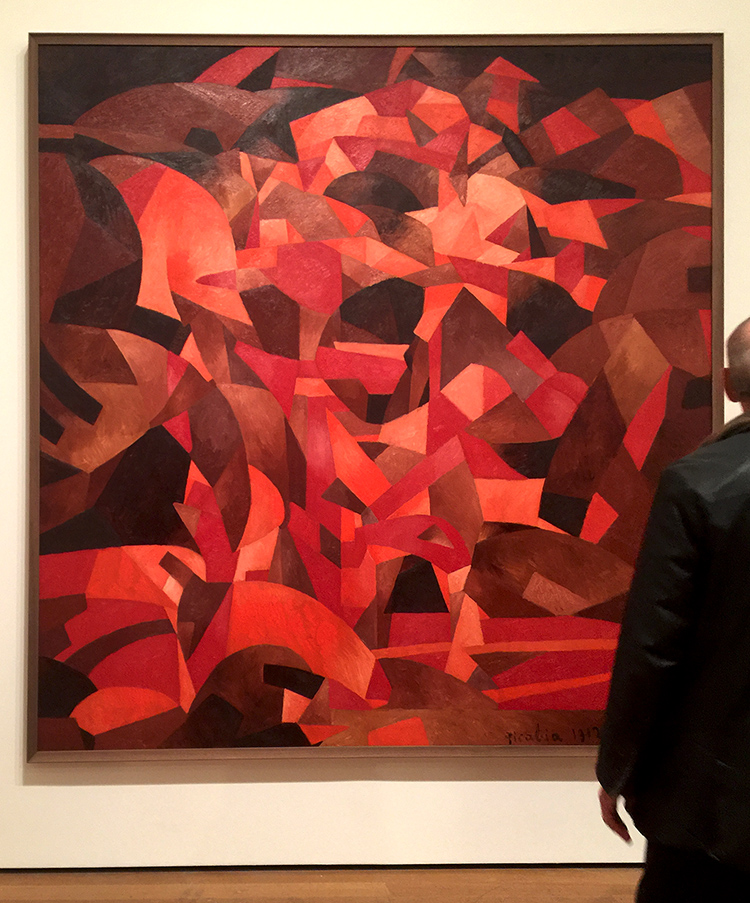 Dances at the Spring II
I had seen a couple of Picabia's paintings before and love them a lot but to be honest, I didn't know much of him. My friend Adam, was totally excited because he is a huge Picabia fan and told us, he was waiting for this exhibition for a long time.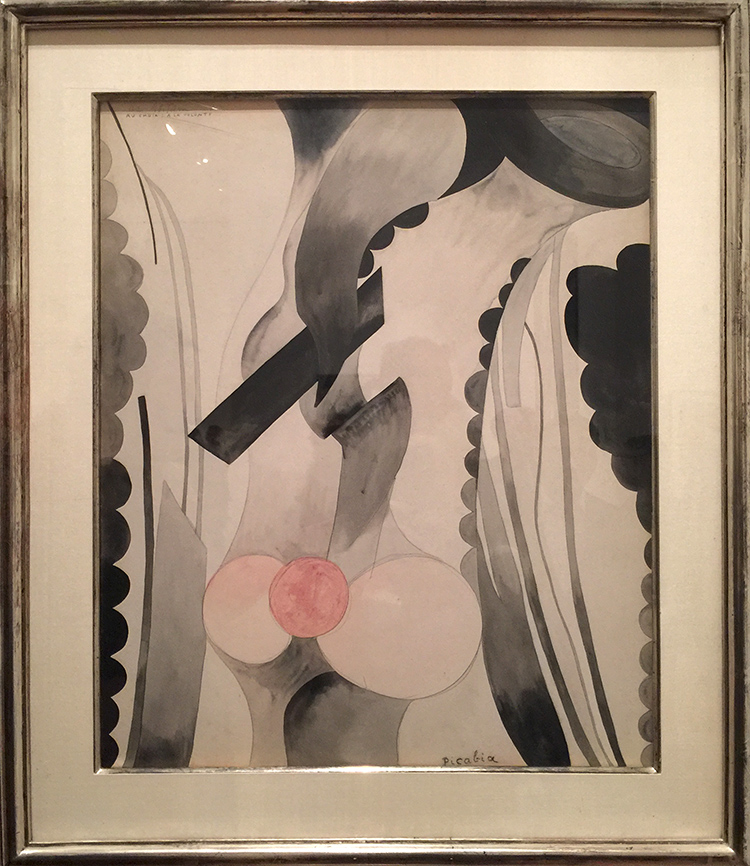 I was pleasantly surprised and loved loved loved the exhibition. Every single one of the rooms in the exhibition offered something different in style and was often challenging.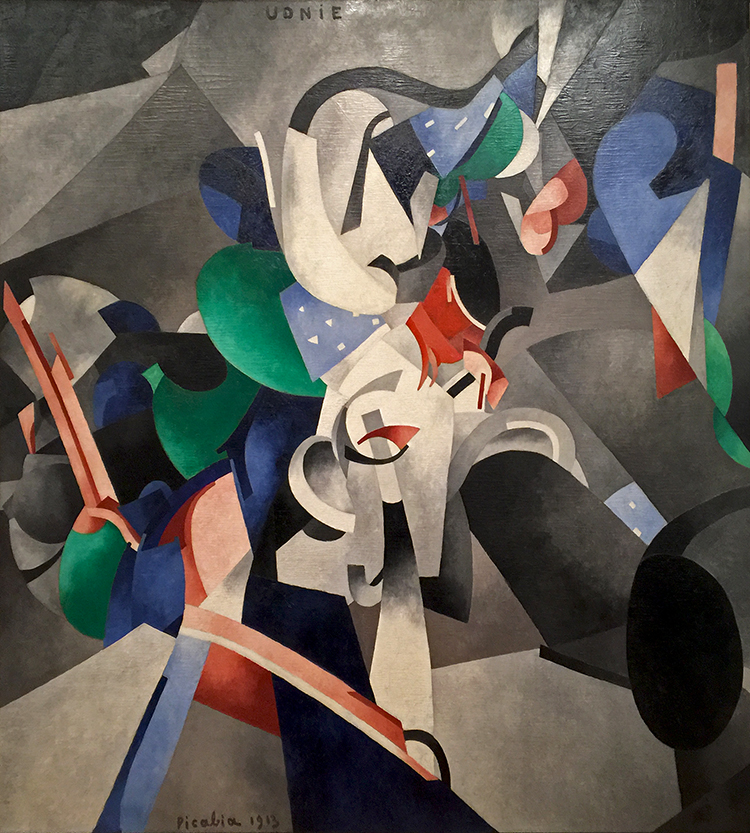 Francis Picabia, 1913, Udnie (Young American Girl, The Dance), oil on canvas
The exhibition covered Picabia's entire career. He was born to wealth in 1879 and apparently all he did was painting…and partying. He had a lot of humor and was by many, including himself called a Prankster.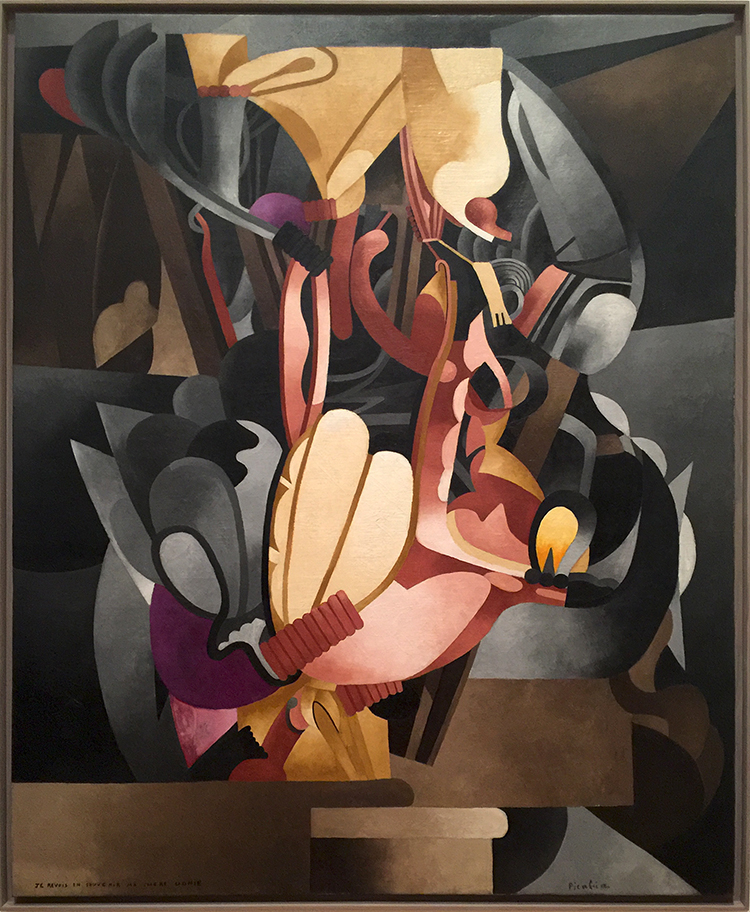 Arriving in the next room all the artwork became very industrial, mechanical and added different materials to the flat canvas. He was also a big part of the Dada-Movement.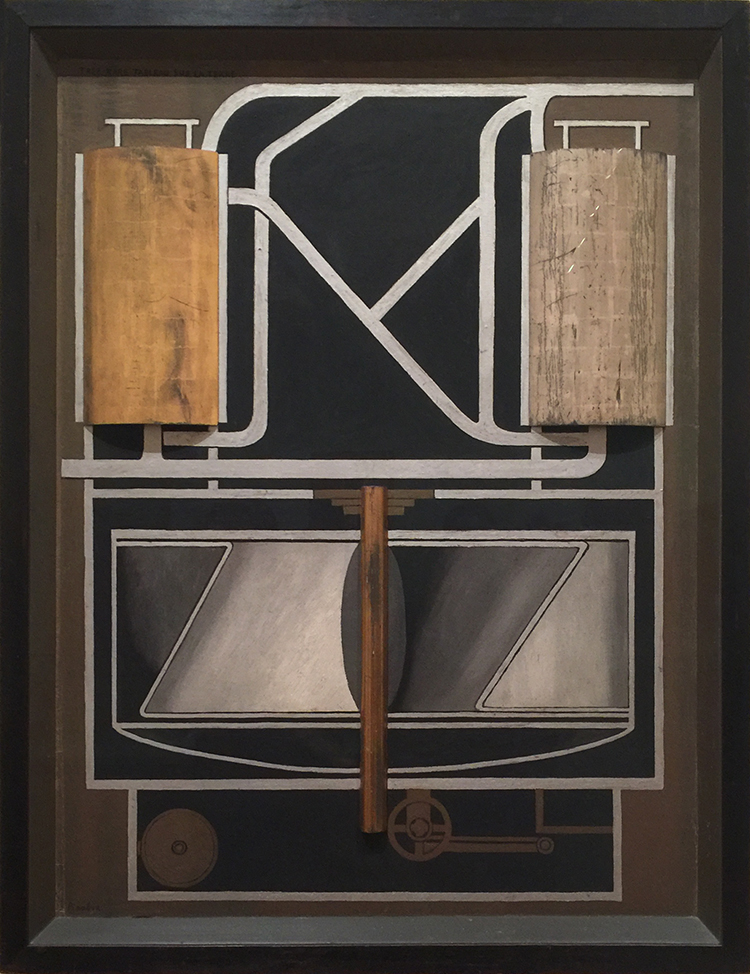 Très rare tableau sur la terre (Very Rare Picture on the Earth) (1915) Oil and metallic paint on board, and silver and gold leaf on wood, including artist's painted frame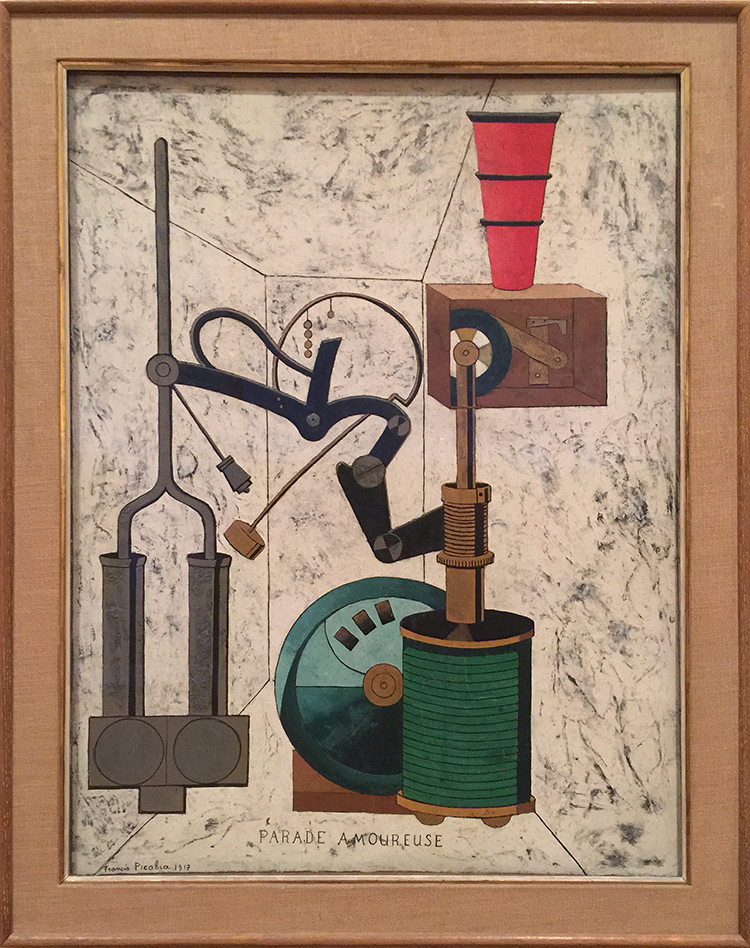 Amorous Parade, Francis Picabia, 1917- Oil, gesso, metallic pigment, ink, gold leaf, pencil and crayon on board.
And then just as you got used to it …everything changes once again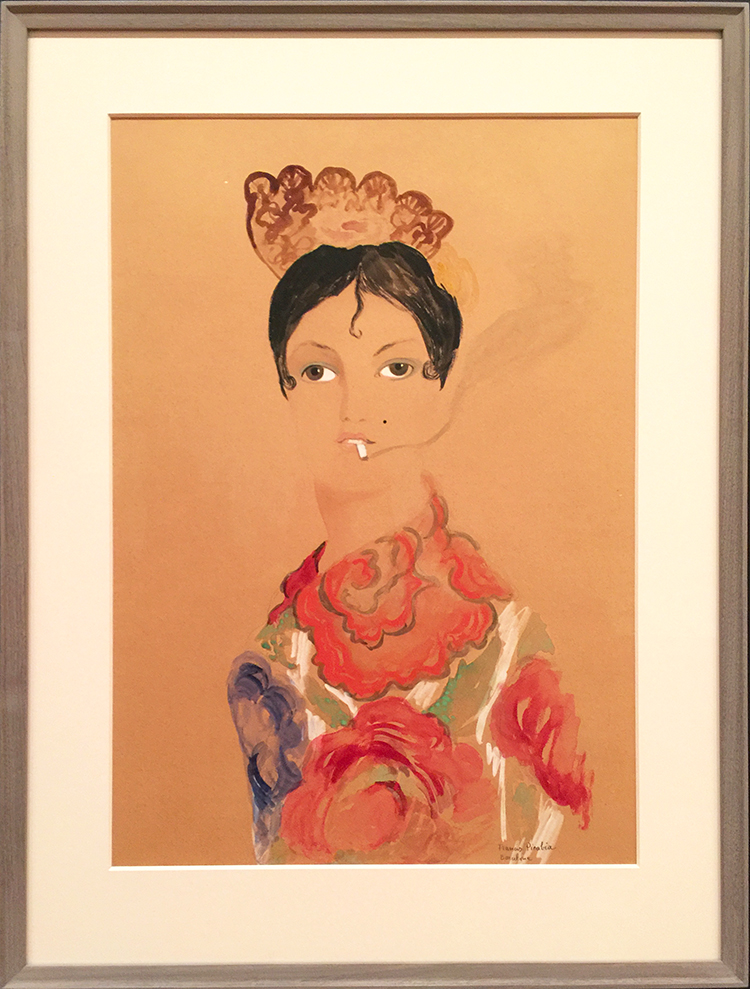 and again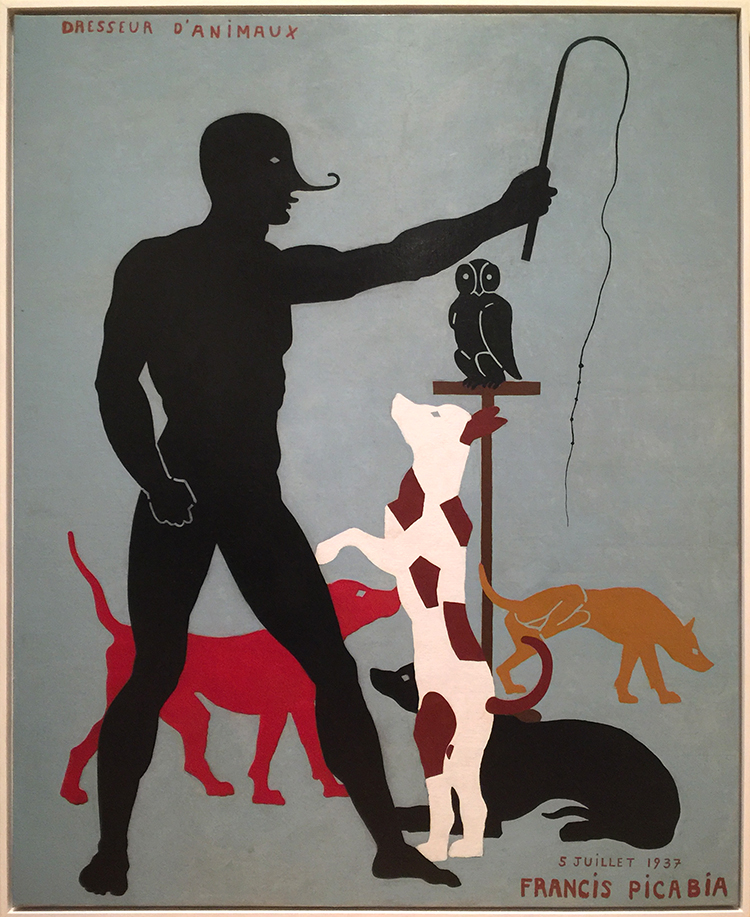 Animal Trainer, Francis Picabia
The above painting is seen as one of Picabia's typical jokes and mocking fine craftsman ship. The hand of the figure shows prominently bridges – a typical sign of using stencils – and the dogs as well are created with the use of stencils. This was frowned upon on when he painted this – which was in 1923 and not as he also placed as a joke onto the canvas in 1937. Also check out what the yellow dog is doing in the background.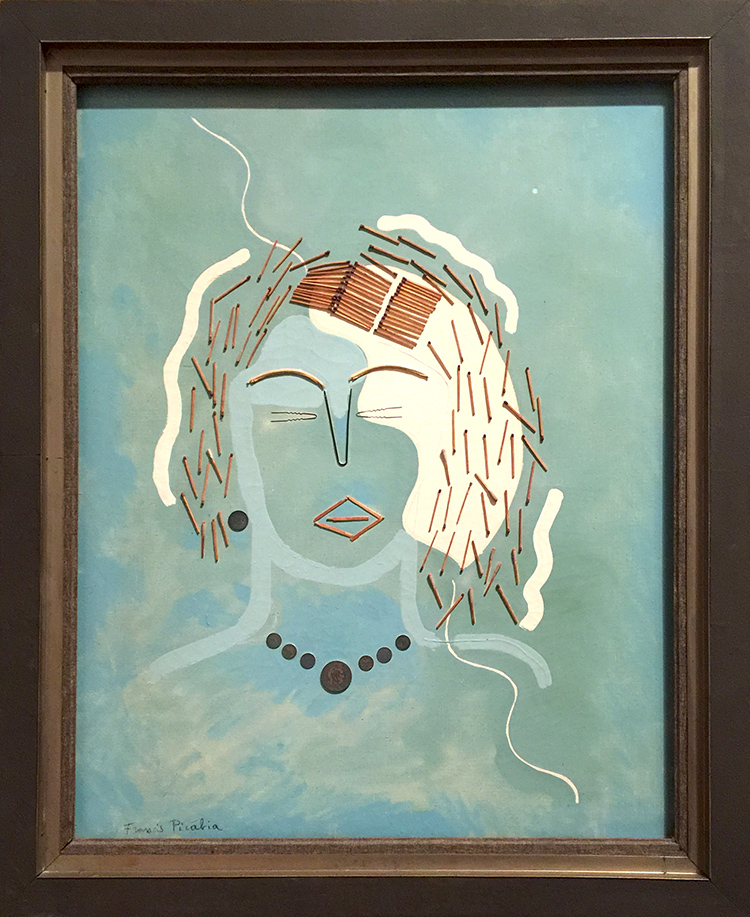 I loved his playful use of unusual materials in the next gallery -like matches and canvas wedges, brushes, coins. It's been all done before – it is fun – it is humorous and amazing.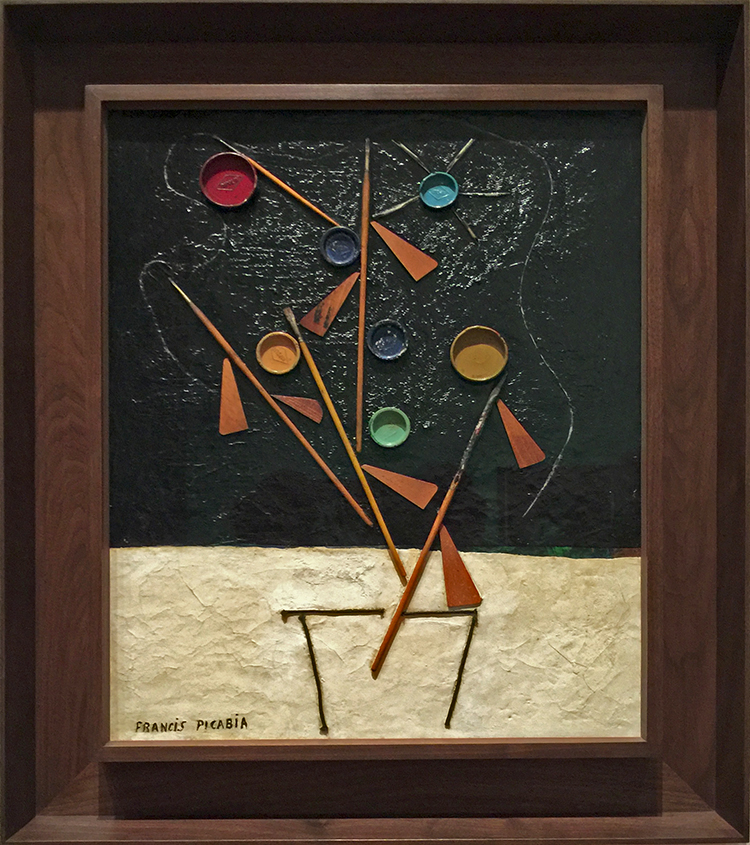 Flowerpot , Francis Picabia, 1924-25. Enamel paint, Ripolin paint-can lids, brushes, wooden stretcher wedges, string and quill toothpicks on canvas.
One gallery was dedicated to his Transparencies 1927 – 1930. I also loved all the different frames- a topic I have talked about in many other posts . They are probably still original because museums weren't that interested in his artwork up and until the 50s – and so fortunately they did not get destroyed to go with the "museum style frames"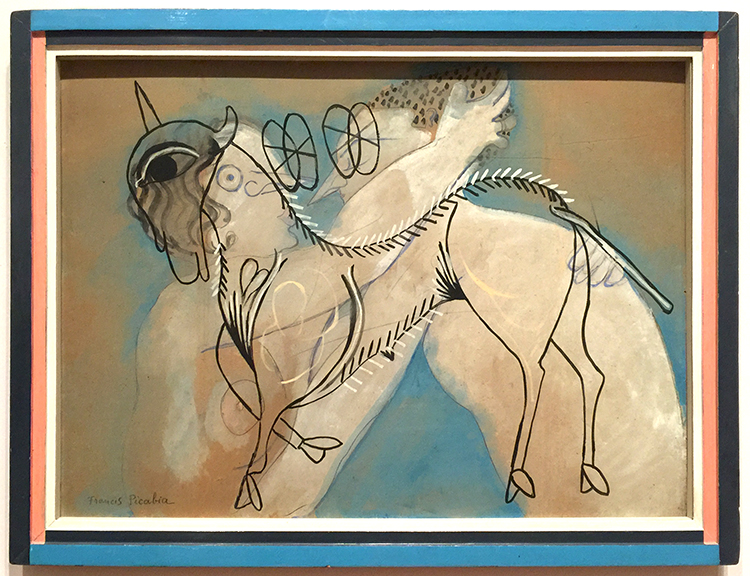 Working in his large new studio in Mougins, Picabia painted his Transparencies by alternating layers of paint with layers of resinous varnish. This process allowed him to lay linear motifs atop one another while keeping them distinct. These richly layered, multi referential compositions interweave an often dizzying array of con tour images drawn from such diverse sources s Renaissance painting, Catalan frescoes, and the popular culture of the day.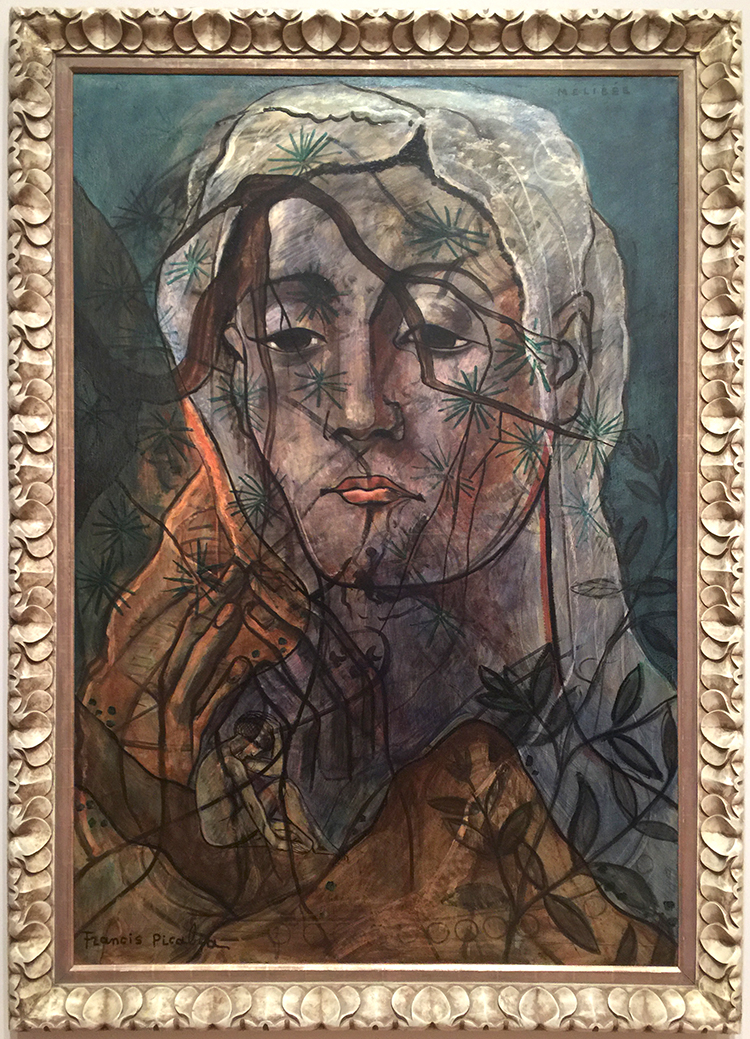 Mélibée
Picabia's unorthodox application of unusual materials sometimes resulted in surfaces that could be interpreted as damaged or in need for restoration. In fact, these effects were often deliberately induced by him. In Portrait of a Woman- shown below, Picabia enhanced some of the bumps with dark paint, purposefully amplifying the paints's already pronounced topography.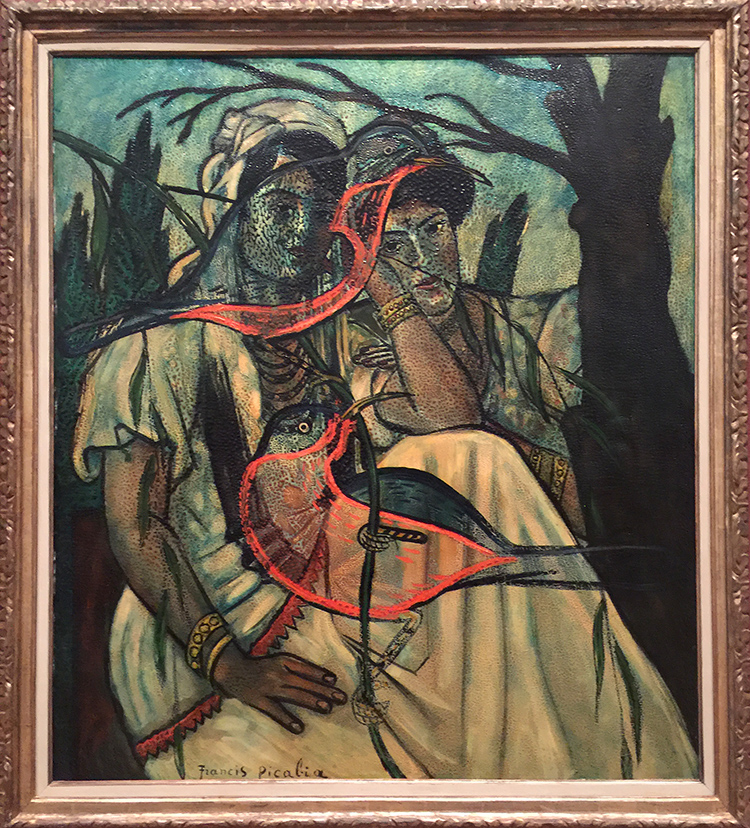 Portrait of a Woman, Francis Picabia, 1935-37 -Oil on Canvas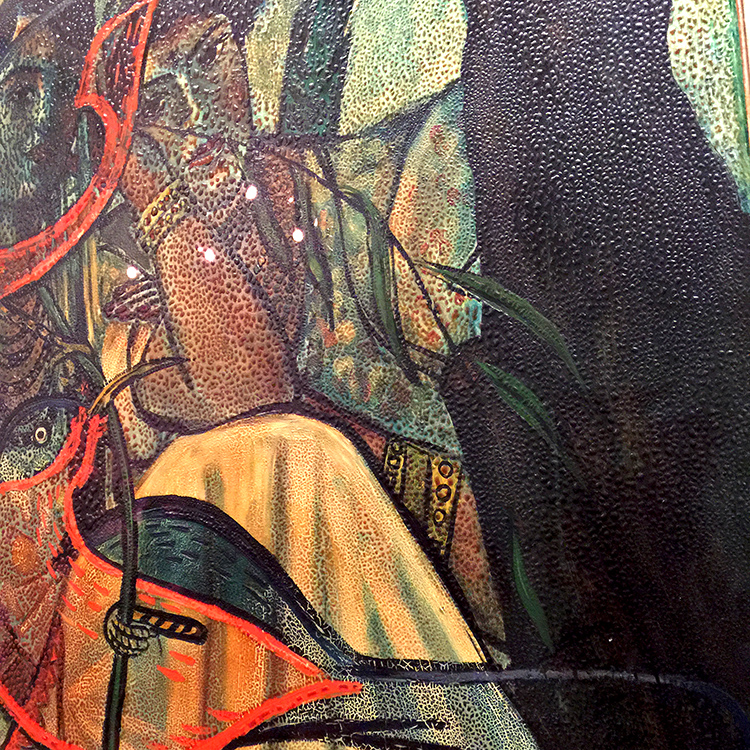 Isn't that amazing? And then…it changes again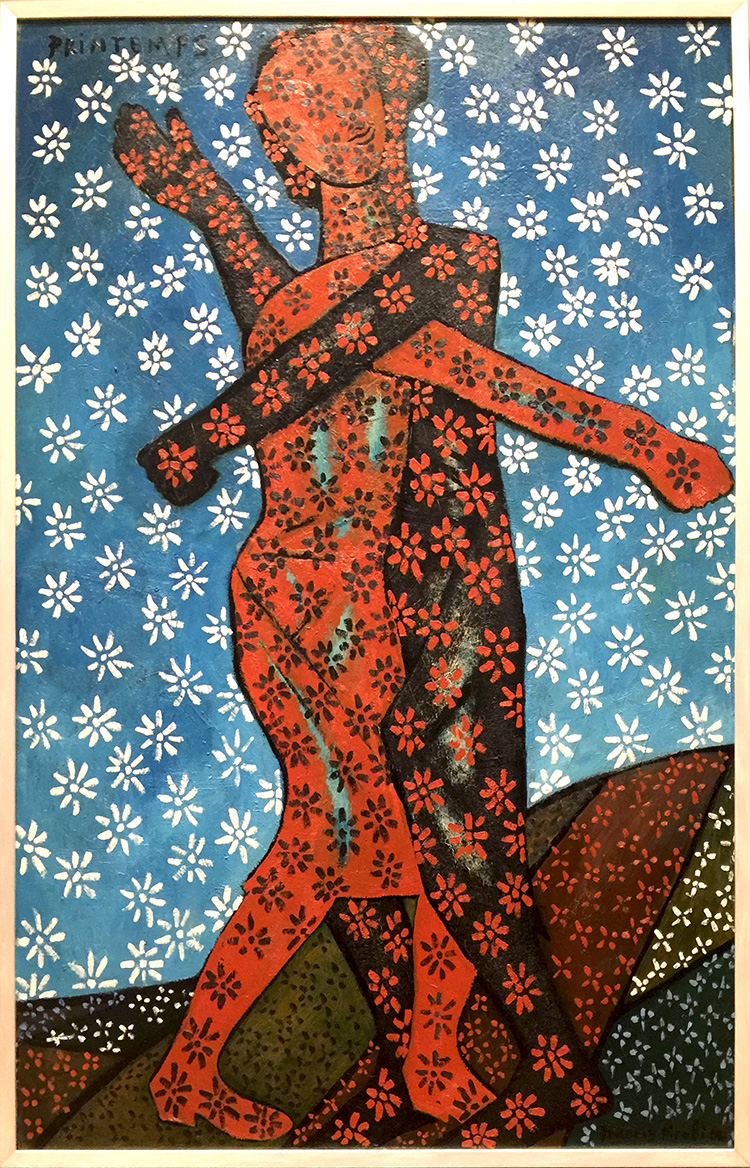 Spring, Francis Picabia, 1937-38/c.1943 . Oil on wood
And again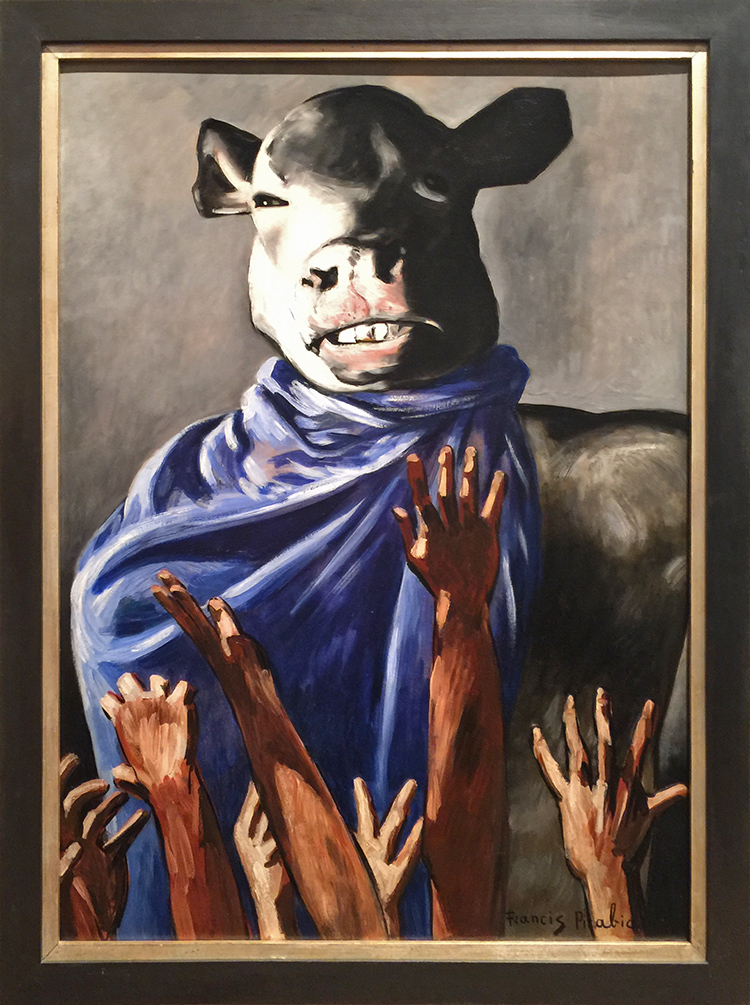 The Adoration of the Calf, Francis Picabia, 1941-42, oil on board.
Although Picabia was a resolutely apolitical artist, it is difficult not to read this painting and its cynical vision of the worship of false idols as an engagement with contemporary politics.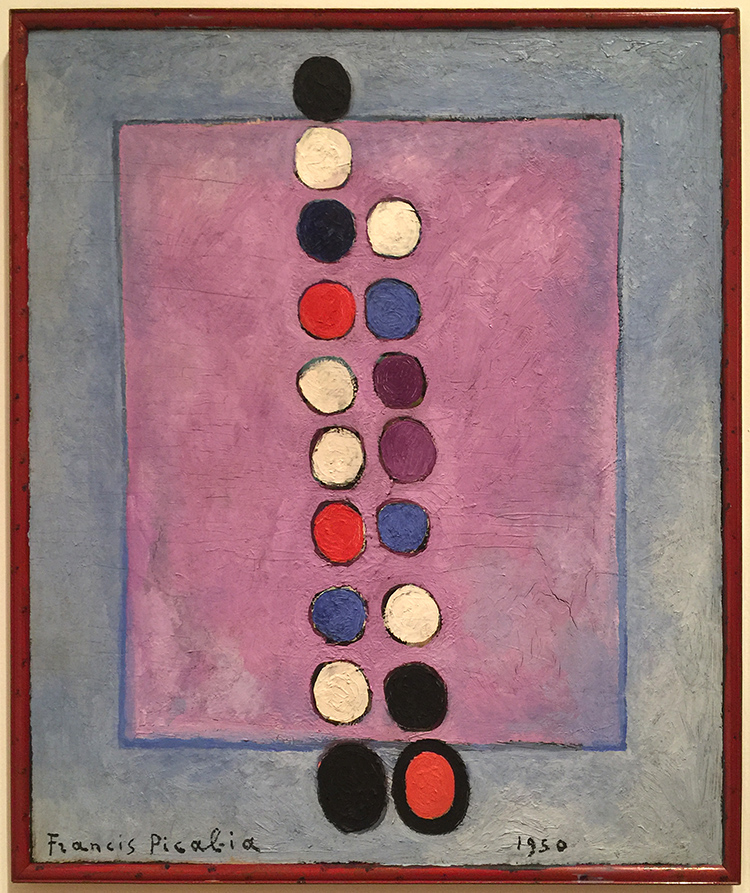 Symbol, Francis Picabia, 1950, Oil on canvas
"If you want to have clean ideas, change them as often as you change your shirts." (Francis Picabia). Our life changes, in that I guess we are consistent and so was Francis Picabia in his art.
If you are in the area make sure to visit this exhibition before it closes in March. I will definitely be back to see it once more :) I hope you enjoyed this little Art Stroll.