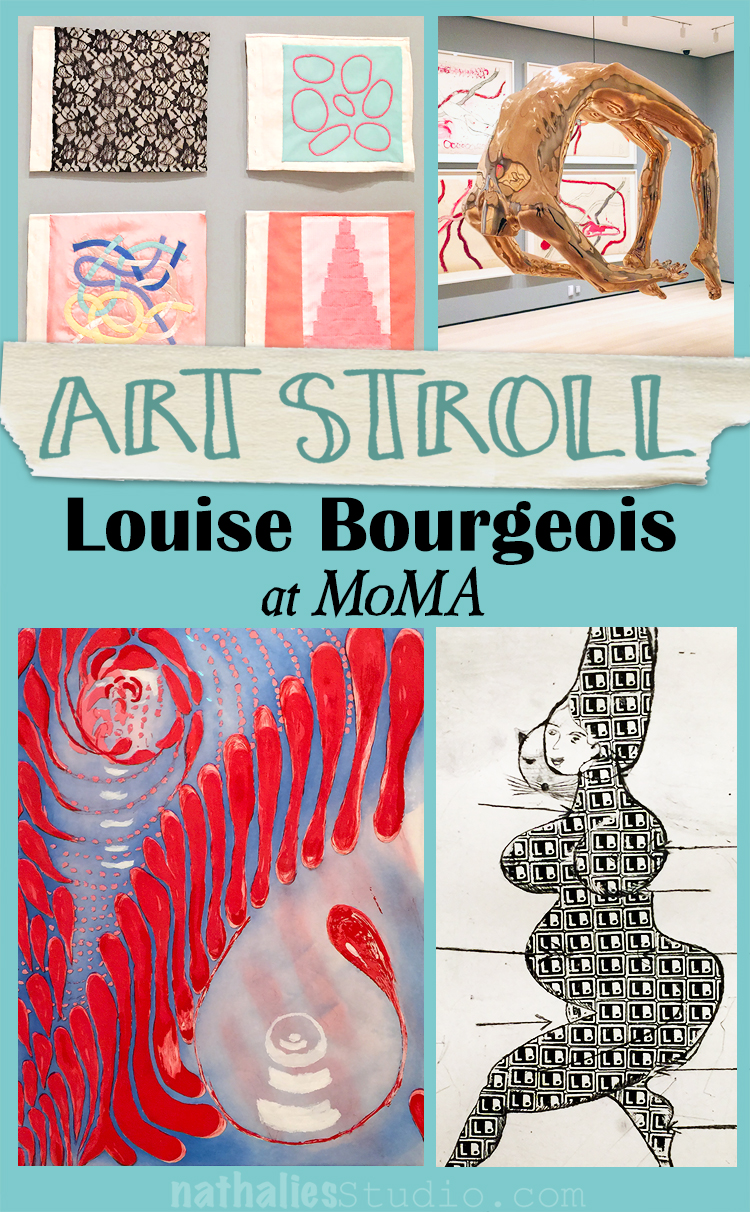 A couple of weeks ago Kim and I went to see Max Ernst at MoMA and while we were at it we also went to see the Louise Bourgeois exhibition. Louise Bourgeois was born in 1911 in France and died in 2010 in NYC.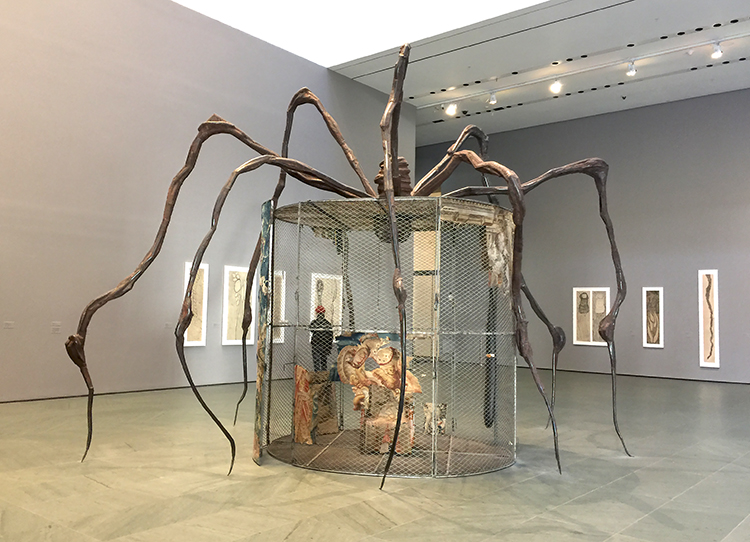 "Spider" (1997), steel, tapestry, wood, glass, fabric, rubber, silver, gold, and bone
Now the reason why I say that in a kind of "well guess we have to"-manner is, that I mostly associated Louise Bourgeois so far with her spider sculptures and well…I am not a particularly big fan of spiders ;)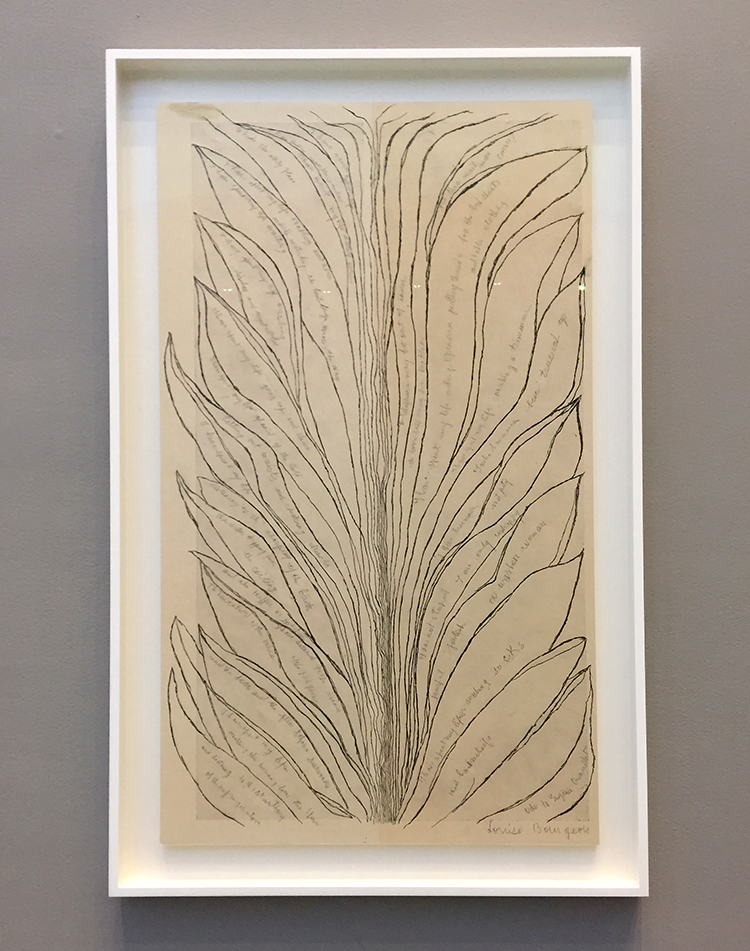 But I am happy to say I was pleasantly surprised and happy I went to the exhibition! I came to like her work a lot.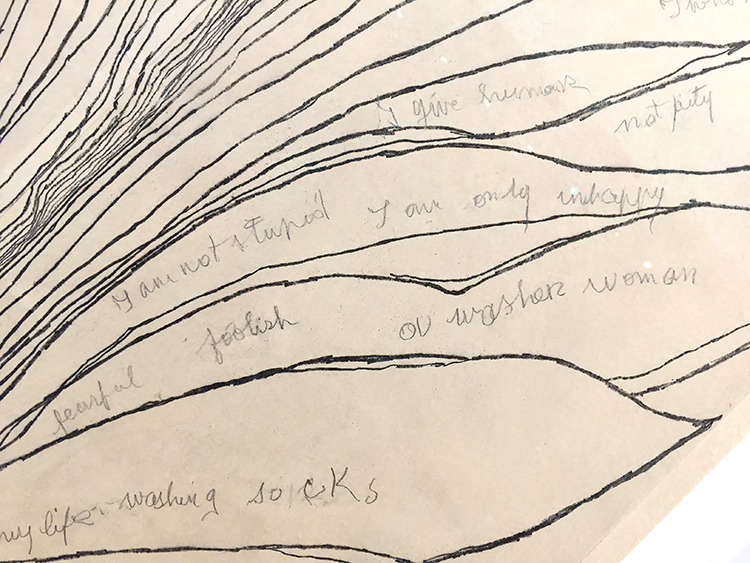 Soft Ground and Drypoint etching techniques were a big part of the exhibition.  – and I found her studies of lines very interesting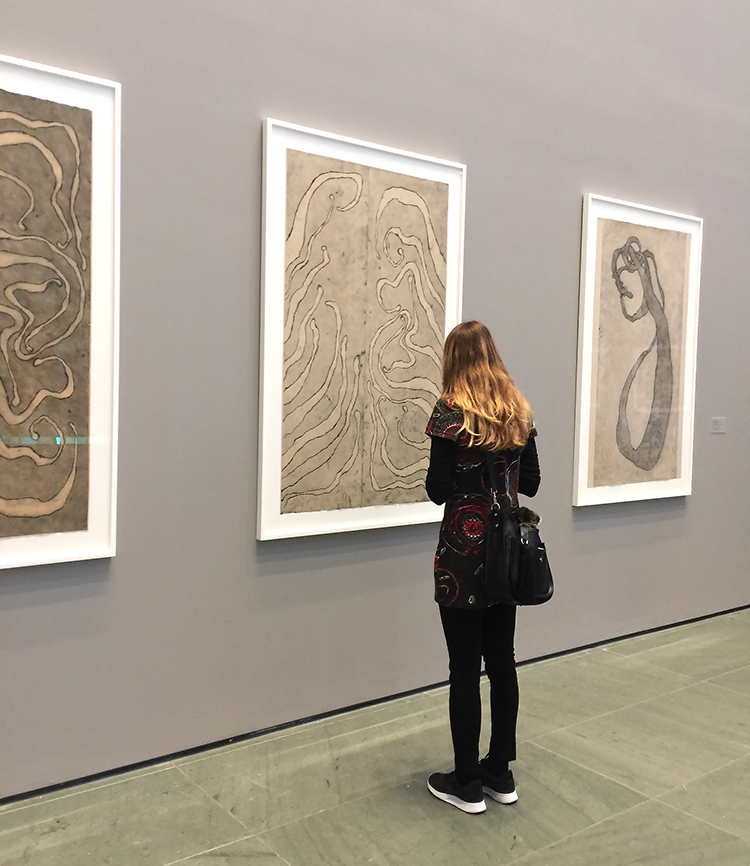 so did Kim ;)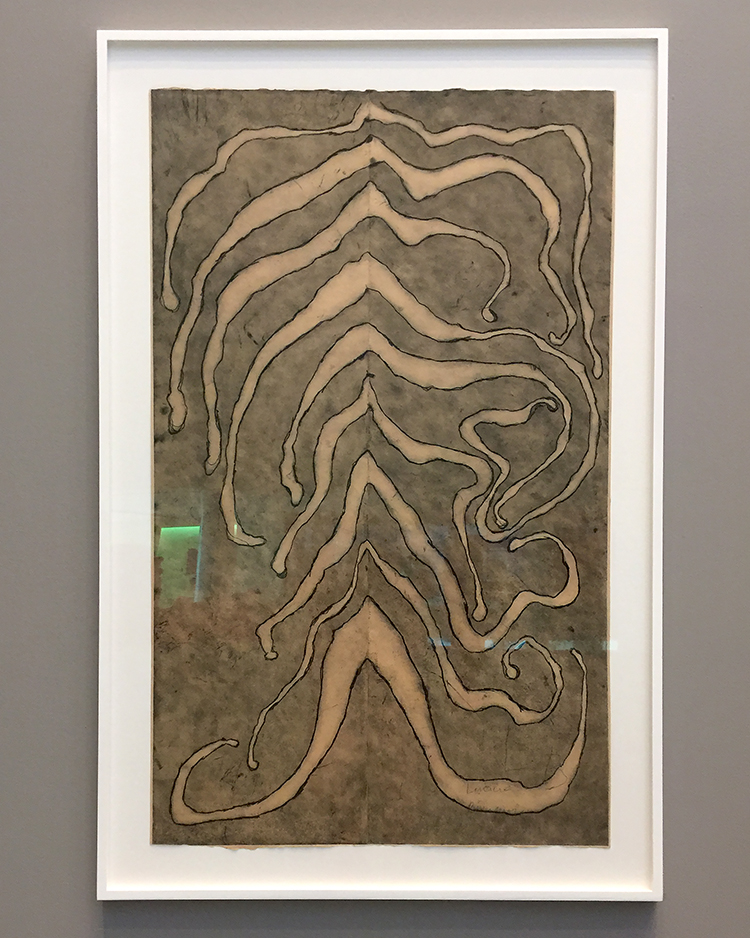 These prints were actually made in her last two decades of her life and the end of the show in the atrium of MoMA but we started there and it pulled us in to go to the exhibition rooms.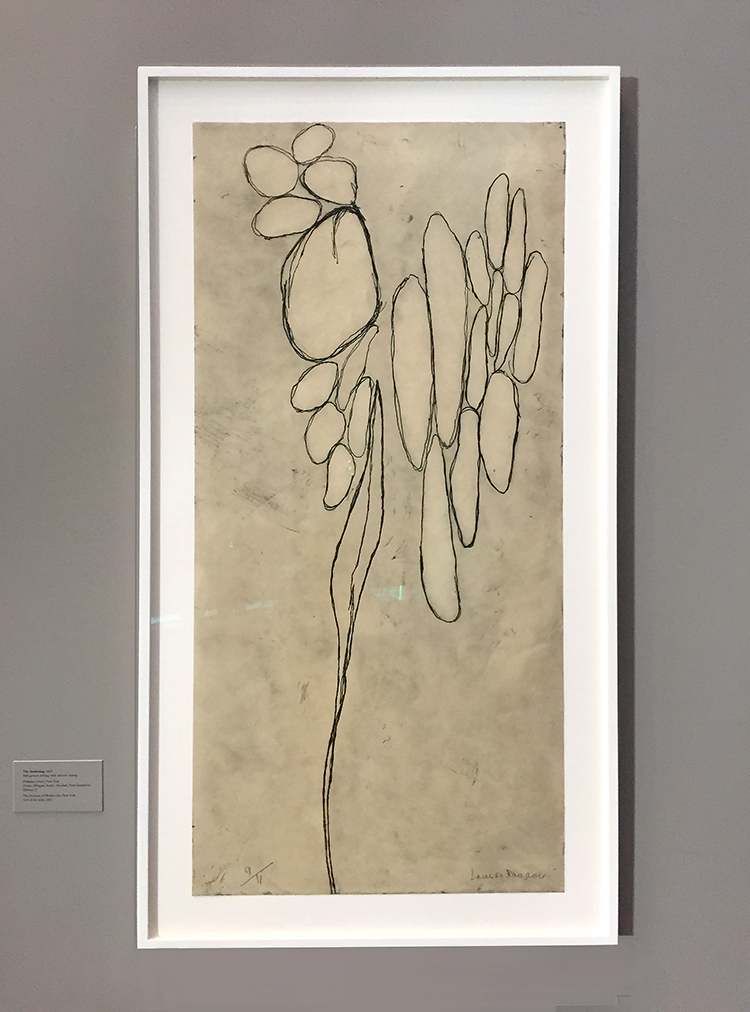 Funny enough a day after we saw the exhibition I got an email from my friend Bruno Nadalin offering a Drypoint Etching Class and needless to say- I signed up – I cannot wait :)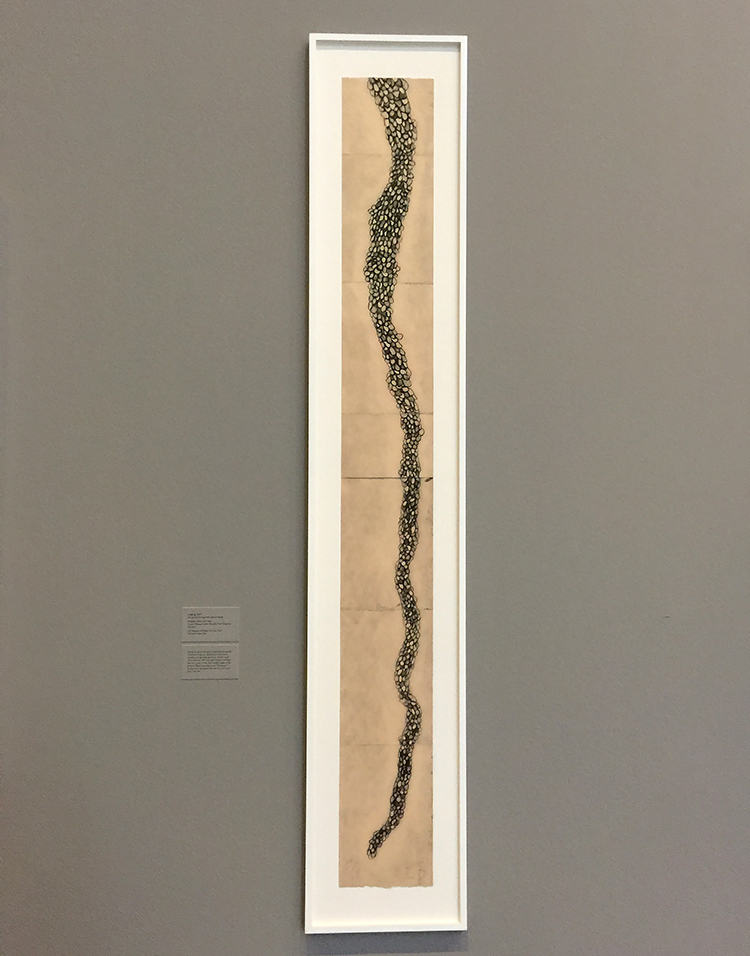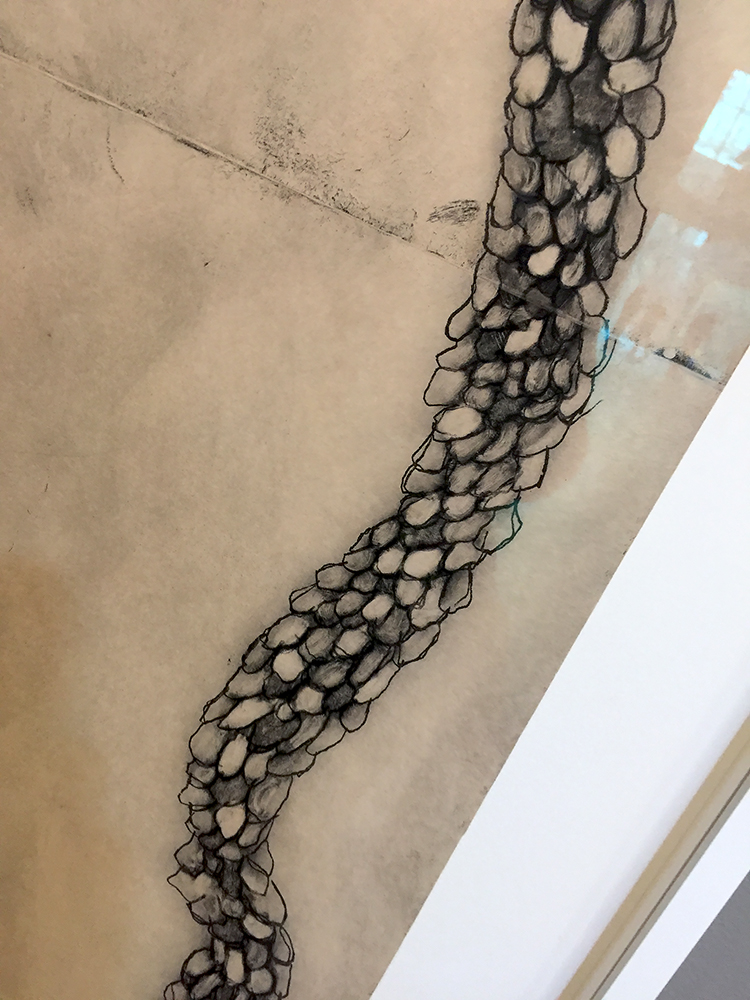 I was fascinated by her organic shapes, the color choices and also the repetition of themes. But when I saw the first piece with fabric I was super intrigued.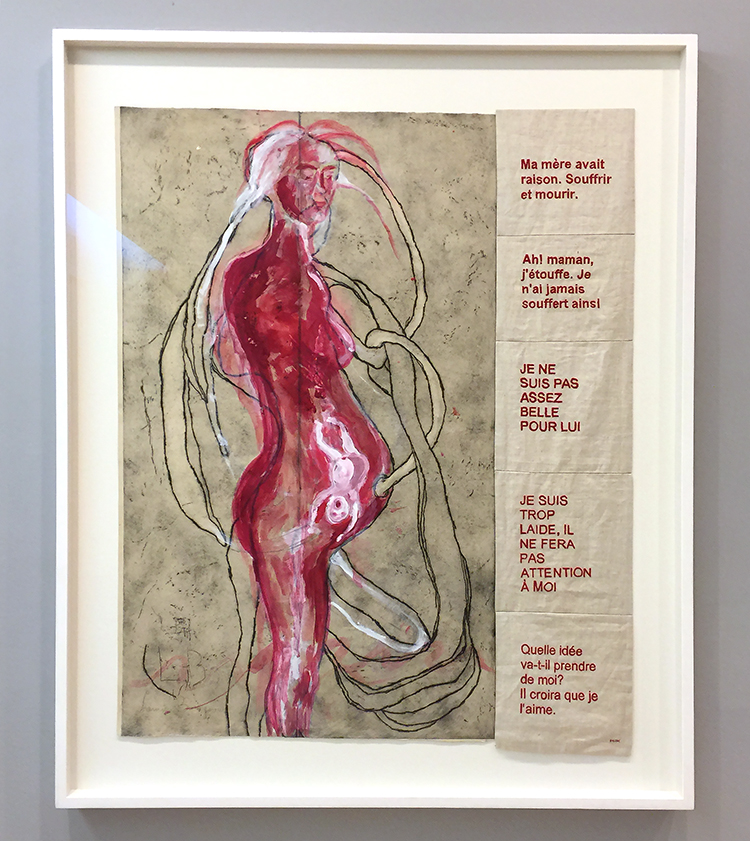 Her wood sculptures are beautiful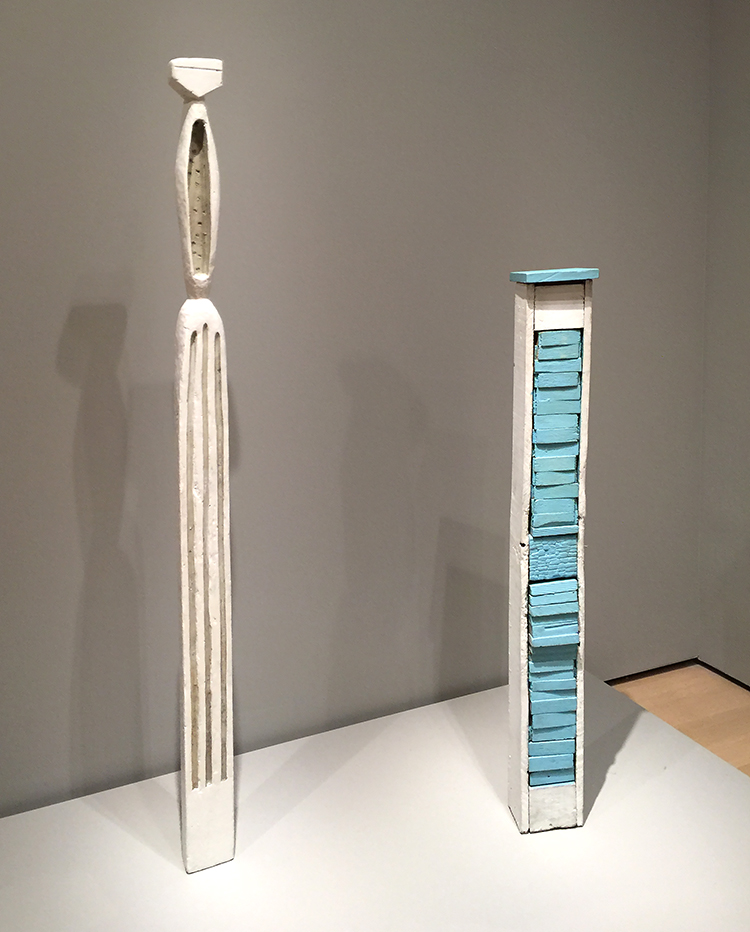 she also incorporated a lot of architectural symbols in her work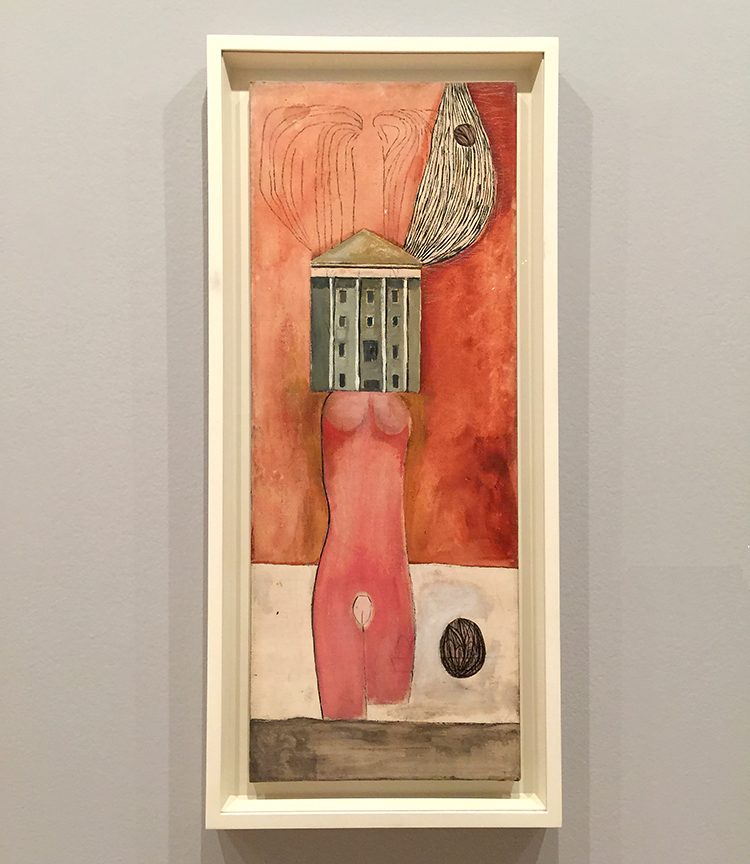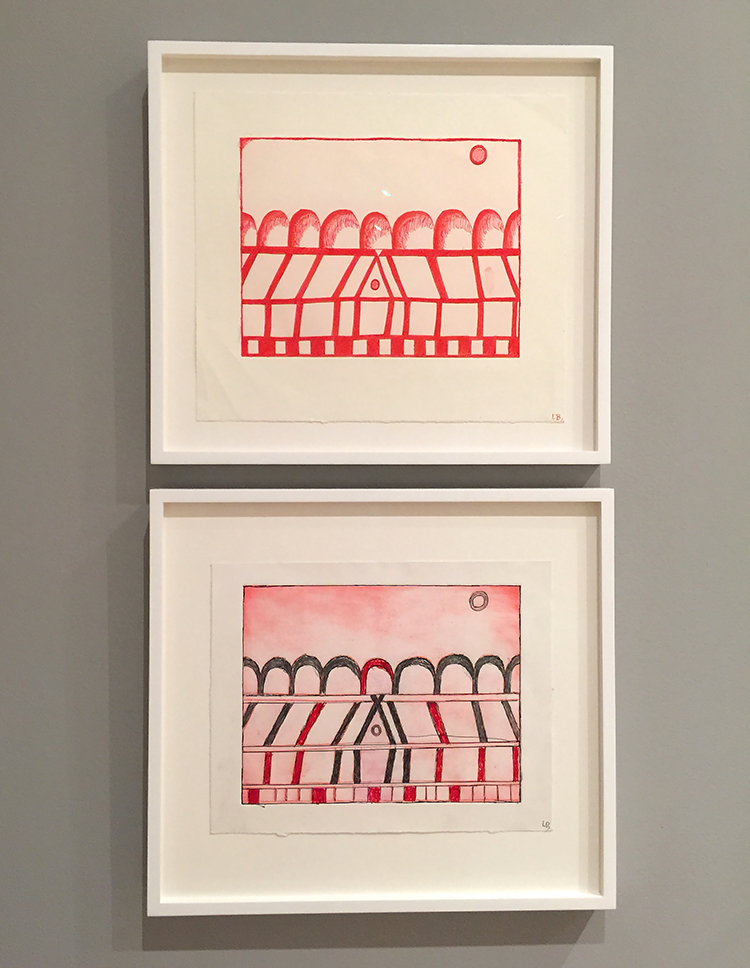 this one is called the Happy House 2001-2003 Drypoint with selective wiping – on the bottom with added pencil and crayons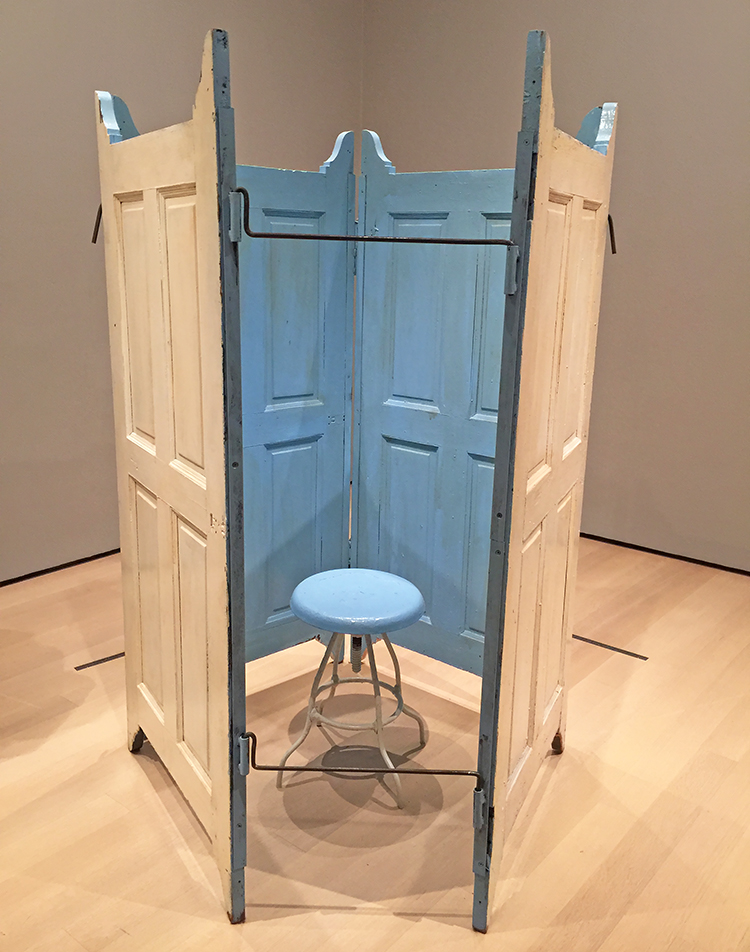 She also did a series of room- like sculptures called cells in 1991 – about sixty of them. Some are filled with a haunting mix of her personal belonging. She often used the color blue for its serene and calming effect.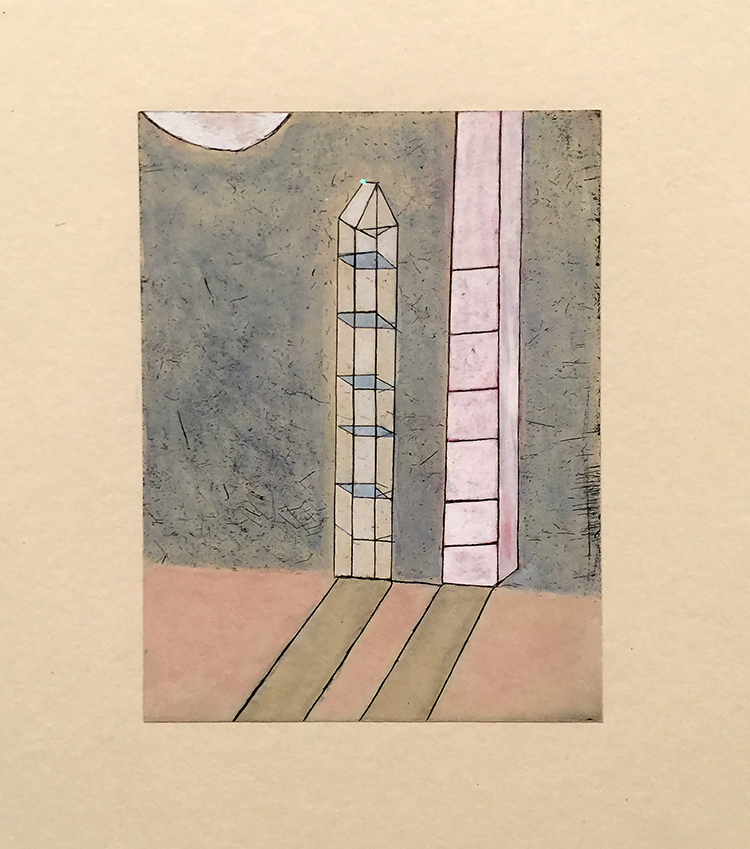 Side by Side – Etching with watercolor and gouache addition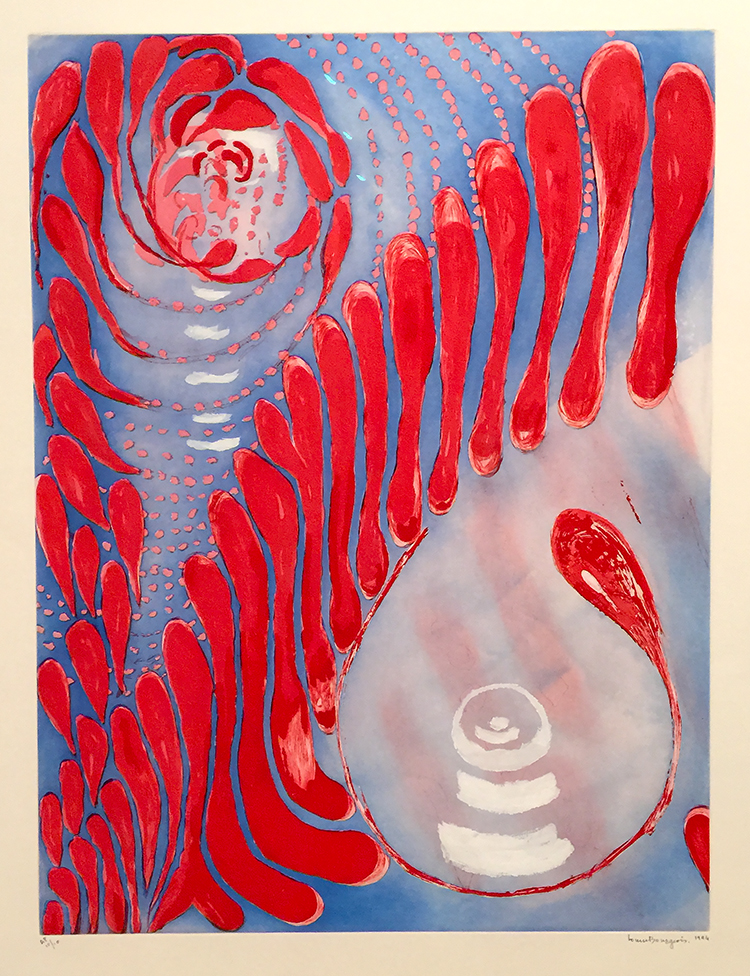 more drypoint etching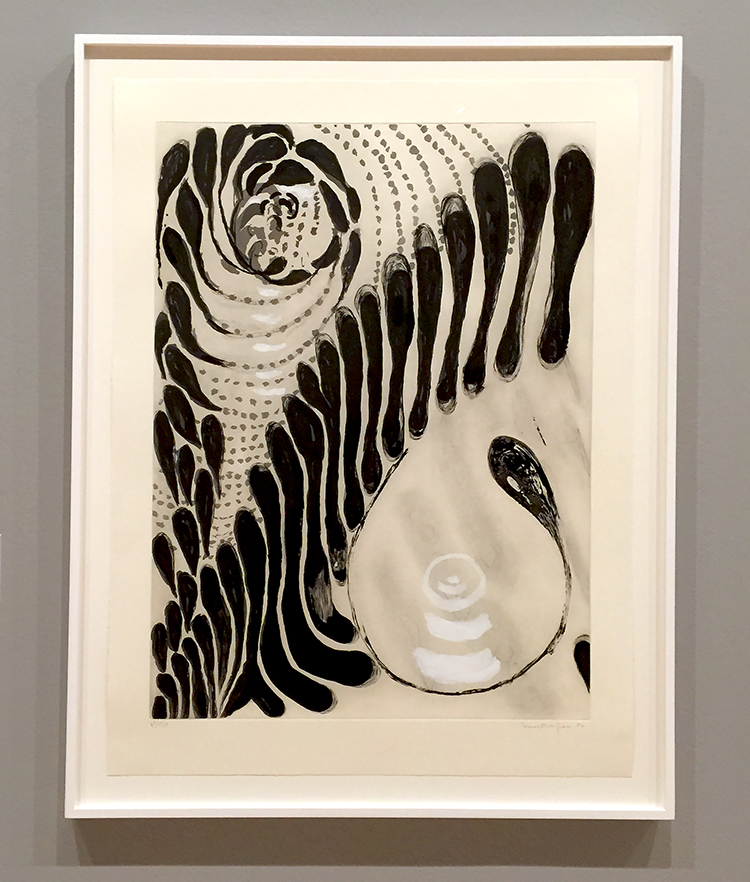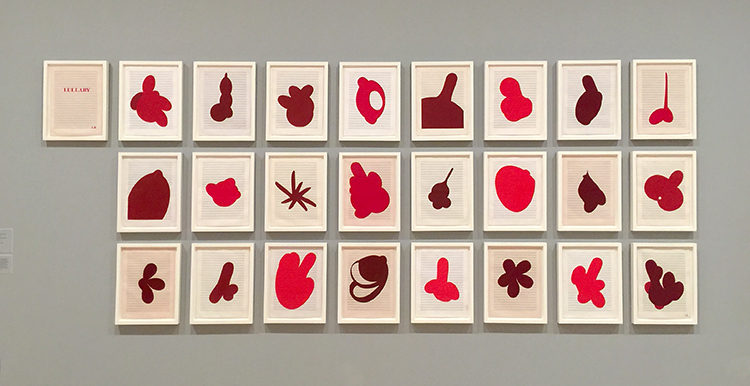 This is so beautiful until you really explore the shapes and then the Lullaby – as this work is called is starting to be scary!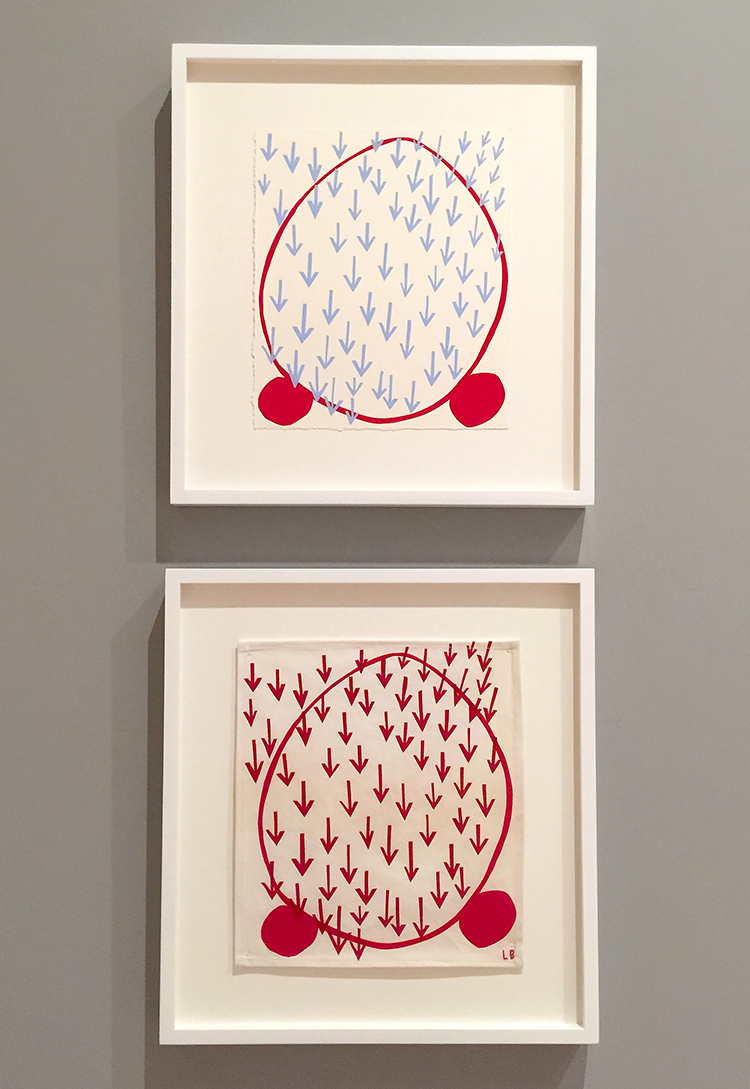 "You can …remember your life by the shape, the weight, the color, the smell of clothes in your closet" Louise Bourgeois
Although Bourgeois was raised in a family of tapestry restorers, she introduced fabric in her art only when she reached her 80s.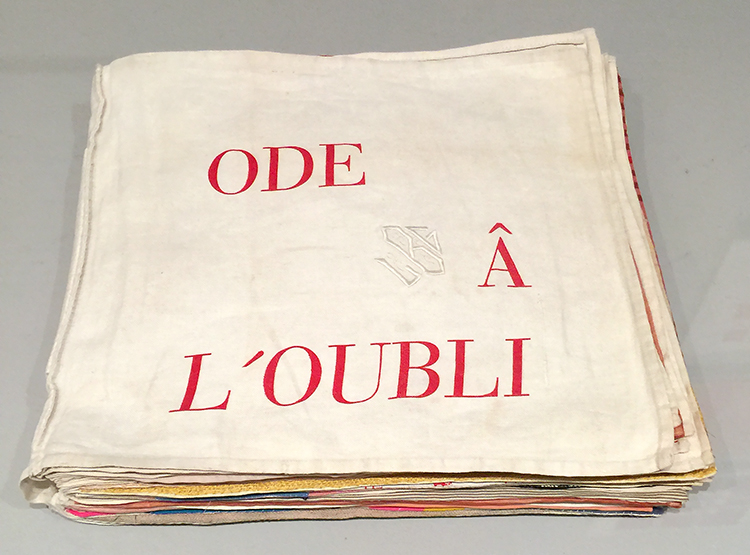 She made prints on fabric napkins, hand towels and even shirt cuffs. She enjoyed the tactile qualities of the surfaces and the ways they absorbed ink.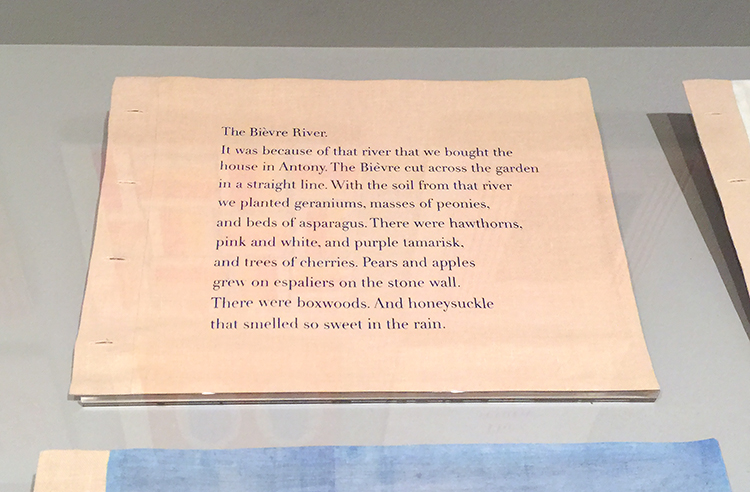 She also created fabric books, filling the pages with abstract designs fashioned from bits of old garments, stains, scorches and cigarette burns testify to their histories.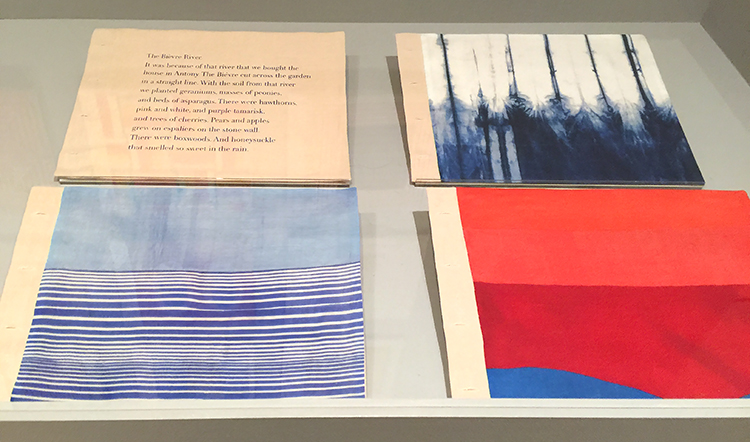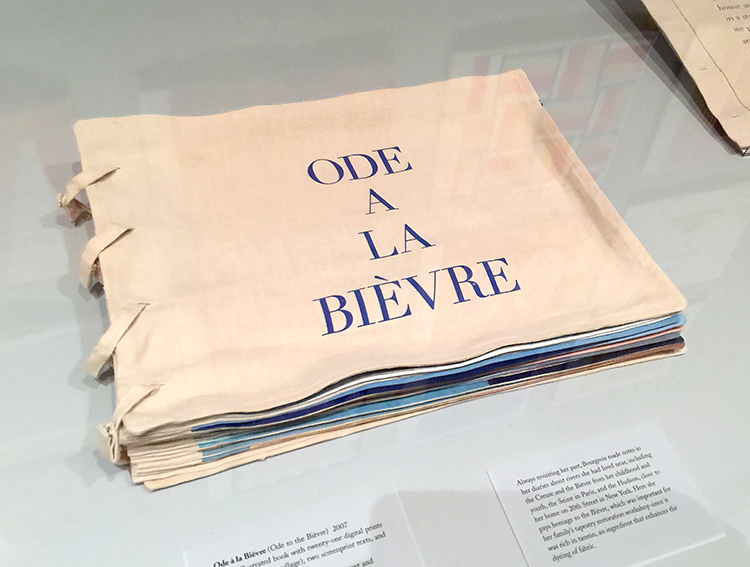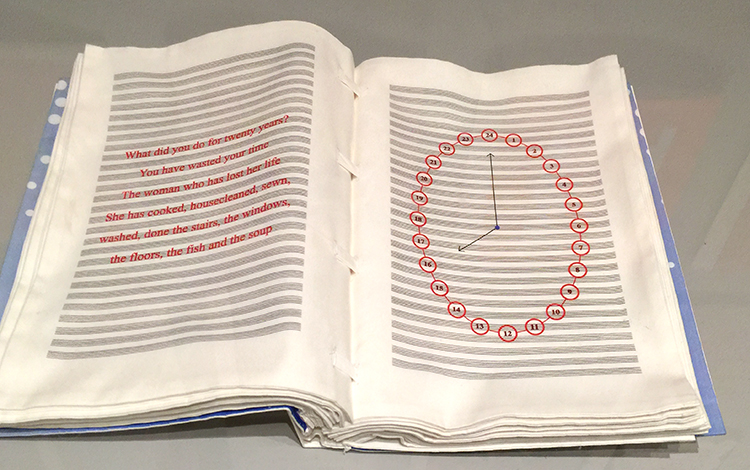 Hours of the Day, 2006 – Fabric illustrated book with 25 digital prints
Bourgeois took advantage of digital printing for the ease fo printing on fabric. Every spread has it's own text as the hour on the clock advances. She was already in her mid nineties when she made this book!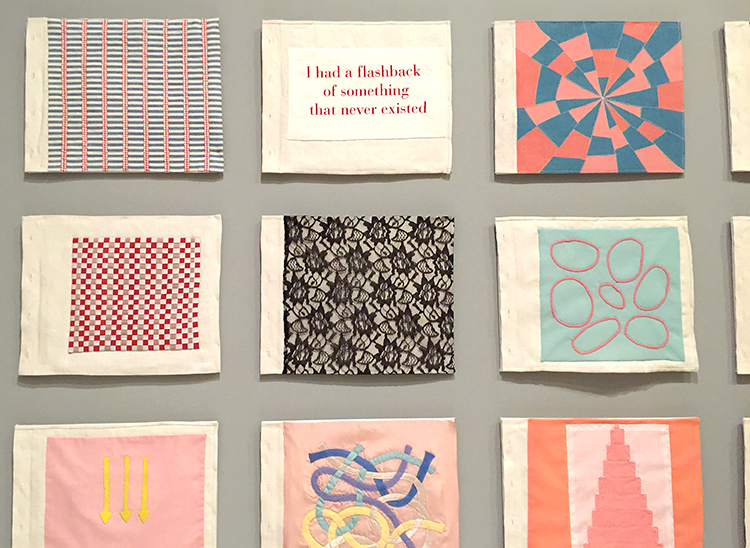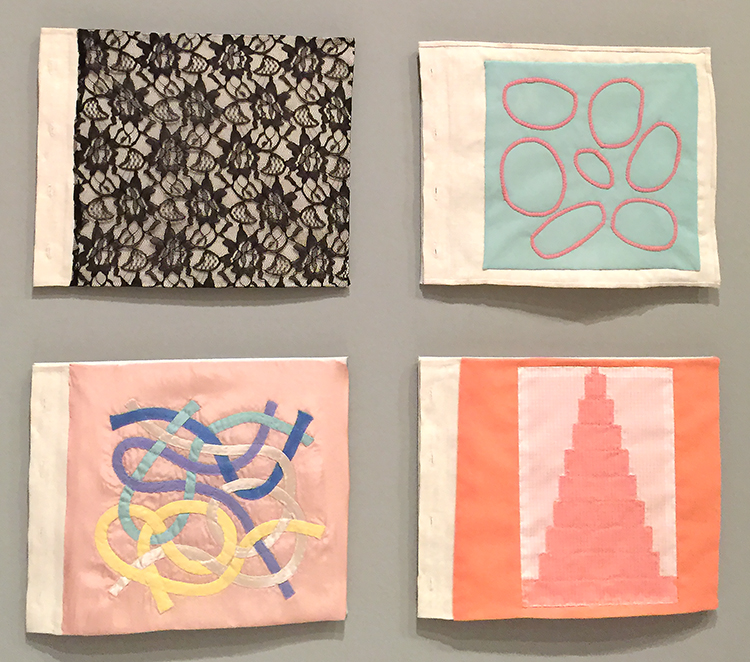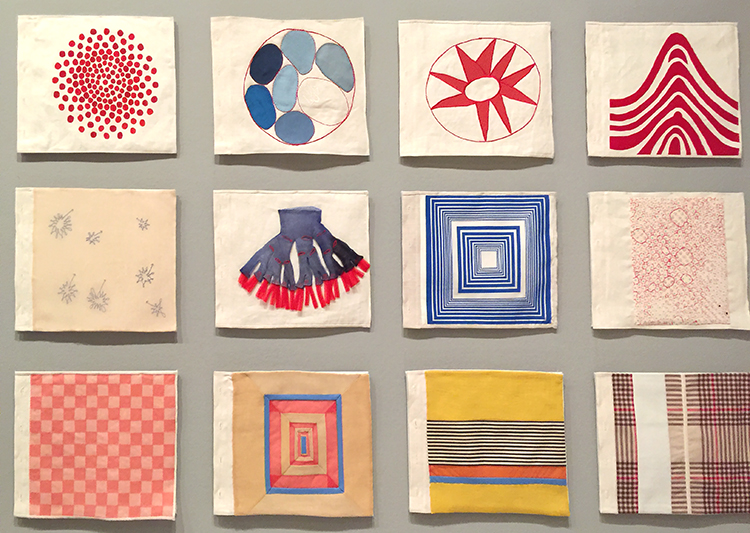 The patterns and colors are just so striking and soothing – I love this and thought of all the fabric pieces that I saved from me great aunt -(an apron, a dress, handkerchiefs) and I thought it would be really cool to make a book out of those pieces – I will chew on it – since my fabric- sewing- skills are …ahem….you know ;)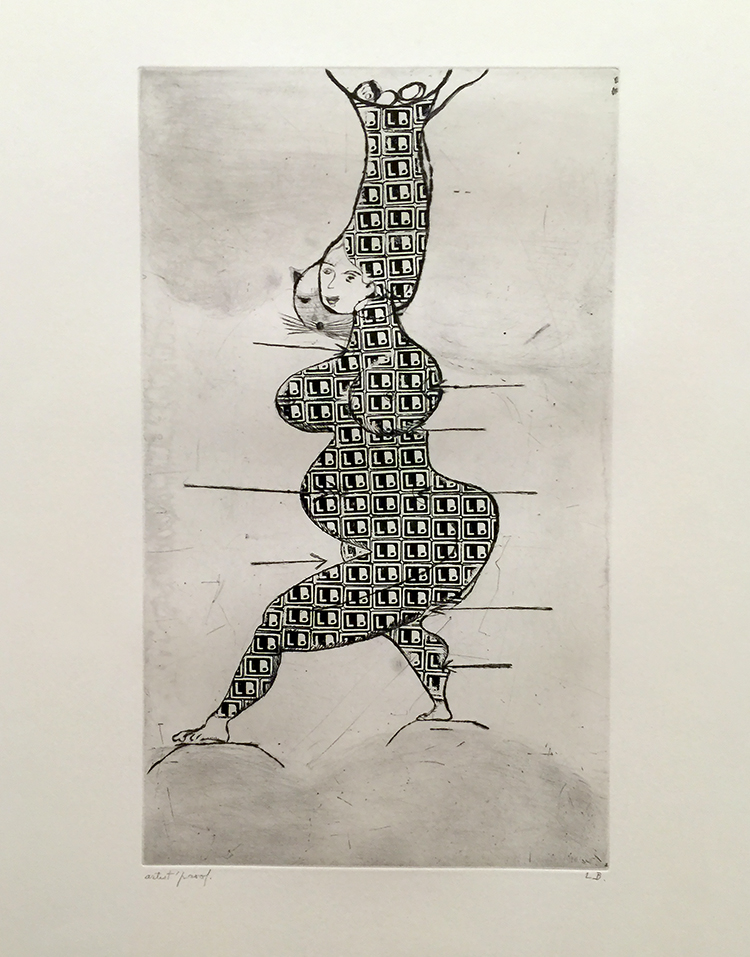 Stamp of Memories- 1993 – drypoint, with metal stamp additions –
Oh man- I love this so so so much- I cannot even begin to tell you – LOL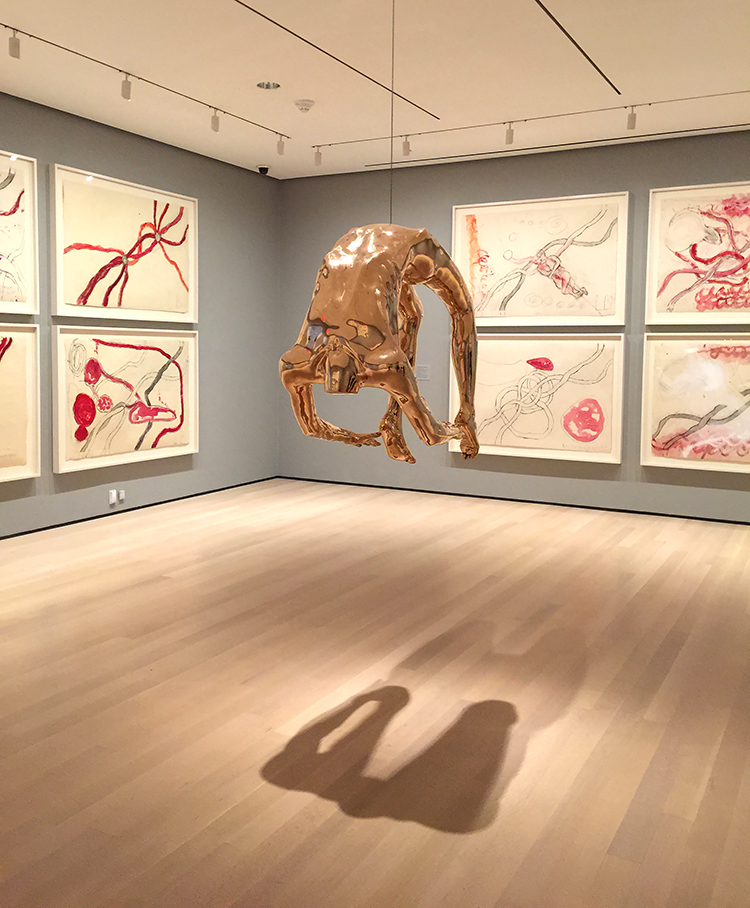 Arch of Hysteria, 1993
"My early work is the fear of falling. Later on, it became the art of falling. How to fall without hurting yourself. Later on, it is the art of hanging in there."
Amazing – I am in awe and I am so glad we went in. It was a very inspiring exhibition making me want to learn more about Louise and her life! Have you been surprised lately by an artist you thought first to be not quite your taste and then starting to be inspired by her/him?