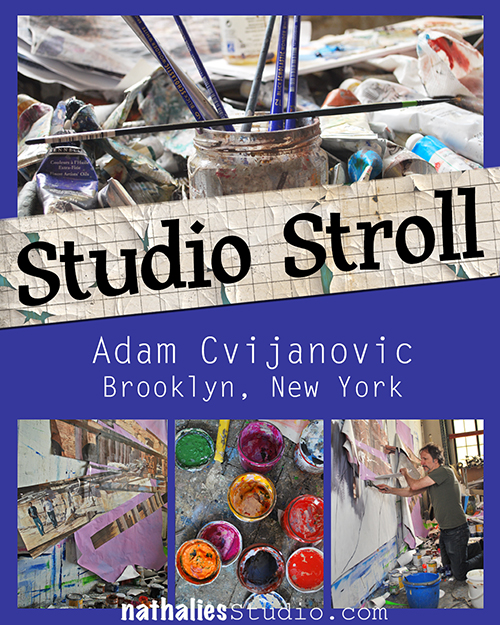 A couple weeks ago my friends and I took a day off to visit our friend Adam Cvijanovic in his studio in Brooklyn, New York.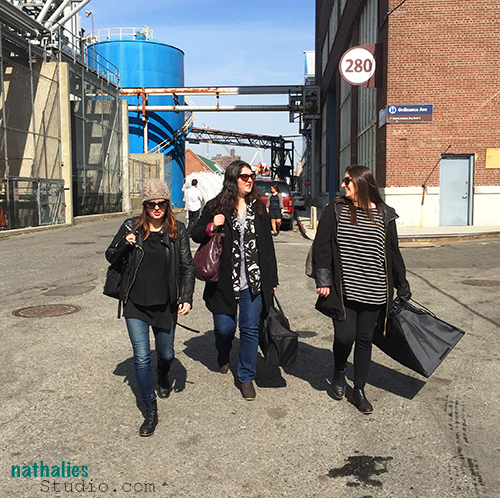 Adam is a noted painter working mostly large-scale, often on tyvek with flashe paint (vinyl-based professional grade of matte permanent colors). He calls these tyvek paintings wallpapers or portable murals. Adam dropped out of high school when he was 17 because he wanted to be an artist and cut himself off a Plan B or the possibility to do anything else but art. His work has been on view amongst many other places at the Kemper Museum of Contemporary Art in Kansas City, MI, Blindarte Contemporary in Naples, Italy , Pennsylvania Academy of the Fine Arts, Philadelphia, PA, Shanghai Museum of Contemporary Art, Shanghai, China; Pushkin State Museum of Fine Arts, Moscow, Russia, The Royal Academy of Arts, London, England. He has been an adjunct professor of the Rhode Island School of Design. Adam is represented by Postmasters Gallery in New York.
Pretty impressive and something to tell someone who says to you "you have to go to art school to be an artist".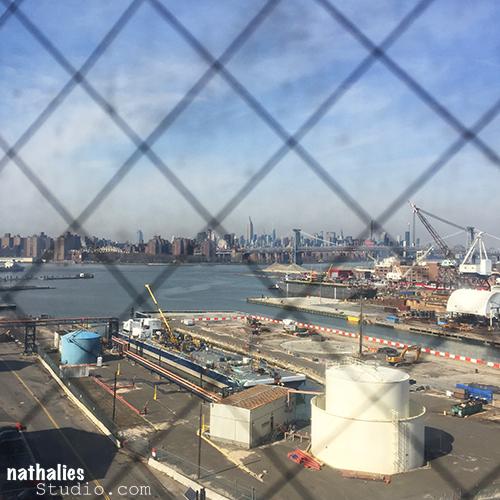 I have seen Adam's work at galleries and I couldn't wait to see his working space and spend some time with him while he was working. His studio is located in the Brooklyn Navy Yard offering quite some cool views from different spots of the building.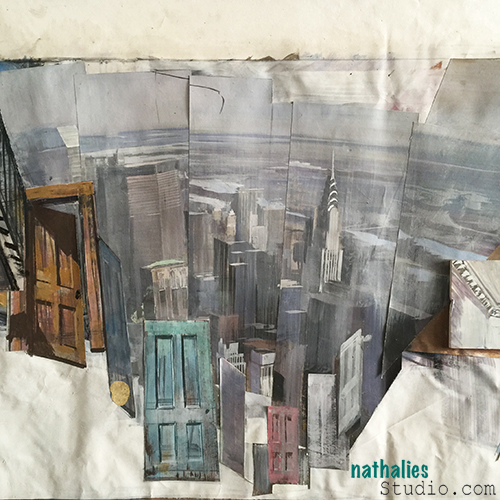 Adam is telling stories with his fascinating, fractured, layered and detailed work. He often adds 3-D elements like painted wood panels and oil painted acrylic panels on top. The perspective in his artwork changes constantly making the viewer linger for a long time to get a grab of the subject matter and the narrative behind it.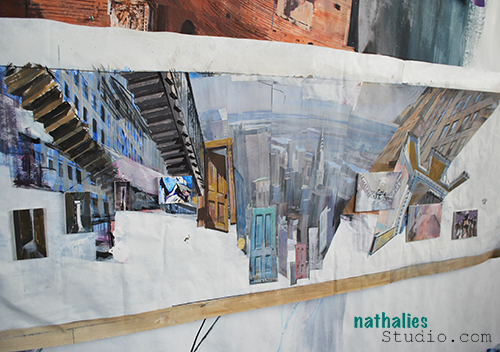 He often cuts up his artwork, fracturing it or using elements of it as collage objects in other work.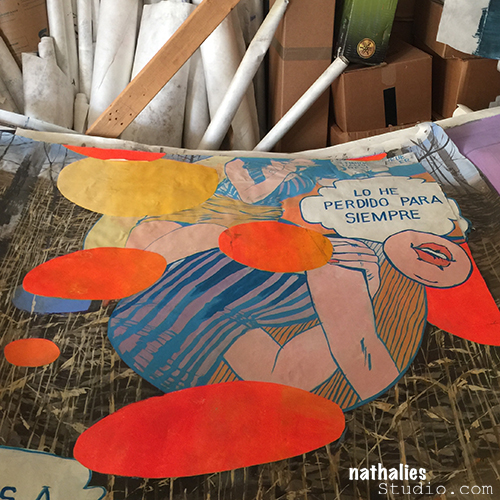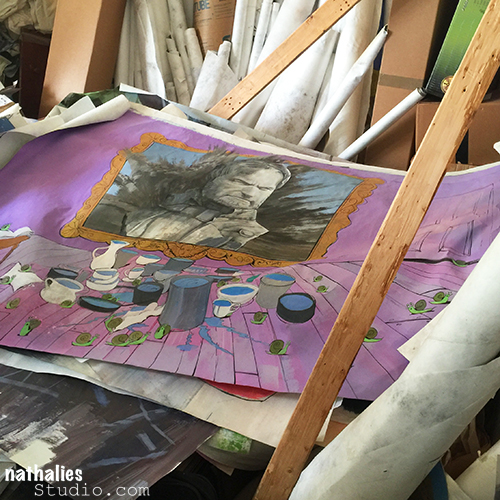 He also works small – like here – in oil on canvas.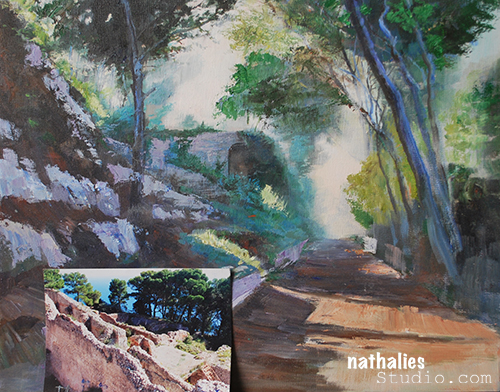 Here is an acrylic panel painted with oil paint.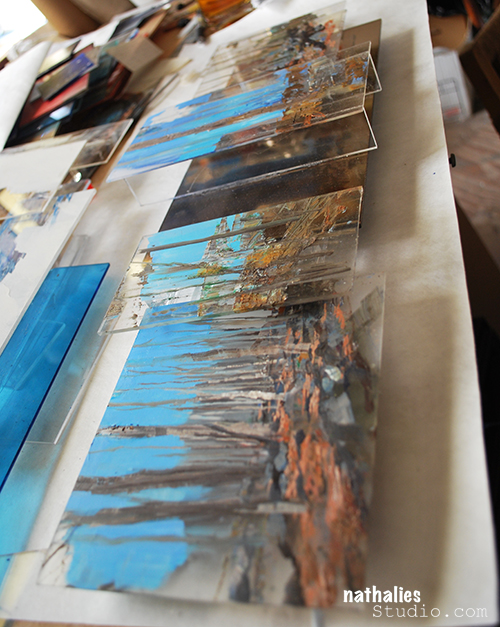 I loved Adam's studio – the light was amazing and it was like a treasure box – full of creative chaos but only to us visitors, he pretty much knows where everything is located in his studio.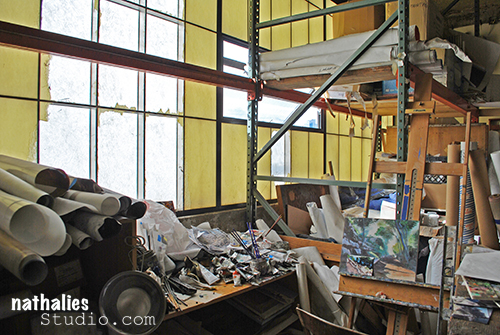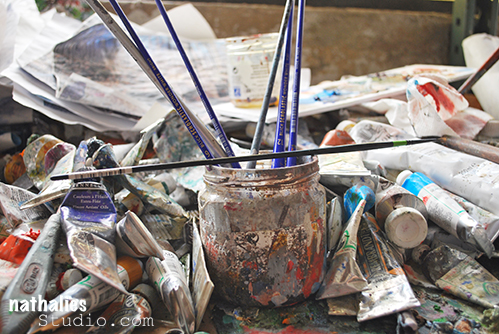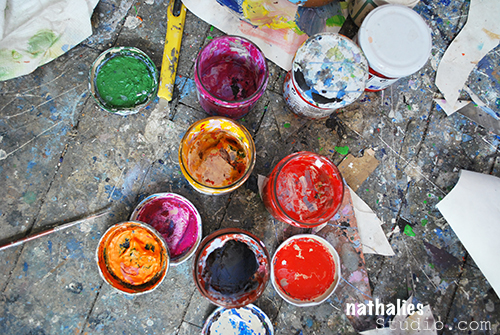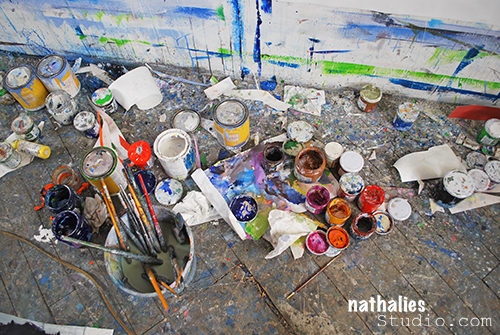 He was working on a new piece, auditioning fragments and adhering it to differently painted backgrounds. The detail work of his paintings is just insane, and he sources images for his ideas from photographs and movies and puts them together in his paintings into new images- reflecting something known but also non existing.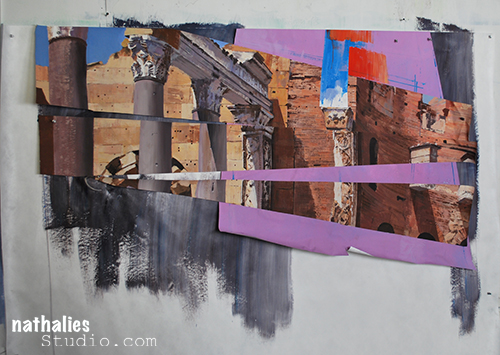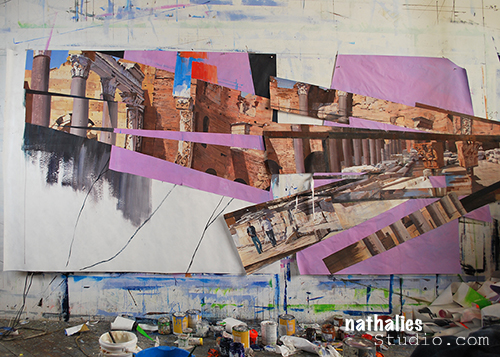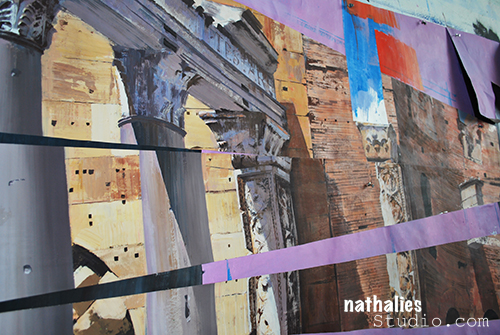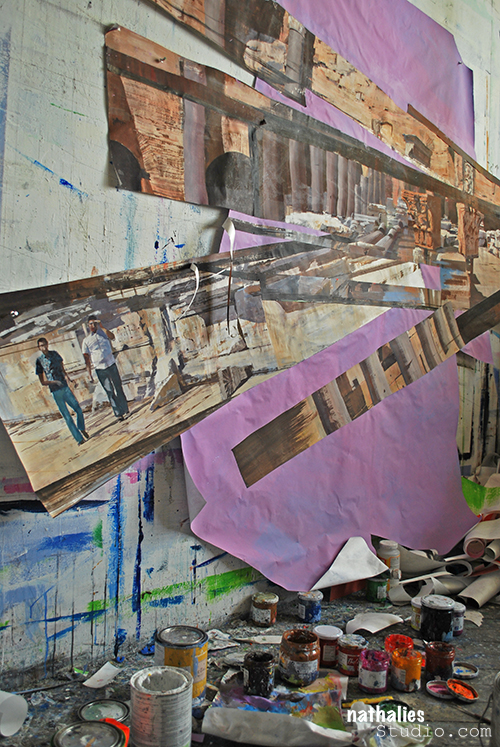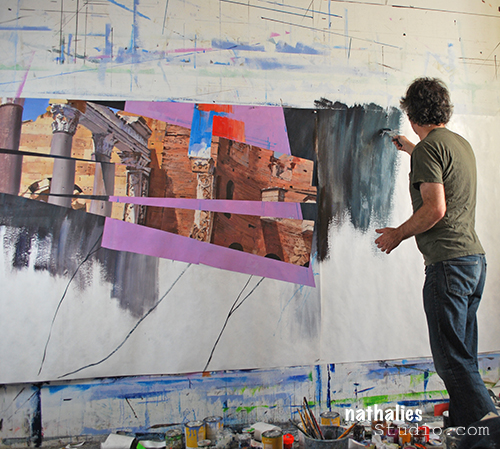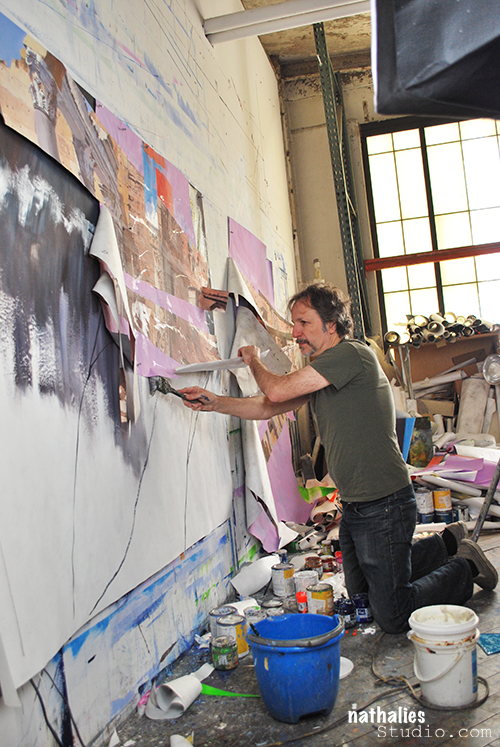 It was such a great experience to see him work and change things, audition those changes and then start over again, with sometimes just tiny little adjustments. I hope I will get to see the finished piece soon!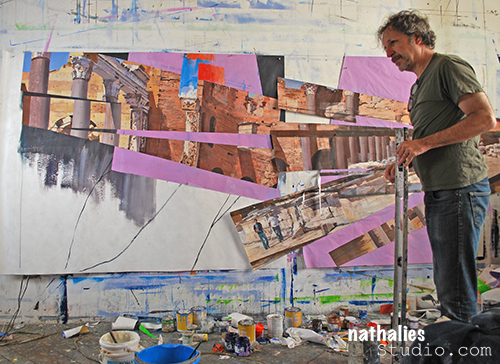 This visit also made me  interested in trying out to paint on tyvek – I can see the advantages AND – canvas is super expensive here in the States- so large scale has just become a bit more into reach for me …unless…I put my small studio into account ;)
This was a super inspiring studio stroll, I hope you enjoyed it too and I hope this is the beginning of a new series. Thank you Adam for letting us peek into your studio!!!