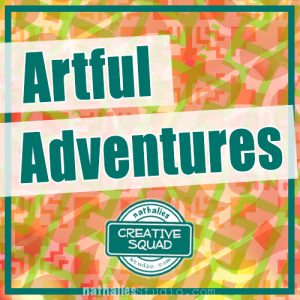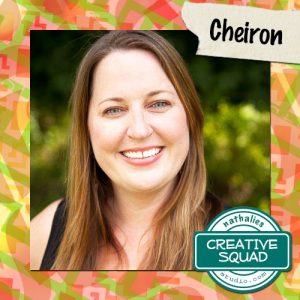 Hello from the Creative Squad! Today we have a gorgeously colored art journal spread from Cheiron Brandon that uses my Beacon and Amsterdam stencils, and this month's theme: Artful Adventures. Are you planning an Artful Adventure this summer? Whether it's a day at the beach or a full blown International Vacation, don't forget to take the time to soak up the uniqueness of your new surroundings and gather some inspiration for future artmaking. This month we're turning to Nat's new book Artful Adventures in Mixed Media, to help us find inspiration as we travel. We'll be noticing color, shape, texture and more and then we'll be taking that to the studio to help inspire some mixed media projects. Join us in the adventure!
---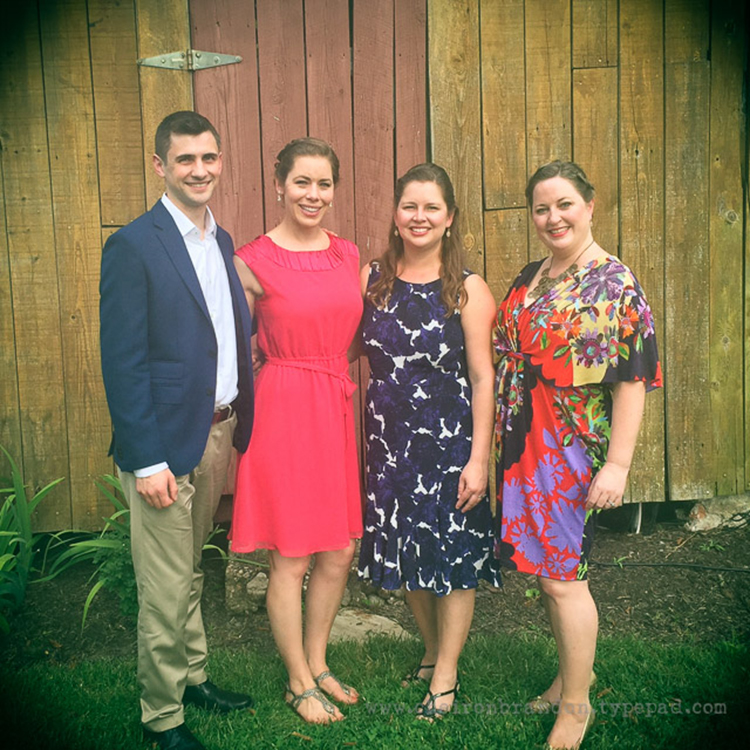 Hi there. It's Cheiron here with my monthly post, I haven't had a lot of adventures this summer, but I did head down to a family wedding in Virginia with my siblings. Here's a picture of us at the wedding (it was on a farm):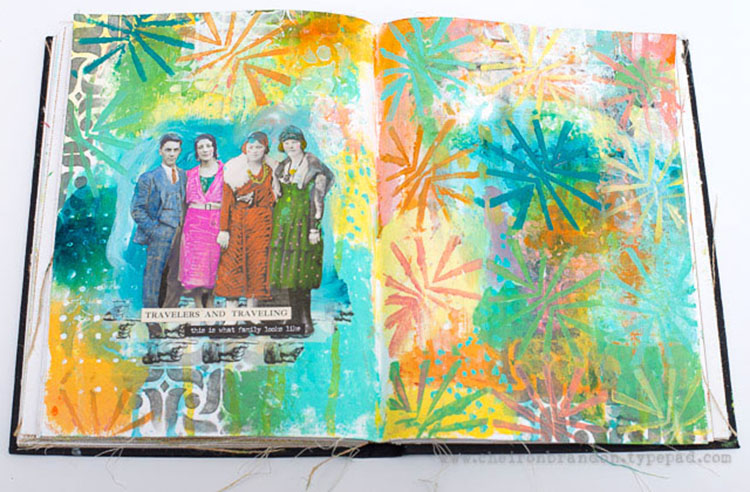 I was inspired to create a fun painty summer background on a page to add my "family" that used the Photo Manipulation technique in Nat's book, Artful Adventures in Mixed Media. I used some Tim Holtz paper dolls and colored and doodled on them with some paint pens. Then I created a super fun painty background for them.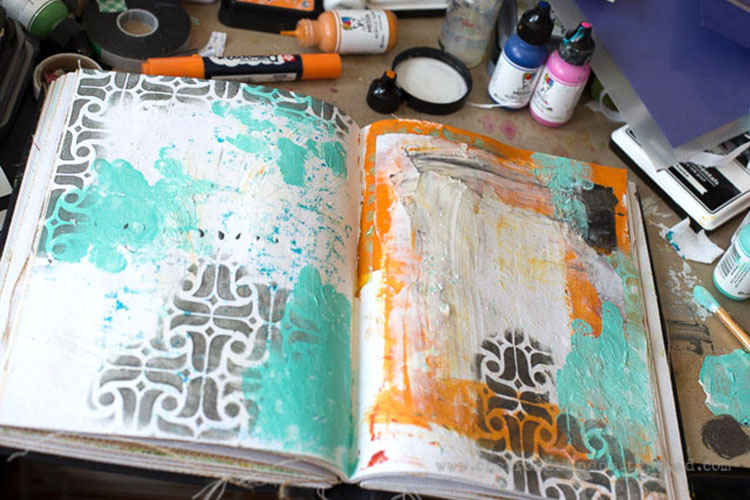 To begin my page, I put down some paints in turquoise, cheddar and medieval through the Amsterdam stencil. I also added texture paste in a layer to some spots.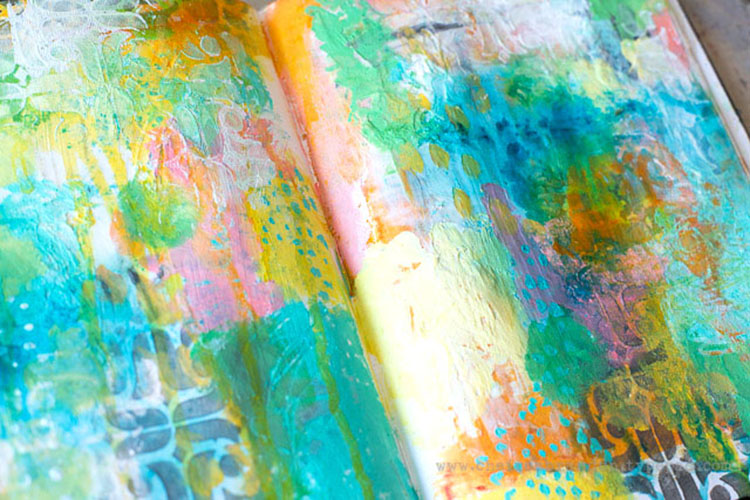 I created lots of painty layers and marks. I kept adding and adding the layers until I was happy, I used the back of my paintbrush to add some sgraffito, revealing the layers underneath. I also added some white paint through the Amsterdam stencil on top of everything.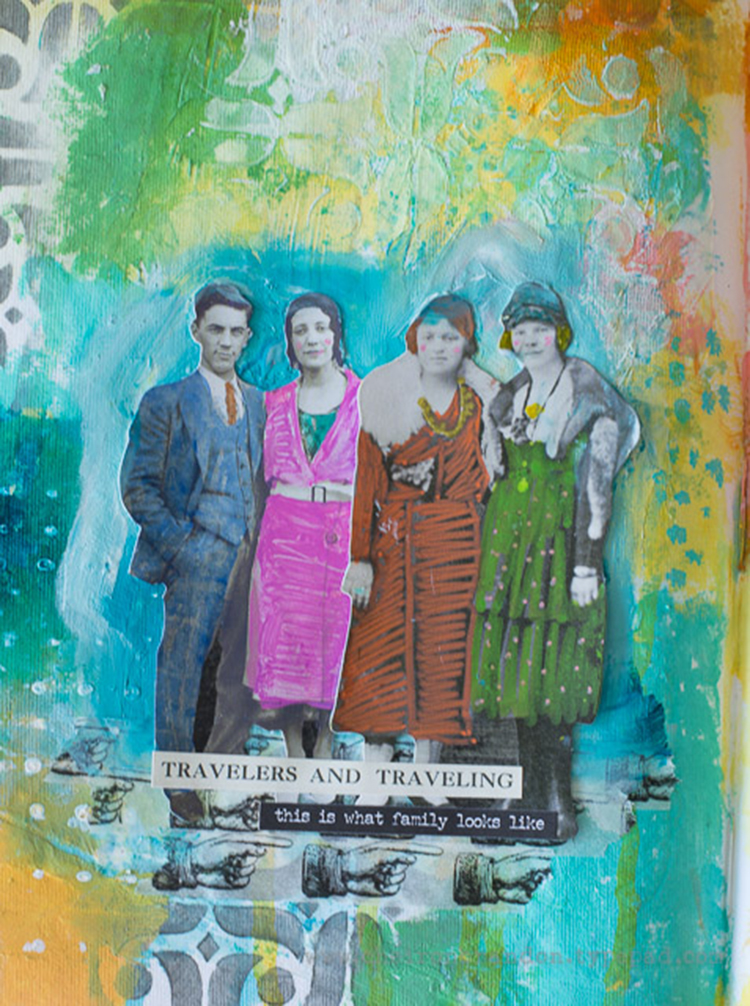 I added my Tim Holtz paper dolls that I had colored in with acrylic markers and pens. I love giving them fun clothing and details!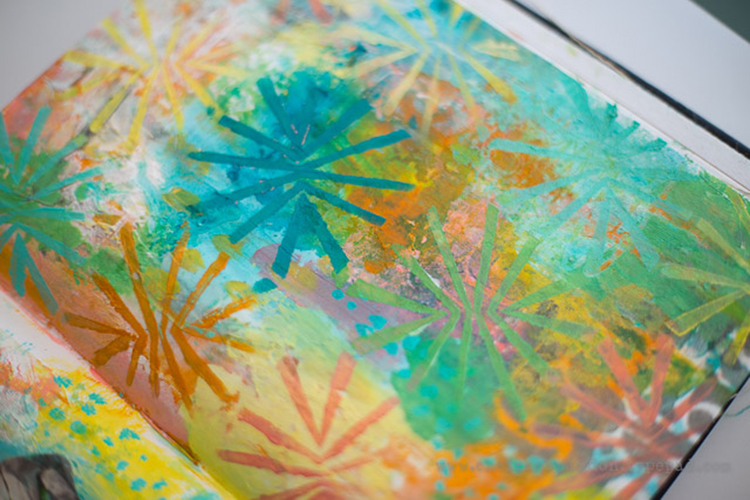 To make the page more cohesive and add extra pops of color, I used the Beacon stencil to create a pattern all over the blank page.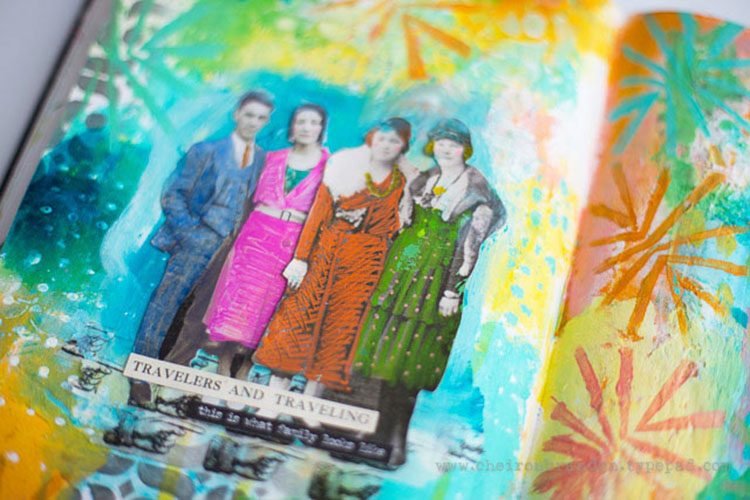 I also added some more stenciling with the beacon stencil around my focal image.
I hope you have enjoyed this fun, colorful page. Even if I haven't had a real vacation yet this summer, I have sure enjoyed some fun times with my siblings!
---
Thank you Cheiron for this peek into your beautiful family! Cheiron used the following supplies (some are affiliate links):
Play along with us too: I love to see how you interpret our monthly themes. Email me how you used my stencils and stamps with the theme and email me an image – I would love to share your projects in my "n*Spiration From Around the Globe".