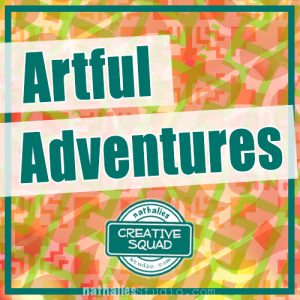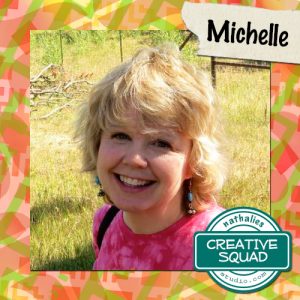 Hello from the Creative Squad! Today we have a post from Michelle Rydell sharing an art journal that she created for taking on some weekly Artful Adventures. She used my Hamburg stencil, and this month's theme: Artful Adventures. Are you planning an Artful Adventure this summer? Whether it's a day at the beach or a full blown International Vacation, don't forget to take the time to soak up the uniqueness of your new surroundings and gather some inspiration for future artmaking. This month we're turning to Nat's new book Artful Adventures in Mixed Media, to help us find inspiration as we travel. We'll be noticing color, shape, texture and more and then we'll be taking that to the studio to help inspire some mixed media projects. Join us in the adventure!
---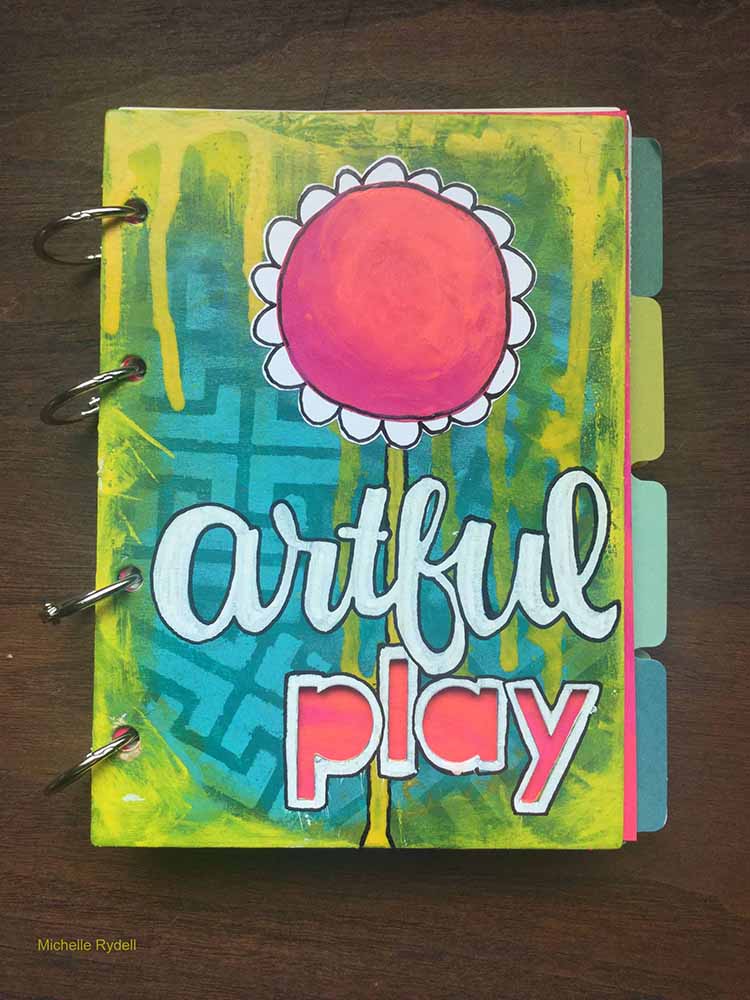 I have to say that I was very inspired by Nat's "Artful Adventures" book!  (and I am not just saying that because this is her blog – ha). I'm a color enthusiast and Artful Adventures is a visual feast of color!  The chapter about gathering inspiration from books and movies got me thinking about that, and I knew I wanted to take inspiration from her book in some way.
I decided to combine that with another book that has really inspired me, called  "The Artist's Way," by Julia Cameron.  It's a book about rediscovering your creative self, and it really helped me do just that. One of the tools that the book suggests, is that you take yourself on a weekly artist date; which is an excursion alone, to do something that feeds your creative soul.  It can be anything from a long walk in nature, to visiting a junk store, to going to a movie. I'm telling you this, because it's one thing from the book that I rarely make time to do, even though I really want to; and Nat's book gave me an idea. What if I use my weekly artist dates as a springboard for my art journaling?  That would inspire me to actually do them! I'm going to make a special journal for recording my artist's dates!
So, my project for today is inspired by both books –  "Artful Adventures," and "The Artist's Way."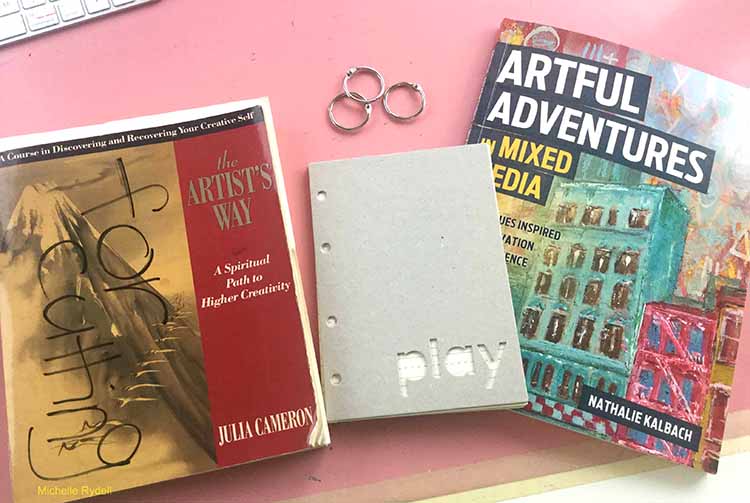 Here's how I made my little book…
I happened to have an old October Afternoon chipboard mini-book cover lying around, so I decided to use that as my substrate. It's 5 x 7 – just the right size for recording my adventures.  You could use any piece of chipboard or even heavy cardboard instead. I wanted to use the gorgeous colors from the Nat's painting on the Artful Adventures cover as inspiration, so I gathered up some paints that matched as closely as possible…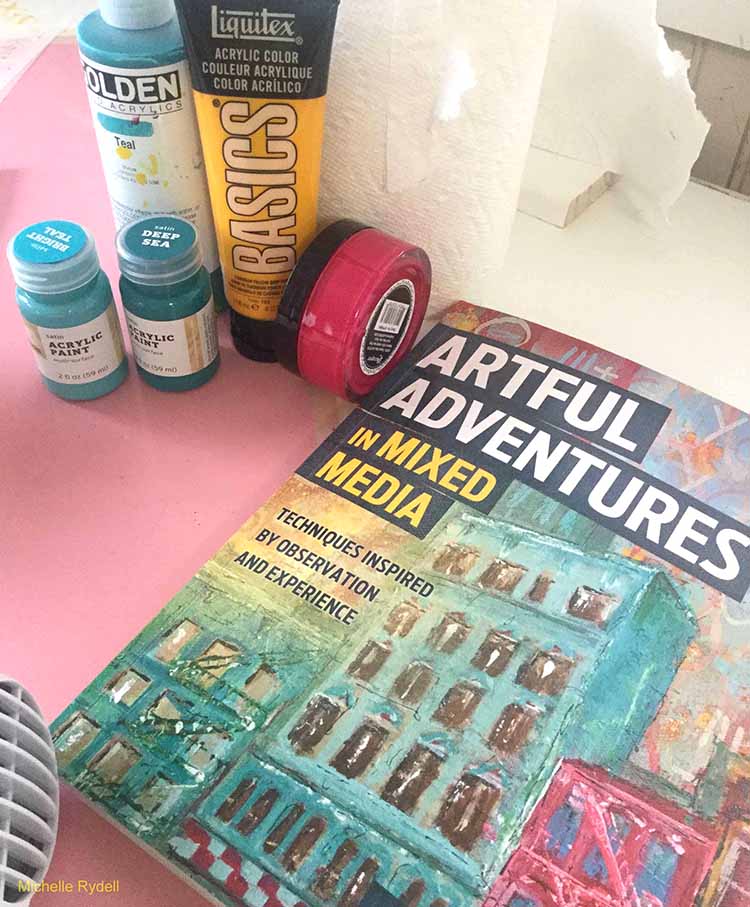 I gessoed the chipboard first, so the paint wouldn't soak into the chipboard, keeping the colors brighter.  Then I added a couple of coats of a dark teal color as a base.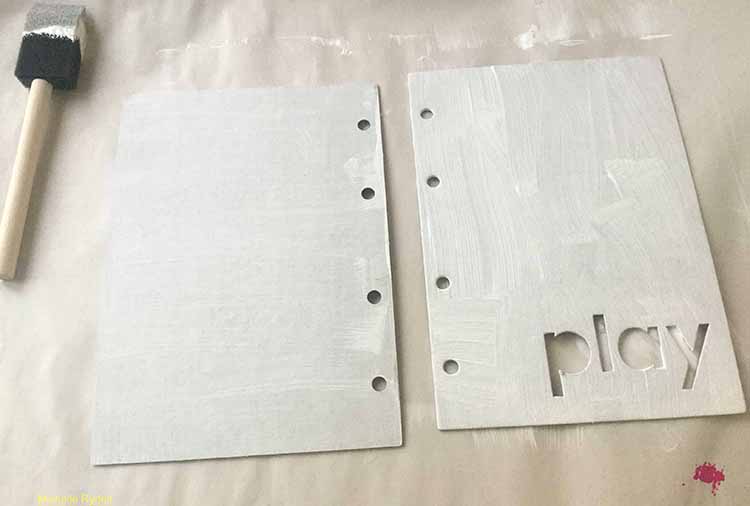 I used the Hamburg stencil to add interest to the background. I sponged small areas at a time with a lighter teal, while twisting and turning the stencil to create movement and texture.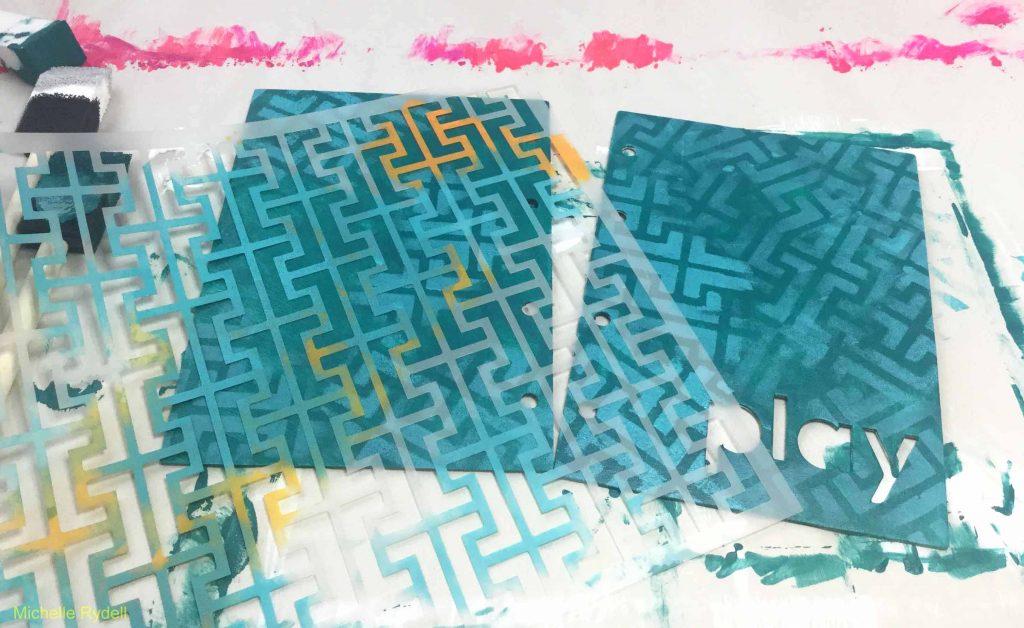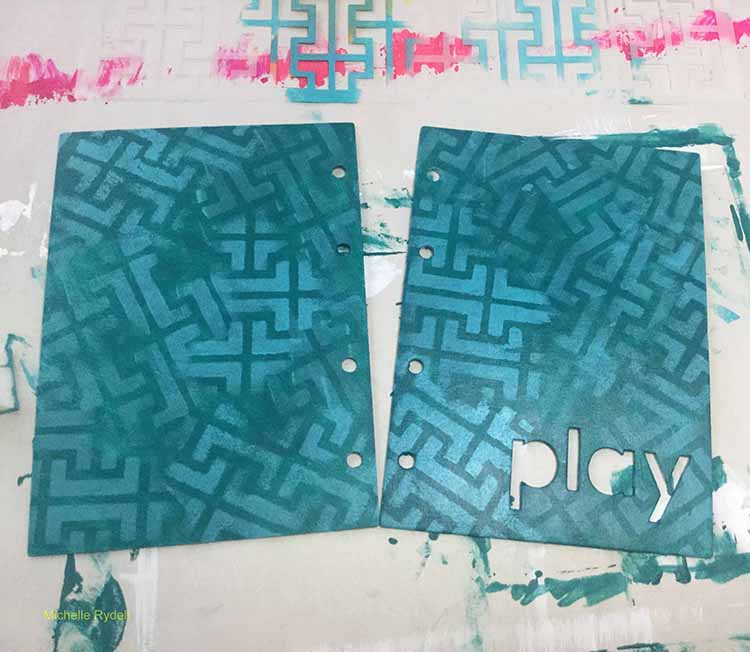 I love the beautiful green on Nat's painting, so I attempted to mimic that by adding yellow over the teal –  as a border, and also dripping it across the top.  At first it wasn't showing the green, so I sprayed some water on the drips to make them more transparent, and then it mixed with the teal to create green – yeayyy!  I hope I did it justice!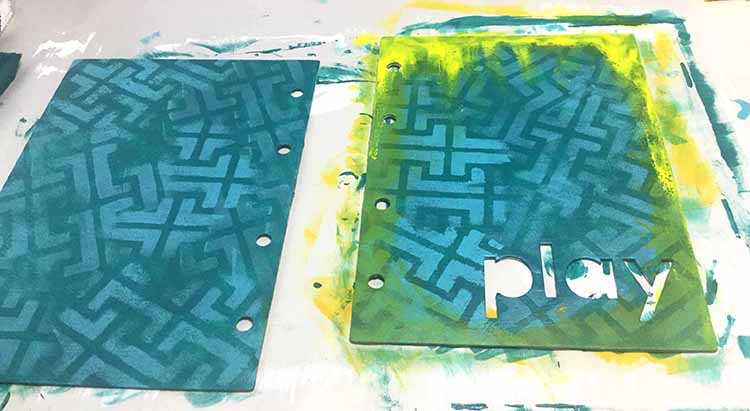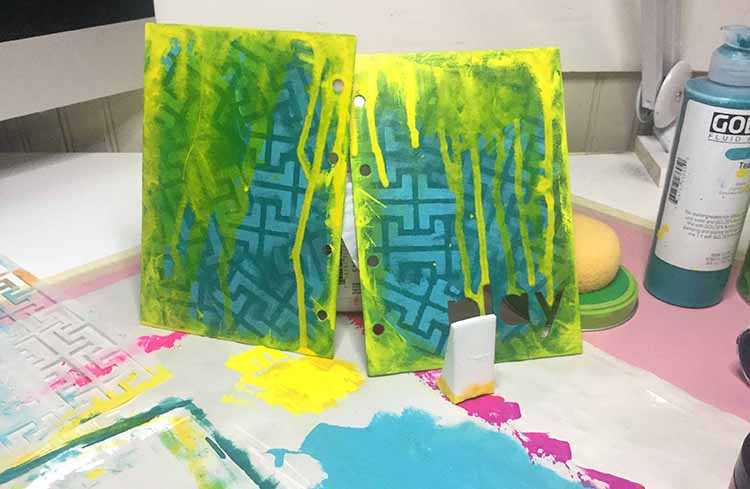 I wanted to add some contrast so I decided to add a pink flower to the cover.  I painted the center on copy paper, and then added the Hamburg stencil pattern again, with a subtle color change.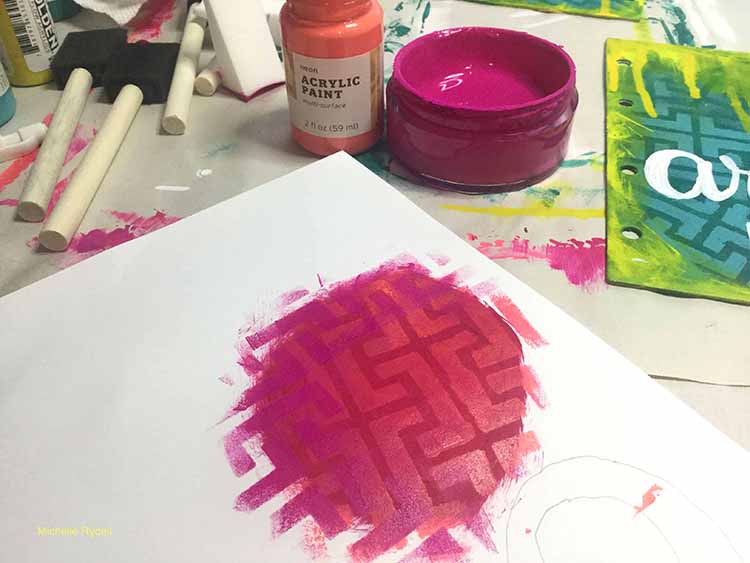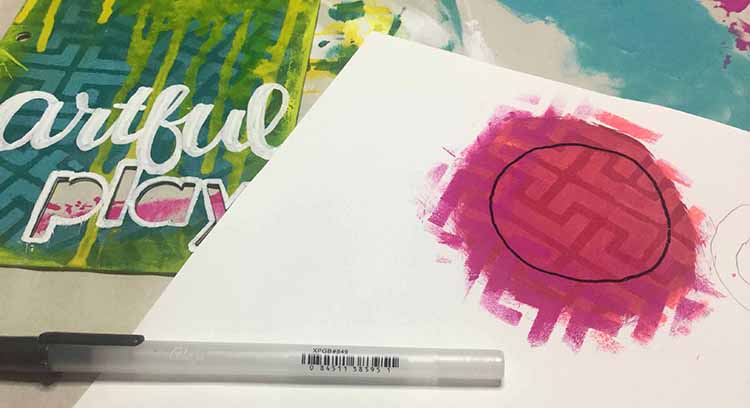 I pasted the pink flower middle onto another layer of white copy paper, and drew the petals for the flower.  Then glued it onto the front of the cover.  One of the drips looked like a stem to me, so I outlined it in black. Then I finished it off by adding a title with a white poster paint pen. Here's the finished book-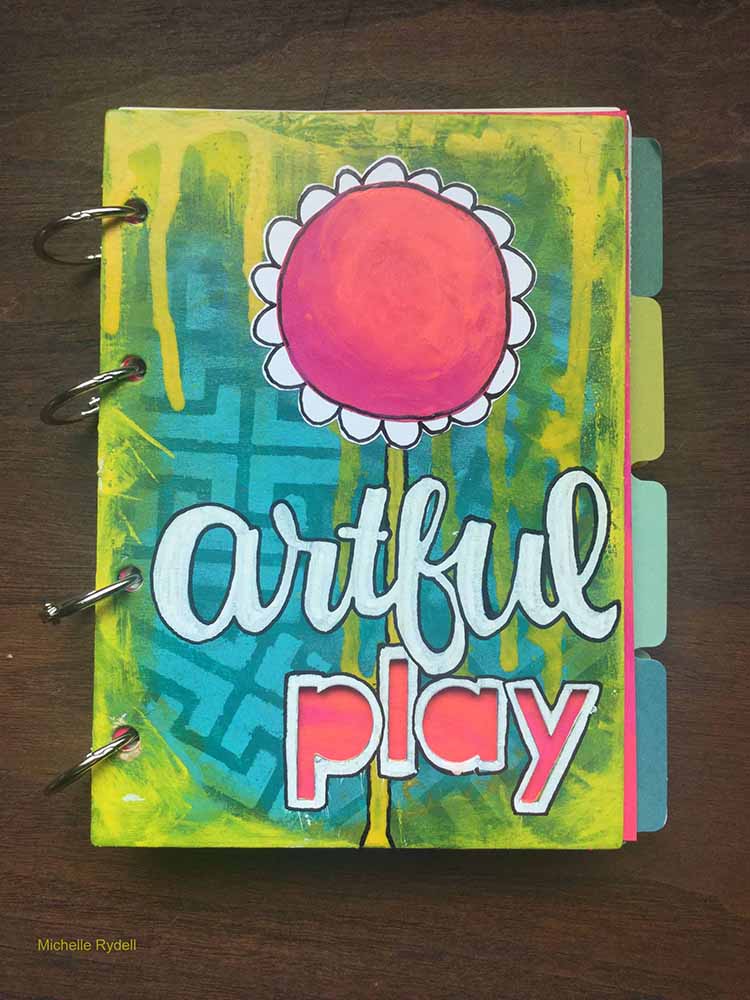 And one last photo so you can see the pink and coral title page I painted, so the word "play" would show thru the cover in pink.  I plan to put a quote about Artist's Dates here. The inside of the front cover was created by adding a layer of gesso to the same bright pinks and corals, then rubbing some of it off with a dry paper towel.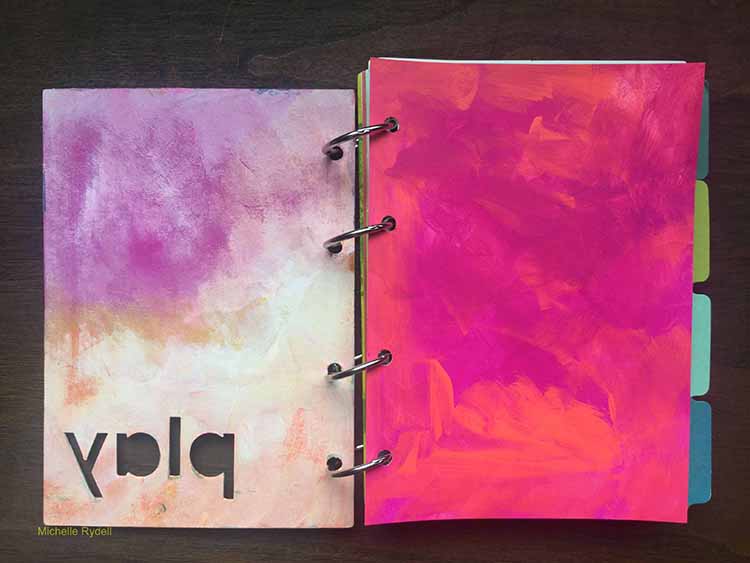 My plan is to add to this book each time I go on an artist date, by writing my thoughts and creating a little art piece inspired by the experience.  I hope you like it, and maybe you will try making one too!
---
Thank you Michelle! We hope you have many happy art dates!!! Michelle used the following (some are affiliate links):
Play along with us too and share your Artful Adventures with us: I love to see how you interpret our monthly themes. Email me how you used my stencils and stamps with the theme and email me an image – I would love to share your projects in my "n*Spiration From Around the Globe".