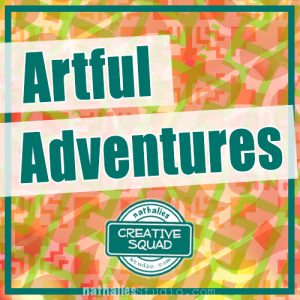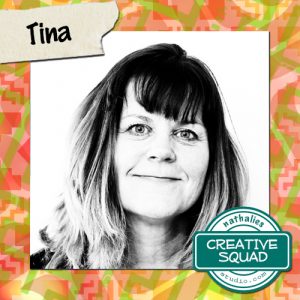 Hello again from the Creative Squad! Today we have a gorgeous art journal spread from Tina Walker that uses my Beacon stencil, the Stroll Through the Hood #1 and #2 stamp sets, and this month's theme: Artful Adventures. Are you planning an Artful Adventure this summer? Whether it's a day at the beach or a full blown International Vacation, don't forget to take the time to soak up the uniqueness of your new surroundings and gather some inspiration for future artmaking. This month we're turning to Nat's new book Artful Adventures in Mixed Media, to help us find inspiration as we travel. We'll be noticing color, shape, texture and more and then we'll be taking that to the studio to help inspire some mixed media projects. Join us in the adventure!
---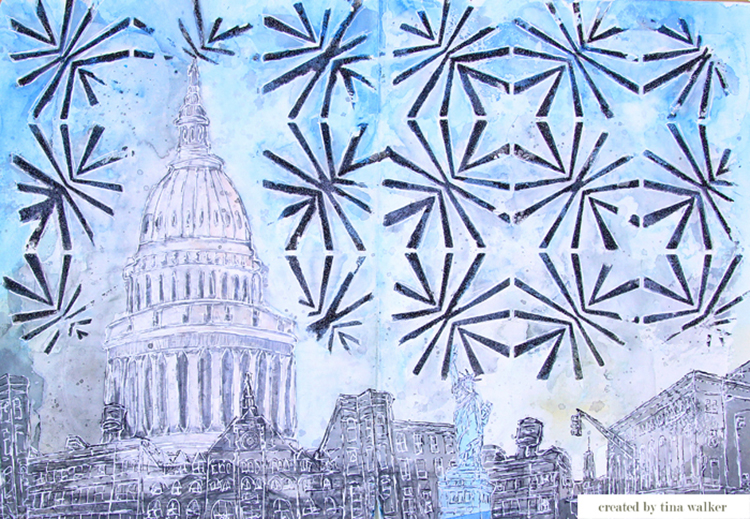 Hi! Tina Walker here today with a new month and a new theme. August's theme is Artful Adventures and we are continuing the celebration of Nat's new book 'Artful Adventures in Mixed Media'. We will be using inspiration from our summer travels to create a mixed media project. I was super excited when I saw this month's theme as I had recently took a short trip to Washington DC. And Nat's stencil and stamps collections are perfect for the project I had in mind. Let's get to it!
During my mini vacation to Washington, I took many pictures of the government buildings and historic sites. One particular photo, of the Capital building, inspired me to create. Here's my inspiration photo.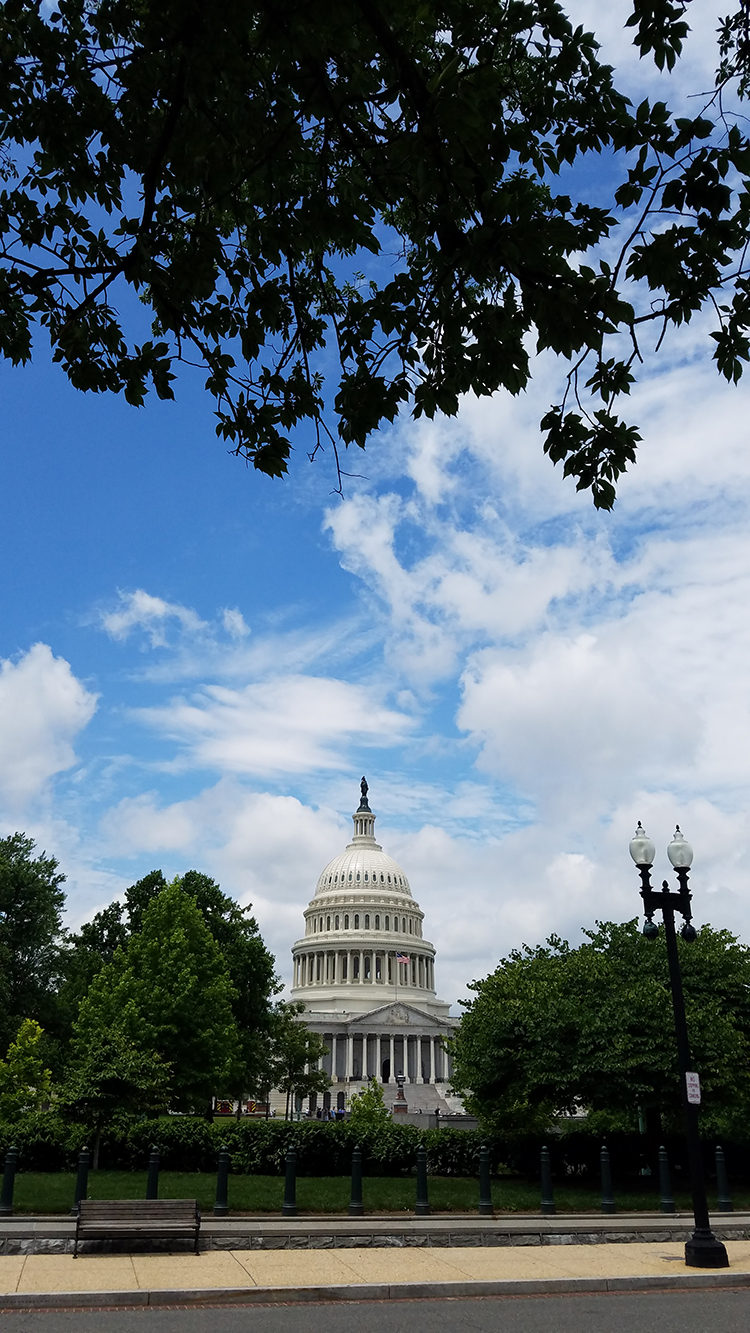 Using the image of the Capital, I sketched the general shape into my journal. (for this spread, I choose to work in my large, 8x11in journal. I wanted plenty of room to work). Not being a sketch artist, I took liberal direction on specific building designs and shapes. Once I had the rough shape of the capital, I began working on the background of my page.
Apply Texture Paste with the Beacon stencil over the entire background. Let dry completely.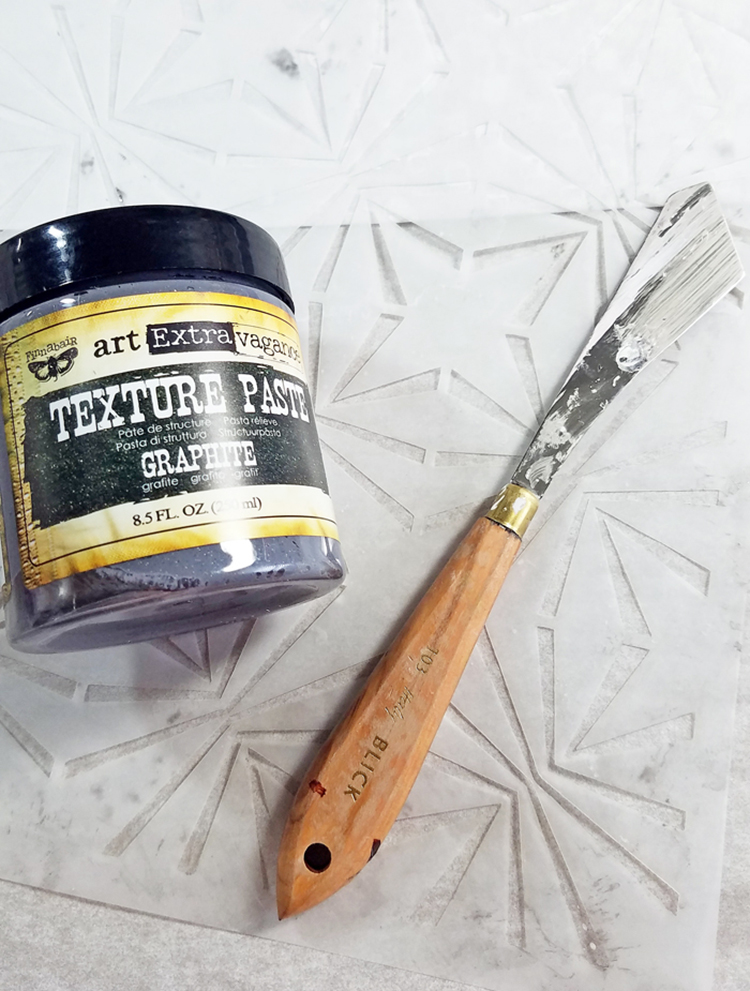 Add watercolors over the entire background, working around the sketched and stenciled areas. I graduated deep blues to light tans on my page. I love how the watercolors pool and blend, especially around the stenciled shapes.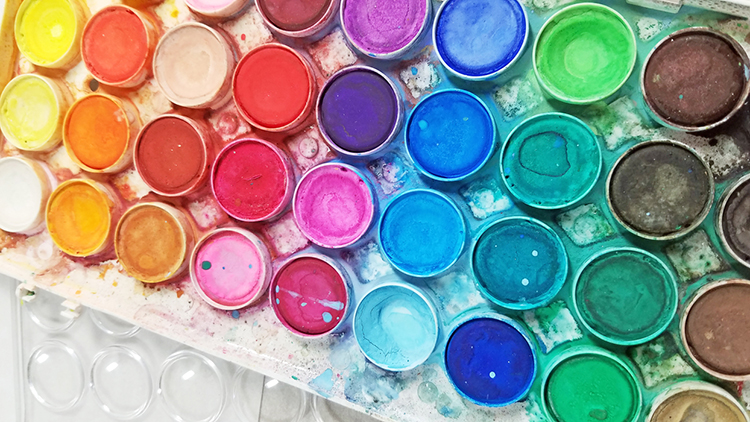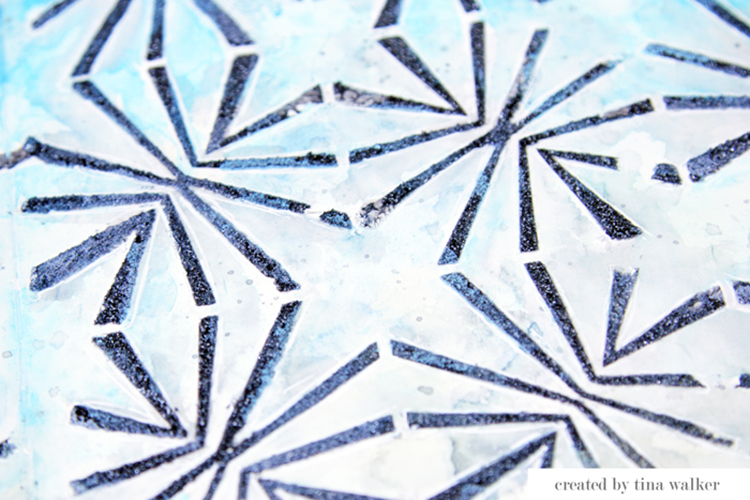 To create a representation of all Americans, past, present, and future, stamp several building images from both the Stroll through the Hood 1 and 2 stamp sets. Since I was using multiple stamps, I wanted to ensure proper placement before stamping. I stamped them onto a transparency first, so I could move them around the page before committing to the stamp.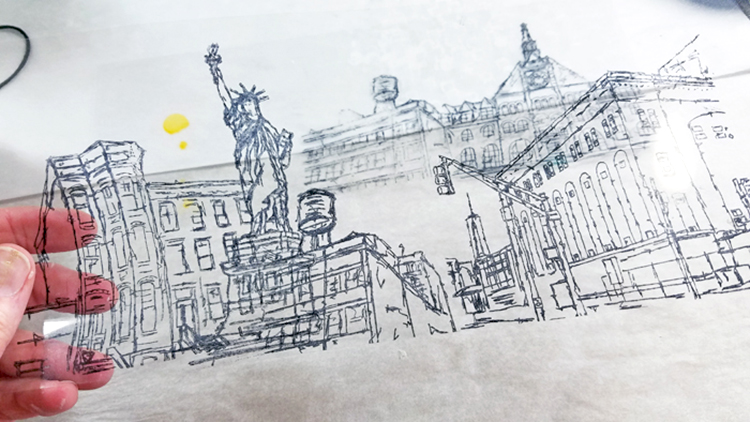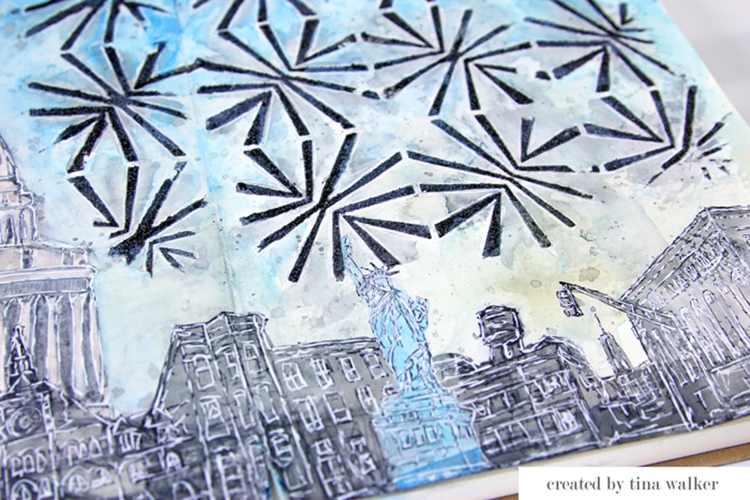 In order to create a cohesive look across all sketched, stenciled, and stamped images, paint with watercolors, then doodle over the images with a white pen.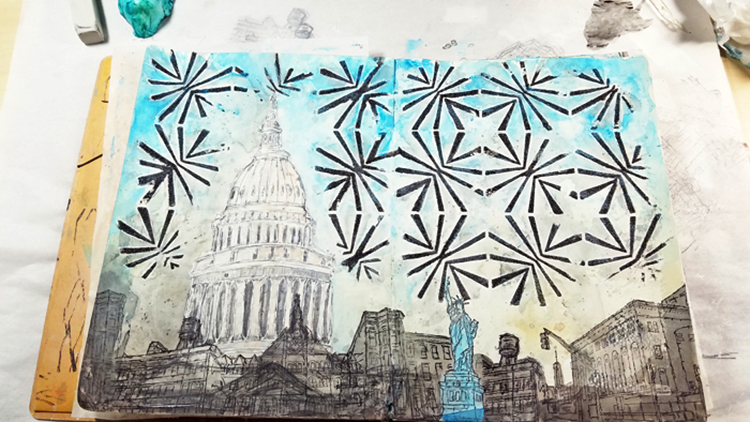 The finished page had such a powerful and graphic image, no words were needed. ?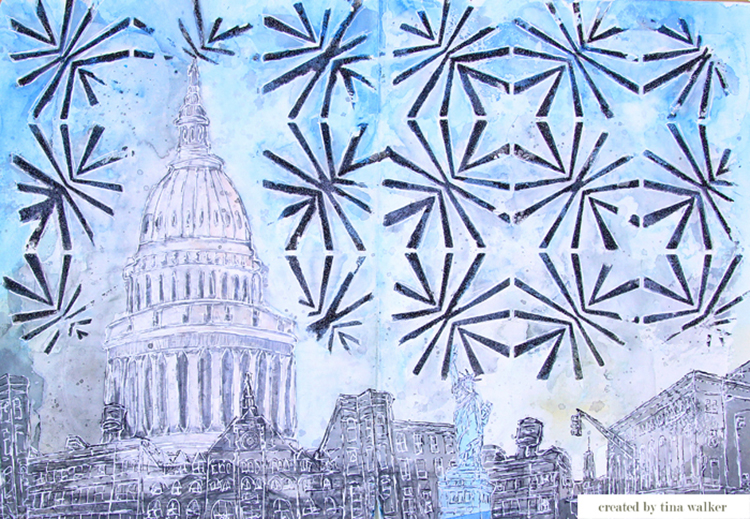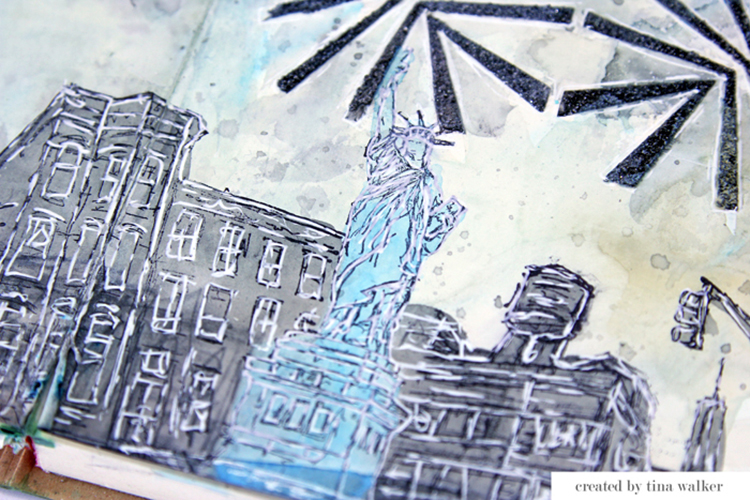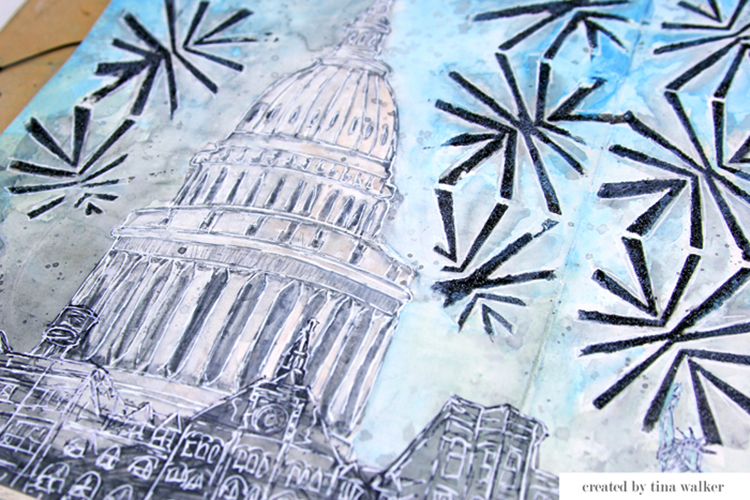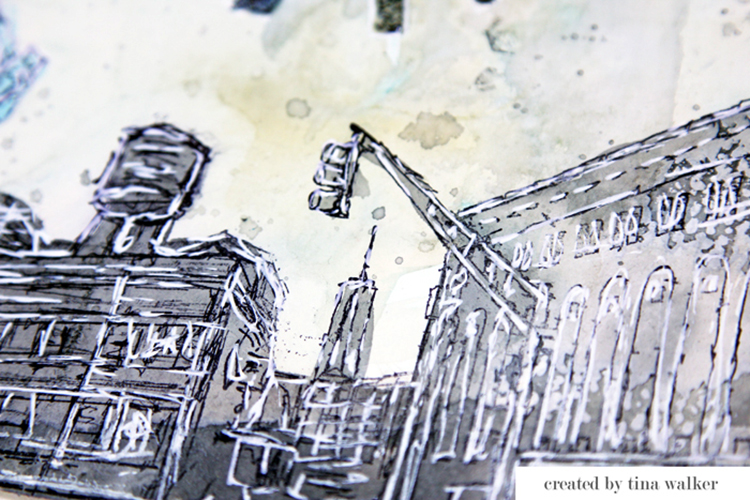 Do you ever use photographs as inspire for your art? I would love to see what you create.
I hope you enjoyed my project today. Have a great day!
---
Thank you Tina for this beautiful page and for showing us how your Artful Adventures helped inspire it! Tina used the following supplies (some are affiliate links):
Play along with us too: I love to see how you interpret our monthly themes. Email me how you used my stencils and stamps with the theme and email me an image – I would love to share your projects in my "n*Spiration From Around the Globe".