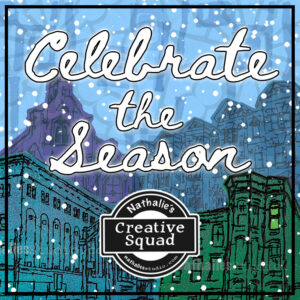 Hello from my Creative Squad! Today we have a post and video from Riikka Kovasin who is sharing some lovely cards with us using my Church, Hydrant, and Grove Street foam stamps and our theme: Celebrate the Season – Many cultures celebrate in December so let's do some celebrating ourselves with our favorite art supplies and the holidays that make this season so festive.
---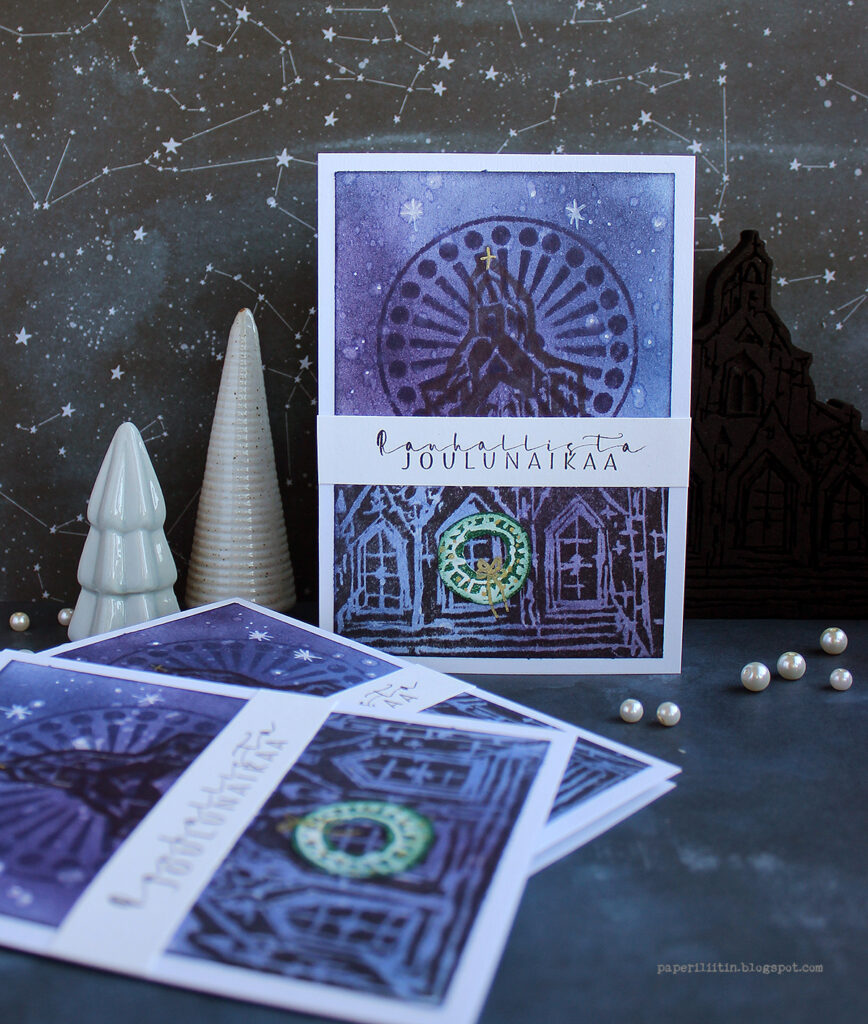 Peaceful Holidays
Hello there everyone! Can you believe it's already December? I think I say this at least once every month, but it really seems that time is flying. 2021 seems to have passed in a blink of an eye. It was just weeks ago when it was summer, and I was filming my CJS22 video!
This month we're "Celebrating the Season". Winter is my favourite season. I would take minus degrees Celsius over hot temperatures any day as then I can just layer clothing and snuggle with my cup of tea. With sub-zero temperatures I can cope, with blazing hot, not that much! In my mind winters are cold and white. I don't like the warm winters which are dark and gloomy, with sun barely visible, but the white snow and brisk temperatures are the thing!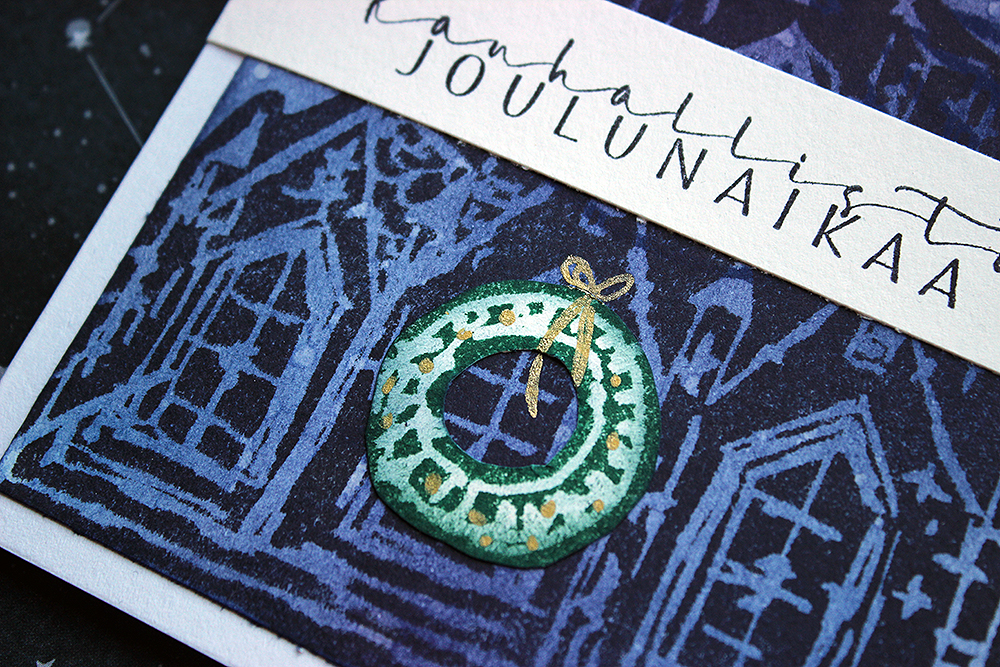 I also love Christmas time – the preparations, anticipation and hustle to get everything done and then the lovely peace when the Turku Cathedral chimes twelve times, and the Christmas Peace is declared from the old capital of Finland. I grew up in Turku, so this tradition is important to me, it marks the transition from the preparing to the enjoying. The Christmas Peace has been declared from Turku since the 14th century. The wording of the current document is from 1827, though, when a secretary of the magistrate wrote it from memory after the Great Fire of Turku.
I chose to do a little Christmas scene for my cards to celebrate the inky blue skies of winter and the Christmas time. I chose to use the "Church" foam stamp, probably inspired by Turku Cathedral. To add a little something to the background, I added a halo or a rose window kind of pattern using "Grove Street" foam stamp. And to decorate the church for the winter, I stamped a huge wreath using a part of the "Hydrant" design. If you wish to see how I made the cards, please see the video below!
I use acrylic paints as my "go-to" medium so this time I wanted to use another medium instead. As you could see from the video, I chose inks this time. One reason was the way dye inks react to water – I knew I could use that to my advantage to make a starry sky! Just apply a layer of ink and then lift it up with water splashes. I then emphasized the look more by adding some white paint marker doodles on top. I placed the bigger stars on top of the splashes so that the lighter area makes kind of a halo to the star.
With these cards I'm wishing you all Peaceful Holidays and a warm, heartfelt times with your loved ones whether you celebrate Hanukkah, Kwanzaa, Diwali, Christmas or any other Holiday!
I'll see you next year with another project for Nat's Creative Squad!
Xoxo Riikka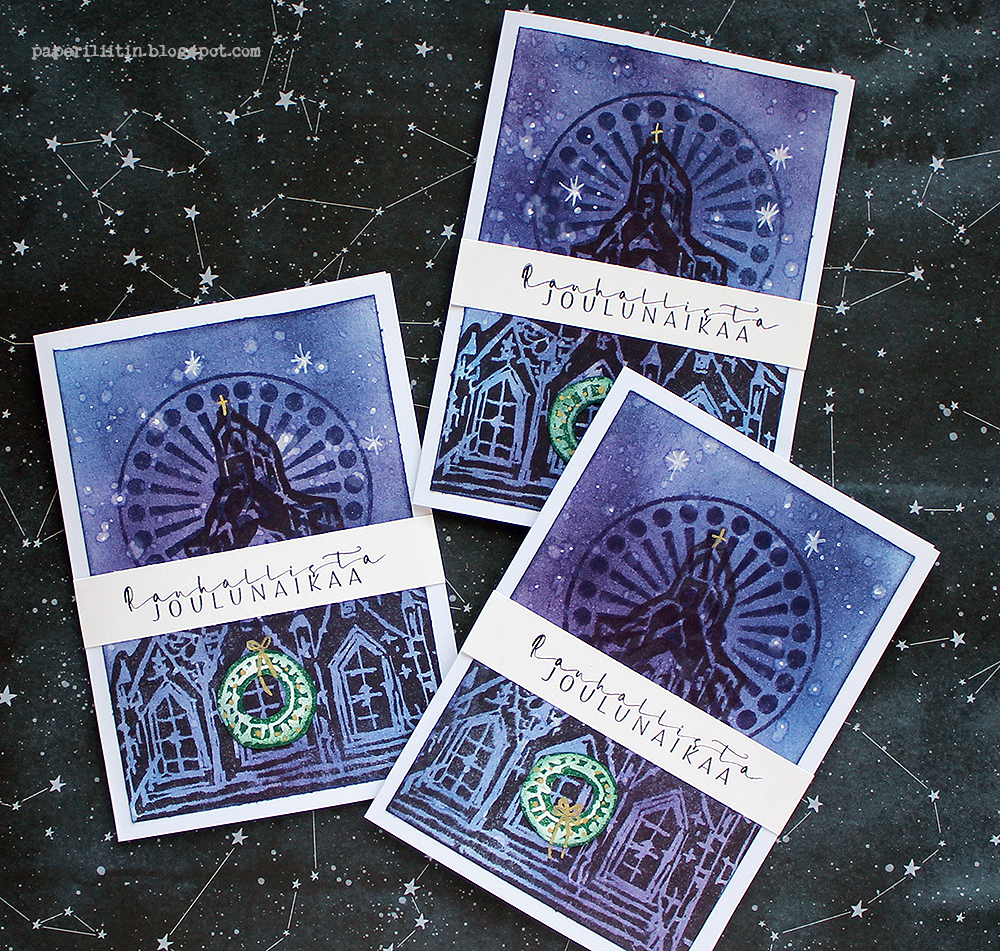 ---
Thank you Riikka – love how you used the Hydrant stamp to make your wreath! And hearing about your traditions was such a treat.
Give it a try: you can find all my Foam Stamps in my Online Shop and here are some of the supplies Riikka used:
Looking for more inspiration from the Creative Squad? Follow them on Instagram here.