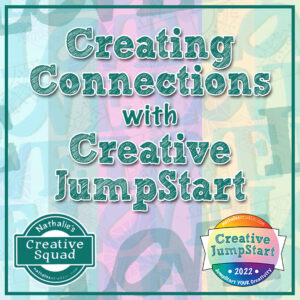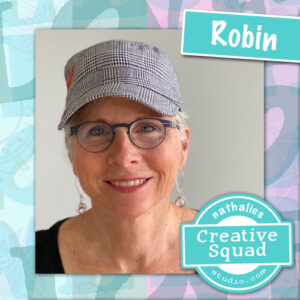 Hello from my Creative Squad! Today we have a post from Robin Seiz who is sharing a mixed media piece using my LOVE foam stamp, Running rubber stamp, Crackle stencil and our theme: Creating Connections – We're playing along with the Creative JumpStart 2022 theme Creating Connections and exploring how our artwork connects us to the world around us, our community, our favorite supplies, or maybe our artmaking choices. Connections are everywhere when we create!
---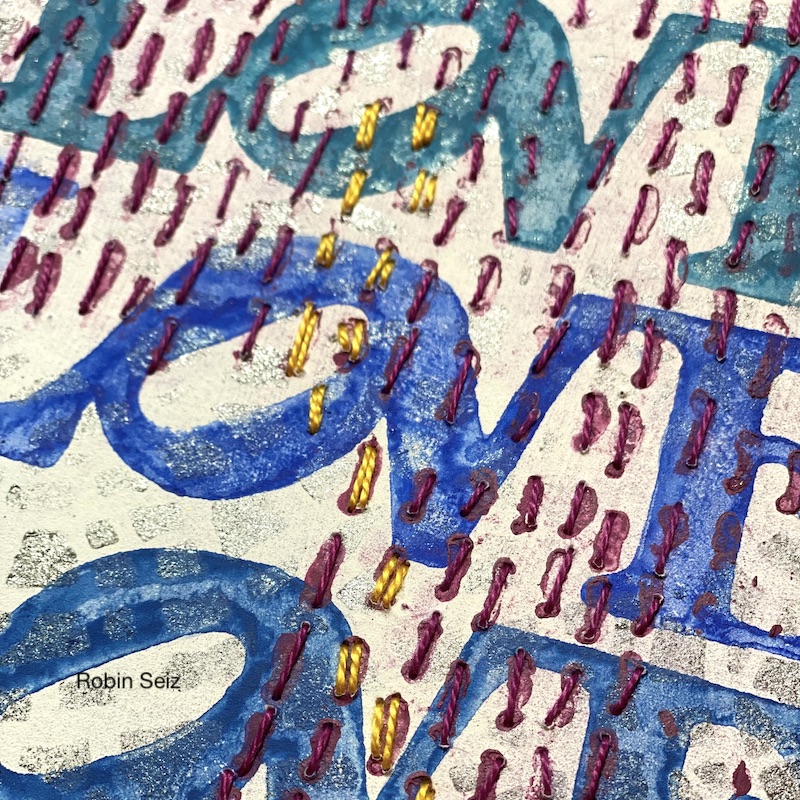 Happy New Year Friends. I hope your New Year has started out full of possibilities. Like many of you I have been following along with Creative Jump Start 2022 and it's been wonderful. There are so many talented artists and I always learn something. In keeping with the theme of CJS our January blog focuses on Creating Connections.
This project I created uses Nathalie's LOVE stamp, Crackle stencil, and Running Rubber Stamp. When I started out in mixed media several years ago, the first projects I created were made by machine stitching on paper. I always left the strings hanging; the pieces had a messy organic look to them. Today, I often incorporate sewing in my mixed media projects.
I have recently started slow-stitching; it has the magical power of connecting me to myself. It's a mediative process which slows me down and allows me to be in the present with every stitch. It has had the added benefit of connecting me to a whole new on-line community of artists. This project has brought me back to where I started using some new skills I have learned along the way.
I began with a piece of 5' x 7" watercolor paper. I spread watercolor grounds on the paper because I wanted more texture on the paper and I wanted a grungy look. Once it was dry, I used Nathalie's crackle stencil and applied Golden's fluid Iridescent Stainless Steel with a make-up sponge.
Next I used Derwent Intense Sticks, wet them, and applied them to the LOVE Stamp. I gave the stamp a little spritz and laid down the stamp. I wanted the crackle pattern to show through the stamped image and I wanted a mottled uneven image. Often a less perfect image is more appealing to me. I love how the watercolor pools and makes a pattern of its own. If you are more precise than I am, you could move the watercolors with a brush while they are still wet.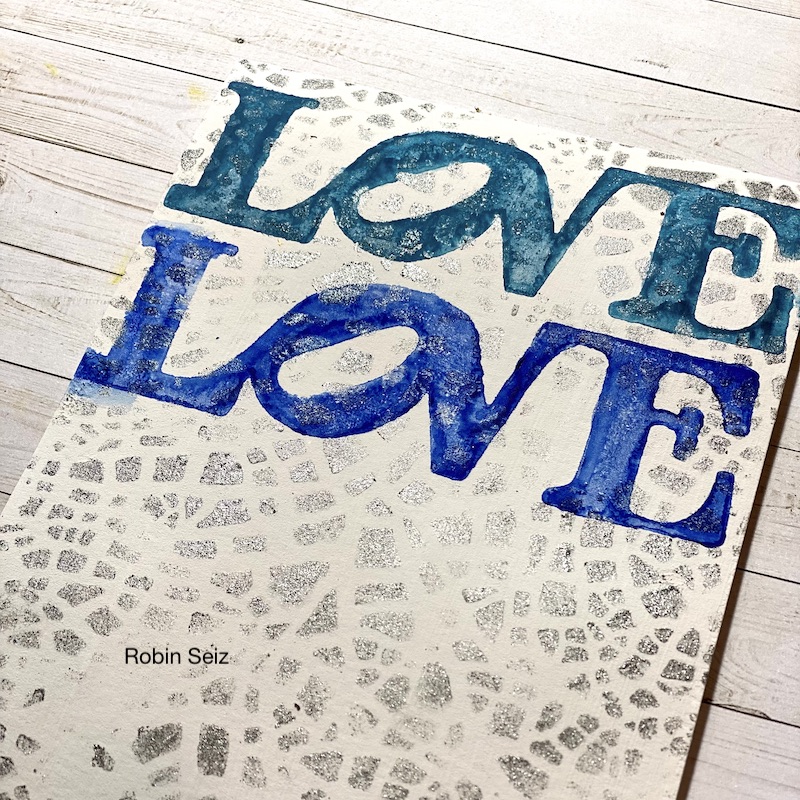 I continued to stamp with three more colors.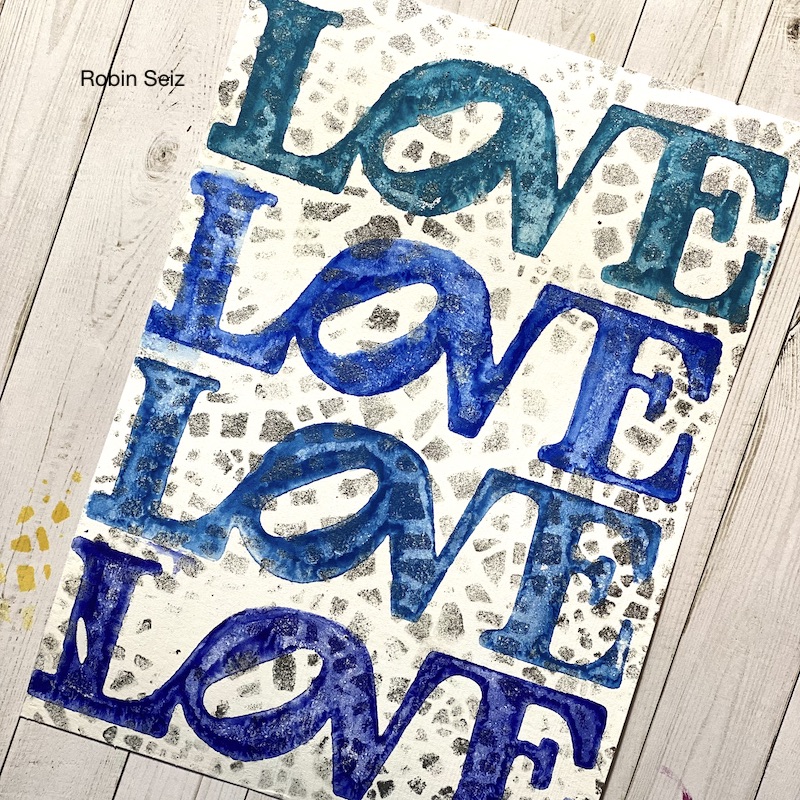 Once the watercolor was dry, I used a Derwent Intense Stick, in a complementary color, to stamp Nathalie's Running stamp so that it was compositionally pleasing to my eye.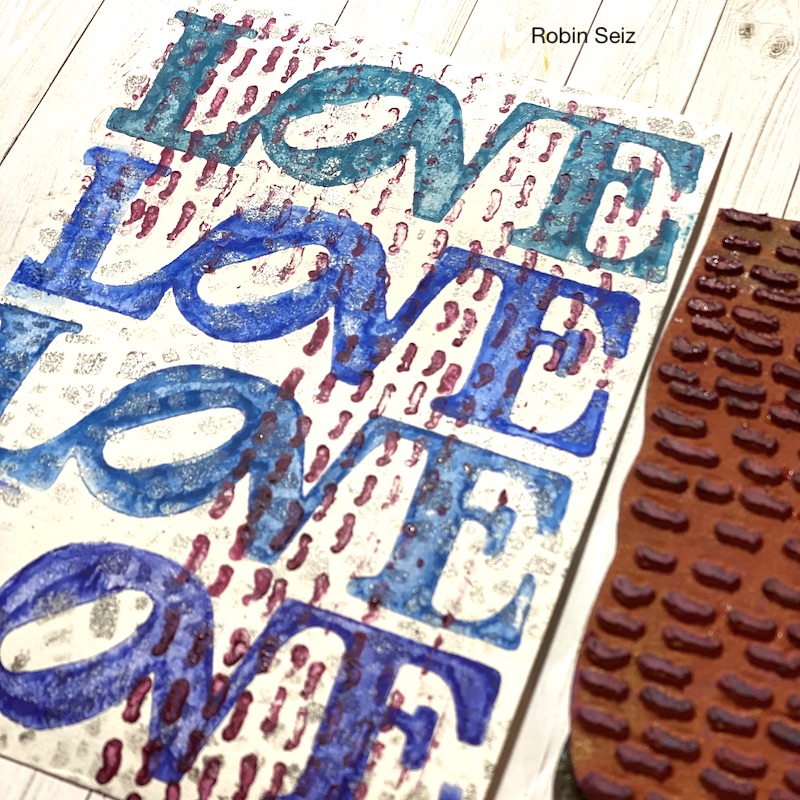 Once all of this was dry, I began hand stitching with Perle Cotton thread; I used the running stitches as a guide. I added a second complementary color and even sewed where there were not stamped running stitches. This again was based on what I felt was compositionally pleasing. One note about hand stitching this project — it's tough going through thick watercolor paper. I would recommend two things. 1) A thin needle, and 2) a thimble to protect your thumb and finger. I didn't use this and my thumb is still sore!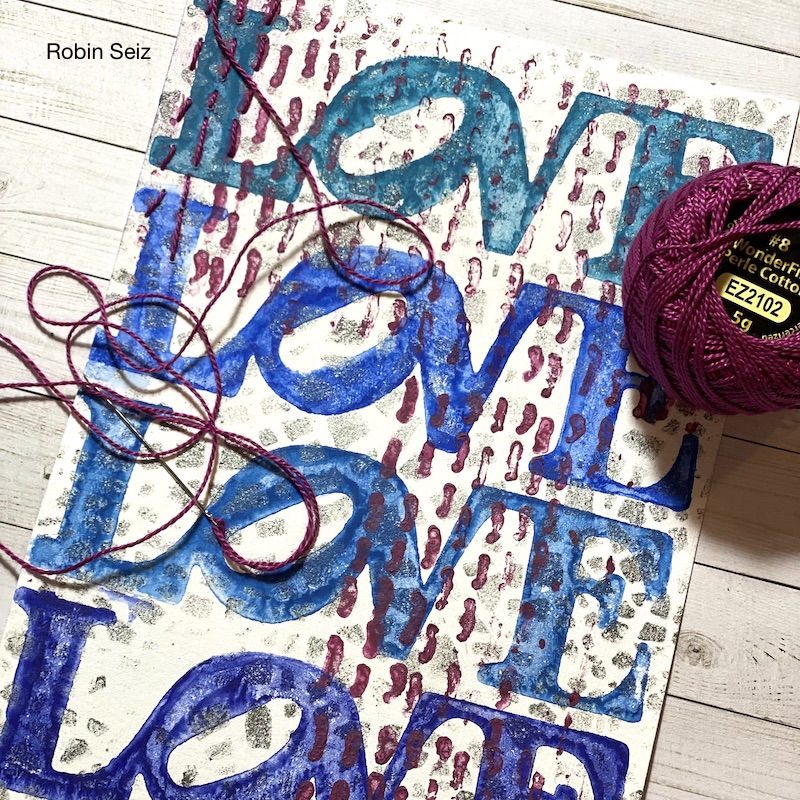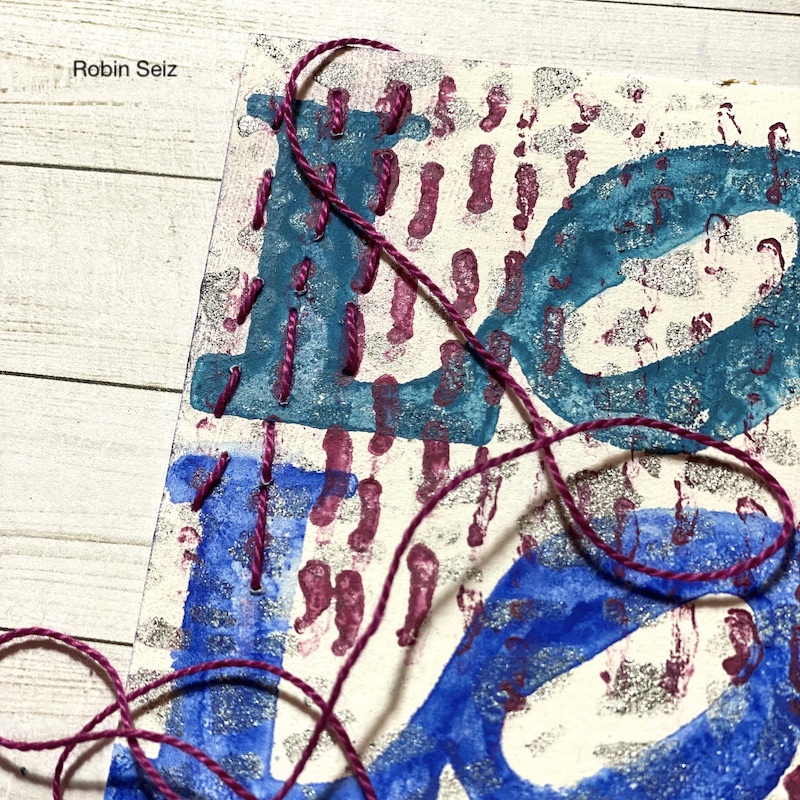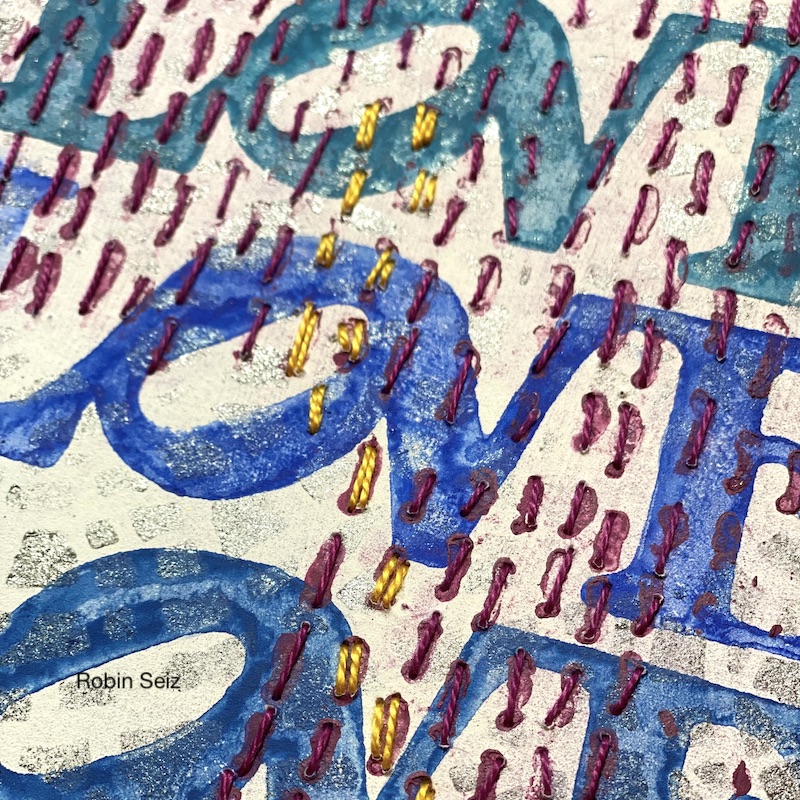 When I stepped back from this project, it reminded me of the days when my children would sew on sewing cards; another pleasant connection. I plan to frame this small piece and hang it in my studio.
I hope you enjoyed this project. Please let me know if you try it. Post your project and tag me on social media. I can be found on both Instagram and facebook.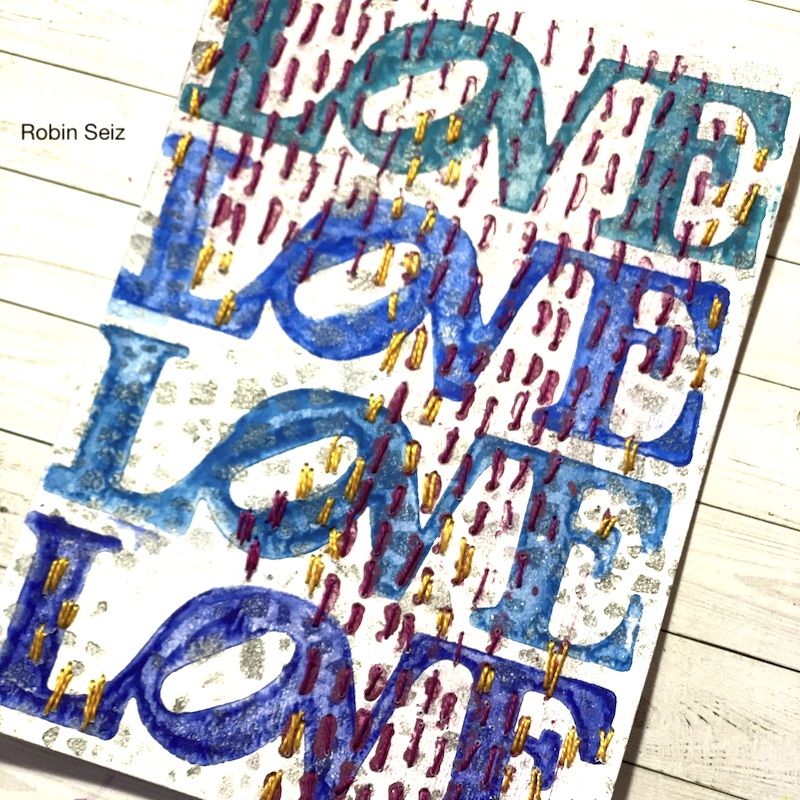 ---
Thanks for sharing Robin and so cool how you used the Running stamp as a guide for your own real stitching!
Give it a try: you can find all my Stencils, Foam Stamps, and Rubber Stamps in my Online Shop and here are some of the supplies Robin used: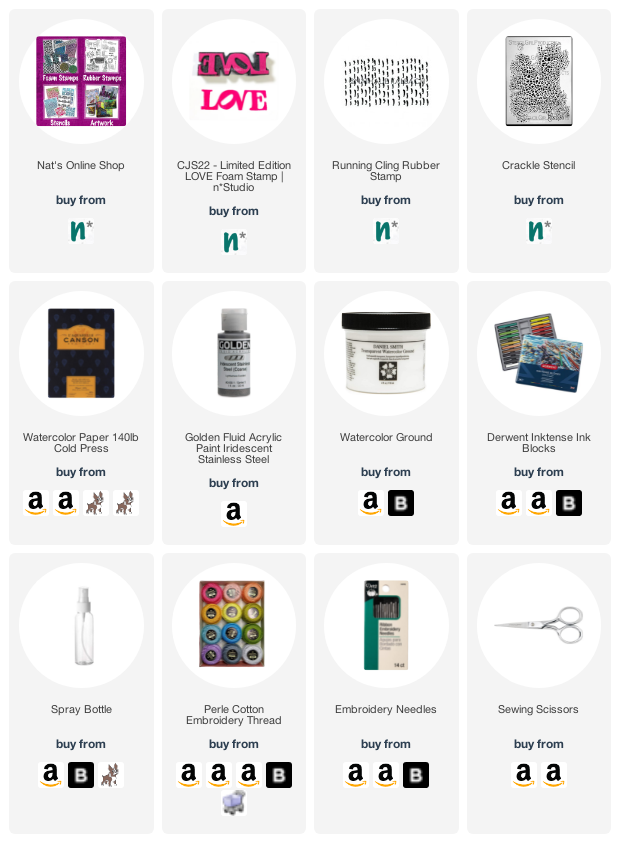 Looking for more projects? Follow the Creative Squad on Instagram here.