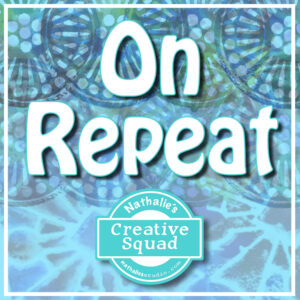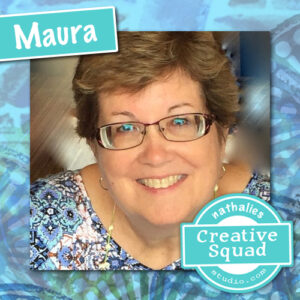 Hello from my Creative Squad! Today we have a cool upcycled project from Maura Hibbitts using a fabric bag, my Batik 2 and Far Out ArtFoamies stamps, and our new theme: On Repeat – Let's play with patterns! Repeat a design motif or shape to create a pattern-inspired project of your choosing.
---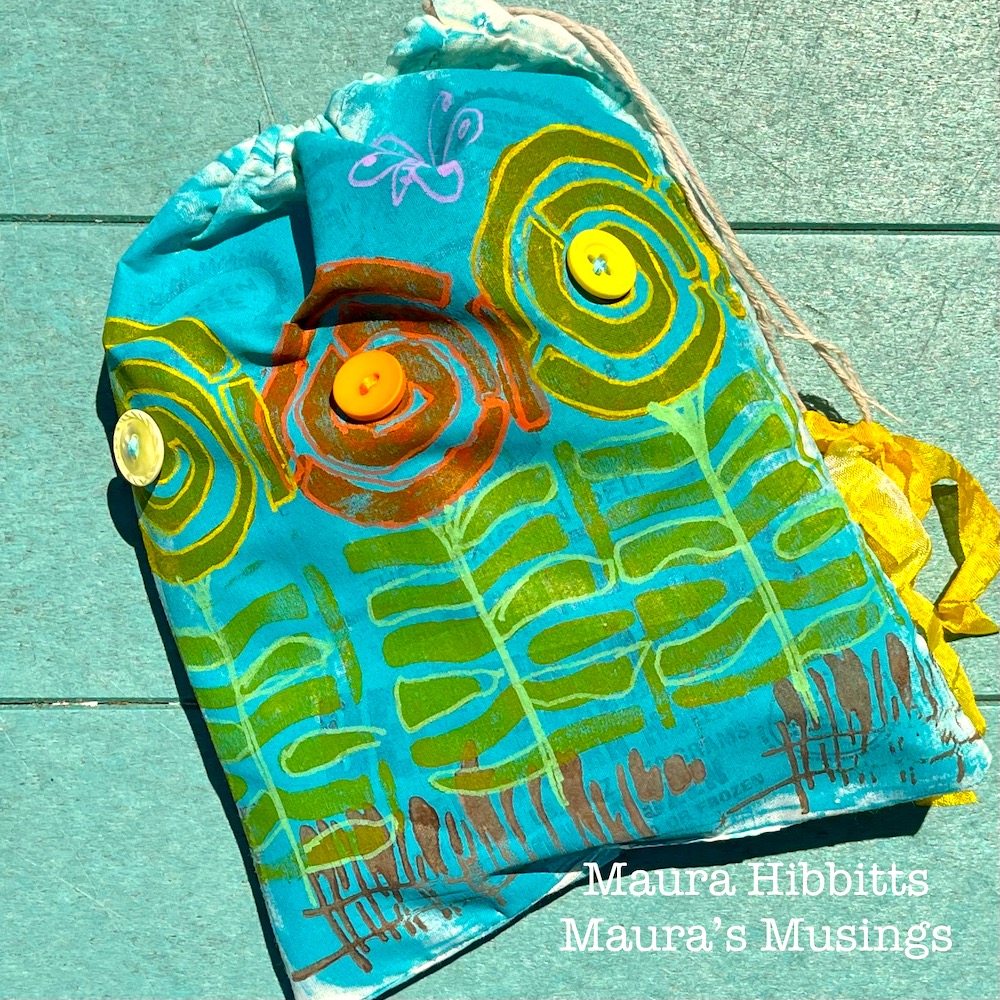 When you look at the natural world, do you see repeating patterns of color and design? How about when you look at a garden? My own gardens tend to be a bit on the wild and untidy side, but when I see a well cared for garden, I notice how the flower colors are repeated throughout. I've also noticed how leaf shape and size can be repeated for emphasis. I think you will even observe this in a wildflower meadow, nothing is growing in isolation, but it is "on repeat." These observations led me to create this gift bag with a flower garden theme.
I began with an upcycled cloth bag (Texas Tamales – yum!) and cut a piece of cardboard to fit inside. This keeps the paint from seeping through to the other side. Use an acrylic brush to paint both sides with Cobalt Teal Hue, and don't worry if you see some of the print coming through, it will add to your design. Use a heat tool to dry it quickly if you wish.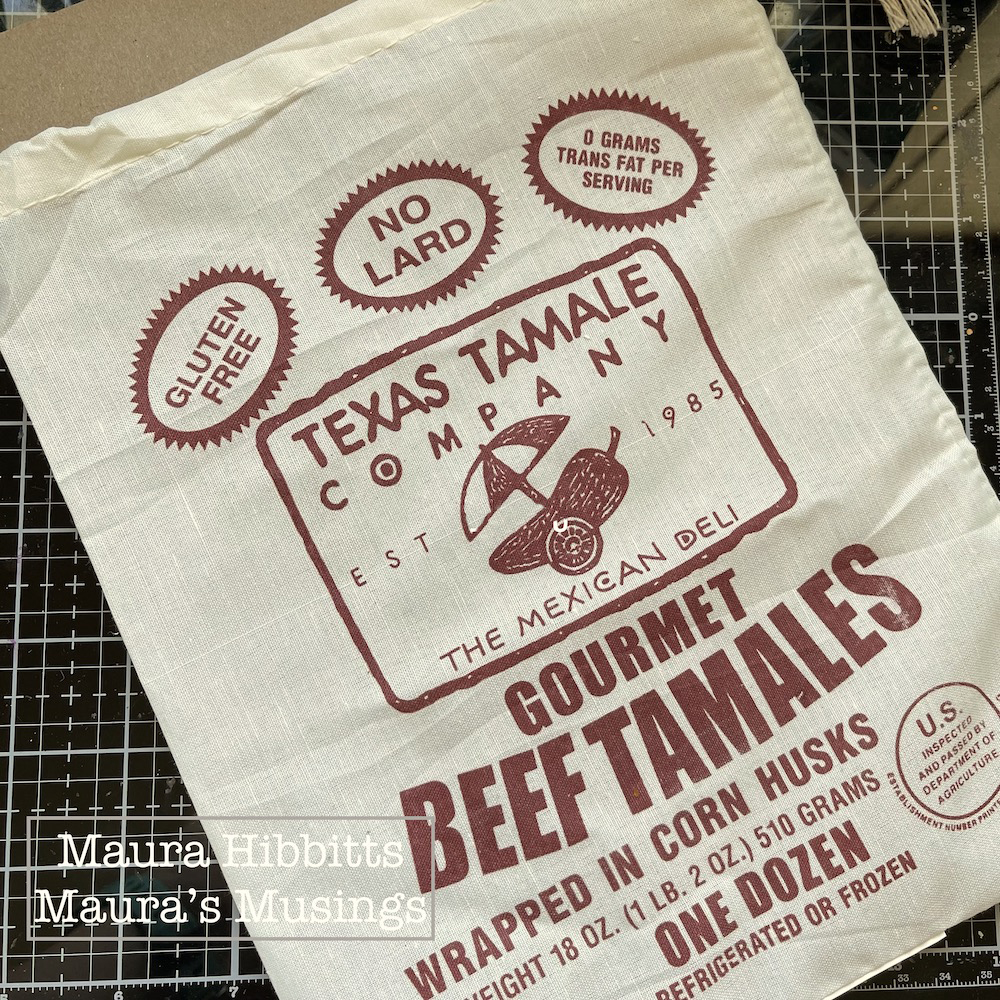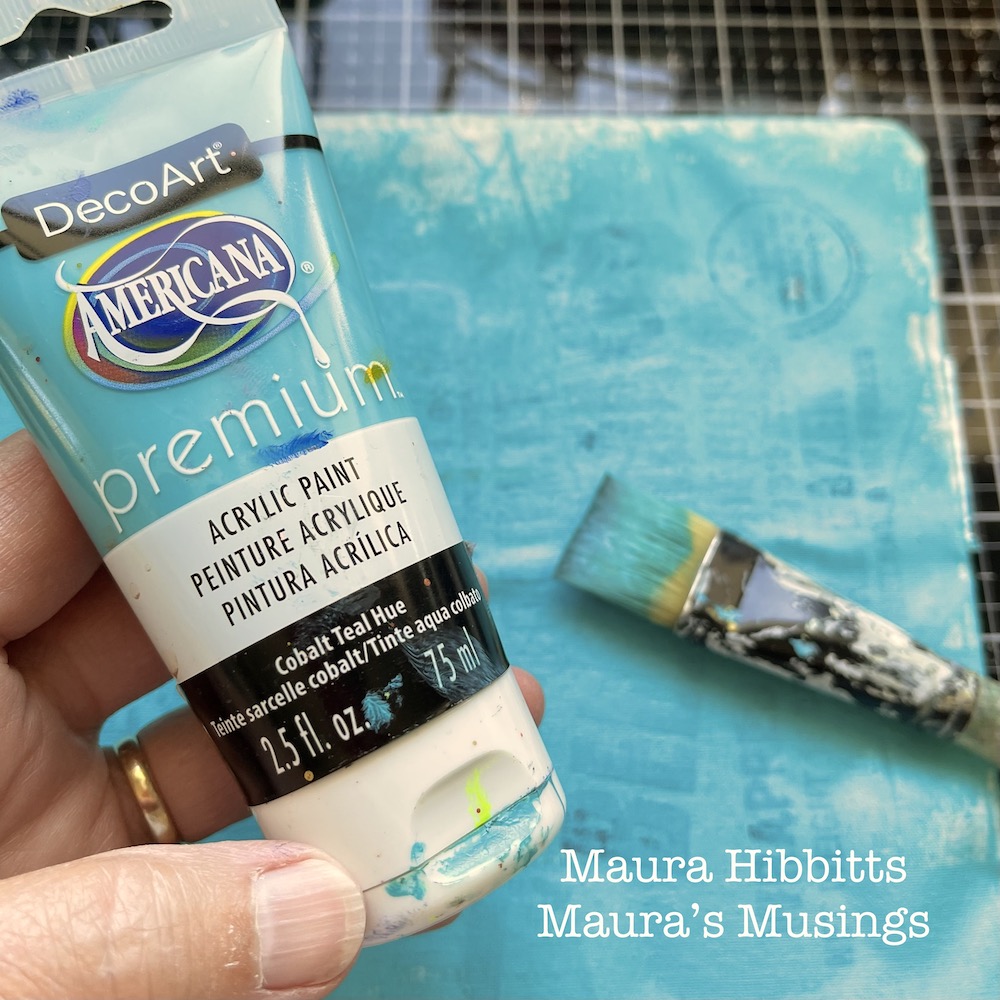 Blend Burnt Umber and Translucent White on the gel plate. Using the brayer, or stamping directly onto the gel plate, transfer the paint to the ArtFoamies Far Out stamp. Stamp a repeated image across the base of the bag on both sides, this will represent the ground or soil.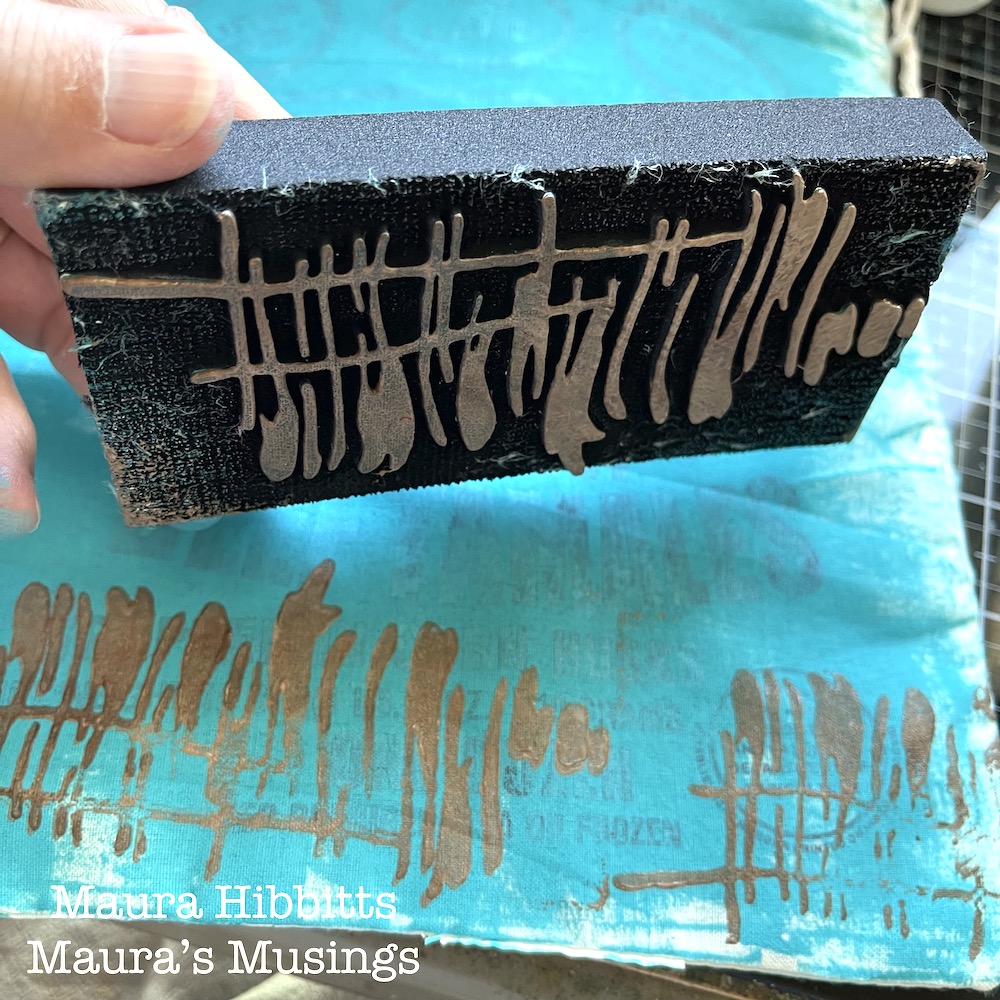 Next, add Green Gold to the clean gel plate. (I use a baby wipe to get the plate clean, or you can wash it.) Use a brayer and apply the paint to the striped section of the Batik 2 ArtFoamie stamp. Now, stamp this in a repeating pattern of three above the Far Out stamped images. Again, repeat this on both sides of the bag.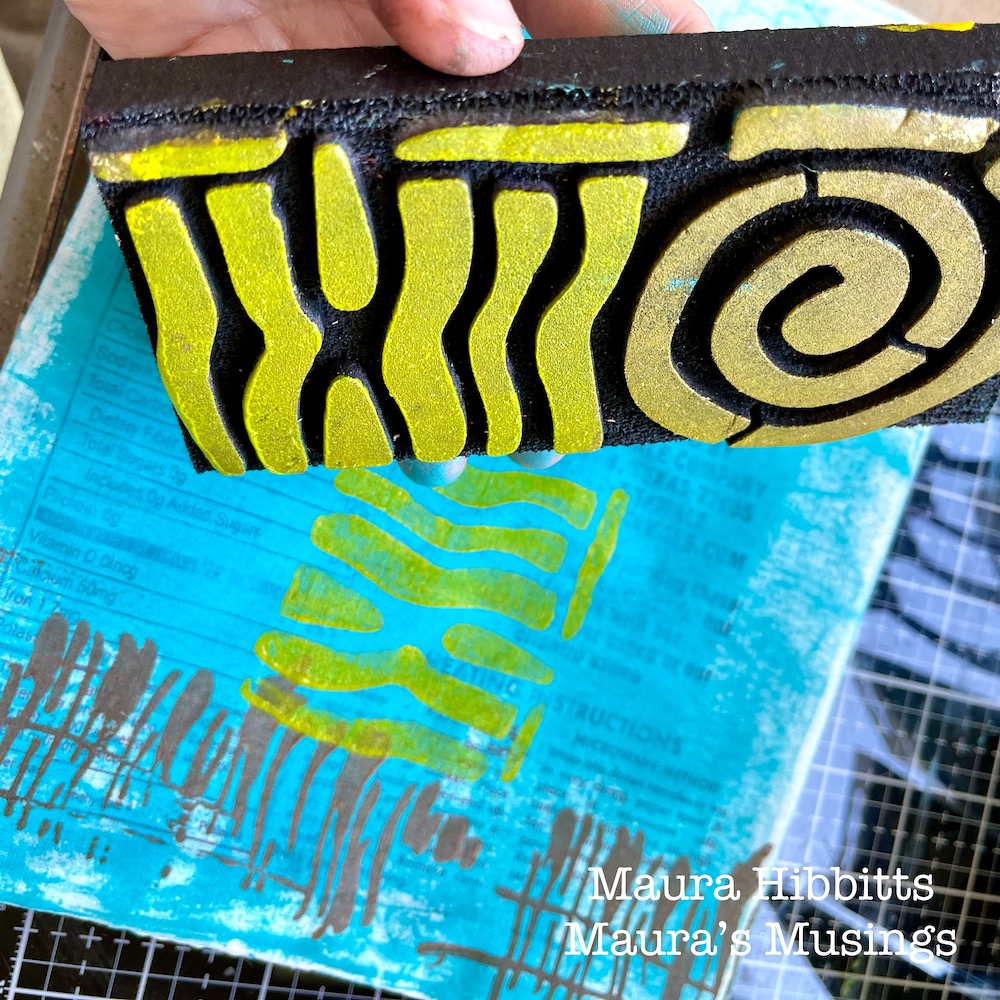 Now, add Cadmium Orange Hue to the clean gel plate, and use the brayer to apply the orange to the circular area of the Batik 2 ArtFoamie. Stamp this color on the center image. Repeat the process using the Diarylide Yellow to either side. Now you have three images across the bag front and back.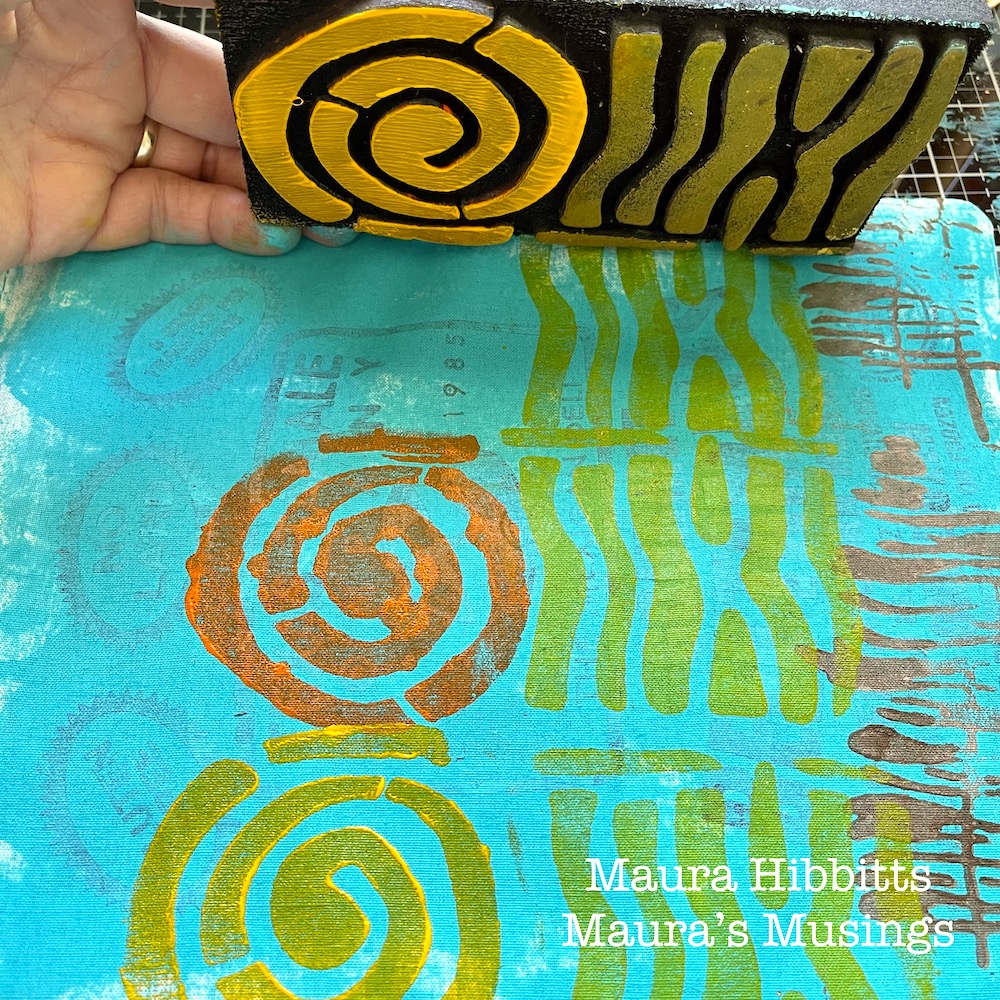 Use Posca Paint pens in coordinating colors and outline the stamped circle images. Draw a stem for the flower, then outline a few leaves in green from the striped area of the Batik 2 images. You can also doodle a butterfly on each side in Lavender if you like. The butterflies have been visiting my garden lately, so I wanted to add some in.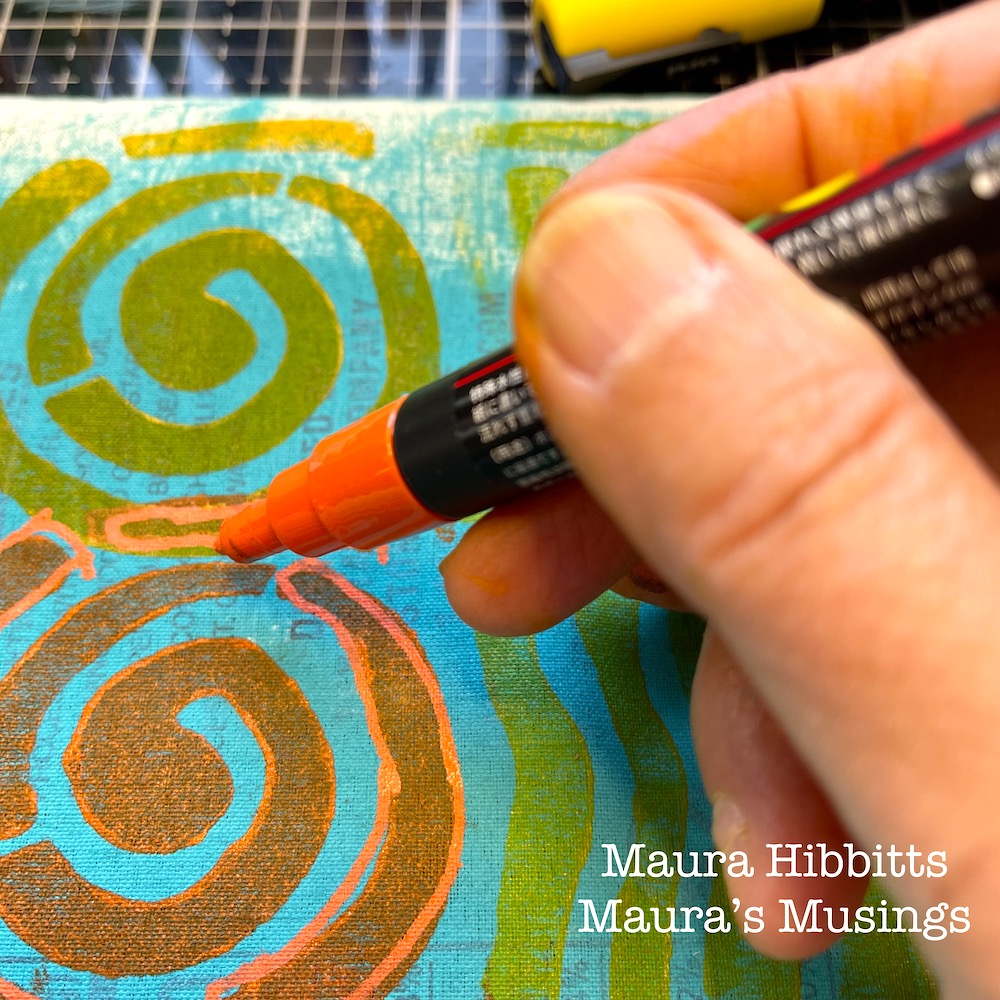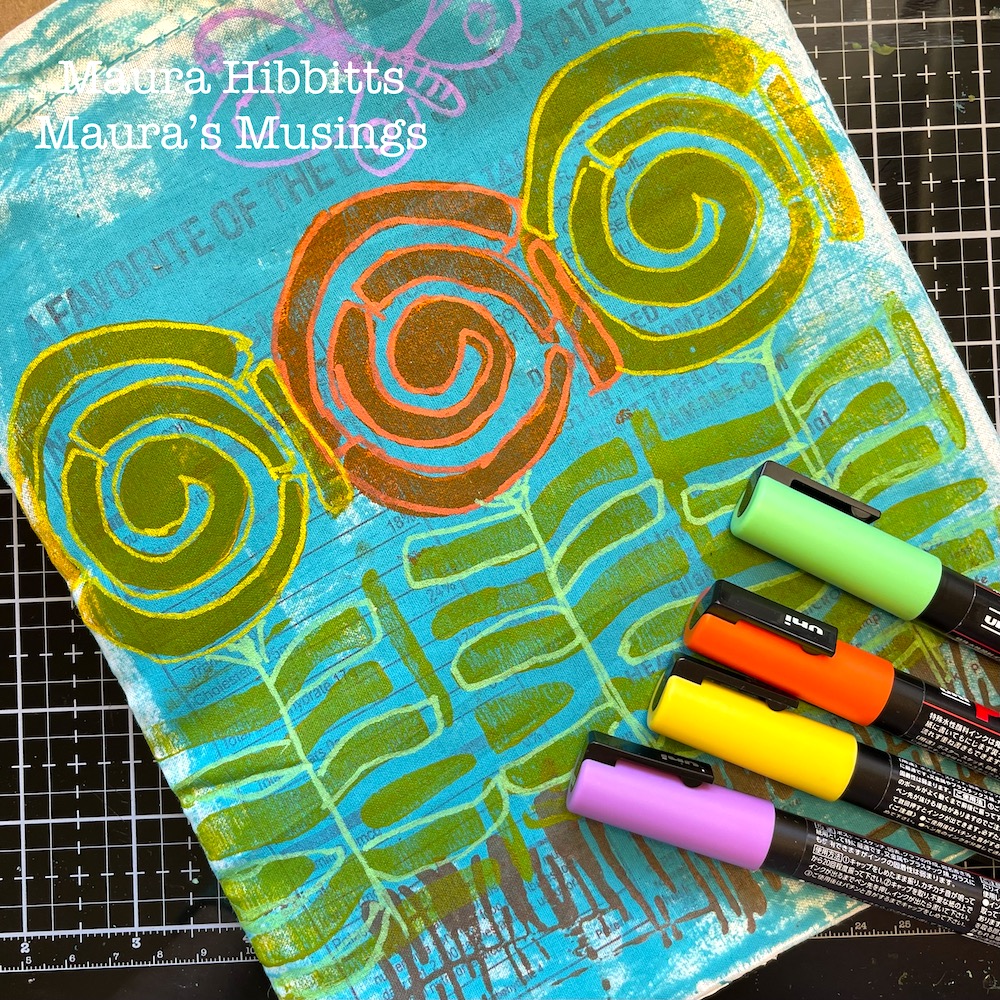 Let the bag dry completely. Sew buttons to the center of the "flower" with embroidery thread, to complete your flower garden gift bag.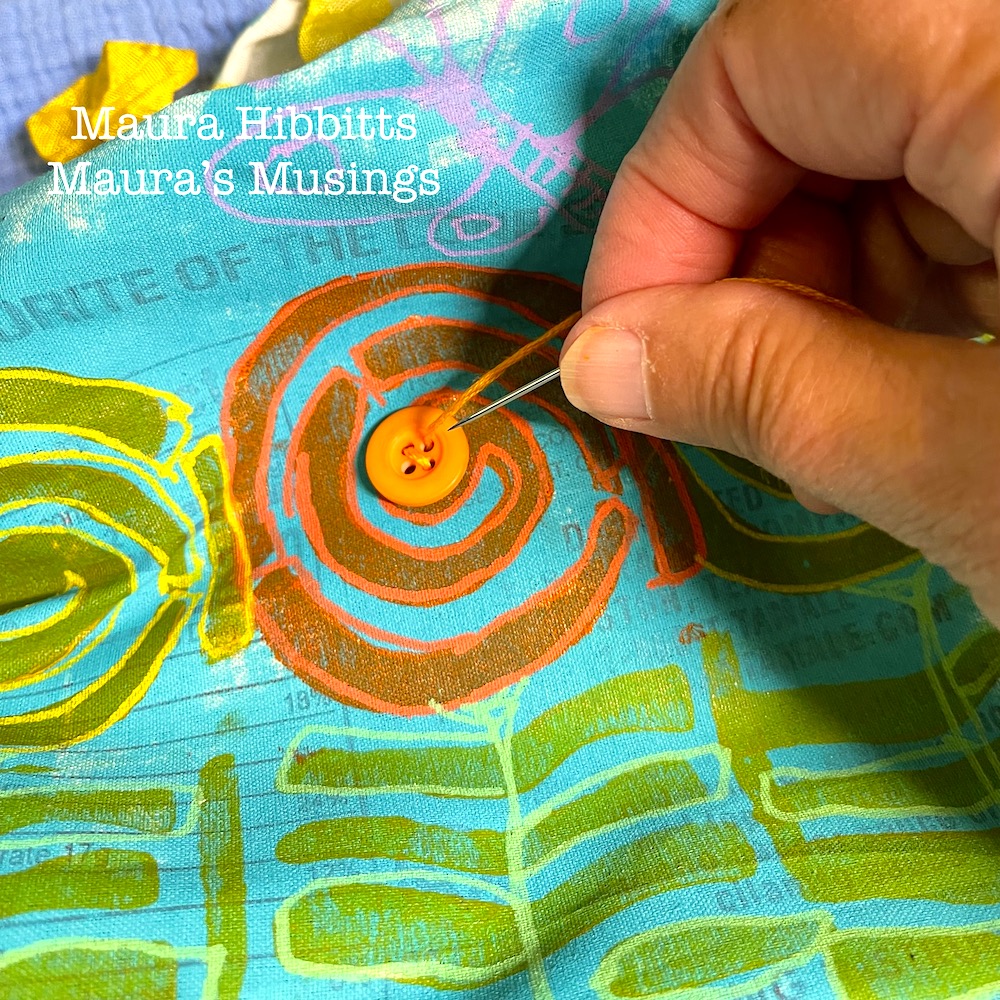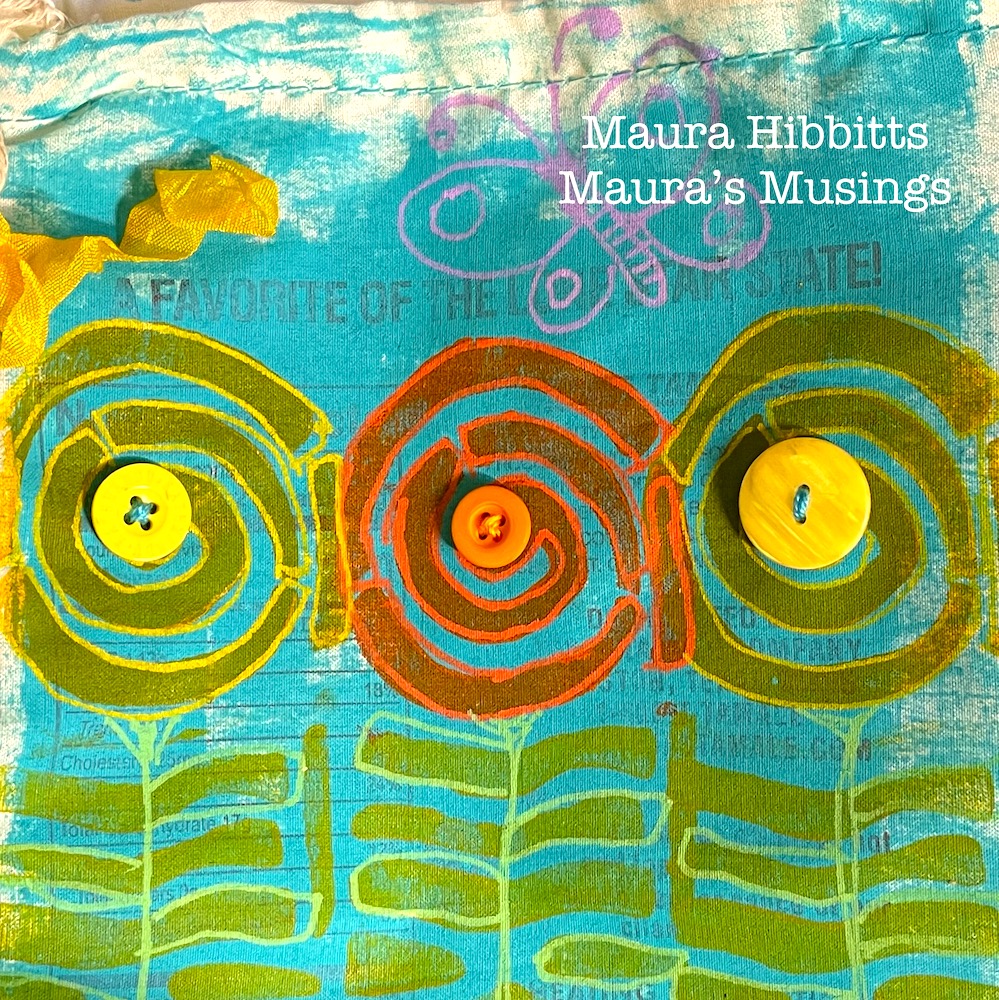 Finish the bag by tying on some ribbon. (I used hand dyed ribbon.) You could also add charms or beads. Your handmade bag is a gift in itself, or you could fill it with seed packets, teas, a few crafty supplies…the ideas are endless.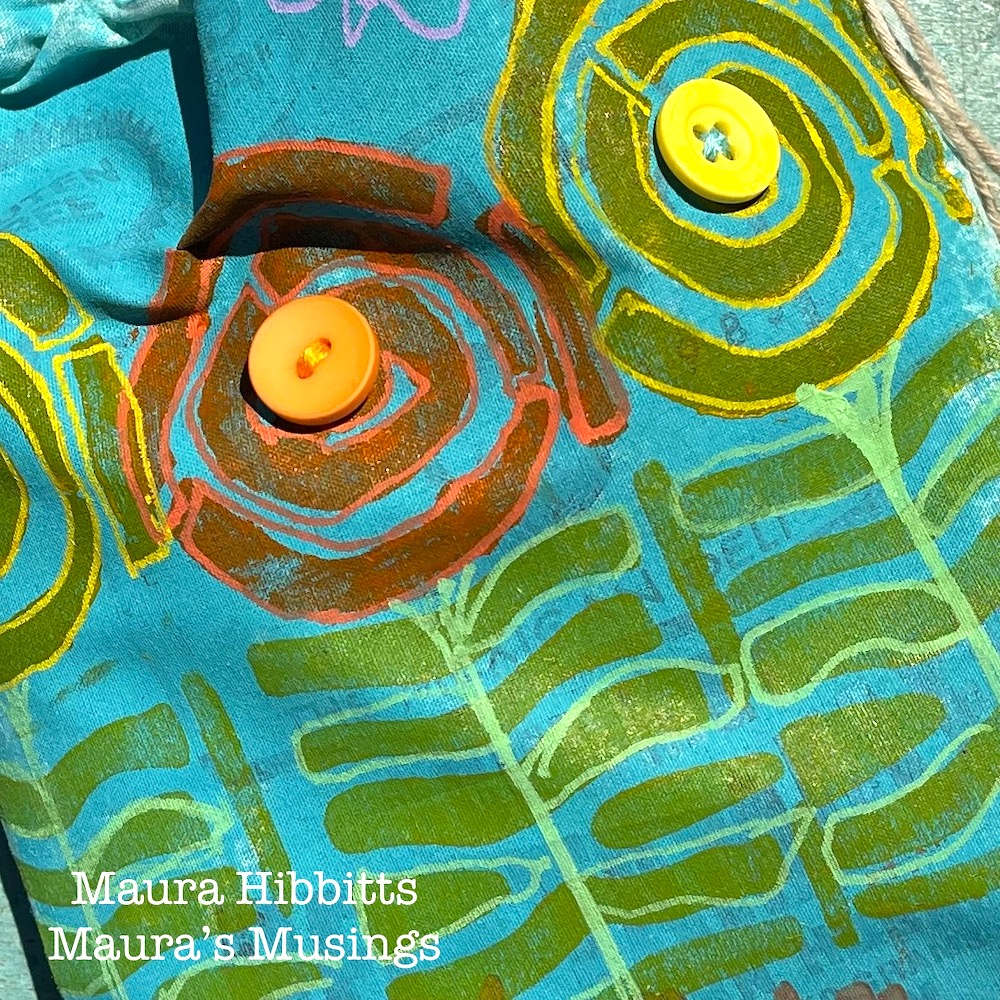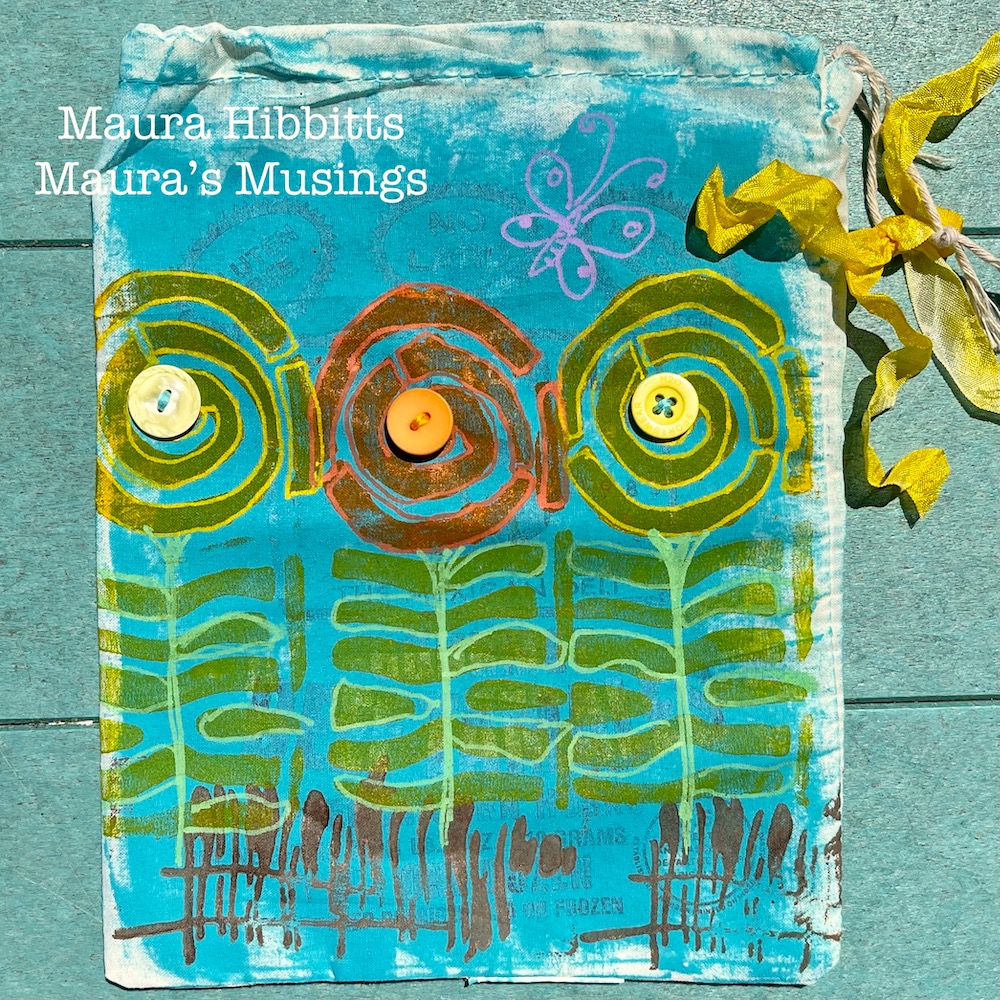 Repetition is all around us – from our daily routine, to architecture, to patterns in the natural world, like our gardens. Enjoy the repeating moments and have fun expressing them in your art! – Maura
---
Thank you Maura. I absolutely love how you reimagined the Batik 2 stamp as a flower – looks awesome with the Posca details and a button center!
Give it a try: you can find all my Foam Stamps in my Online Shop and in addition to an upcycled fabric bag, here are some of the supplies Maura used: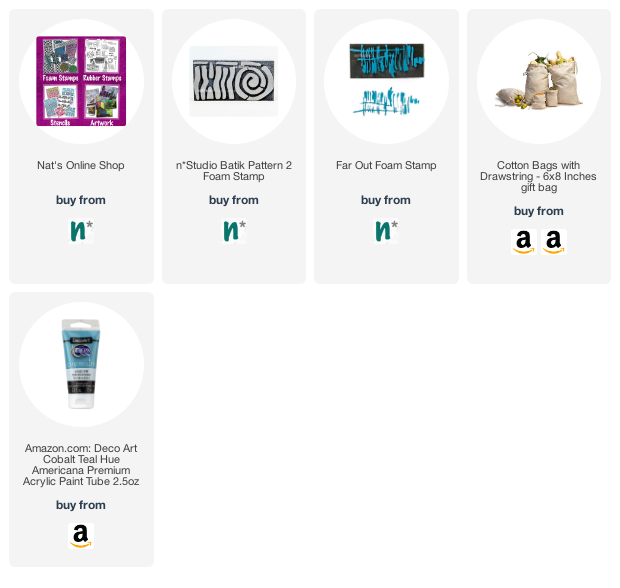 Looking for more projects? Follow the Creative Squad on Instagram here.