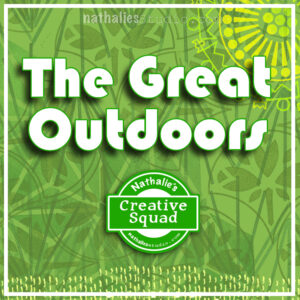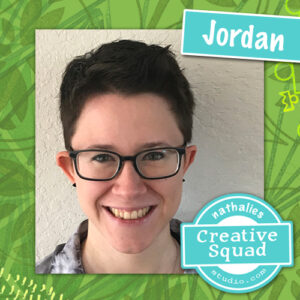 Hello from my Creative Squad! Today we have a post from Jordan Hill who is sharing a gorgeous floral art journal spread using my Triangle Love rubber stamps and ATC Mixup stencil and our theme: Great Outdoors – The experts agree that getting outside for activity each day is a super healthy thing you can do for your mind and body. Let's get outside and seek artistic inspiration out there. Find something that catches your eye and then when it's time to come back in, use that inspo to create.
---
Hello everyone, I'm happy to be back with another project for June! I was very excited to work with this month's theme of The Great Outdoors, since nature is very much an inspiration for me and my work. Let's get started.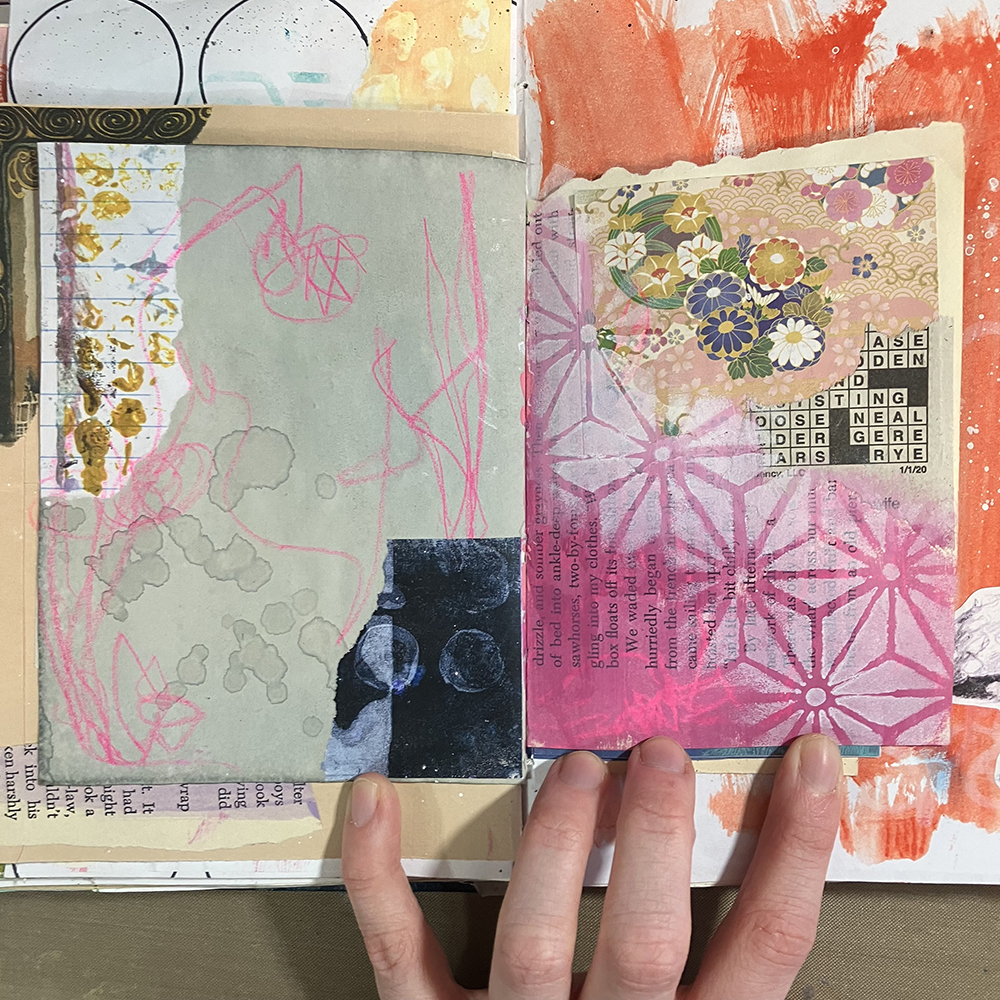 First things first, I started by flipping through one of my art journals to find a page that I wanted to work on. I ended up selecting this one, mostly because I liked the colors. Additionally, I had already used Nathalie's ATC Mixup Stencil on the right hand page, so it just felt fitting.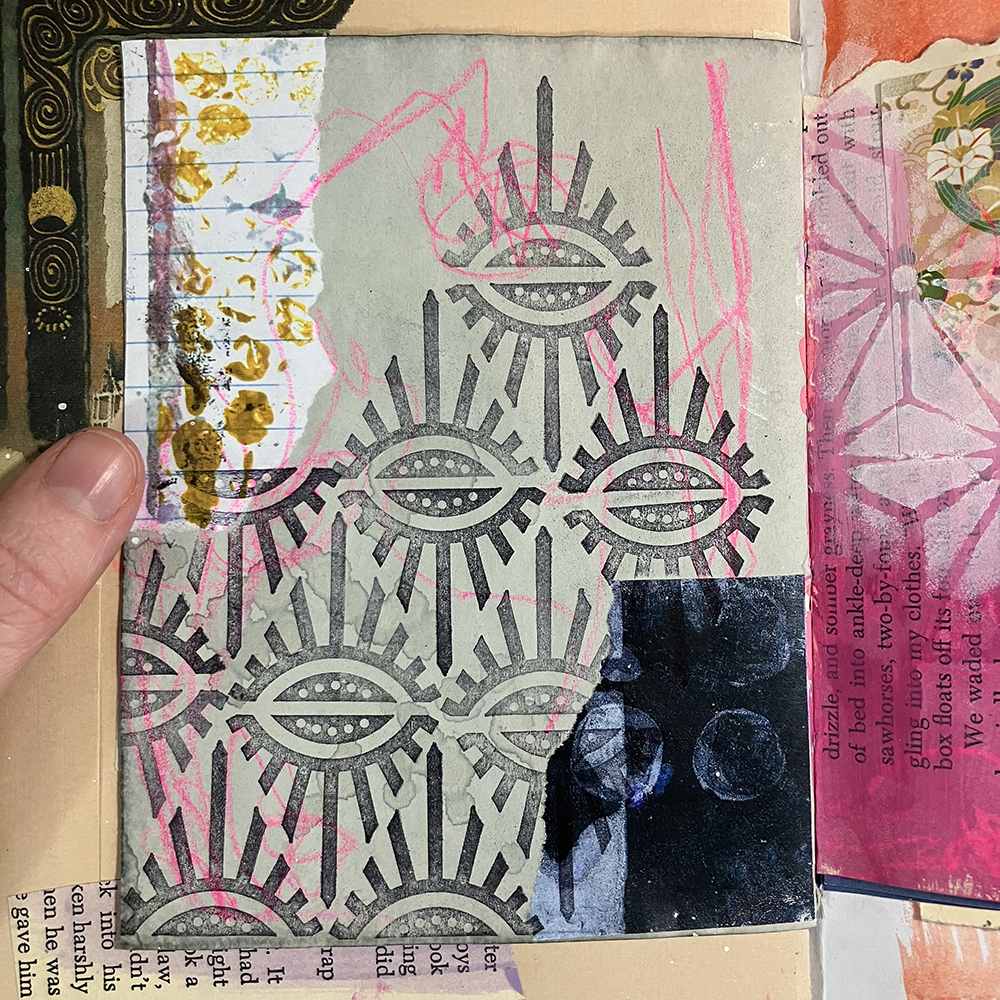 After selecting a page to work on, I used Nathalie's Empire Triangle stamp from the Triangle Love Cling Rubber Stamp Set with some black Archival Ink to create an all-over pattern across the left hand page.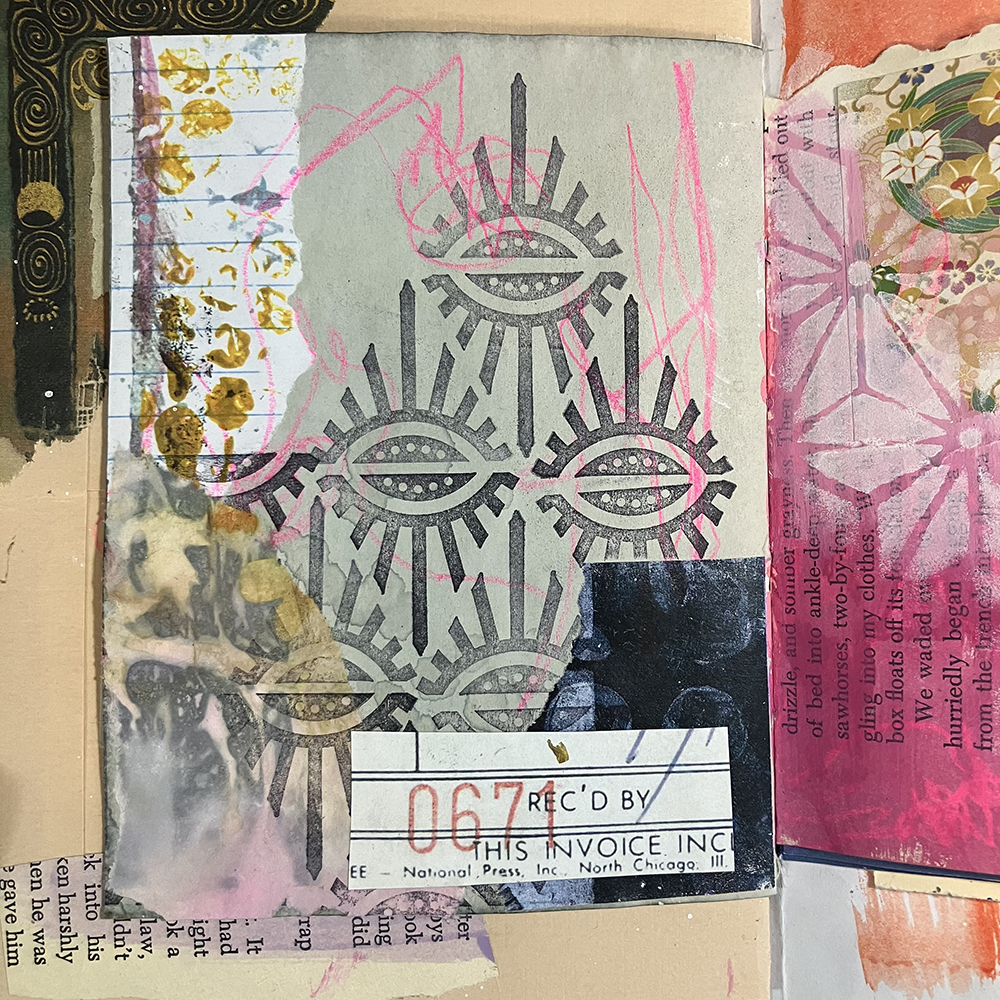 Next up, I added a few pieces of collage that I felt fit the colors and general feeling of the page. In the lower left hand corner, I used a piece of eco printed paper that I made a while back, since I felt it matched this month's theme of The Great Outdoors. I also added a little piece of paper featuring some numbers from one of my collage sheets.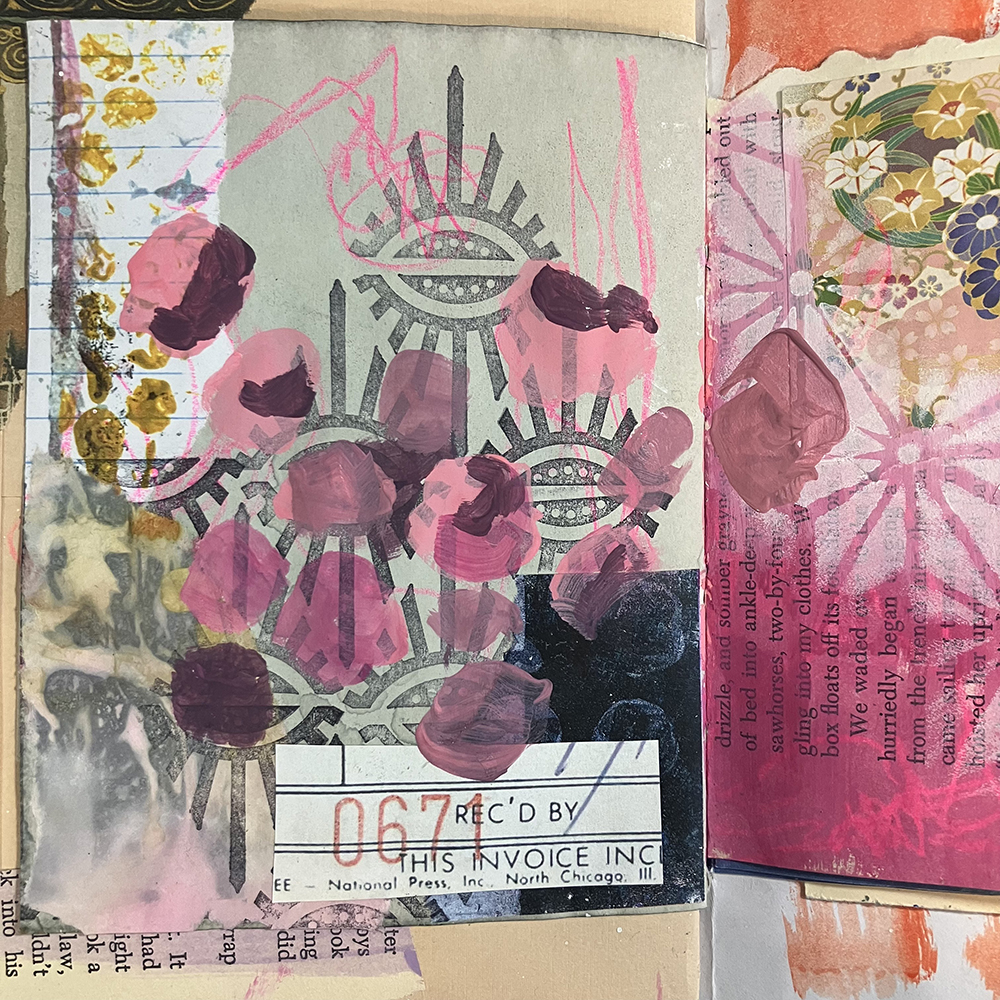 For this month's page, I wanted to experiment slightly with subject matter when it came to my focal point. In the past, I've relied fairly heavily on drawing faces when it comes to my art journals. I still love drawing people, but with this month's theme of The Great Outdoors, I thought I would experiment with an abstract floral instead. I started off my floral design with a number of acrylic paints in pinks and reds. I then applied the color in small splotches across the page, making sure to vary the lights and darks in each section.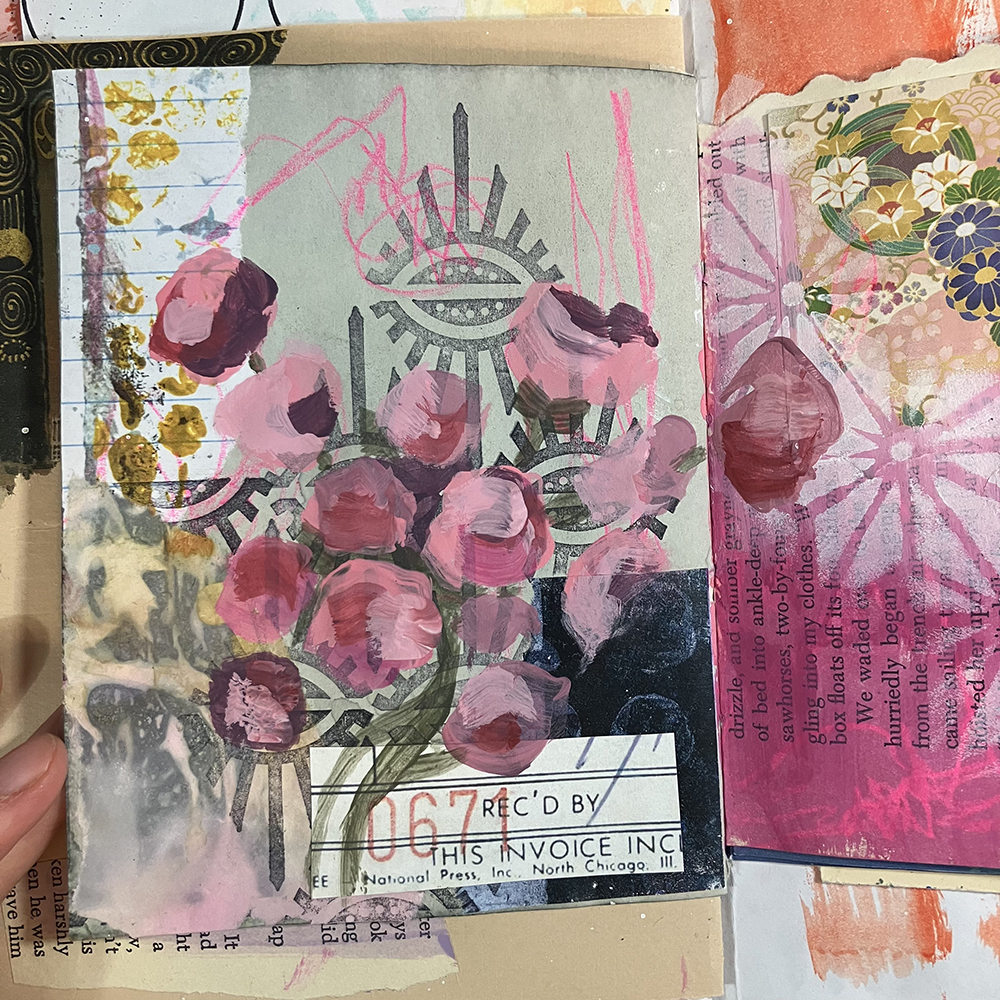 After my first layer of paint had dried, I continued to add more depth to the flowers by adding a few more layers of color. I tried to keep my brushstrokes very loose, as these flowers were still supposed to be fairly abstract, as opposed to fully rendered. I also added some green in between the pinks in order to give the appearance of leaves and stems.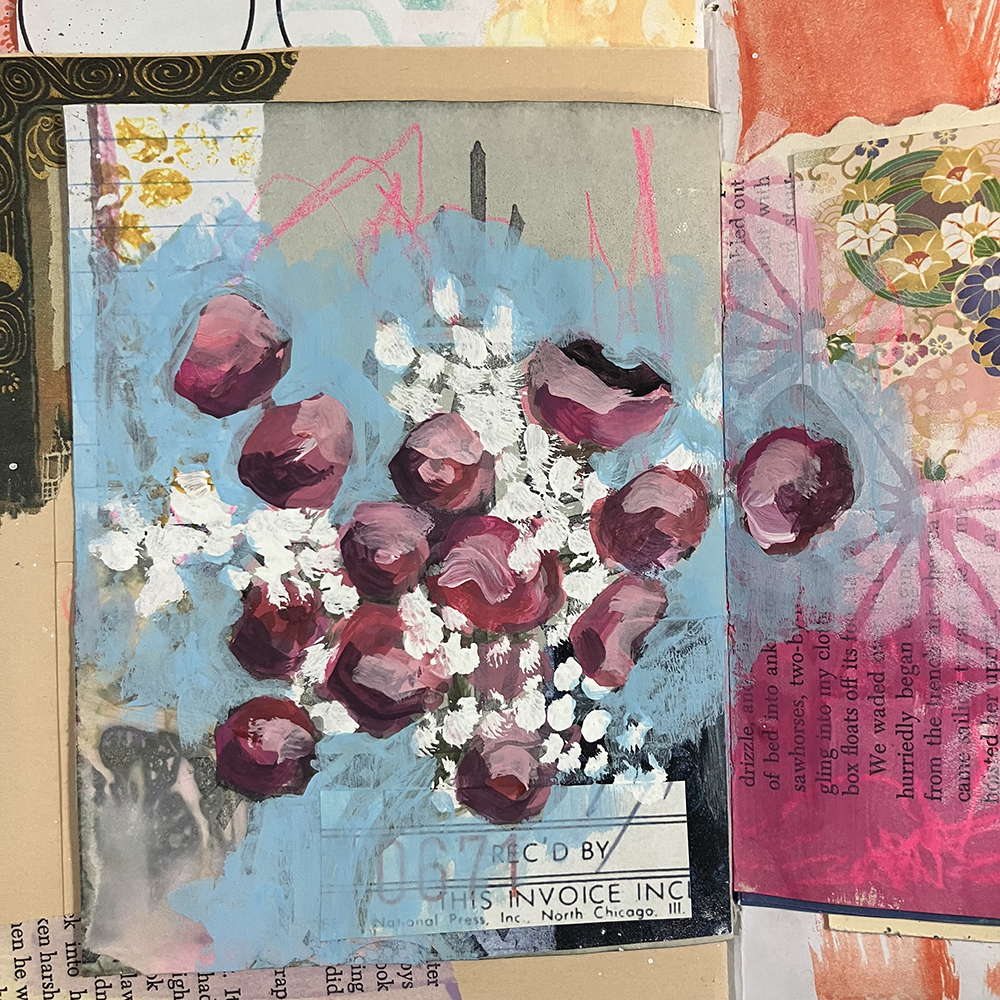 At this point, I felt as though the flowers were not standing out enough, so I made the decision to paint in a new background. I selected a light, bright blue, and added it around the entirety of the flower shapes (which also gained a few more layers of paint and deeper shadows). To finish off my little bouquet, I used some white acrylic paint and a small paintbrush to blot on some smaller shapes to be reminiscent of Baby's Breath.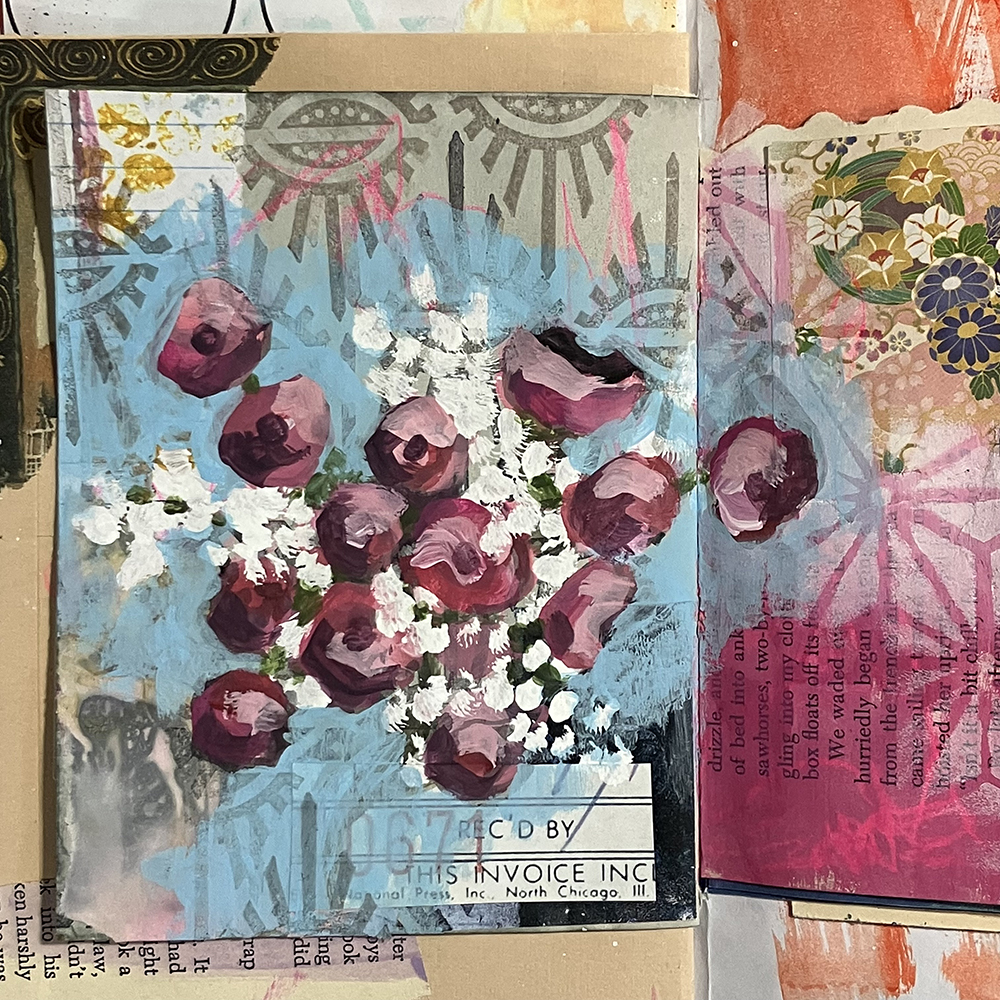 To finish off the page, I wanted to bring back the stamping that I lost during the painting process. However, I wanted the stamping to be more gentle this time around, since stamping in black felt as though it would be too harsh for the aesthetic of the page. I used Tim Holtz Distress Ink in the color Pumice Stone to do my stamping, again using Nathalie's Empire Triangle stamp.
With that, I was ready to call this page complete! I hope you enjoyed following with the process!
---
Thank you Jordan! Wow those flowers came together so successfully and the Baby's Breath is such a fun addition.
Give it a try: you can find all my Rubber Stamps in my Online Shop and in addition to collage material, here are some of the supplies Jordan used: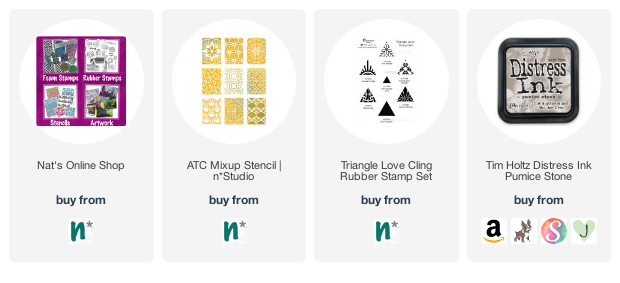 Looking for more projects? Follow the Creative Squad on Instagram.