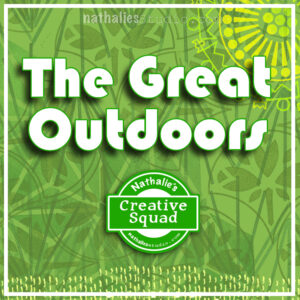 Hello from my Creative Squad! Today we have a gorgeous post from Maura Hibbitts using my Large Circle Jumble, Fan-tastic Large, and Hex Set Large rubber stamp sets and our new June theme: The Great Outdoors – The experts agree that getting outside for activity each day is a super healthy thing you can do for your mind and body. Let's get outside and seek artistic inspiration out there. Find something that catches your eye and then when it's time to come back in, use that inspo to create.
---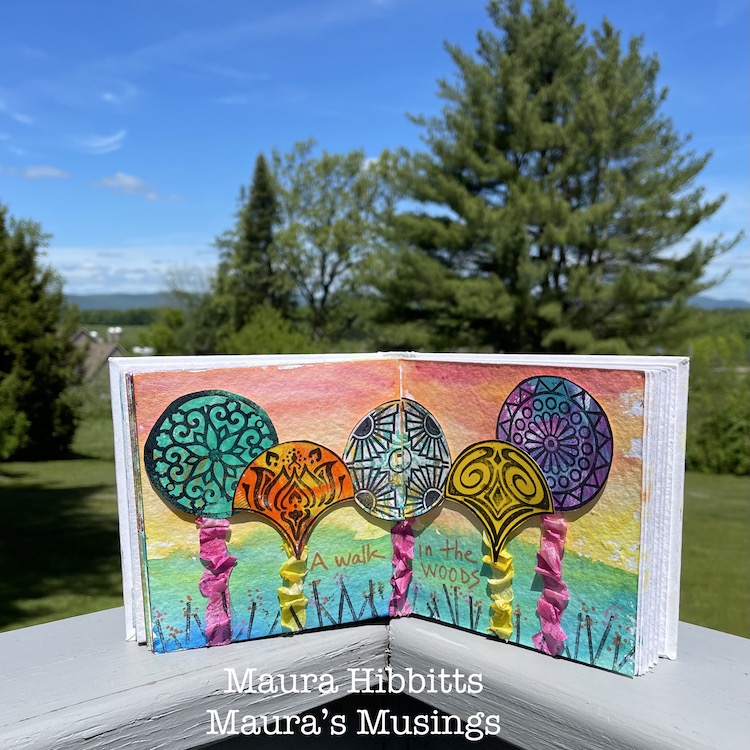 What a perfect time to celebrate the great outdoors! It's a time of year when people love to get out in nature and play. Camping, hiking, boating, gardening…and the list goes on. I have always been drawn to the woods. As a child, you could find me playing out there almost every day. This year, I closely observed the leafing out of the trees, and celebrated their return to glory.
I began in my Media Journal with a watercolor background. I decided to use non-traditional colors on my spread. I used a #12 brush to swipe color across the pages.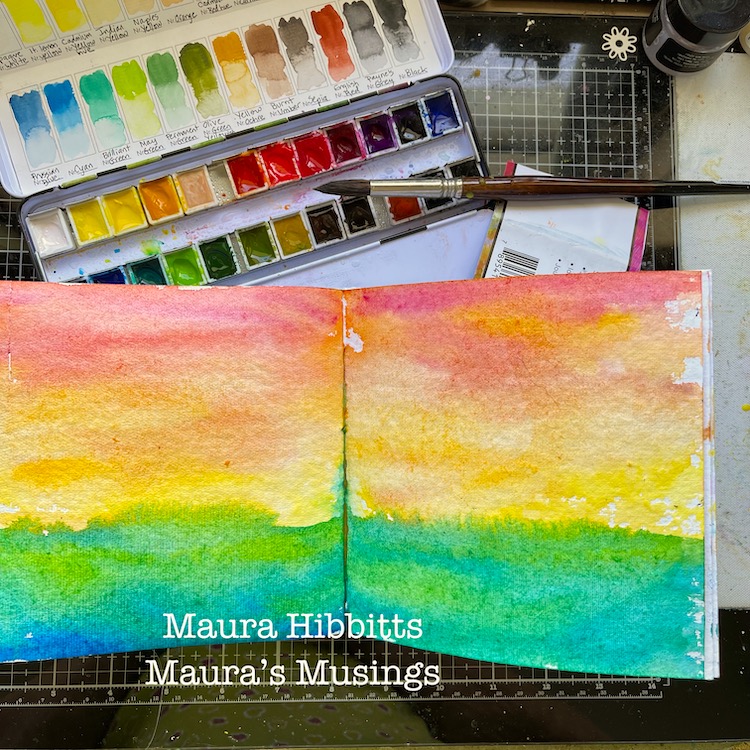 While the background dried, I stamped onto gel prints (any collage paper would work) I had in my stash using a black dye ink. I used Park Boulevard, Broadway and Valley Road stamps from the Circle Jumble large set…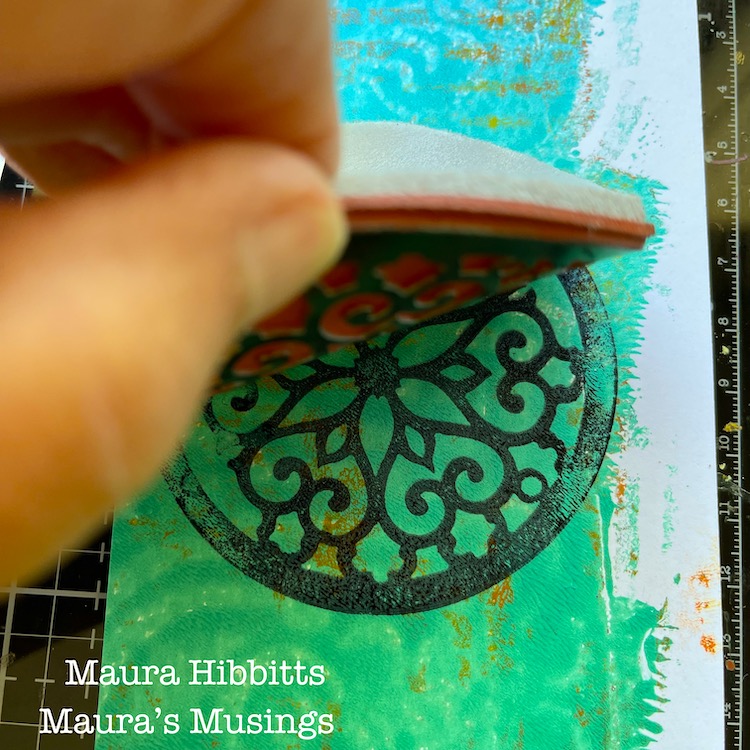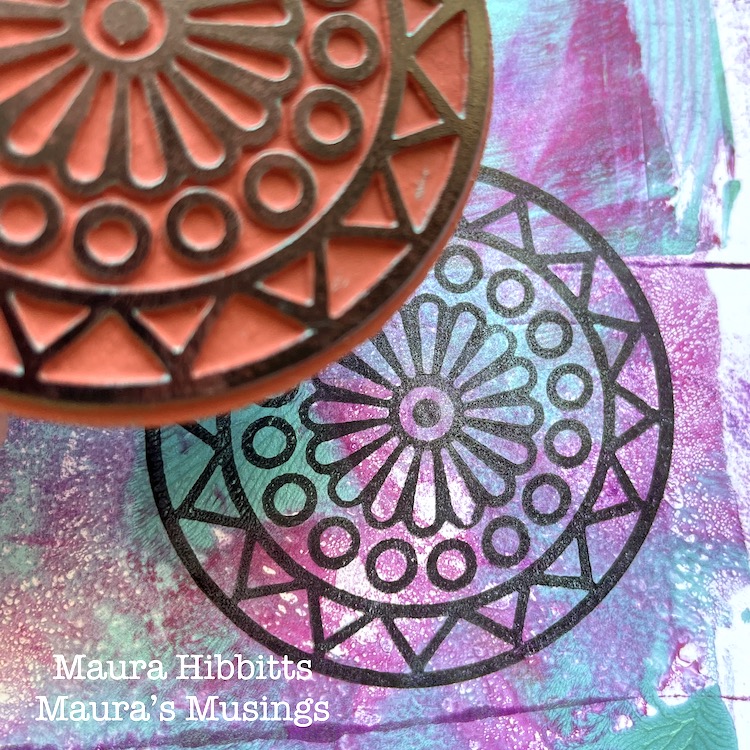 …and the Lily and Fairview stamps from the large Fan-Tastic set by Nathalie.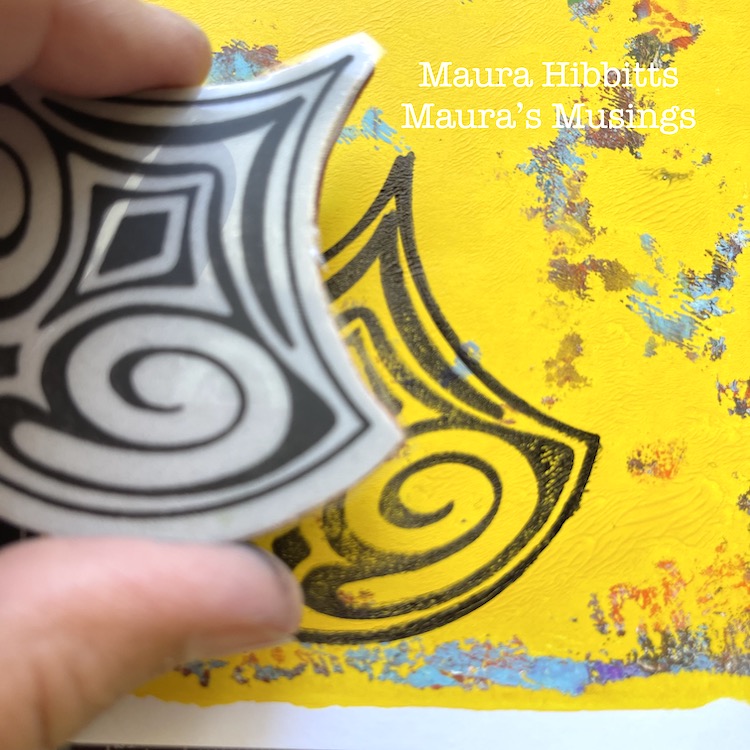 Next step is to cut out the stamped shapes to use as the trees.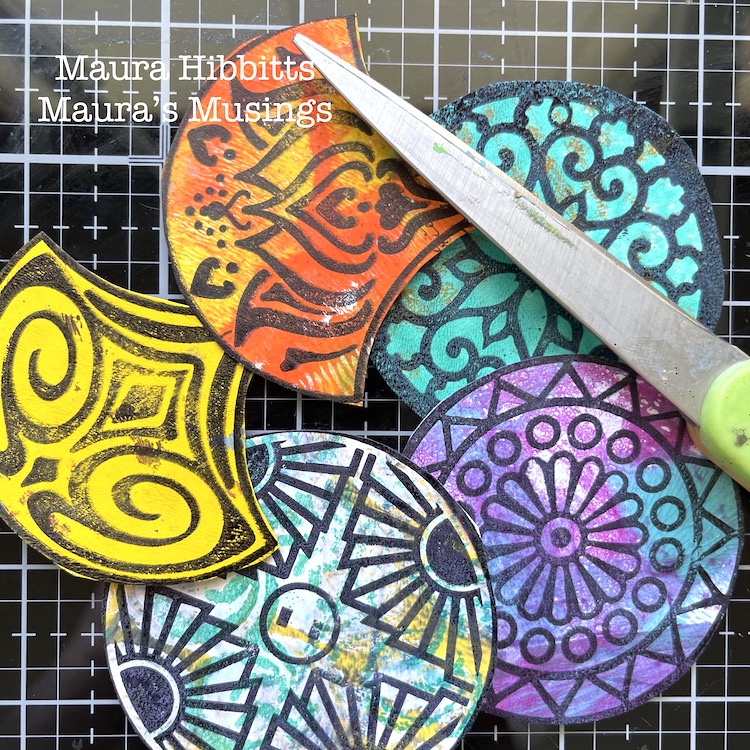 Run adhesive over the area of the tree trunk and layer ribbon down. I used some hand-dyed ribbon I had in my stash, but any ribbon will work. Pleat it a bit to get some texture. Add foam tape to the stamped image and use as the tree canopy. Note – split the center image and space far enough apart so the book will close.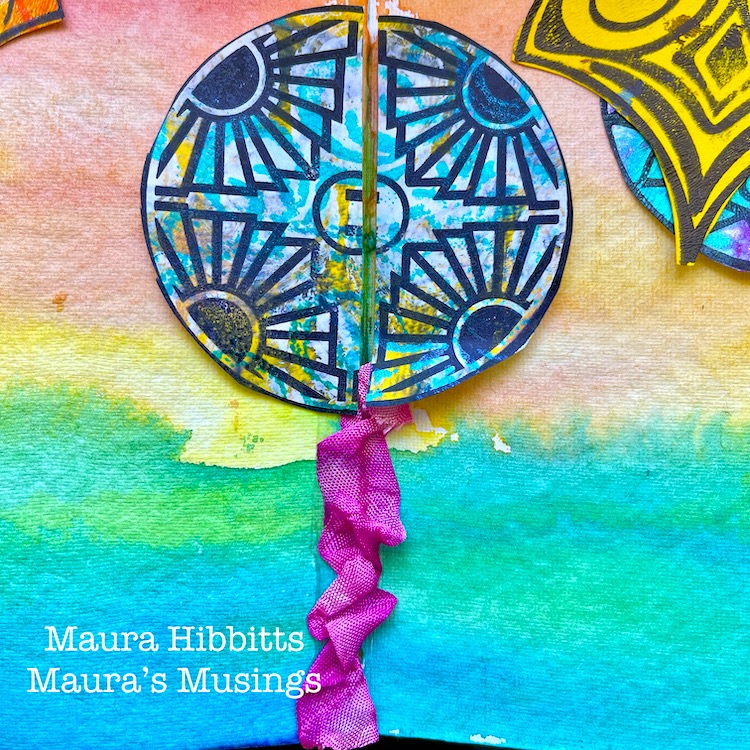 Use the Beacon Positive stamp from the large Hex set, and black dye ink to create grass and flower stems along the bottom of the page.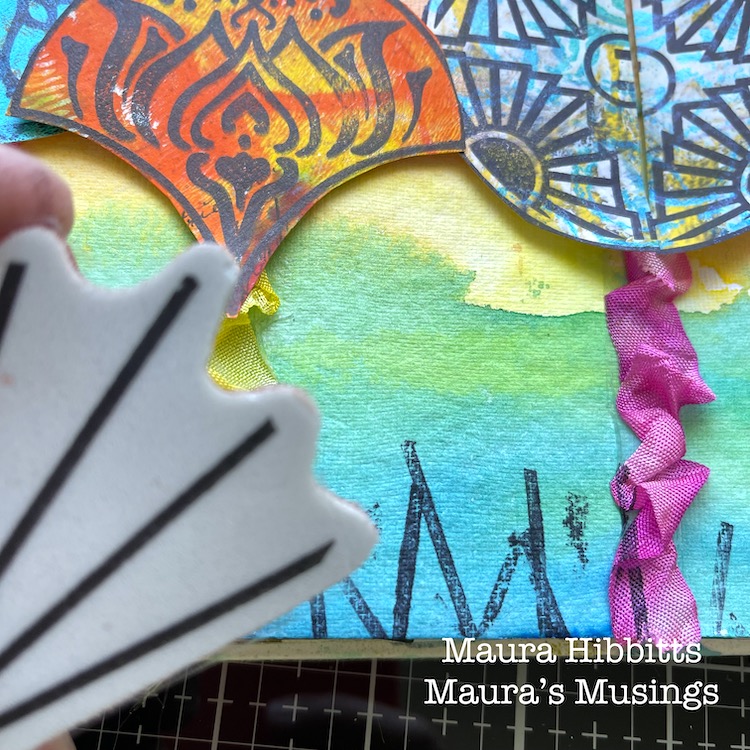 To finish the pages, I hand lettered " A walk in the woods" and added dots to make flowers, using Posca markers.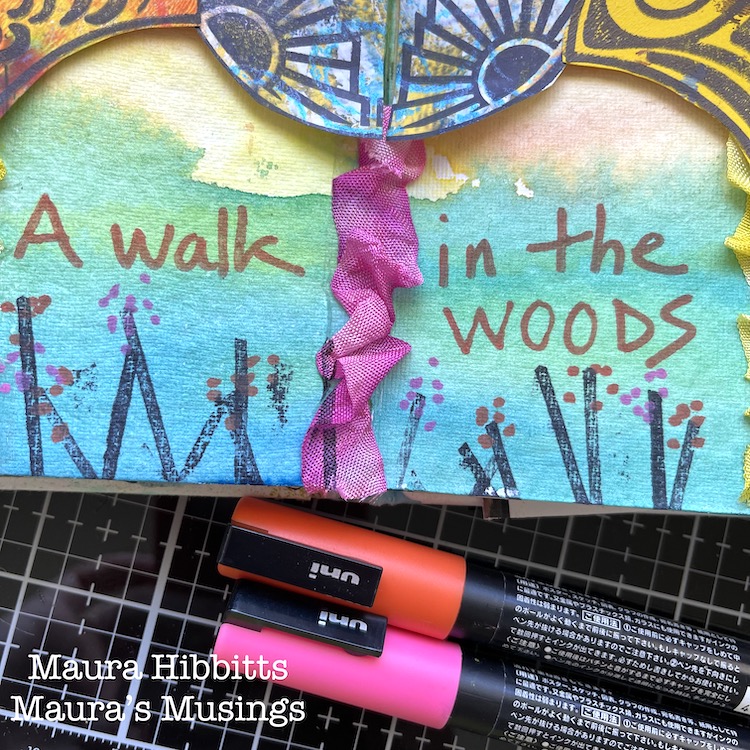 Popping up the tree tops with foam tape, and scrunching the ribbon adds some lovely texture that you can see in the sunlight. Many days, I just observe the trees from my deck and that brings me peace. It is a special day when I can get out to the woods for a walk or picnic. I wish you many opportunities to enjoy the great outdoors this summer! – Maura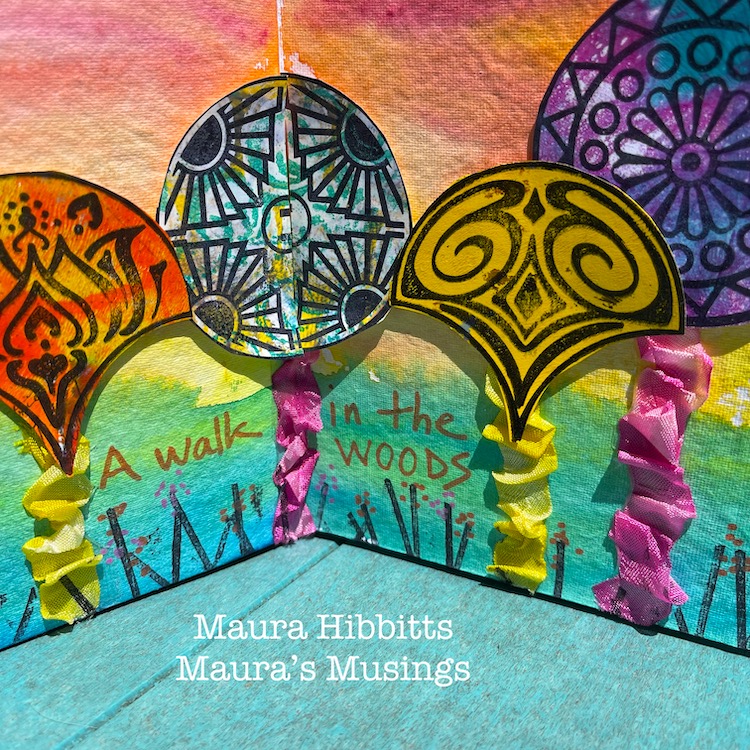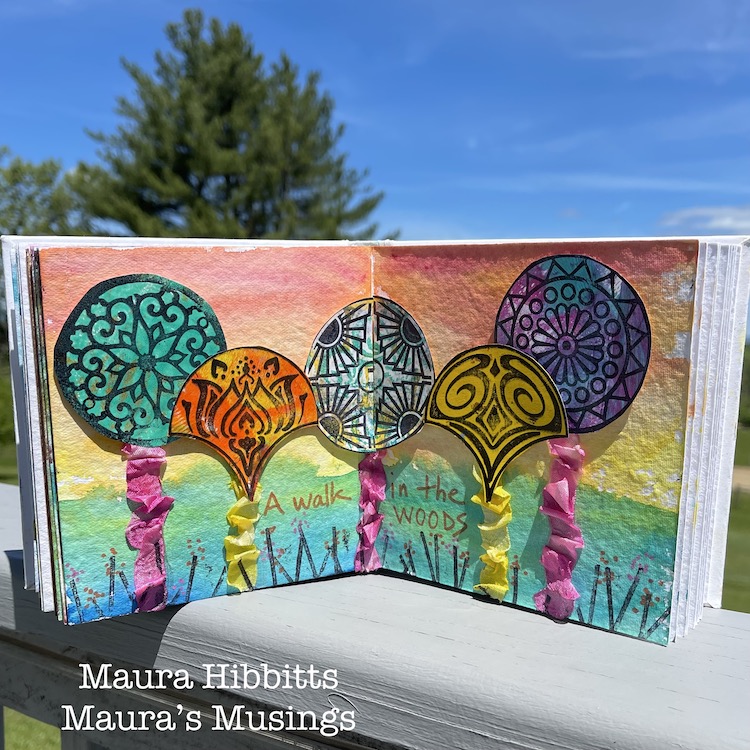 ---
Thank you Maura for this colorful and fun celebration of the outdoors! Love the idea of using all the stamps to create different trees :)
Give it a try: you can find all my Rubber Stamps in my Online Shop and in addition to gelli printed papers from her stash, here are some of the supplies Maura used: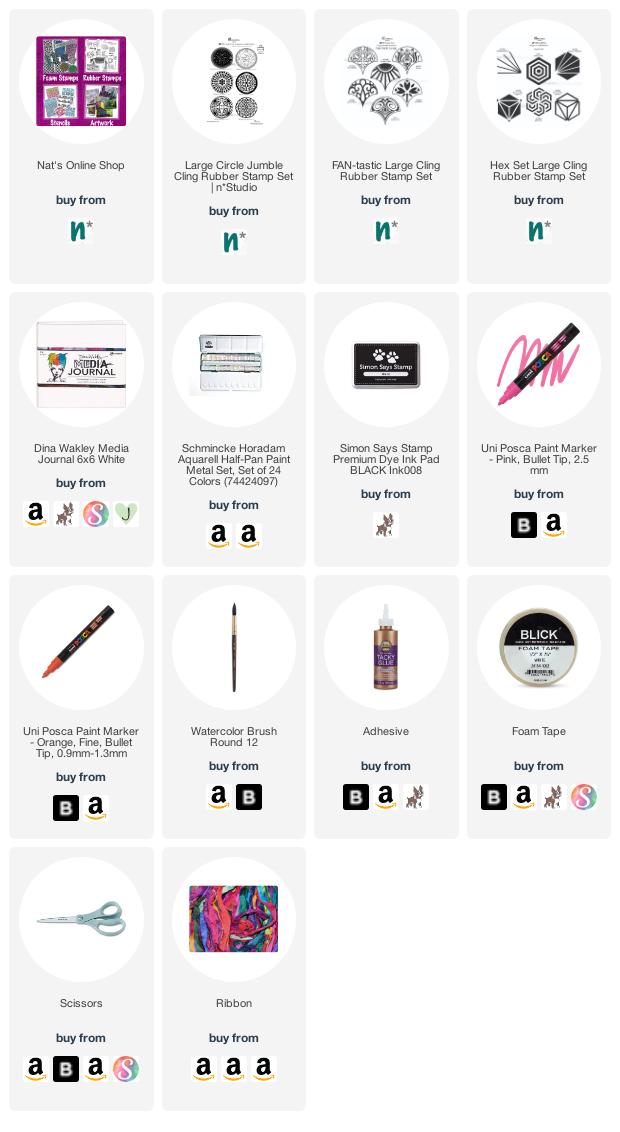 Looking for more projects? Follow the Creative Squad on Instagram here.