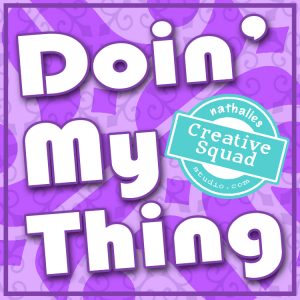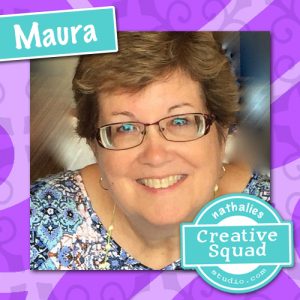 Welcome to a post from my Creative Squad! Here we have a project from Maura Hibbitts, who is using my Buenos Aires Tile foam stamp, Small Circle Jumble rubber stamps, and my Actually I Can rubber stamps to create a couple of stunning bookmarks. Maura was inspired by our theme this month: Doin' My Thing – We all have a unique artistic style and way of working with supplies. This is the time to rock it! Be yourself. Do your thing.
---
One of my favorite things to do throughout my life has been to read. I remember riding my bicycle into the village to visit the library as a kid, and filling my basket up with books to bring home. I always try to read every day, often early in the morning with a cup of coffee, and late at night before I go to sleep. So, I thought making some bookmarks would represent something I love to do.
I pulled out my small 6×6 gelli plate and squirted on some Titanium White, Pyrrole Red and DIarylide Yellow, then blended it somewhat with my brayer. I stamped into the plate with the Buenos Aires stamp to pick up the paint and transferred it to the black paper, and repeated the design to cover the paper.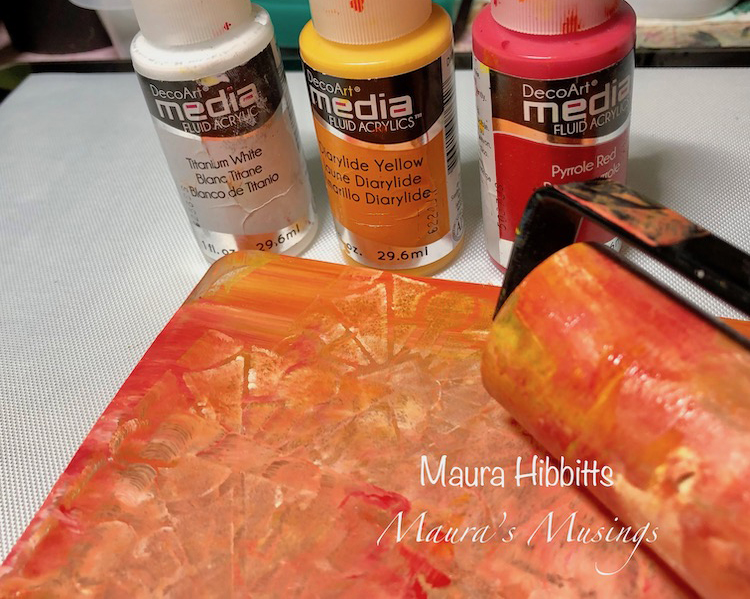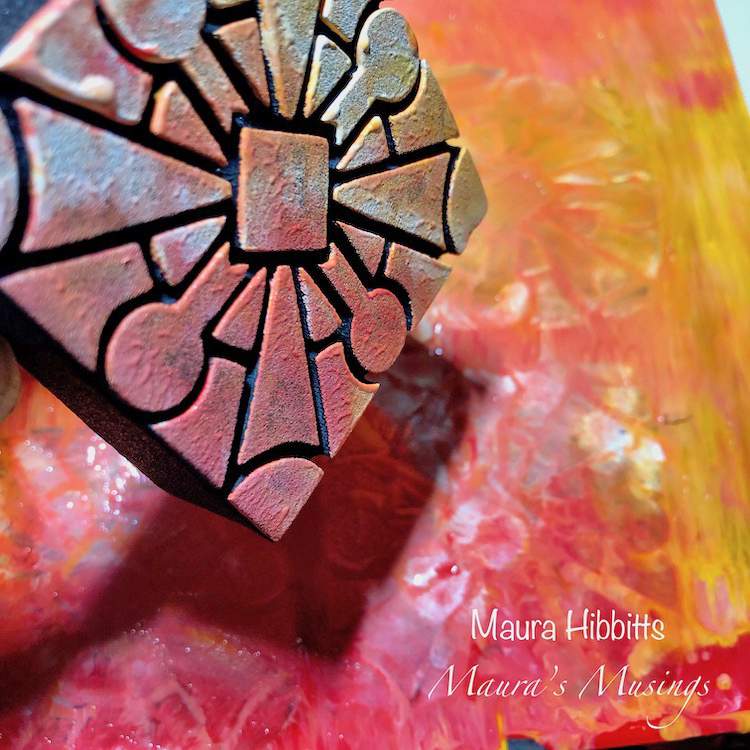 I thought Emperor's Gold would be a good choice for my design, and stamped the small Park Boulevard stamp onto the plate, and then stamped it where the designs came together.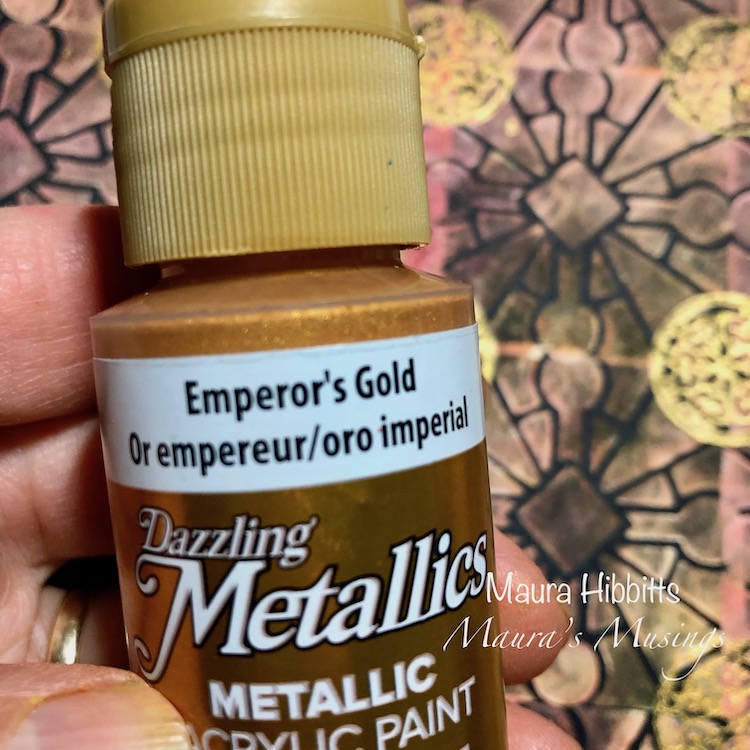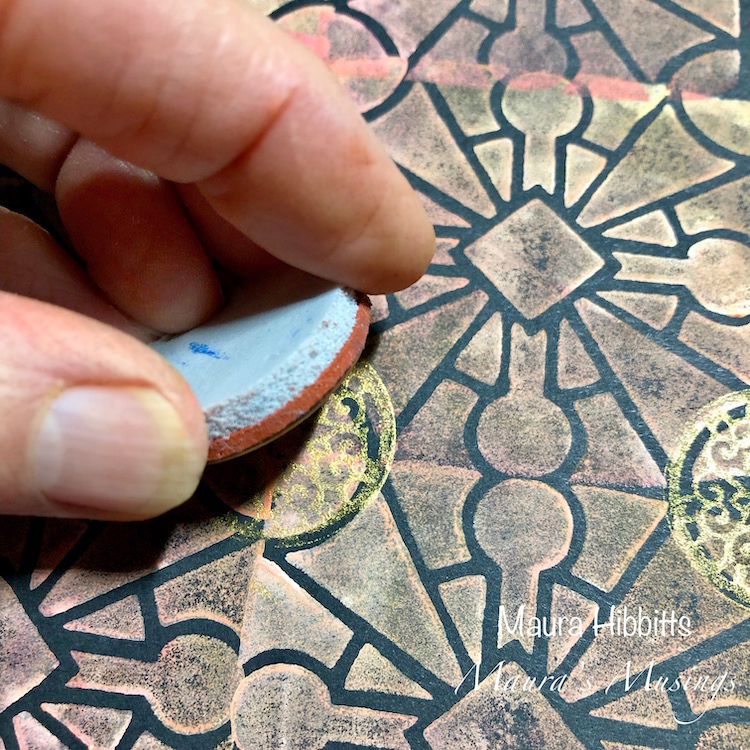 When I looked at my black, red and gold design, it reminded me of some of the traditional colors in Eastern art and fabrics. I decided to add the Maiko image and stamped her in gold onto black paper, and sped up the drying time with the heat tool. Note: be sure to clean the stamp right away when using paint.
I wanted to add a bit more red to my background design, and added in some marks with the red paint and the eraser on a pencil. I dried this with the heat tool, then cut the paper into strips for the bookmarks.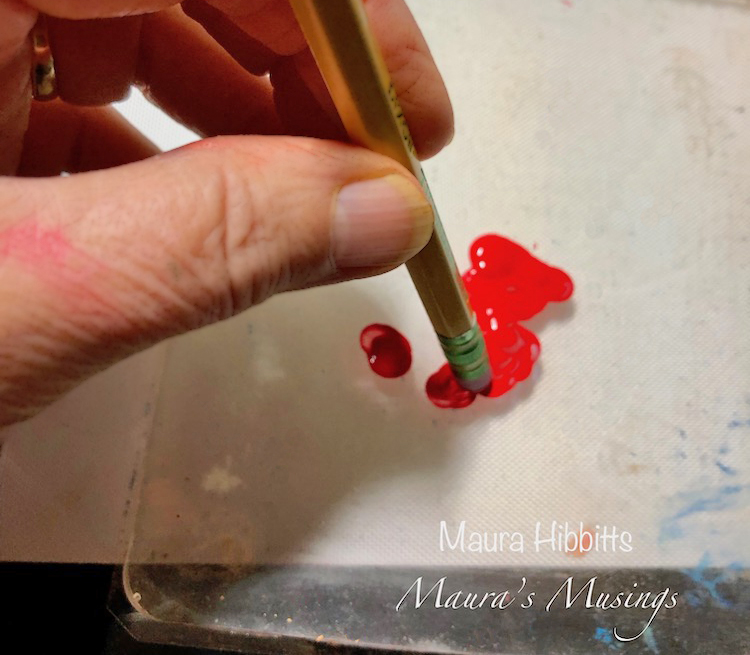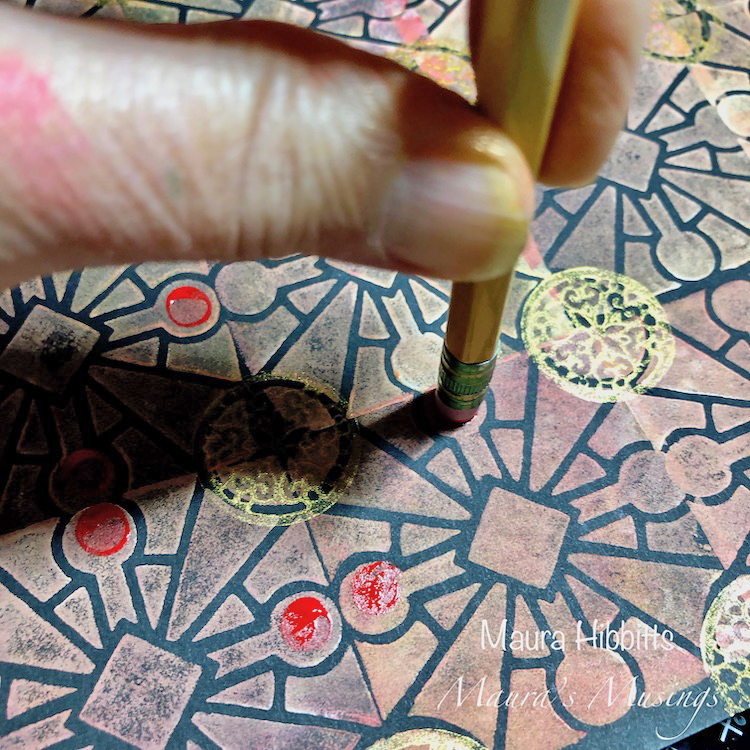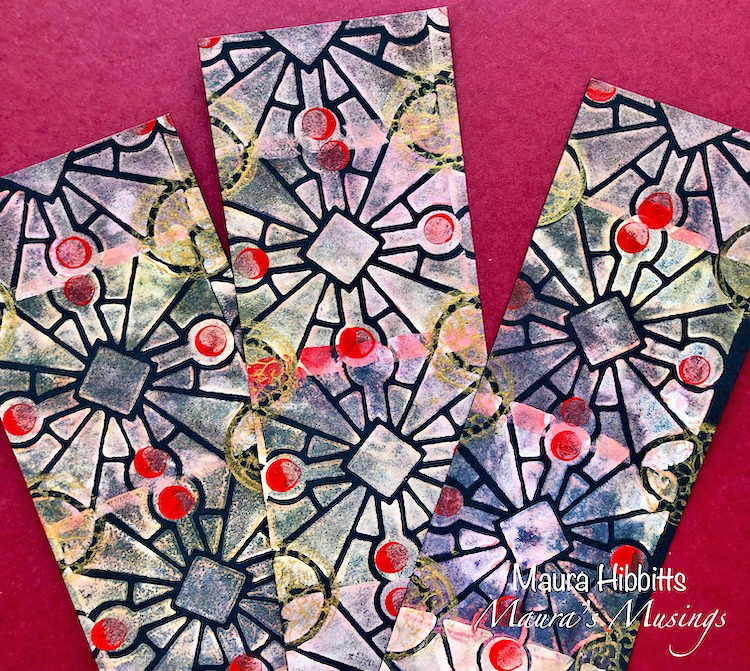 I decided to add in a few highlights to Maiko's outfit and stamped the fan onto gold paper with black ink, and the belt onto the red paper I was using. After I cut out the belt and set it in place, I decided it needed to be outlined in gold, so I used the gold pen to do this.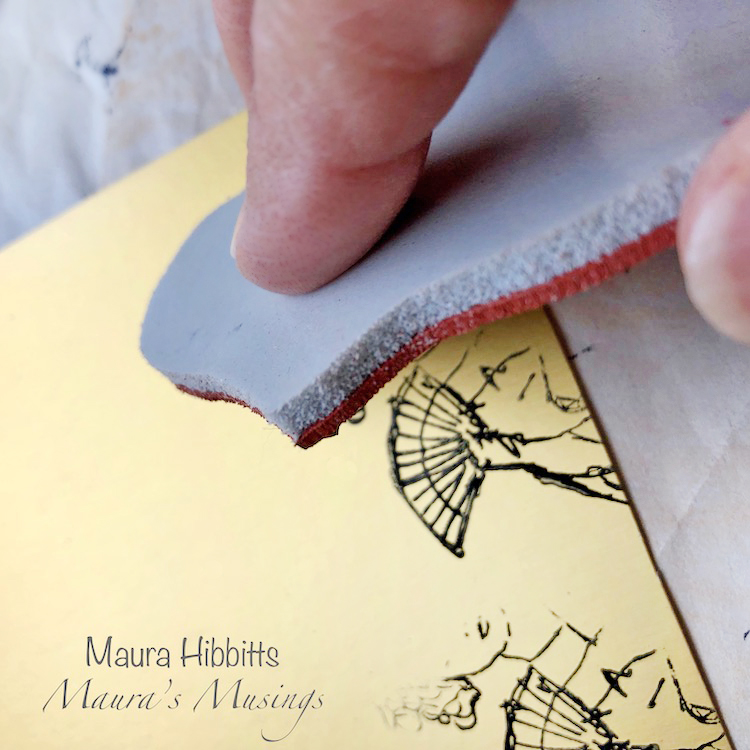 I layered the cut strips onto the red card stock after I edged them with the black ink. Then, I added Maiko. Next, I used a small oblong punch at the top, and finally tied on some red or gold sari ribbon along with some special red and yellow thread I purchased at a Hindu temple in India.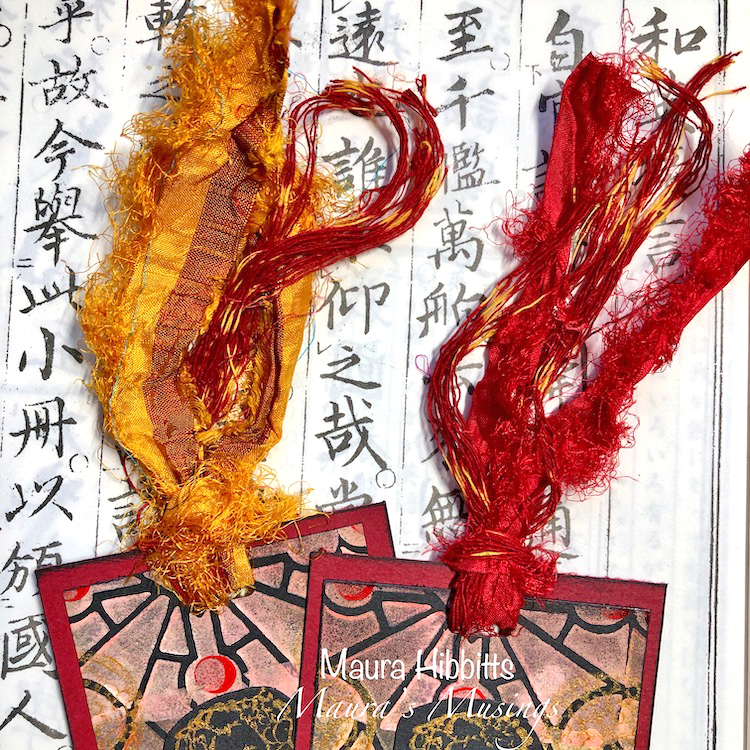 I love doing my own thing, and hope I can always find time each day to do a little reading. A special bookmark to hold your place makes reading extra fun.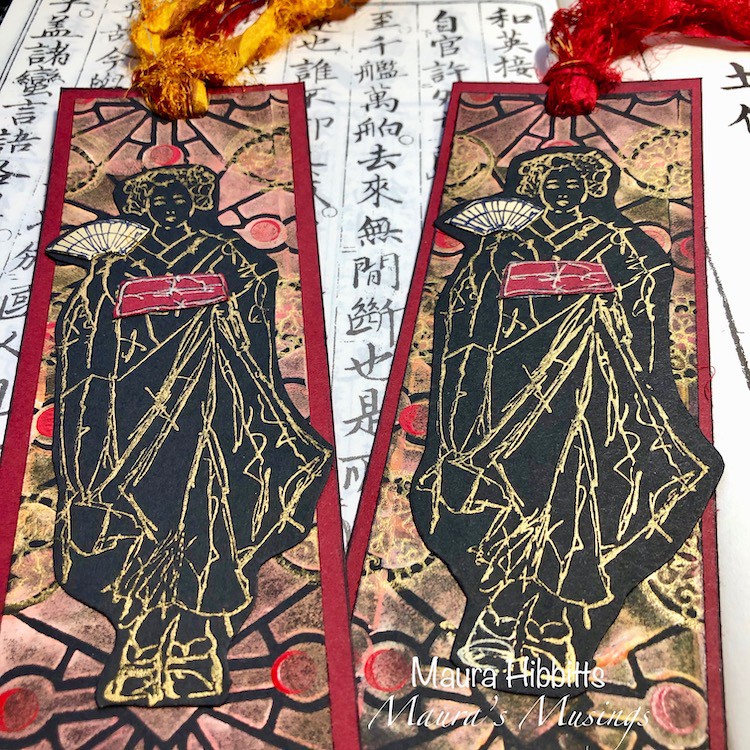 ---
Thank you Maura! I just love how that Maiko stamp looks in gold! You can find all of my foam stamps and rubber stamps in my online store . Here are some of the other supplies that Maura used:
Feel inspired? Working on something yourself that you'd like to share?  I love to see how you interpret our monthly themes. Email me how you used my stencils and stamps with the theme and email me an image – I would love to share your projects in my next  "n*Spiration From Around the Globe".