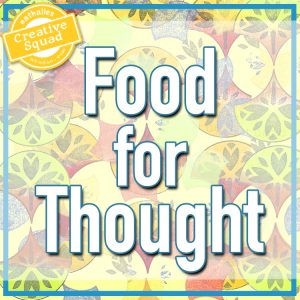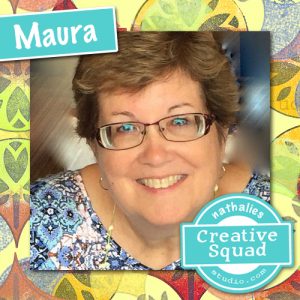 Hello from my Creative Squad! Today we have a cute project from Maura Hibbits for all you chefs out there (or maybe hat enthusiasts???)! She is using my Park Blvd stencil and my Solid Fan and Fantastic Large rubber stamps, along with this month's theme: Food for Thought – Let's take a lighthearted look at food! While the culinary world has become an art and a science in terms of preparation and presentation, sometimes it is the simplest foods that bring us the most joy. Simple fare or elaborate family traditions, we all have our favorite foods. What is yours?
---
Do you have a King or Queen of the kitchen at your house? Anyone who loves to cook? Why not create a crown themed chef's hat for them? One of my sisters loves to cook, and loves the color purple which got my muse thinking. I found a canvas chef hat in my stash, and purple made me think of royalty, hence the crown reference.
I started with simple materials for my project, chef hat, stencil, stamps, and paints. Of course, this could easily be done on a canvas bag too.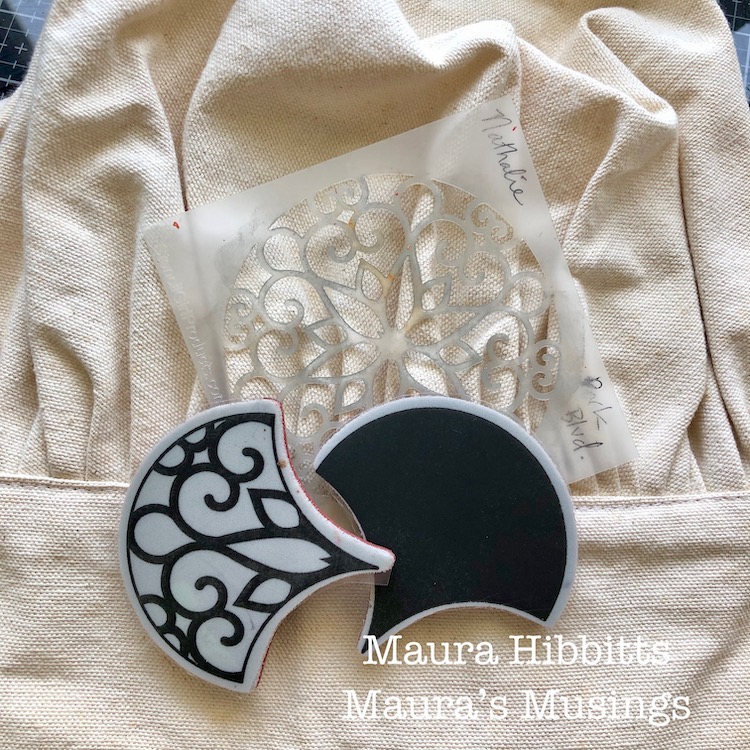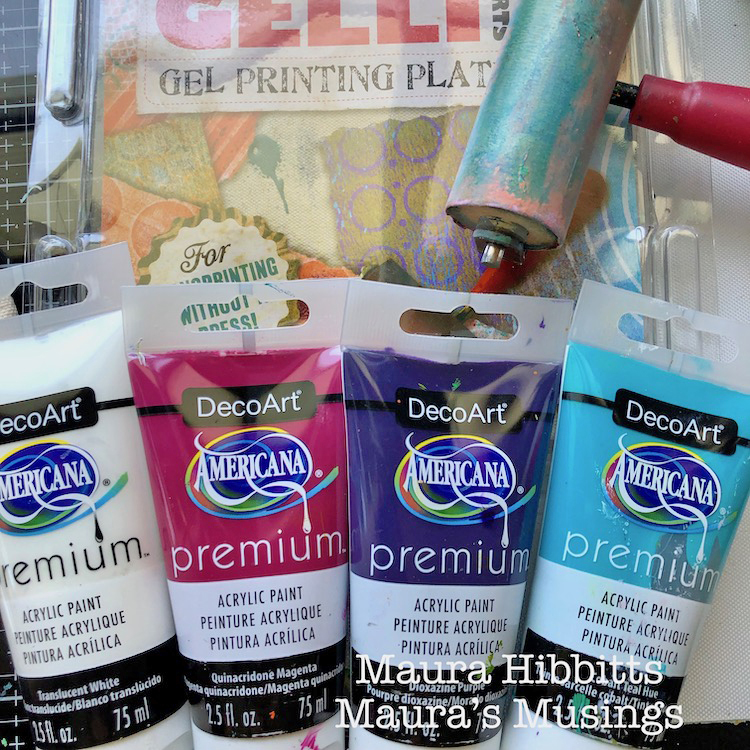 My first step was to stencil around the headband portion of the hat with Nat's Park Blvd stencil. I used a cosmetic sponge with the Cobalt Teal Hue acrylic paint and dabbed lightly. In retrospect, I would have waited to do this step until after I did the fans, which would have made the placement better. I also would have lightened the blue. Oh, the things we learn as we go!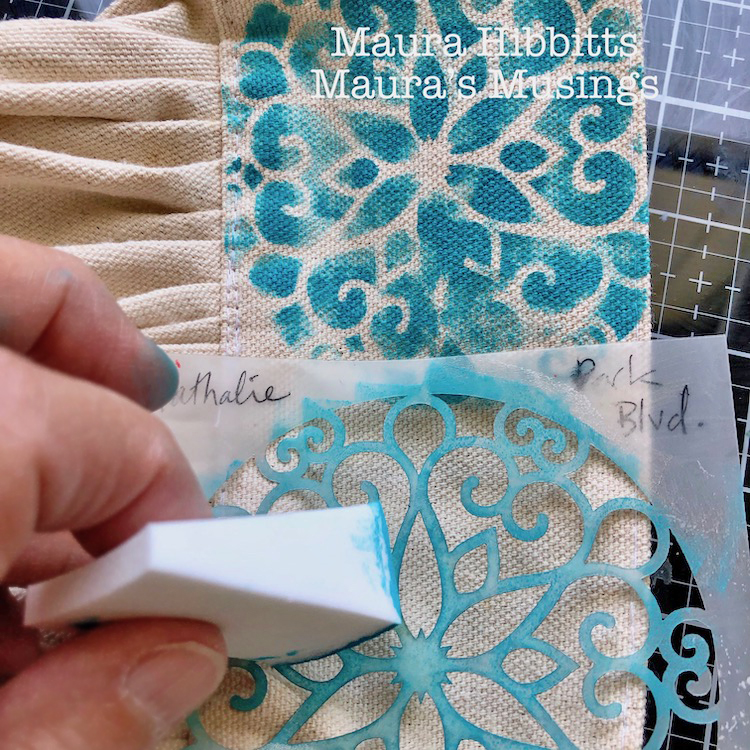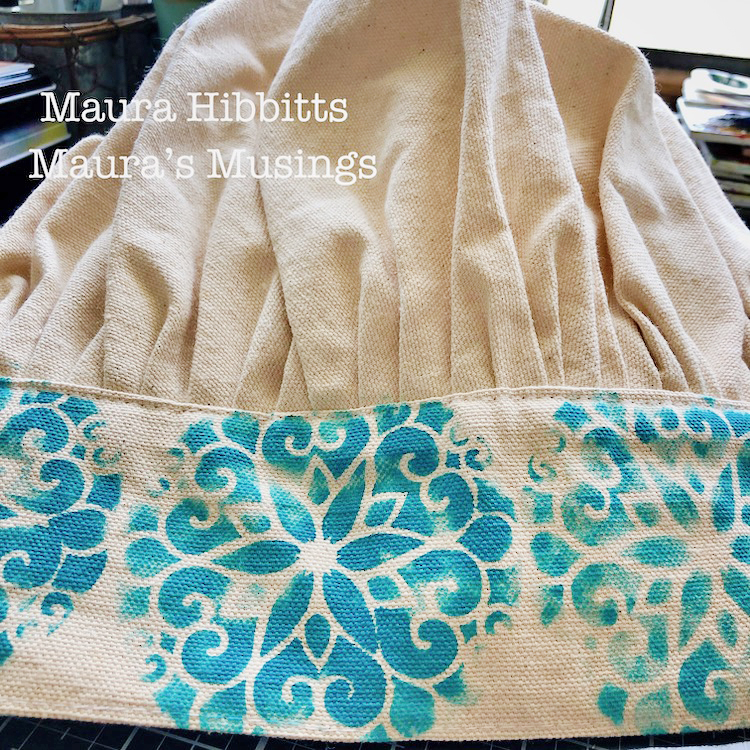 I blended the Dioxazine Purple and Translucent White on the gel plate with the brayer, then used this as a stamping base for the Solid Fan. I found I had to repeat the paint stamping onto the hat two to three times in order to get it dark enough.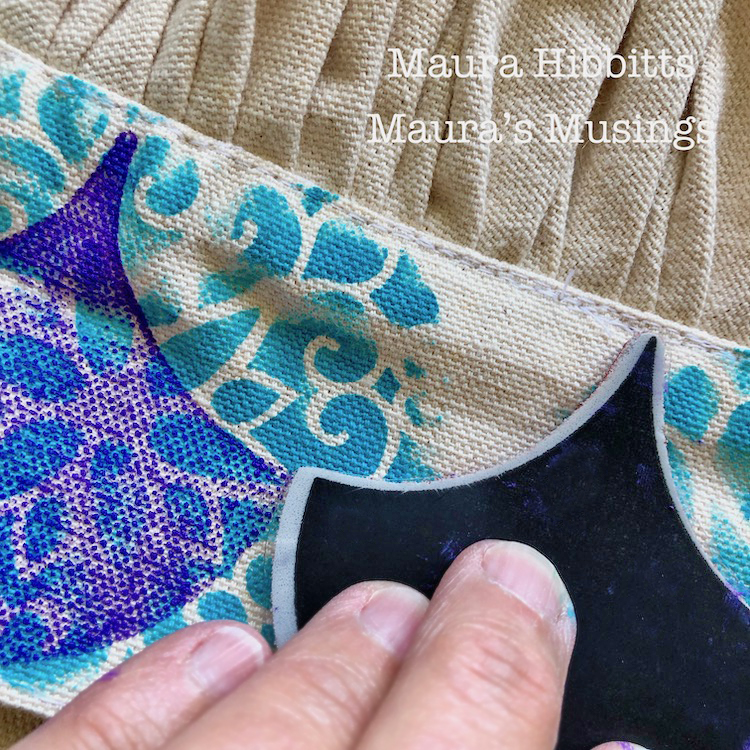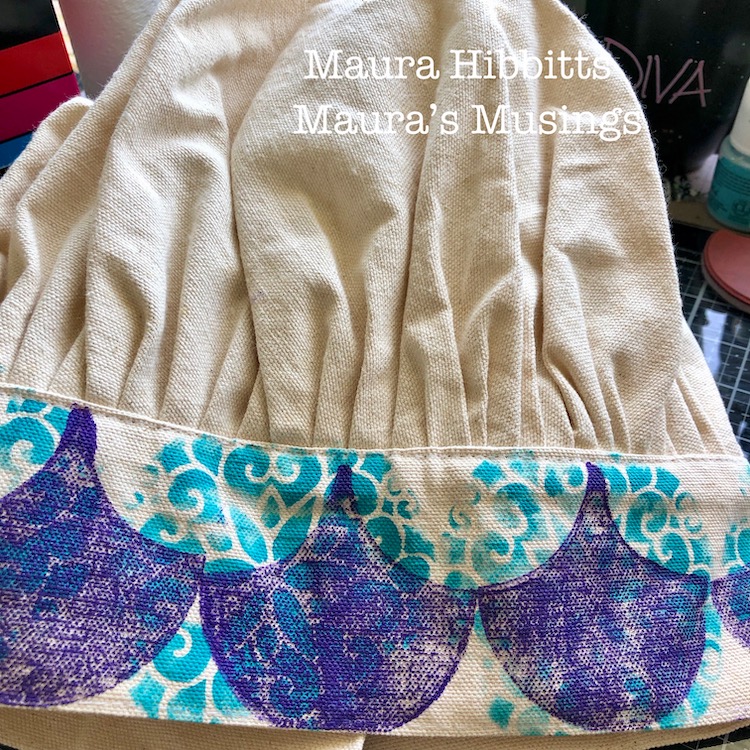 Next, I blended Quinacridone Magenta and Translucent White on the gel plate, and stamped into this with the large Park Avenue Fan to transfer it to the hat. I stamped this design on top of the solid fans around the brim. Then, I decided there wasn't enough contrast, so mixed a second blend using more white, and re-stamped the design. If you look closely you can see a shadow effect.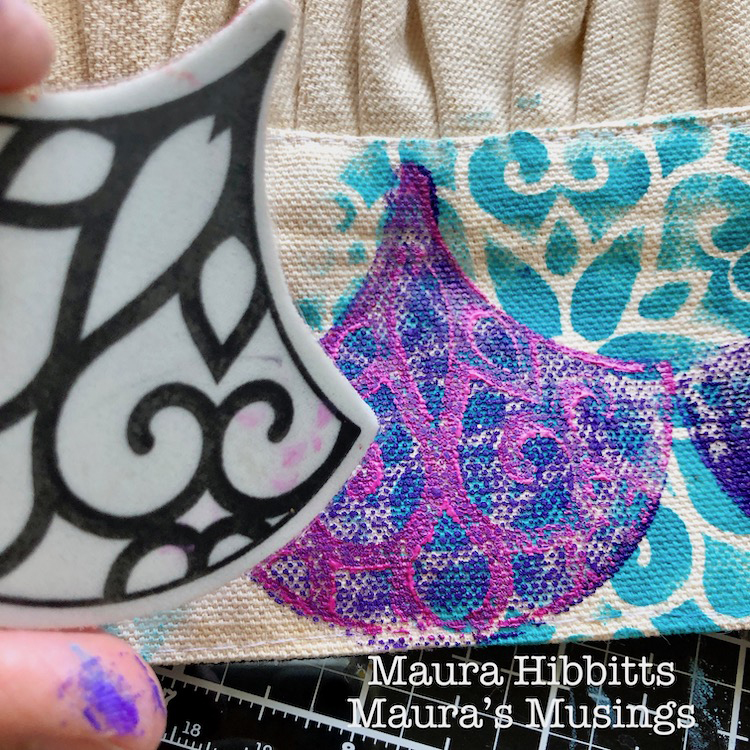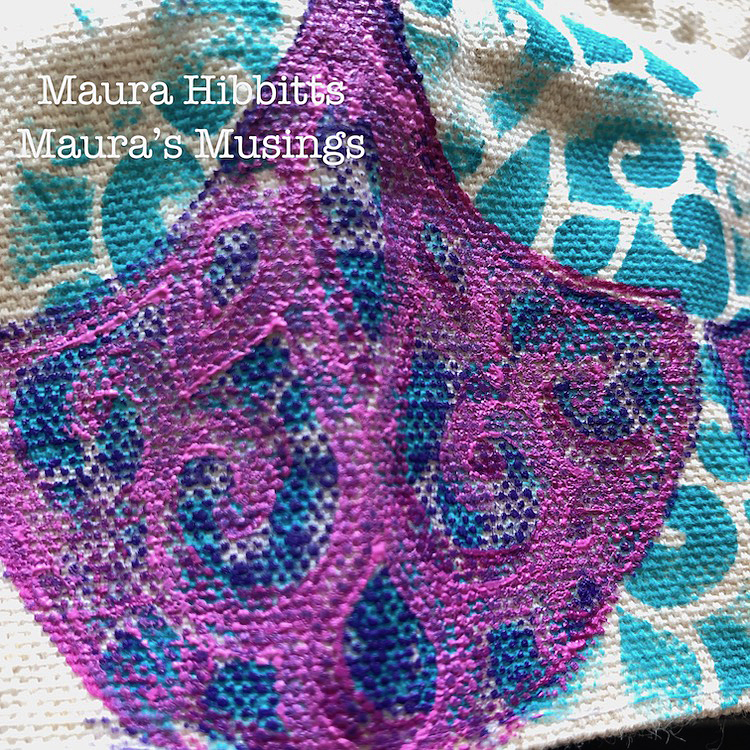 To create a royal feel to the chef's hat, I outlined the fans with a gold acrylic paint pen.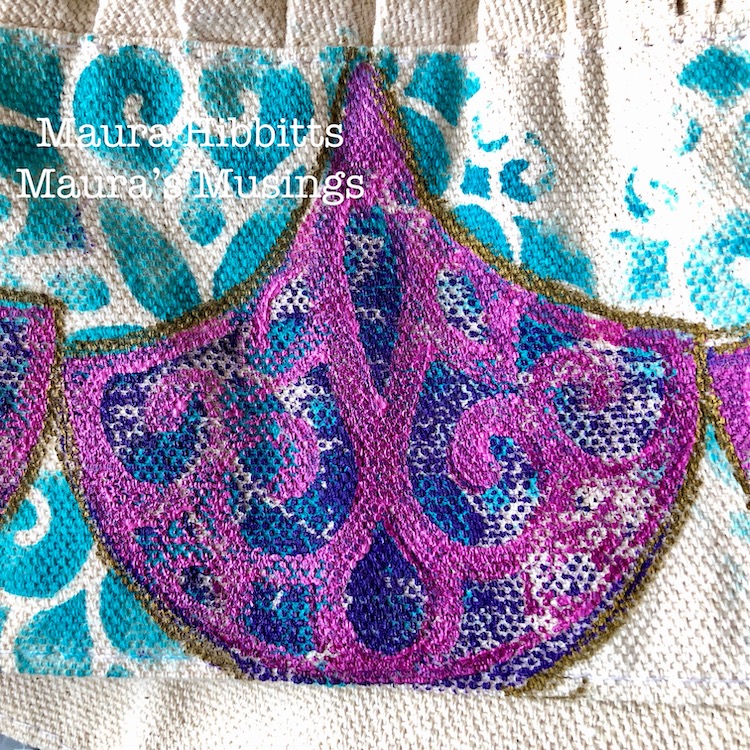 Then, I figured a "crown" needs jewels, so sewed a purple button to the top of each fan.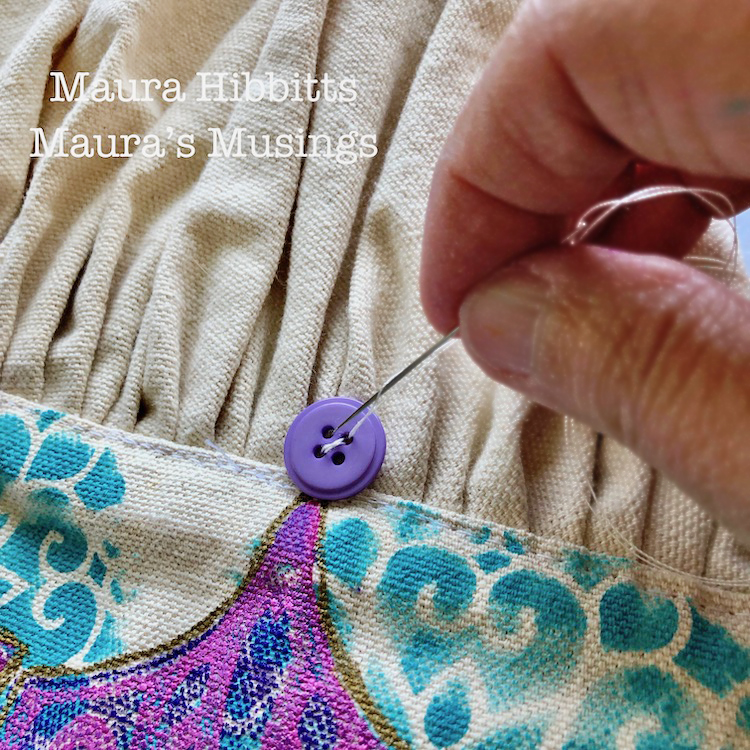 Time for the "foodie" shot, so I am modeling the Royal Chef Hat.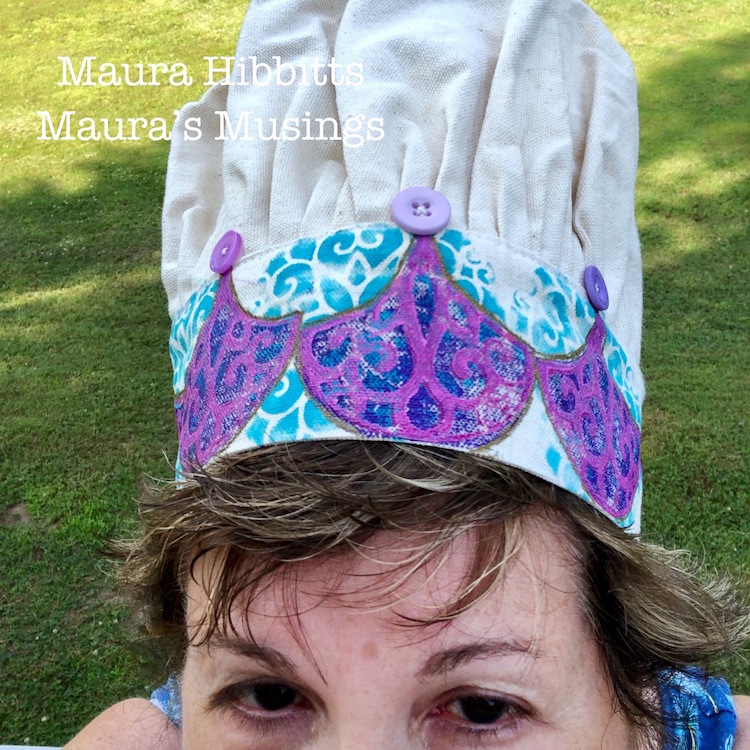 I can't wait to see my sister's reaction when I hand her the Royal Chef Hat in honor of her love of cooking and creating. I think it's a good thing she enjoys wearing hats, even weird ones that look like a dragon or jester, lol. Time to honor the Queen of the Kitchen!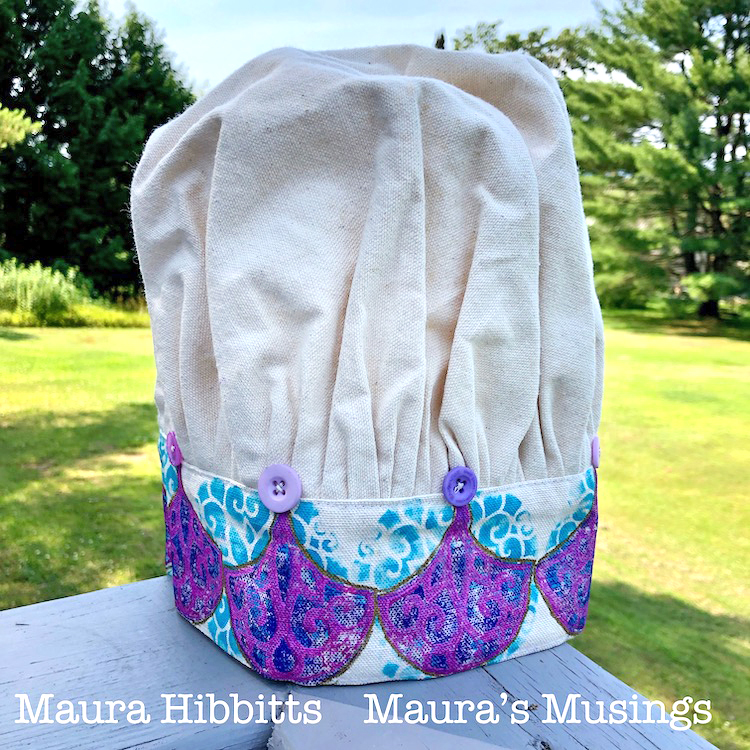 ---
Thank you Maura – I love the idea of donning one of these in the kitchen :) You can find all of my Rubber Stamps and my Stencils in my online shop. Here are some of the supplies Maura used: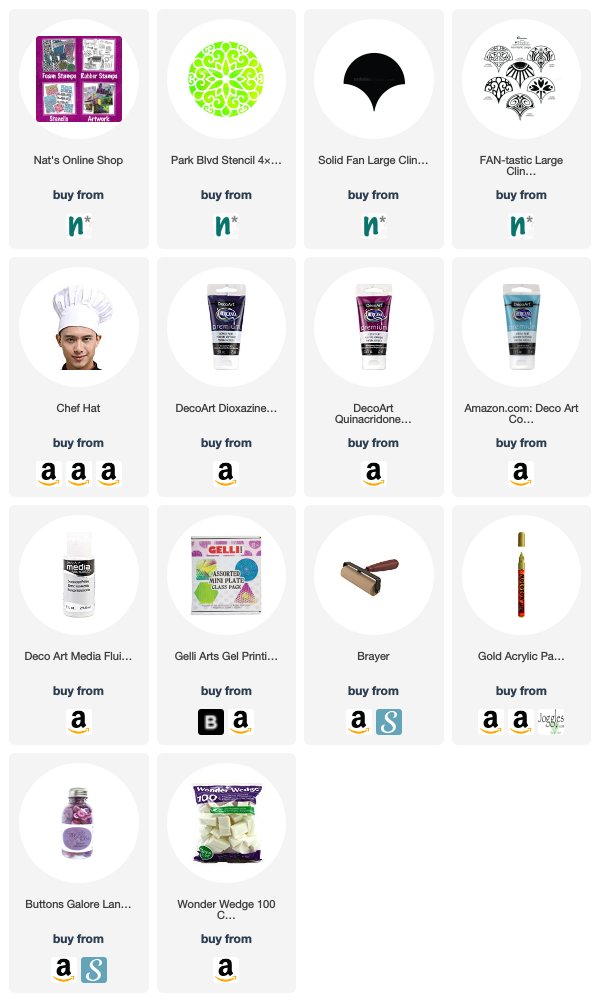 If you are working on something yourself that you'd like to share, please do! I love to see how you interpret our monthly themes. Email me how you used my stencils and stamps with the theme and email me an image – I would love to share your projects in my next "n*Spiration From Around the Globe".