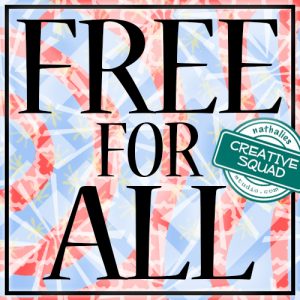 Hello from the Creative Squad! Today we have a cool mixed media piece from Marsha Valk that smartly uses up some of those extra stenciled and stamped papers we all have in our stash. She combined my Buenos Aires Tile and Santa Fe ArtFoamies with a bunch of my rubber stamps and this month's theme: Free for All! It's time for summer vacation and relaxing so around here the Creative Squad is taking a break from themes this month. They're just going with the flow and making a project of their choosing. It's a Free for All!
---
I have piles and piles of prints sitting under the desk in my workspace, waiting for a fun project to use them on. So for this month's theme, I dug out a couple of prints I made previously using Nathalie's Buenos Aires and Santa Fe ArtFoamies! I wasn't sure what I was going to do with them, but whilst sorting through the pile of prints, I came across an illustration I did a couple of years ago. I decided to use it for my project.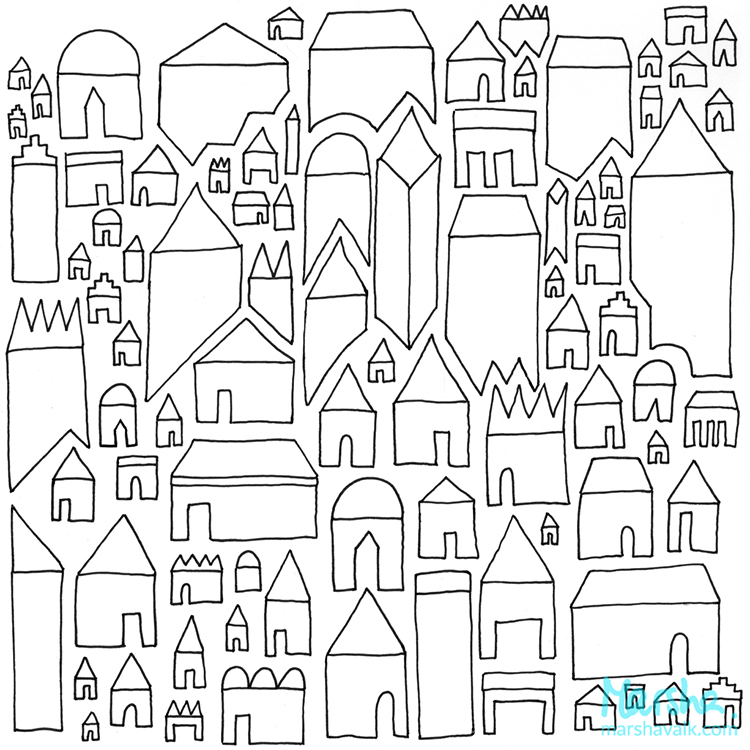 I scanned the illustration, loaded the image into the Silhouette Studio software on my laptop and traced the image and made it into a cut file.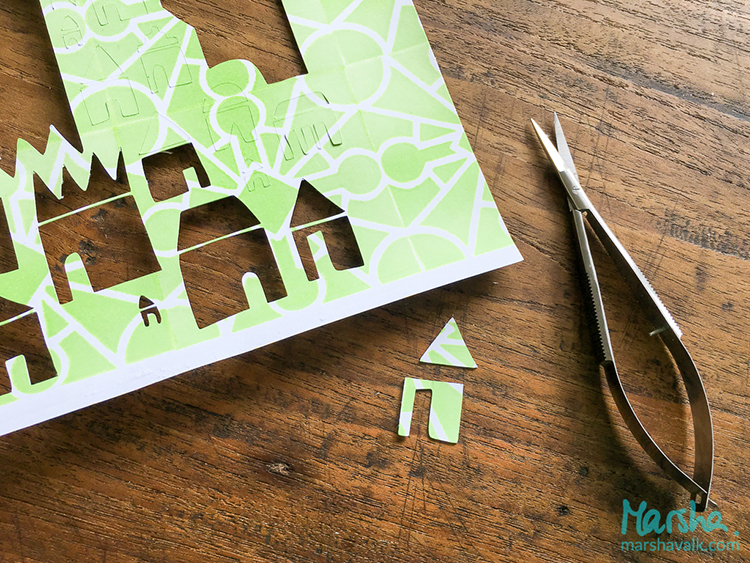 Then I mounted one of the stamped sheets of paper onto a Silhouette cutting mat, fed it into the machine and let the machine cut out all the little houses. I let the Silhouette cut the same houses from three different sheets of stamped paper. I added more stamped images from the Stroll Through the Hood 1 & 2 sets, the Embroidery set, and the Cardboard set with black ink to two of the sheets before cutting.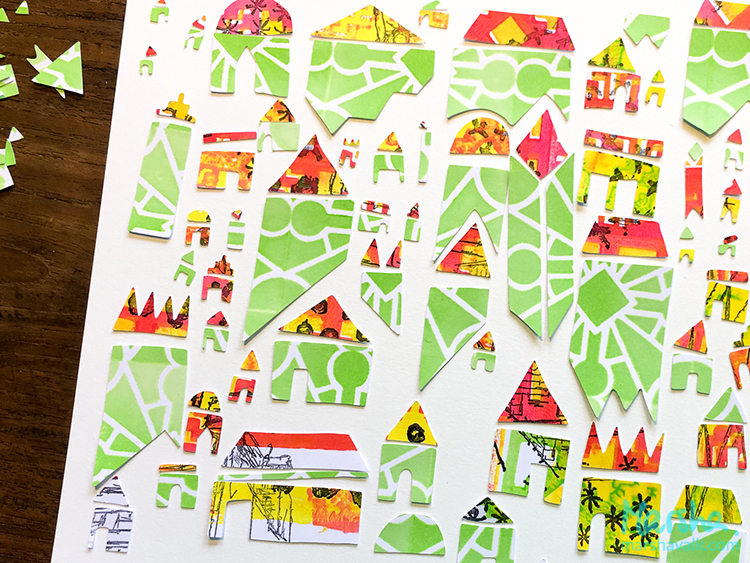 With all houses cut three times, I started arranging the little village onto a blank piece of paper, mixing parts from all of the different background papers.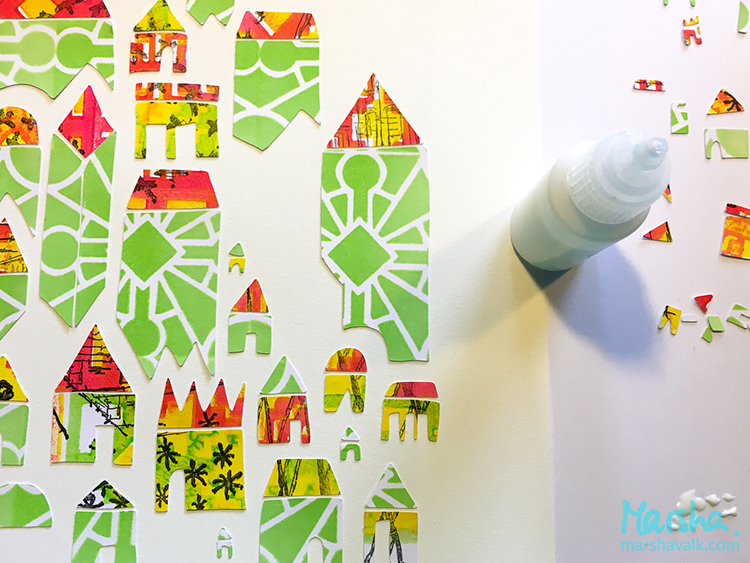 Once I was happy with the arrangement I glued everything down.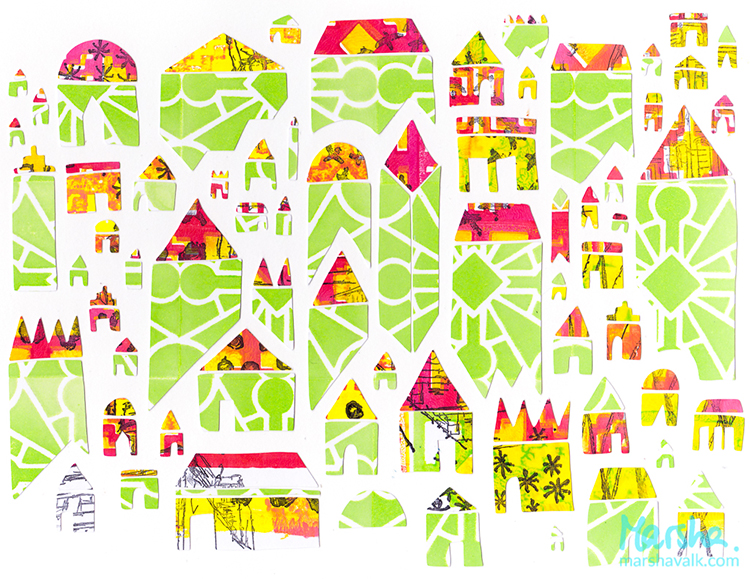 I wanted to add black outlines to the cut-outs, but because some of them are super tiny, I was afraid my pen would slip. I didn't want to mess up the original, so I scanned the collage and doodled on top of a print instead.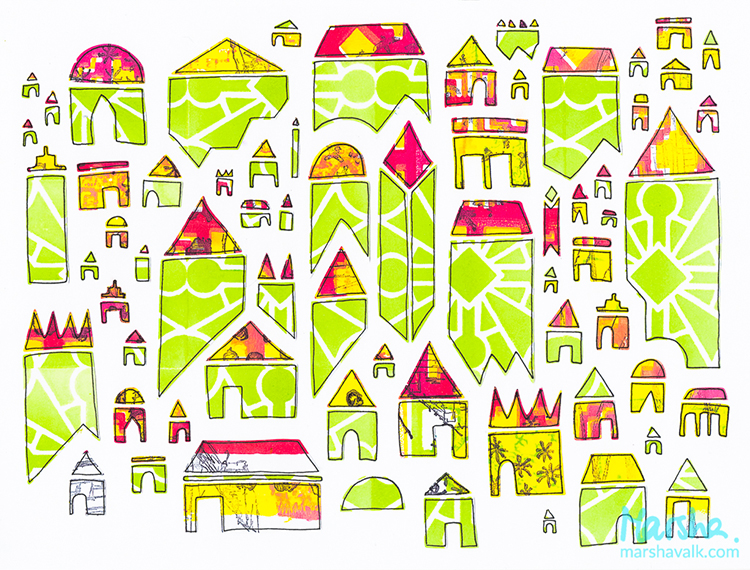 ---
Thank you Marsha for such a unique project! In addition to a scanner, Marsha used the following supplies in her project (some are affiliate links):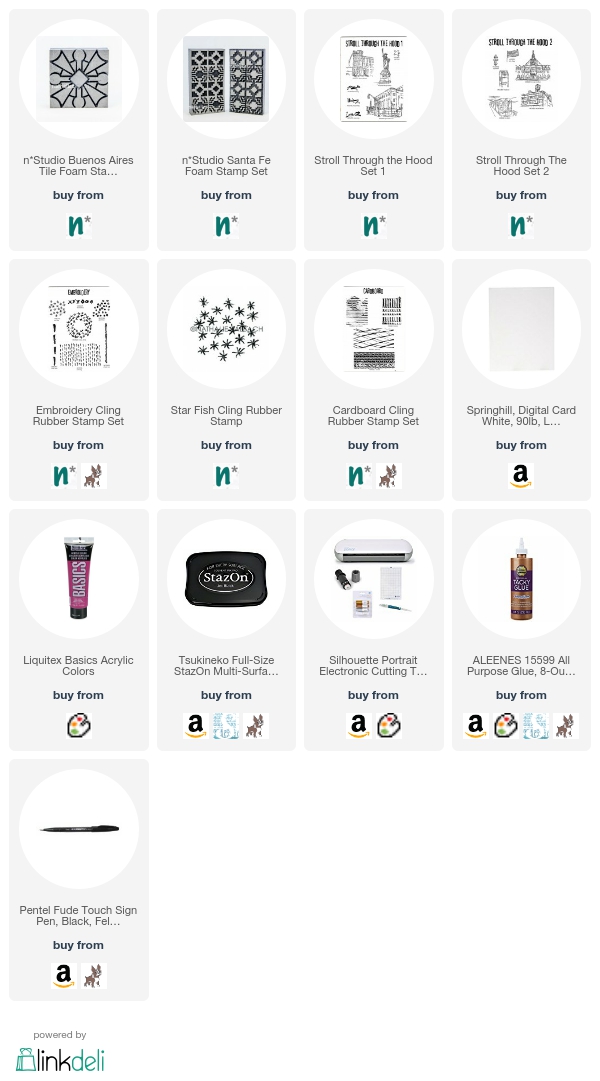 Play along with us and share how you interpret our monthly themes. Email me how you used my stencils and stamps with the theme and email me an image – I would love to share your projects in my "n*Spiration From Around the Globe".