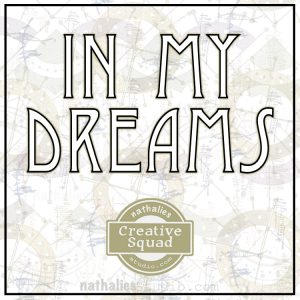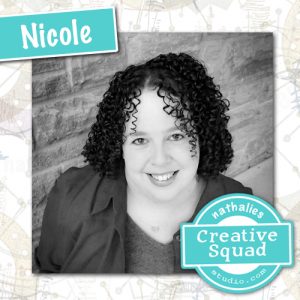 Hello from my Creative Squad and one final post from the super talented Nicole Watson! Nicole has been with us for a year now, sharing her gorgeous painterly style of art journaling with us each month and usually including a beautiful video too. We've loved seeing her step by step artistry in action and we can't wait to continue following her online now too in all her creative adventures. For her final post, Nicole is recreating a dream using my Wabi Sabi and Mini Motifs rubber stamps and this month's theme: In My Dreams – A lot of folks are having crazy dreams these days. What visions do you see at night? Are you sleeping at all? Let us get a peek into your nocturnal adventures through your art.
---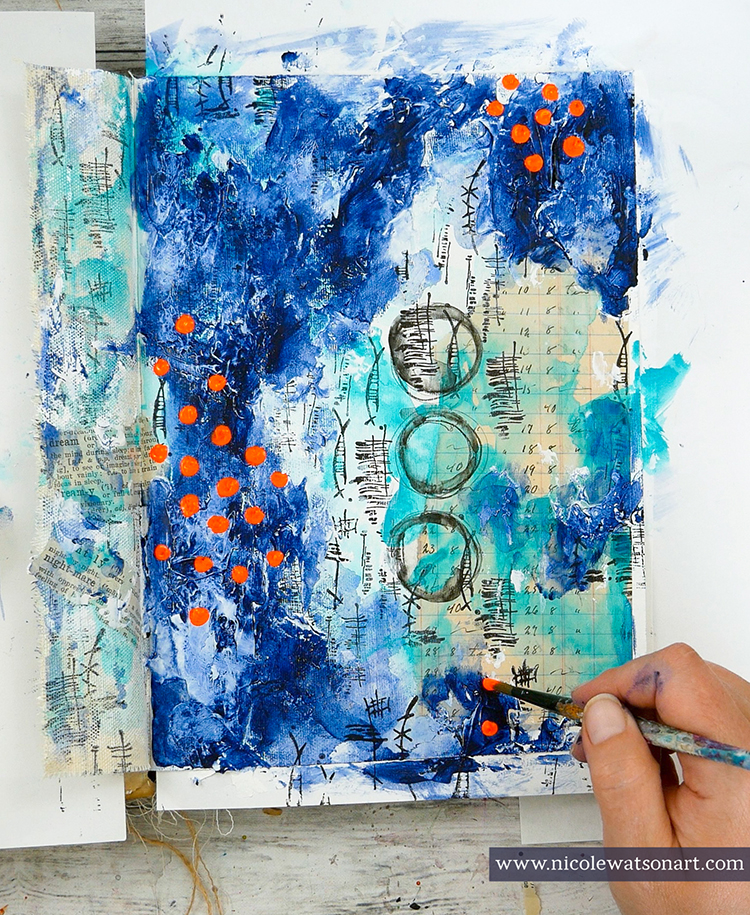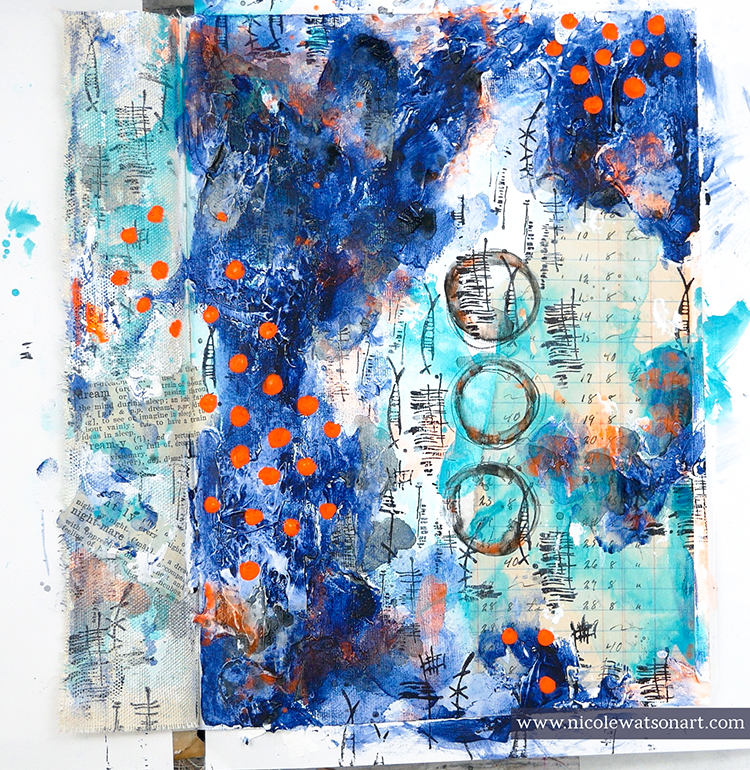 Shortly after receiving our September assignment, I had a pretty crazy dream. I don't often remember a lot of details of my dreams as they are layered with complications, but you'll understand in a few sentences why I remembered this one!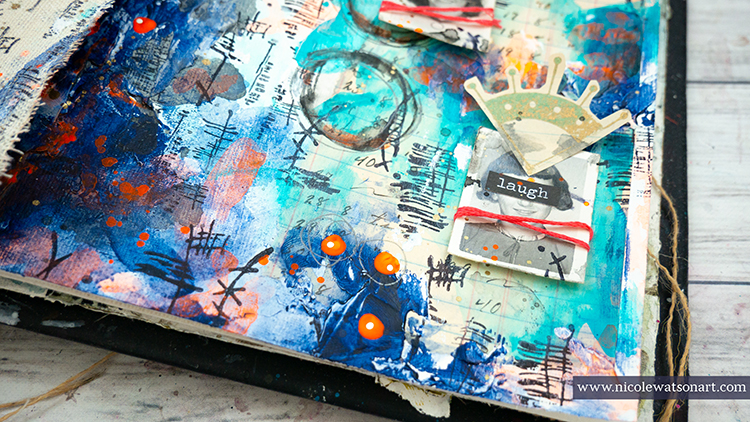 I'm going on almost two years of being unsettled. From packing to move, moving into a new house, unpacking, and wanting nothing more than to finish unpacking so we can finally feel settled again! What stands in my way is waiting on warranty fixes on our new construction home. Then, I can finally hire painters to turn my walls from plain white to a lovely shade of gray with some crazy, fun accent walls. My husband and I painted 90% of our last home. We had to hire someone to paint the tall stairs area, but the accent walls and main walls were all painted by us. This allowed us to realize that picking "mushroom mist" for our bedroom was a huge mistake. For this reason, it's making me super nervous to pick the right colors and release total painting control to someone else. (Not to mention being an artist and a bit picky about quality cut-ins and straight lines!)
These painters showed up in my dream recently. I can't tell you all the events and play by play, but I can tell you that when the painting was completed, I was furious! They were so proud of their work as they opened the doors to show us their designs. Room upon room were full of crazy, painted designs. The only one I vividly remember was fish in the guest bath and lots of sparkly gold. I couldn't understand where they had gotten all the colors until I saw my empty Golden paint bottles in my studio room.
Nightmare, right?
Since the only specifics I could remember were the fish, and I didn't really want to paint fish, I chose to create a page reflecting the crazy nature of my dreams.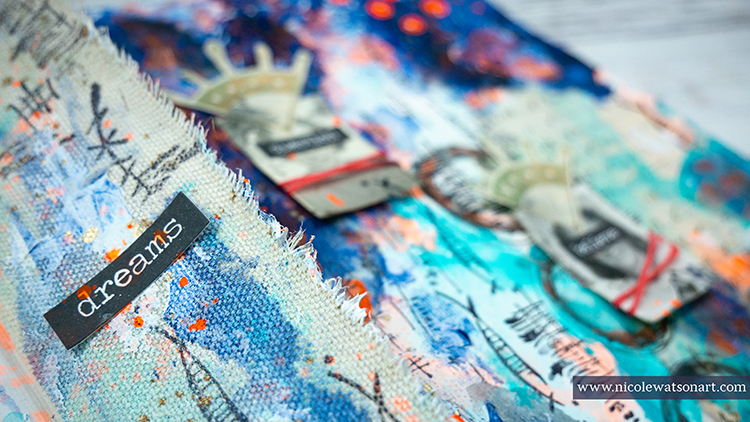 Here is a video I made:
I grabbed my Dina Wakley Media journal and ripped part of a canvas page for a small cover flap. After gessoing the main page and wiping some on the canvas flap, I adhered a ripped ledger page. I was also going to add some dictionary pages, but was side tracked finding "dream" and "nightmare" in the dictionary (which I later adhere to the canvas flap).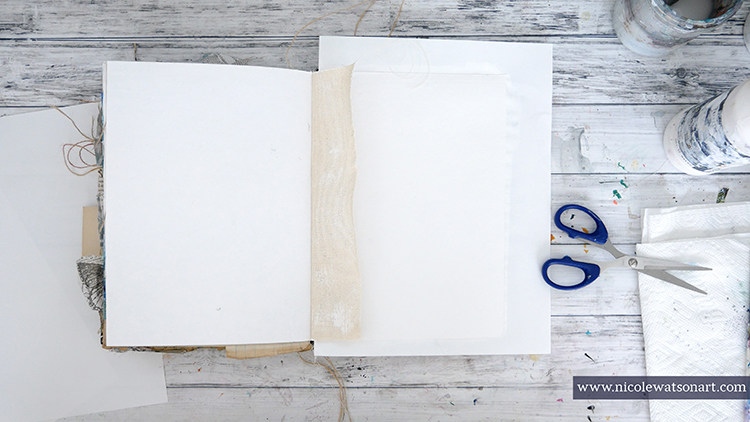 Next, I picked up Nat's Wabi Sabi stamp set for another layer of my dreams. I liked the meaning of these symbols from funky to neato and far out… those sure describe dreams! I stamped these word symbols on the canvas flap and the journal page to create texture.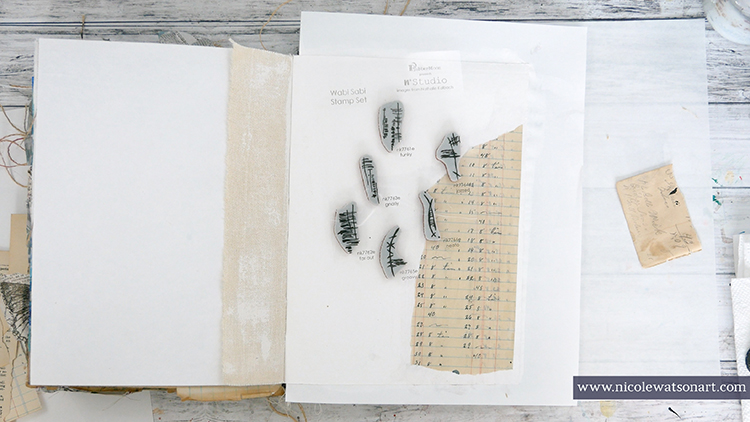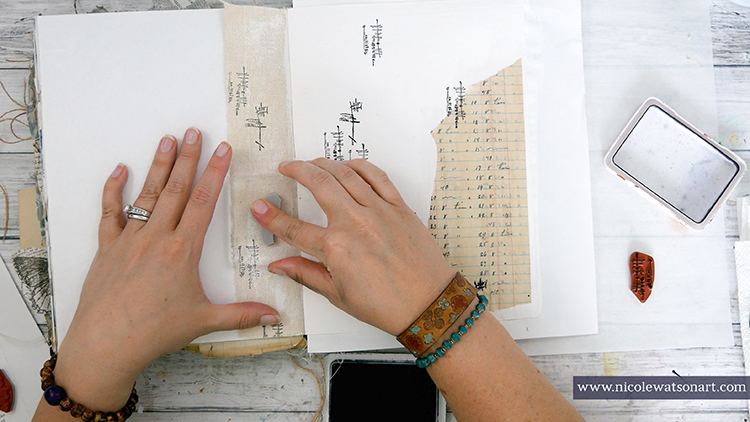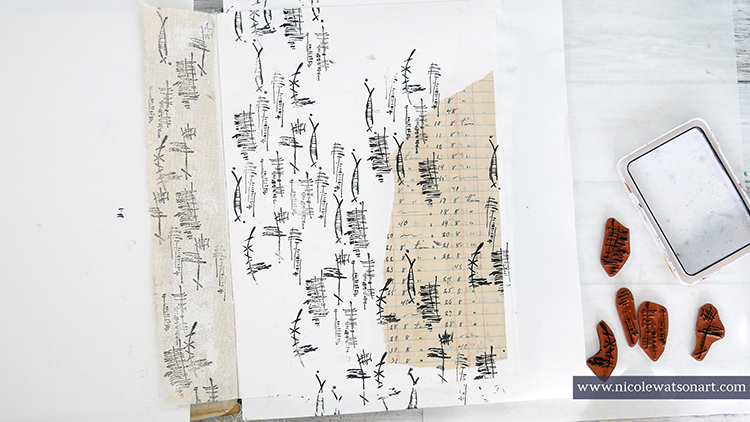 I added a layer of color with teal and gesso on the page and the canvas flap. To tie in the stamped images and the piece of ledger paper, I sketched three circles with stabilo all and then activated them with water.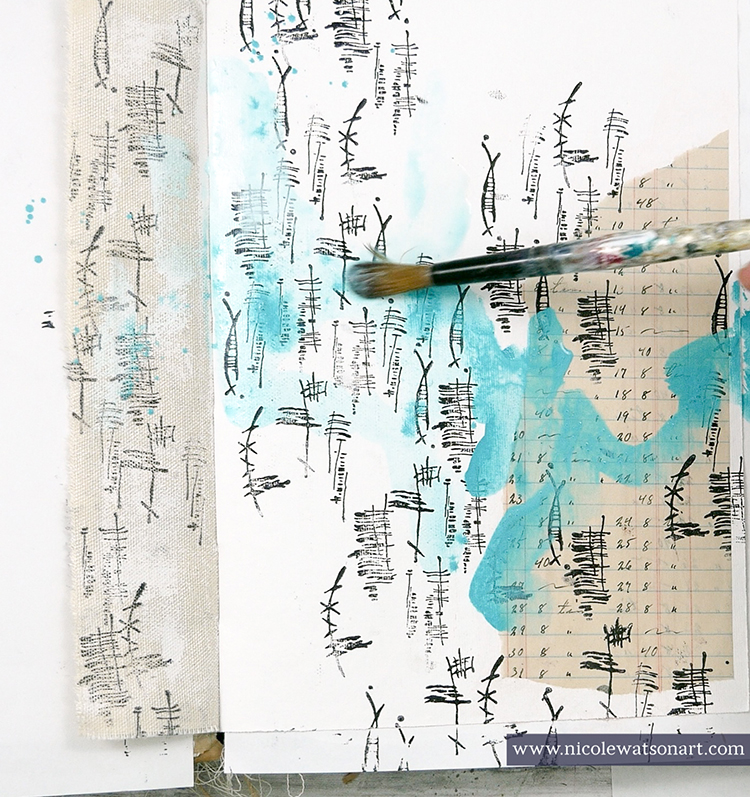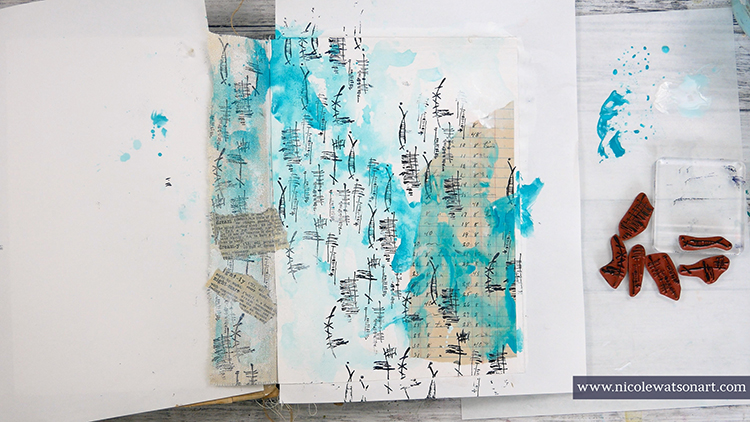 My next idea was to hide the symbols and color with a layer of dark, foggy color to obscure the dreams. I started this layer with super heavy gesso. After it dried, I added darkness to it with Paynes gray. I couldn't figure out how to get the effect I wanted so I used a paint brush, foam applicator, baby wipes, and my fingers. It was a process!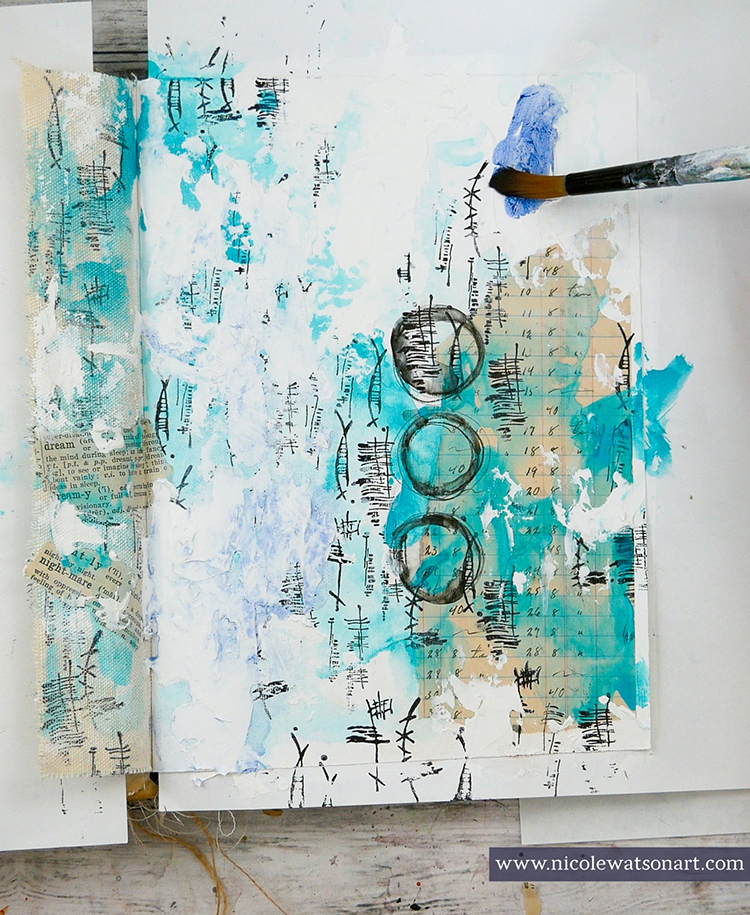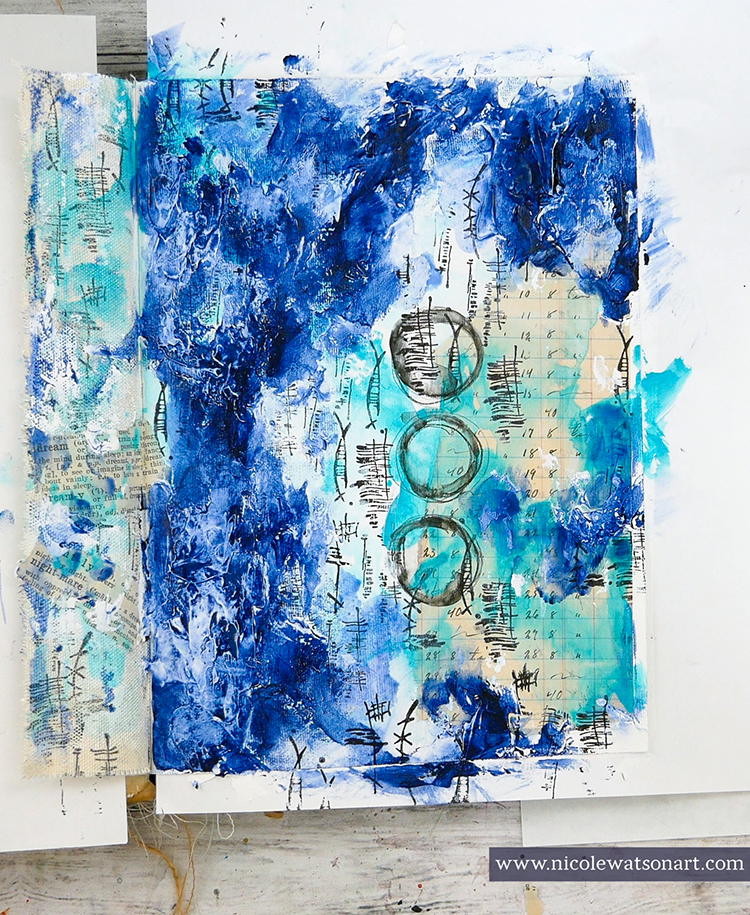 Because dreams don't always make sense and to add contrast, I grabbed fluorescent orange to make some dots on the page. The Paynes gray wasn't moody enough, so I made a stabilo all puddle (scribble stabilo on palette paper and activate with water) to shade the Paynes gray. I like the shadowy, grungy effect the stabilo puddle has. I also added some watered-down florescent orange to different areas. I especially concentrated the orange on the textured spots from that super heavy gesso. Then, I added some small white dots on the orange ones with my fineliner bottle.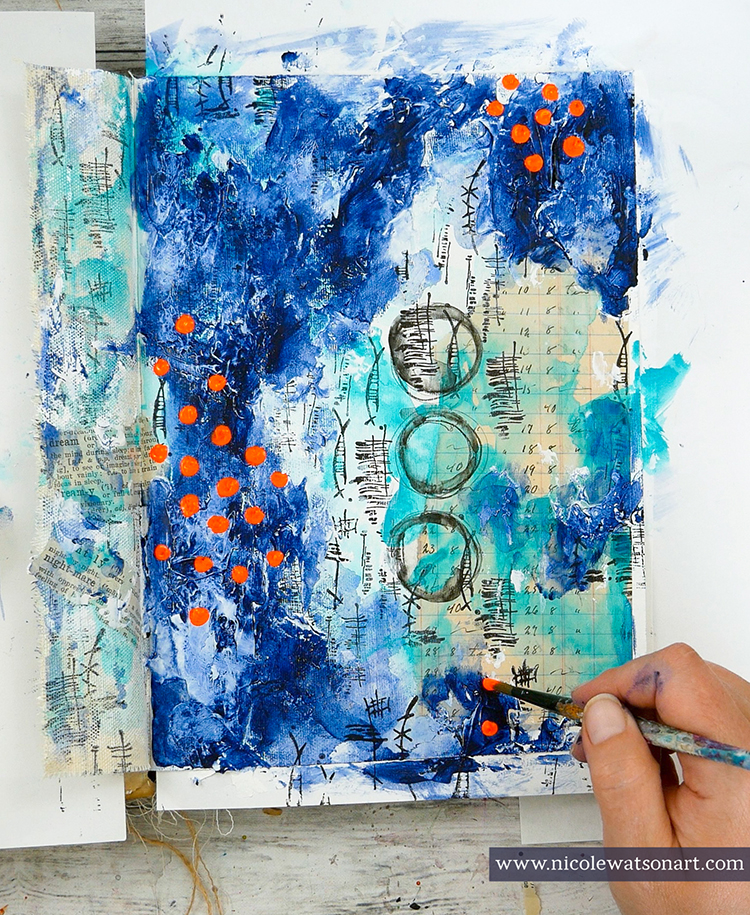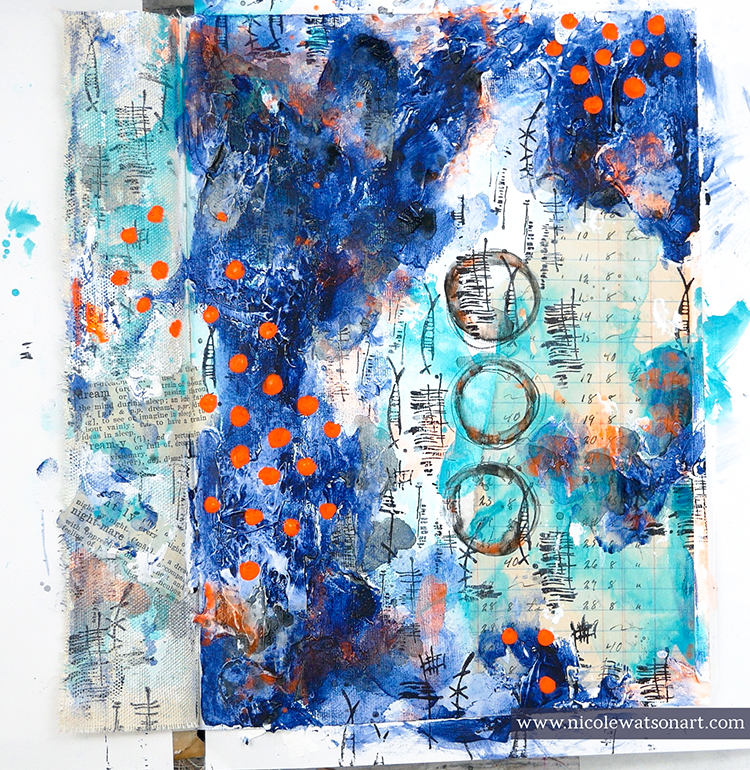 Five-hundred ideas were floating in my head of where to go next. I searched my pile of old photos for some interesting ones, and in the end decided on three old school pictures. I decorated these photos with crowns from Nat's Mission Motif stamped in bronze paint on a gel plate, words, embroidery floss, a small stamp from the Wabi Sabi stamps, and some splatters of paint. I topped the canvas flap with the word "dream" and called it done after splattering some bronze paint on the page (to represent that gold, glittery paint).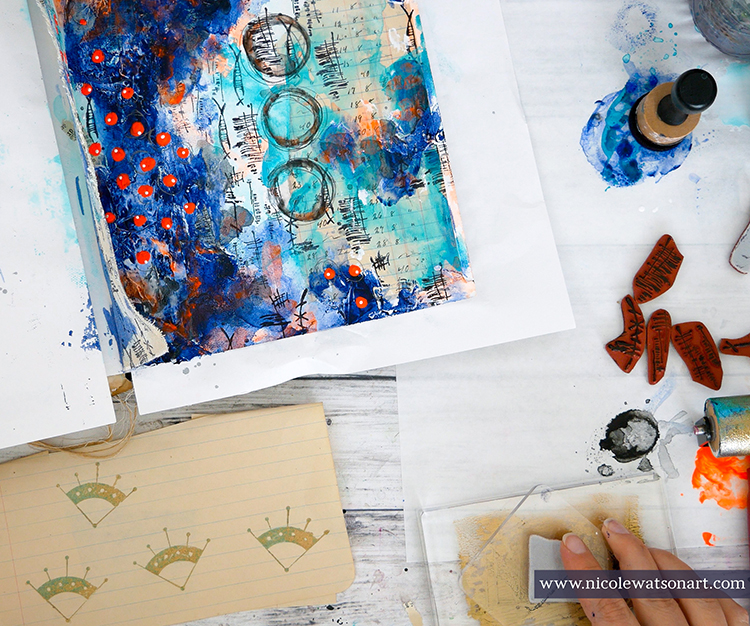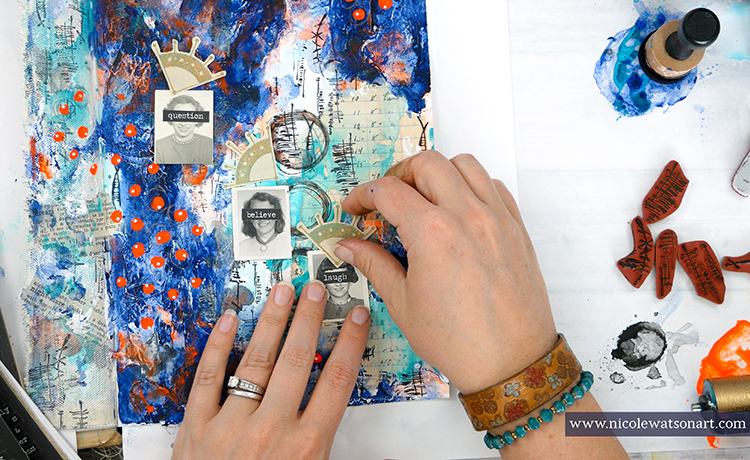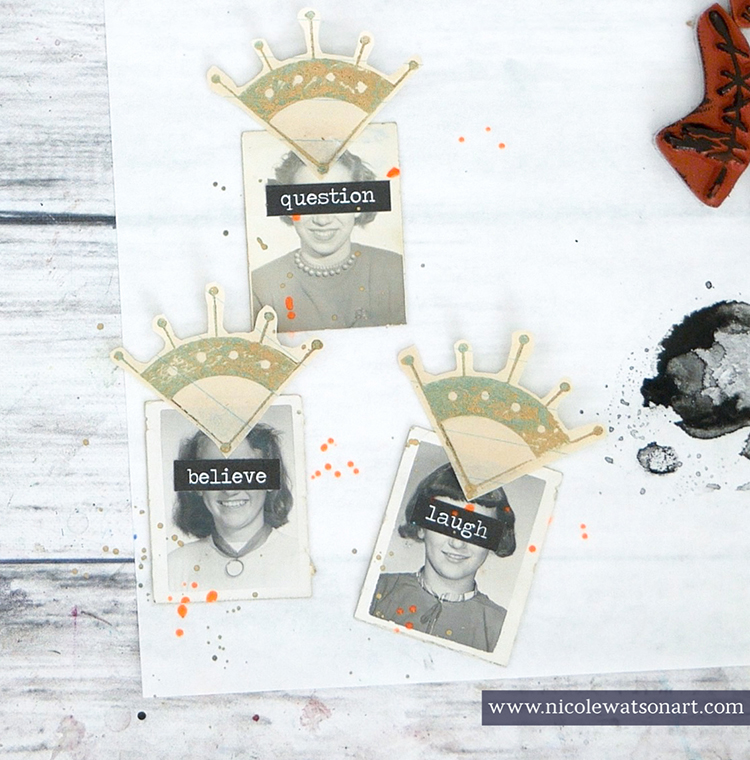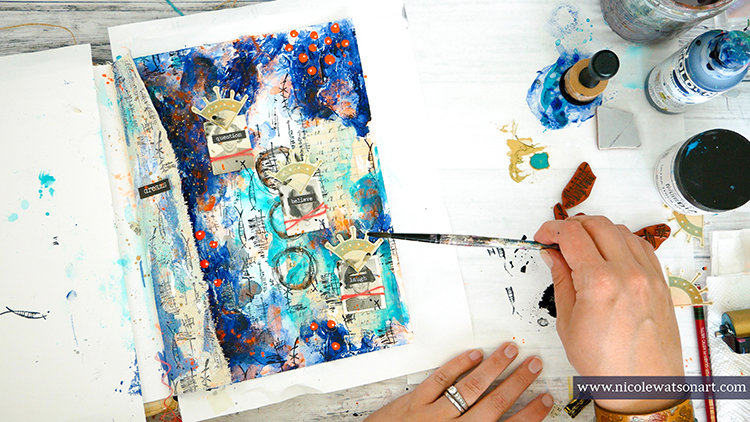 A fun page to remember the crazy dream I had. Speaking of fun…it's been an incredibly fun year as a member of Nathalie's Creative Squad. The challenges each month caused me to think about how to apply them to the stamps and stencils she designed. Most importantly, they pushed me into my studio to create and inspire you. Thank you so much Nat!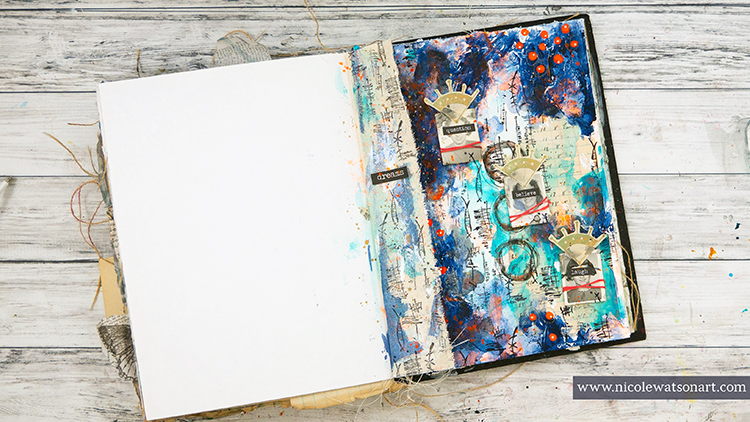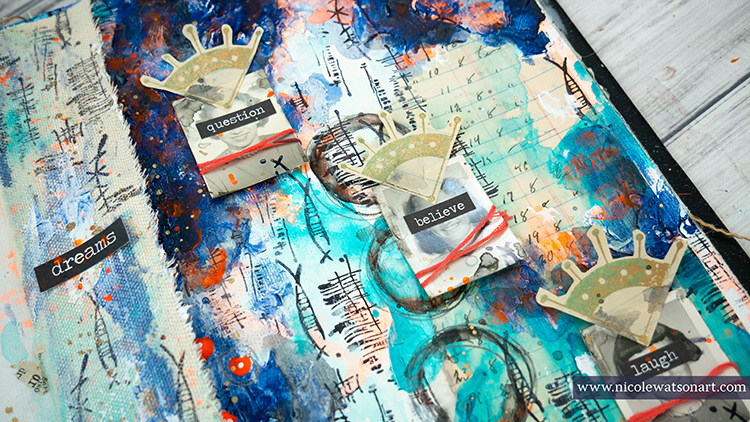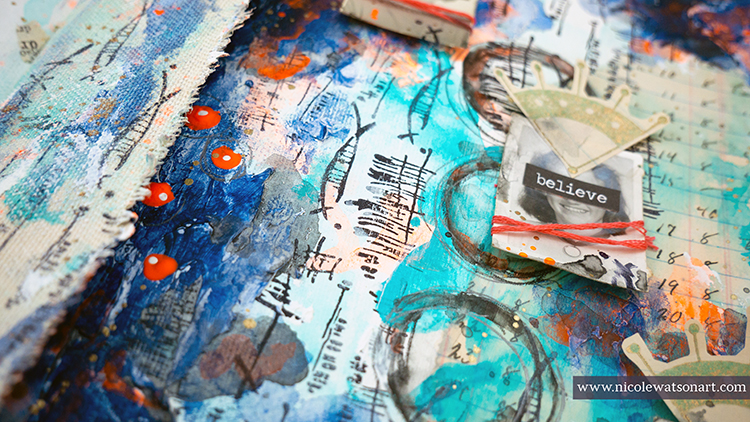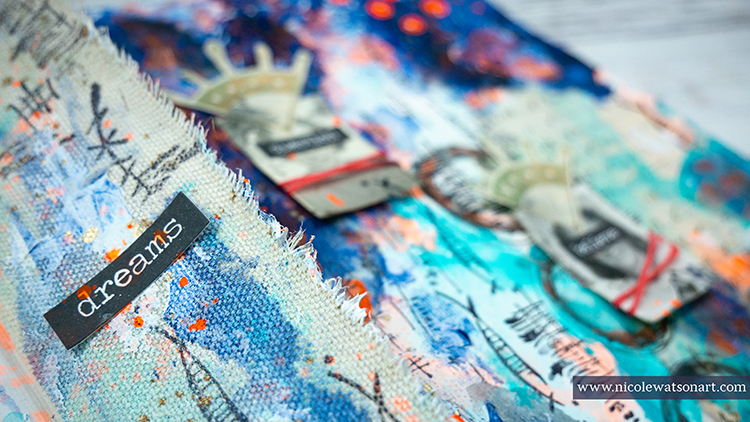 ---
Thank you Nicole for all of your contributions this year and for sharing this final peek into your dreams!
Give it a try: you can find all my Rubber Stamps in my Online Shop and in addition to ephemera, here are some of the other supplies Nicole used:

Feel inspired? Working on something yourself that you'd like to share?  I love to see how you interpret our monthly themes. Email me how you used my stencils and stamps with the theme and email me an image – I would love to share your projects in my next  "n*Spiration From Around the Globe".