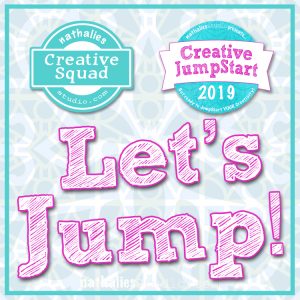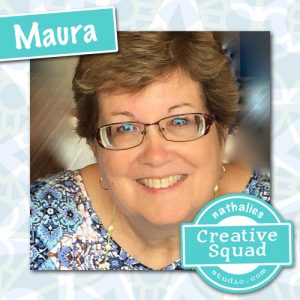 Today we have Maura Hibbitts with us sharing a project that is sure to brighten up any home – a lovely little Kokopelli figure! Maura is using my Downtown, Mesa Verde, Toledo, and Crackle stencils and this month's theme: Let's Jump! – The Creative Squad is joining the fun of Creative JumpStart 2019 this month. They're creating objects for the home, inspired by the CJS19 theme My Home is My Castle.
---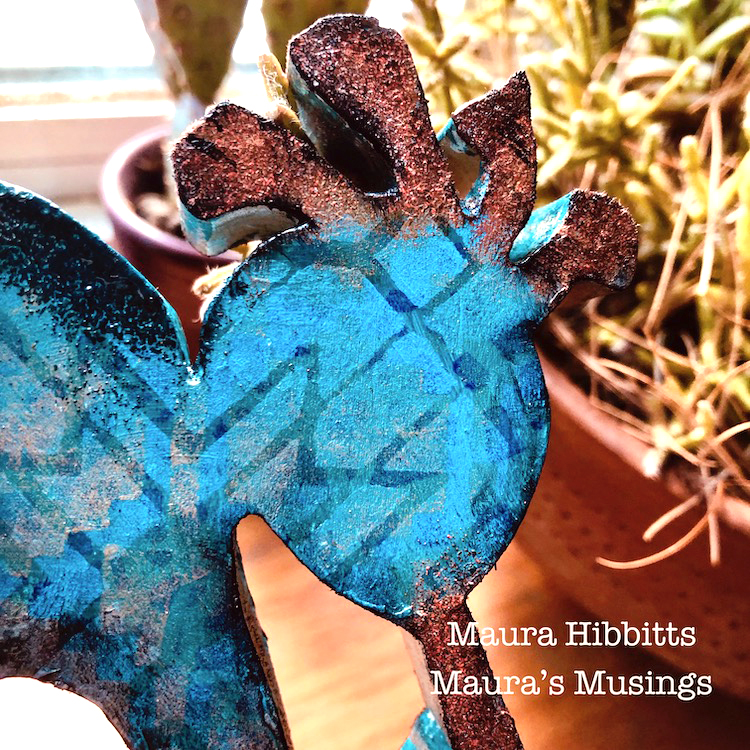 We are focusing on home decor this month to brighten our personal "castles". My husband drew a Kokopelli design years ago, following one of our epic summer camping trips to the Southwest, and then cut a number of them out of wood. I decided to use one of these figures and alter it with paint and stencils. I chose Kokopelli for a couple of reasons – one, he carried his "home" on his back as he traveled between pueblos, and two, we grow a number of cacti and succulents that have to come inside our home each winter, and they remind me of Kokopelli.
I started my project by painting the wood with gesso, and once that dried, painting him turquoise, a color I associate with the southwest. (I love the turquoise jewelry from this region.)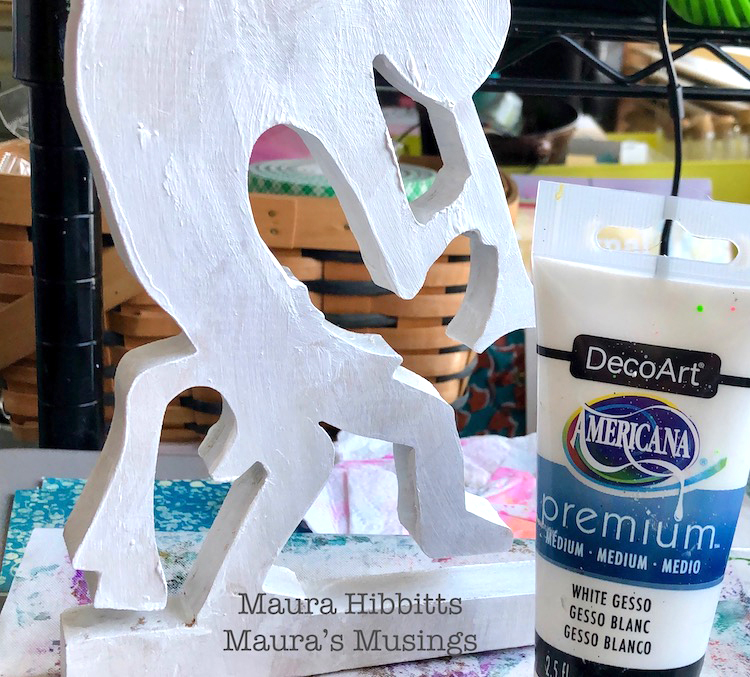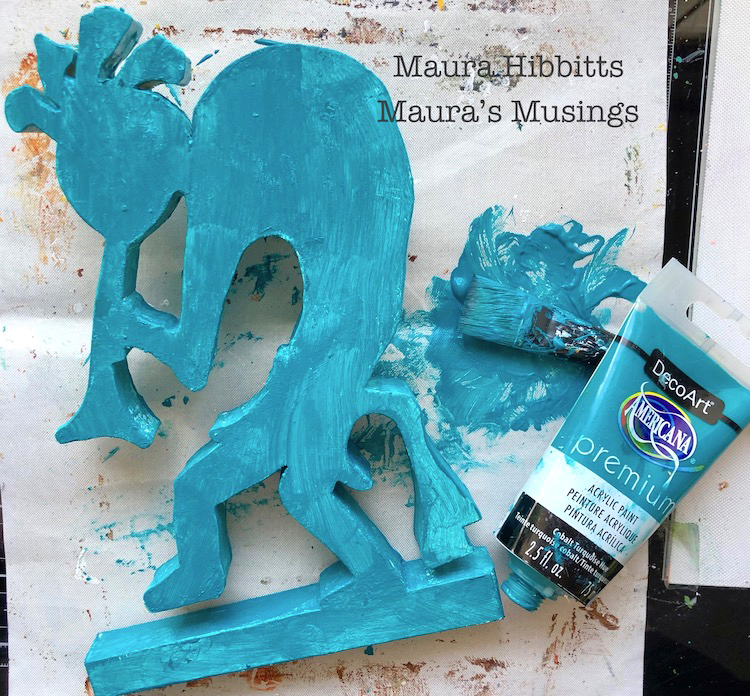 I laid the Crackle stencil onto the figure and using a cosmetic sponge, lightly dabbed Ultramarine Blue all over the front and back and edges. The edges were tricky to do, I had to wrap the stencil along the edge, hold it with one hand and dab the paint. It might have been easier to tape it on, now that I think about it.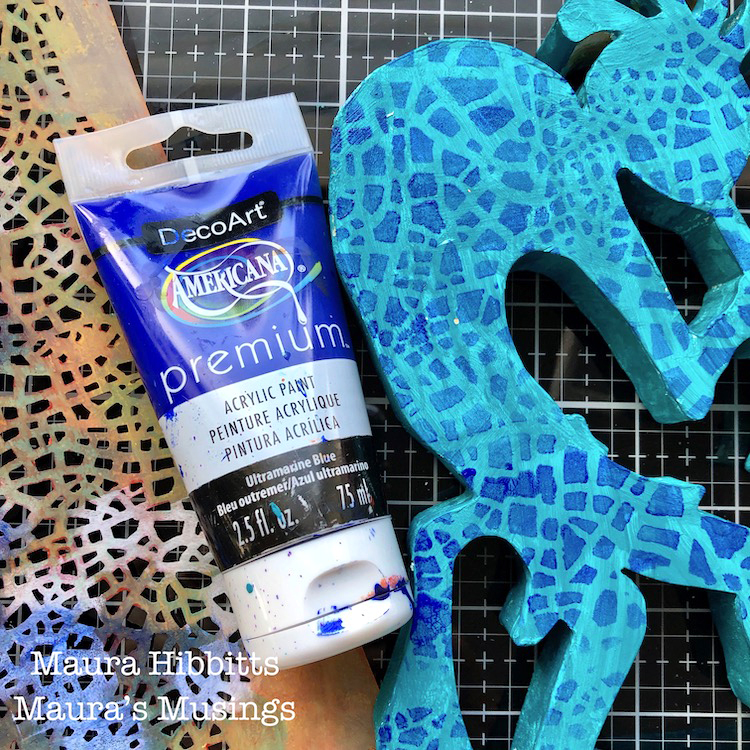 I wanted to use stencils with designs that remind me of the southwest, and Nathalie has several. I chose to use the Toledo stencil next, and mixed Titanium White and Cerulean Blue, then dabbed that on with the sponge.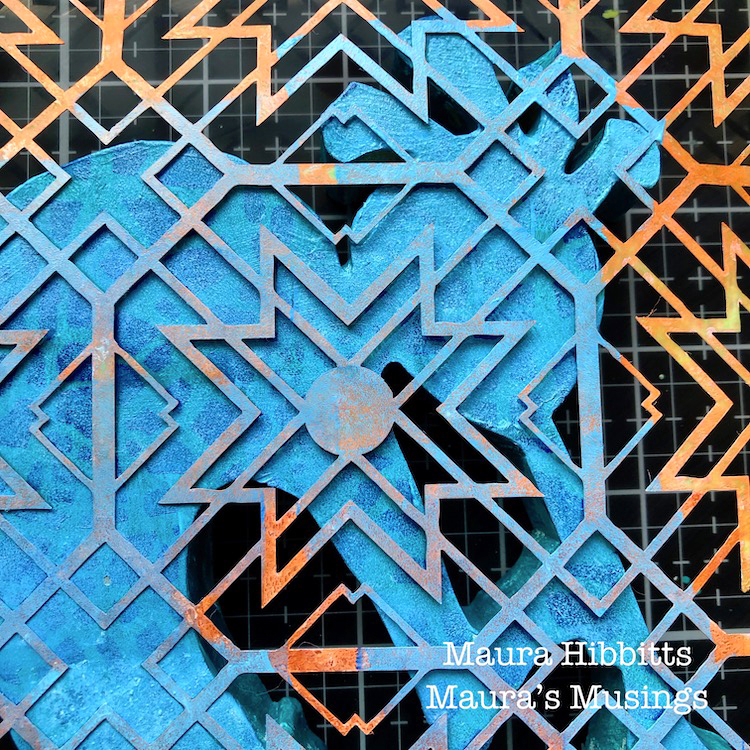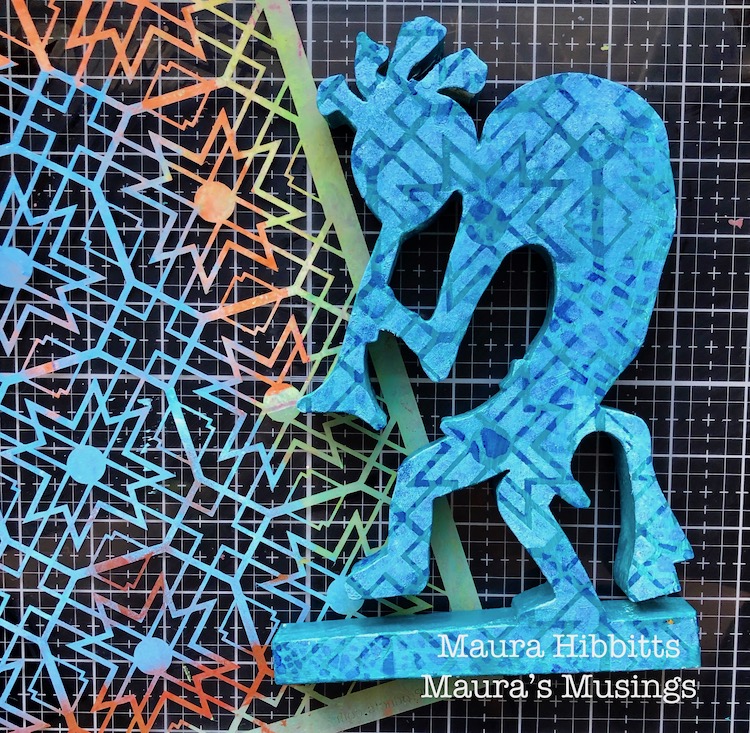 Now that I have all of my blue layers on, it's time to add the gold. I used the Mesa Verde stencil with Pale Gold.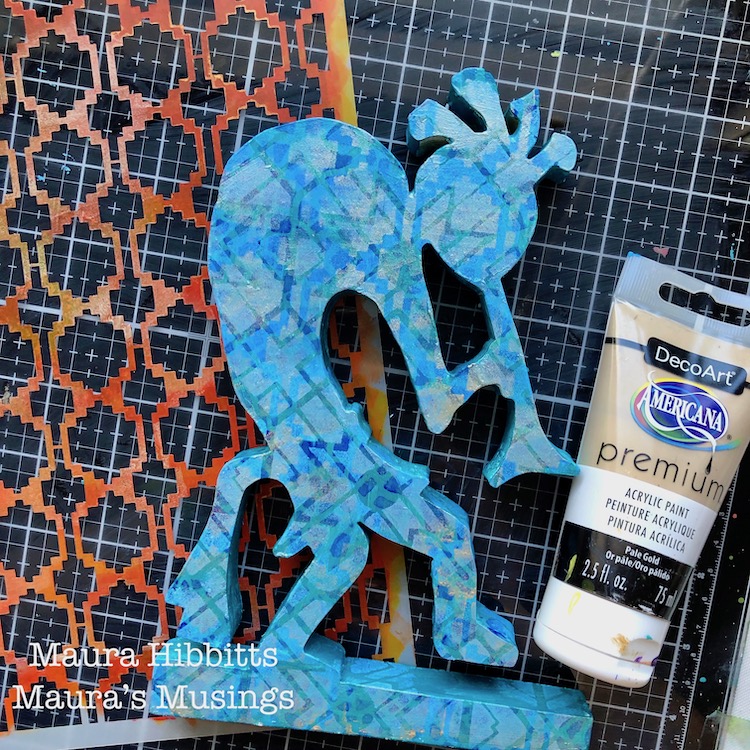 Kokopelli needs a bit of contrast, and I chose to add copper and gold to his hair, flute and loincloth. I started by rubbing on the Copper Metallic paste with my finger, and then rubbed on some Quinacridone Gold to bring out the color, and decided to add a bit to the base too.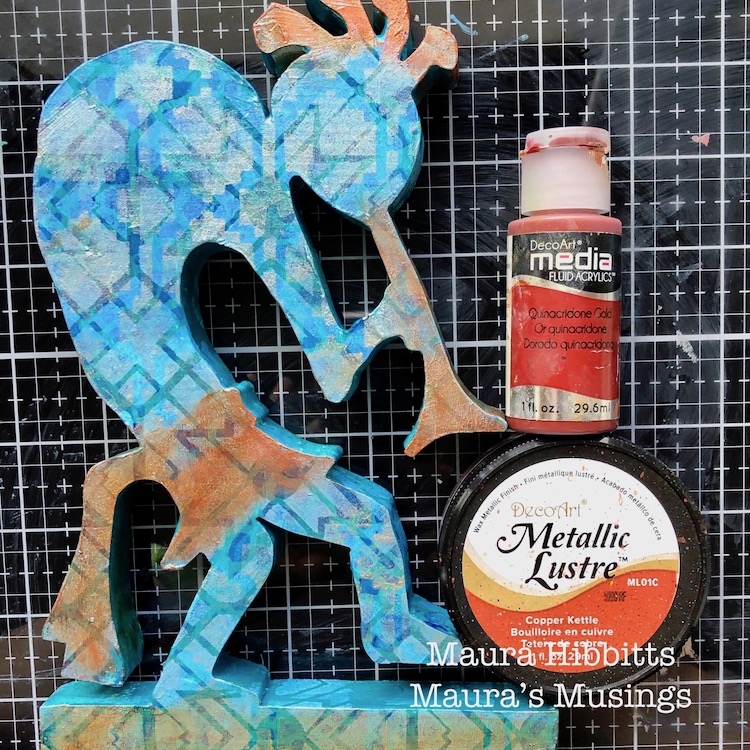 I went back in to add more design on the loincloth area with the pale gold and the Downtown stencil.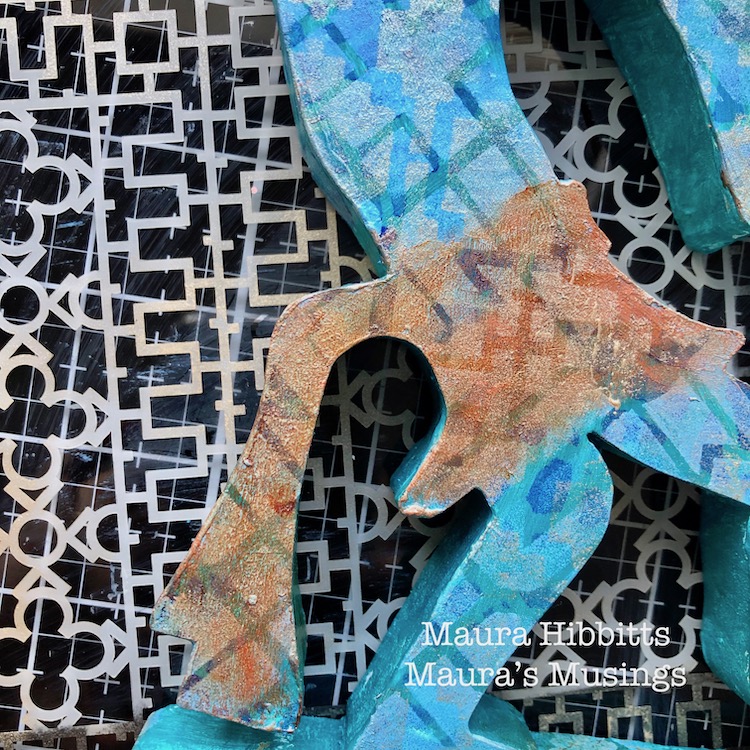 I decided to add a bit more contrast, and went back in with some embossing powder on the flute, hair and back area. When I did my final look at my project, I still felt like it needed a bit more definition, so took a small brush and edged the figure with Payne's Grey.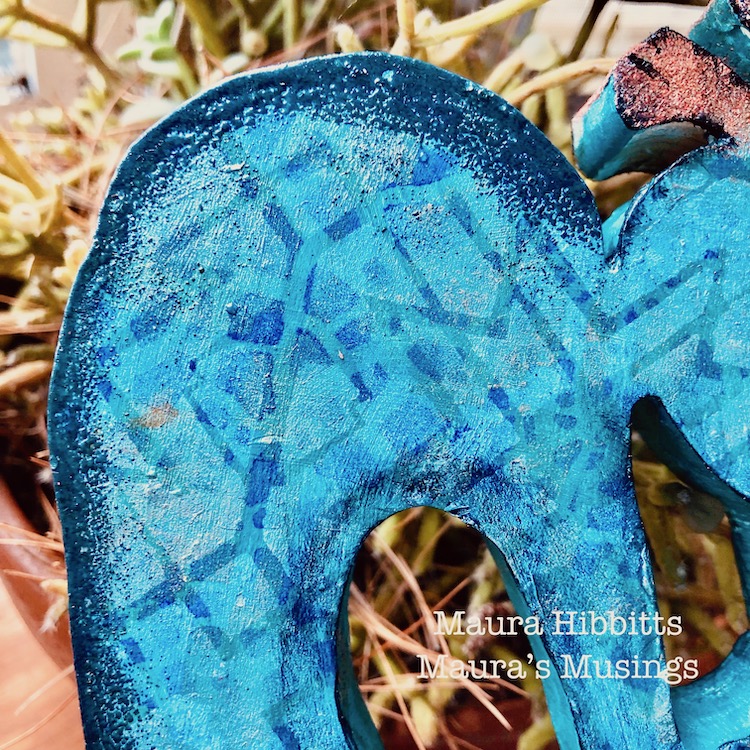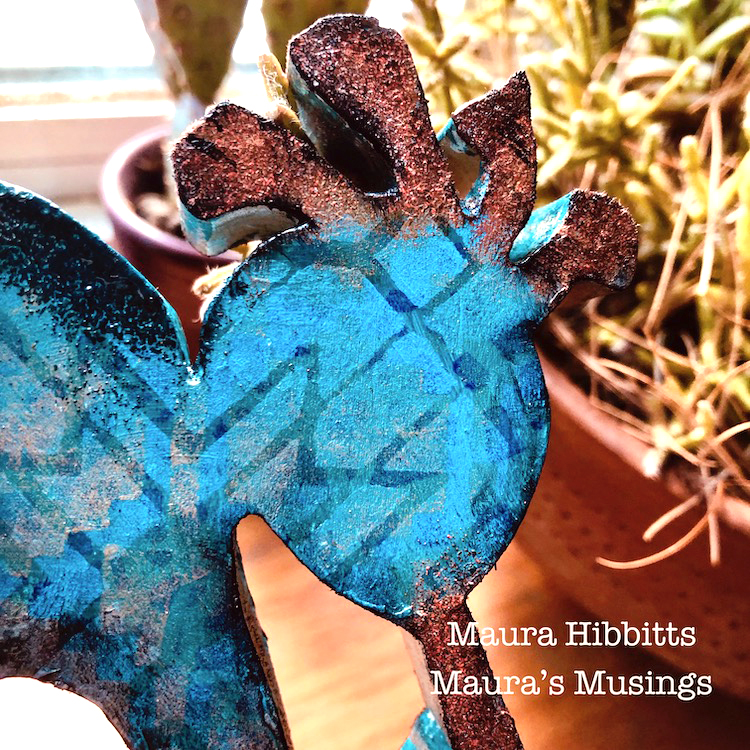 Kokopelli is playing to the sun among the cacti in our front window. Listen for the song of his flute! – Maura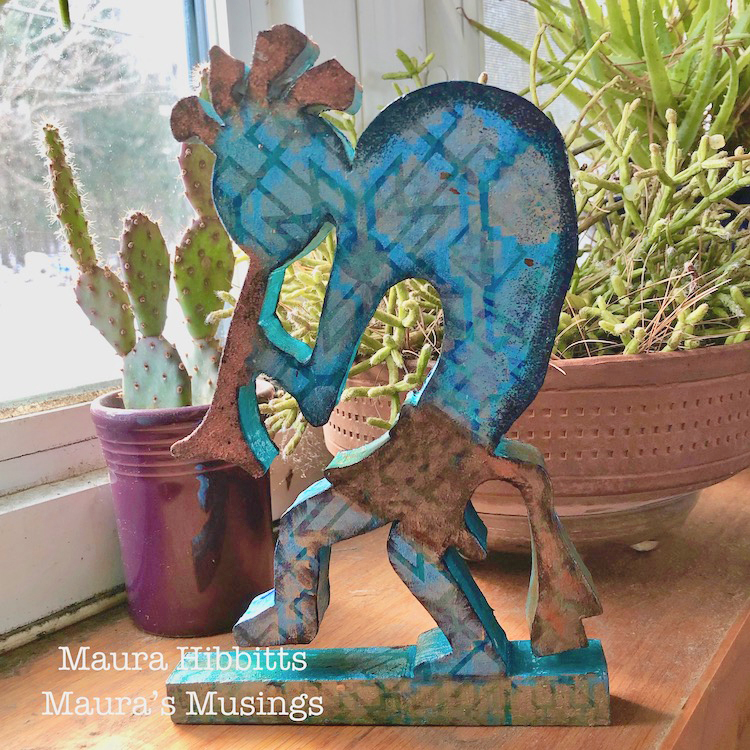 ---
Thank you Maura! Loved hearing your personal connection to this little guy and seeing him transform into something with a lot of positive energy for the home :) You can find all my Stencils in my Online Shop. In addition to her wooden figure here are some of the supplies that Maura used:
Feel inspired? Working on something yourself that you'd like to share?  I love to see how you interpret our monthly themes. Email me how you used my stencils and stamps with the theme and email me an image – I would love to share your projects in my next  "n*Spiration From Around the Globe".