It's Tuesday again and time for my Creative Squad to share a project with you with this month's theme: "Letter to my Future Self". Throughout the month of July, the team will use any of my n*Studio Stamps and Stencils they would like to use to interpret the theme. This month's theme is in honor of my recent 10 year (!) blog anniversary- which we will celebrate later this month!  I asked the team to create something that they'd like to tell themselves in 10 years. Like a mixed media time capsule. This theme flips the "If only I knew then what I know now" sentiment up-side-down.
This week we show you Gwen Lafleur's amazing mini book and the advice she would hope she will have followed in the next ten years !
—————————————————————————————————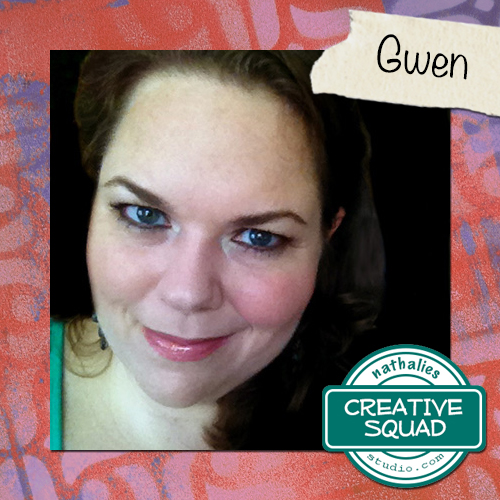 For this month's theme, I thought it would be fun to get creative with the "letter" part of the letter to my future self theme. I love to make books, so I decided that instead of writing a traditional letter and including it in my art journal (or regular journal,) that I would make a mini journal that would be the actual letter. I took a little time to think of my top five pieces of advice that I would hope that
10 years from now
, my future self will have followed, and then created this book around them.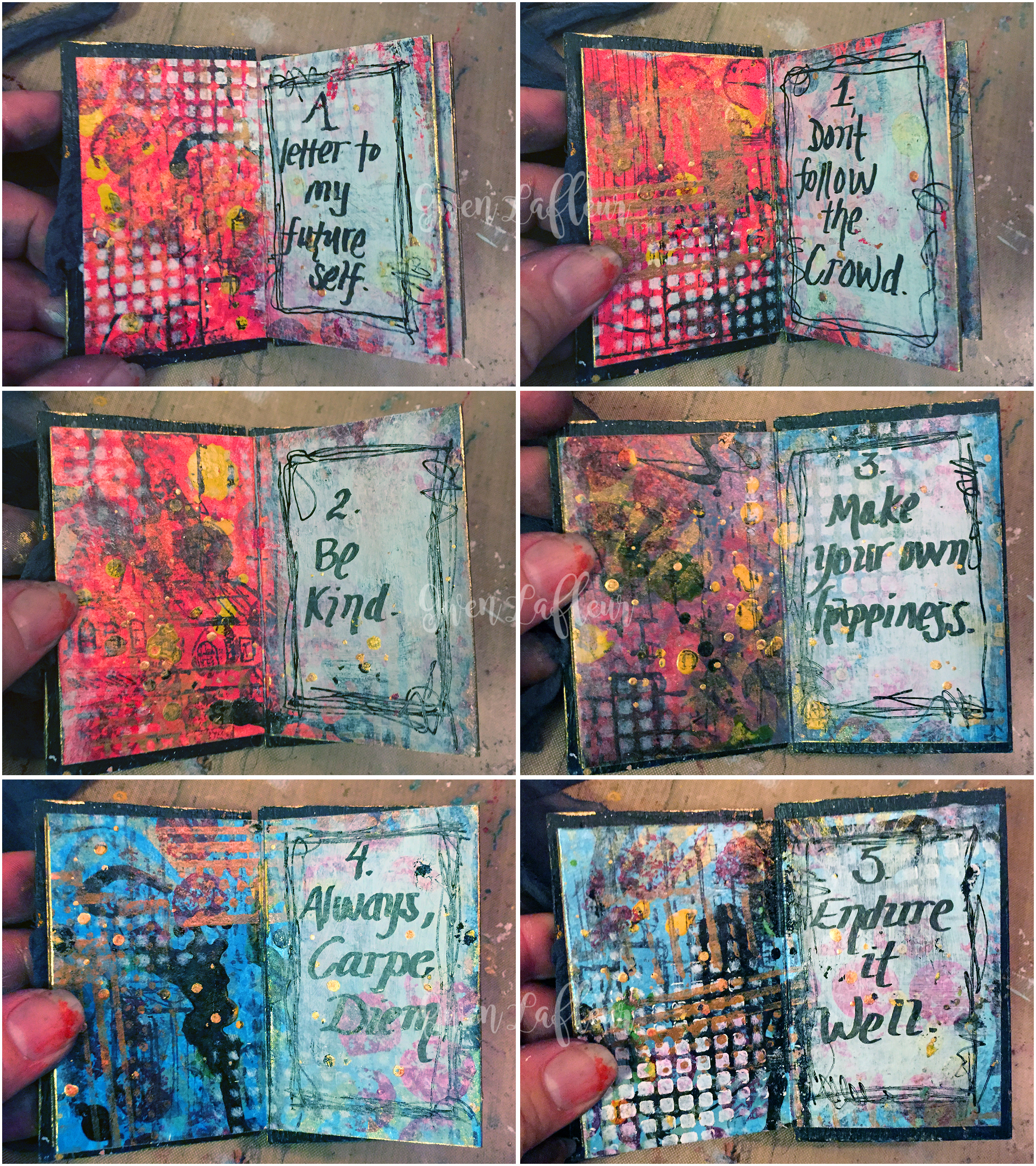 To start, I took watercolor paper and cut enough that after it was all attached, I'd have a strip that was 3″ tall by 24″ wide. I scored the paper every 2″ so that when it was done, I'd have a 2″x3″ book with 6 spreads. I pulled out some acrylic inks and just painted the background. (I did the whole thing at once instead of making each spread individually; I like the effect when you take a larger piece of art and break it down into pieces and I thought that would work well here.) I started with reds and oranges on one end and blues on the other and let them blend in the middle. Then I used more inks to add lots of blobs and splatters. I let that dry, then I used Nathalie's
Art Deco Wallpaper stencil
and some gold pigment ink to start adding layers of color and pattern.
I followed that up with some stamping using designs from the
Grunge
and
Marks
stamp sets with burgundy and gray StazOn inks. I just used parts of each stamp to get some texture onto the page since I was going for an abstract look.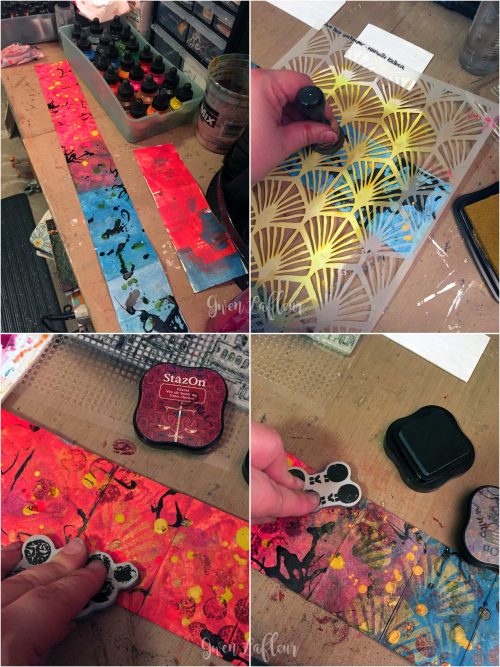 Next up, I grabbed the rubber stamp from the
Urban Scribble
set and used it with black ink. I moved it around as I went so that parts of the buildings would stamp. I liked this stamp set for this project because even though I wasn't trying to add buildings into my design, the stamps have lots of great lines and pattern that are perfect for building up layers of texture. In the end you won't even be able to tell what the original stamp was!
I followed that up by stippling some white paint through stencil that comes with the Urban Scribble set, then I used copper paint on the detailed side of the foam stamp – I only painted and stamped part of it because once again, I just wanted the lines. I stamped it in different directions to get some really cool effects!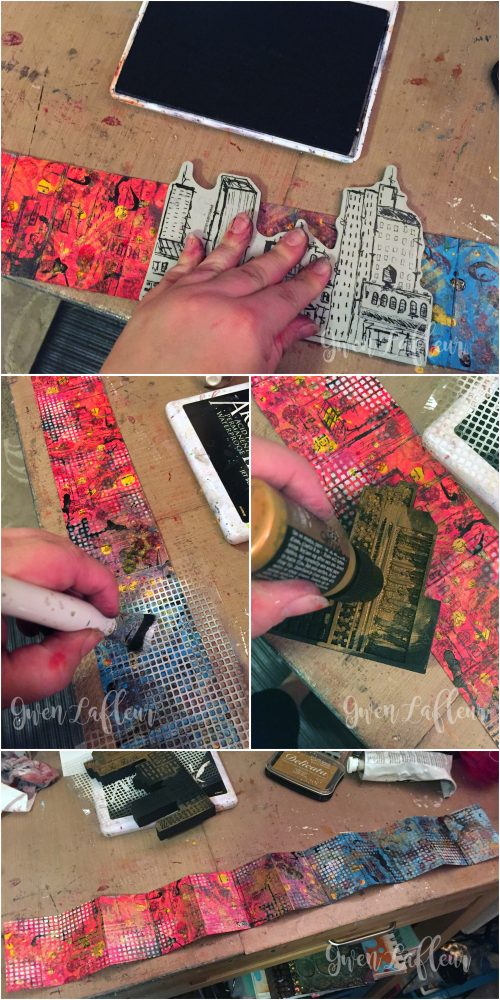 Once that was done and dry, all of my background layering was done – next it was time to add the text. Since the backgrounds were so busy, I took some matte finish paint in a very light and fairly opaque color (matte makes it much easier to write on) and dry-brushed the center section on what would become the right-hand side of every spread. Once that was dry, I wrote out the advice to myself and added a scribbly frame around each section of text.
Last but not least, I made the covers. I basically followed the exact same process on these as I did to make the backgrounds – the only difference was that since I was using chipboard, I gesso'd them first. I also only added layering on one side of each cover; I painted the other sides with Payne's Gray since they'd be covered up when I assembled the book.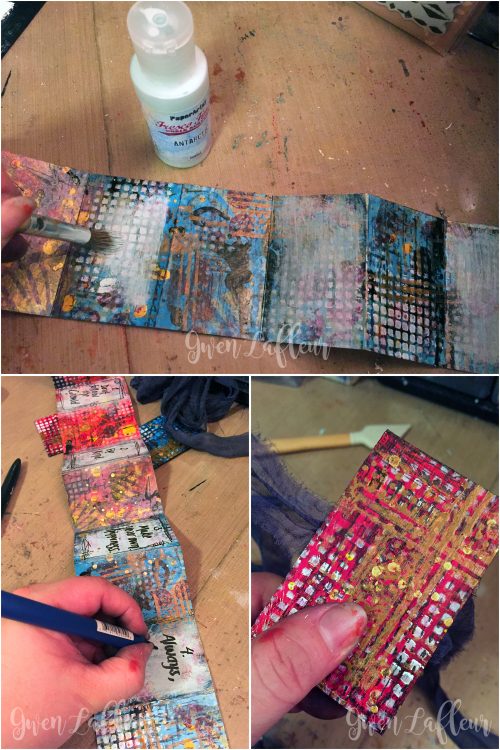 I took a strip of sari yarn and laid it across the back of the front cover and glued it in place, then assembled the book. I just took my long strip (the text block) and accordion folded it and used the first and last flaps as the end papers – those got adhered to the inside of each cover. You could actually make this a 2-sided book and do each side of the paper strip, but instead I glued the back sides together so that it would function like a book with pages that turn. The sari yarn just wraps around the book when it's closed so I can keep it secret and tucked away until future me is ready to read it.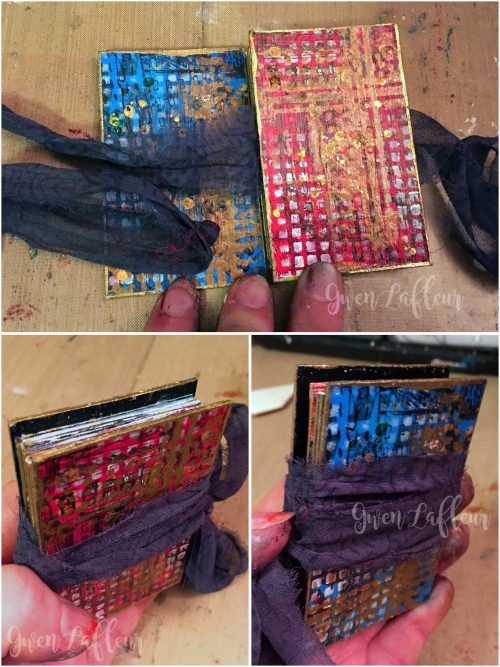 So that's it! I hope you enjoyed today's project and that you're feeling inspired to find a creative way to write your own letter to your future self!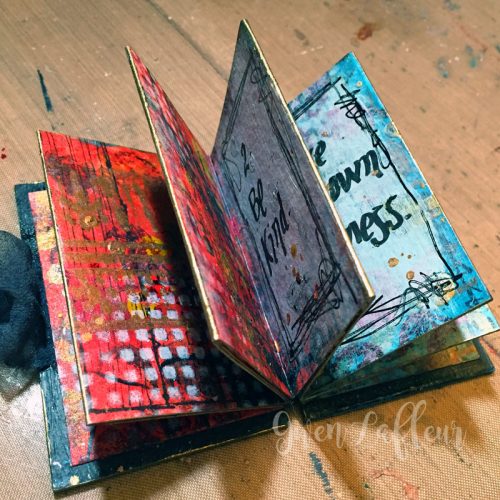 —————————————————————————————————
Gwen's book is so adorable and amazing – I love this idea and I love how she used elements of all the stamps and stencils to make it create some great design elements!
Gwen used the supplies listed below (some are affiliate links) as well as aStrathmore 400 Series cold-pressed watercolor paper (6″x18″ pad), Copper Distress Paint,scrap chipboard, calligraphy pen, sari yarn (from Darn Good Yarn.):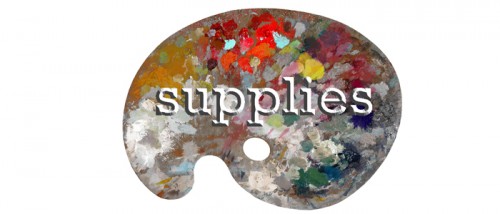 Maybe you will even play along with us -I would love to see how you interpret our monthly themes. Email me how you used my stencils and stamps with the theme and email me an image – I would love to share your projects in my next "n*Spiration From Around the Globe".
See you next Tuesday for another project from the Creative Squad!