It's Tuesday and time for my Creative Squad to share a project with you with this month's theme: "Letter to my Future Self". Throughout the month of July, the team has been using any of my n*Studio Stamps and Stencils they would like to use to interpret the theme. This month's theme is in honor of my recent 10 year (!) blog anniversary- which we are celebrating until the end of the month! I asked the team to create something that they'd like to tell themselves in 10 years. Like a mixed media time capsule. This theme flips the "If only I knew then what I know now" sentiment up-side-down.
This week we bring you Michelle Rydell's happy and uplifting postcard!
—————————————————————————————————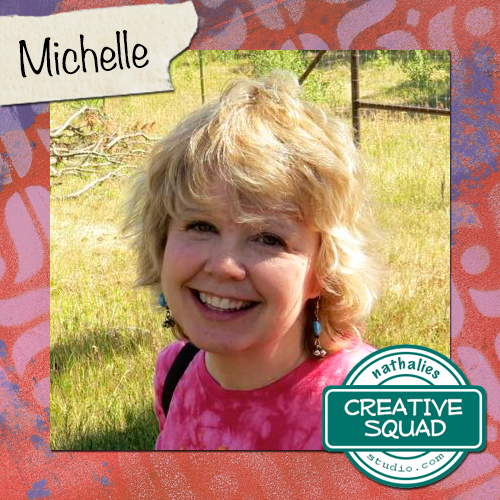 The theme for this month was a challenging one: Letter to my Future Self. Hmmm… I have thought many times about what I would say to my younger self if I could; what wisdom I could share that would help her on life's journey. But what could I tell my future self? She knows everything I know, plus she has ten years more life experience!
I pictured myself in ten years – going to the mailbox and finding a postcard there, and smiling when I see it's from me. That's when I knew just what I wanted it to say. It's a lyric from a Jackson Browne song called "For A Dancer." It goes like this…
"Keep a fire burning in your eye,
and pay attention to the open sky,
You never know what will be coming down."
I've loved that lyric for many years. I can't say for sure what Jackson meant when he wrote it; but for me it means – keep your passion alive, and stay open to whatever comes your way.
First, to create the postcard I cut some heavyweight watercolor paper to approximately 4" x 6". Then I swirled some pink and yellow watercolor onto the background…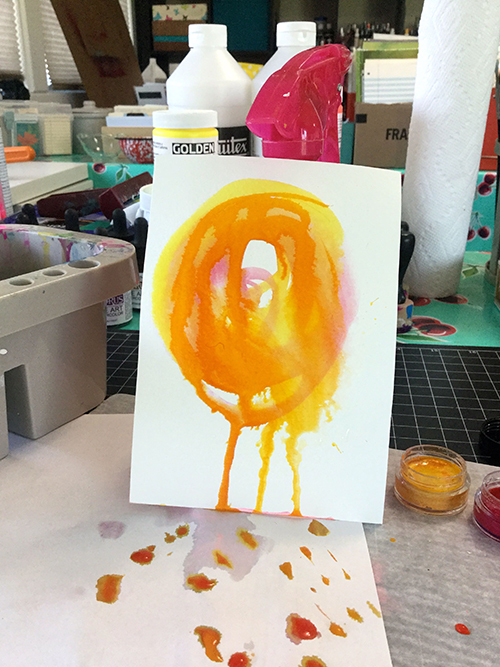 I decided that wasn't bright enough, so I added some fluorescent pink acrylic.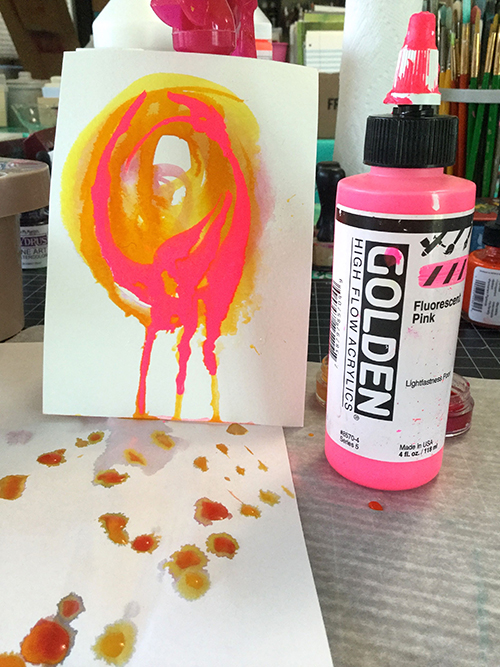 I used a blending tool to apply some teal acrylic paint thru Nat's Lily Wallpaper stencil to add some contrast. I kept the stenciling on the left side of the page to leave room for the words on the right.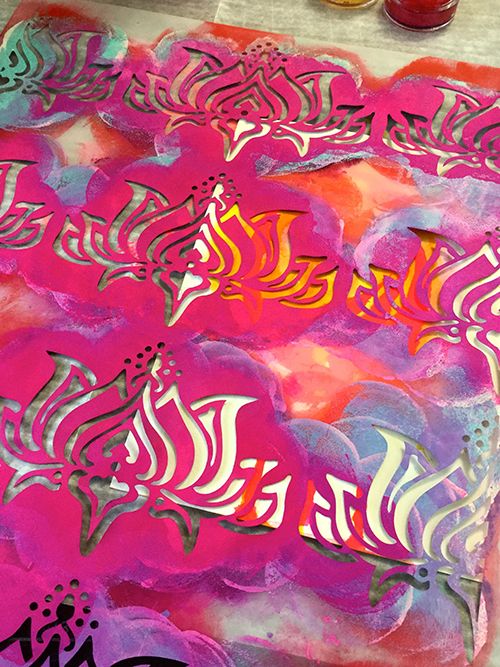 I did a draft of the lyric on scratch paper first, to see approximately how much room it would take up. Then I added some light pencil lines to the postcard and went to town with a black permanent ink pen.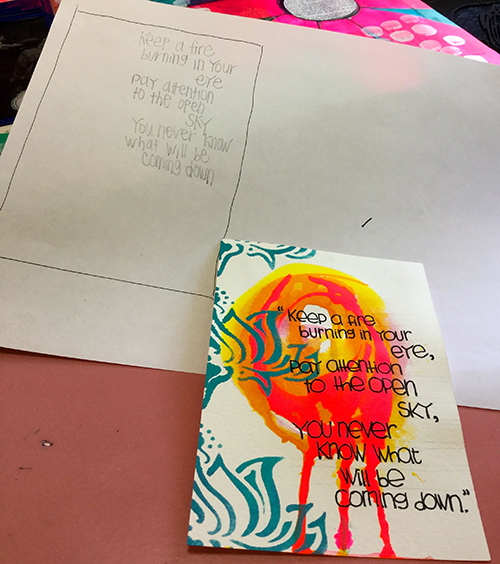 I want to put this postcard on the inside front cover of my current journal. I have a pocket to put it in that will be just right. Once in the pocket, I stenciled the other half of the Lily Wallpaper motif to make it look like the pattern continues…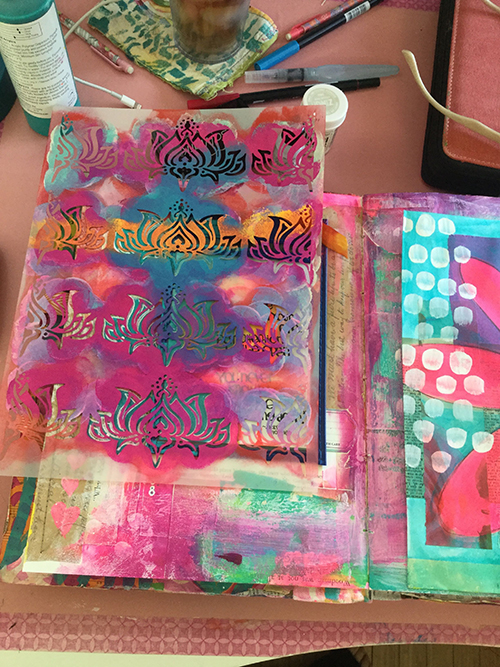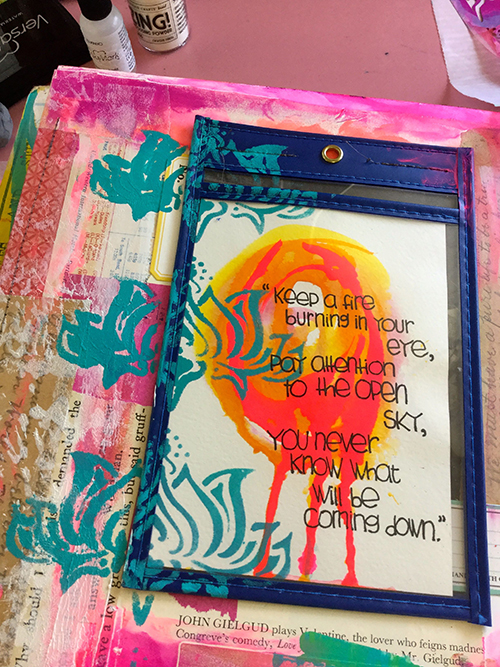 I took some pre-dyed ribbon and used the same Lily stencil to create a pattern with yellow paint.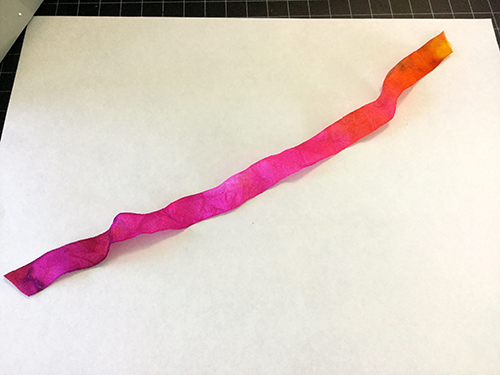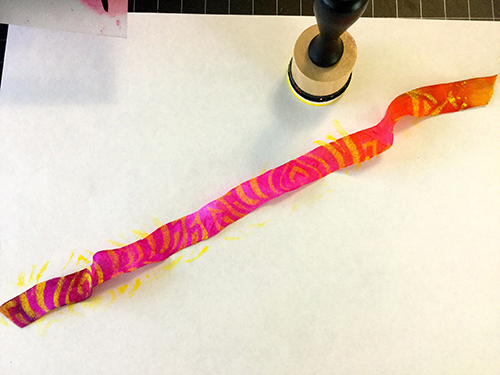 And here's the final page. I added some white outlining to the stenciling to show off the detail of the design, and added the stenciled ribbon to the grommeted hole.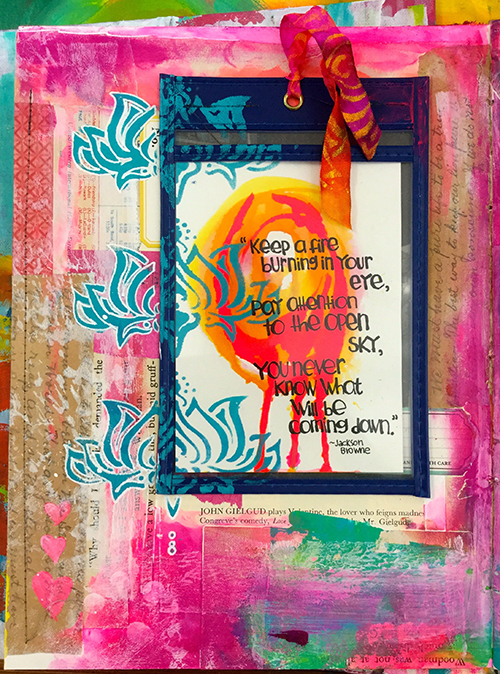 —————————————————————————————————
Michelle's postcard is so gorgeous with those colors and such a nice message. I love that it's going right in the front of her art journal so she can remind her present self too!
Michelle used the supplies listed below (some are affiliate links):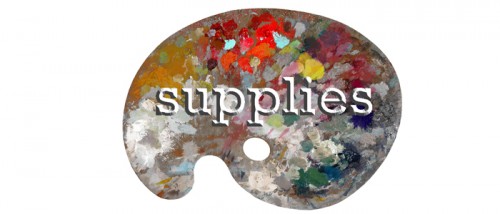 Maybe you will even play along with us -I would love to see how you interpret our monthly themes. Email me how you used my stencils and stamps with the theme and email me an image – I would love to share your projects in my next "n*Spiration From Around the Globe".
Don't forget that I have a Blogiversary SALE right now going on with 20% off of online workshops (like Creative Jumpstart 2016), DVDs, and select items (including all the stamps andstencils) from the n*Store online.  The sale prices are reflected in the store now.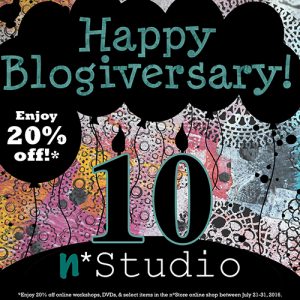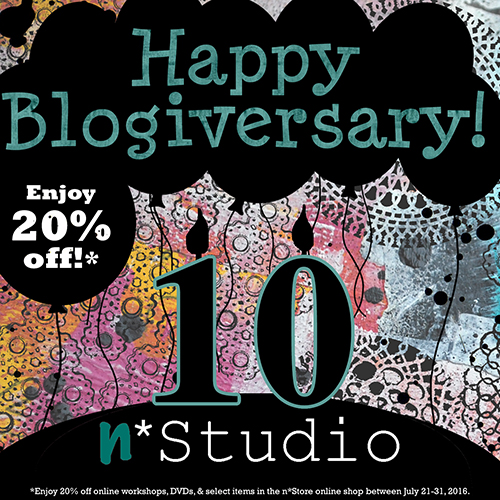 See you next Tuesday for the another project from the Creative Squad, with a brand new theme for the month of August.