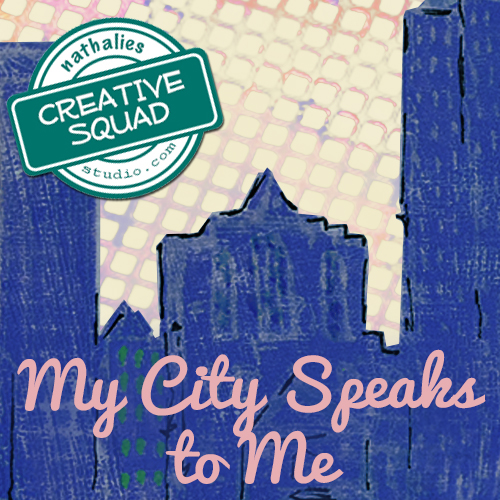 Happy Tuesday!  It's time for my Creative Squad to share a project with you with this month's theme: "My City Speaks to Me".  Throughout the month, the team will be using my new Urban Scribble Foam Stamp, Rubber Stamp and Stencil Set. This month's theme is all about expressing what your hometown or city is all about.  What makes it special, vibrant, and important to you?  This month, our Creative Squad will take us on a trip to their city!
Today we have a super dimensional art journal page from Marsha Valk. Her interpretation of the theme takes us all the way to the Netherlands, and she asks us: how well do we really know our own city?
—————————————————————————————————–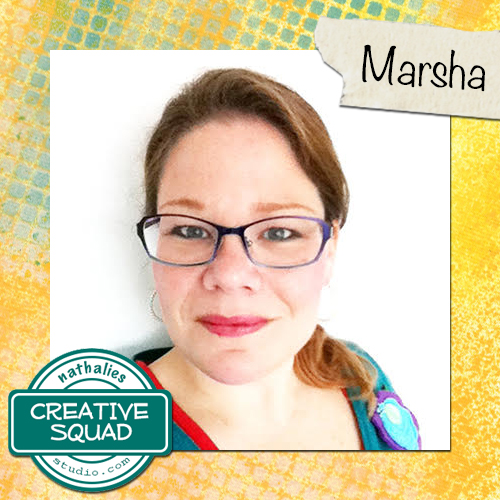 I live in the middle of the Netherlands in a city with a beautiful medieval city centre.  The neighbourhood I live in was mostly built around the 1930-ies. I decided to concentrate on the question: 'What does my city say to me?' and explore that through art journaling.
I've never lived anywhere longer than I've lived here. I know the best places to eat, to shop, I know the most important sights, I have my own favourite 'sights', I know some of the history, but… what else do I know? Well… turns out that I've still got a lot to discover. My city is telling me to finally open my eyes. To view it in a different light. There are many places that I have always intended to visit, but that are still on the list. I really, really need to stop and look.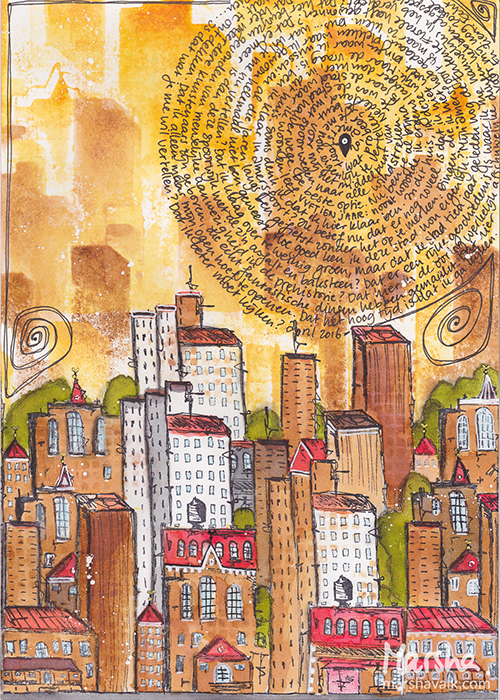 I started my page by stamping the Urban Scribble cling stamp at the bottom of the page with black ink. Then I created a mask by stamping the Urban Scribble foam stamp (twice) on a sheet of paper and then cutting the stamped image out. I used the mask to mask off each previous row of buildings before stamping another row behind it.
When I had about three rows, I switched gears and inked the Urban Scribble foam stamp with two different tones of Distress Ink and spray mist. To create the watercolour look, I sprayed the stamp with water after inking it up. I used this method to stamp until my whole page was covered, masking off each previous layer.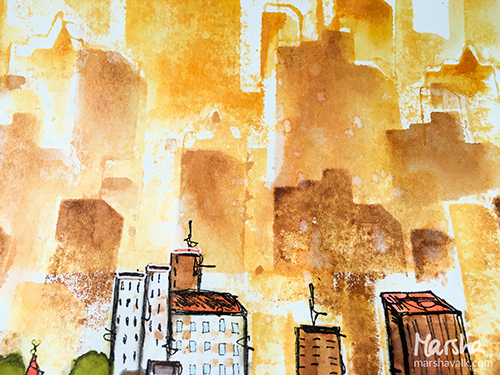 I coloured the buildings with Distress Ink. I tapped some ink onto my craft mat, diluted it with a spritz of water and then picked up the colour with a watercolour brush.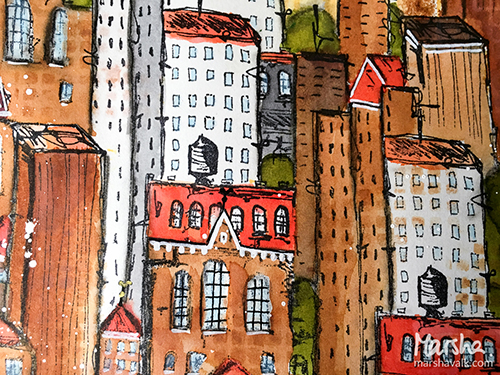 Once everything was dry, I added details and depth with markers, charcoal and coloured pencil. I also picked up some of the leftover ink from my craft mat with a make-up sponge and used that to stencil subtle little squares onto the buildings with the stencil that comes with the Urban Scribble Foam Stamp Set.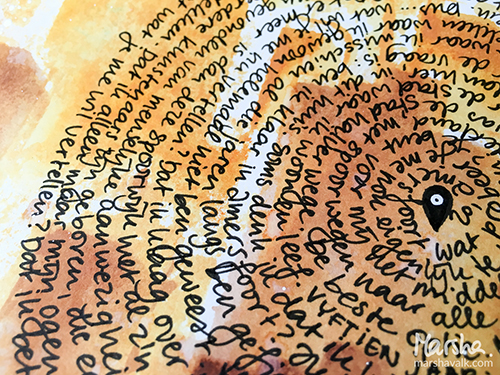 Lastly I wrote down my journaling. I decided to put it in a circle, to emphasise the city being (my base) in the middle of the country.
———————————————————————————————————-
I think we can all relate to Marsha's desire to take the time to slow down and explore more!  In her art journal page, I love how she used the Urban Scribble stamp with a mask to create a cityscape with many layers of buildings.  It's also a gorgeous example of how certain colors and details can transform the stamp into a completely different place; last week it was NYC and this week Marsha brought us to the Netherlands.
Besides the supplies listed below, Marsha also used 13arts Ayeeda Mist in Pastel Yellow: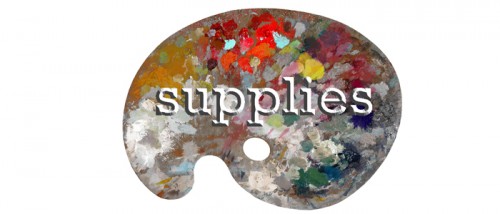 And maybe you will even play along -we would love to see how you interpret the theme – email me how you used my stencils and stamps with the theme and email me an image – I would love to share what you did at the beginning of next month!
See you next Tuesday for the another project with the theme 'My City Speaks to Me'.