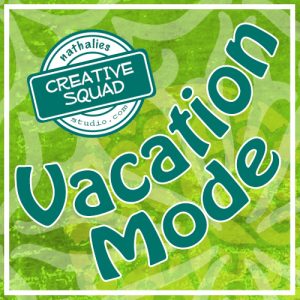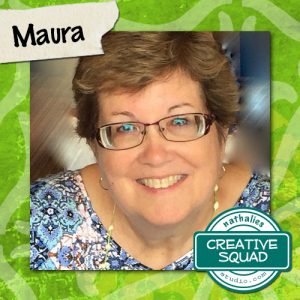 Happy Tuesday from the Creative Squad! Today we are excited to share with you a wonderful little upcycled travel bag from Maura Hibbitts. She is using my Versailles foam stamp set and my Urban Scribble stamp set (no longer available but if you're looking for building stamps here is a good place to start) along with this month's theme: Vacation Mode – Here in the Northern Hemisphere, we are slogging through winter with only one thing on our minds – vacation! Whether it's Spring Break, a weekend getaway, or an hour with a good book, everyone needs an escape to Vacation Mode now and again.
---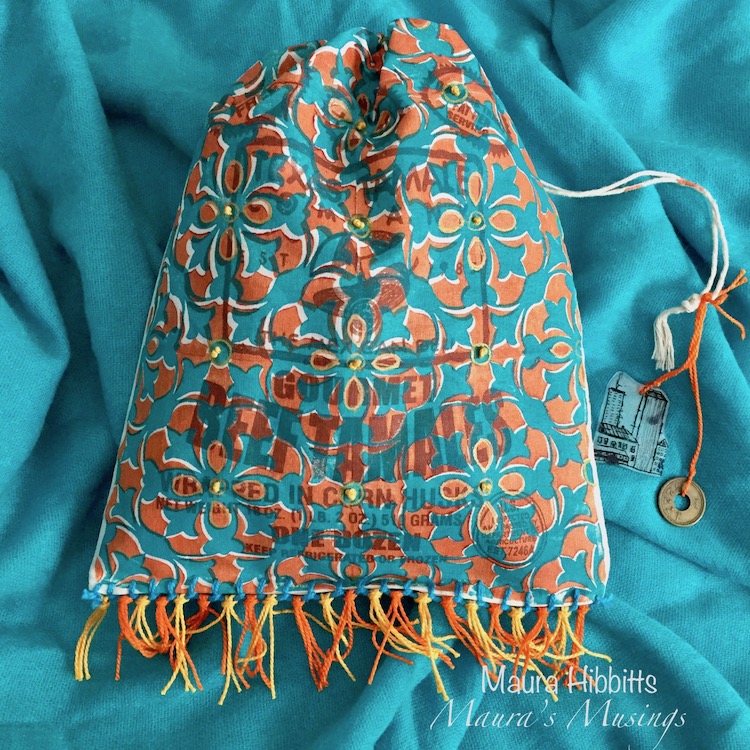 When I go on vacation, I like to take along an art project or travel journal to capture my experiences. I up cycled a small canvas bag that came filled with some yummy tamales for my project. You could use a purchased canvas bag, or sew one yourself if desired. (Mine is about 8 x 10 inches/20.5 x 25.5 cm) I like how the printing peeks through my stamped design. Now I have a fun bag I can fill with art supplies, or use to fill with found treasures on my vacation.
Start by inserting a piece of cardboard into the canvas bag. This will keep the paint from leaching through the other side.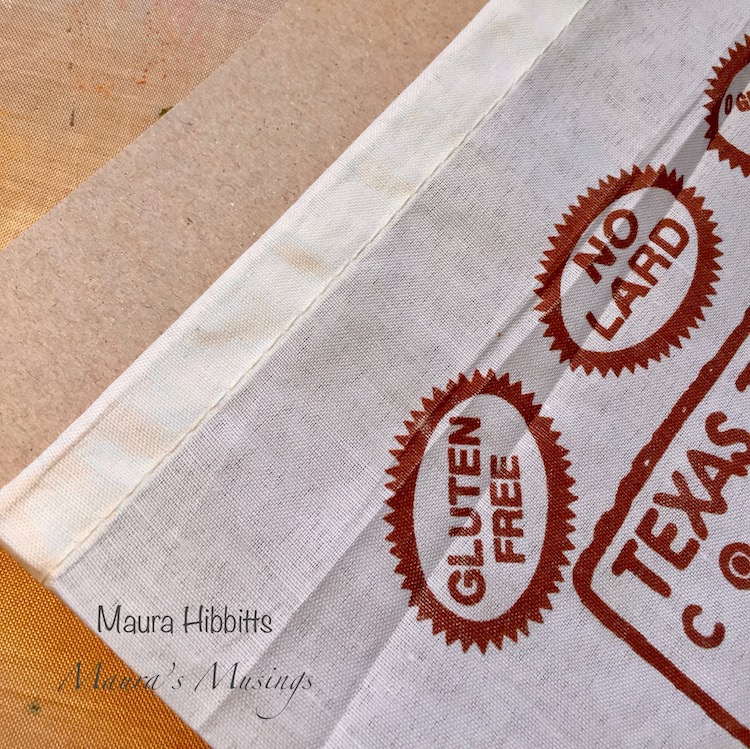 I found the best way for me to get good paint coverage on the Versailles ArtFoamies stamps was to use my gel plate and a brayer to adhere the Quinacridone Gold paint onto the foam. You could also use a palette instead of the gel plate. Do both sides of the bag, and be sure this paint layer is completely dry.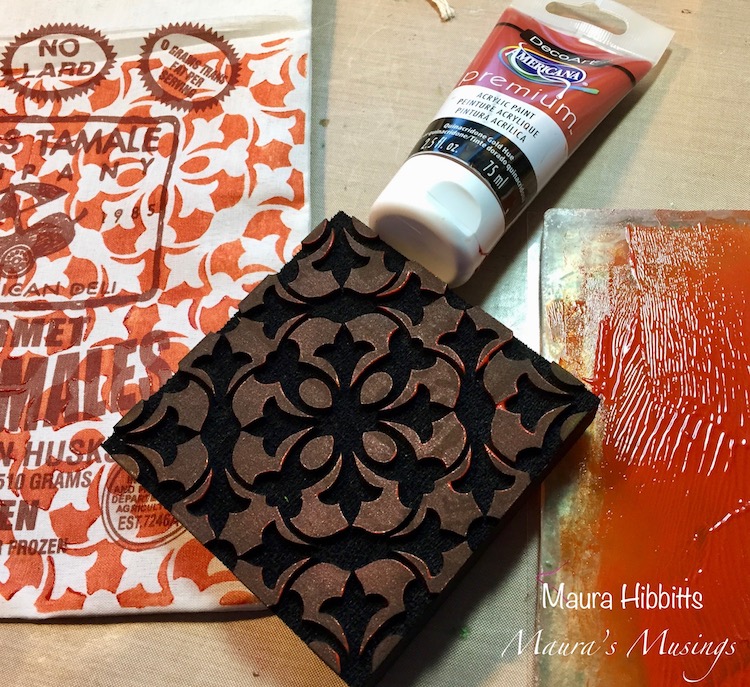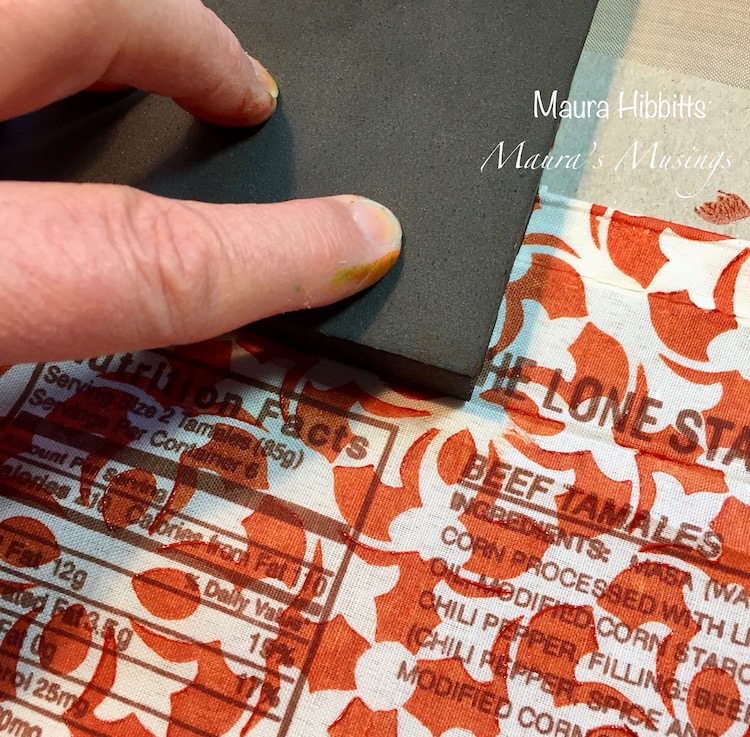 Through trial and error, I discovered I was able to match the stamped images up better if I started with the negative impression, and then stamped the positive with the Cobalt Turquoise Hue acrylic paint. Let dry. As you can see, there are a lot of imperfections in matching the images, but I'm ok with that.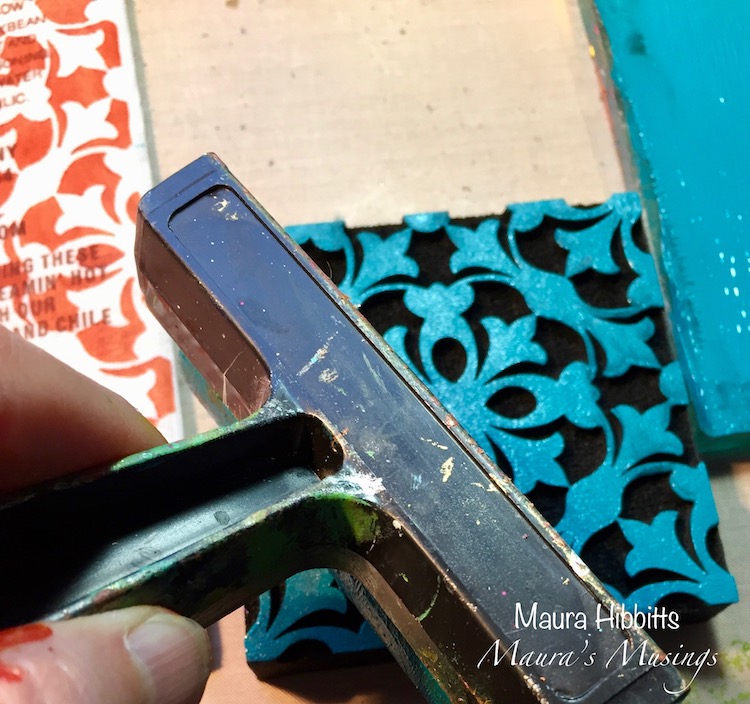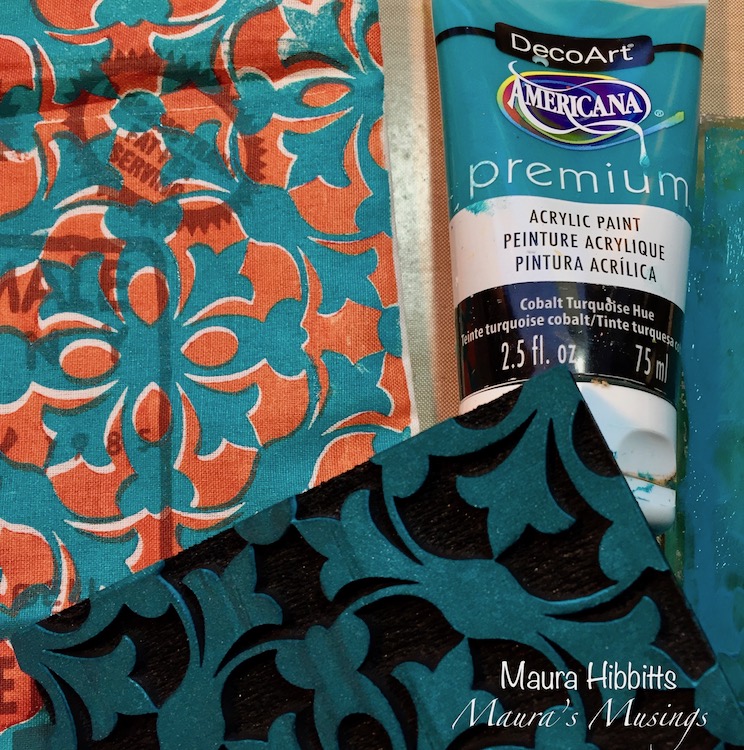 I used a gold pen, and a Posca metallic orange pen to add some doodles to the bag on both sides. I don't plan to wash this bag, so did not worry about using washable pens, but take that into consideration if you plan to wash your bag.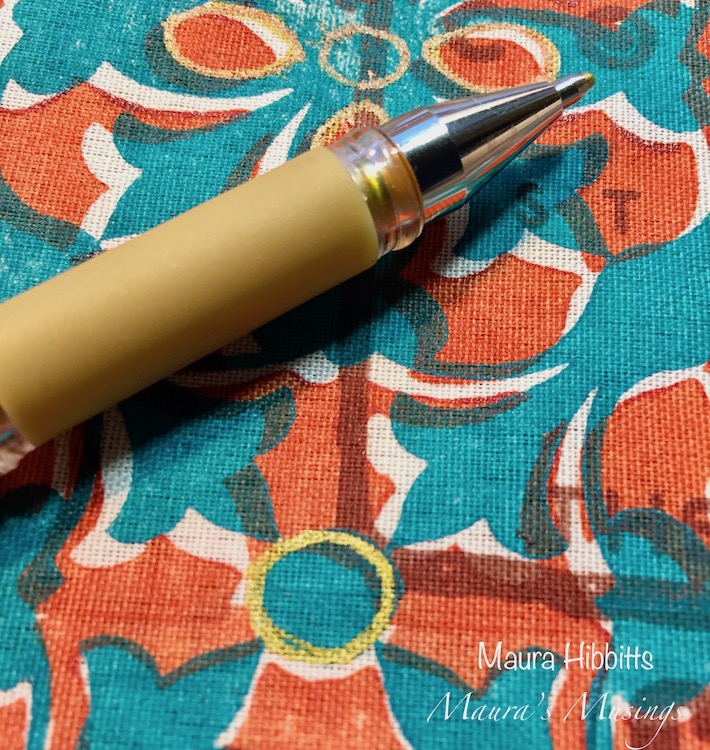 Now, it's time to add some embroidery. I used turquoise thread and stitched the bottom of the bag with a Blanket Stitch. Next, on the front panel, I added French Knots inside the circles I'd drawn with the pens, using a yellow orange thread.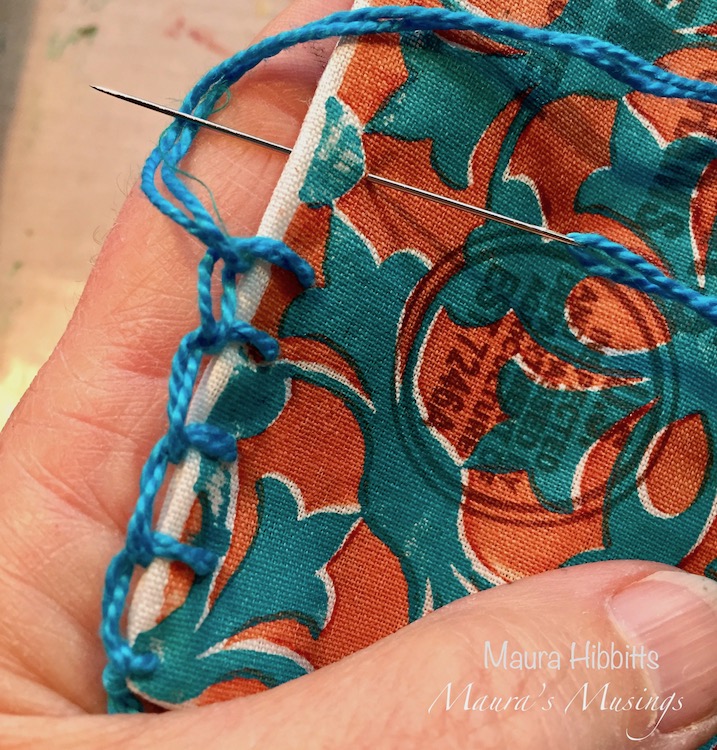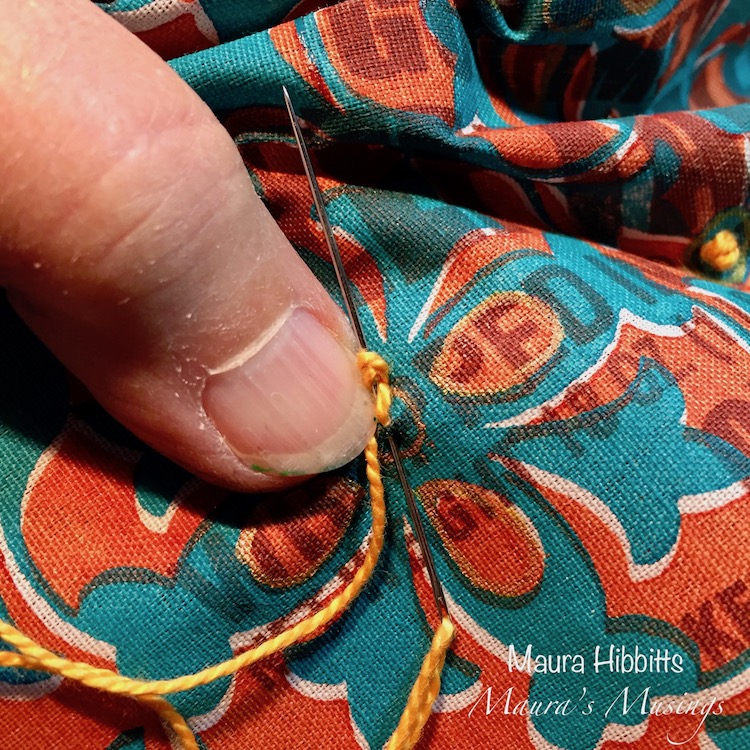 I wanted to make a charm to add to the bag, so I stamped the Urban Scribble image onto Shrink Plastic with archival black ink, and cut a section of it to use. Punch a hole into the plastic, then heat it and shrink it with your heat gun.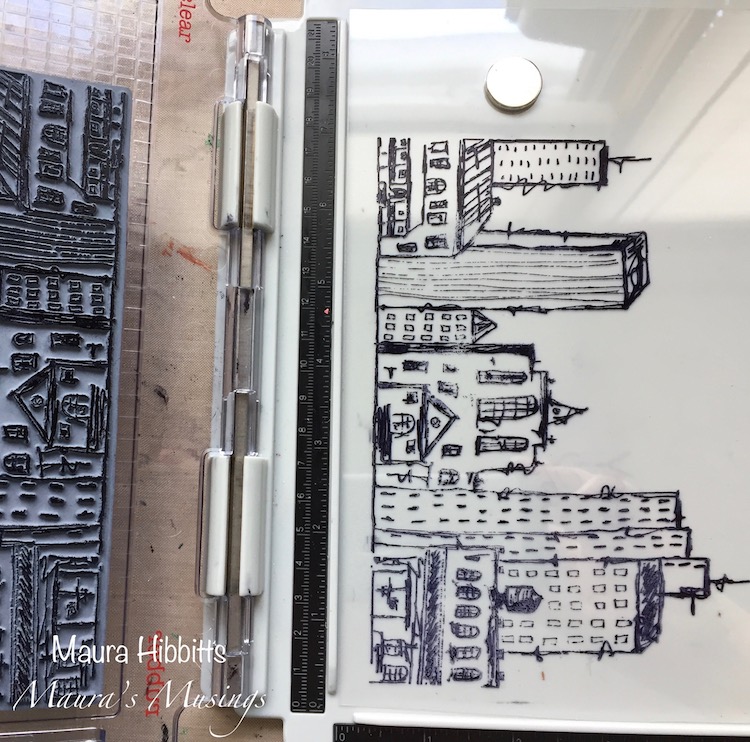 My final touches on the bag were to add the shrink and metal charms with embroidery thread, and tie loops of bright orange and yellow orange threads to each section of my blanket stitch at the bottom. Once I'd tied the loops on, I trimmed them to the same length. Now I just have to plan my next trip and decide what to fill my artsy travel bag with!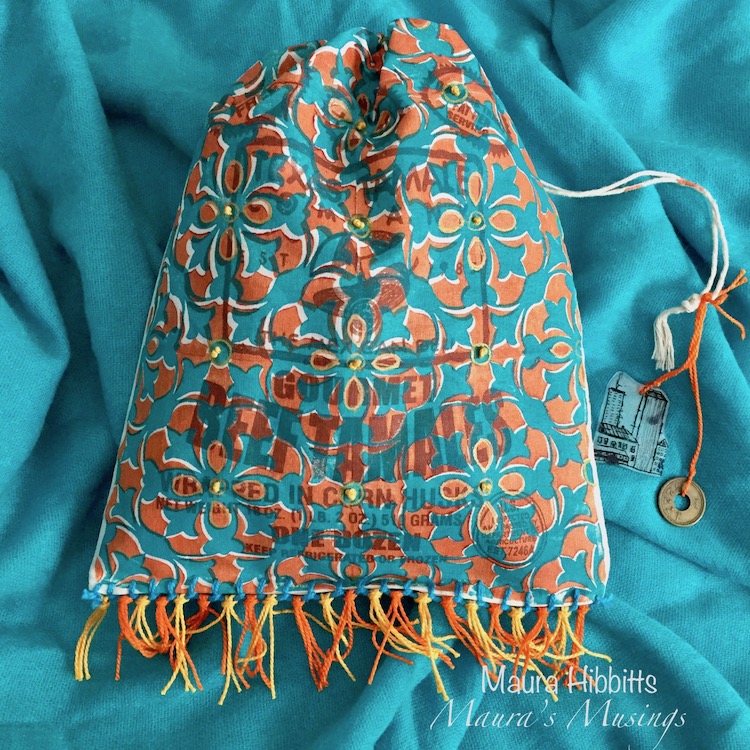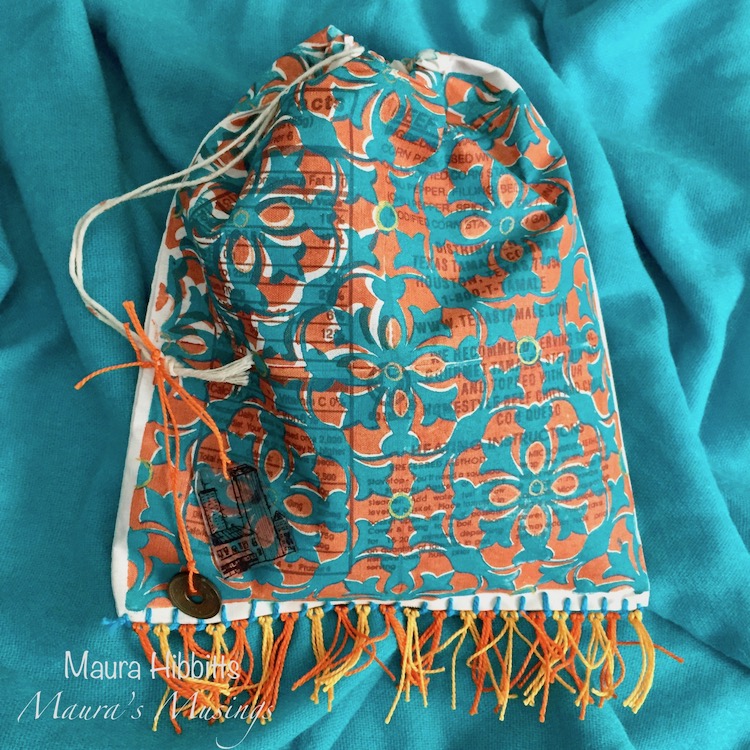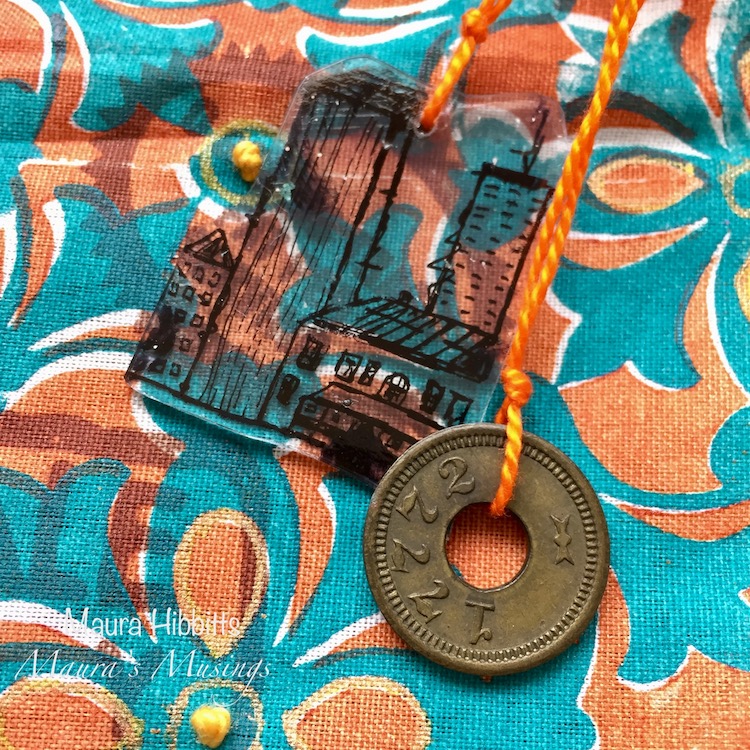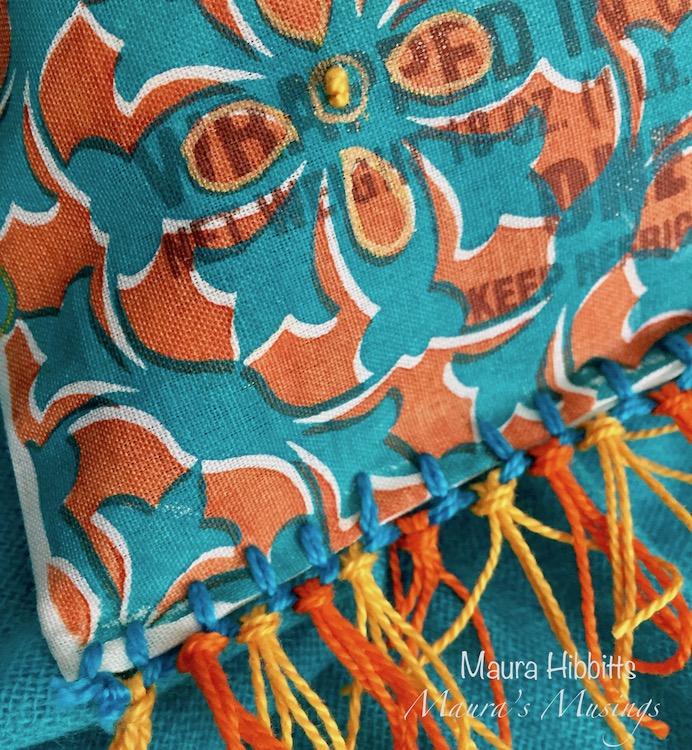 ---
Thank you Maura! I could see using this bag for a fun evening out too! I just love the bold colors and the embroidered details – so cool!! In addition to an upcycled canvas bag (there are some possible choices in the list below) and some cardboard, Maura used the following supplies for her project :
Feel inspired? Working on something yourself that you'd like to share?  I love to see how you interpret our monthly themes. Email me how you used my stencils and stamps with the theme and email me an image – I would love to share your projects in my next  "n*Spiration From Around the Globe".
SaveSave