How well do you know our Creative Squad? Each week one of our talented design team members shares a project with us and we have come to know and love each of their individual artistic styles. BUT we realized that maybe we could learn a bit more about what makes each of these lovely artists tick. So, we decided to do a quick interview with each. Read on and stay tuned for a new interview each month :)
---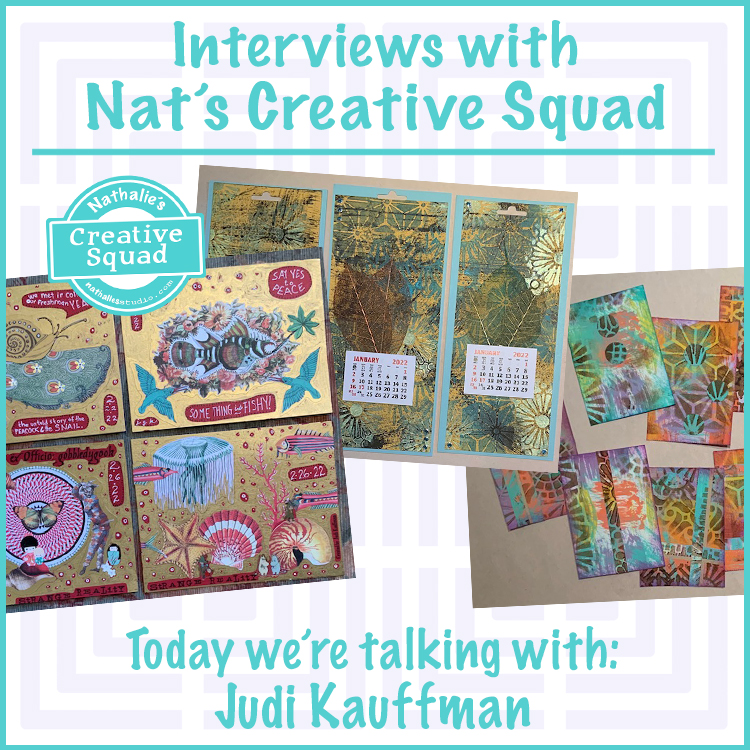 Welcome Judi Kauffman! Judi has been with the Creative Squad since 2018 and comes to us from Maryland. Judi has been in the paper crafting and mixed media industry for many years and her knowledge of tools and techniques is truly encyclopedic. Let's hear what she has to say :)
1. How old were you when you first started making art? What is an early artmaking memory?
My parents were both artists so there was never a time when I wasn't making 'art'! They put butcher paper on the walls in my room from the time I could hold a crayon so I could draw on really big paper. By the time I was seven I had my first carving tools and linoleum blocks. My dad and I got the last bits of ink in cans from a commercial printer whose business was across the street from his, so I started early with real tools and professional-level supplies. I was hard-wired to be a printmaker and to this day I'm happiest when my hands are ink-y!
2. If you are an art journaler, when did you start your first art journal?
I'm not an art journaler. My preference is to fill insert after insert for my Traveler's Notebook with things that I add onto the pages – sometimes stenciling, stamping, or drawing directly, but more often using a glue stick or double-sided adhesive tape to adhere bits and pieces. It's more like a scrapbook in that regard. And I stack things into 12x12x6 ArtBin Super Satchel Double Deep boxes that I think of as a 'journal box' rather than a journal [book].
3. What is one technique you just rediscovered or learned that you are now using all the time again?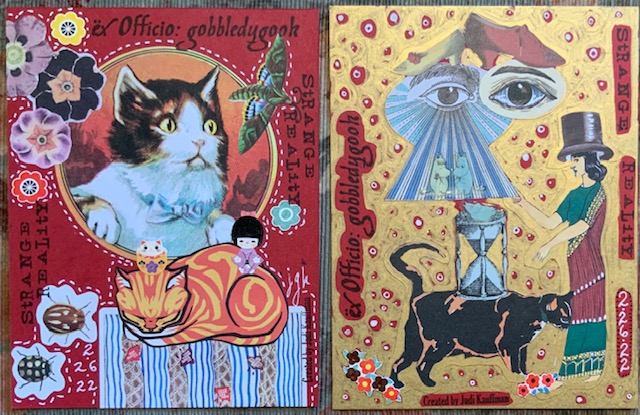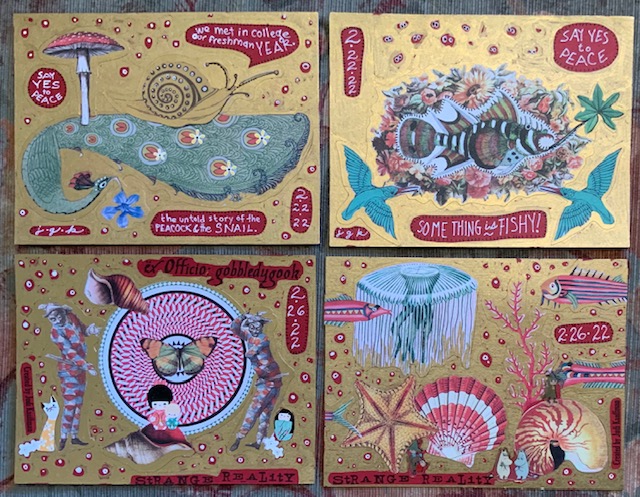 I never entirely abandon it, though the amount of time I spend on it varies: Doodling is one of my favorite techniques and lately I've been doing a LOT of it, adding stickers to the hand-drawn imaginary flowers and animals that show up in many of the pieces. I'm channeling Gustav Klimt (gold, lots of pattern) and have let the surrealists sneak in just a bit. I start with dark red confetti cardstock and then it's a mix of gold paint pens, black pens in various nib sizes, and white gel pens. Now and then I mix in some opaque turquoise. Needlepoint and stitchery are the two other techniques that disappear and then reappear.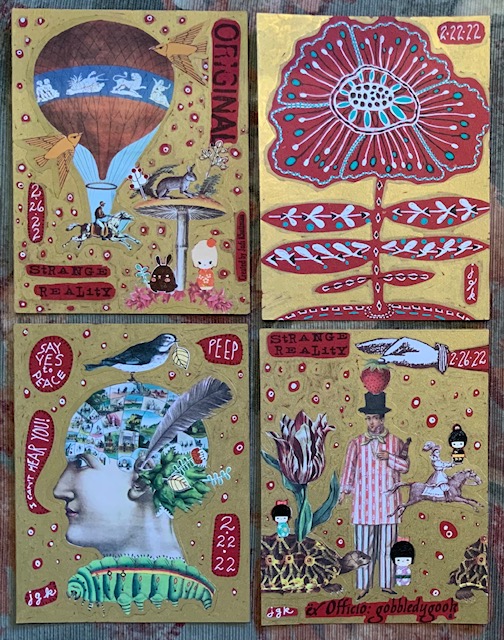 4. Describe your artistic style in 3 words.
Quirky. Graphic. Whimsical.
5. What are some of the biggest influences on your art?
My parents and grandparents were my biggest influences. One grandfather was a tailor, the other a blacksmith, both grandmothers were phenomenal bakers, so using one's eye and hands and heart together to create something that had not existed before was a very big part of my life. I grew up going to art galleries so I inhaled paintings, prints, quilts, wall hangings, and sculptures and couldn't even begin to pick favorites or say who influenced me most, though I am very drawn to textiles, especially Asian.
6. Favorite color 5 years ago? Favorite color now?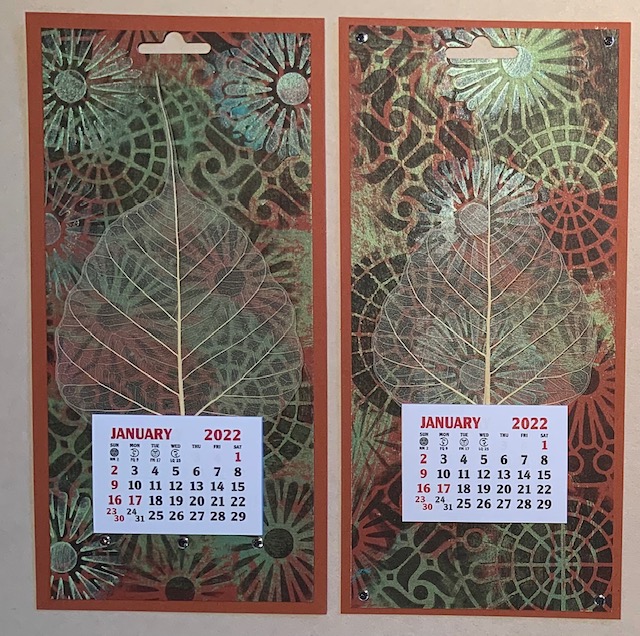 My favorite colors as a child as well as five years ago were red and turquoise. Now it's turquoise and red. I can't choose just one!
7. Show us where you create.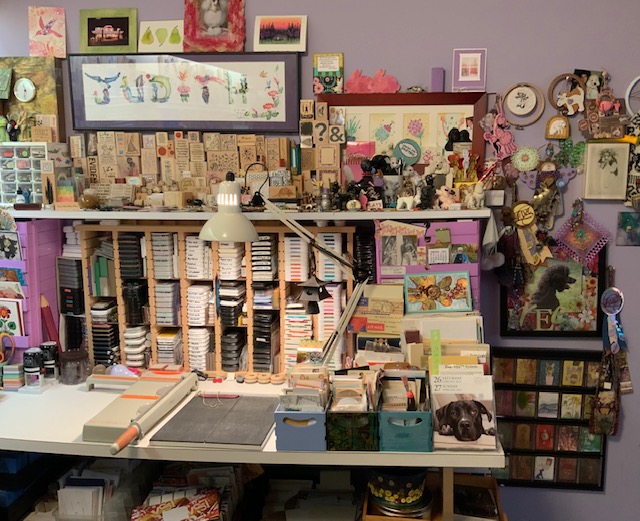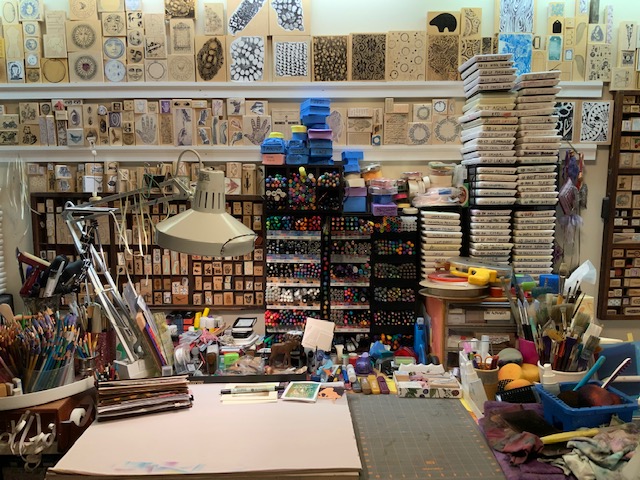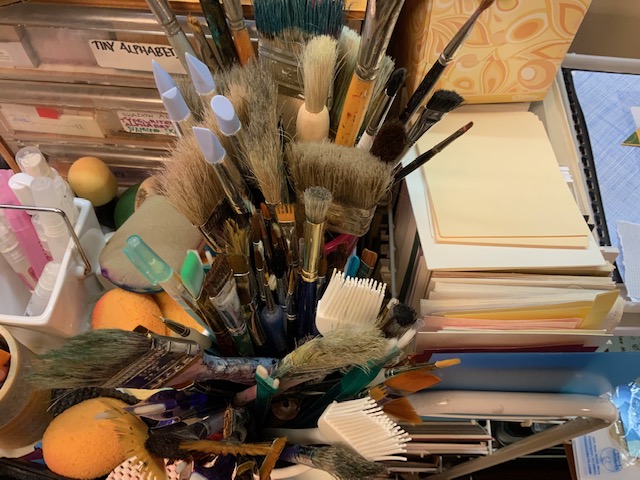 8. What are your 3 favorite Creative Squad projects that you've created?
My favorite Creative Squad project is always the most recent one so right now it's the stamped Batch of Bunnies (cards), but looking back I am also fond of the sweatshirt where I stenciled over stains (it gets tons of wear) and I love the little stenciled box/bag that holds stenciled ATCs.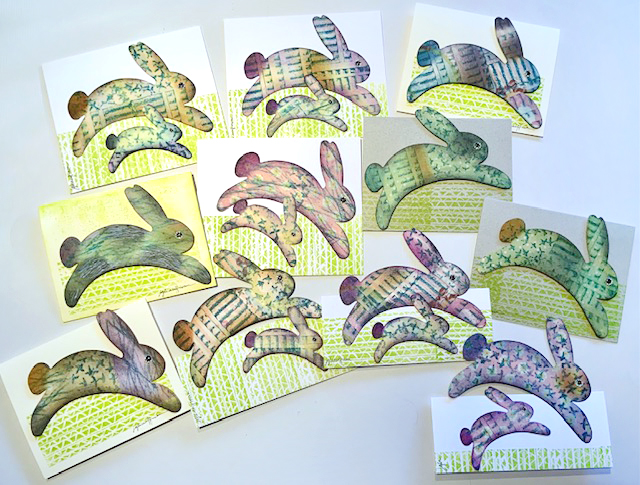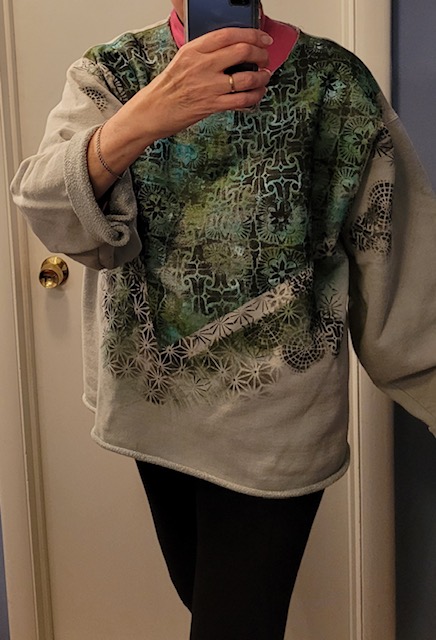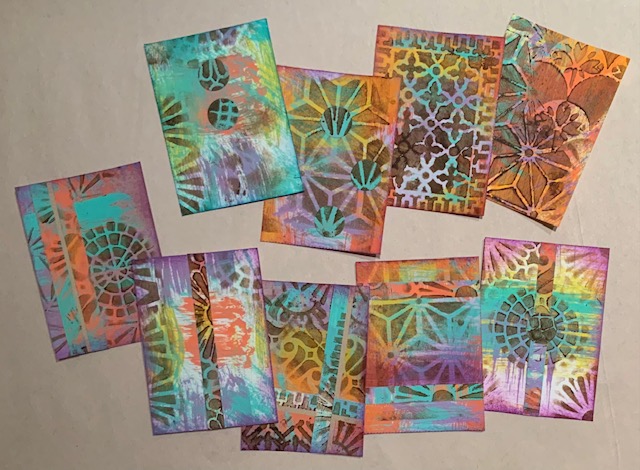 9. Describe the perfect artistic day for you.
My perfect art day would be room service breakfast with fresh squeezed orange juice and a few too many pieces of bacon, followed by a chauffeur-driven trip to a museum, followed by a slice of chocolate cake, a Coca Cola, and then the rest of the day into the wee hours in my studio. There would be die cutting and stenciling involved.
---
Thank you Judi!
Learn more about all our Creative Squad artists here on our website and on the Creative Squad Instagram page.