How well do you know our Creative Squad? Each week one of our talented design team members shares a project with us and we have come to know and love each of their individual artistic styles. BUT we realized that maybe we could learn a bit more about what makes each of these lovely artists tick. So, we decided to do a quick interview with each. Read on and stay tuned for a new interview each month :)
---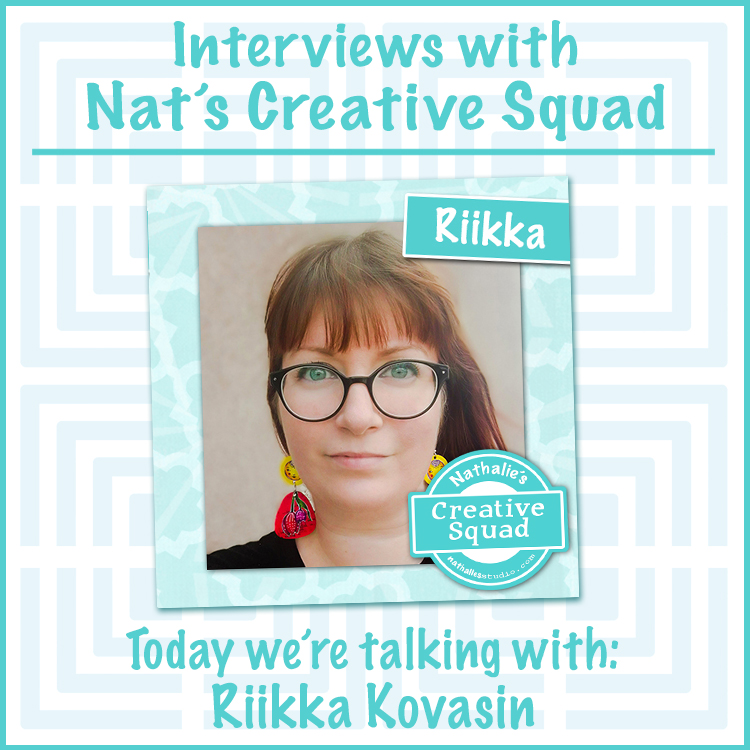 Welcome Riikka Kovasin! Riikka is from Helsinki, Finland and has been on the Creative Squad since April 2021. She always amazes us with the variety of forms that her projects take on and the beautiful videos she creates to accompany them. Let's learn more!
1. How old were you when you first started making art? What is an early artmaking memory?
Not sure it's art but my earliest memory of presenting a drawing to a stranger was when I was perhaps three and I had drawn a picture of my family to the nurse at a child health clinic (in Finland a child's growth is checked in these clinics regularly until school starts and a child is then moved to school health services). But the nurse wouldn't believe I had drawn it! I thought there was something wrong with the drawing, but instead she was hesitant to believe I had drawn such a complex picture with circles at that age. After she put me to draw rectangles, triangles, and circles she believed it was my doing. I have no memory of the drawing, but I remember the feeling of her not believing and then the agony of drawing the shapes and they turned out horrid in my mind, but she was excited! Like the whole situation then turned upside down.
I've always loved making stuff, drawing, and crafting. I started going to this "art school" when I was seven and continued until I was fourteen. It was great to experiment with different techniques and materials! I studied in a polytechnic and graduated as a Bachelor of Culture and Arts. When my first daughter was born in 2009, I found scrapbooking and through that mixed media when my other daughter was born in 2010.
2. If you are an art journaler, when did you start your first art journal?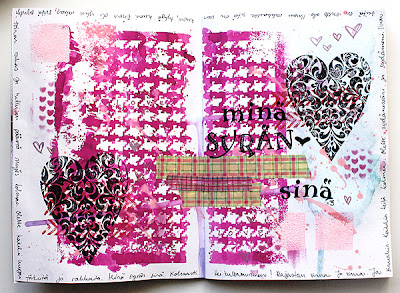 Oh my. I do a lot of various kinds of projects, but I do journal, too. From my blog I could find a post where I write that the page in that post is my very first art journal page. It's from June 2012. During that June and July there seems to be more pages like the first one. The included picture here is that of the second ever art journal page. But then, at least according to my blog, there's a big gap with journal pages as the next ones are from 2015. Those start to be more "me" than the first tries. The other picture is from a page from 2016.
3. What is one technique you just rediscovered or learned that you are now using all the time again?
These come and go as I revisit an old post, an old journal or otherwise stumble upon something. Something I've recently come to love is Infusions, so at the moment they seem to be my "go to" way of breaking a blank page.
It's not a technique, but the same goes with colors, too. I tend to linger in a color scheme for a while and then pick a new pair that I then use all the time. The latest one has been blue and brown, but it seems like I'm in a turning point while writing this. Next one might be black, white, and brown, inspired by DeeDee Catron. Or then something else entirely!
4. Describe your artistic style in 3 words.
Before those three words, I must say that I can't be brief! They call me "Ruuneperi" at work after a Finnish writer and poet Johan Runeberg that means I'm long worded. Give me an essay to write – no problem! Ask me to do an abstract – I'm in trouble.
"Happy painty fingers" was something I wrote on aprons of participants in my workshop back in the day, could that be it?
5. What are some of the biggest influences on your art?
In a way I think I need to say materials, mediums, and tools. As those effect the colors I'm choosing, patterns I'm creating and the feel I have on my fingertips when creating. Then of course my mood, what's on my mind when I start to create and such, but that's a part of everyone's process.
I do follow a lot of accounts in Instagram, too, so I'm influenced by those as well. It's always a balancing act, as I'm sure you all know. I love to see what others do and create but on the other hand I don't want to be too much influenced. But of course, everything I see gets absorbed and catalogued in my brain so it would be foolish of me to think I'm not influenced.
6. Favorite color 5 years ago? Favorite color now?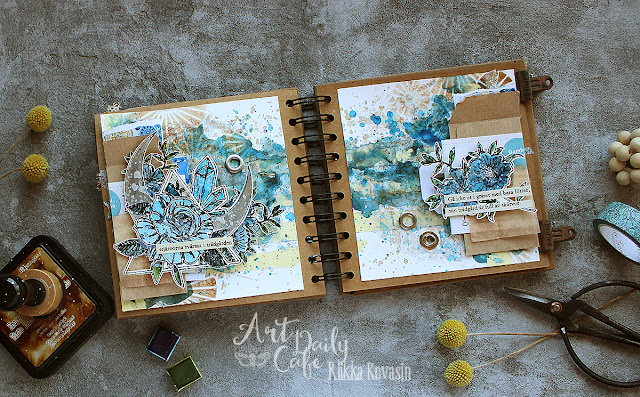 It seems that I partly was too eager to share this! LOL! But my constant, all-time favorite is blue/turquoise. If I need to pick more precise shade, then something like teal or the tone of weathered copper. So, I guess five years ago my favorite was the same – teal.
Now, like I mentioned earlier, my favorite combo is blue and brown, but then the blue is more of a sapphire tone, a lot less green. Just to have another color mentioned, maybe at the moment my favorite color is a warm tea tone brown.
When it comes to clothes, though, I hardly ever use anything but black.
7. Show us where you create.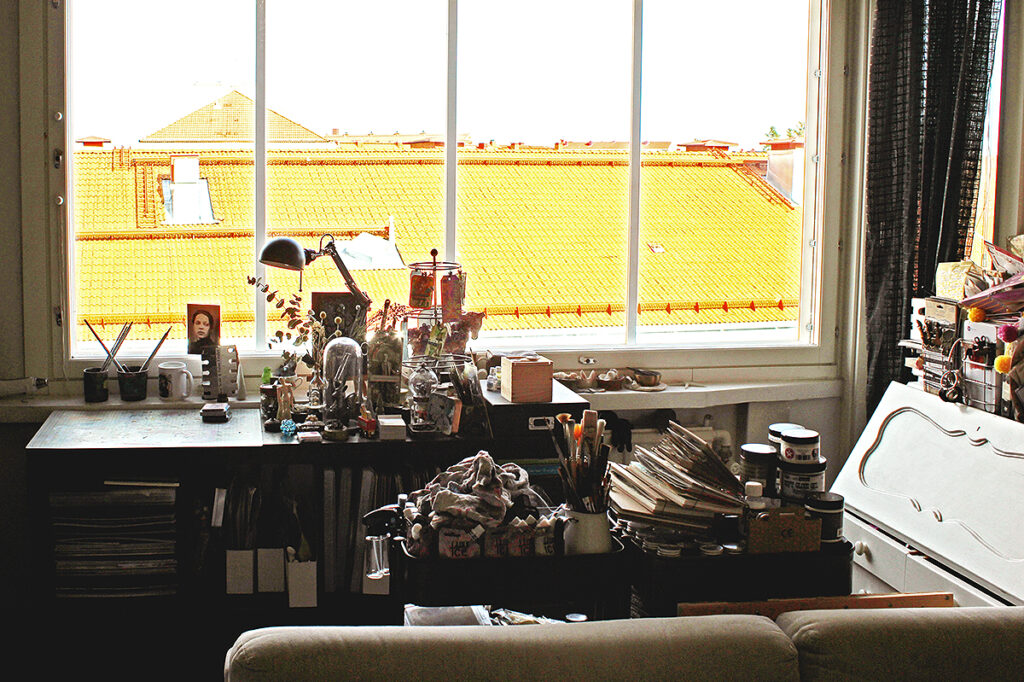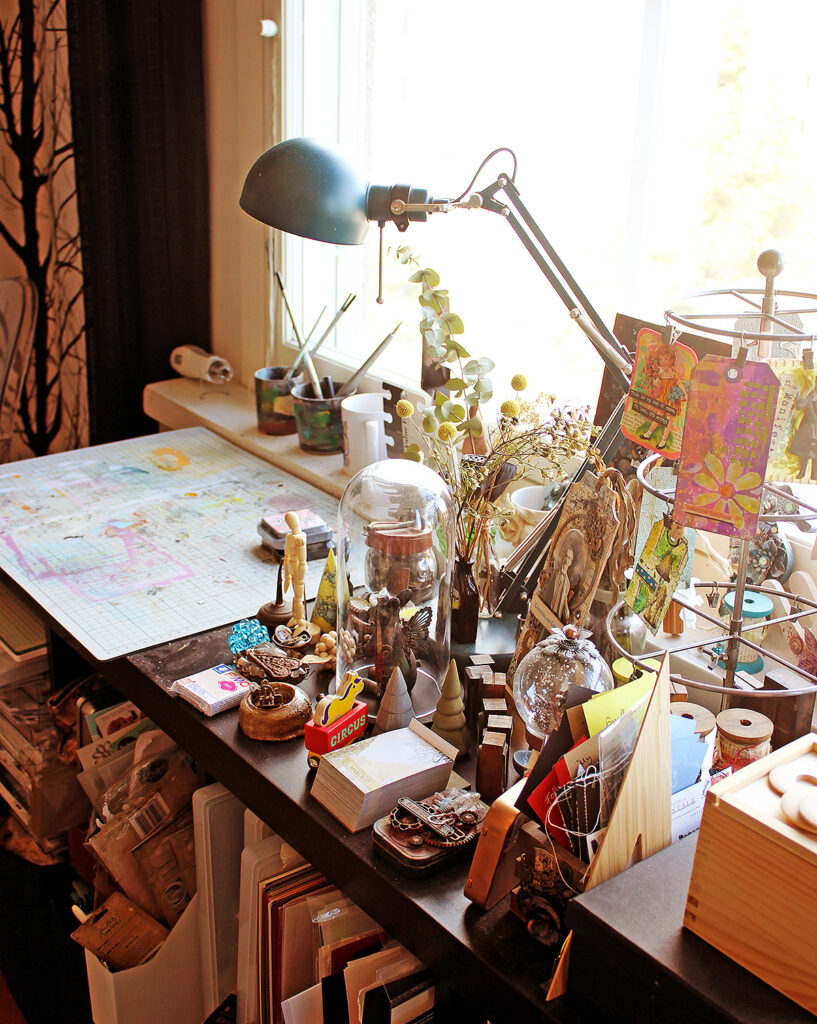 I create in the corner of our living room, in front of a huge window. I love the light it brings to the space! I do all my photography in front of it, too. My space consists of an Ikea shelving unit, two trolleys, and a little writing cabinet my grandfather made for me over 20 years ago. I do my videos on top of the living room table, though.
If you want to take a tour to the past and present, here's some blog posts of the space along the years. Here's the 2013 version, then the 2014 version, and finally one from 2019. The photos here are recent, from 2022 – I really should clean and organize the trolleys again!
8. What are your 3 favorite Creative Squad projects that you've created?
I looked at the projects, and I have to say that one of my favorites is the very first pair of cards I created for the Squad! They are quirky, colorful, and fun – at least I think they are. They were a joy to make and take photos of. And even more fun to send out!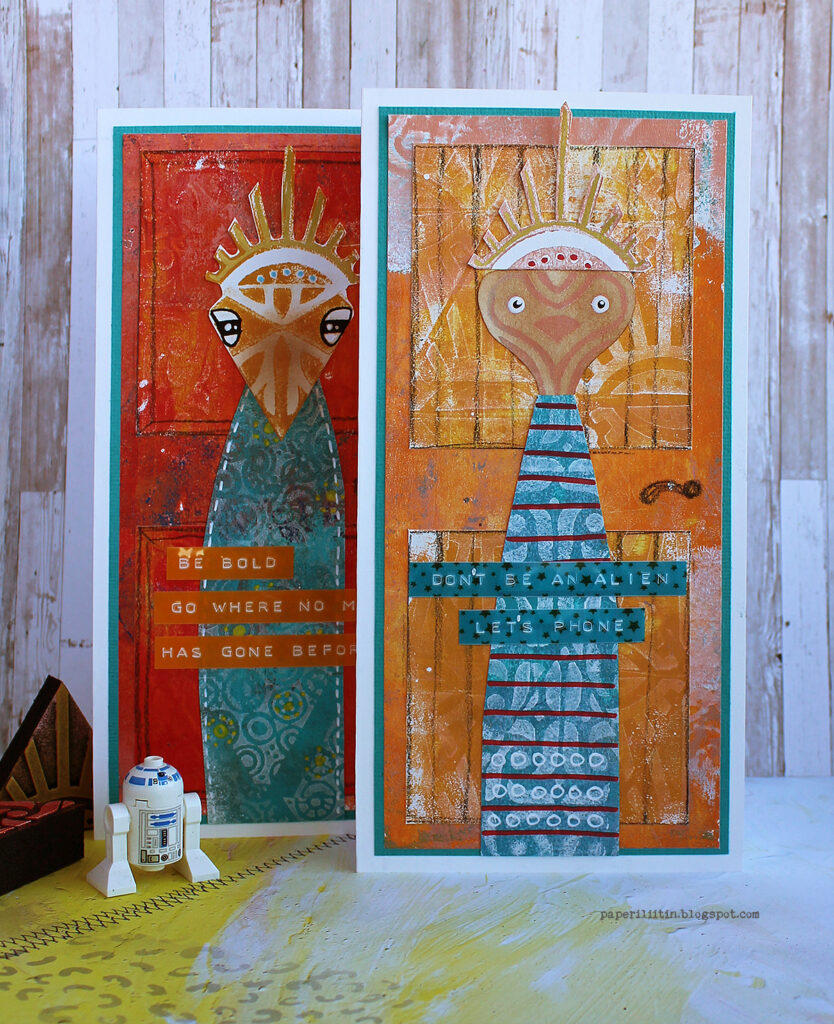 The other favorite are these envelopes for a couple of reasons. I love using an analogous color scheme and usually steer away from complimentary colors in a project. This is a good example of that – quite a limited color palette, lovely earthy tones. And again – they were so fun to send out!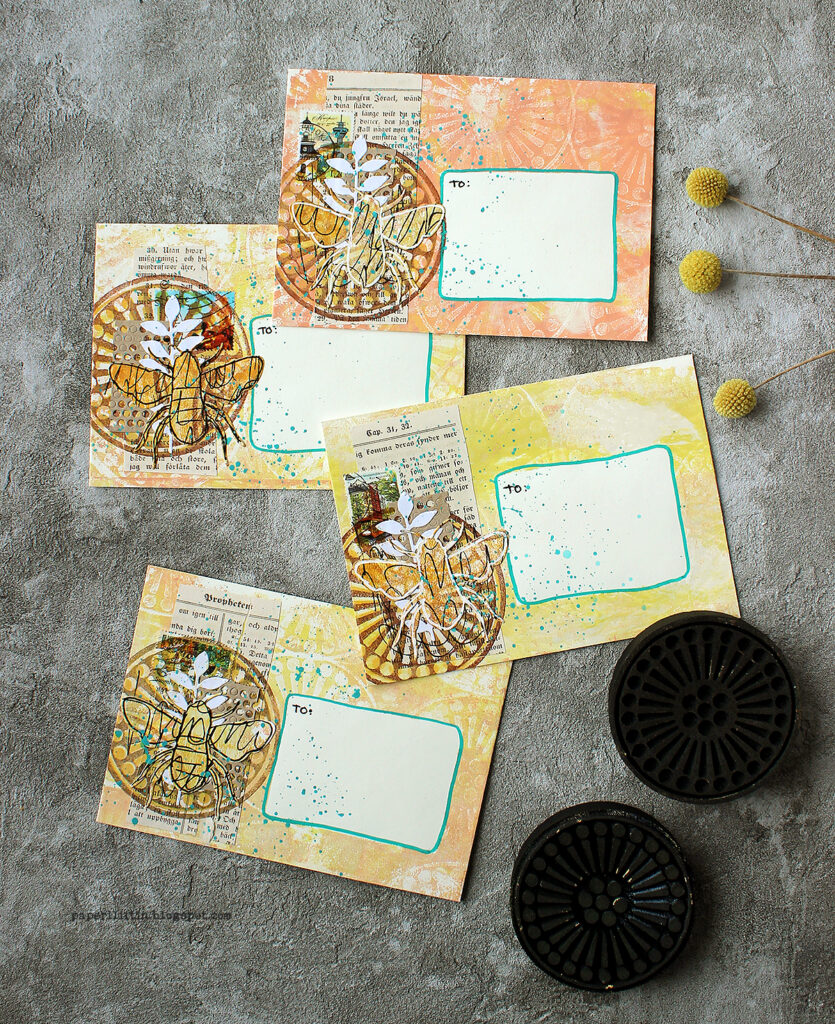 And then I had no other choice for the third favorite as the raven piece! I do love those birds and like I mentioned in the post, have a small collection of pieces depicting them. If you'd want to give me a present with any reason, a raven inspired craft project is always a safe bet!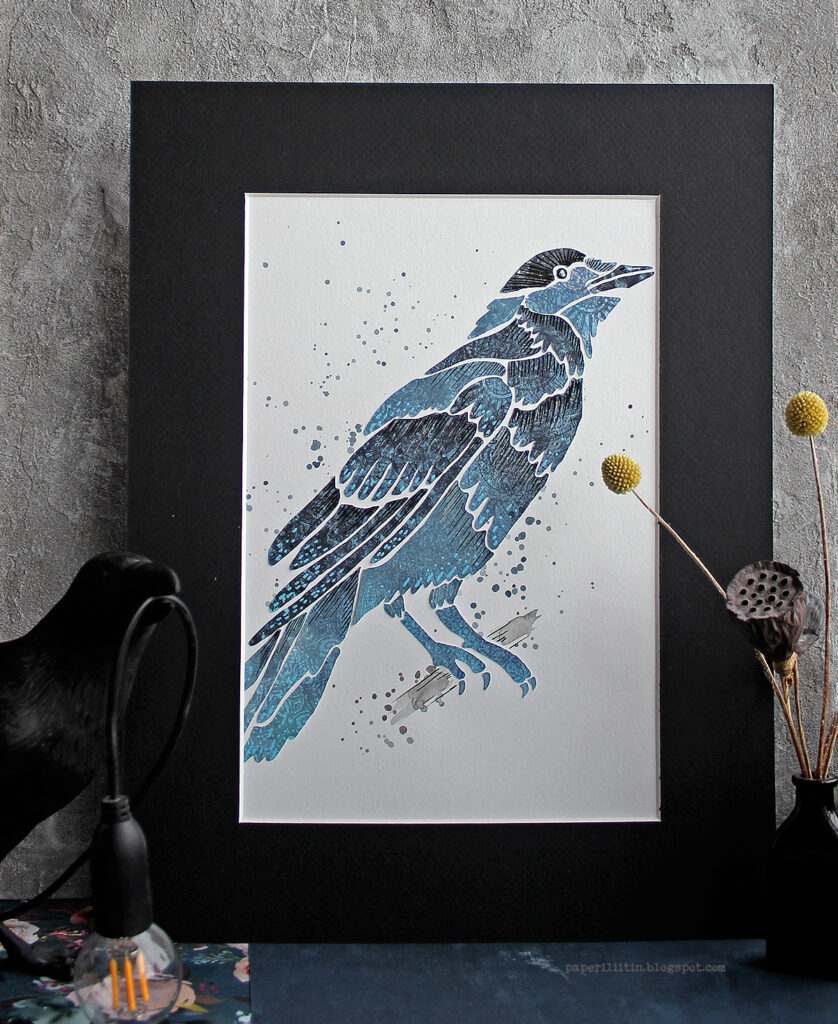 9. Describe the perfect artistic day for you.
Funny you should ask; I think I'm having one today as I write this! Not that I have actually done anything with paints or inks, but I love the flow of today. Normally I'm at work during the week and sometimes weekends, too, but those Saturday shifts then mean a day off during the week. Kid of a day to myself as I have the apartment just for me as everyone else is at school or work. Such a day is usually my "art day", although it might include finishing editing, writing, or proof-reading. In such a day I love that I have worked ahead so I can take my time to finish things.
But a perfect art day should include some joyous splashing with mediums, too. Happy painty fingers, you know? So, I think the perfect day would start with a slow morning, then working with the computer and everything would just flow, no writer's block, no glitches with software… Then a lunch, maybe continue a little, and then a nice walk in sunny, crisp spring weather (I'm not a fan of summer). Then later finish the day with some actual art making! It could be just slapping some paint to a canvas or journal or a more finished project.
I guess the biggest thing would be the sense of ease, the lack of any hurry whatsoever.
---
Thank you Riikka!
Learn more about all our Creative Squad artists here on our website and on the Creative Squad Instagram page.