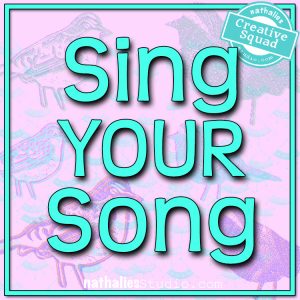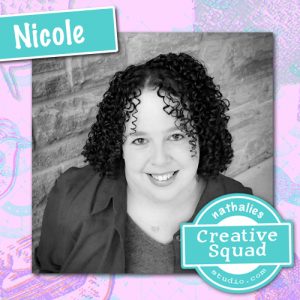 Hello from my Creative Squad! Today we have a gorgeous art journal spread from Nicole Watson that will have you singing your song too! In addition to my Early Bird rubber stamp, my Valley Road stencil, a seminal poem by Maya Angelou, and an array of ephemera, Nicole was inspired by this month's theme: Sing Your Song – Everybody has their own voice, their own groove, their own one-of-a-kind personality. What is something unique about YOU that you are proud of? Don't be shy, Sing YOUR Song!
---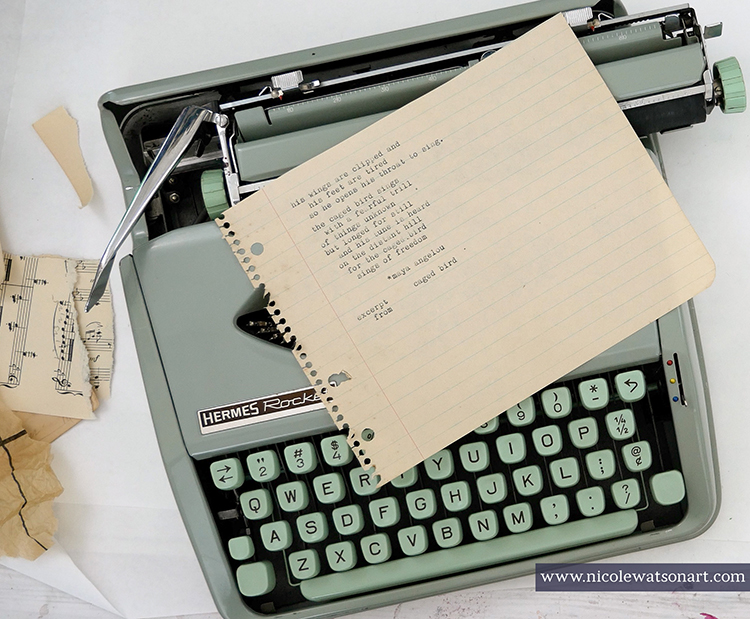 Layers or ephemera grunge, handwriting/text, stabilo pencils and gesso often fill my journal pages. These are just some of the tools that I use to sing my song. When Nat introduced this month's theme to us, I didn't know what song I would sing with these tools. However, as the events of the world have unfolded in these past few weeks, I haven't been able to get the words of Maya Angelou's poem "Caged Bird" out of my head so, I used this poem as inspiration for my page.
Here is a video showing my process: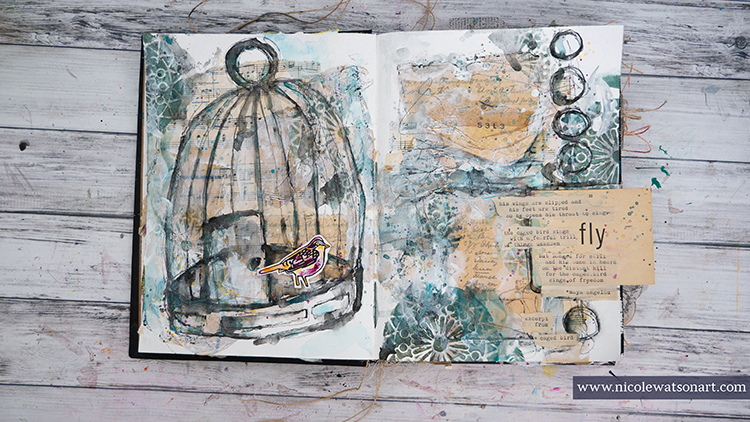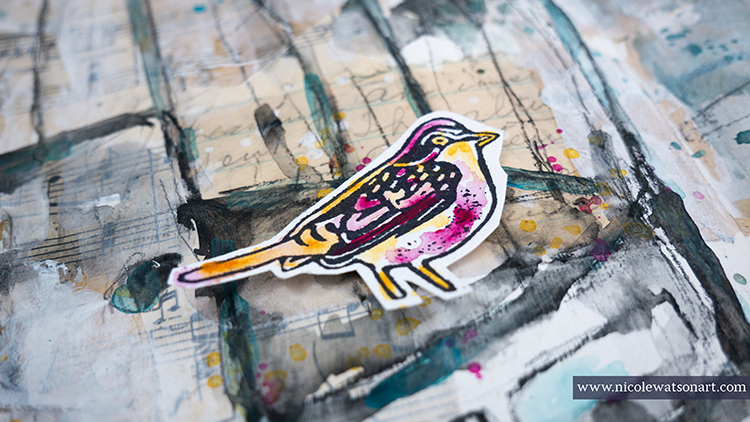 After gessoing my pages, I layered them with ephemera from music books and handwritten notebooks using matte medium. Then, I scrunched up some pattern tissue and added it to my pages as well. I really like how effortlessly pattern tissue adds texture to pages. To push back some of the strong black lines on the tissue and unite all the elements, I spread some watered-down gesso different placed on the ephemera.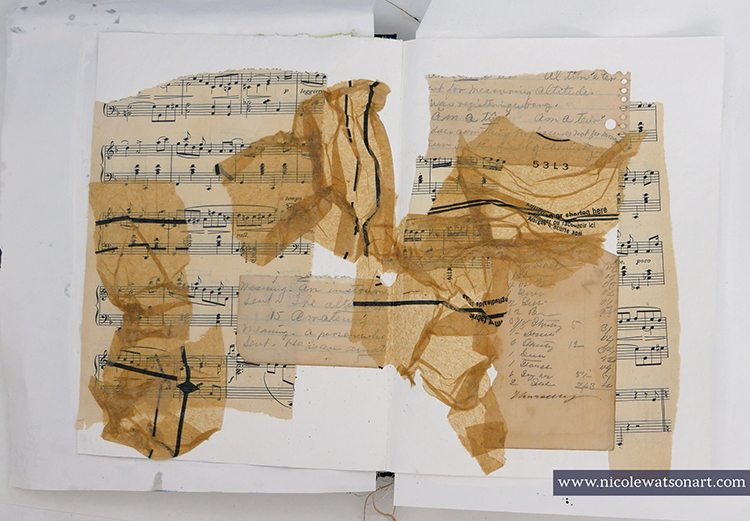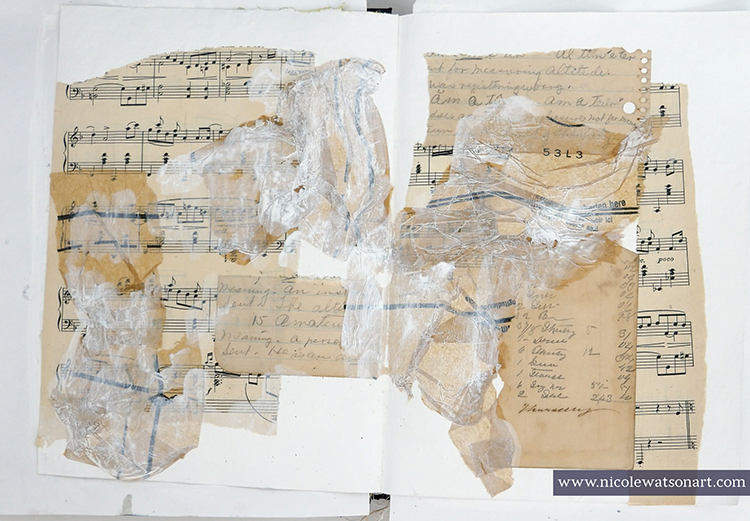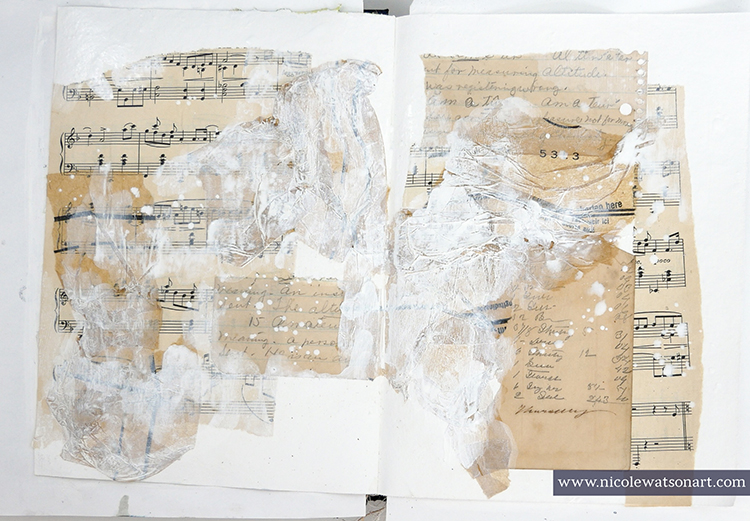 Next, I grabbed a charcoal pencil to sketch in a bird cage. Using a charcoal pencil allows me to easily erase sketchy marks I don't like (as you'll see in the video!) and the charcoal also adds to the grunge on the page. When I was finished with the sketch, I grabbed my stabilo all to trace the lines and then activated it with water. I also used my graphite stabilo to add sketchy lines to the cage and the other page.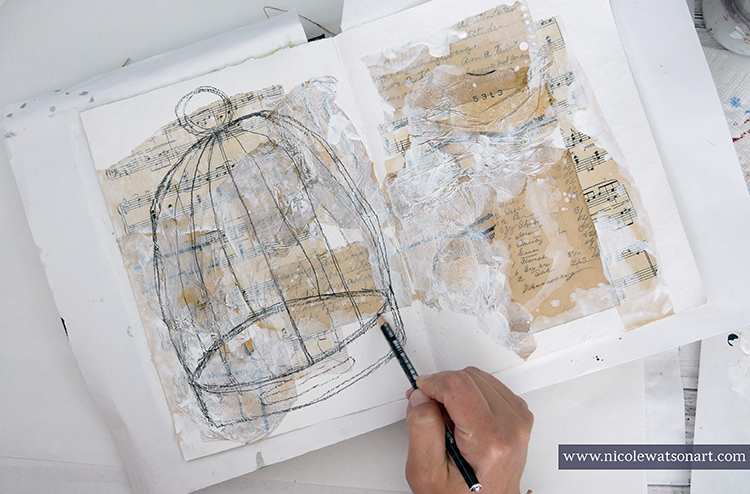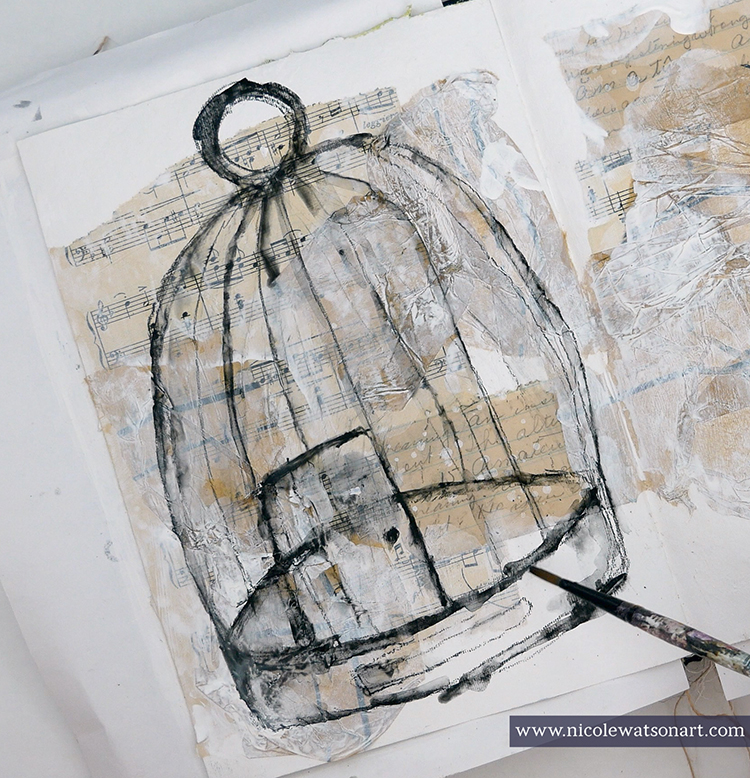 Then, I added some color using acrylic paint with my paintbrush and with Nat's Valley Road stencil.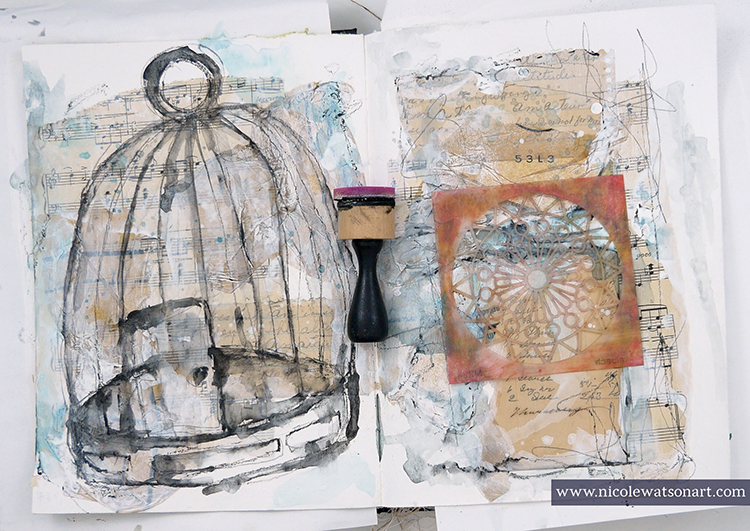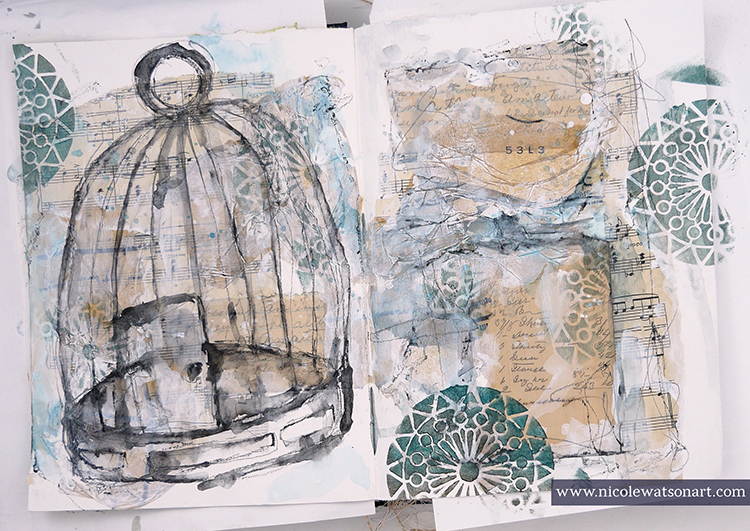 Since I didn't want the stenciled images to stand out as the top layer, I used paint, stabilo, and gesso to push them back a bit. I added a few more touches here and there with splatters and some additional blue paint to the bird cage.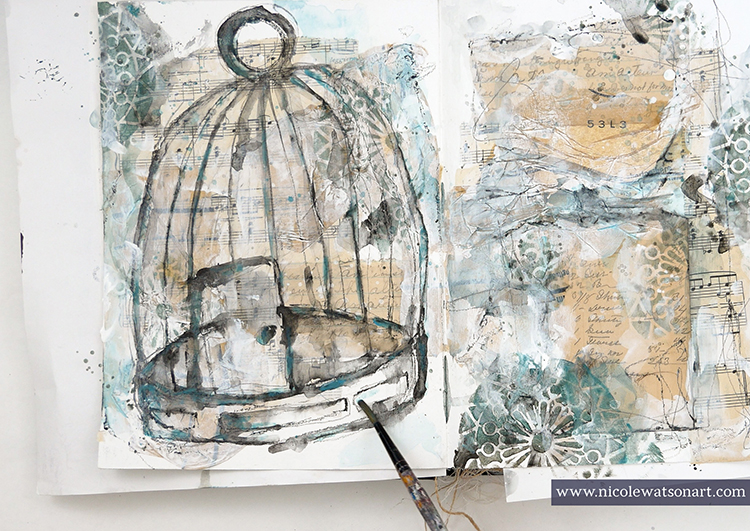 I knew I wanted to add part of the poem to my page, so I typed an excerpt from it with my typewriter.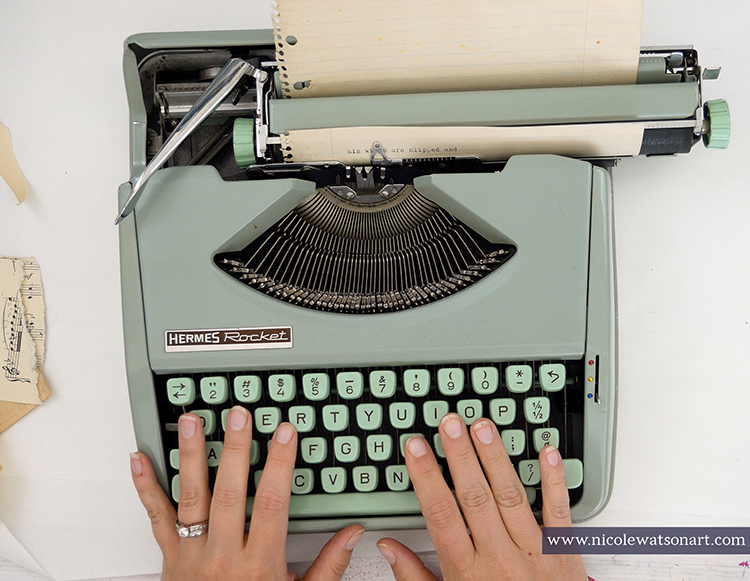 I also wanted a large focal point word and thought about stickers, but wanted a more vintage look. I hunted around my studio and dug in boxes for a "sing" flashcard I just knew I had…which I couldn't find! So, I dug through all my flashcards and found "fly" instead. If you don't have old flashcards, you can use large letter stickers or type something on your computer in a larger font and use paint to grunge up. After adding some paint spatters to the flashcard, I layered the text on the flashcard and felt something needed to draw more attention to that area, so I sketched some circles down the page.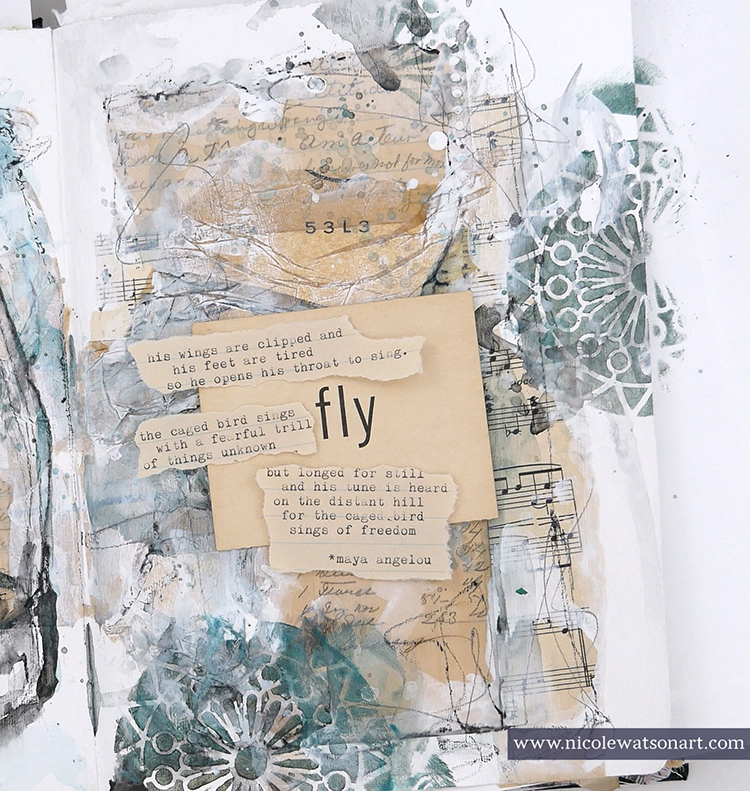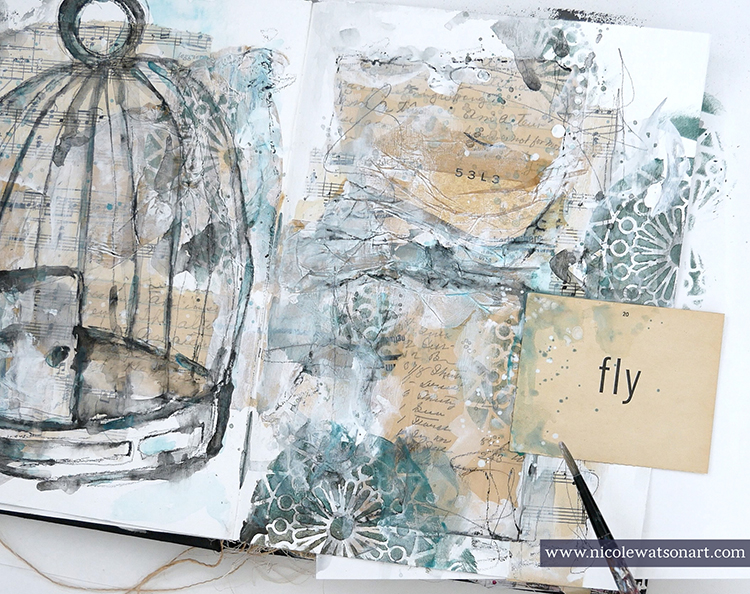 To add the bird, I stamped Nat's Early Bird stamp on a loose sheet of watercolor paper and also an old notebook page sheet (the same one I typed on). I didn't know which one would look better, so I painted them both. I decided I liked how the white watercolor paper helped the bird pop a bit more. After securing the bird to the page, I also added some flicks of the fuchsia and orange paint to the pages to carry the bird color across them.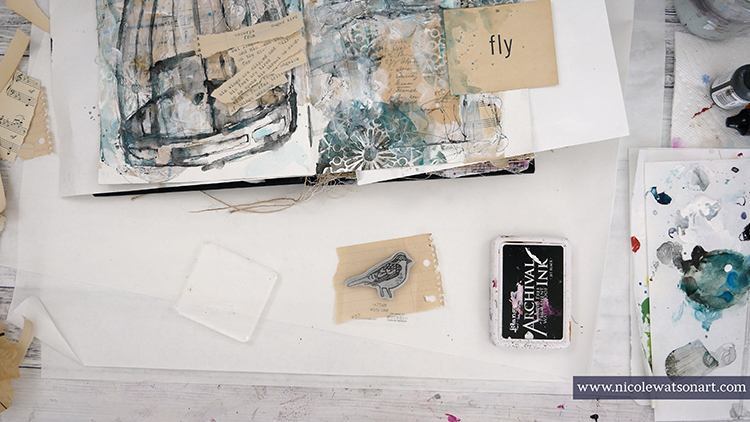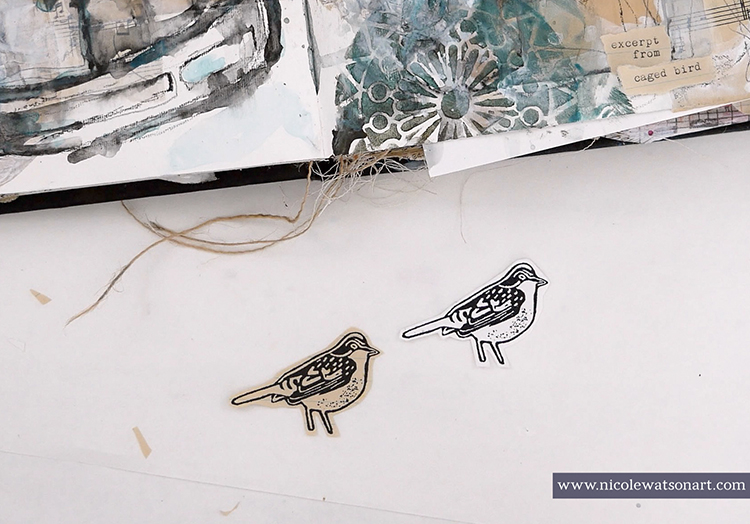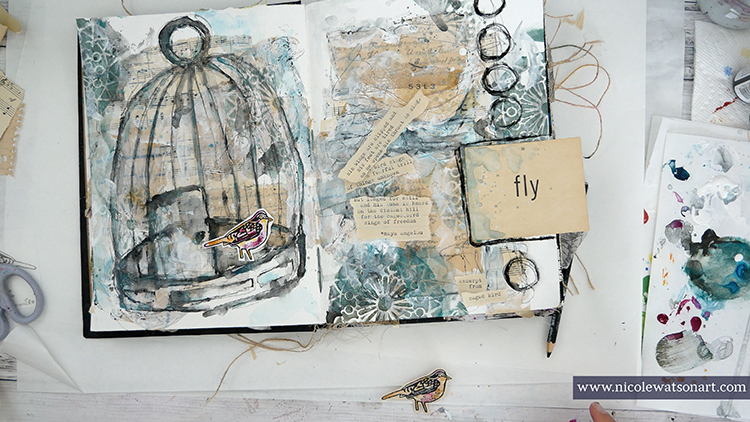 Often my art journal pages capture memories and moments in time. Before I began this spread, I paged through my journal a bit reminiscing about where I was in life when I created some of the pages. They are how I sing my song not only with technique, but allow me to process and journal about life.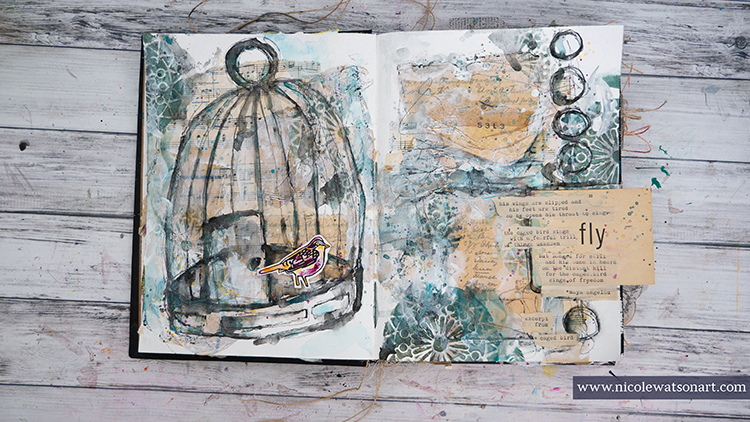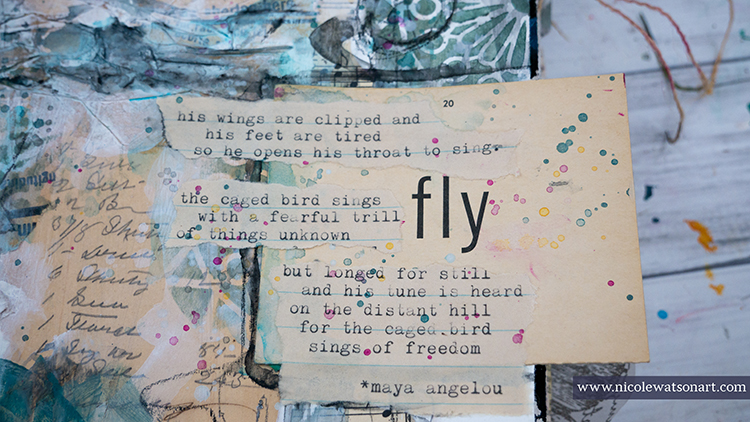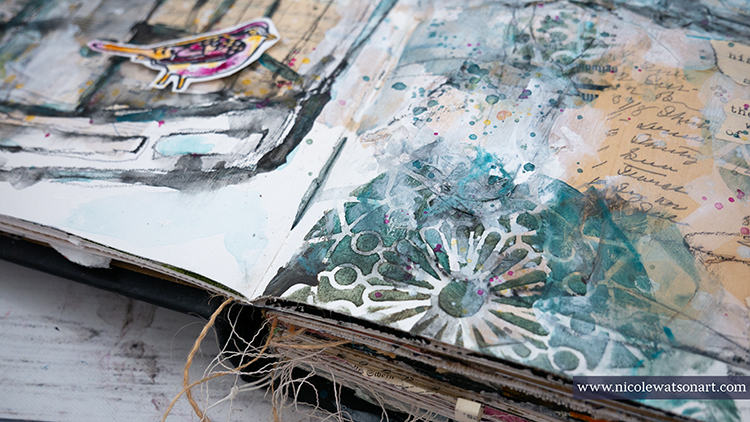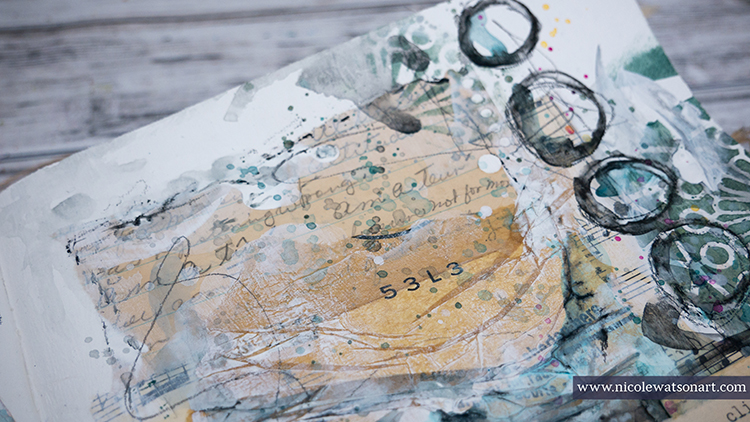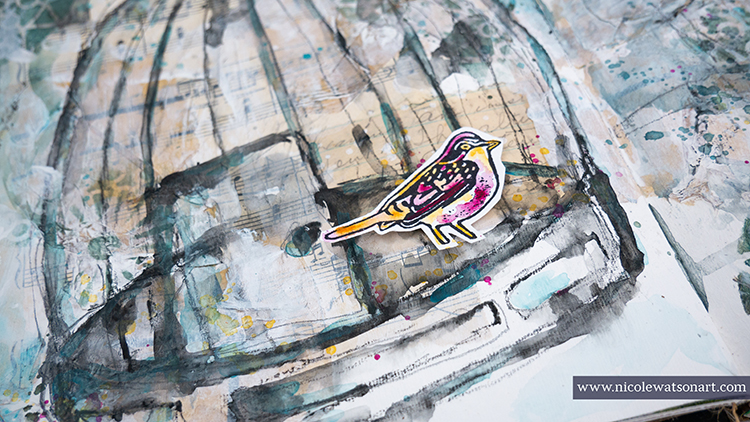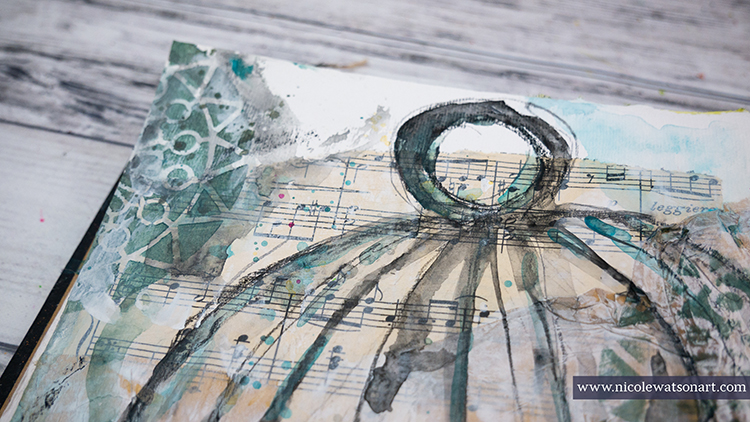 ---
Thank you Nicole! Love your beautiful sombre palette and the powerful message here!
Give it a try: you can find all my Stencils and Rubber Stamps in my Online Shop and in addition to various pieces of ephemera, here are some of the other supplies Nicole used: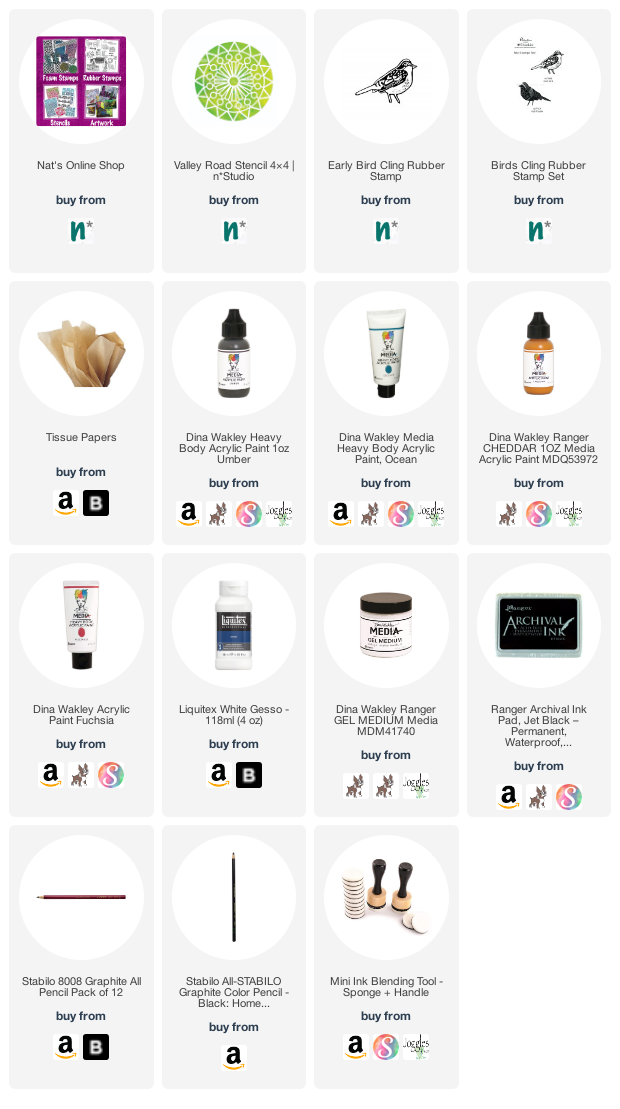 Feel inspired? Working on something yourself that you'd like to share?  I love to see how you interpret our monthly themes. Email me how you used my stencils and stamps with the theme and email me an image – I would love to share your projects in my next  "n*Spiration From Around the Globe".