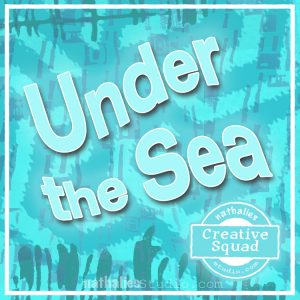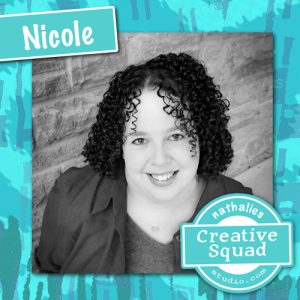 Hello from my Creative Squad! Today Nicole Watson is sharing her longing for the sea with us, with a beautiful art journal spread using a bunch of my foam stamps and this month's theme: Under the Sea – There is something so fascinating about water. We love being in it, floating on it, relaxing next to it, and it remains one of the last frontiers here on the planet. Create something that is an ode to the sea.
---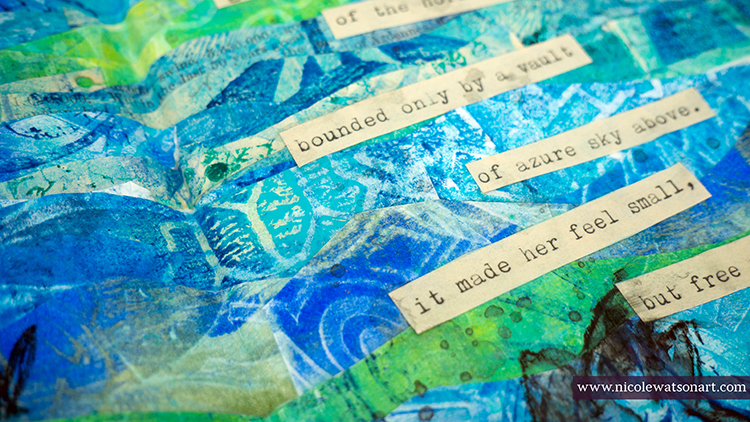 Traditionally, my husband and I have taken a fall vacation to the beach in Florida. It's one of our favorite vacation spots, right on the panhandle with white sands and emerald green water. I love to spend hours watching the ocean and its waves, walking the shore, hunting for shells while spotting a dolphin or two. I spend afternoons water coloring in my beach chair and exploring all the neat shops full of beach art. Unless something changes, this will be the third year in a row that we are not going to make it to Florida. A hurricane, moving, and now the pandemic.
I am so longing for our beach vacation, and these journal pages play homage to my love for the sea.
First, I spent an hour gel printing papers using Nat's ArtFoamies. I layered ocean colored paint on my plate, stamped the foamies, and pulled prints. The magic happened when I added layers to each pull creating depth in the prints.
One simple recipe I used a lot: Layer paint on the gel plate, stamp with art foamies, pull a print and a ghost print or two.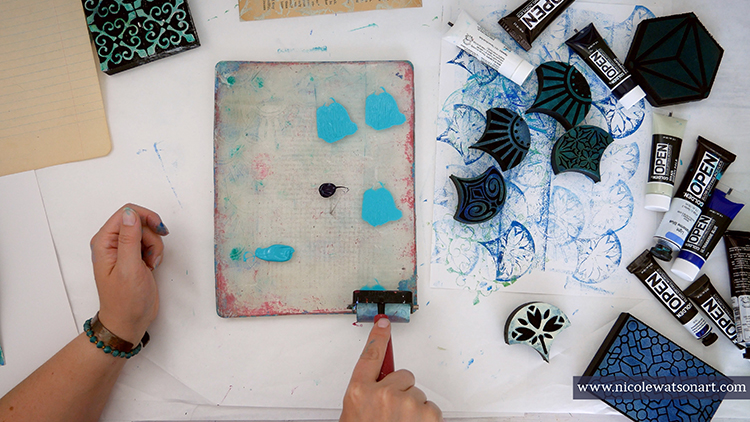 Then, once dry, create a small puddle of contrasting paint in the corner of the gel plate as a palette and stamp another foamie all over. Use the original prints to add this second layer of interest. You can see in the video how I layered the texture of different ArtFoamies with contrasting paint to create beautiful, gel printed pages.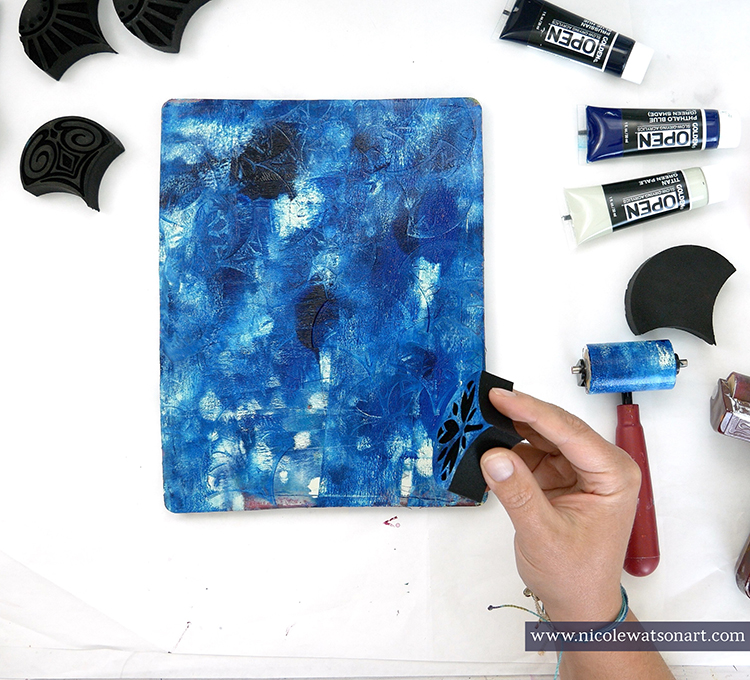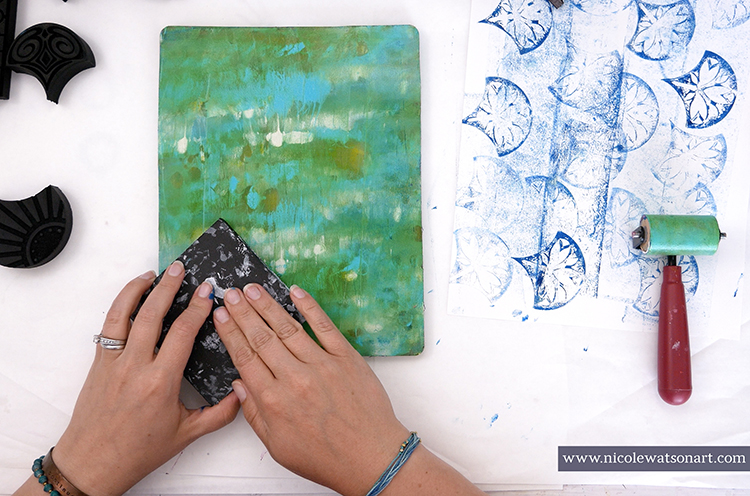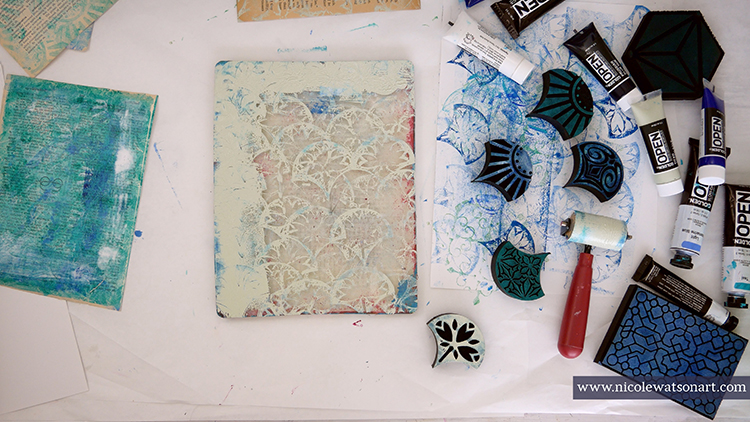 Next, I needed to decide what I was going to do with these prints! I had in mind that I wanted to create an ocean, so I just went with it. I cut strips of paper in wavy lines from the gel prints, then I layered them on my journal pages with matte medium.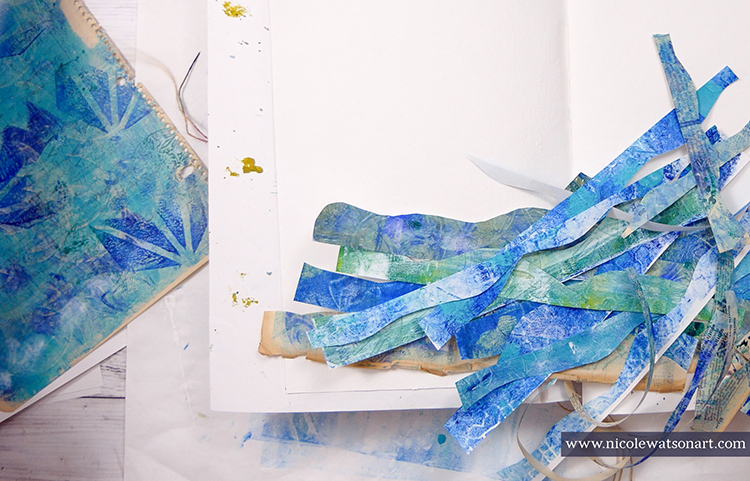 I picked a specific page that looked more like the ocean floor or beach shore for the bottom layer and kept in mind to vary the colors as I layered the papers. I let my ocean dry overnight, which was also my excuse to think about what to do next.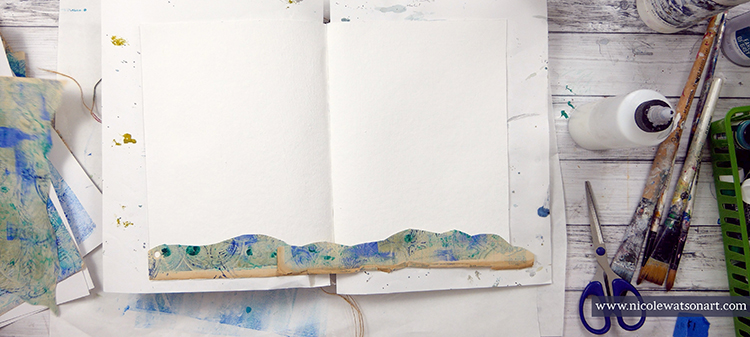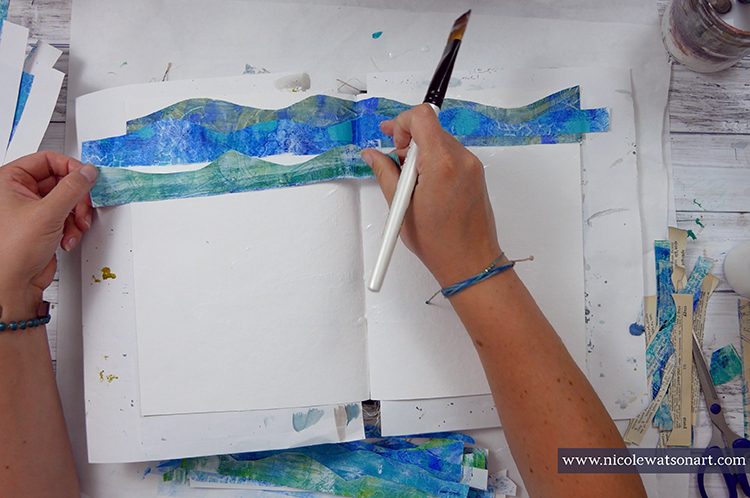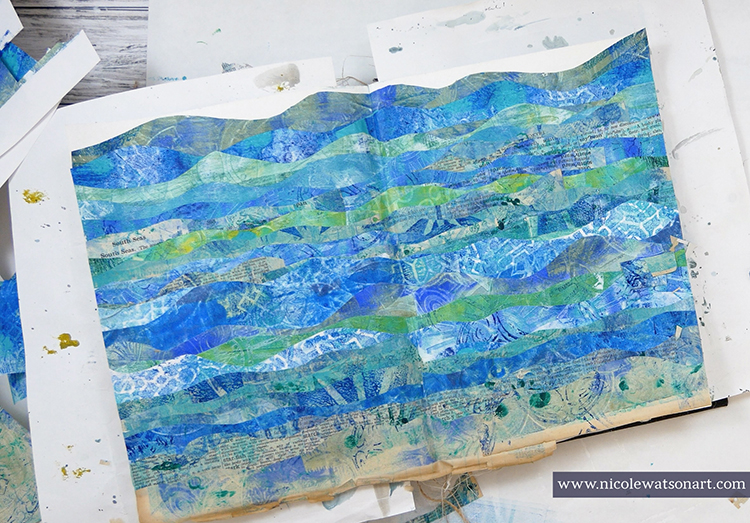 I honestly had no idea on what the next layer should be. I wanted to keep the pages simple and just add a quote or poem until my husband inspired me. The screen saver was playing on the TV and he suggested I look at it to get an idea for my journal pages. On the screen were layers of seaweed in the ocean. 
The next day I trimmed the edges of my pages and then sketched some seaweed (I looked online for some seaweed pictures as inspiration.) with a charcoal pencil and then with a stabilo-all pencil. I wanted it to not stand out too much and have a watercolor feel, so I activated the stabilo with water. Then, I flicked some of the stabilo to look like water bubbles.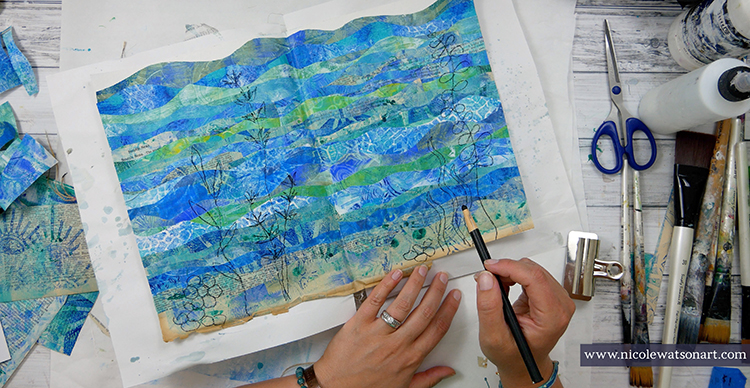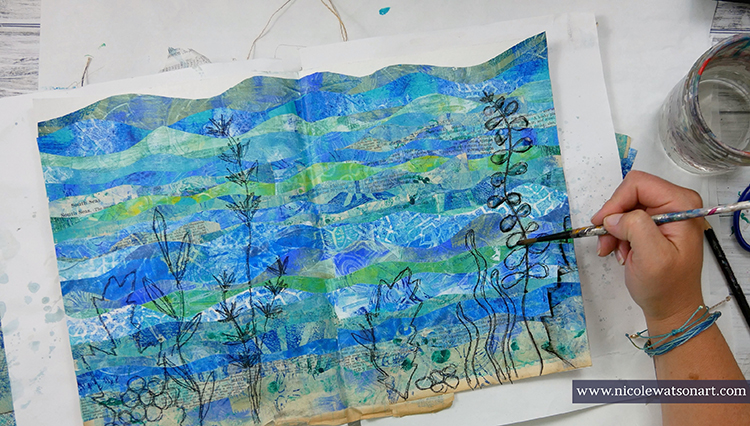 I topped my pages off with the perfect quote that touches on my love for the sea. I typed it out on some aged paper, cut it apart, and adhered it with matte medium.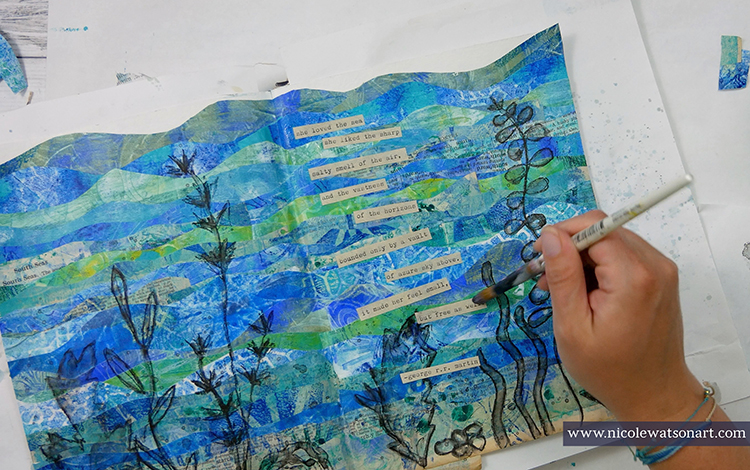 I love how my faux ocean turned out with the ArtFoamie prints, and now I have several beautiful pages of prints to use in other projects as well. In fact, I already have one in mind. You'll have to watch my Instagram to see what I create next.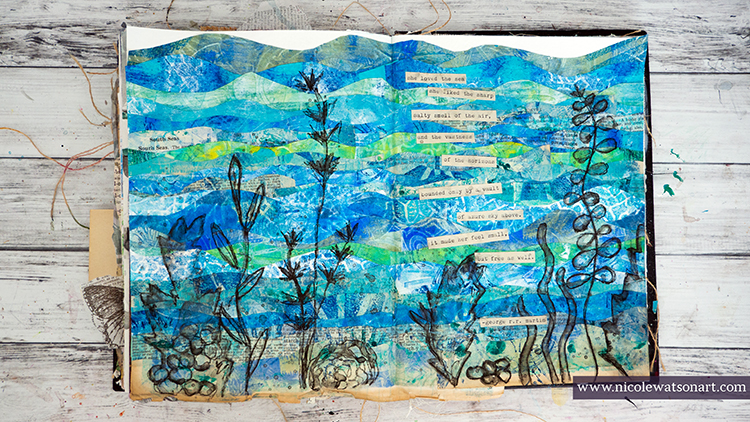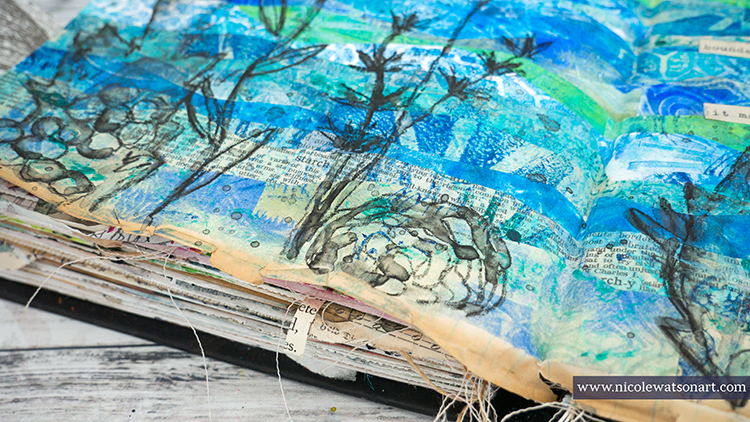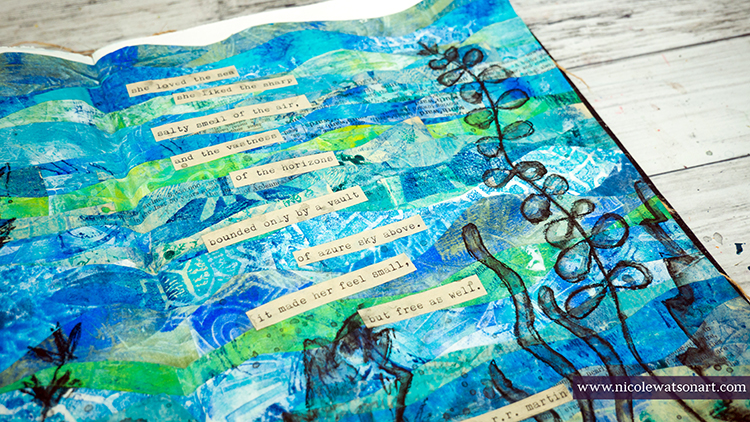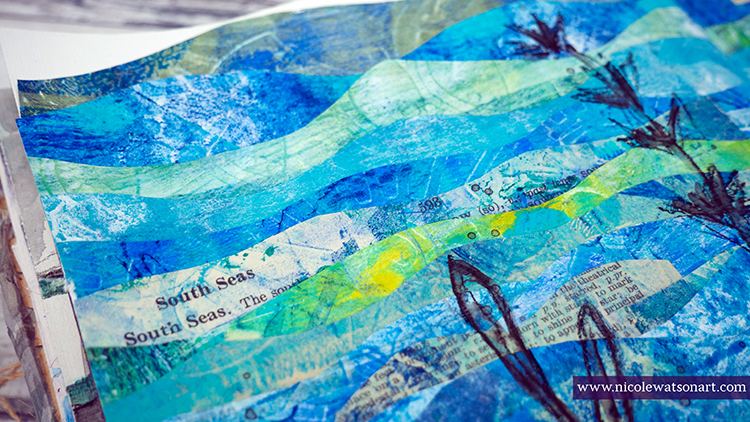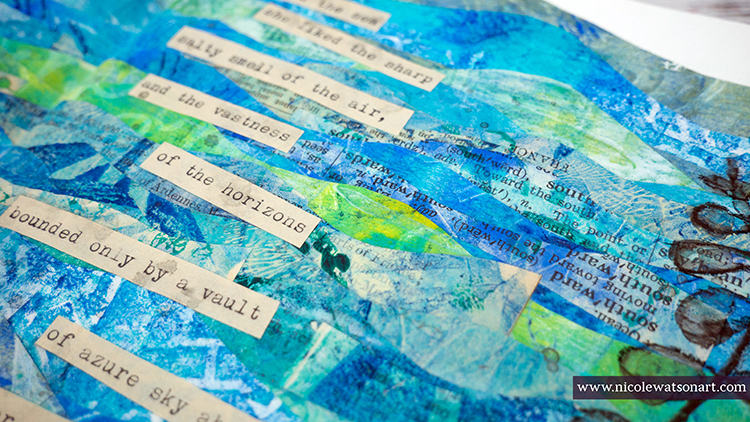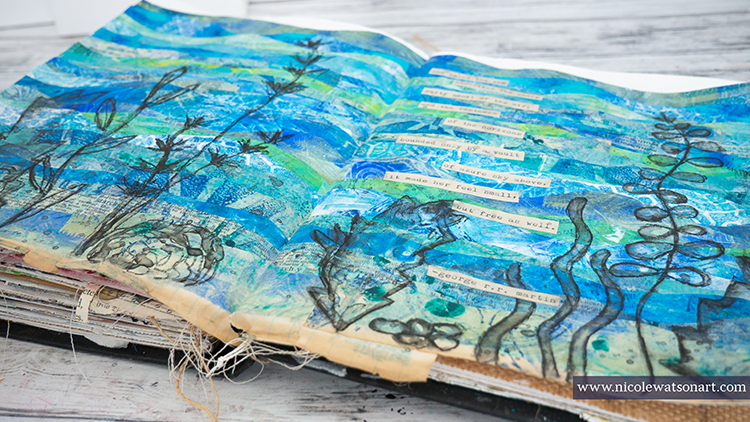 ---
Thank you Nicole! Love hearing how this project came together even though you didn't necessarily have a clear plan at first… What beautiful results in the end!
Give it a try: you can find all my Foam Stamps in my Online Shop and in addition to her typewriter and a selection of printer, book, and scrap paper, here are some of the other supplies Nicole used: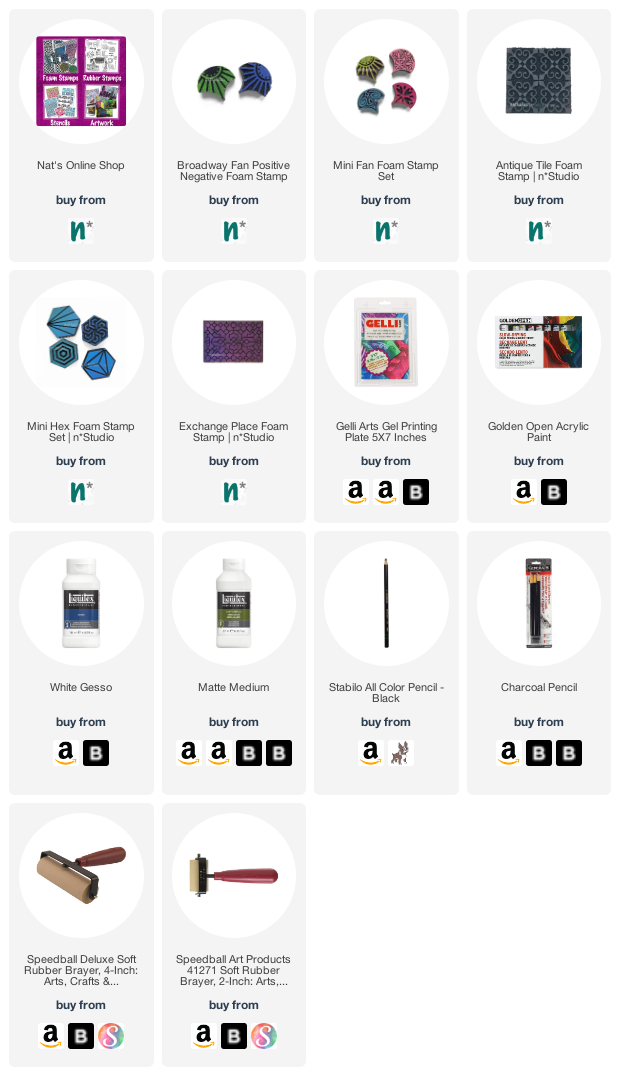 Feel inspired? Working on something yourself that you'd like to share?  I love to see how you interpret our monthly themes. Email me how you used my stencils and stamps with the theme and email me an image – I would love to share your projects in my next  "n*Spiration From Around the Globe".