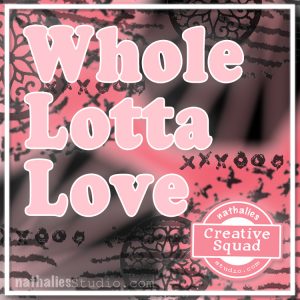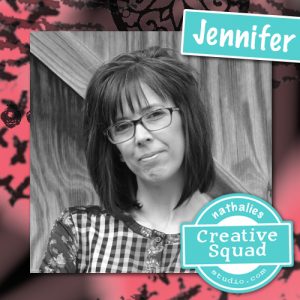 Hello from the Creative Squad! Today we have a post from Jennifer Gallagher that is definitely from the heart :) She is using my Large Hex rubber stamp set and this month's theme: Whole Lotta Love – Who or what sets your heart aflutter this time of year? Let's pay tribute this month to those warm fuzzy feelings of love and create something that celebrates that universal emotion.
---
This month we are feelin' the love with a "Whole Lotta Love." As soon as I read the prompt for this month, I got super sappy with an art journal page dedicated to my sweet husband. It is the time of year where we celebrate those that we love and show our appreciation for them. This page does just that. Let's get started.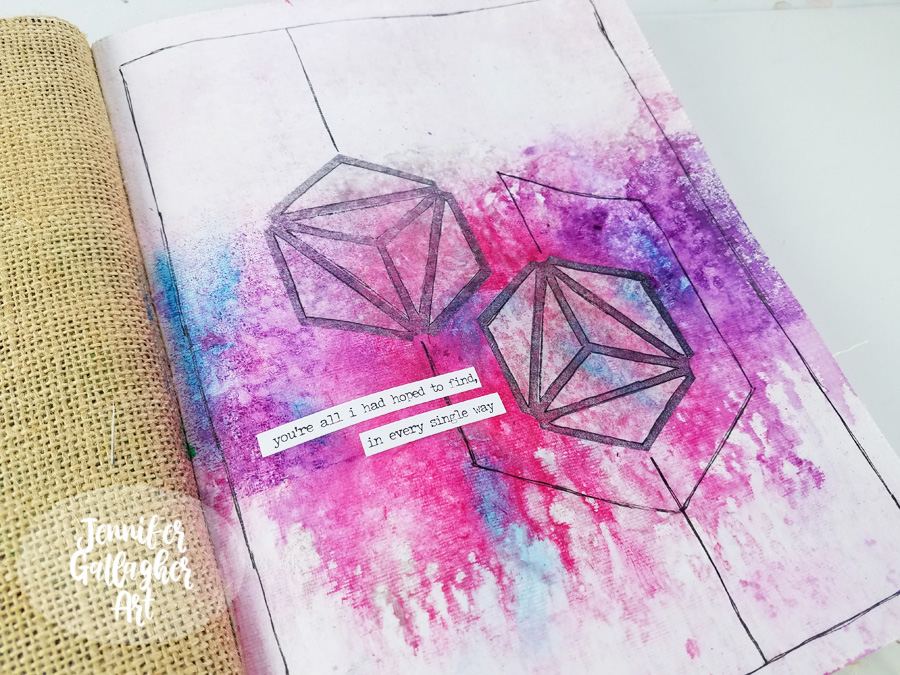 I am working in my Dina Wakley Media journal on one of the cotton rag pages. Before starting, I applied two coats of clear gesso to this page to prepare the surface. Once the gesso was dry, I chose a few colors of Marabu Art Spray and got to work. First I applied Cherry Red and then Aubergine. I protected the top and bottom of the page with some scrap paper to concentrate the color through the center of the page.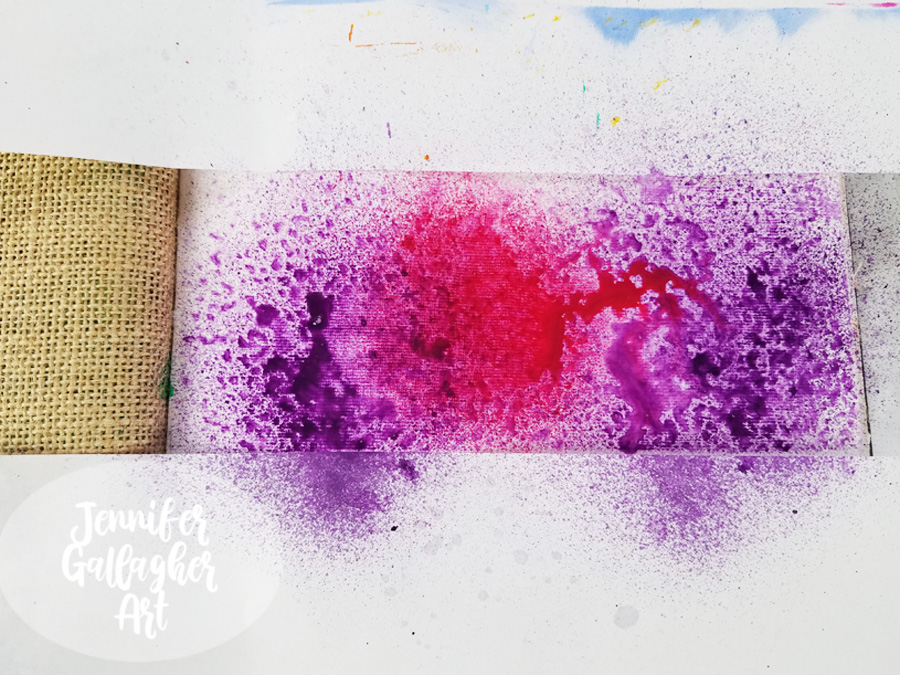 To encourage mixing and movement, I applied a small sprtiz of water into the art sprays.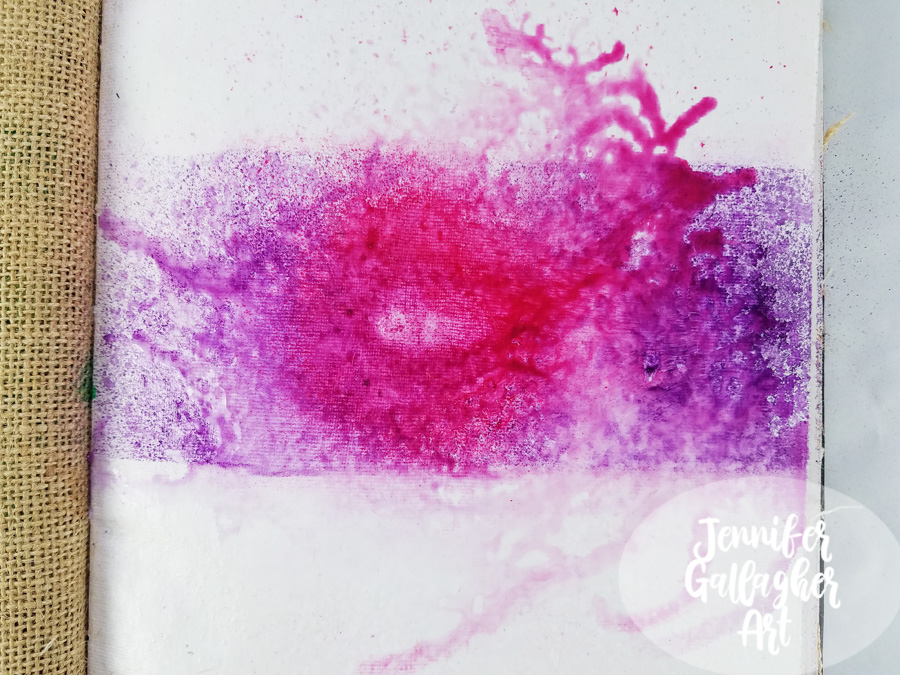 I dabbed up any excess moisture and then applied Marabu Art spray in silver.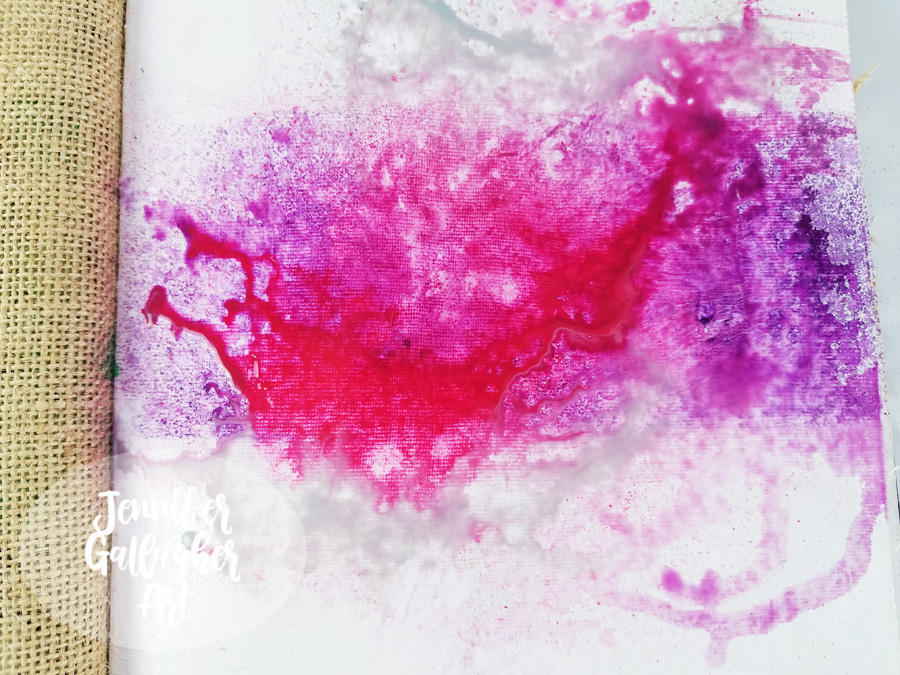 Then, over a towel I keep for art project clean-up, I tipped the book up and let the art spray trickle down the page until a good bit of the moisture was on the towel. Then I tipped the book the opposite direction to allow drips at the top of the page.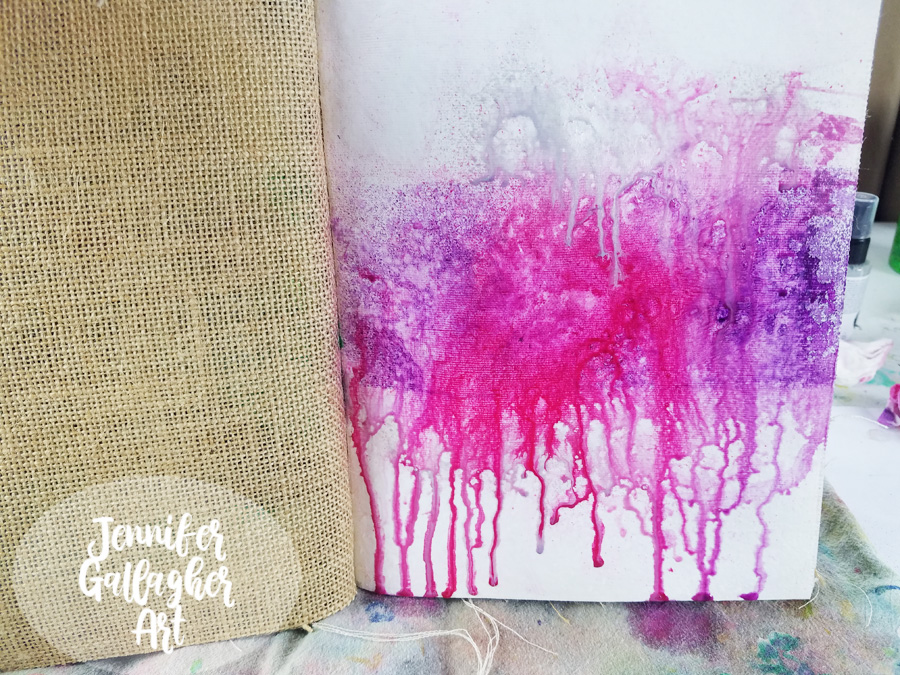 As soon as I finished letting it drip, I took a baby wipe and wiped the top and bottom of the page until it was pretty close to white again. I am not scrubbing hard or looking for perfectly white background areas. I just want to get a lot of the color off the top and bottom section. We are left with a far more organic looking page.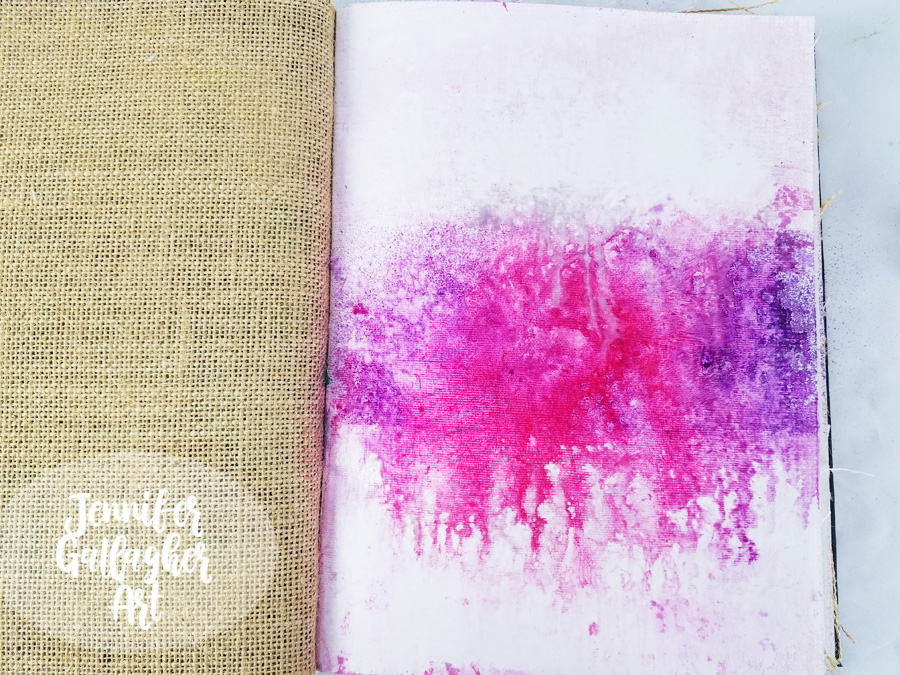 Using a stamp platform, I stamped Nat's large Diamond Hex Positive and Negative stamps onto deli paper with black archival ink. I ended up only using the positive images.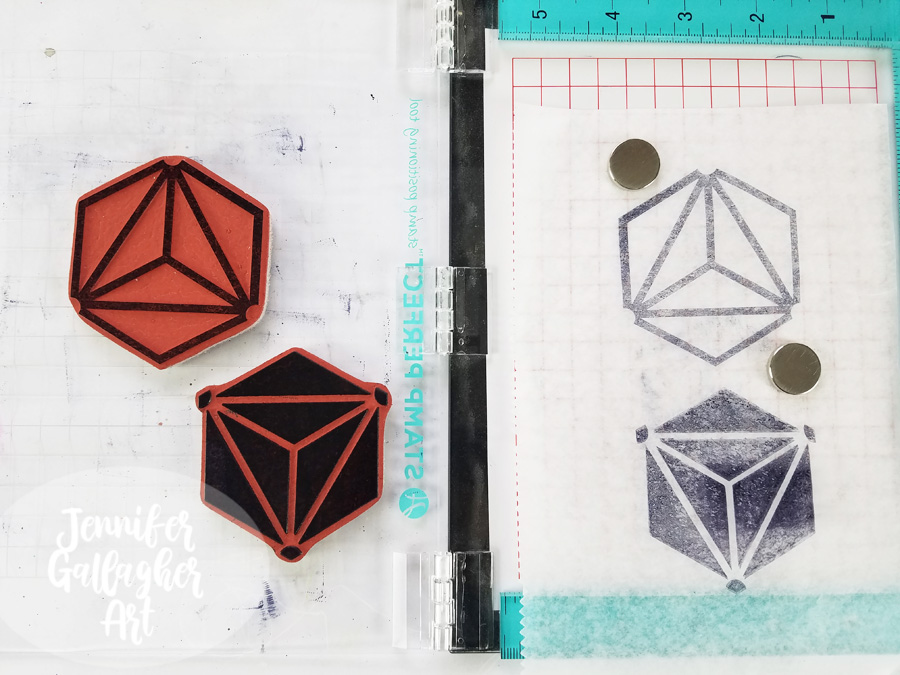 Next, I went back to the completely dry background with a Marabu Art Crayon in Aqua Green and applied a little color here and there. Art crayons are soft enough to spread with your finger.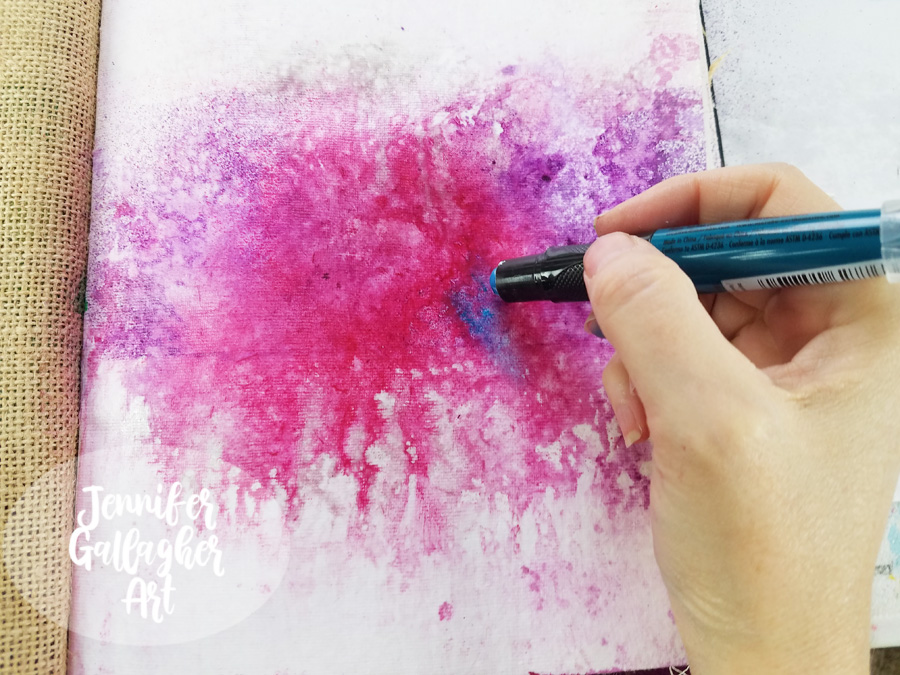 I cut out two of the positive stamped images and figured out where I wanted to place them. These images represent my husband and I.
Once I settled on the placement, I applied them to the background with matte medium.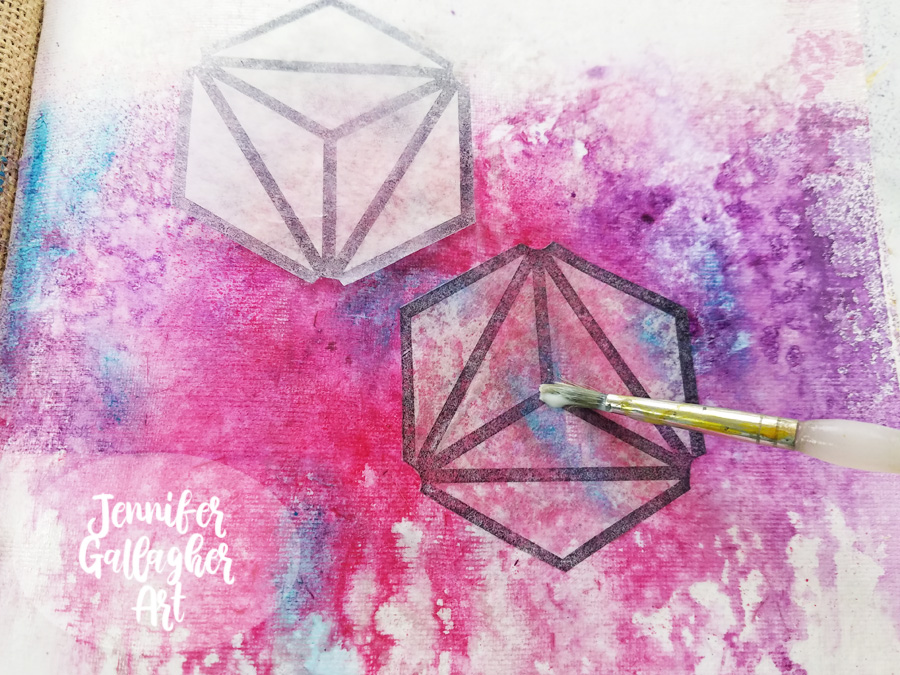 Using a Sakura Black Gelly Roll pen, I connected the shapes with lines and carried it around the page.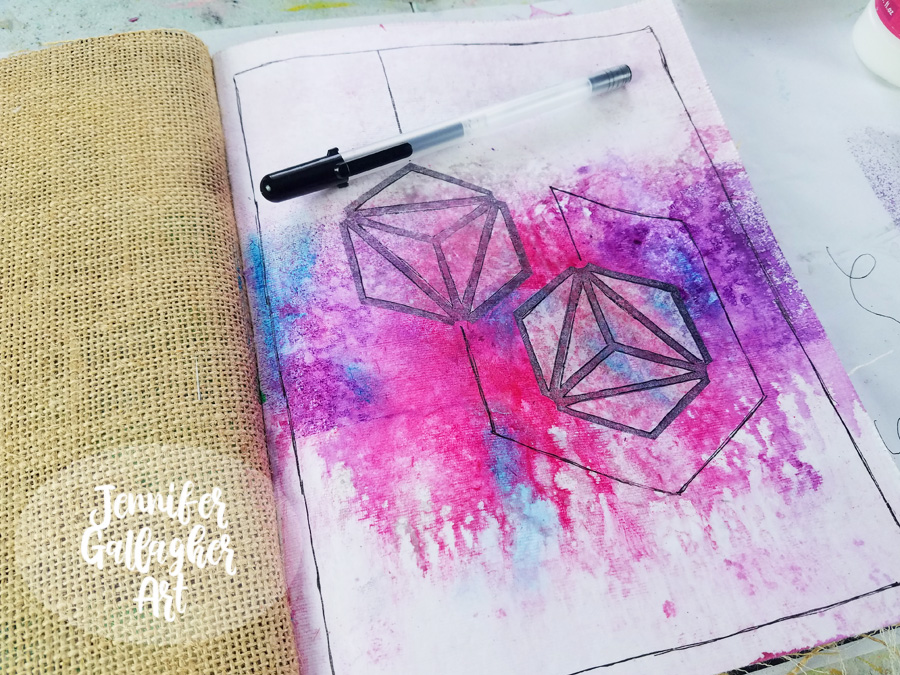 I chose a sentiment from a set of Tim Holtz Small Talk stickers and applied it to the page.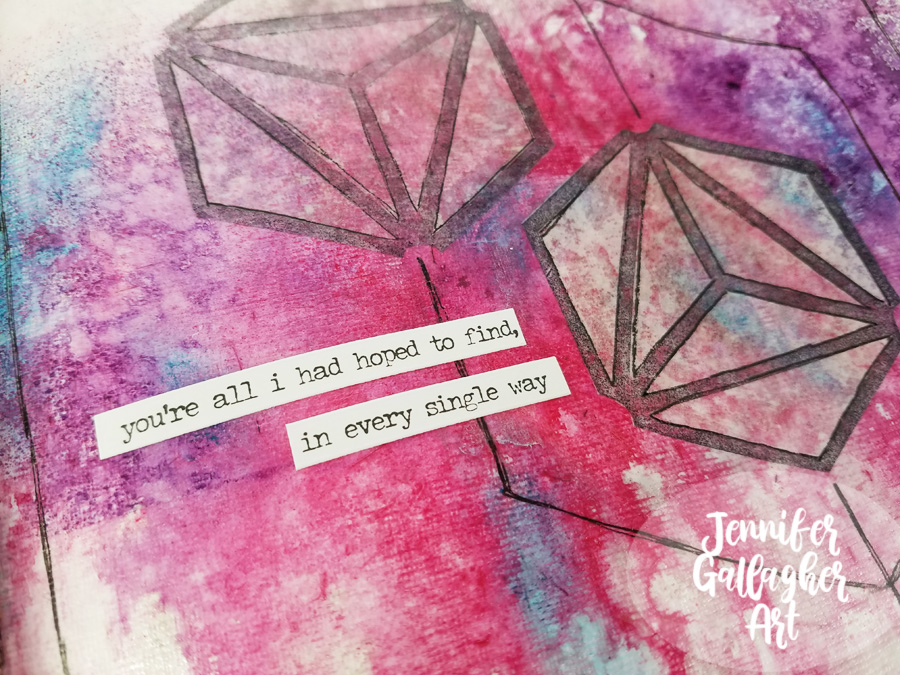 I hope you enjoyed this tutorial and found it a source of inspiration for your own art journal. Stamping on deli paper is a fun technique that you should try at home. Being inspired by love has reminded me how much I love sharing my ideas and processes with all of you. Thank you for stopping by.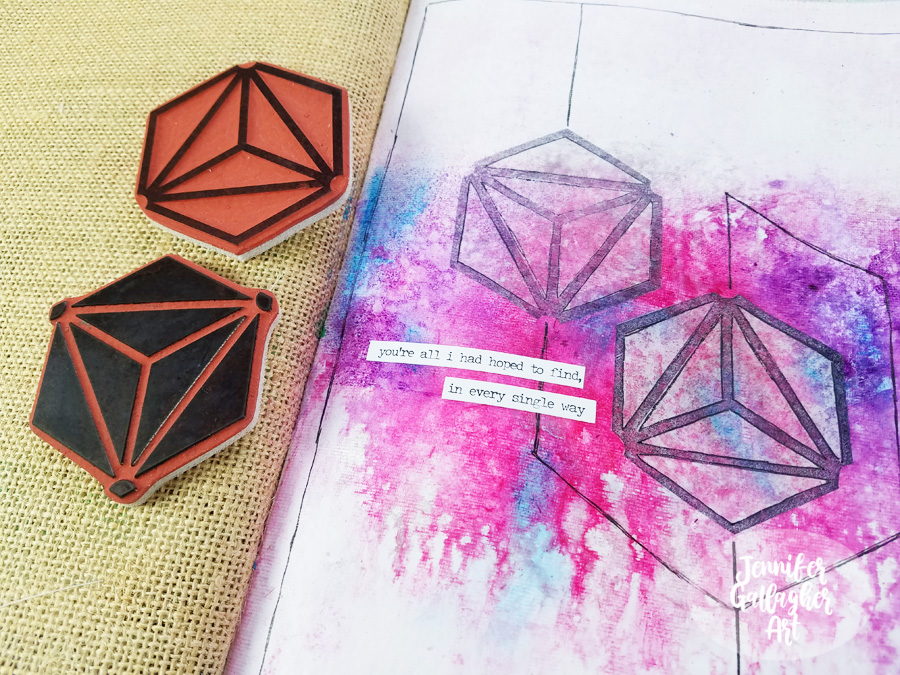 ---
Thank you Jennifer! Awww that definitely warms our hearts and makes us want to do our own little tributes in our art journals :)
Give it a try: you can find all my Rubber Stamps in my Online Shop and here are some of the other supplies Jennifer used: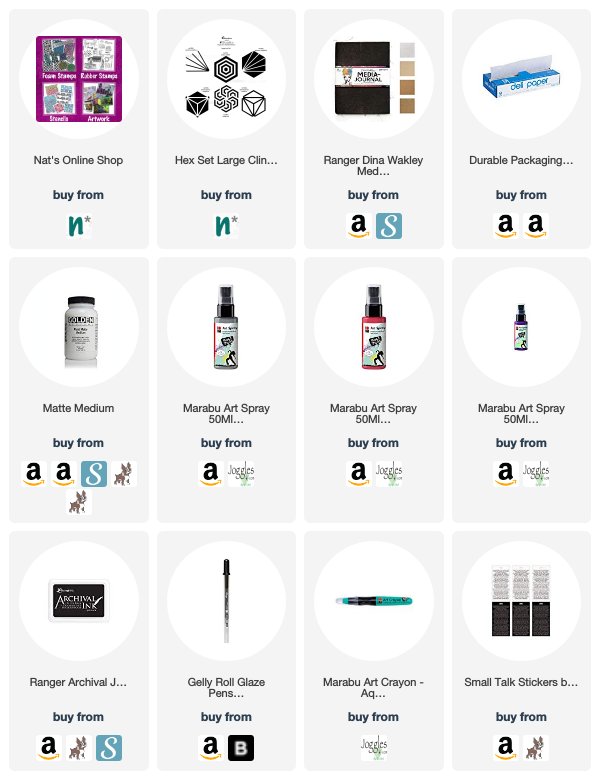 Feel inspired? Working on something yourself that you'd like to share? I love to see how you interpret our monthly themes. Email me how you used my stencils and stamps with the theme and email me an image – I would love to share your projects in my next "n*Spiration From Around the Globe".