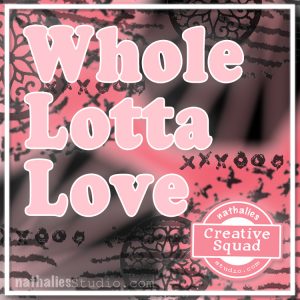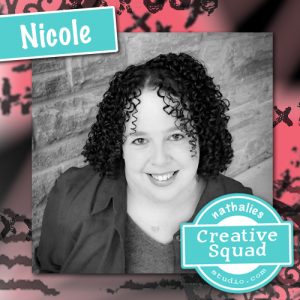 Hello from my Creative Squad! Today we have a lovely post and video from Nicole Watson, who brings us back to those early school days and the Valentine's Day tradition of exchanging small paper cards. She is using my Hex Large rubber stamps and my Art Deco Fairview stencil and this month's theme: Whole Lotta Love – Who or what sets your heart aflutter this time of year? Let's pay tribute this month to those warm fuzzy feelings of love and create something that celebrates that universal emotion.
---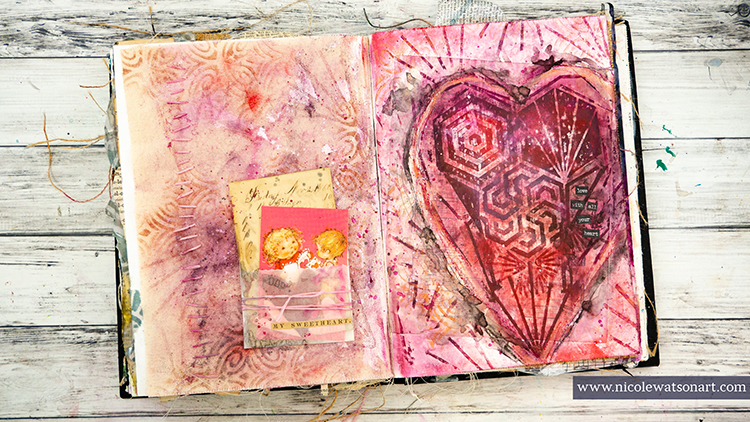 When I thought about this month's theme along with Valentine's day and love, I remembered back to elementary school and how much I loved (for lack of better word!) our classroom Valentine's Day celebrations. I think most of my classmates liked that day for the candy, who wouldn't?? However, my favorite part was opening all the envelopes in anticipation of the paper card that was inside. This must have been a hint of my future love for ephemera!
I wasn't exactly sure where I wanted to go with that on my journal pages, until I ran across some old Valentines in a package of vintage cards I had in a drawer. With one of those in hand, I decided to pay homage to that memory on my pages.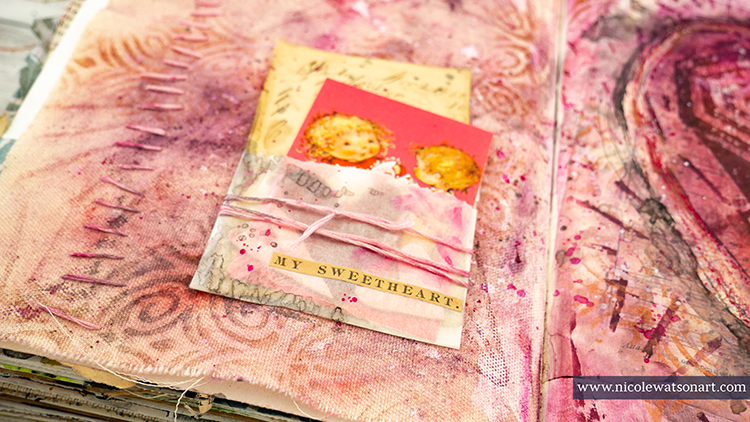 Check out my video to see how it came together and read on below for a complete step out.
I played around with Nat's Large Hex stamps hoping I could make a heart out of them. I stamped the hex shapes with versamark onto my journal page that I had already gessoed and layered with a page from a song book that just happened to be about a valentine! This process was a little tricky as I masked some of the stamps with tape to make some of the smaller areas of the heart. I also stamped some outside the heart on the page and also the canvas page to the left. I didn't know if it would work on the canvas at the time. (spoiler: it did!)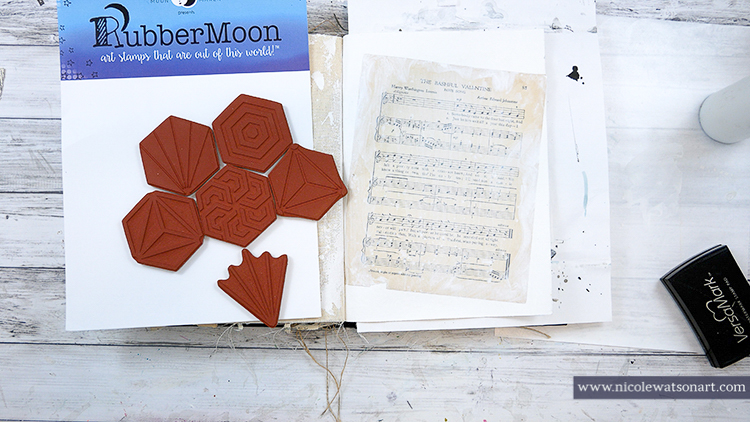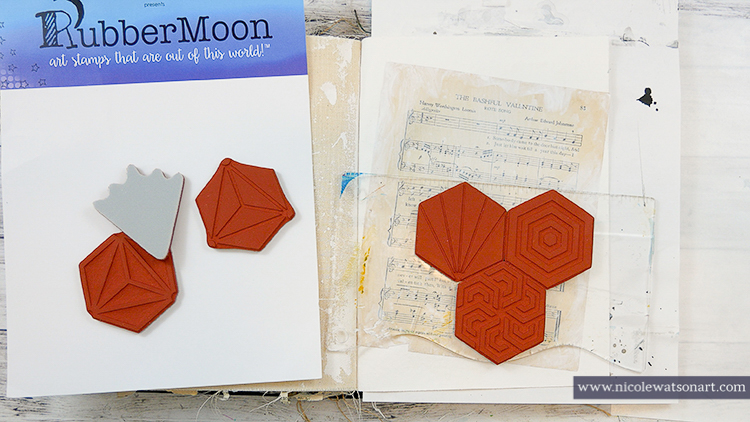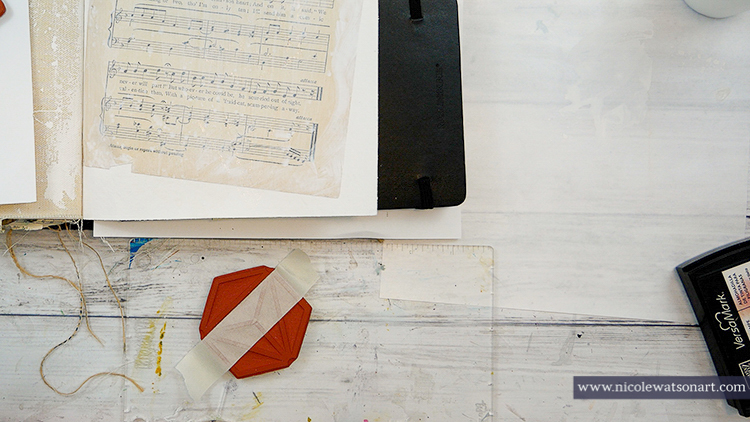 To add color to the page, I grabbed my pan pastels and layered different reds and purples over the heard area. The versamark grabs the pastels and makes that area darker than the others, allowing the heart to pop off the page. I sponged the pan pastel all over both pages. At this point I realized I needed some more versamark lines and designs in the heart and could also use some outside of it, so I experimented by stamping additional versamark and going over it again with pan pastel. Thankfully, this worked!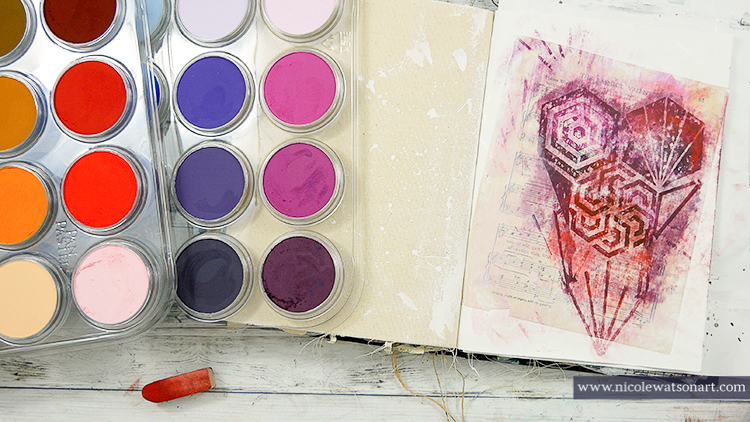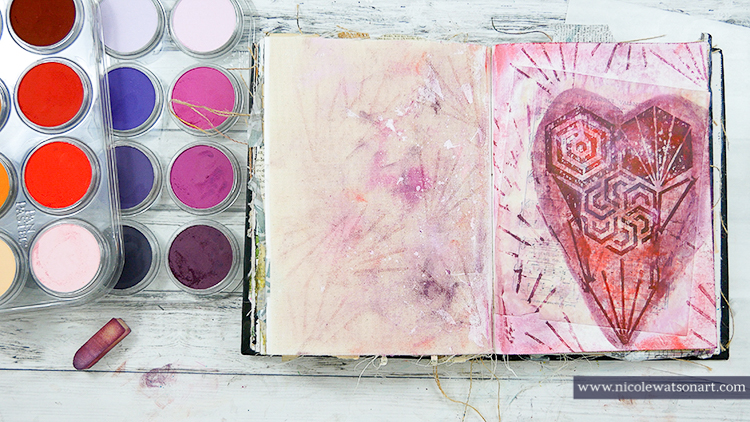 When I was happy with the pastel and versamark, I sprayed my pages twice with fixative. I felt the pages need a little bit more, so I grabbed Nat's Art Deco Fairview stencil and sponged some bronze pastel through it in several places. I also added some of the bronze around the edge of the heart. When I was finished, I sprayed another coat of fixative.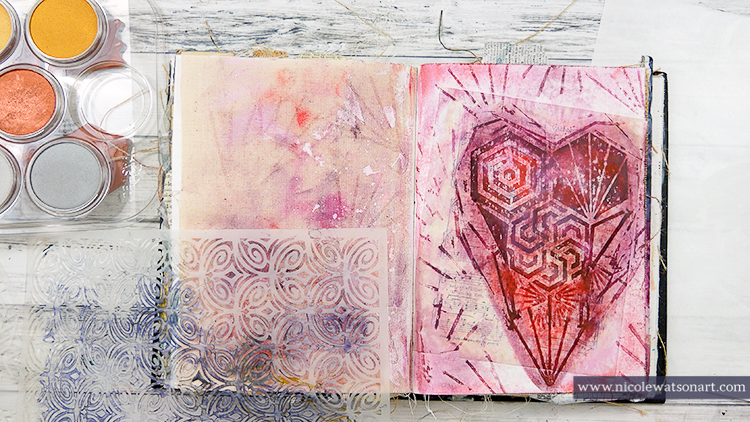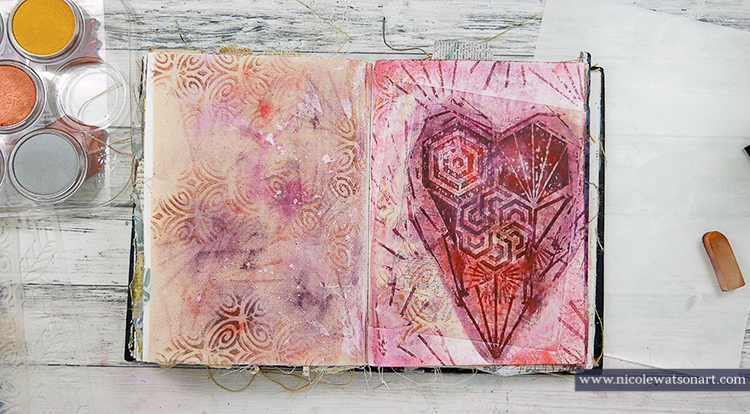 While it was drying, I played with the valentine ephemera and happened to see some pink embroidery floss on my desk, so I stitched the floss onto the canvas page for some more texture. After this, I added some spatters of fuchsia acrylic paint around the heart and on the canvas page along with some gesso and tinted gesso.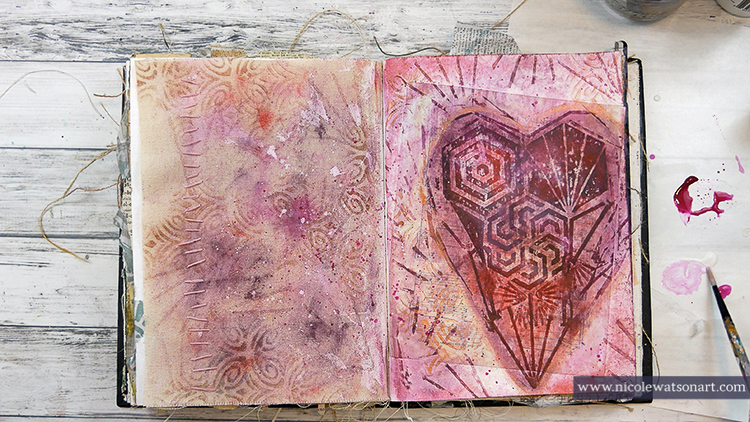 At this point, I felt like the heart still needed some definition, so I grabbed my hard-pastel sticks to trace around the heart along with my stabilo pencils. I used the stabilo to create some shadowing.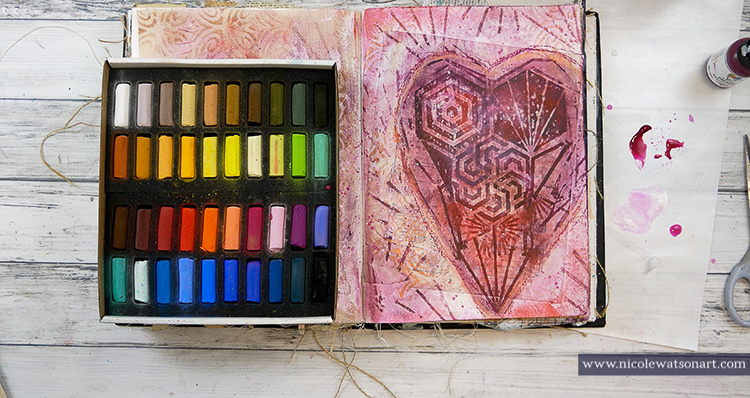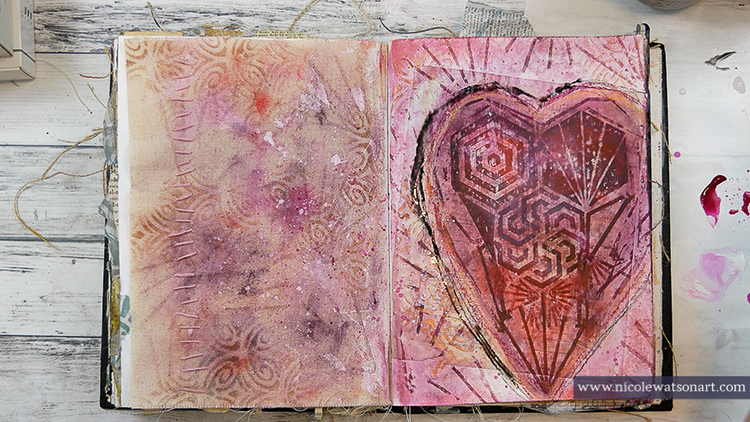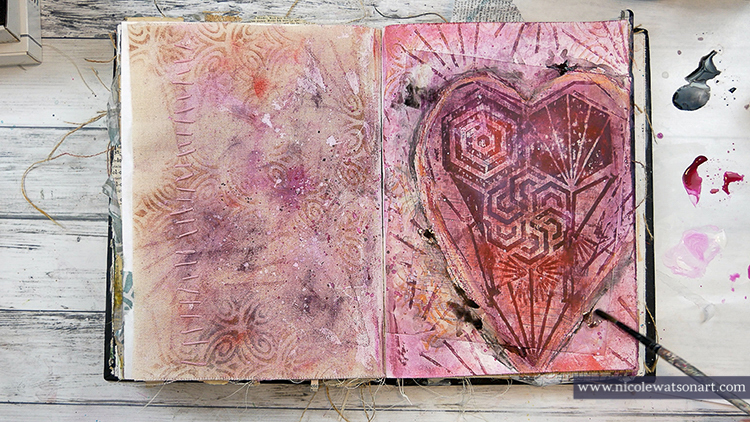 Finally, it was time to add my little valentine bundle to the canvas page and some word stickers. After these were added, I spattered some stabilo and paint on them so they would feel a little more cohesive to the rest of the pages.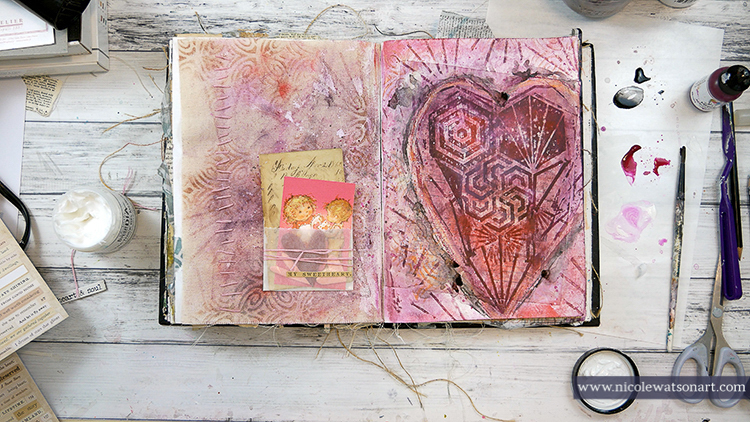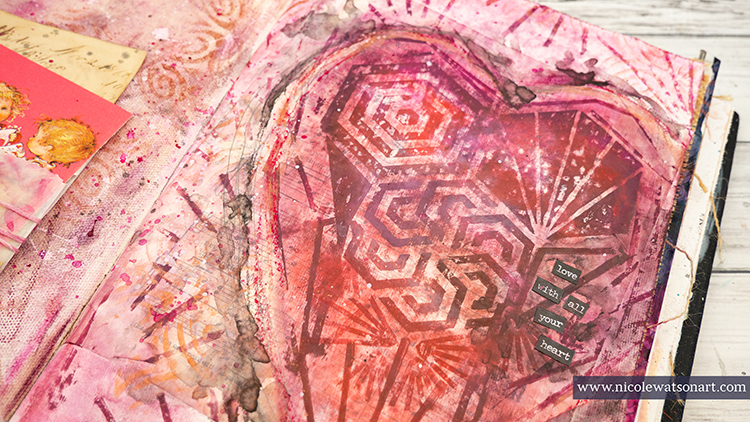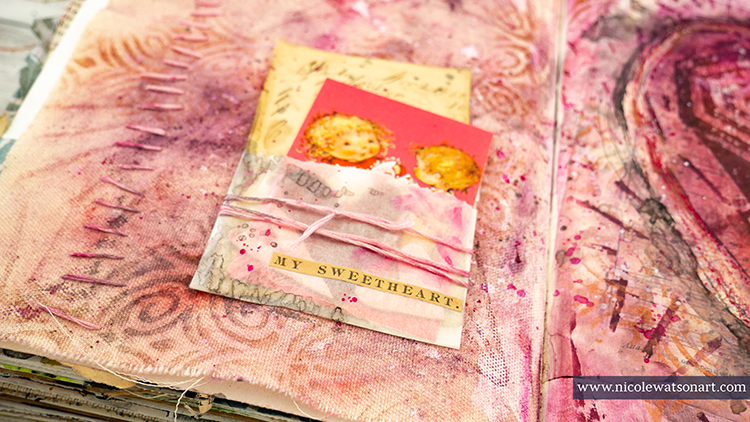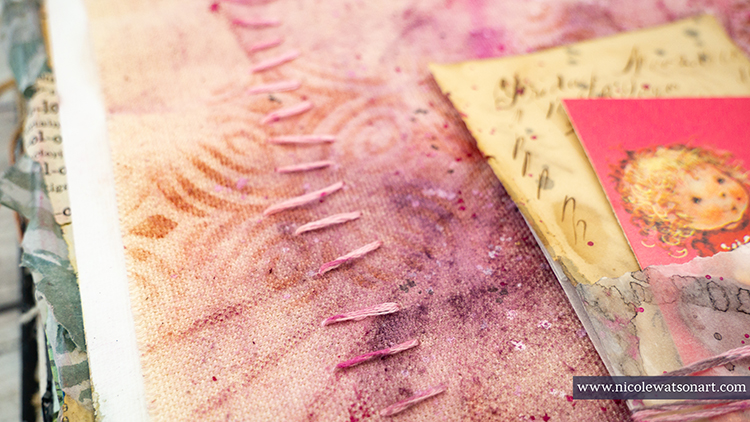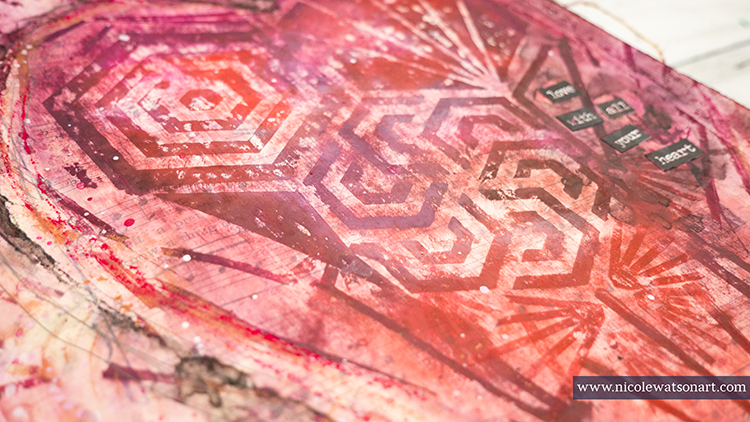 ---
Wow! Thank you Nicole – so many gorgeous layers and what a thoughtful reminder when it comes to love too :)
Want to give Nicole's project a try? You can find all my Stencils and Rubber Stamps in my Online Shop and in addition to book page/ephemera, here are some of the other supplies Nicole used: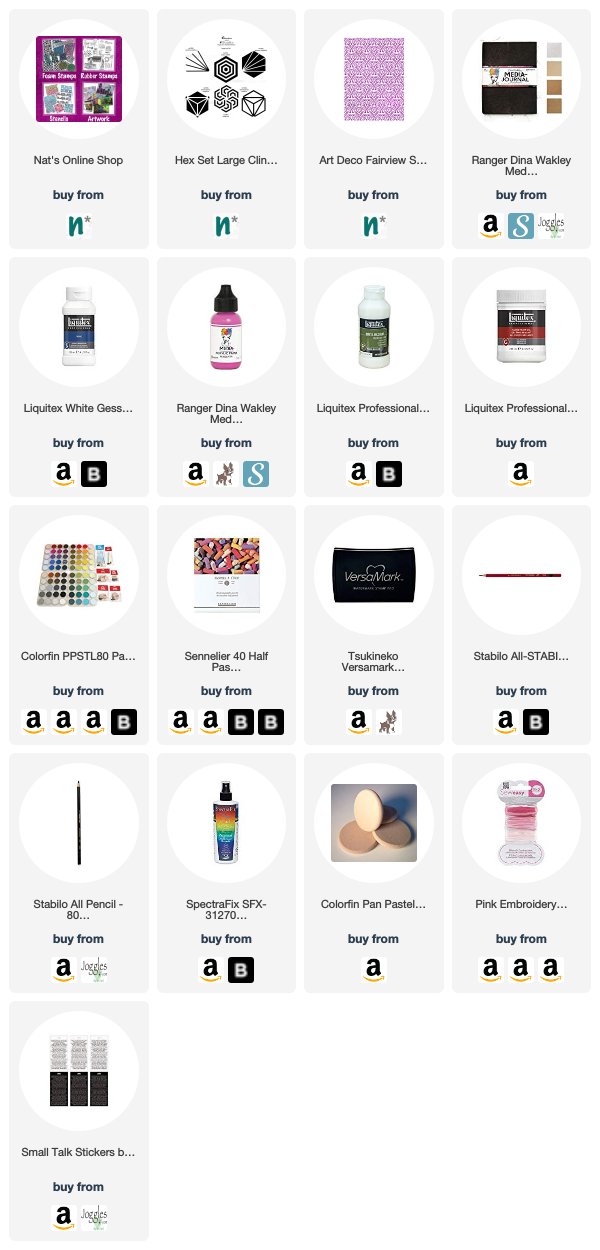 Feel inspired? Working on something yourself that you'd like to share?  I love to see how you interpret our monthly themes. Email me how you used my stencils and stamps with the theme and email me an image – I would love to share your projects in my next  "n*Spiration From Around the Globe".