Artful Adventures with Andy Warhol – Online Workshop
The Artful Adventures workshop series will introduce you to master artists from around the world and throughout history, and through their techniques and style inspire YOUR art journaling and artmaking.
This workshop focuses on Andy Warhol – the American Pop Artist who turned our attention to everyday objects, celebrity culture, and advertising imagery as artwork in the 1960s and 70s. Through 4 lessons learn ways to translate Warhol's unique artmaking processes into creative ideas that you can bring to the home studio and make your own. Explore the visual power of multiples and discover printmaking techniques that don't require fancy equipment. Have fun with collage and rubber stamp carving, and discover the artistic beauty of the simple things around you. Play with portraiture and create art journal spreads inspired by Warhol's style. Get ready to go on an Artful Adventure with Andy Warhol!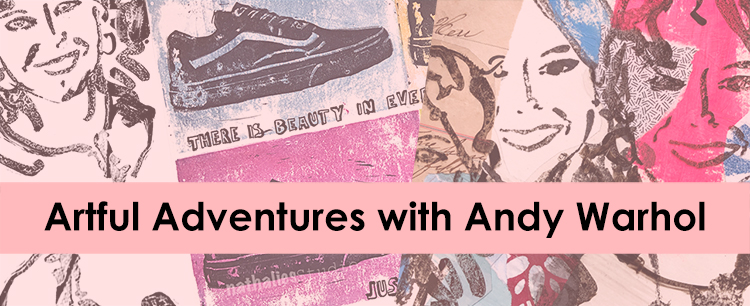 What this Workshop Covers:
Mixed Media techniques for creating unique art journal pages using techniques inspired by the artwork of Andy Warhol
Easy to follow video instruction covering the techniques and an insight into my thinking process while creating
Lifetime access to video lessons on this website
Downloadable video lessons to add to your library *Please read download info below*
Classroom environment where you can share your work
This class is broken down into 4 lessons. All lessons are now published and available for viewing.
You may sign up at any time, work at your own pace, and have unlimited access to all the lessons. All lessons are downloadable.
Share Your Creation – Please use the hashtag #aawarhol on social media to share the art journal spreads you created. I would love to see what you made!
Supplies
There are some things that you will definitely need for this workshop and other supplies that will be helpful but are optional. We have tried to keep this list simple.
You will find both lists here as well as affiliate linked lists, please note that all brand recommendations are just reflecting what I love to use -you can use whatever brands you like:
Art Journal
Transparent Acetate sheets
3-4 Colors Gouache or Acrylic Paint
Acrylic Matte Medium
Black Sumi or Acrylic Ink
Small Round Brush
Fan Brush
Other Assorted Paint Brushes
Fountain Pen or Art Journaling Pens
Scissors
Masking Tape
Stamp Carving Block
Lino Cutting Tools (optional but helpful)
Craft Knife
Black Archival Ink Pad
Other Assorted Colors Ink Pads
Fineliner Pens
Brayer (optional but helpful)
Iron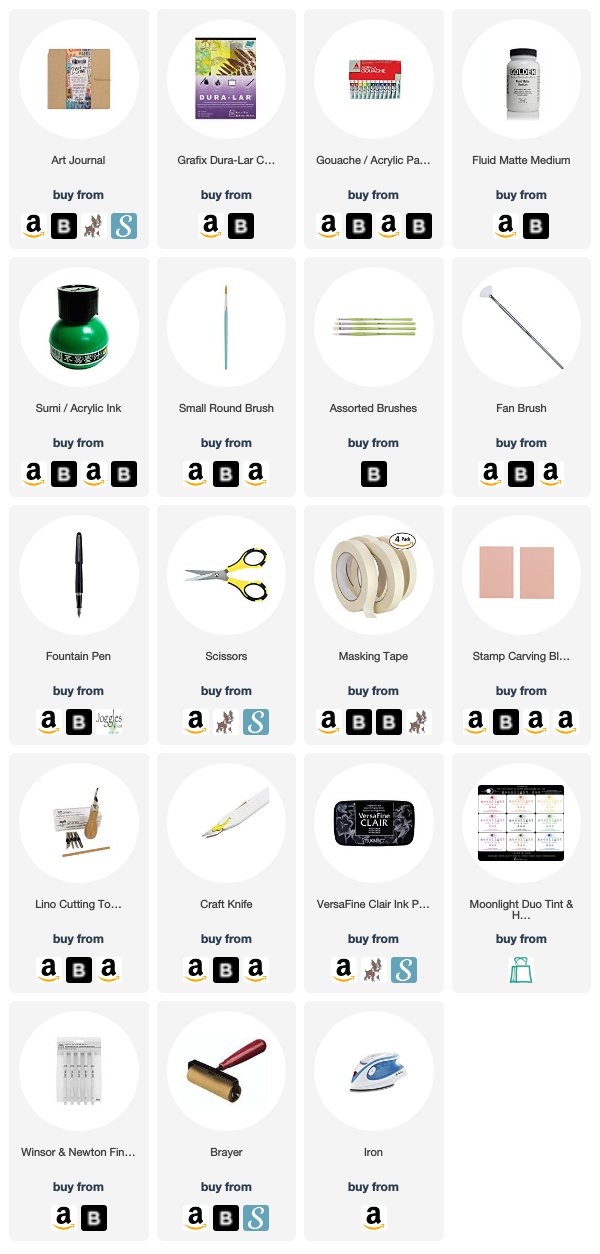 TERMS AND CONDITIONS
By signing up for this workshop, you agree not to give your private log-in and any password information to anyone else. The enrollment fee is for one person only. After the payment confirmation is sent to you, cancellation is no longer possible. Tuition is not refundable.
All videos are under the copyright of Nathalie Kalbach and are for private use only and cannot be shared. You may not teach/re-teach the information in the videos or use it for any online or print publications.
Streaming: If you plan on using Streaming only, please sign up only if you are able to watch vimeo hosted videos. All videos are posted in this format. See vimeo.com to test your computer. Some older computers and software may have problems playing the videos. We are not responsible for troubleshooting playback difficulties of the videos. Note that this workshop is not optimized for viewing on mobile devices. Some devices may not be able to play videos or display all content. We recommend joining this workshop from a laptop or desktop computer. Please ensure your computer or device is compatible BEFORE joining.
Downloads: You will be able to download the videos so that you can watch them offline and keep them forever. Download terms and conditions will be posted when you download the first video and in order to do so, you will have to agree to those terms and conditions.
*Please read the following information regarding downloads: You can download our vimeo videos any time to a desktop computer or laptop. Downloading to certain mobile devices including Apple devices can be problematic in some cases depending on the age and model of the device (an unfortunate limitation to these devices). Please verify the capabilities of your device before purchasing this workshop/workshop collection. Unfortunately we cannot provide technical support for all the different models of devices out there. We recommend researching various support pages to learn about your device and its capabilities, for example the Apple Support page here https://support.apple.com/en-us/HT201302. For additional information about downloads, visit my Help page here.