Strolls through my hood get me out of my studio, they help me get unstuck and often I get inspired by what I see and get new ideas to create something. It is part of my philosophy about Artful Adventures in Mixed Media – which is the subject of my book. Here are some photos that I gathered in the last couple weeks.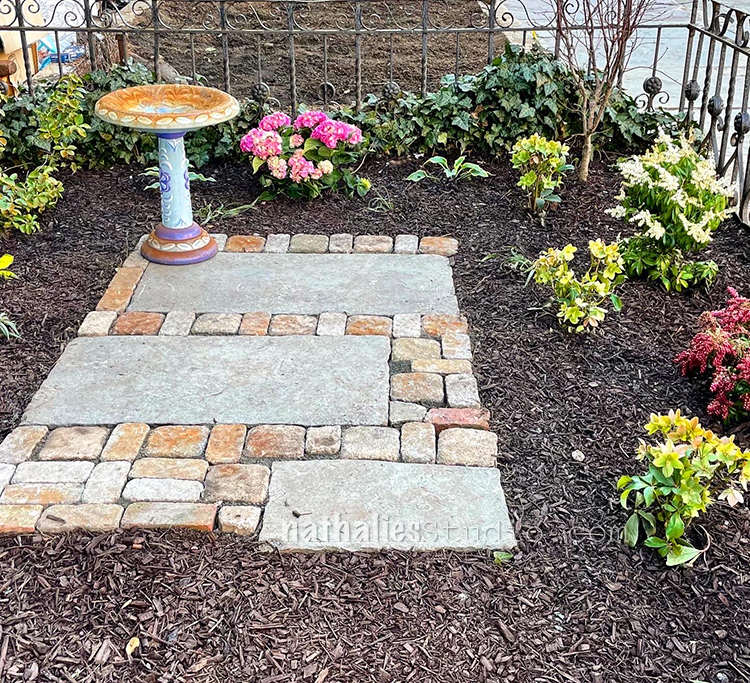 The front yard got spruced up… it was a bit of a mess with a ripped tarp all over, roots and garbage and some prickly sad plants. We planted our Maple tree PJ2 which hopefully will thank us for getting out of the pot after two years and we left some space for the plants to spread out …The birdbath was left from the previous renters and is plastic…I am on the hunt for a nice new one…but one step at a time.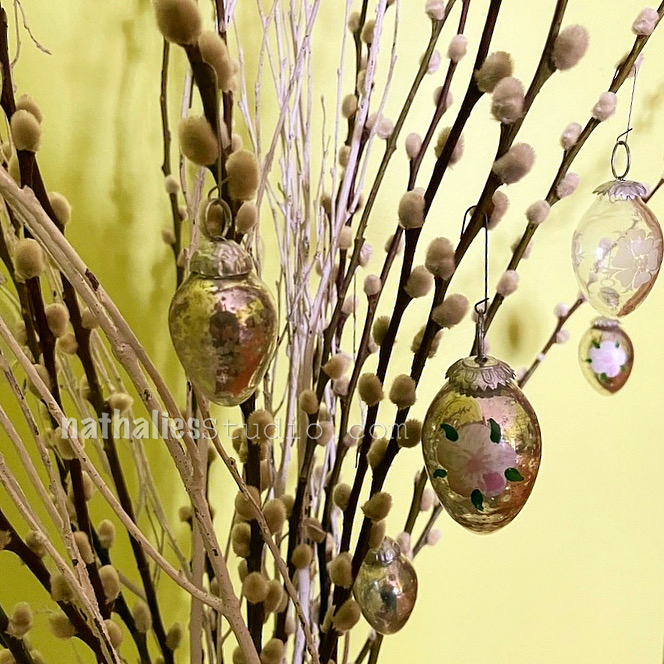 Also happy to hang those vintage treasures for the Easter Holiday. In Germany it is tradition to Easter eggs form branches…those are fake pussy willows I have to admit though …I find it hard to find them here in the city …I guess because it is not such a big tradition to have them in your vases around spring.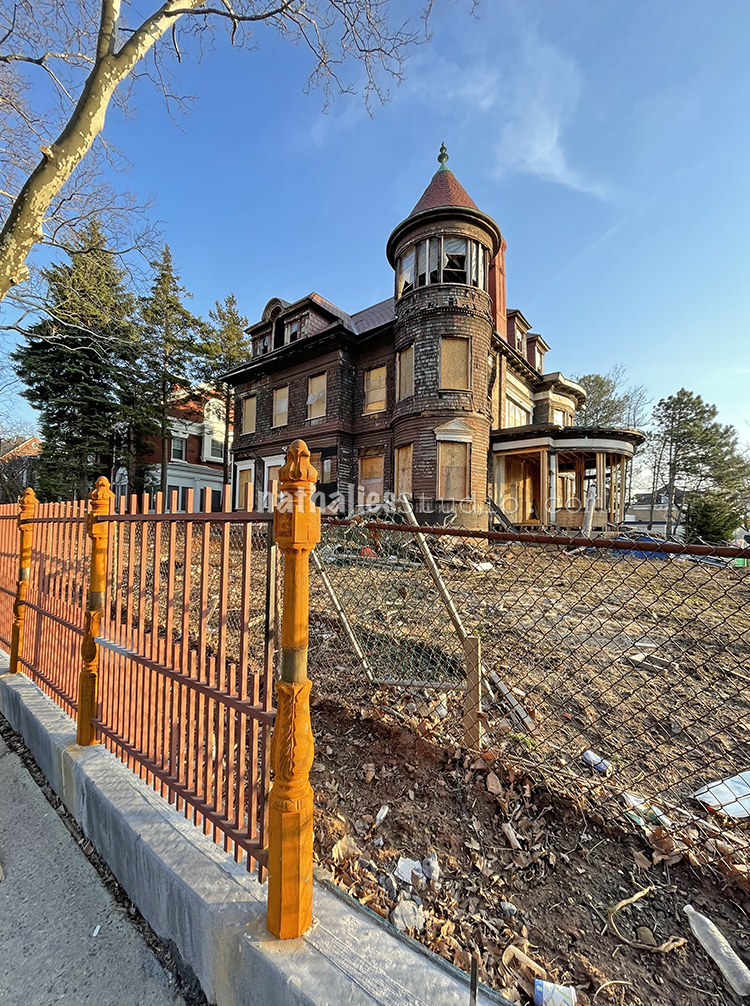 I am so excited that this poor house is being restored and it is getting a new beautiful fence …I will def. walk by often to check on the progress.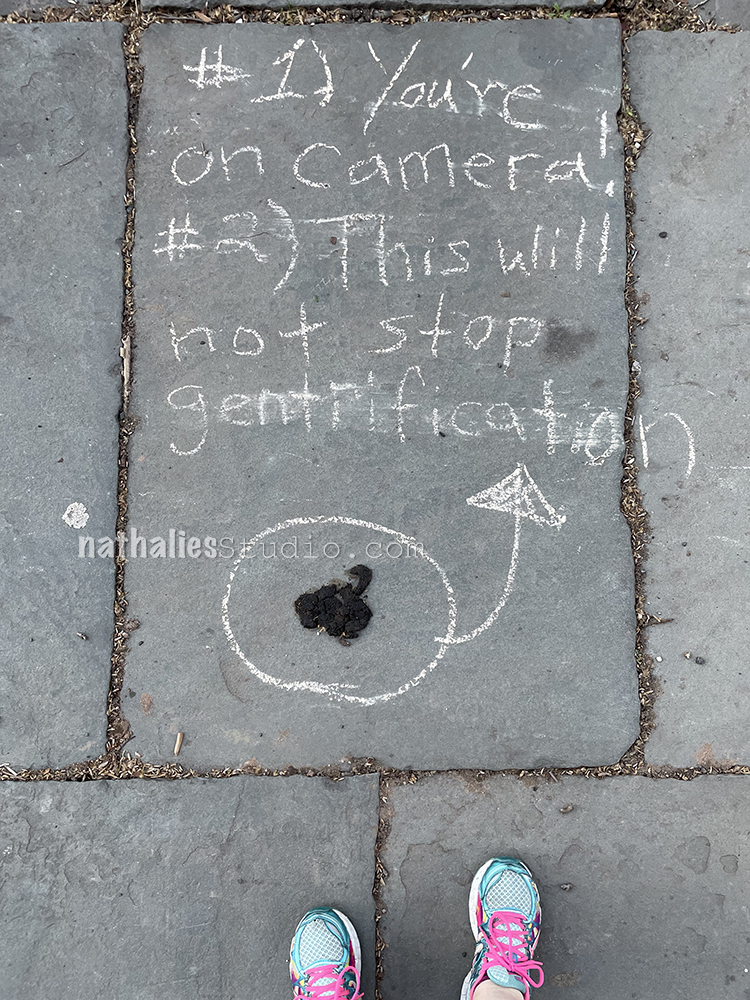 Not my poop – in case you were really wondering hahaha. I am curious about the story here …so much to unpack I think LOL. I also need to walk by again to see if that is a continuing story …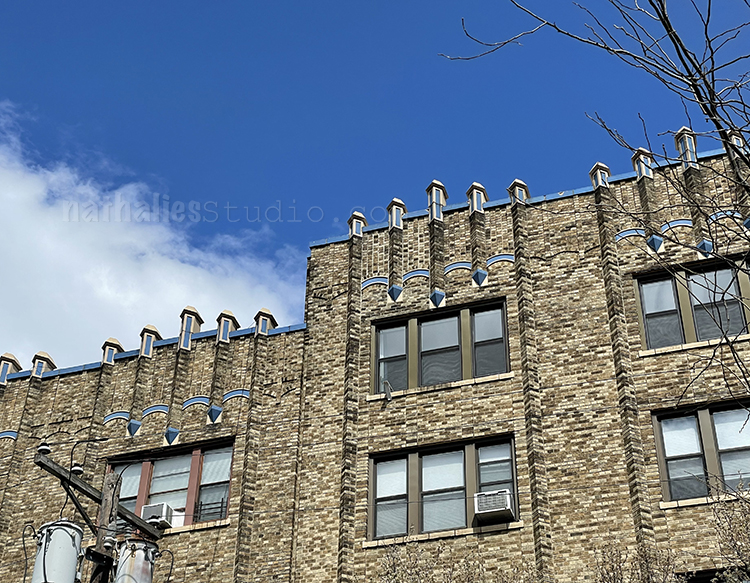 I love these simple art deco apartment buildings with this really beautiful blue decoration on top.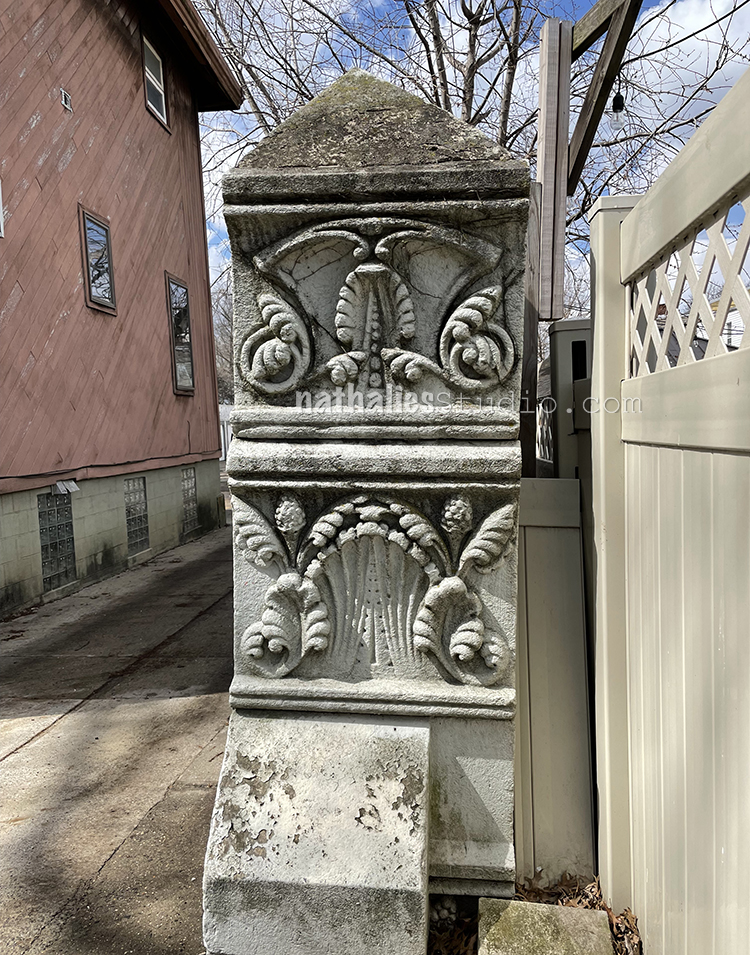 Left over gate part from a long gone house I guess…I love that someone decided to leave it at least ..it is like a little nudge to find out what came before right there.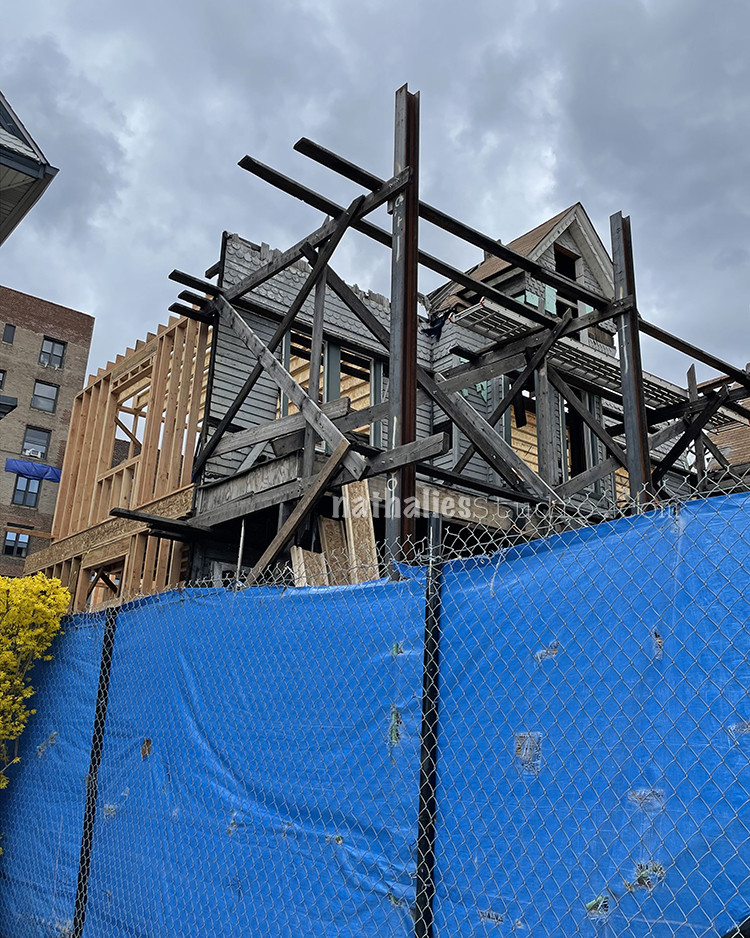 Another interesting renovation project- this old house facade is nice but in a really bad shape, it made me wonder that someone would tear down the hole house behind but go to lengths to keep the facade …and then I learned that you get a renovation loan if you just keep the facade in the front …it is not a new building …go figure…well…at least it will have a beautiful restored facade I assume alas the rest of the house is probably another box without any charm.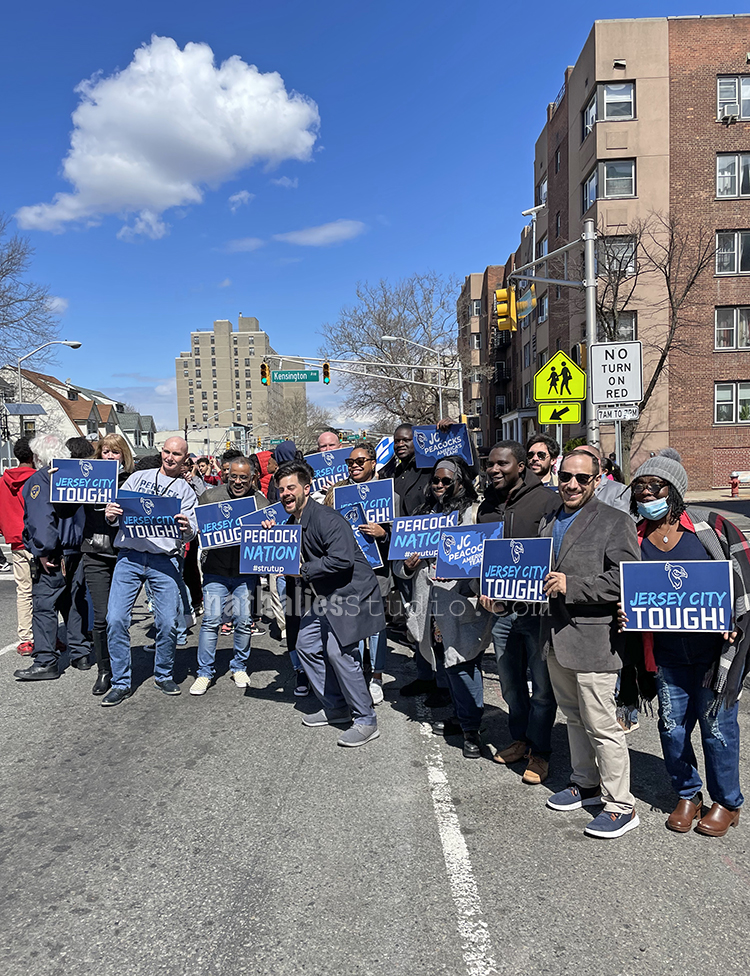 And if you do not know it by now…I am in Jersey City …aka Jersey City Tough …aka Peacock Nation. For my international readers- sorry – it was March Madness which is a time in March when Collages are playing Basketball single eliminating against each other in a short period of time . Our tiny St. Peter's University team which was given no hope or chance beat some pretty tough teams and went further than any team ranked that badly before. The University itself is a Jesuit University with about 3000 students, here in my neighborhood and it was a huge deal for them and a huge deal for our city. I have never seen our city so united and happy about something.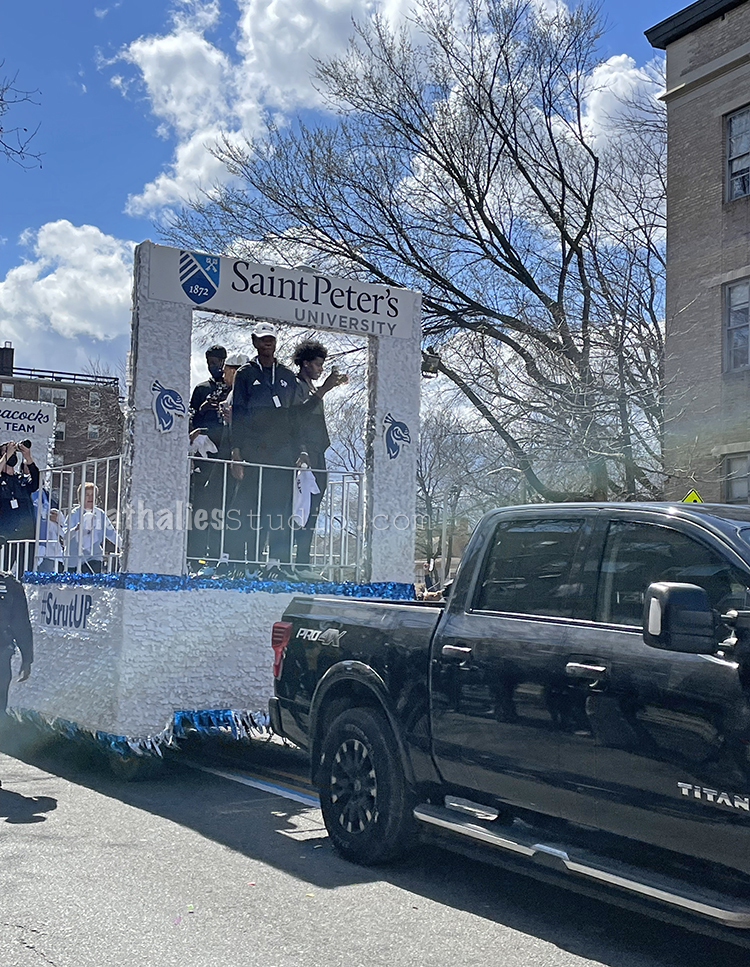 The guys got a parade and all the neighboring schools participated. It was wonderful to see all the school kids being so happy …we needed this after the pandemic. It was a great afternoon.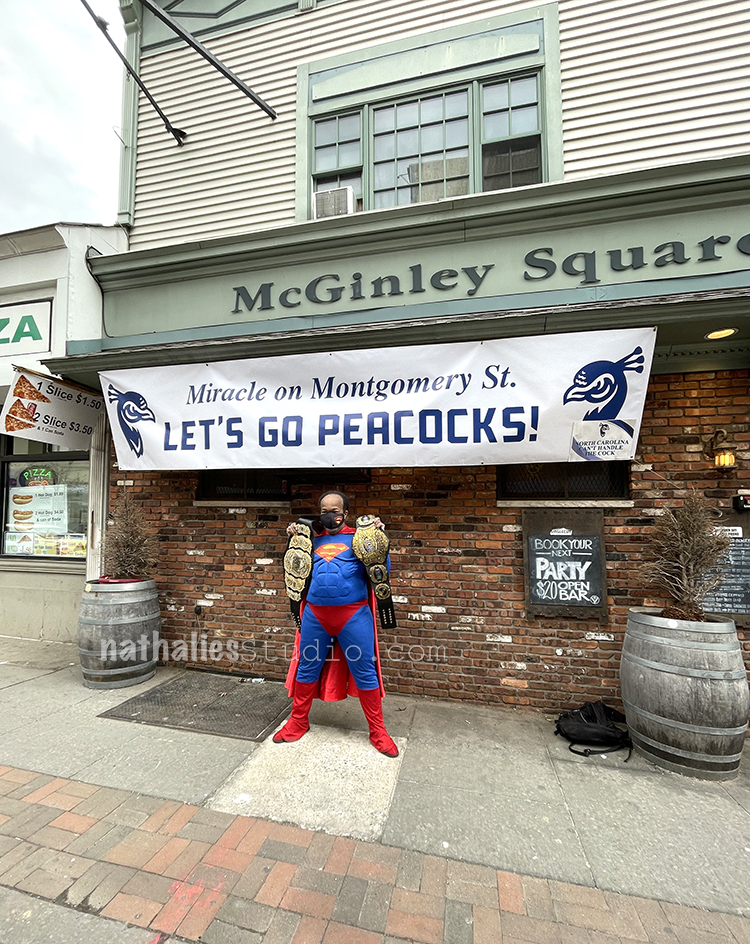 This guy was super sweet- his siblings both went to St. Peter's and I forgot how the Wrestling was connected to his siblings but he want all out and asked us very nicely if we could take a picture of him in his gear in front of the Sign and well known Student Pub. Not all heroes wear capes but some do.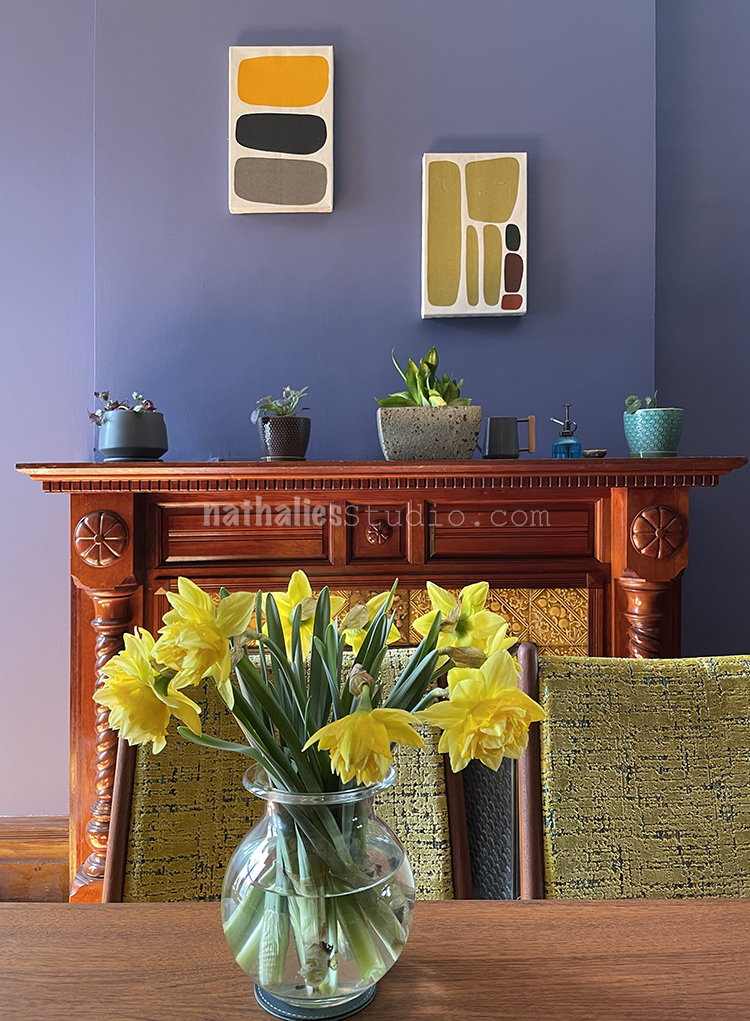 Spring in the dining room. I really love how this room turned out- it is an eclectic mix of time periods and colors and had fun putting it together.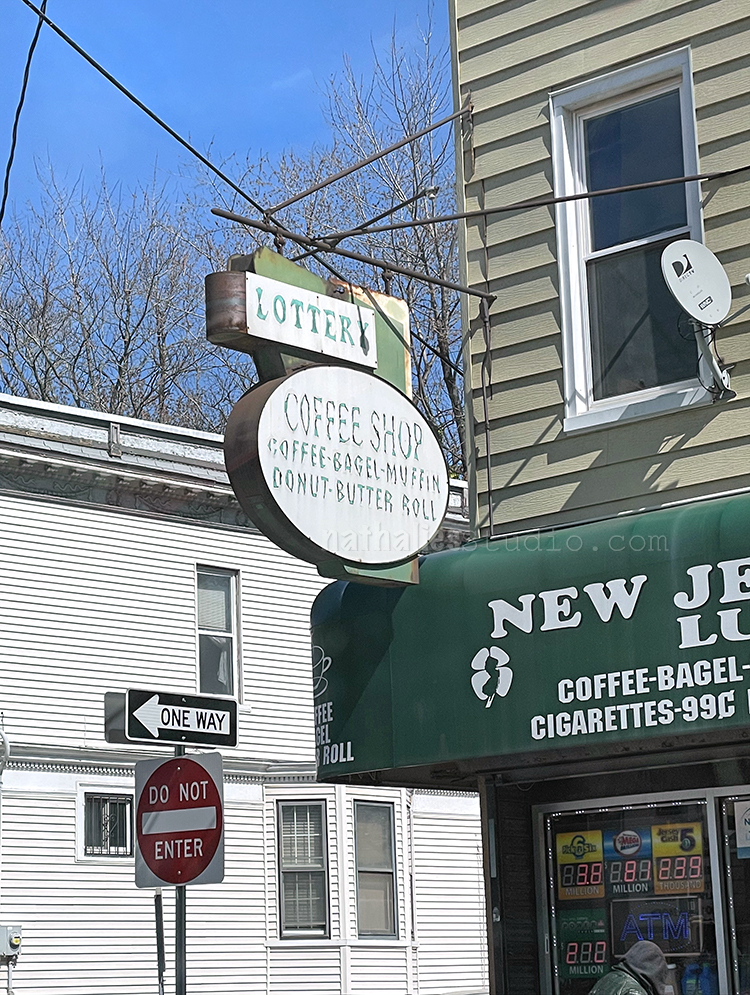 Love this sign and the font – I wonder how old this is. In any event …it is a sign that this has been a corner store for a long long time.
Hope you enjoyed the little stroll, see you next month for a new neighborhood walk :)