Strolls through my hood get me out of my studio, they help me get unstuck and often I get inspired by what I see and get new ideas to create something. It is part of my philosophy about Artful Adventures in Mixed Media – which is the subject of my book. Here are some photos that I gathered in the last couple weeks.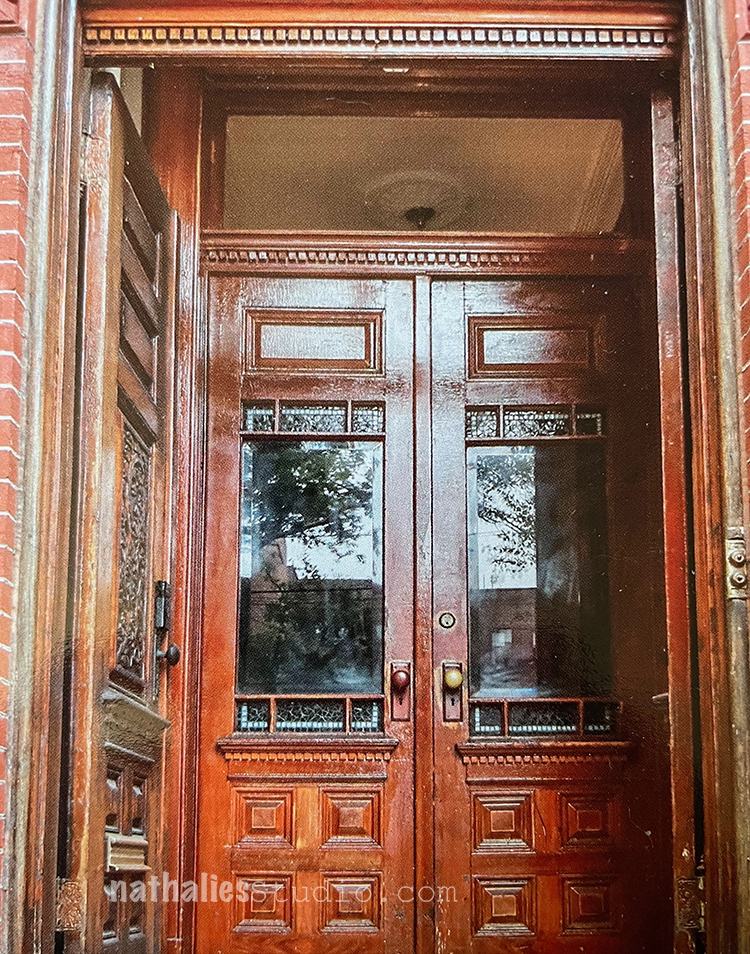 What can I say..come on in I guess :) This is the place I have spent a lot of time the last couple of weeks. It is our new home to be. An 1890s townhouse. And yes, some people might ask "Didn't you guys do a renovation a couple years ago and move?" Yes …we did and we would have not been doing this again if it wasn't for this particular house, which we have been dreaming of forever, in fact…I painted the house and it's sister houses and there even is a foam stamp out there which shows it. So now if you believe in manifestation …there you go. And if you don't , well tough … I am convinced now. We are still pinching ourselves.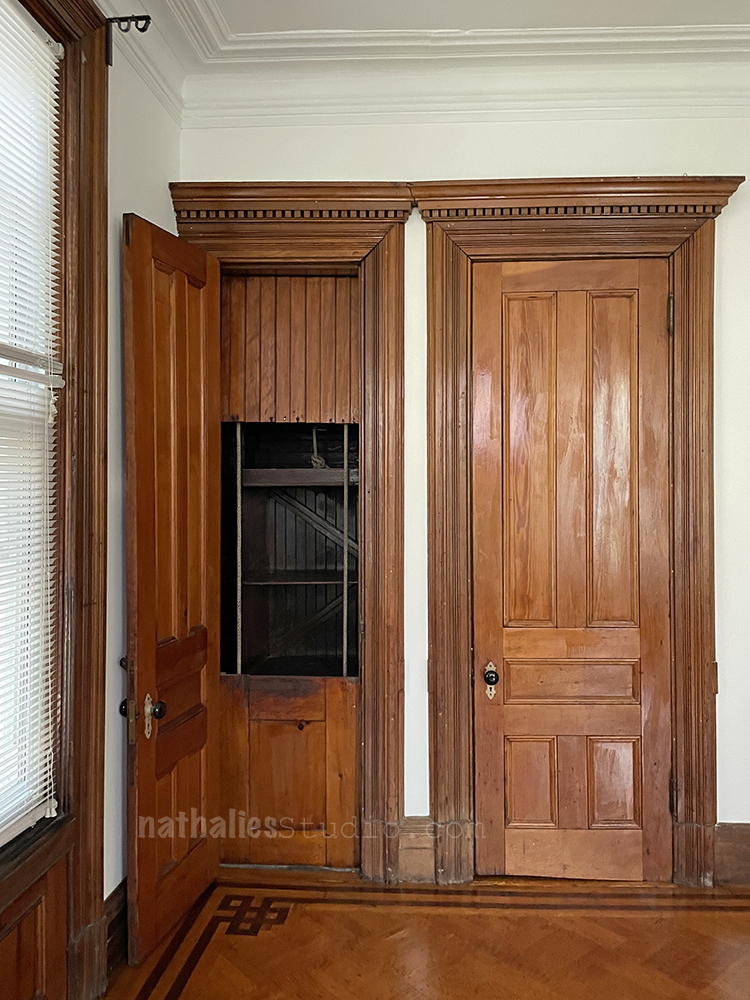 The house comes with a dumb waiter …I have never seen one in real live before and this puppy works – it is pretty screechy but it gives me so much joy. None of the other 4 identical houses have the dumb waiter anymore- so we are very determined to keep it. After all we believe we are just guardians of this old house and we want to keep as many of it's original features as possible. It is pretty rare to find a house that has not either been stripped of everything or painted excessively.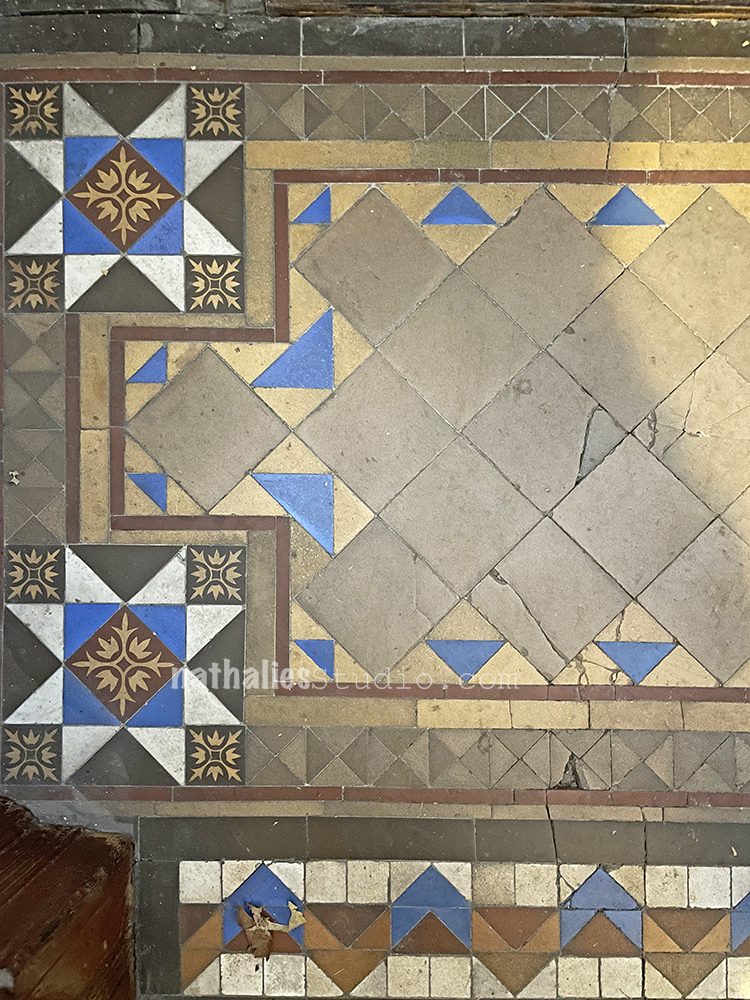 I love this tile in the vestibule – it needs some love and deep cleaning and I need to read up on how to do that best. But it makes me happy to just see it whenever we walk into the house.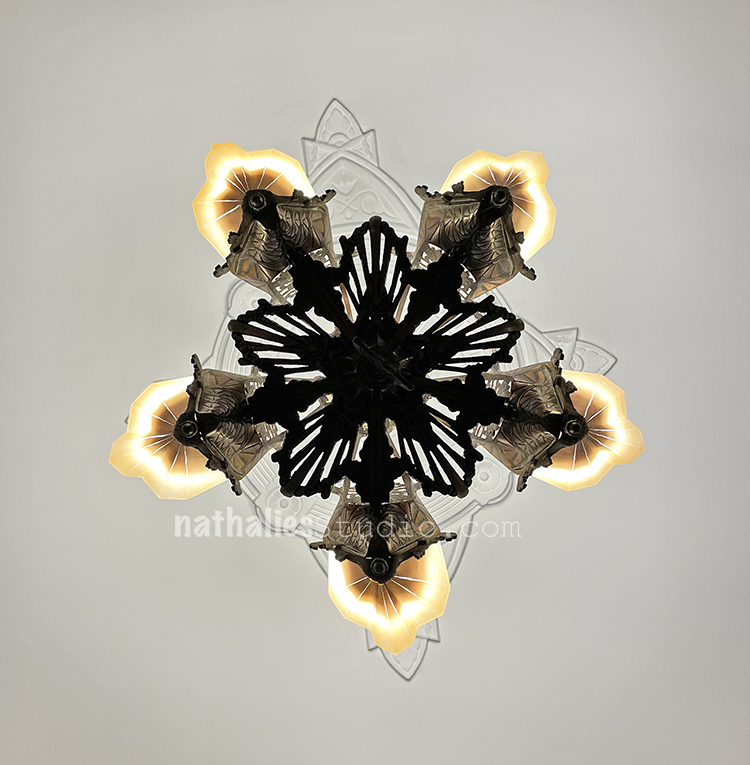 This 1920s Fan Slip Shade Chandelier has been in the house probably since that time – as a former owner of the house who bought it in 1978 told us. I love this chandelier so much – I could lay under it forever, but alas …I have to swing the paint brush and pull another five million nails off old carpets from the staircase.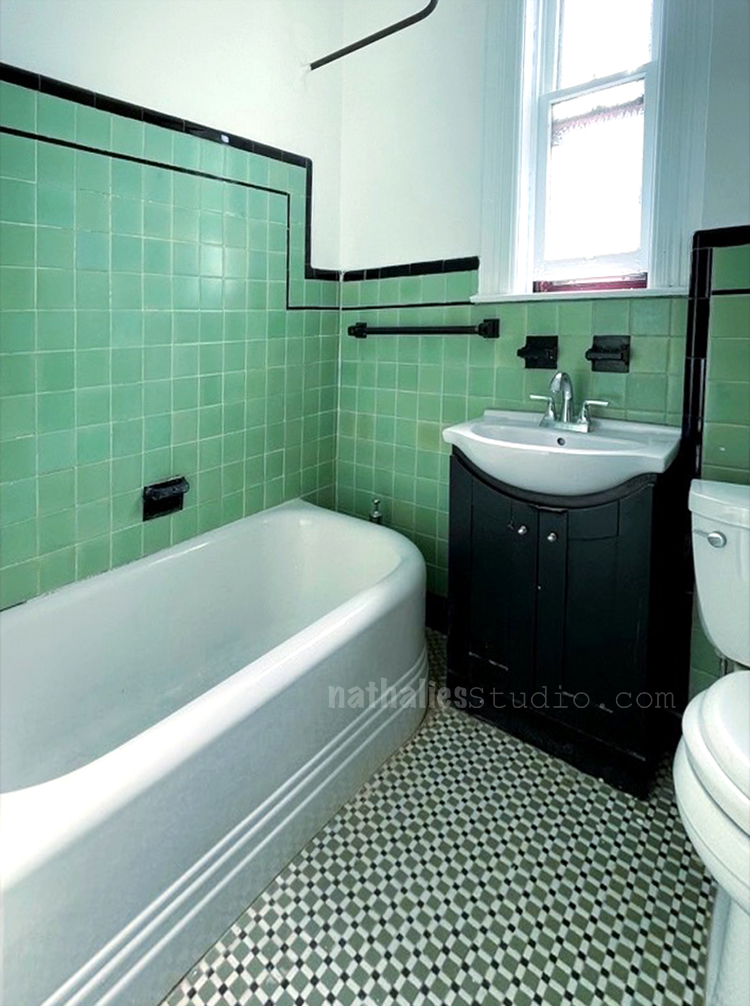 I don't want to bore you with a million photos of the new home- we are still renovating and I might throw a pic into the Strolls here and there- but if you are interested in how it looks like and how it is going -you can see more and follow it's own Instagram account . But before I move on…above is a picture of the one bathroom that is awesome in the house (the other one …oh boy …let's not talk about it). This bathroom is also from the 20s/30s and I just love love love it – the green tile and the tub- swoon!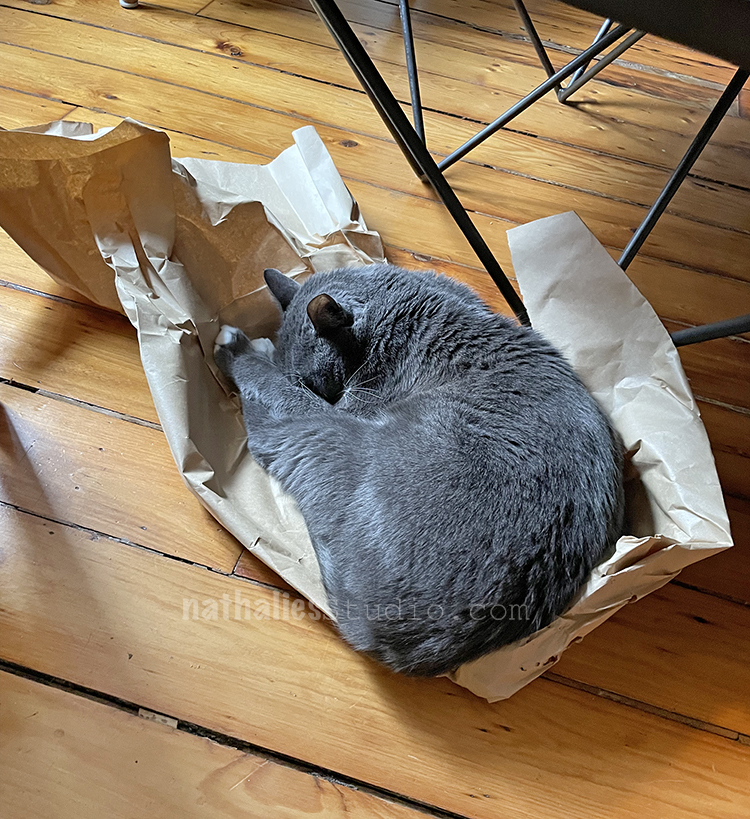 Our cats couldn't be less impressed by our renovation efforts …well they don't know yet that they will be moving in a couple months, so bless them and their ability to sleep on the smallest scrap of packaging LOL. Bobby Pretzel cracks me up.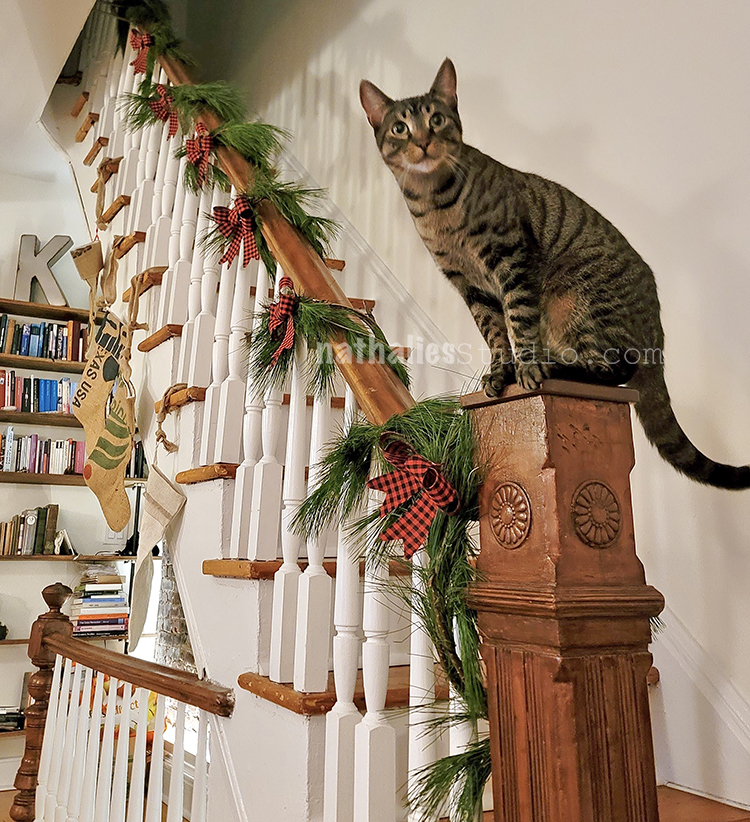 Mingus is doing his best to blend into the background but we all know that his true focus is on this: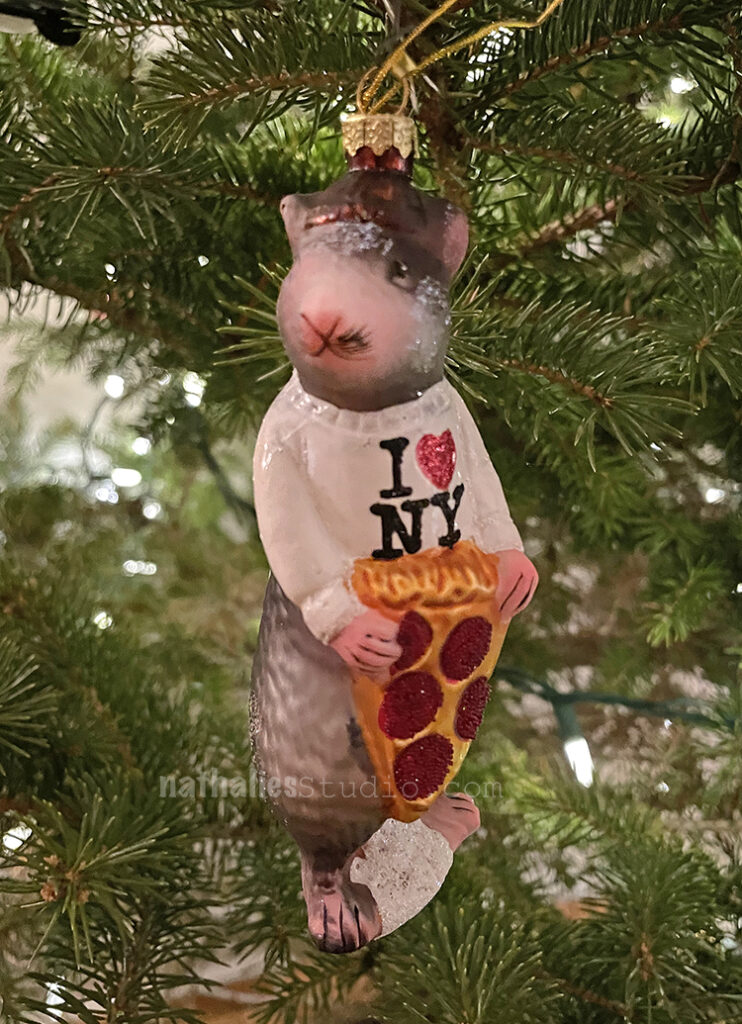 Pizza Rat …you probably have to be from NYC or live in the NYC Metropolitan Area to find humor in this ornament LOL- it makes me laugh.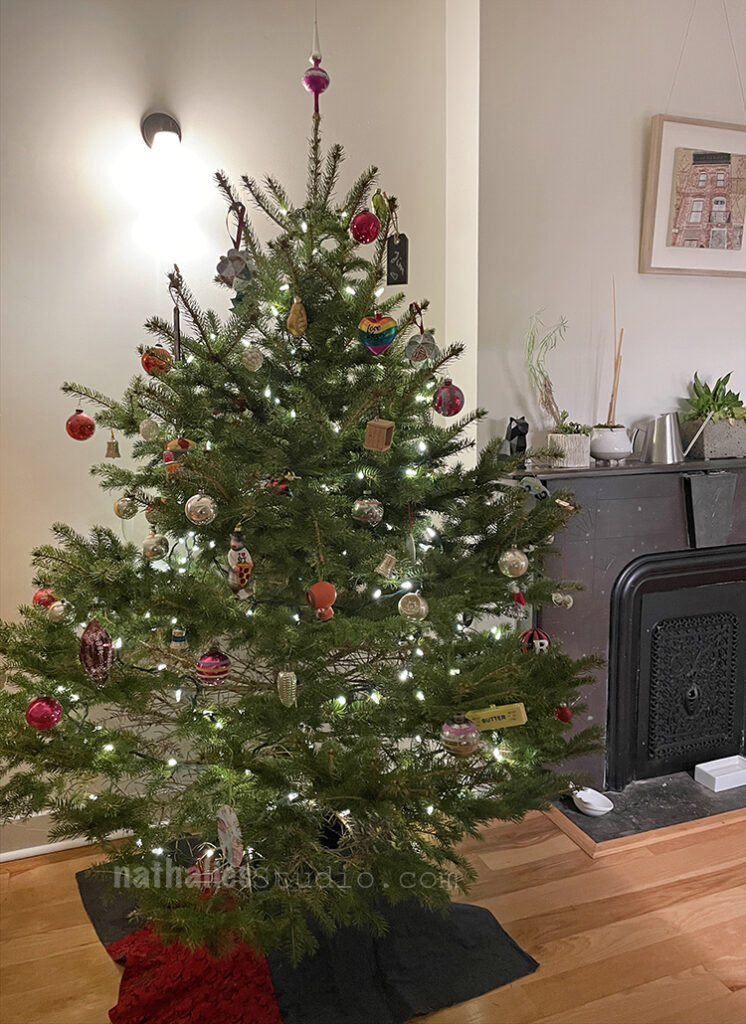 And here it is, this year's tree- the most pokey tree ever- we cut it with our friends and we had to wear gloves putting ornaments into it …I guess it kind of fits to the whole year …I am laughing about it.
I wish you and your loved ones a wonderful holiday season, some quality time and lots of love and rest! See you all soon as I am taking a couple days off to get ready for the big bang in the new year and start of Creative JumpStart 2022! Thank you for joining me on my Strolls through the Hood in 2021.