Strolls through my hood get me out of my studio, they help me get unstuck and often I get inspired by what I see and get new ideas to create something. It is part of my philosophy about Artful Adventures in Mixed Media – which is the subject of my book. Here are some photos that I gathered in the last couple weeks.
I love a good fire escape view :) This one is actually from our new house – nothing speaks American City more to me than a fire escape…I know I know …Europeans LOL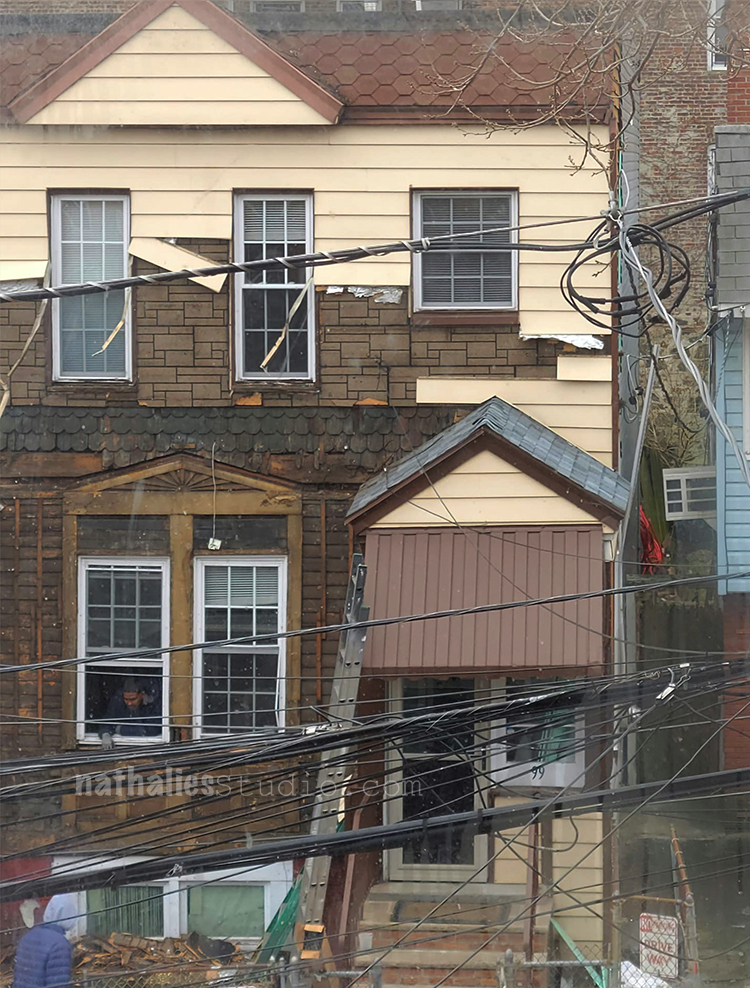 Ever wonder what is underneath those boxed in houses? When you are in our city you might be deceived as to how old this city really is …a lot of houses are from around 1890 but they just look as if they are from the 50s 60s 70s because they have siding on top. On this house which is from 1890 you can actually see several layers of siding going down to the old wood siding with shingles, you can also see the windows used to be bigger ..there is a super cute house underneath the siding …but fear not …the aluminum siding is back on … This house is just an example why I always stroll through the hood wondering how the houses look underneath that stuff.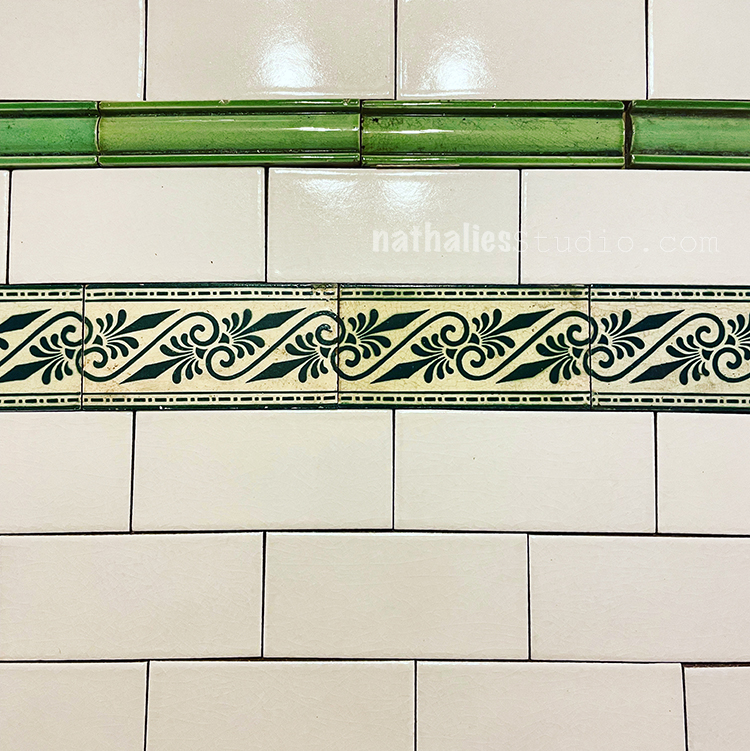 Playing around with kitchen tile – we bought some antique tiles for our new kitchen and I was playing around how to best arrange the new subway tile with the old ones. I am excited …I am in love.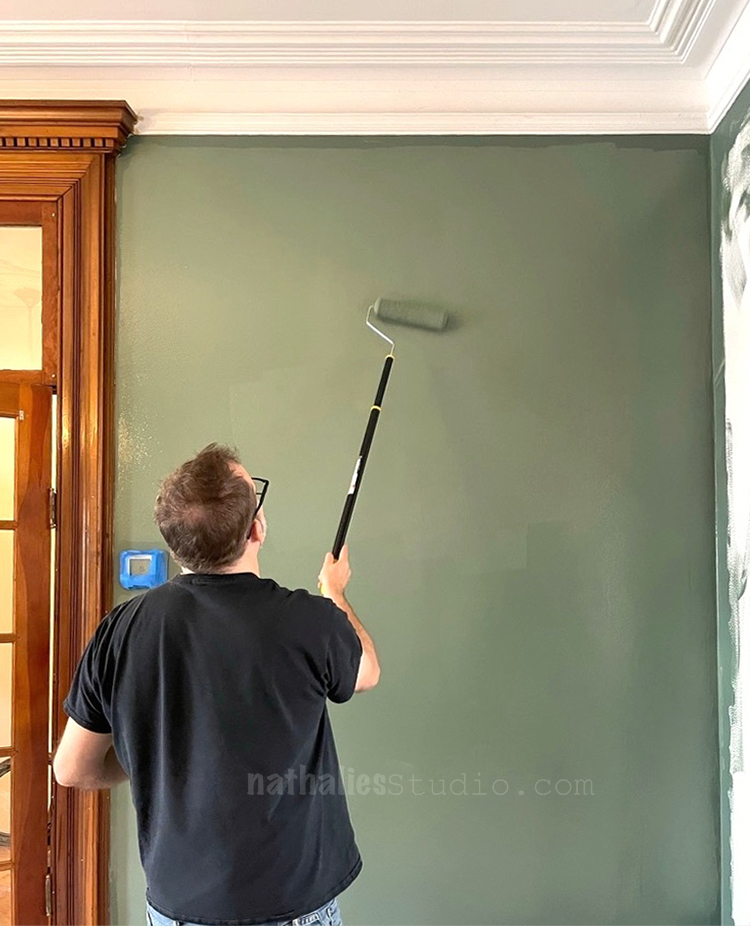 And speaking of green, well I didn't really speak of green but here you go …this is the color of our new living room…I feel so bold hahaha. See the funny thing is that even though I am bold and colorful in my artwork and art journals, I am actually usually a kinda white wall person. Maybe because as a child I helped taking off landfills of wall paper and painting several times over colorful walls (that is what you get when you move several times to old apartments and houses). But …well…the color bug took over since we are convinced these rooms need a bold color statement. Let's see how I feel living in it LOL- I will keep you posted.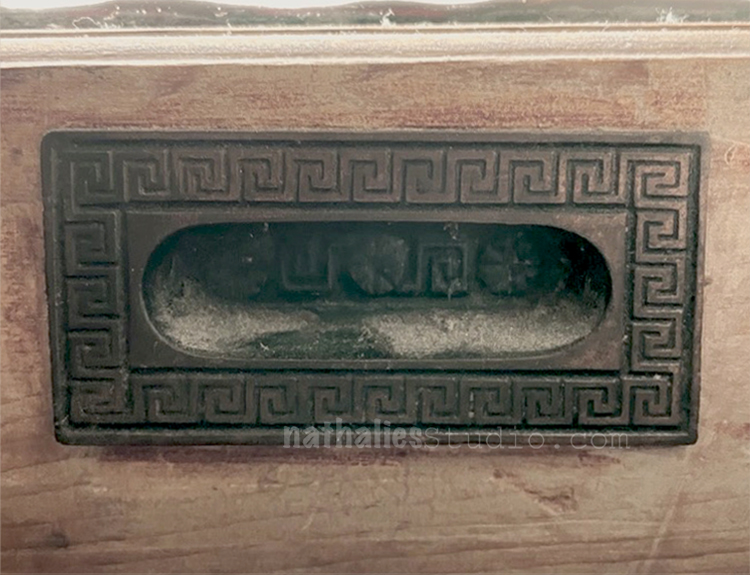 How can you not love this wonderful window handle with a greek key pattern but also some pattern inside the handle.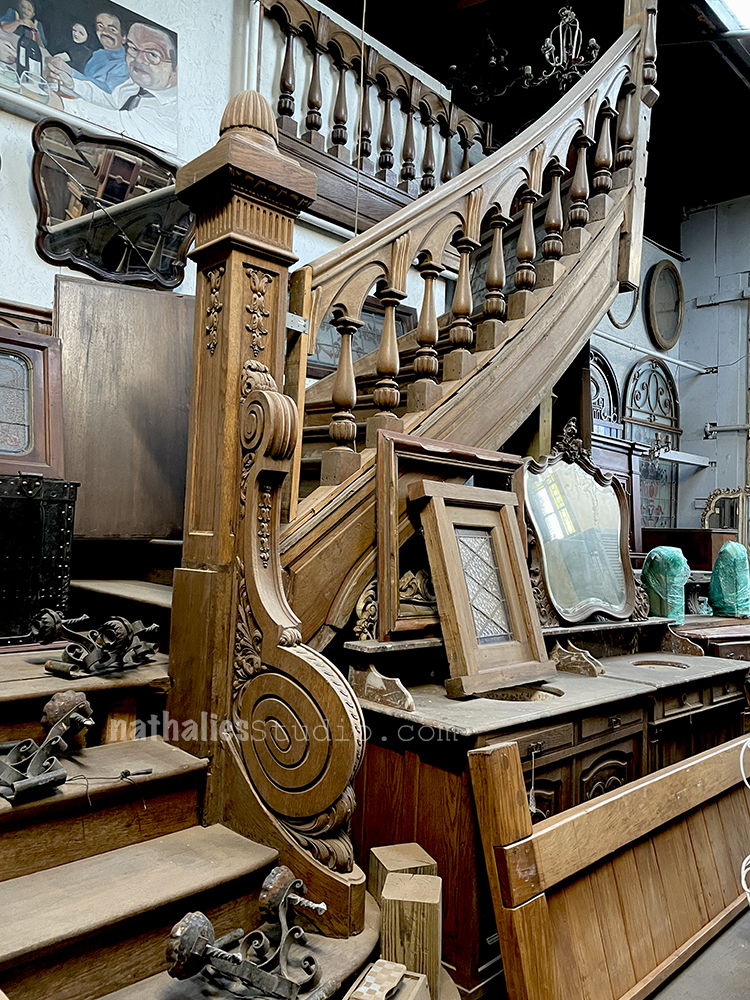 Speaking of Tiles …I am jumping around here- I love the architectural salvage place here in Jersey City- it is mostly totally out of our budget ..but we have been here several times for antique tiles and I am always in awe by the stuff they have.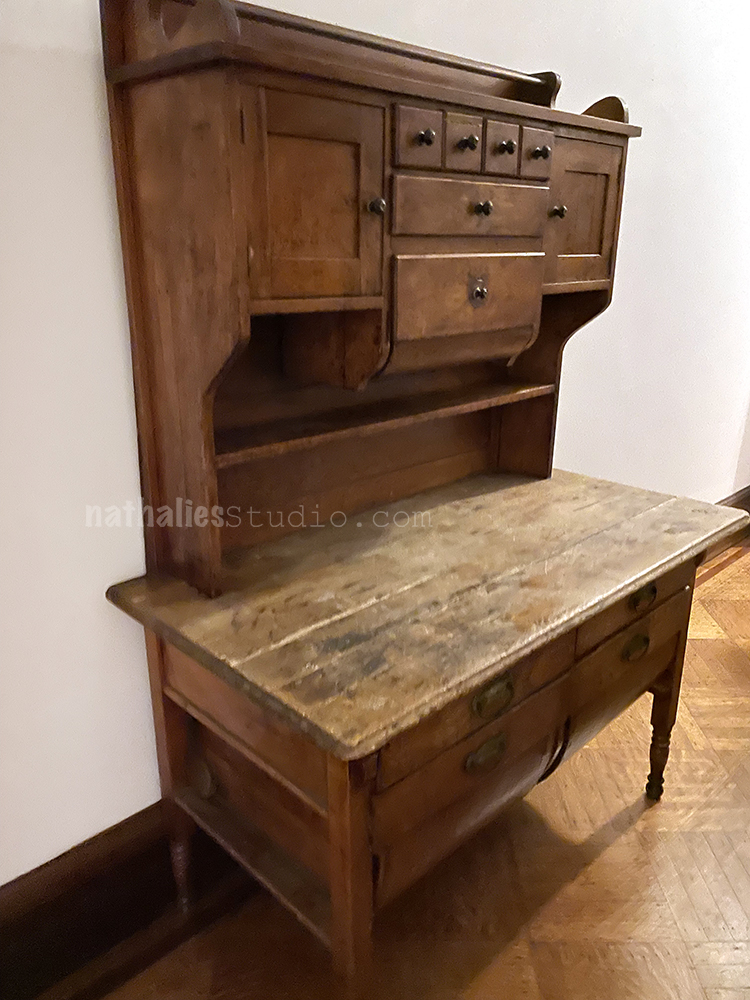 This Possum Belly Baker's Cabinet is moving into the hood – we saw it several months ago in Pennsylvania and we decided it will will be a wonderful addition to our new kitchen. So we had a fun little road trip.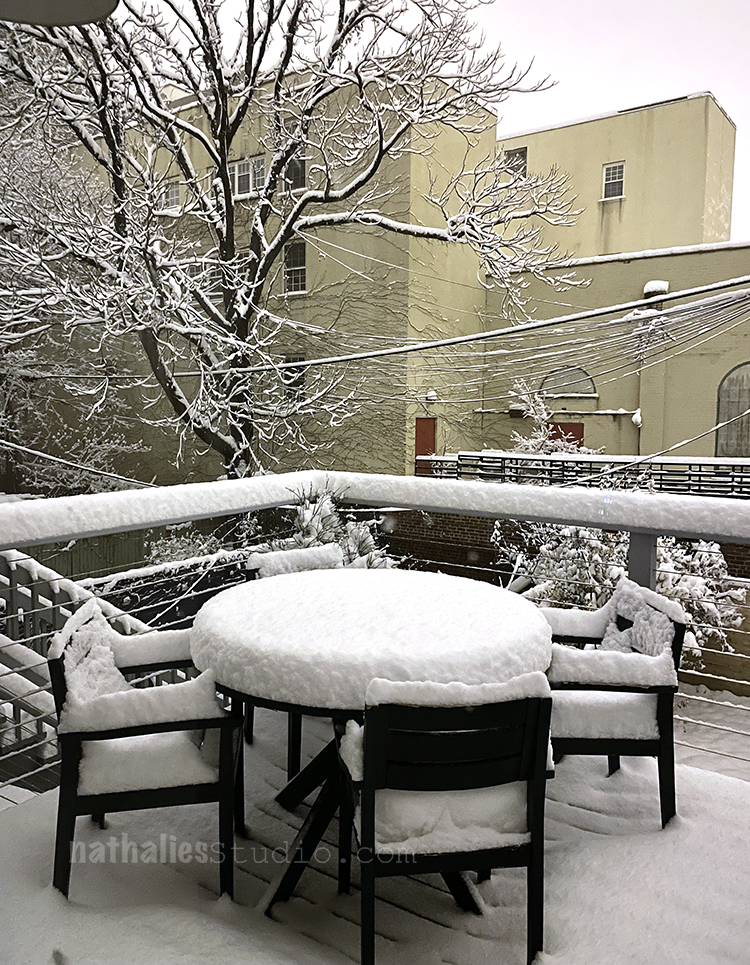 Love our current deck and the tree with snow …It wasn't there too long …but it was pretty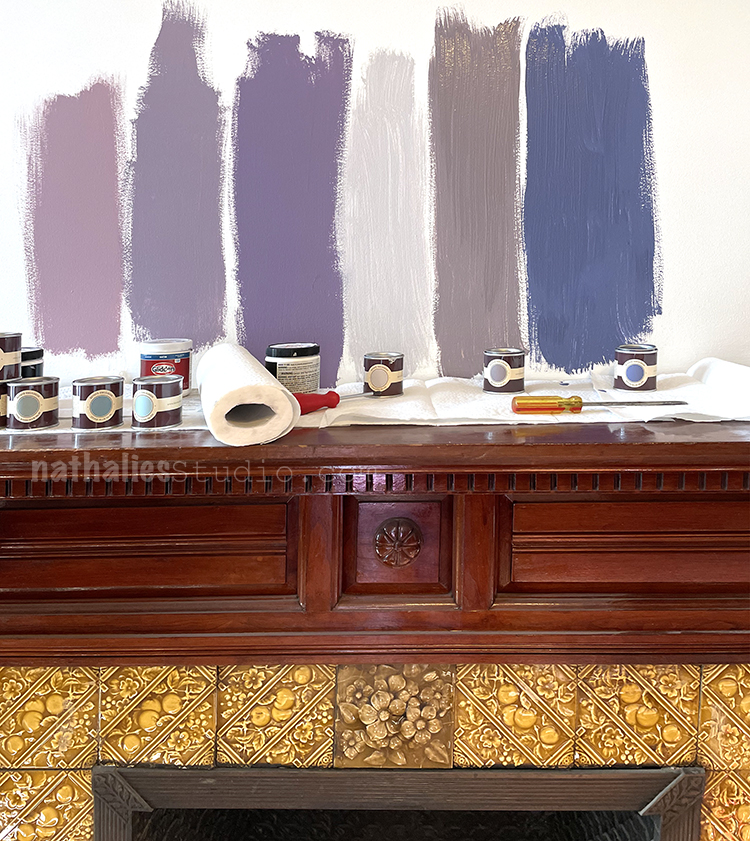 When you try to convince your husband of the color choice you already made but you humor him and yourself by putting all kinds of other colors on and then the color you really want ;) – Can you guess which one "we" picked? I will reveal next time ;)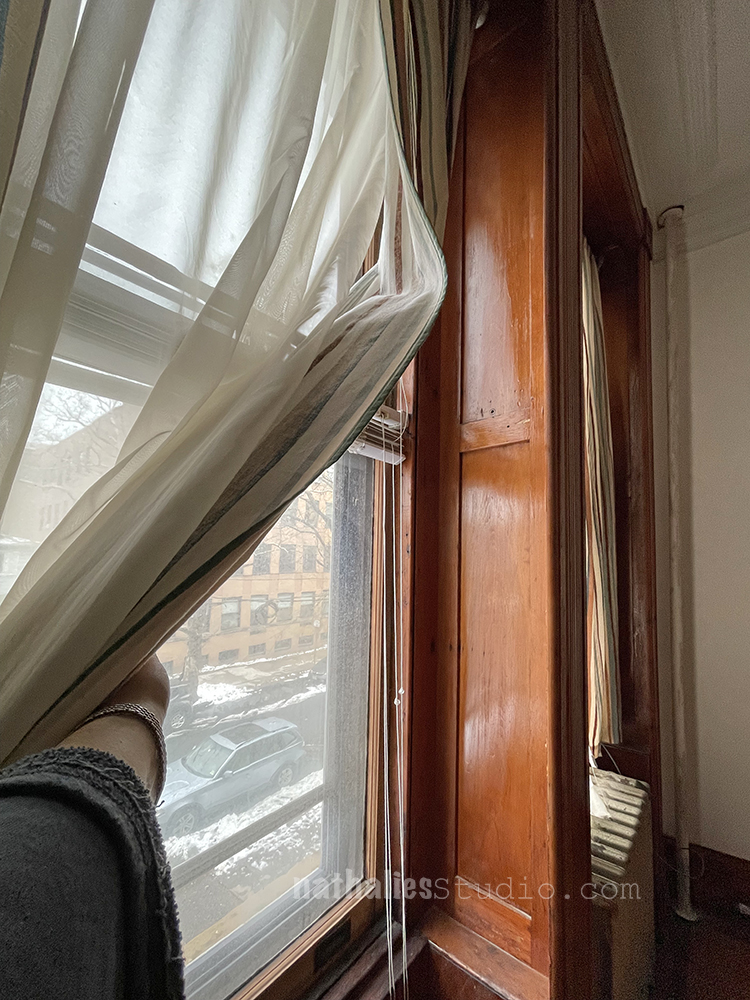 A while ago I saw a house that was restored in the neighborhood and they had wonderful wooden shutters placed inside the windows. I squealed with delight when I actually realized that this is an historic feature we used to have in our house as well …pocket shutters. To be honest I wouldn't have put 2 and 2 together if it wasn't for those strolls. They vanish into the pockets on the sides of the window. Ours are unfortunately gone but you can still see the holes where they were hinged on. I am inquiring about having them back as the horrible plastic blinds and the old curtain need to go (like yesterday)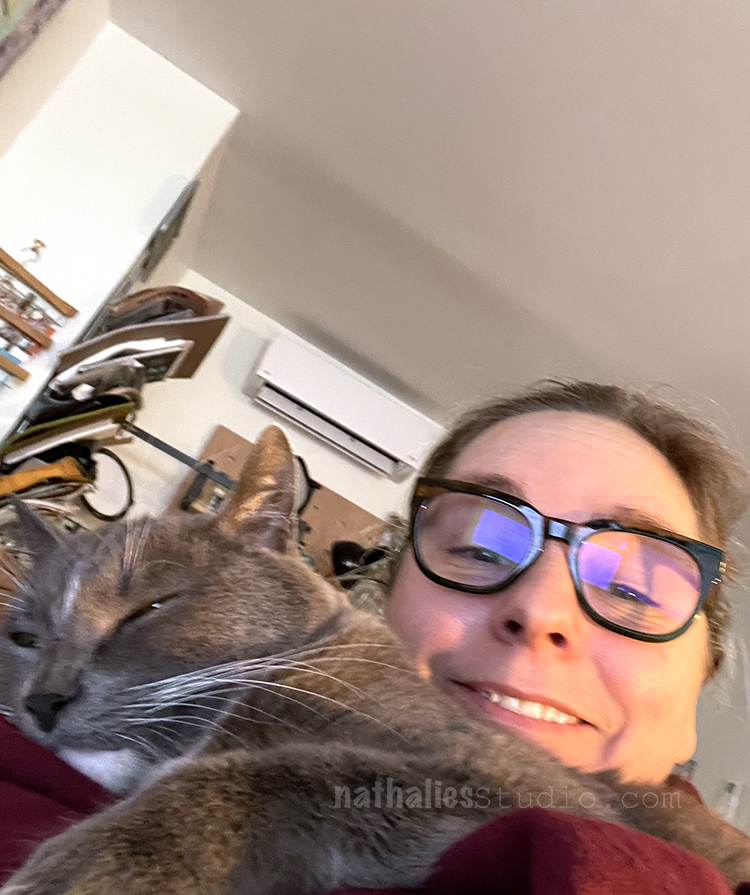 And there I leave you with a picture of Pretzel who jumps onto me when I am here and work on CJS22 – he misses having me around all day but we just have so much to do with renovating etc. right now- his cuddle time is a bit more limited when he is used to the last two years.