Strolls through my hood get me out of my studio, they help me get unstuck and often I get inspired by what I see and get new ideas to create something. It is part of my philosophy about Artful Adventures in Mixed Media – which is the subject of my book. Here are some photos that I gathered in the last couple weeks.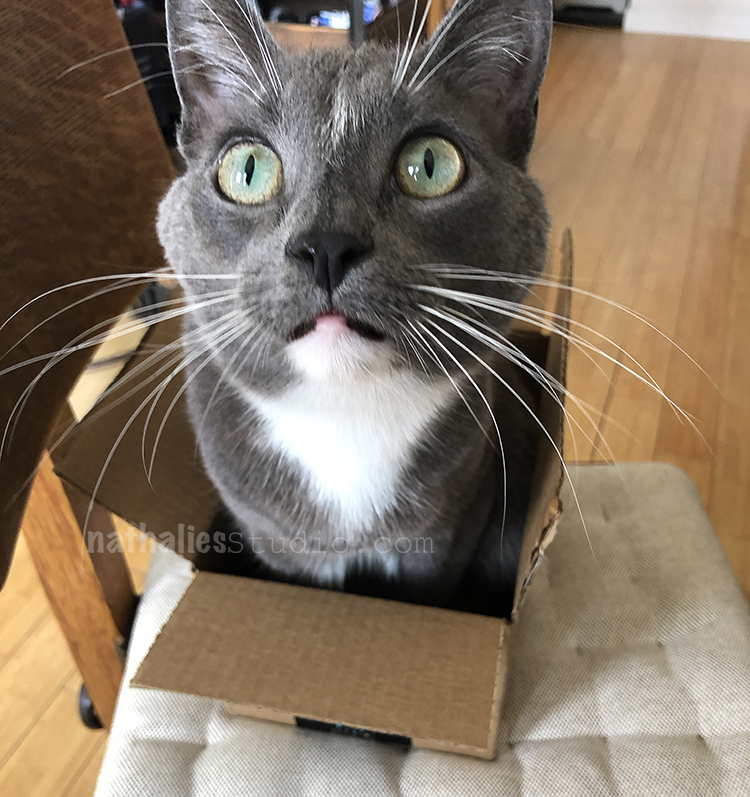 Wow – the last couple weeks have been really crazy. Moving as you probably all know is not fun – and with having still contractors in the new house the day of the move and painting some parts of the house ourselves – I have been really exhausted to be honest. But it is all worth it :) Here is Pretzel telling me that this box is def. too small to pack all of his belongings.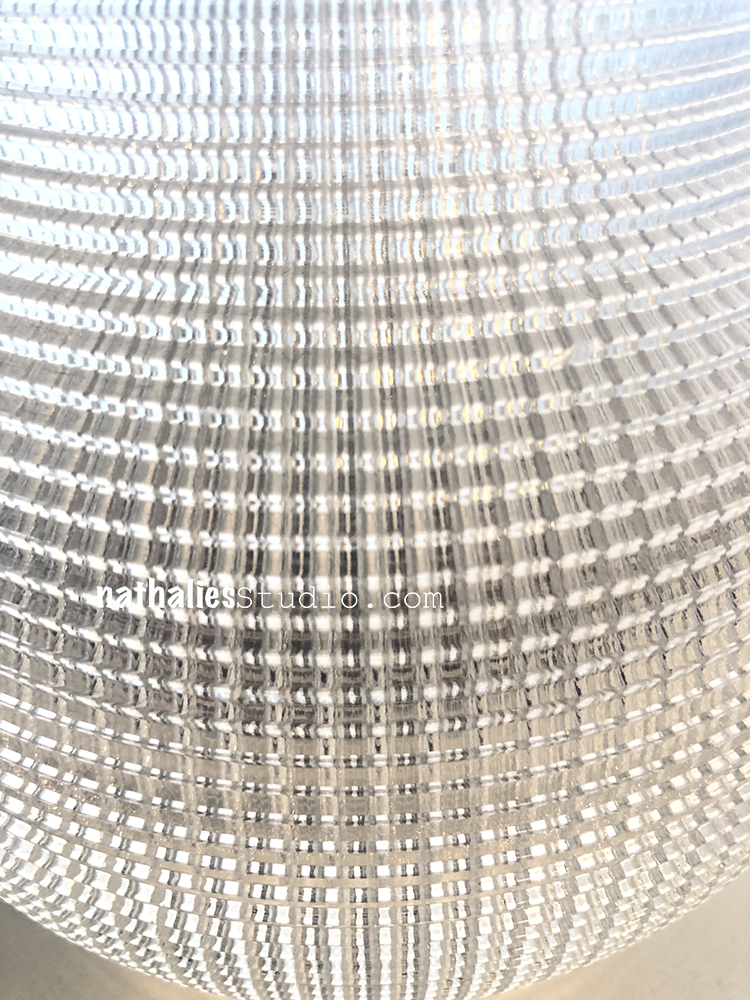 Lamps were a big issue the last couple weeks- European lamps which were rewired but due to different mounting systems a challenge for our Electricians, lamp shades that were crushed accidentally by ladders. This gem above is an antique Halophane lampshade from around 1910 which an amazing lamp store owner around the corner found on his shelf and gave me for a wonderful price. It looks way better when the shade that was broken und boy do I love the grid and light it makes. I am obsessed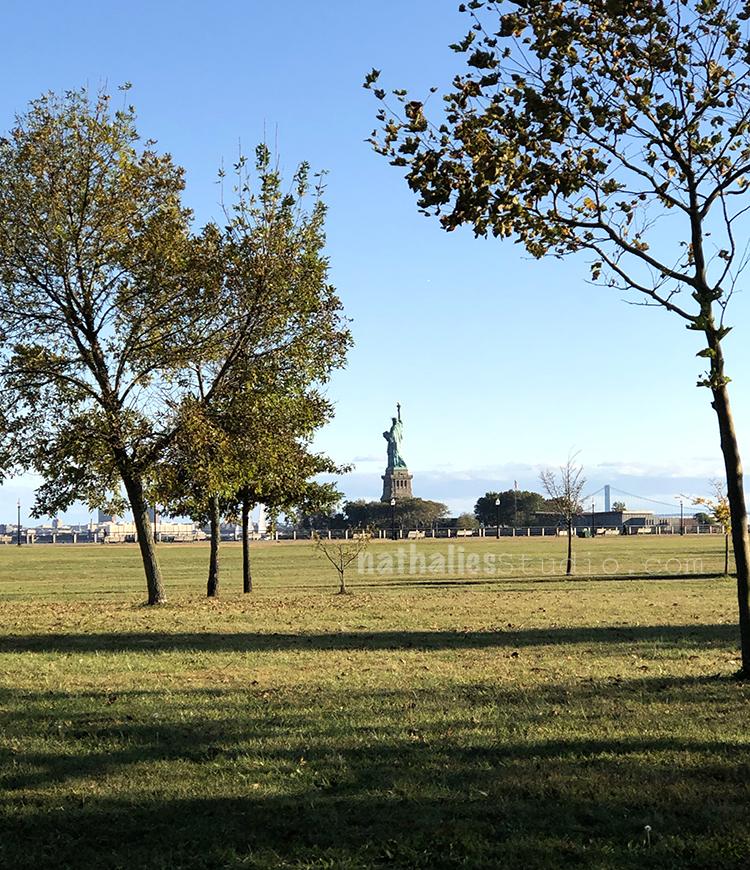 Nonetheless sometimes we made it with our bikes through the park to enjoy some of the fall weather – you need to breathe- don't you think?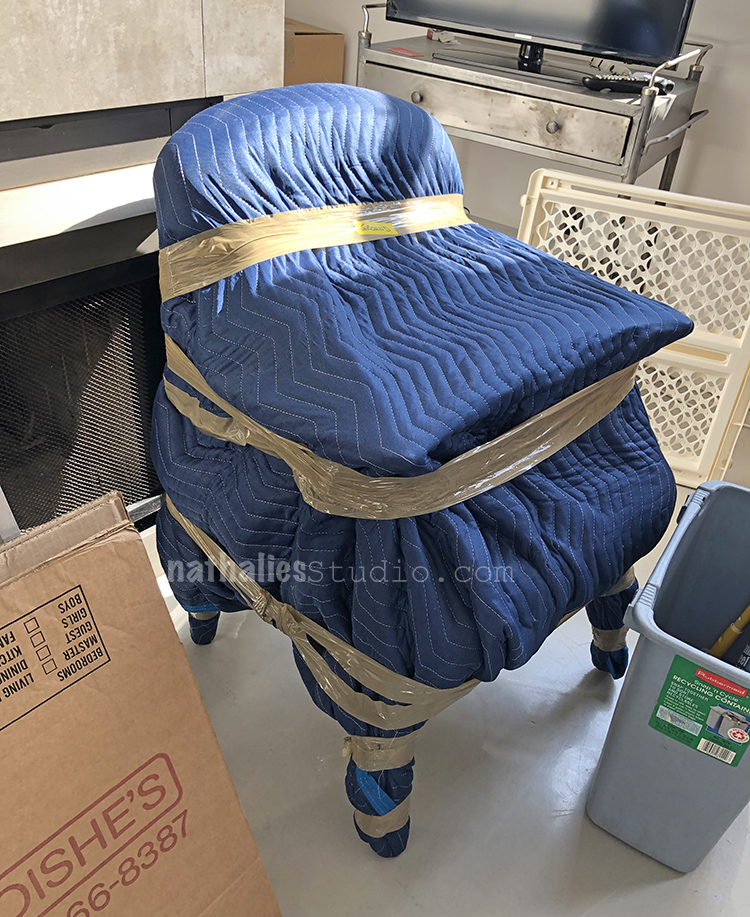 Art? LOL I loved how the movers packed our furniture. I am happy to report that besides one little piece of a lamp that went missing (did I mention that lamps were our little Nemesis the last weeks- LOL) , nothing was broken – they did a great job.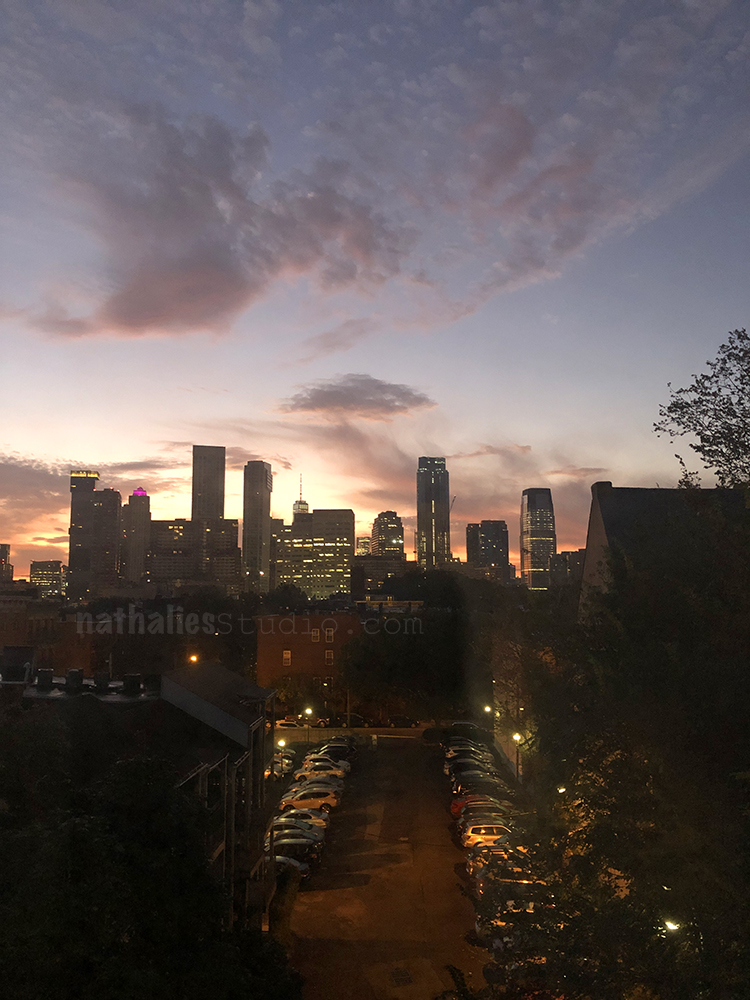 The last sunset from our apartment window even though I am super stoked about our new place, I will miss this view a bit. I can see a tiny bit of NYC skyline from our bedroom window but it is not the same :)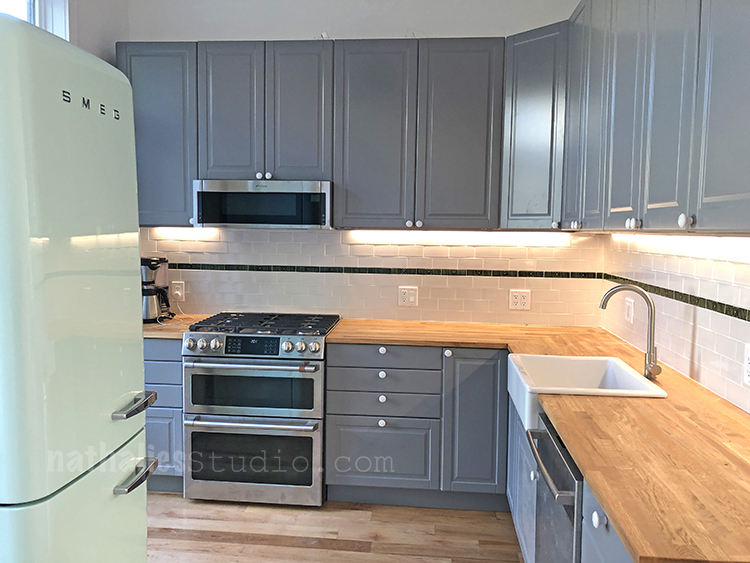 Our new kitchen ready for move in. I am so happy about the colors. We always wanted this retro mint colored fridge and we are so stoked to have it now being a colorful element in our kitchen.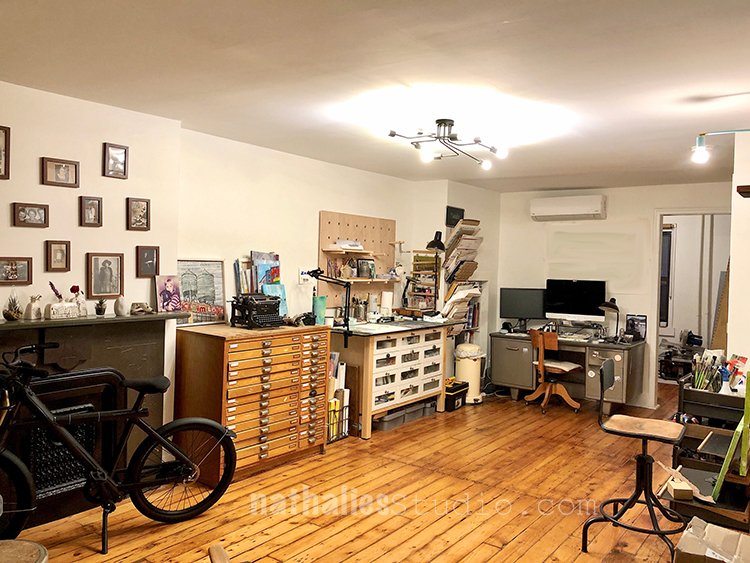 I am still not done setting up my studio but as you can see I am getting there. Although I have about 3 1/2 times more space than before, I have less storage space as my old studio had a gigantic closet. Now to figure out where to store everything. As we still have contractors working and using the laundry room in the back for their tools- I have not successfully stored everything away. but I love it so far- I love that I have the fireplace and a sitting area in my studio as well – and once I can move my bike into the back – I will make use of it for sure. I also cannot wait for workshops in this new space- coming my friends – stay tuned :)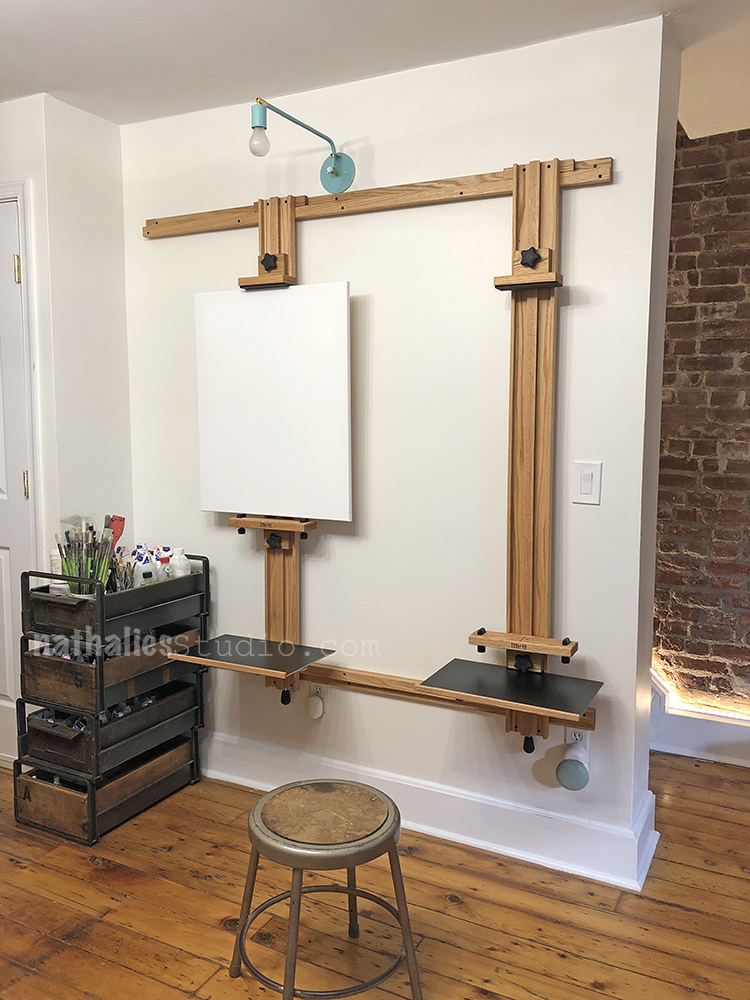 My favorite new addition to my studio is this wall easel – I am sooooo excited about it and boy – I cannot wait to start painting again.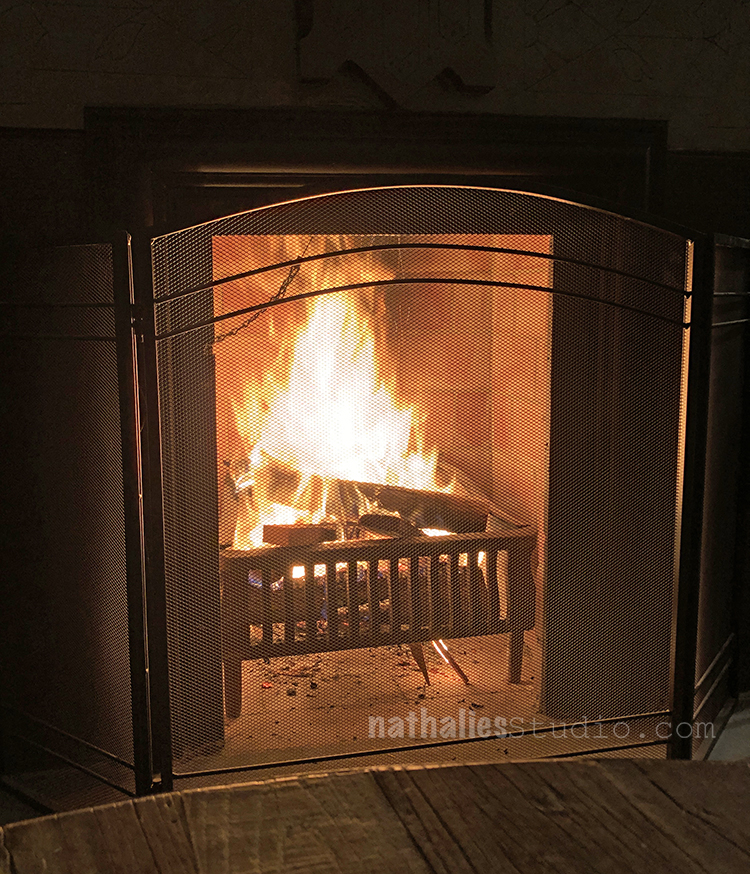 We also tested our re-instated wood burning fireplace in the living room area – works like a charm. Very happy about it and ohhhh I see many warm and cozy evenings coming up in front of it.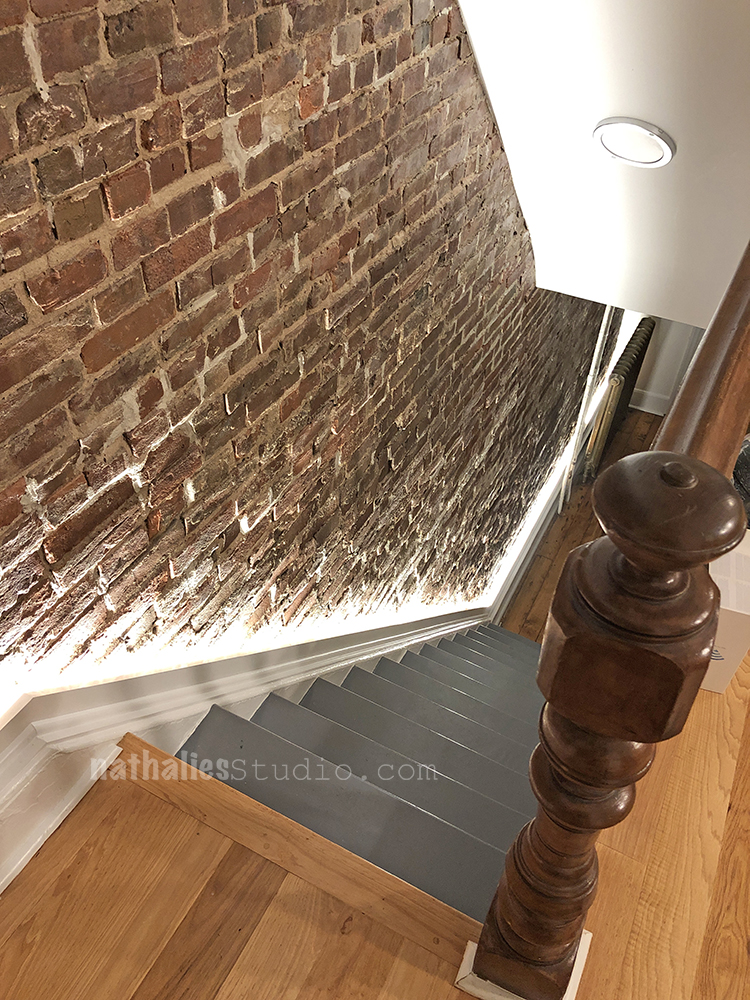 The hallway down to my studio is now also finished. My husband and I exposed the brick wall and we are so happy we did. To lighten up the narrow space I had our contractors put in a stripe light along the stringer and it looks so cool. They made a nice molding to block off the light a bit and then we painted the stair threads the same color as the kitchen. That was a longer affair …let's just say Bobby Pretzel has been quite the Houdini since we moved and fresh paint and cats do not go along ;)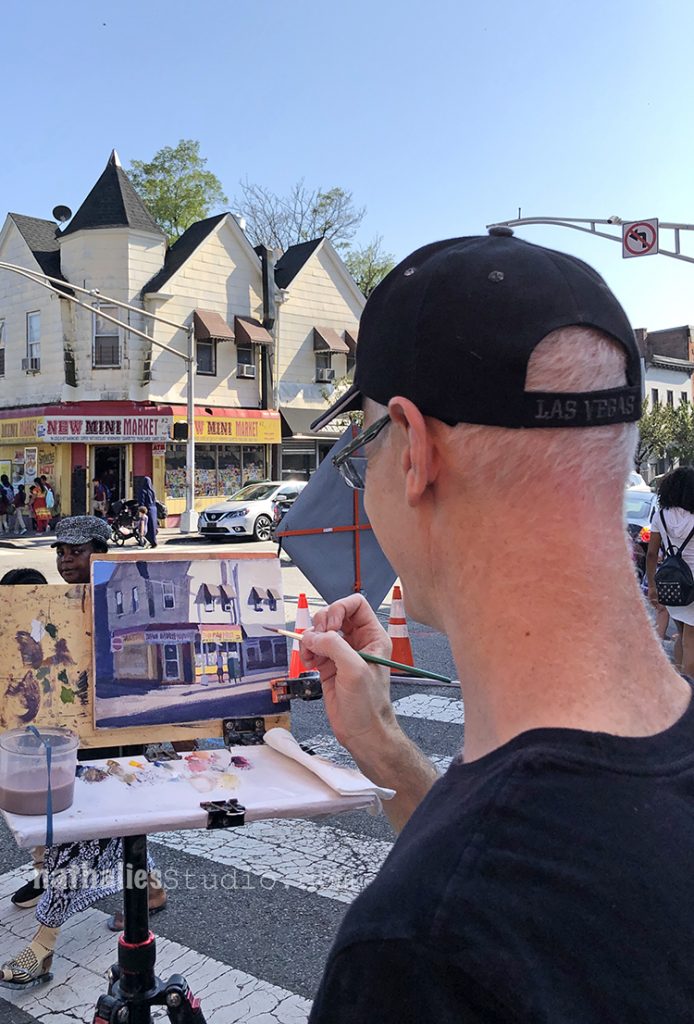 Loved seeing Doug Madill painting in my neighborhood – I love his street paintings. 
We are so happy with our new house- most of the boxes are unpacked but there is still so much to do . Our contractors are hopefully finishing up all work this week – They rock but I would love to truly have the house for ourselves now – LOL. I feel like all my creative energy the last couple months was soaked up in the house reno and planning and I so cannot wait to get back to "normal" and have a real studio artist live again. Until then …see you next month!