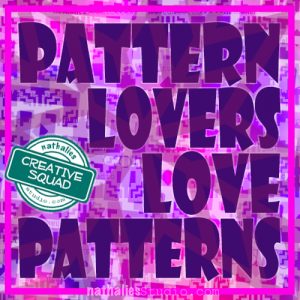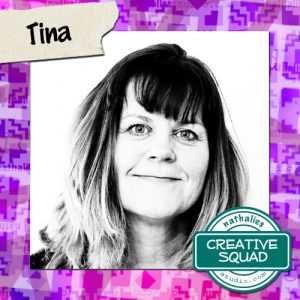 Happy Tuesday from the Creative Squad! Today Tina Walker is starting us off on a new theme for June with a super cool canvas and a fun art journal spread using my Hamburg stencil and my Cardboard stamp set. This month's theme is: Pattern Lovers Love Patterns: We admit it – sometimes we go a little crazy over cool patterns. We see them everywhere and whether it's in the human-made stuff all around us or in the designs by Mother Nature, we love them all. So this month we're playing with pattern and giving it the attention it deserves!
---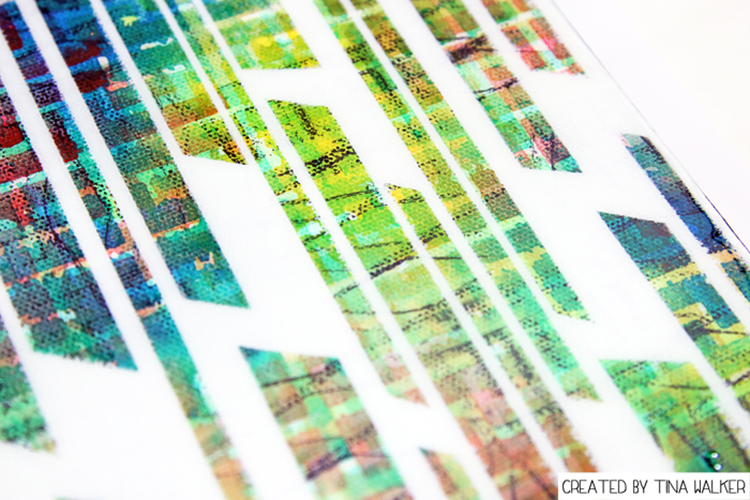 Hi! Tina Walker here today with a new month and a new theme. June's theme is a theme that I am super excited about – Patterns!
Patterns and repeating images are some of the best ways to create interesting and eye-catching art. I am always looking for patterns in nature and for ways to create patterns out of patterns. My main project this month uses 1 stencil and 1 stamp to create an interesting piece full of pattern on pattern. Not only was it fun to make, it was quick and easy.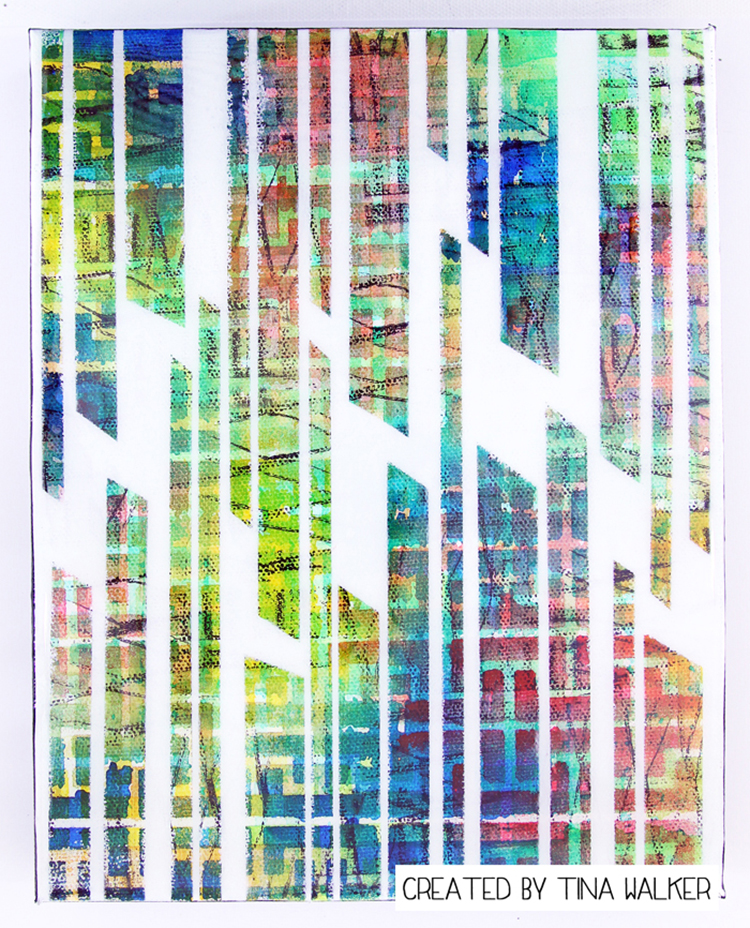 Place your favorite Nat StencilGirl stencil over a primed canvas, I used Hamburg. Using spray-mist, acrylic paint, or inks, paint over the entire canvas. I used Marabu Acrylic Art sprays that are permanent. Once they dry, you can layer one spritz over another without creating a muddy brown color. Love!
Randomly stamp canvas. Here I used Pie Top from Nat's Cardboard stamp set.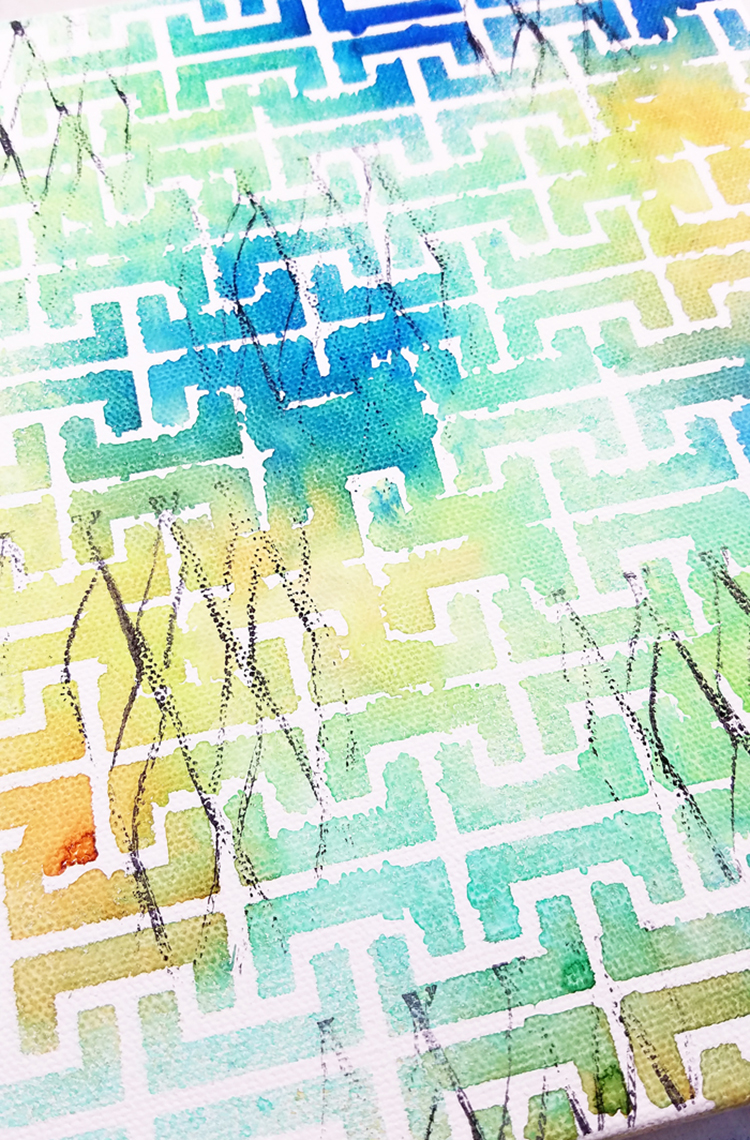 Repeat this step, rotating the stencil 90 degrees so that the stenciled image overlaps the previous layer.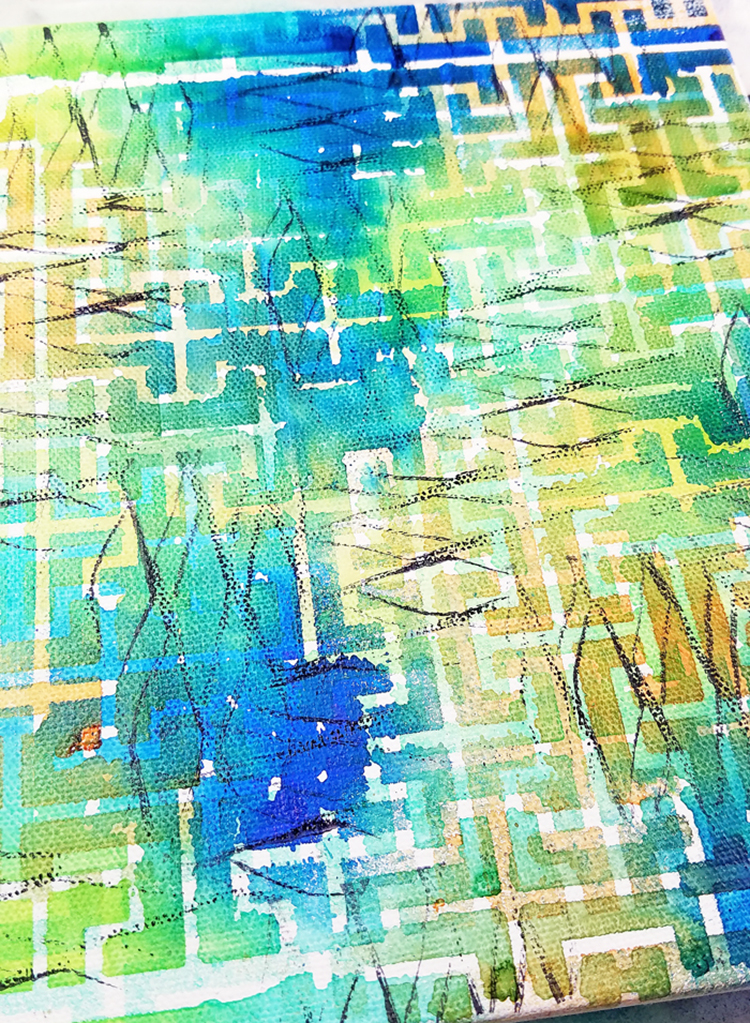 Repeat until you have a base that is full of yummy layers and pattern on pattern.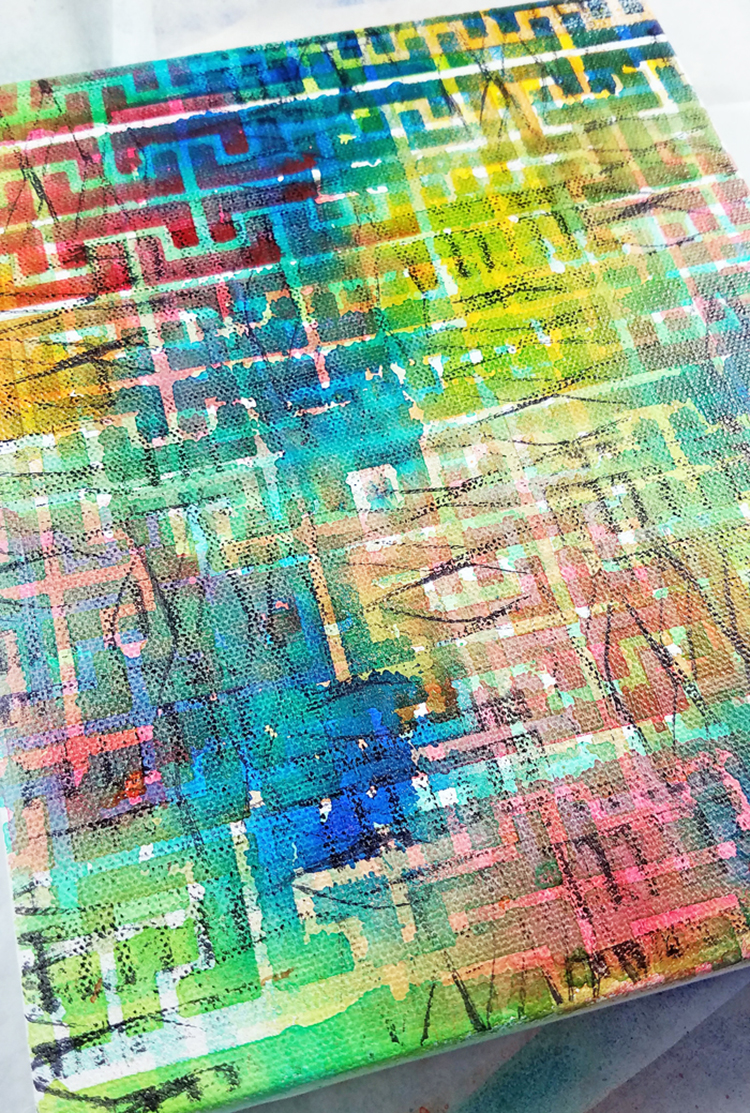 Place several widths of artist or masking tape over your stenciled/stamped canvas to create a pattern. I trimmed the edge for an interesting look.
Make sure the tape is securly adhered to the canvas.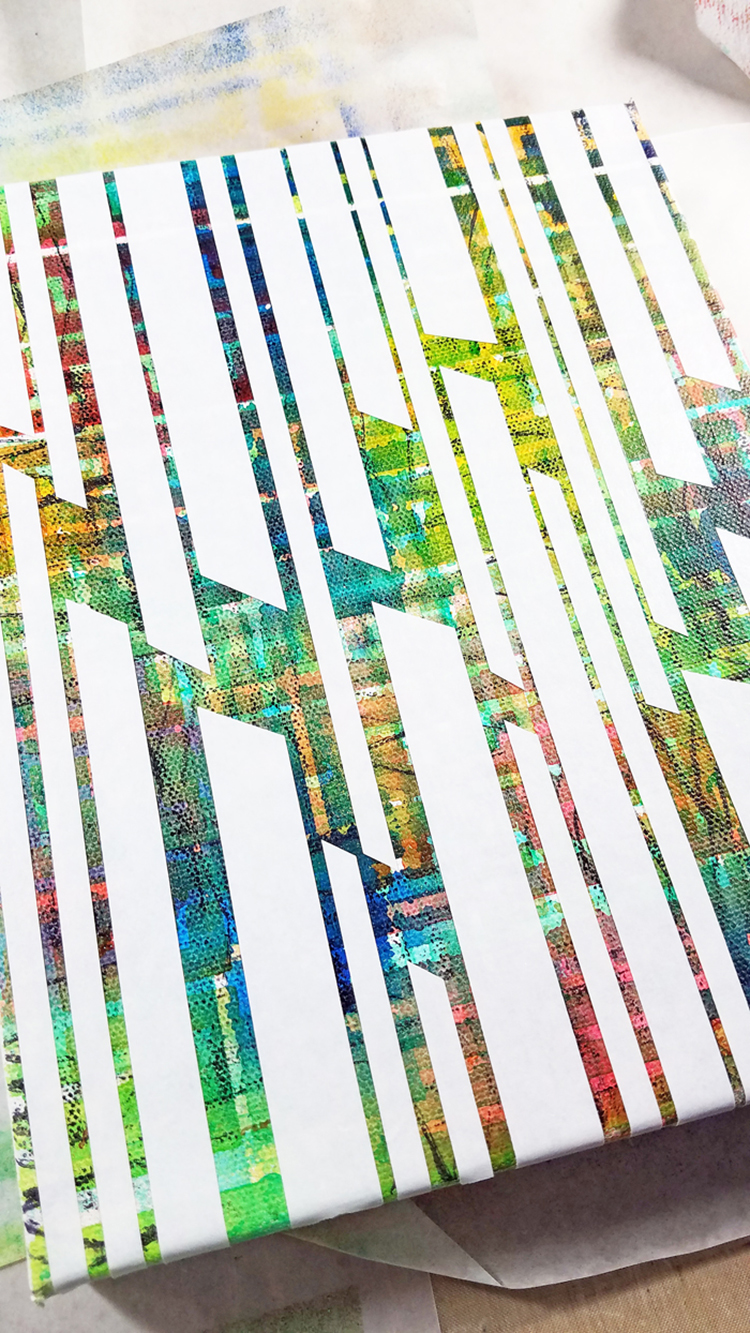 Using your favorite spray paint, spray entire canvas in contrasting or coordinating color, I chose white. Then allow to dry completely. Remove tape.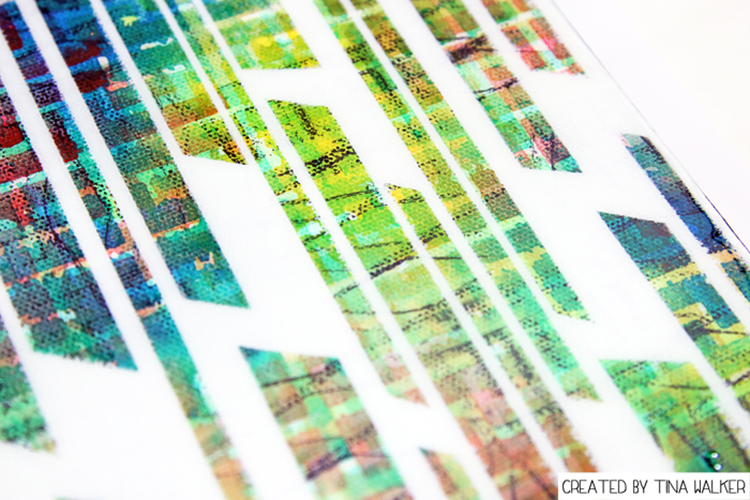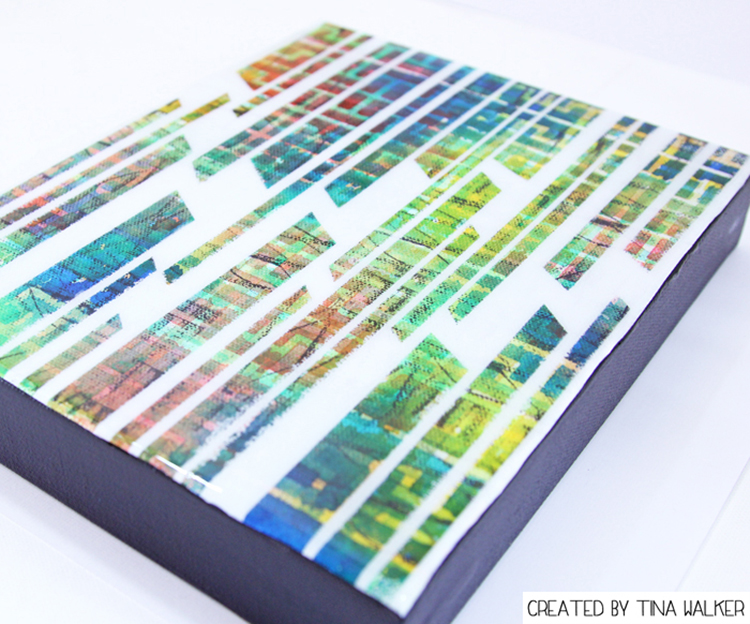 Reveal the magic of pattern on pattern. This project took approximately 30-45 minutes, from start to finish! My kind of art.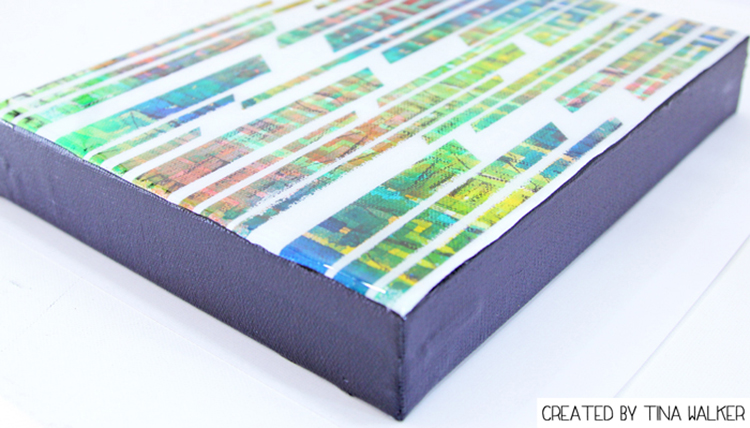 As I was adding my stenciled layers to my canvas, I didn't want to waste the gorgeous paint on the surface of the Hamburg stencil, so I 'stamped' the stencil to an art journal page. Not only did my patterned canvas create a super easy and fun piece, I had an instant background started on an art journal spread.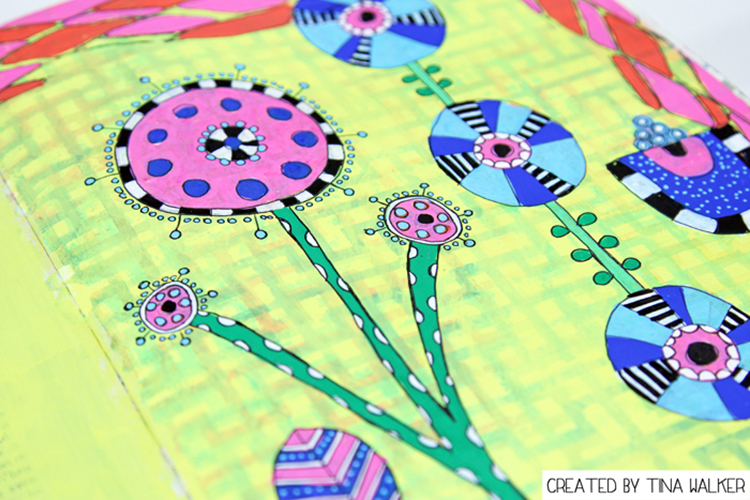 Here's the spread I created with 'stamp off'.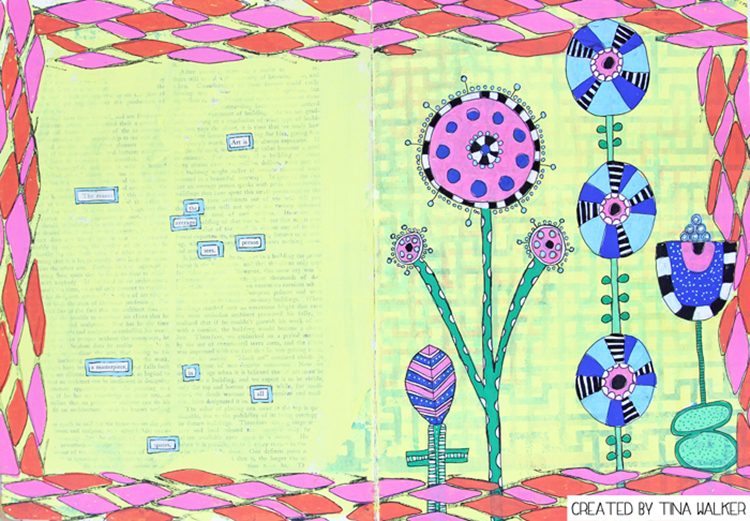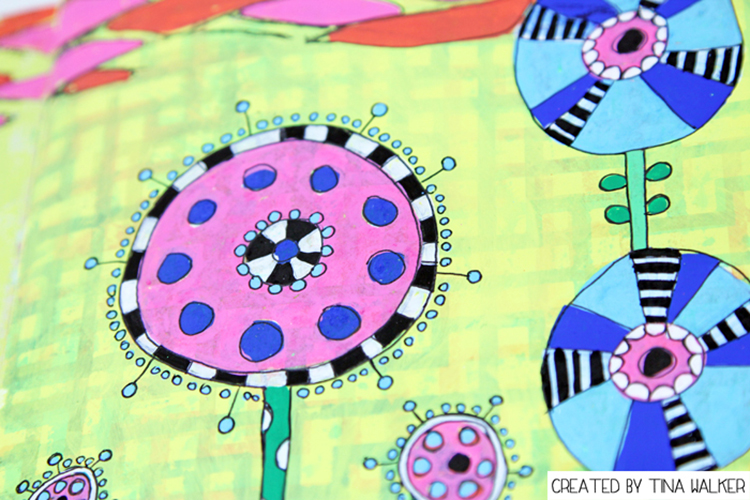 I love it when one project creates another. And pattern on pattern…be still my heart! ♥
I hope you enjoyed my projects today. Have a great day!
---
Thank you Tina for two projects that definitely celebrate PATTERN! Tina used these supplies – some links are affiliate links:

Play along with us this month and join the 30 day Artful Adventures Stroll Challenge! I love to see how you interpret our monthly themes. Email me how you used my stencils and stamps with the theme and email me an image – I would love to share your projects in my "n*Spiration From Around the Globe".