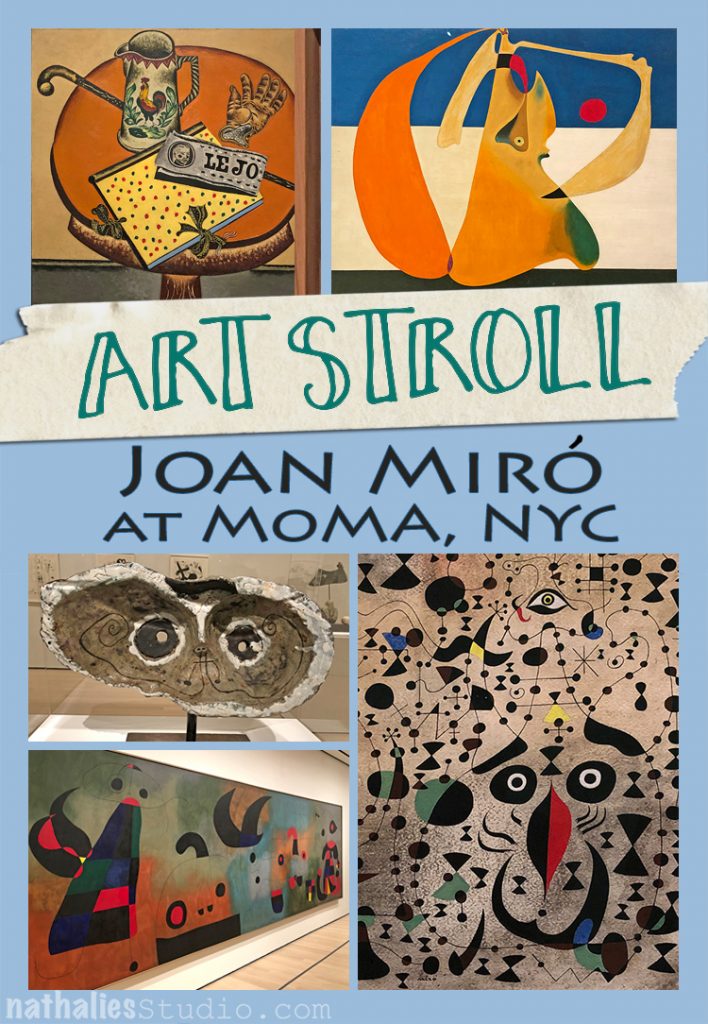 A couple weeks Kim and I went to the city to see the Joan Miró exhibition at MoMA.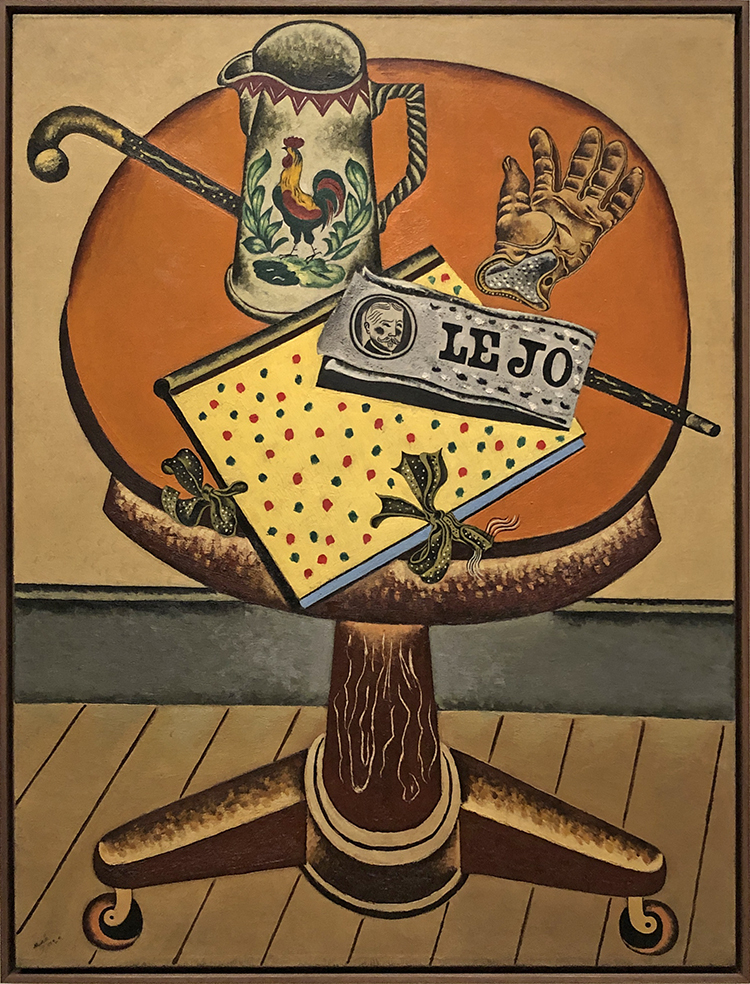 It was a real treat – and left me in a very good mood. It started out with these interesting still lifes from 1922-23
The one above is a still life with lamp, sliced tomato and an iron stand. I just love the way he painted the tomato – yes I am a weirdo LOL.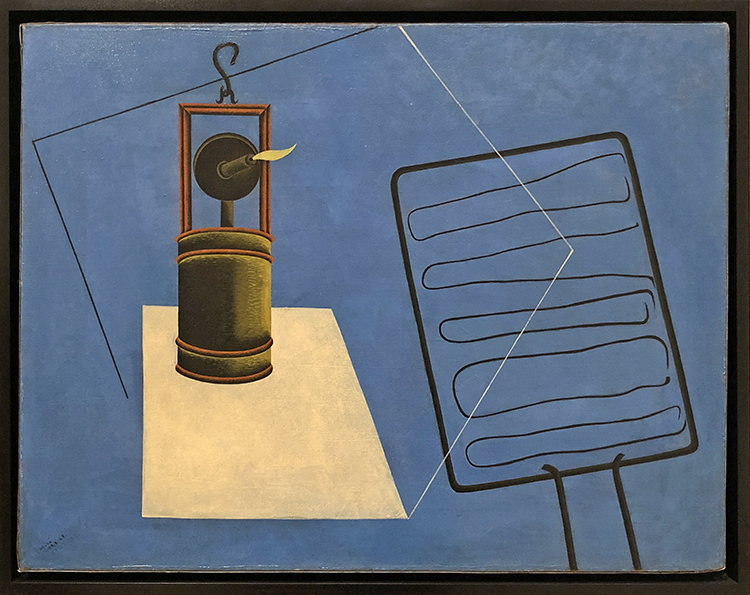 One of the striking things in the early work for me was seeing the colors but also the similarities to some work that I recently saw at the af Klint exhibition. Amazing!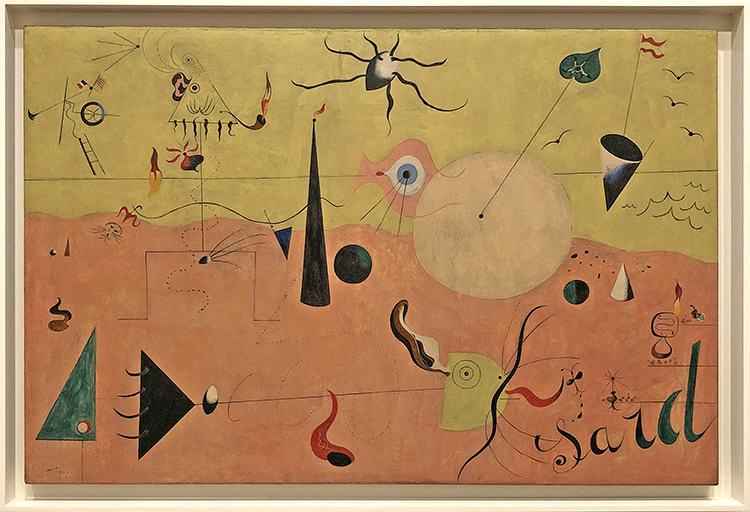 The Hunter (Catalan Landscape) 1923
I always loved Miró's quirky little shapes and pictographs – do you see the fish sticking it's tongue to catch the mosquito?
This painting called Dutch Interior I from 1928 is based on this 17th century painting depicting a lute player in a domestic interior.
Miró had bought this postcard reproduction of the work by Hendrick Martensz Sorgh at the Rijksmuseum in Amsterdam and then mapped out his version below.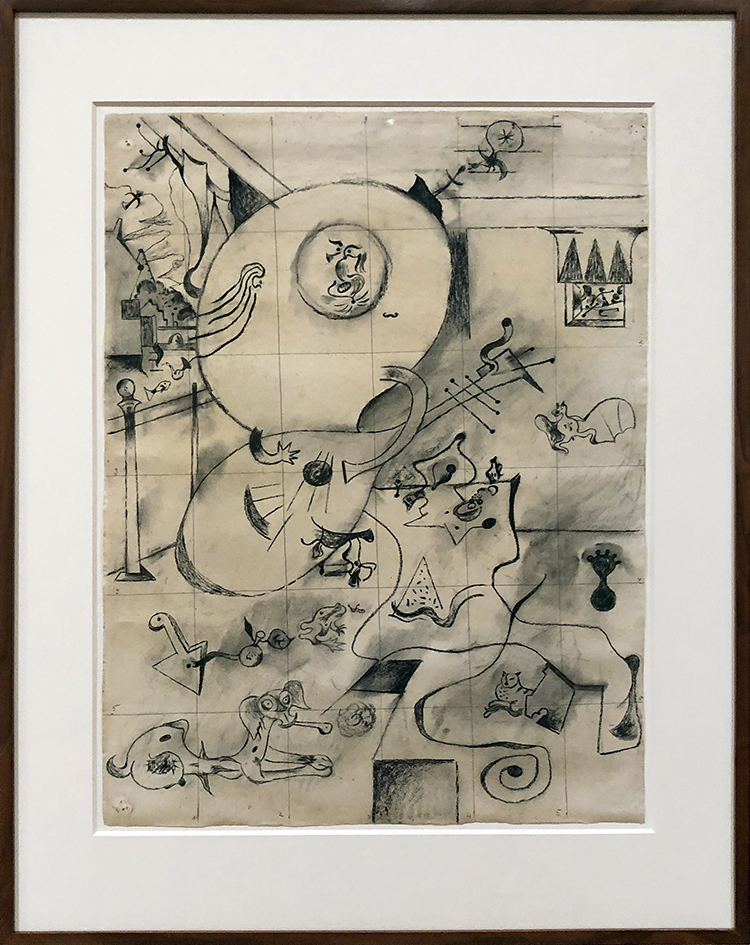 It makes me itch doing something fun like this as well :)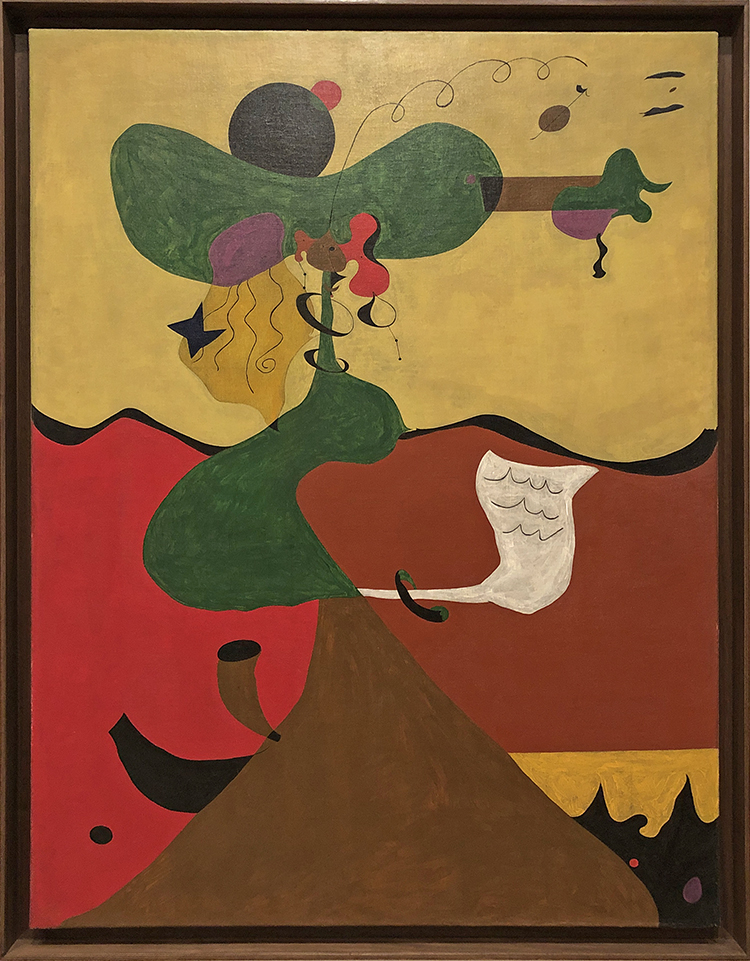 In a way some of his paintings are like painted collages.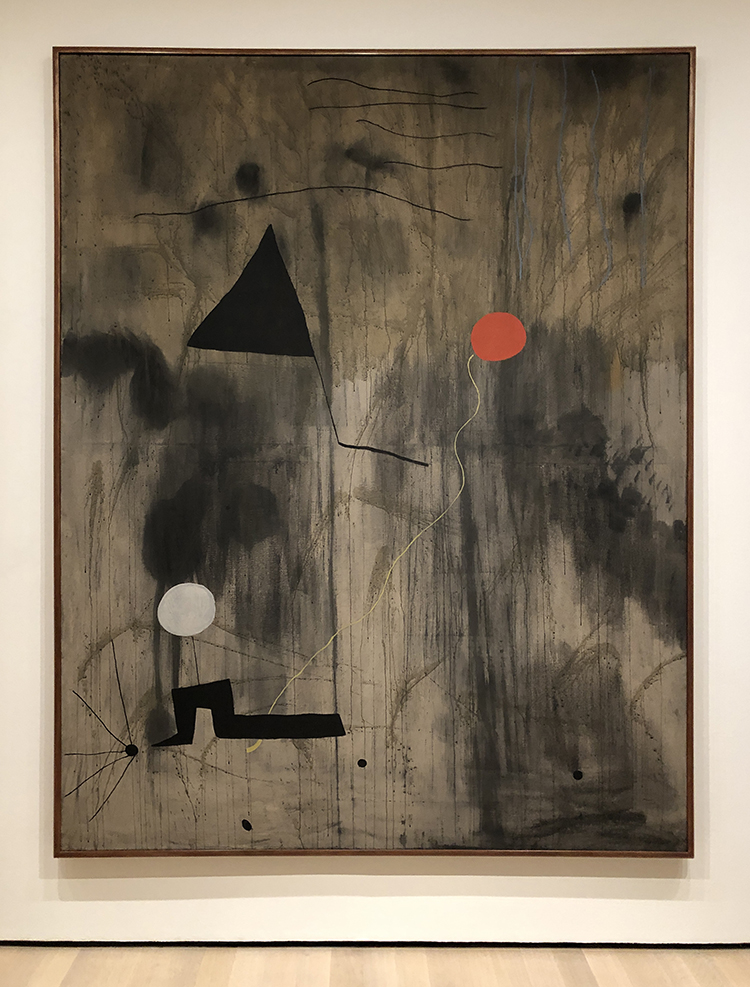 "Birth of the World" 1925
Joan Miró said that The Birth of the World depicts "a sort of genesis"—the amorphous beginnings of life. To make this work, Miró poured, brushed, and flung paint on an unevenly primed canvas so that the paint soaked in some areas and rested on top in others. Atop this relatively uncontrolled application of paint, he added lines and shapes he had previously planned in studies. The bird or kite, shooting star, balloon, and figure with white head may all seem somehow familiar, yet their association is illogical.
Describing his method, Miró said, "Rather than setting out to paint something I began painting and as I paint the picture begins to assert itself, or suggest itself under my brush.… The first stage is free, unconscious. But, he continued, "The second stage is carefully calculated." The Birth of the World reflects this blend of spontaneity and deliberation.
This painting was way ahead of it's time and received more love in the 50s when artists like Pollock and Frankenthaler would fling paint and wash raw canvases.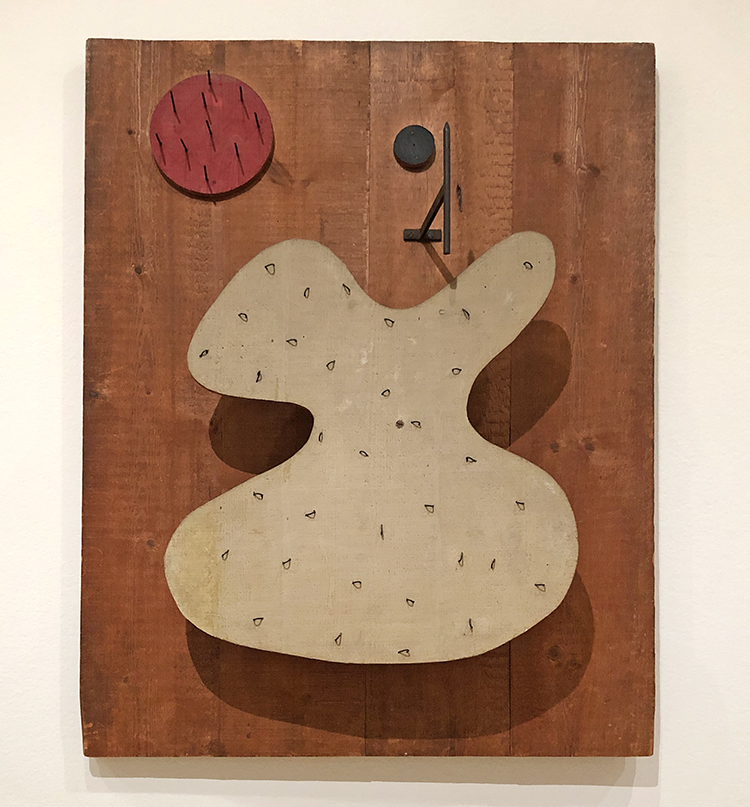 Relief Construction – 1930. Oil on wood, nails, staples, and metal on wood panel. In the summer of 1930 Miró moved away from painting to explore the possibilities of relief sculpture. Made from pieces of wood and metal that could easily have been found at a carpentry shop Relief Construction combines organic shapes. Miró identified the vertical metal spike as the neck and the head of the curved white toros like form. The red disk covered with sharp nails, he said was the sun.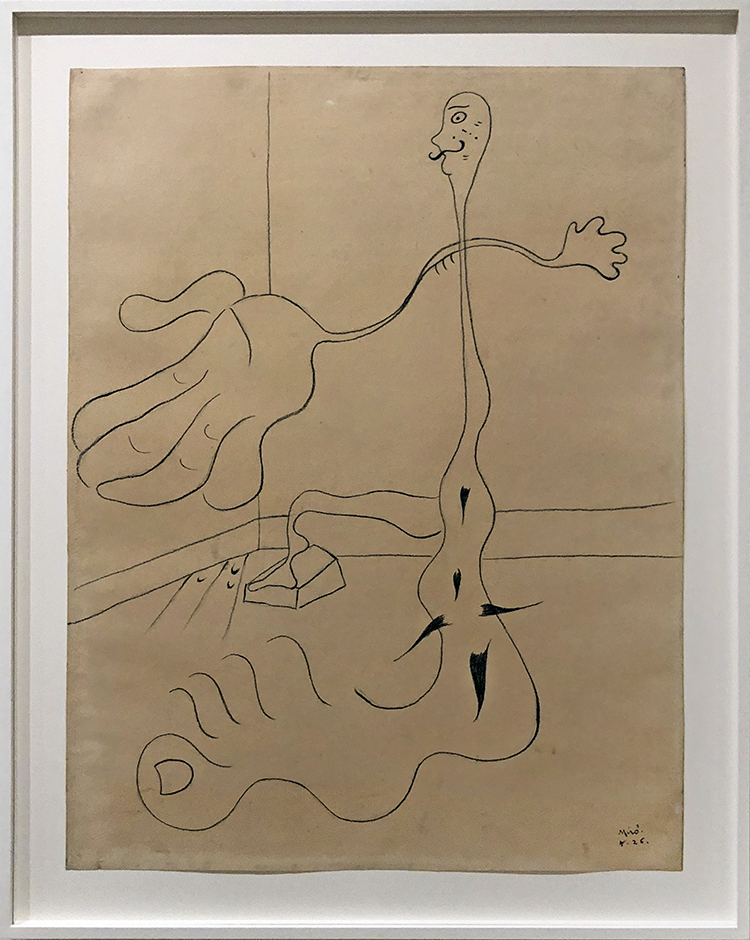 how fun are those? I loved especially Miró's book illustrations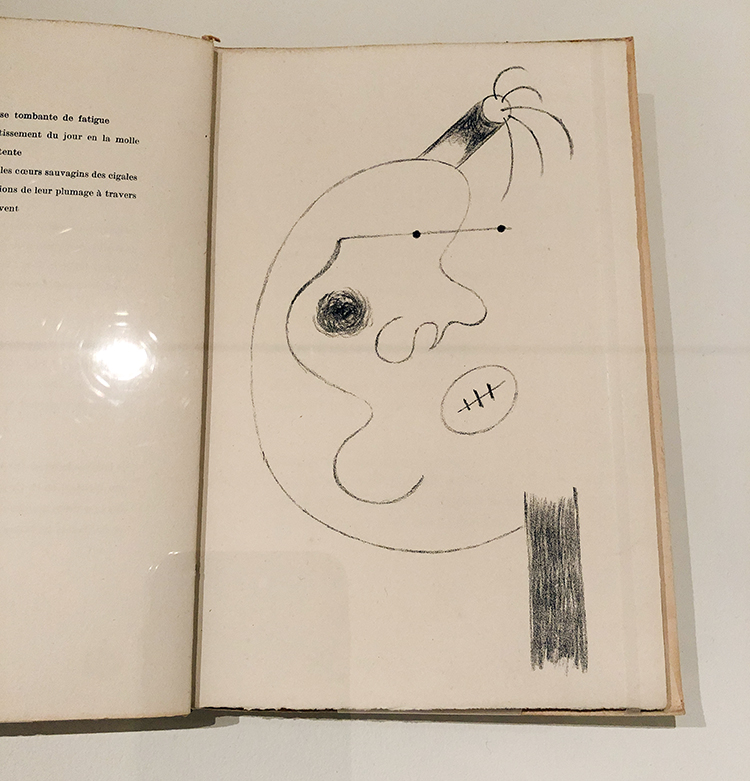 Woman – Opera Singer- 1934 – Pastel and Pencil on flocked paper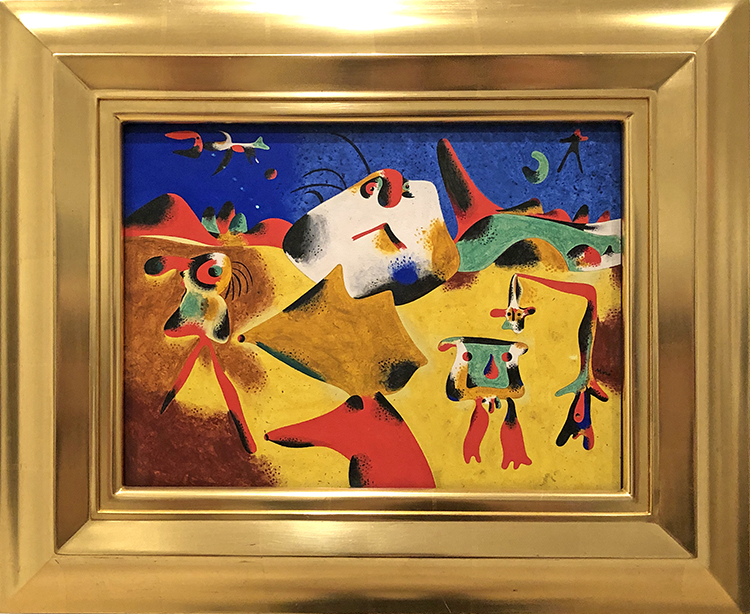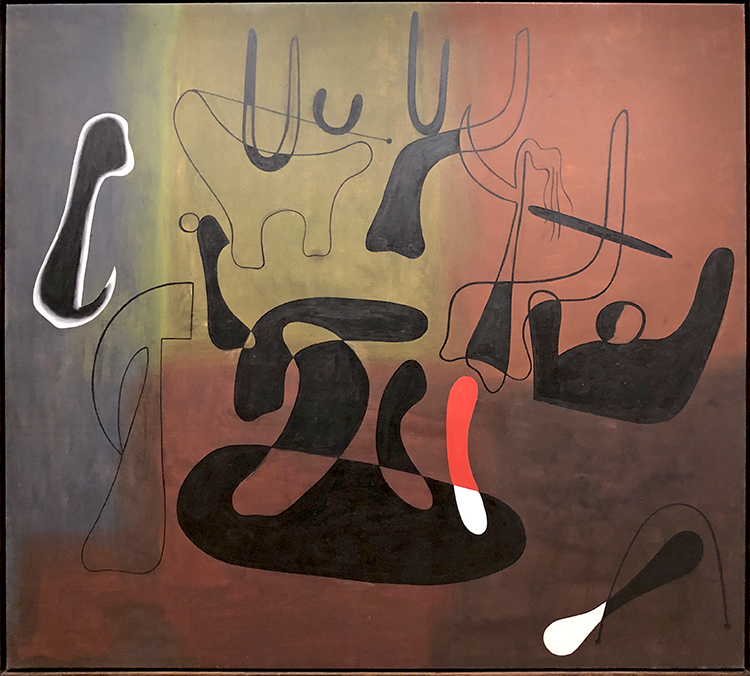 "Painting" 1933 – do you see the cat?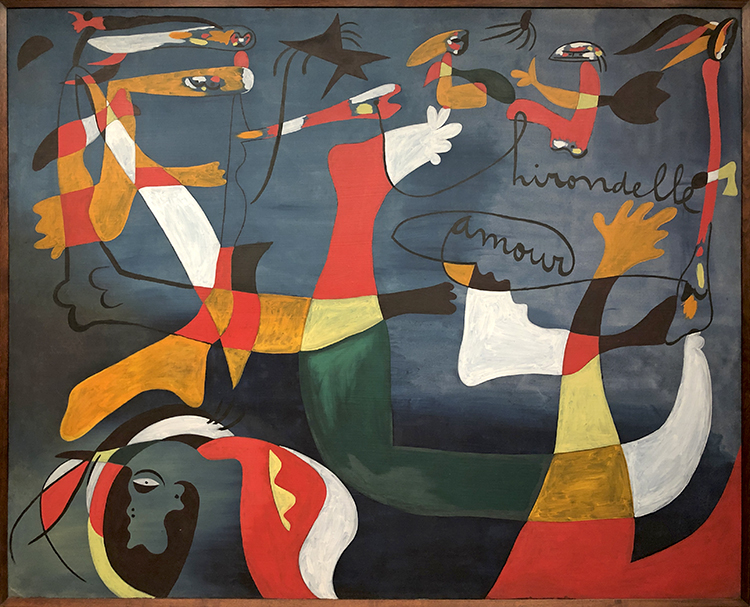 Eyes – looking at you out of his paintings ….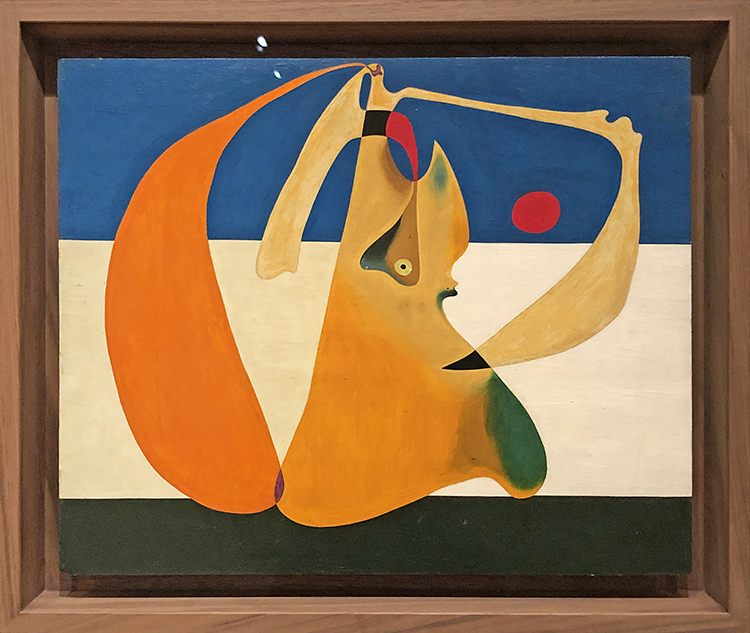 and this and the next and actually EYES everywhere!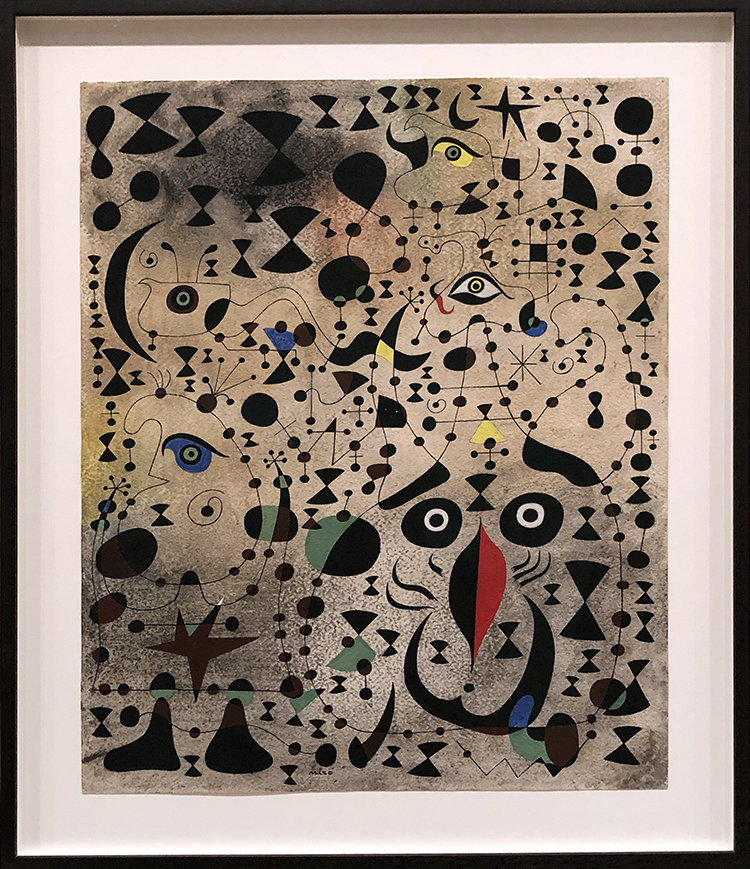 I love this one so much!!!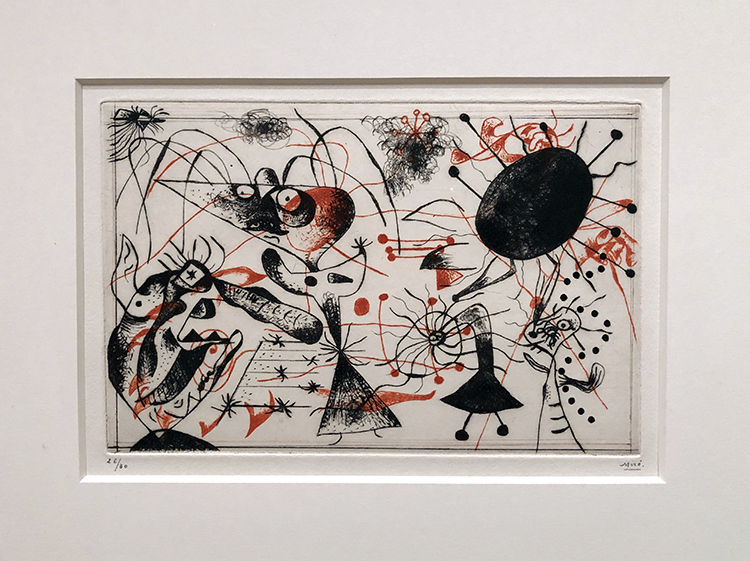 So striking with the red and black !
Interesting assemblage using rope.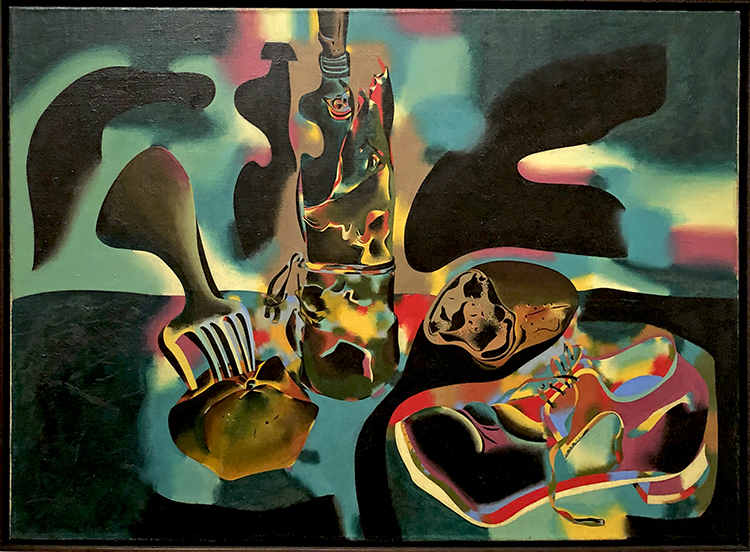 Still life with a shoe – 1937 was kind of a shocker- I mean doesn't that looks like something ultra modern and not from that time with the colors used?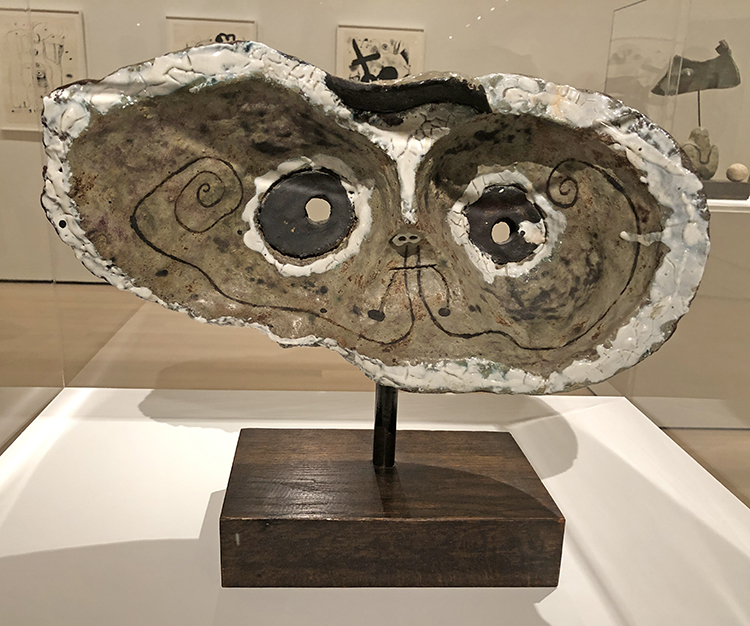 And this sculpture- I mean seriously LOVE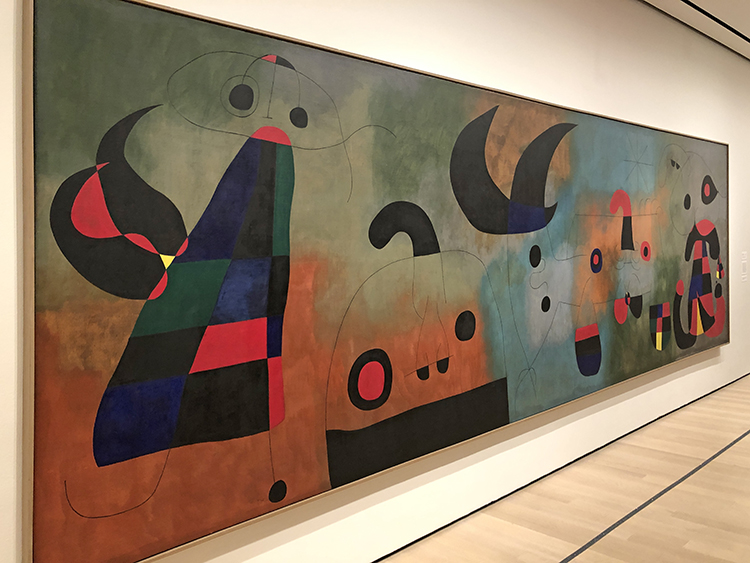 It fascinated me how he very lightly used color – like a wash on the background and then painted so bold and with black and bold colors on the top.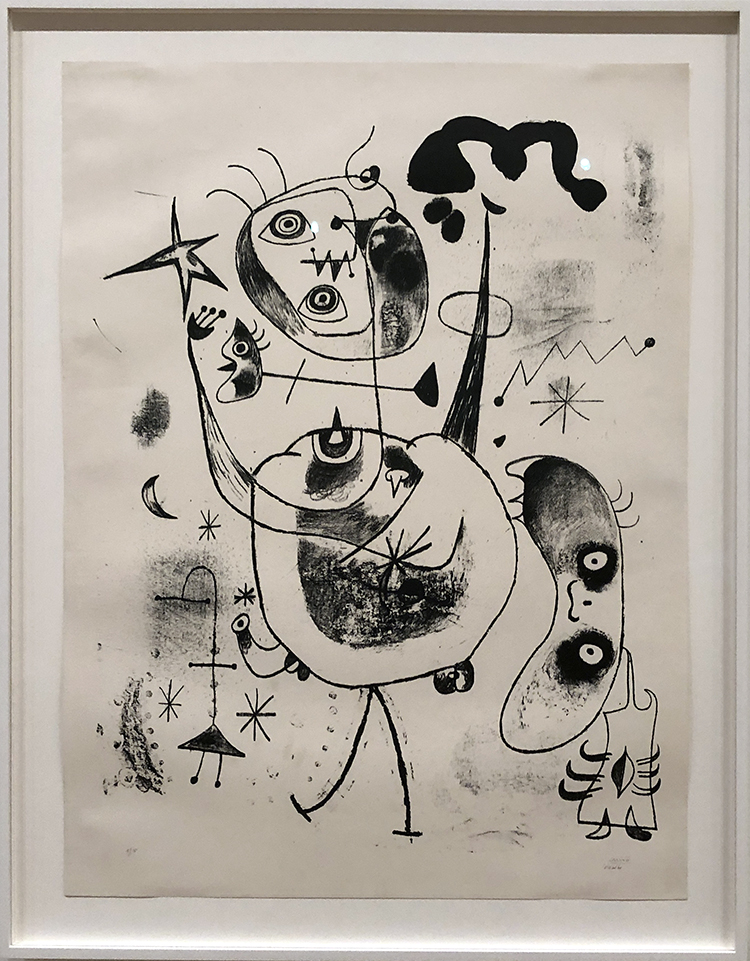 Mirò said once in an interview: "I always have my feet on the ground and my eyes on the stars"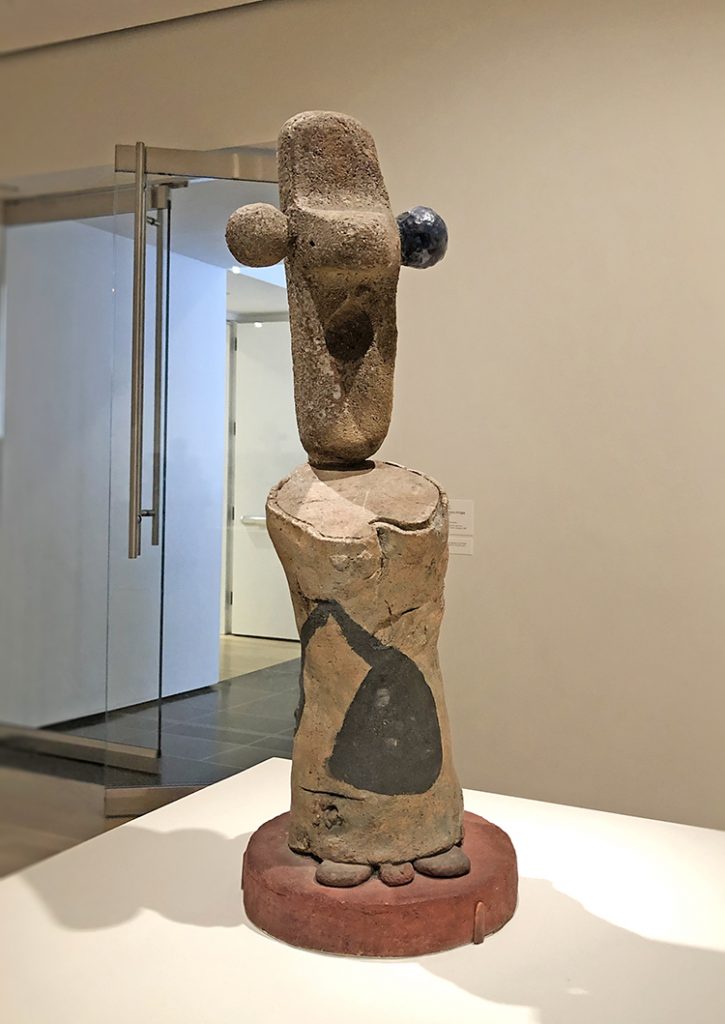 Another gorgeous sculpture.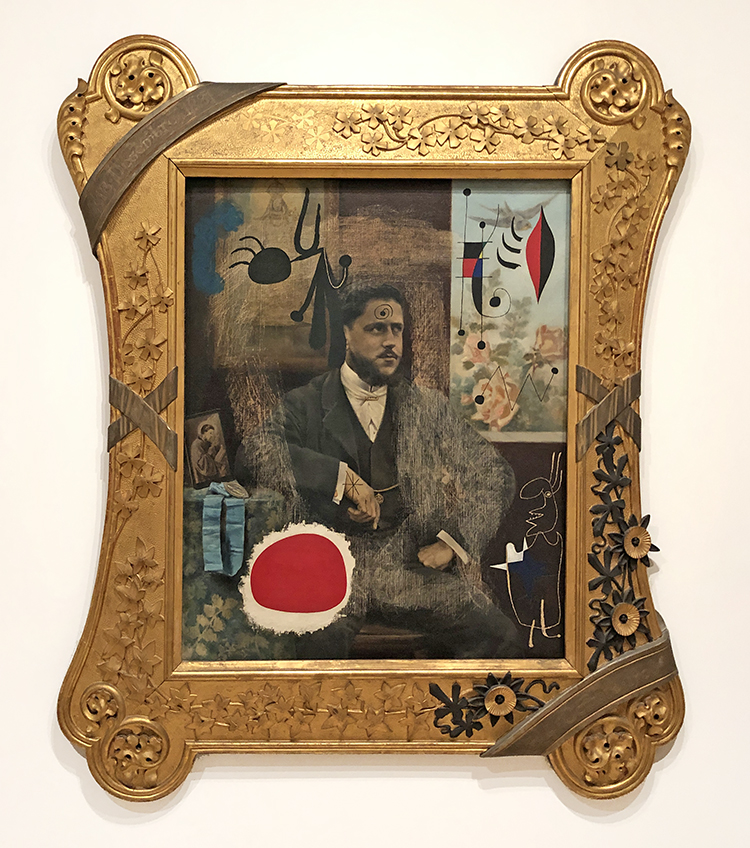 Portrait of a Man in a Late Nineteenth-Century – Frame – 1950 – Oil on canvas – is one of my favorite paintings in MoMA's permanent collection. According to Miró his childhood friend Joan Prats came upon an ostentatiously framed, pompous portrait by an unknown painter and sent it to him as a joke. The sitter's pose and costume, his upturned gaze of inspiration, the devotional medal and ribbon on his table, and the rose garden outside his window typify the bourgeois taste and assuredness of the late 19th century. Within this orderly, rational and humorless world, Miró mischievously inserted his own creatures and signs. As if tot suggest the man's puzzlement at this unexpected interruption , he punctuated his forehead with a small swirling form.
Hope you enjoyed this little Art Stroll. Kim and I did for sure and I cannot wait to head out to a museum soon again :)