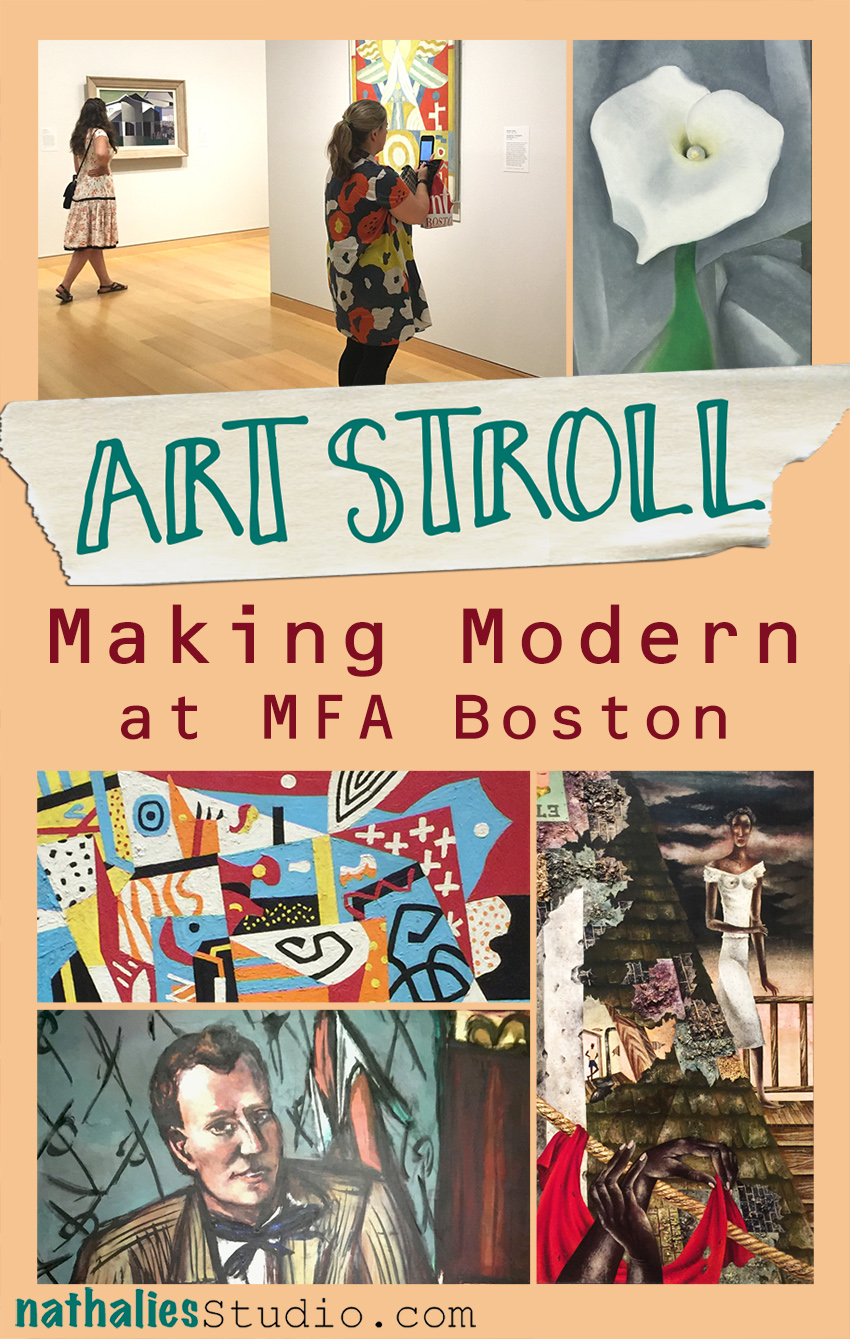 When I was in Boston a couple months ago to visit my friend Julie Fei Fan Balzer we went to the MFA in Boston and saw the Making Modern Exhibition. The exhibition explored "what it meant to be in the vanguard of Modern art in the 20th century. Modern artists working in the Americas were influenced by a variety of contemporaries, teachers, rivals, and friends. Incorporating diverse sources of inspiration, 20th-century painters took their artistic practice in dramatic new directions."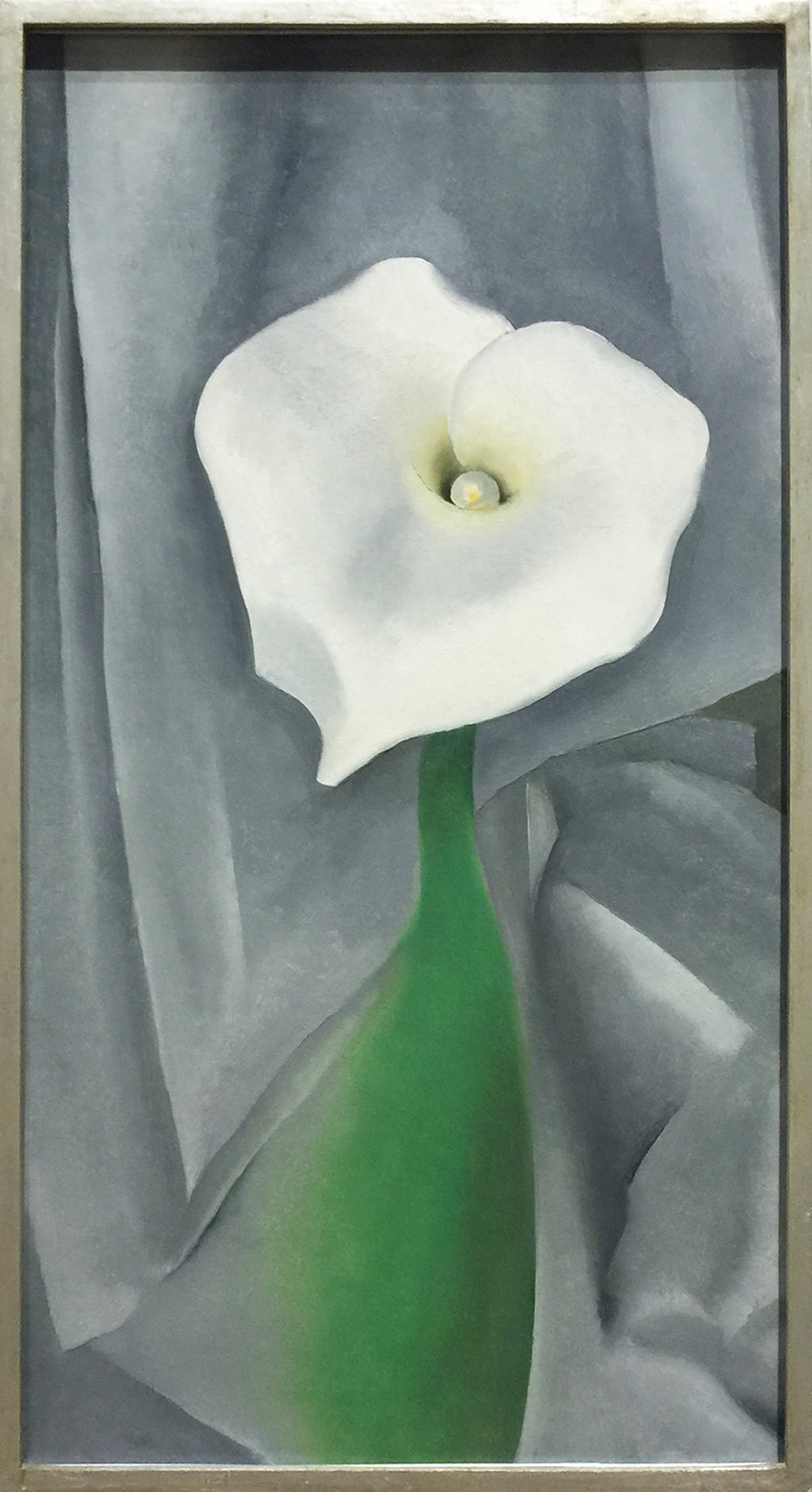 Georgia O'Keeffe, Calla Lily on Grey, 1928 – Oil on Canvas. O'Keeffe was influenced in the composition of this piece by her teacher Wesley Dow who taught that artists should not copy from nature, but rather capture nature through the exploration of composition with elements like lines and colors.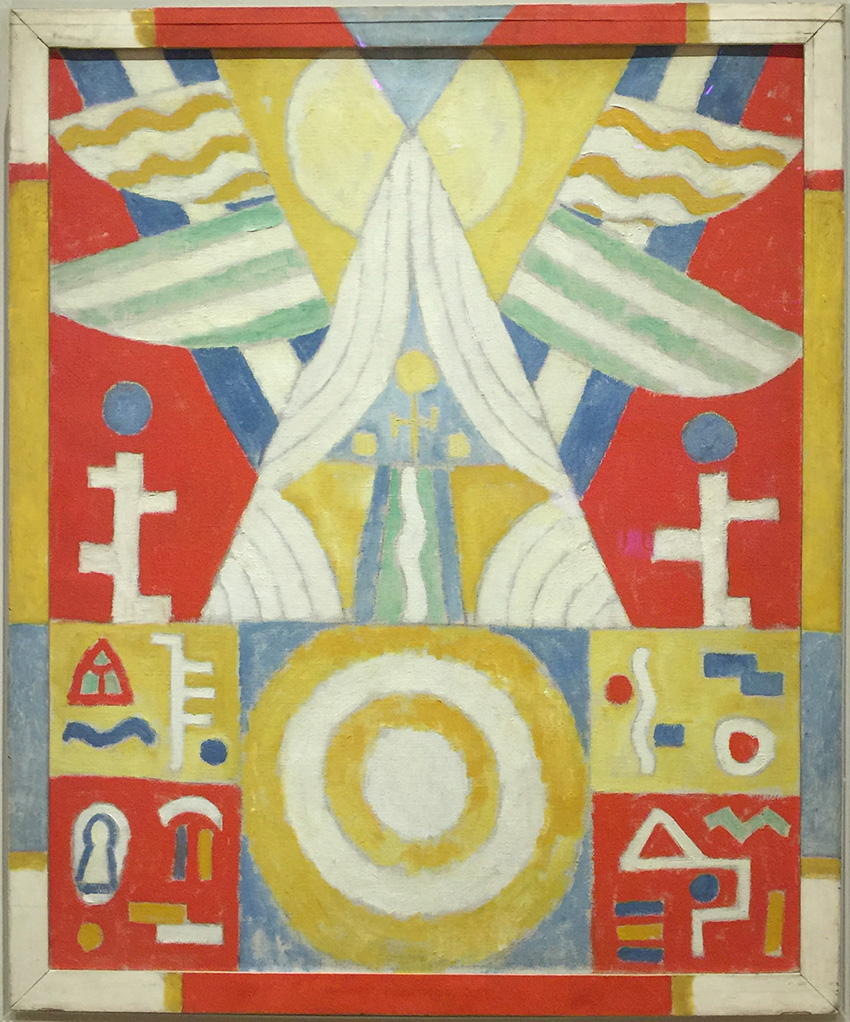 Marsden Hartley, Arrangement – Hieroglyphics (Painting No. 2), 1914 – Oil on Canvas. Hartley who lived in Germany between 1913 and 1915 was deeply inspired by Native American art which he encountered at Berlin's ethnographic museum and also by artist Wassily Kandinsky. I do love his frame, a perfect sample how artist often made frames being part of their artwork.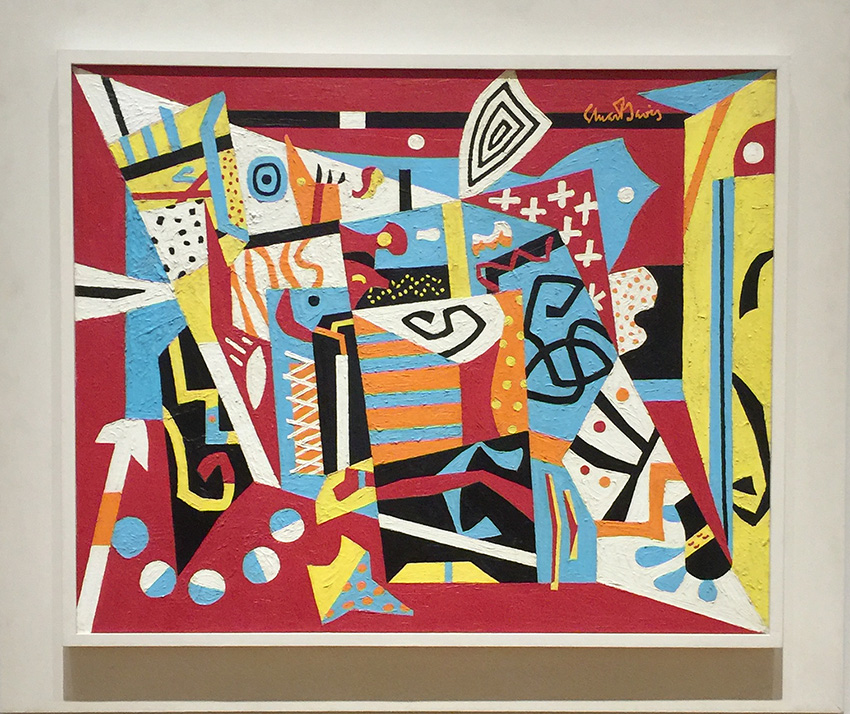 Stuart Davis, Hot Still-Scape for Six Colors- 7th Avenue Style, 1940 – Oil on Canvas. Davis painted this in his studio in Greenwich Village and it was as he said himself a "product of everyday experience in the new lights, speeds, and spaces fo the American environment" I love the colorful energetic composition and it does speak 1940s-jazz-time-NYC to me.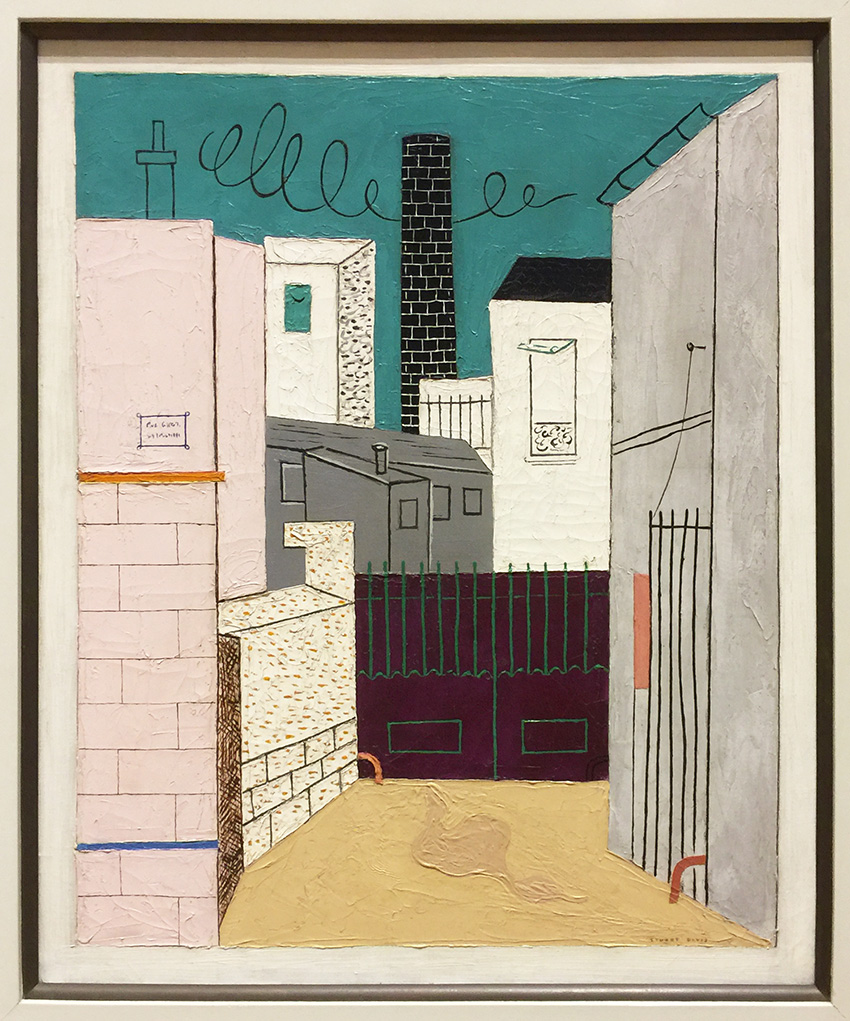 Stuart Davis, Adit, No. 2, 1923 – Oil on Canvas. Davis visited Paris in 1928 and this painting is inspired by the urban landscape of Paris.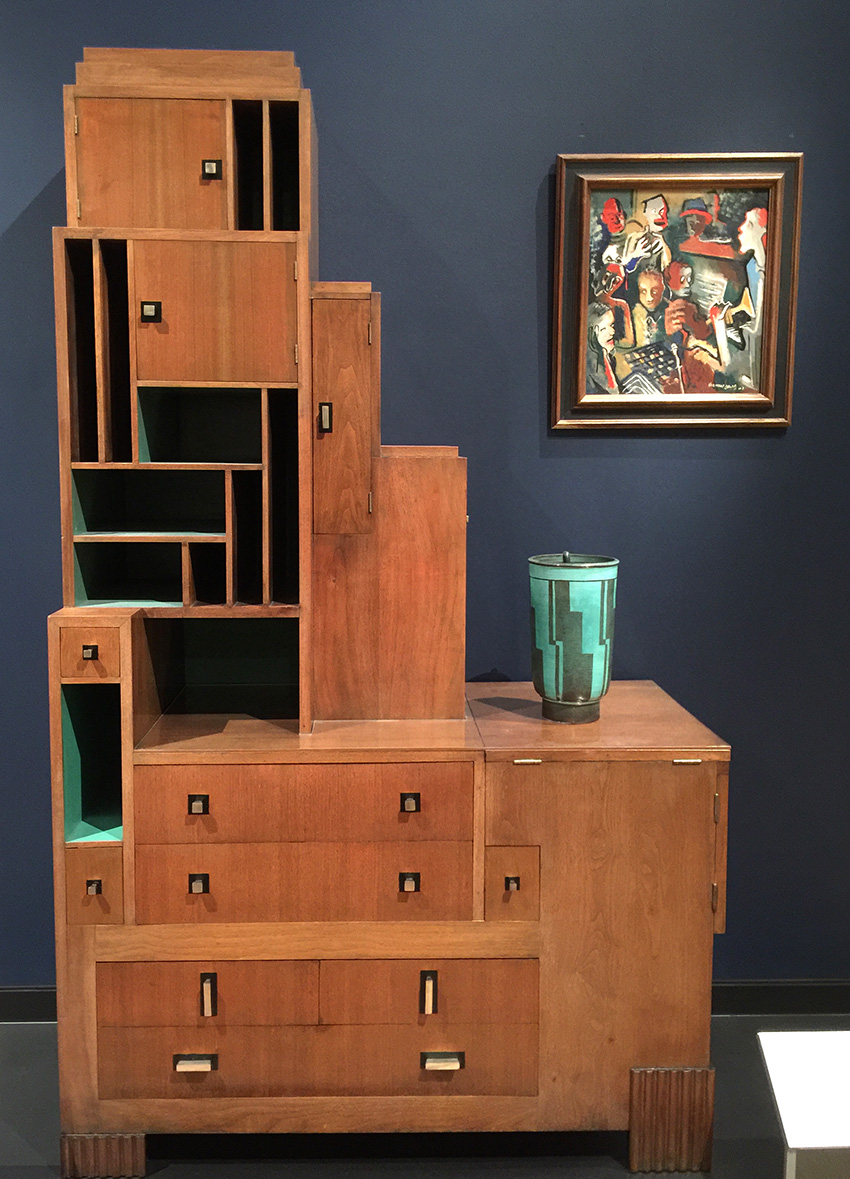 In the 1920s and 1930s Artists and designers tried to capture the excitement, the speed, the intrigue and surprising loneliness of urban life, in their paintings, music, writings, fashion and furniture.
I love love everything in the above picture- can I have this in my living room, please!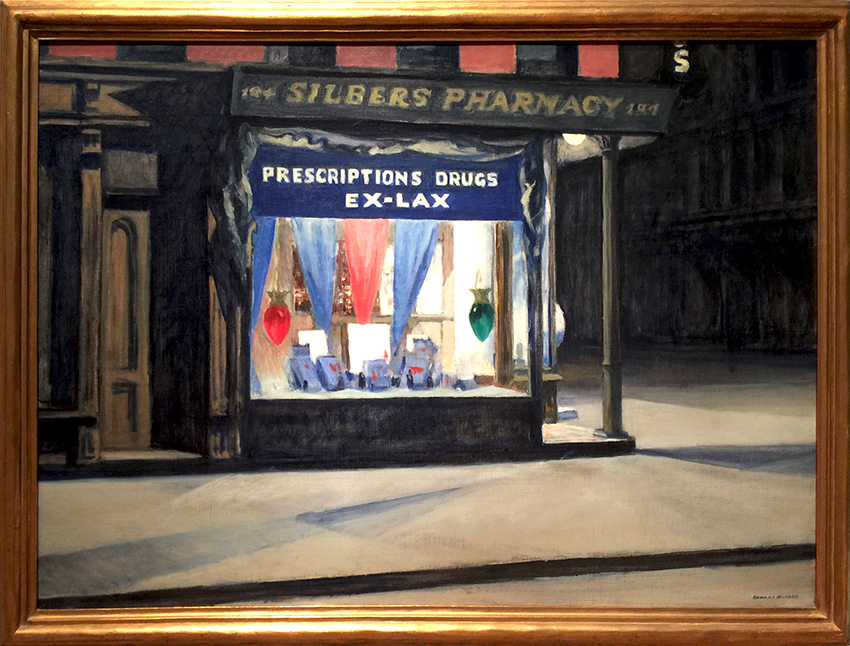 Edward Hopper, Drug Store, 1927 Oil on Canvas. This painting conveys an eerie nocturnal solitude through the brilliance of electric light. It is slightly discomforting.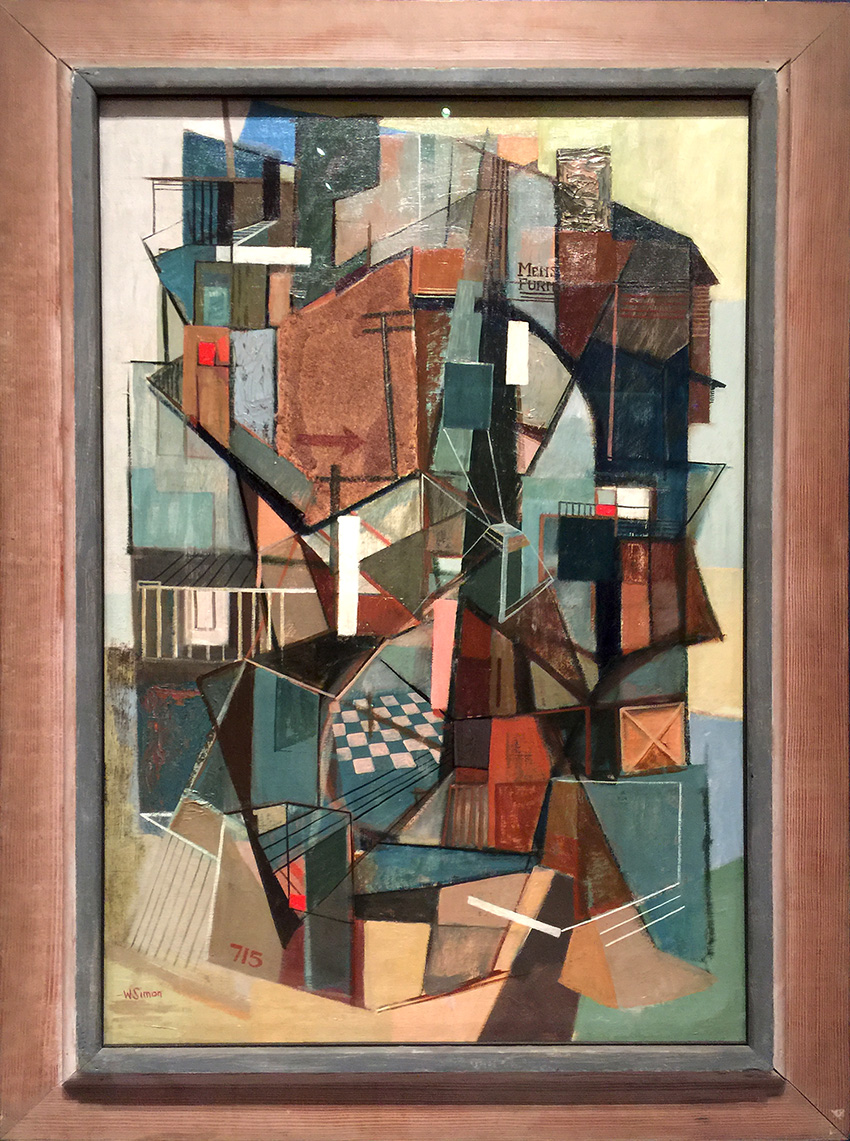 Walter Augustus Simon, 715 Washington Street Greenwich Village, 1947 Oil on canvas with additional Mixed Media. Simon lived in this building as a student and later with his family. It shows the intimate space with the ground level shops, failings, walls and fire escapes.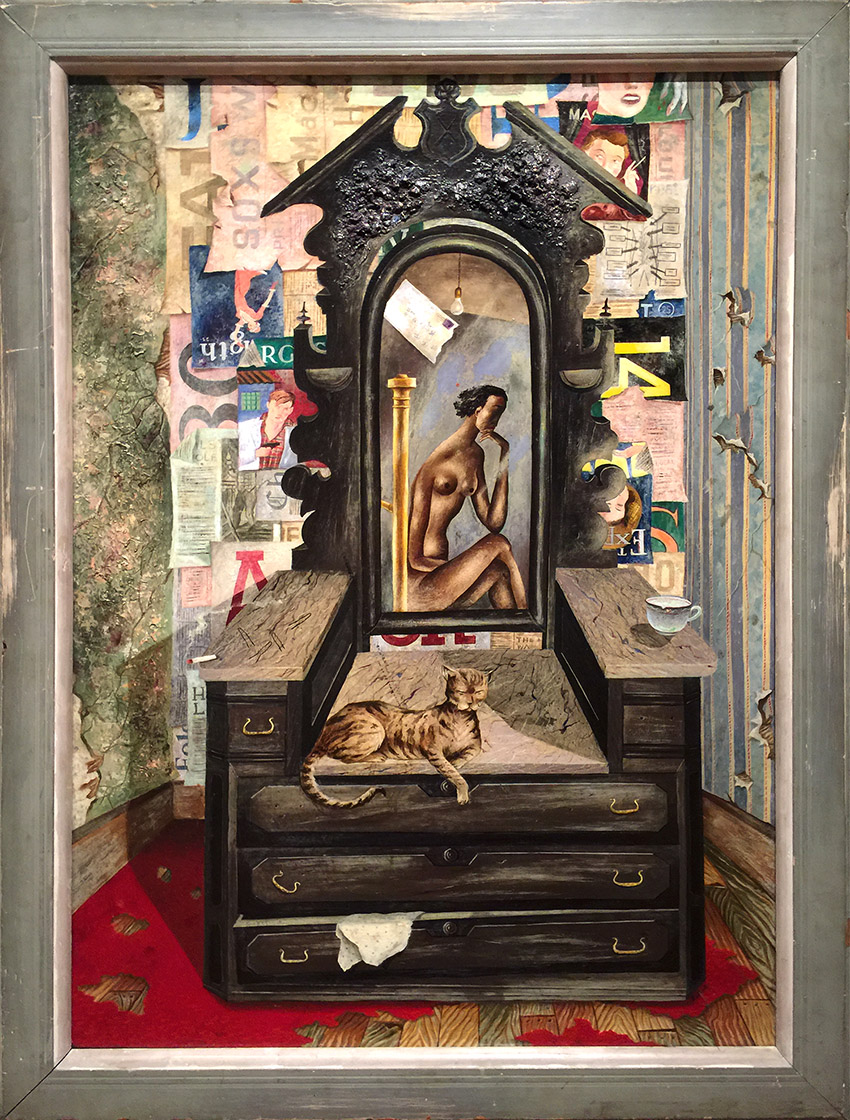 Eldzier Cortor, Room No. V, 1948 Oil on Masonite. Cortor build up the painted surface with delicate skins of color that suggest cracked walls. He also chose the distressed and old frame with this painting.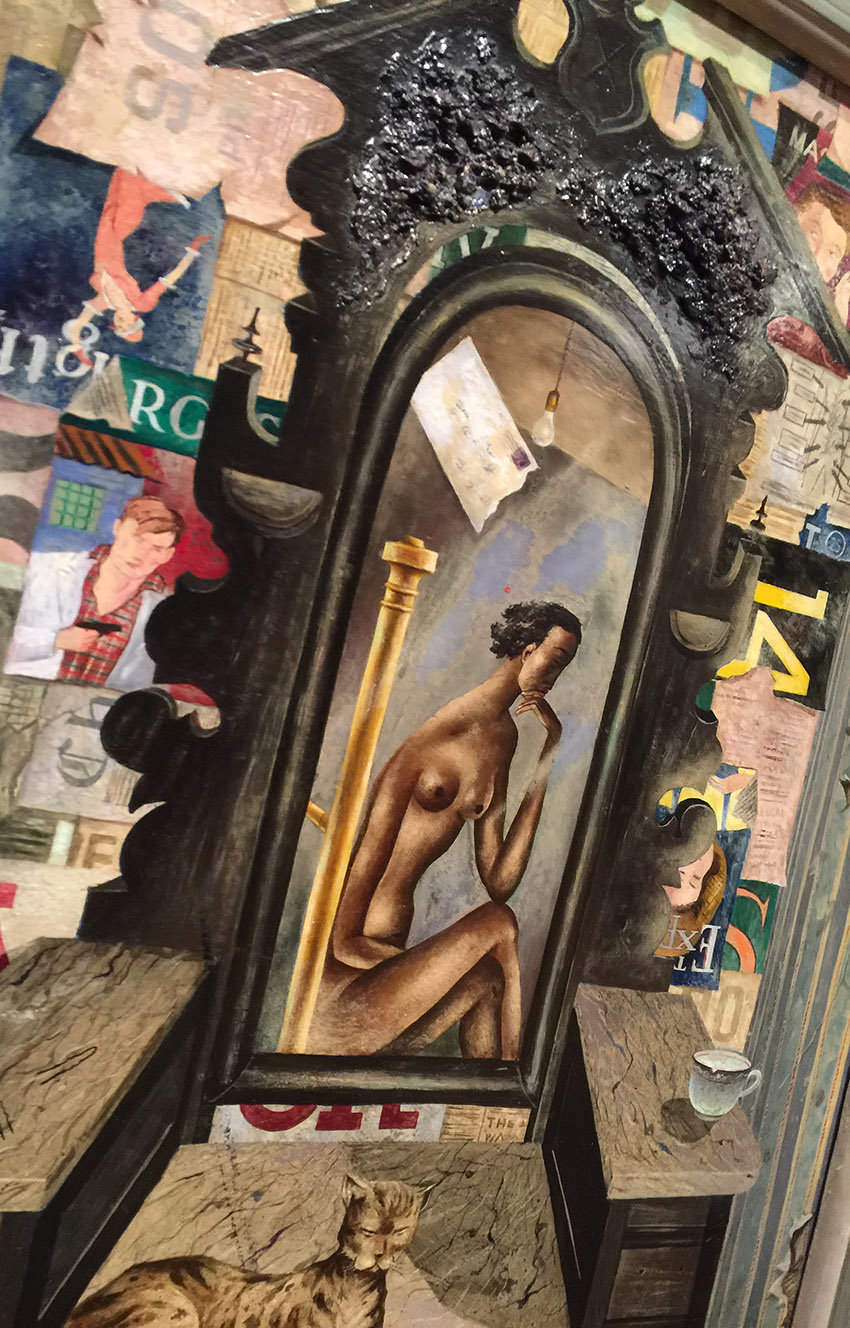 I love the visual and actual texture in this painting.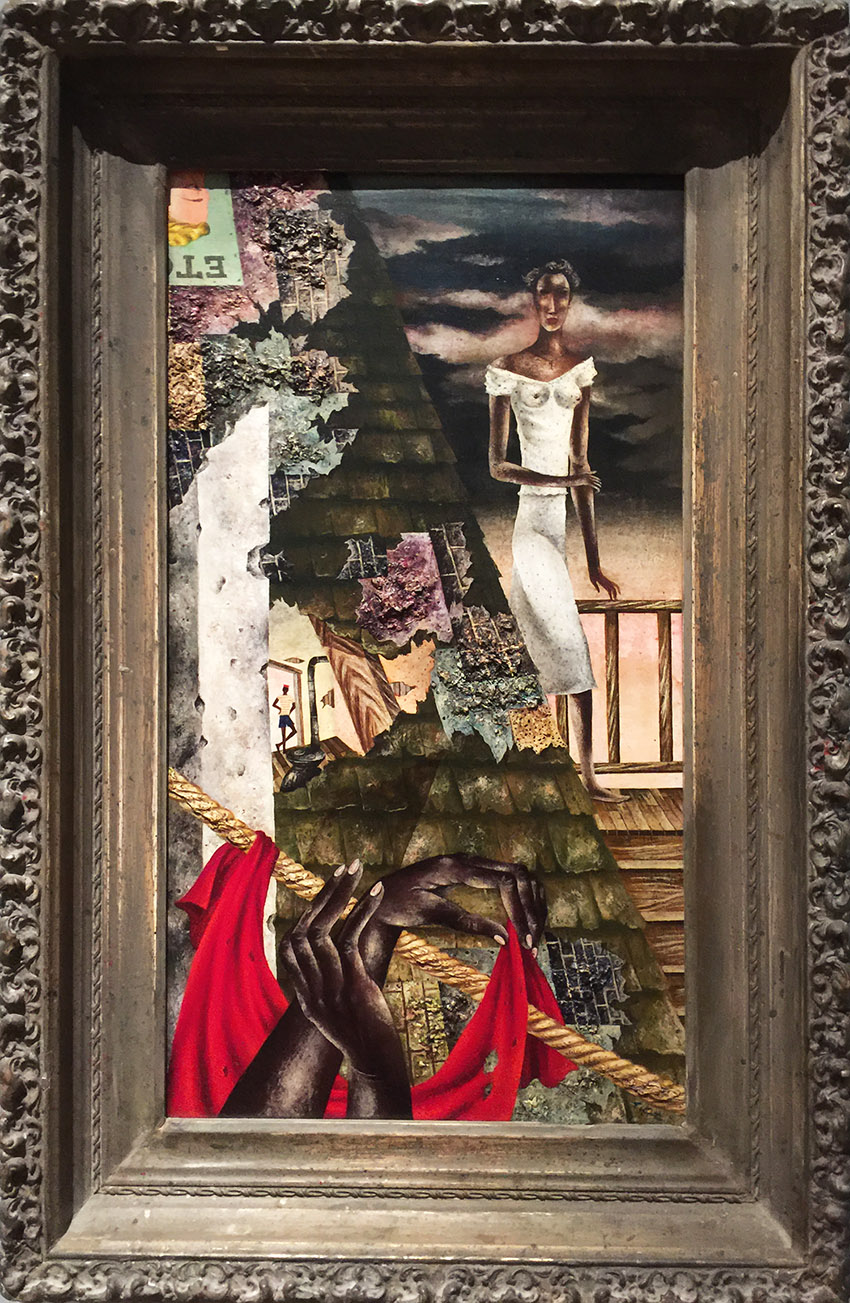 Eldzier Cortor, Environment, 1947 Oil on board. Cortor extends the thickly painted rooftop patched by newspapers and other items into our space.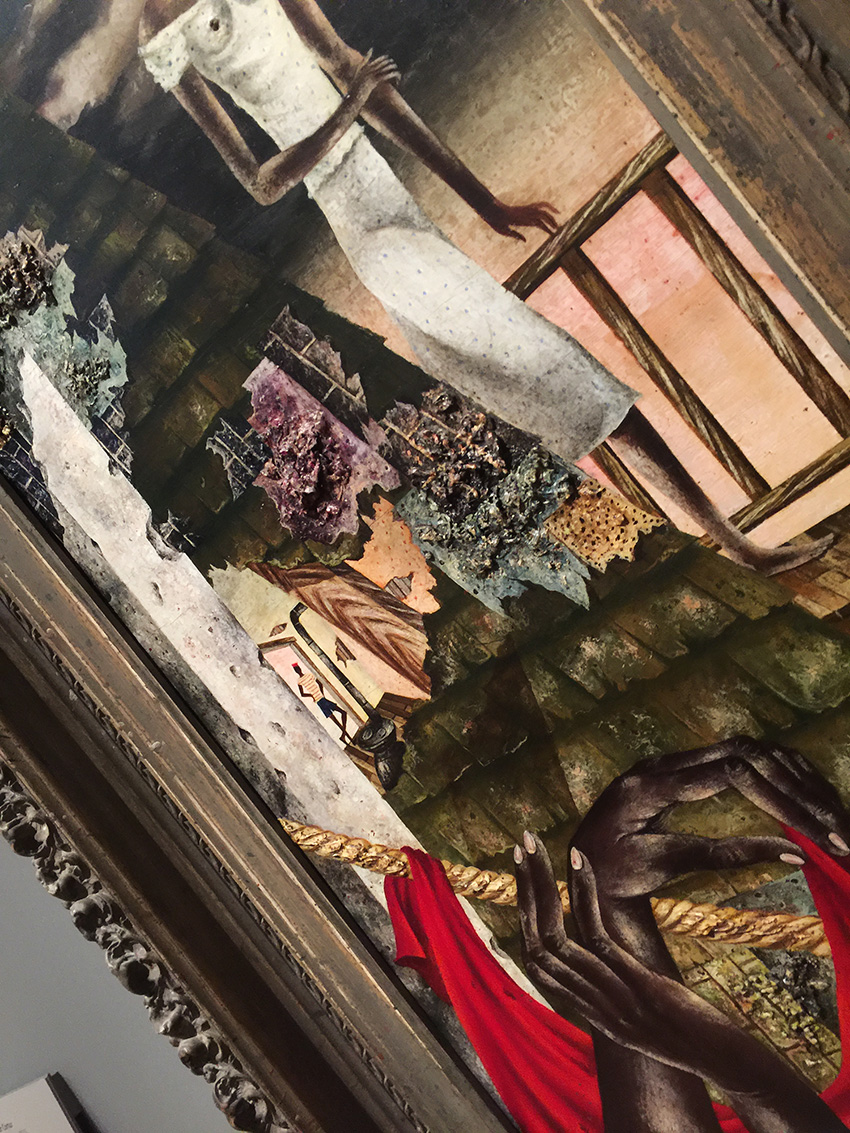 Amazing!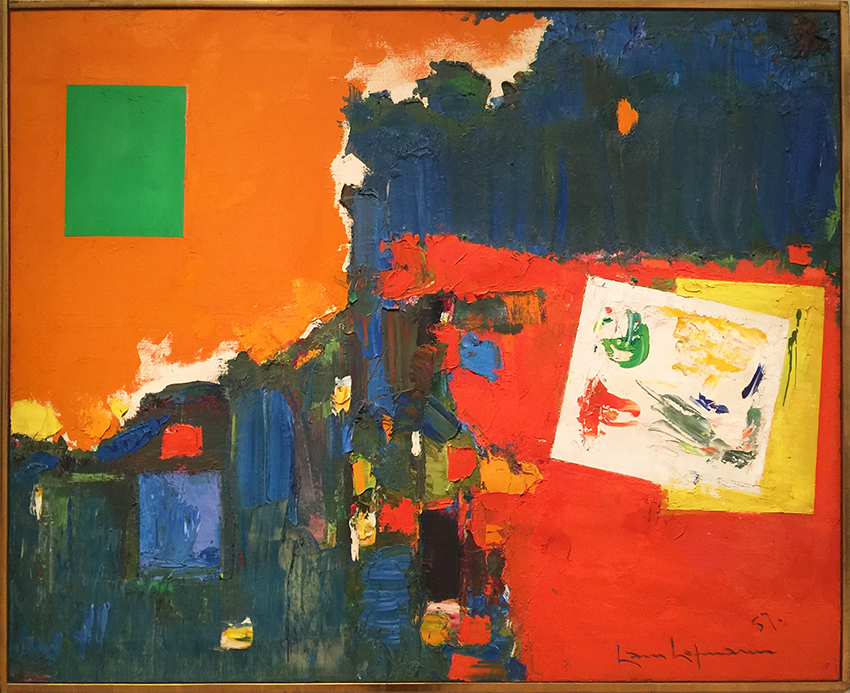 Hans Hofmann, Swamp Series II – Autumnal Glory, 1957 -Oil on canvas. Hoffmann once said " A picture should be made with feeling, not with knowing. The possibilities of the medium must be sensed. Anything can serve as a medium …" He taught his students to layer color and form, creating as in this painting, movement and depth.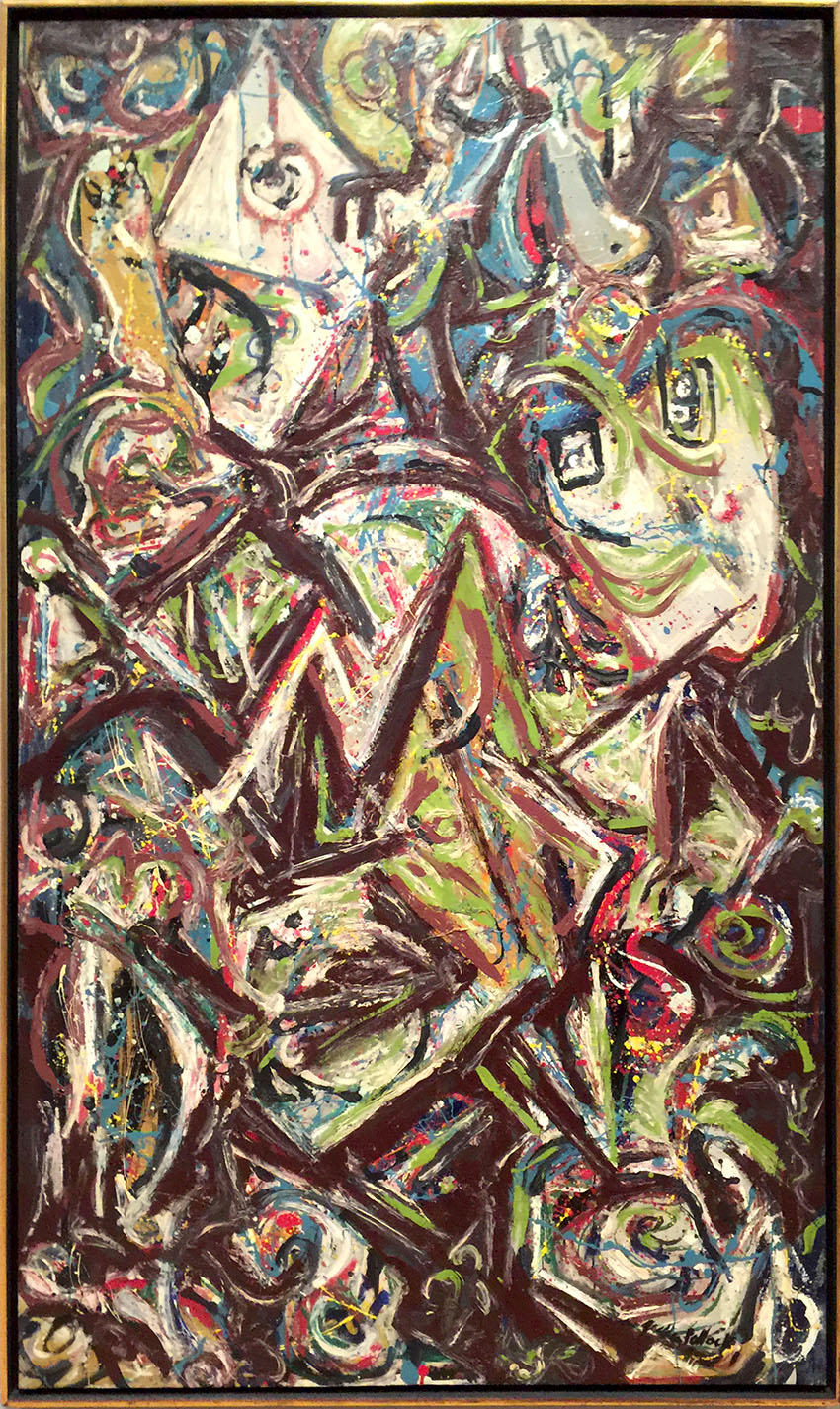 Jackson Pollock, Troubled Queen, 1945 -Oil and alkyd on canvas. Pollock was familiar with Picasso's early works, which often display masklike treatment of heads and interpenetration of figure and ground. This painting also marks a transitional moment in Pollocks career as he already moves toward the "drip" paintings for which he later becomes most known. I love this sample of where inspiration from another artist meets a different artists' own interpretation and style.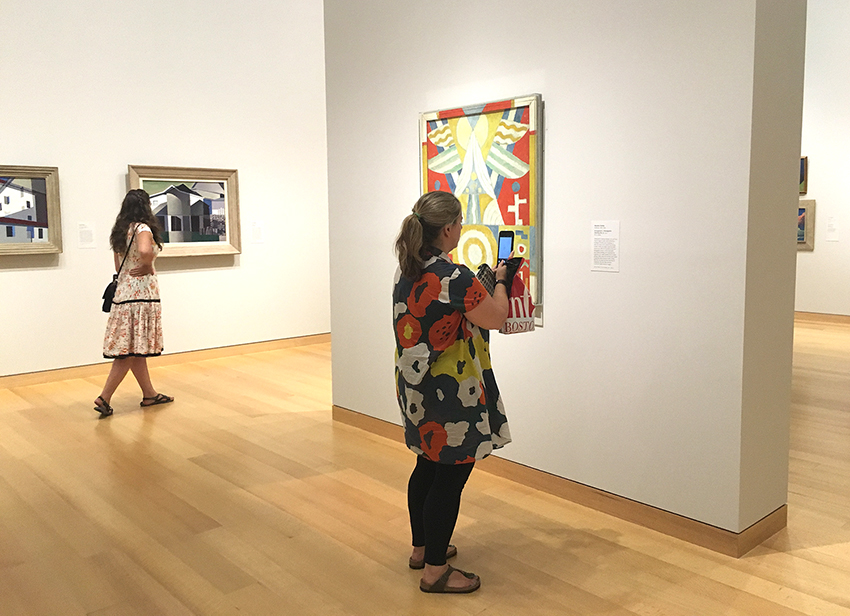 I really loved this exhibition and its attempt to explore what influenced and inspired the work of those artists. It is amazing to see the connection between old ideas and new ideas, surroundings and Zeitgeist and how new movements are being born. It is what makes art so incredibly interesting and provides such a trove of inspiration while taking an Art Stroll.
I hope you enjoyed this Art Stroll as much as I did!