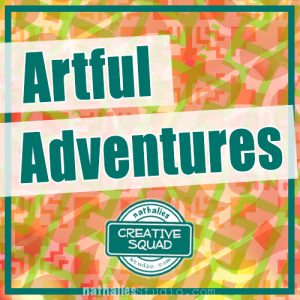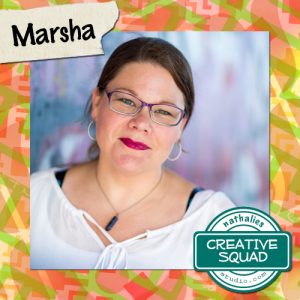 Hello my friends! Today we have a post from Marsha Valk from the Creative Squad. She is sharing an art journal page from a journal that she created just for taking Artful Adventures :)  She uses my Amsterdam, Chicago, and Mesa Verde stencils, and this month's theme: Artful Adventures. Are you planning an Artful Adventure this summer? Whether it's a day at the beach or a full blown International Vacation, don't forget to take the time to soak up the uniqueness of your new surroundings and gather some inspiration for future artmaking. This month we're turning to Nat's new book Artful Adventures in Mixed Media, to help us find inspiration as we travel. We'll be noticing color, shape, texture and more and then we'll be taking that to the studio to help inspire some mixed media projects. Join us in the adventure!
---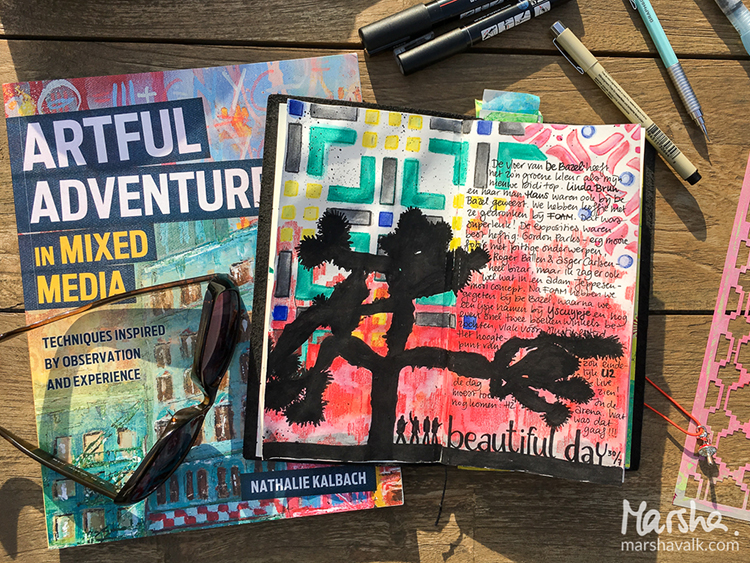 I'm not going away on vacation this Summer. We were planning to, but it just didn't happen. And that's OK because when you read Nat's new book 'Artful Adventures in Mixed Media', you quickly realize that you don't have to go far to experience an artful adventure!
I was set on taking inspiration from the city I live in, and the photos I had taken during the Artful Adventures Stroll Through The Hood Challenge leading up to the release of the book. You can see the photos I took during the challenge here.
But when it came down to creating I took one look at my Wanderlust stencils and changed my mind!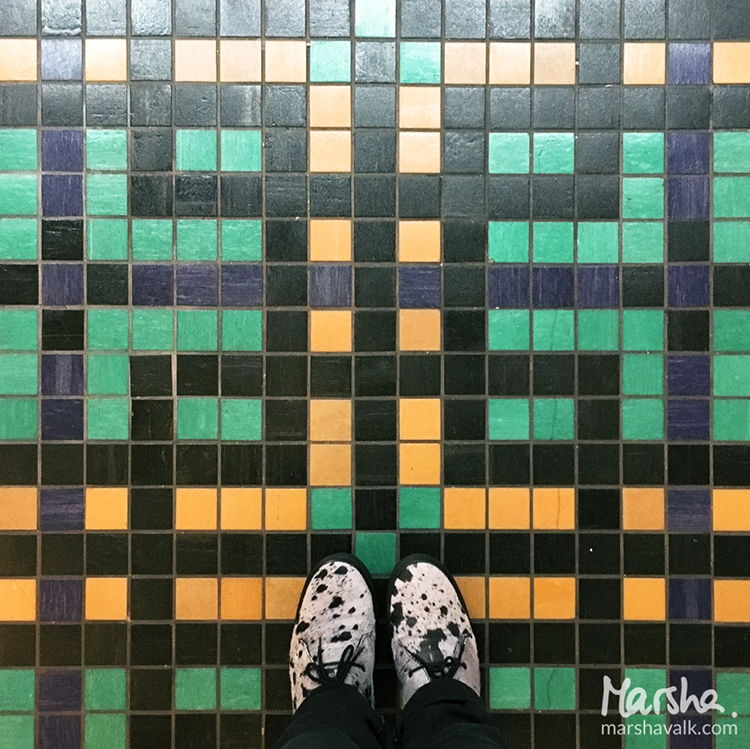 The Chicago stencil reminded me of the floor of the place in Amsterdam we had lunch recently. And the Amsterdam stencil reminded me of the logo of the ice cream place we went to after that. And the Mesa Verde stencil…
All these stencils combined told another story: the story of a beautiful day in Amsterdam. Not Amersfoort. Amsterdam!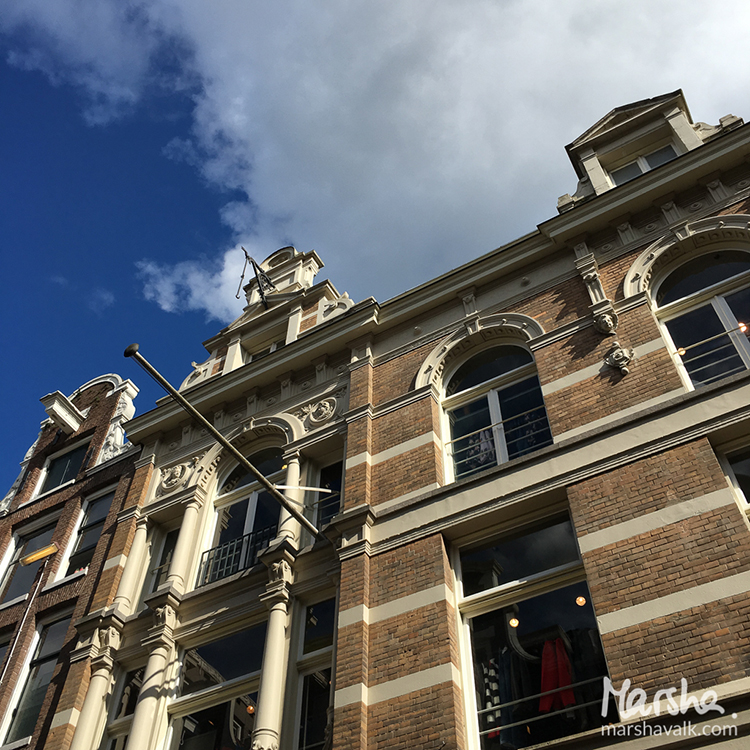 So I took my art-on-the-go kit into the yard and explored what this day in Amsterdam would have looked like in a travel journal (a regular Midori sketchbook), had I been on vacation.
I even did the Observation exercise from the book to remind myself of what I saw and felt that day. I also went online to collect images of things I hadn't photographed or wasn't allowed to take photos of at the time (museum).
My art-on-the-go kit doesn't include Inktense watercolour pencils, but I decided to use these with the stencils instead of my regular watercolours.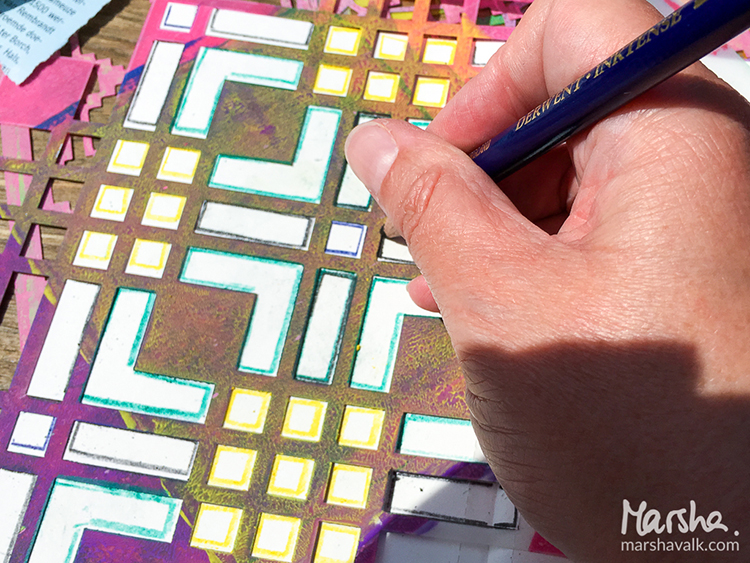 Watercolour pencils are a great addition to an art-on-the-go kit though, because you can use them as a regular coloured pencil as well as activate them with a waterbrush: I used a warm red Inktense pencil without water to colour in the openings of the Mesa Verde stencil.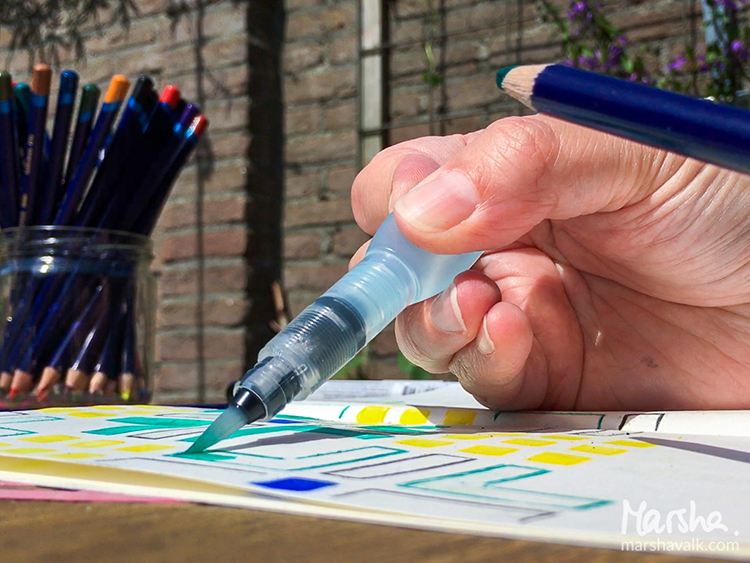 The Chicago and Amsterdam stencil designs were first traced with the pencils before I used a waterbrush to pick up the pigment from the same pencil and coloured inside the lines.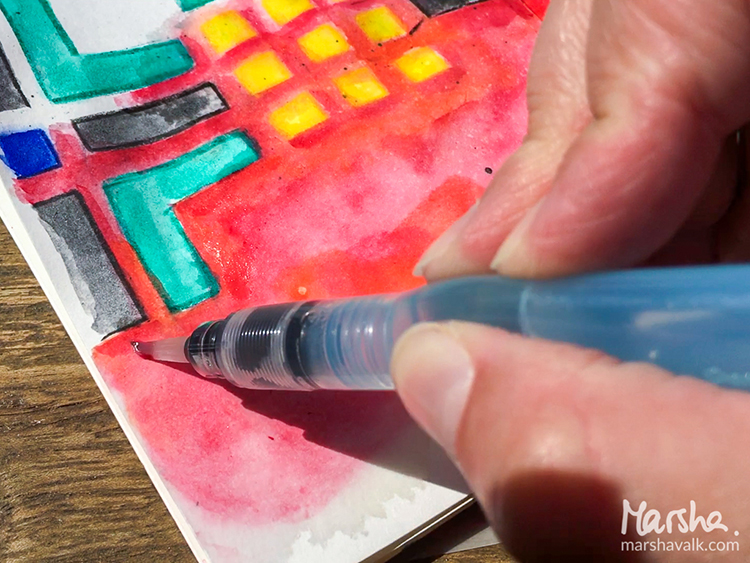 The red watercolour background is created with regular watercolours, and I used Posca markers to draw and colour the black tree.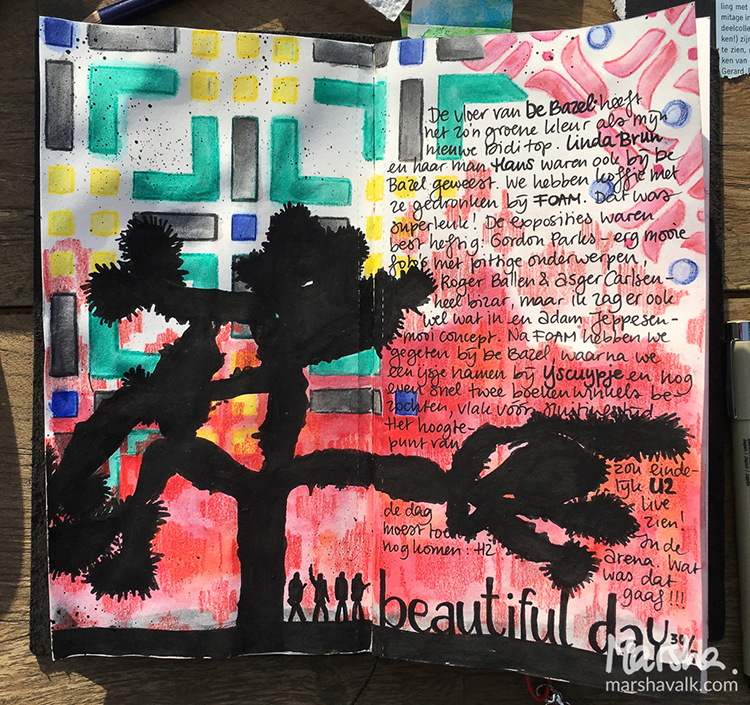 It was super relaxing to create like this, with limited supplies, having to pause to wait until the watercolour was dry. And I especially love that I have this particular day recorded in a journal now!
---
Thank you Marsha for sharing your vision of an Artful Adventure in Amsterdam! In addition to her sketchbook, Marsha used the following supplies (some are affiliate links):
Play along with us too: I love to see how you interpret our monthly themes. Email me how you used my stencils and stamps with the theme and email me an image – I would love to share your projects in my "n*Spiration From Around the Globe".