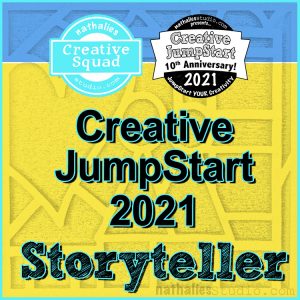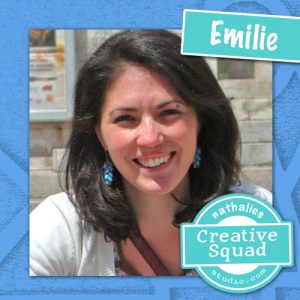 Hello from my Creative Squad! We have a fantastic mixed media painting from Emilie Murphy who is using my CJS21 limited edition foam stamp Love Story, my Star Struck stencil, and our theme: Storyteller – This month we're playing along with Creative JumpStart 2021 and the theme Storyteller. We're using our artwork, our color and material choices, and our personal style to tell a Love Story.
---
"Love with all your heart"
Hi there! And Happy New Year everyone!
Let's start the year off by playing along with Creative JumpStart 2021 using the limited edition "Love Story" foam stamp. I decided to paint a simple illustration with watercolors. So let's jump!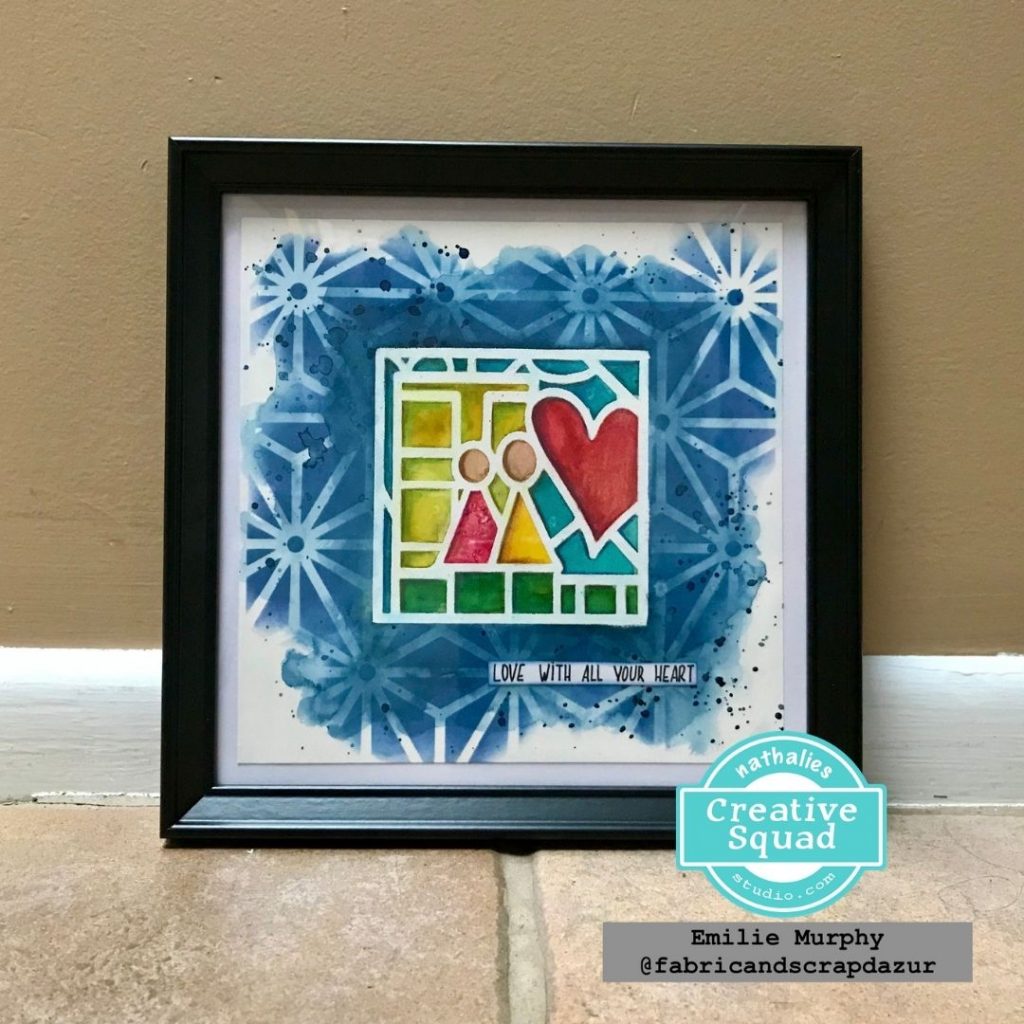 I worked on an 8×8 piece of Hot Press watercolor paper, because I wanted to have a smooth surface but it will also work great on cold press watercolor paper as well.
The first thing I did was to apply VersaMark ink on my Love Story foam stamp to emboss it with white embossing powder. That's a great technique of "resist" when using watercolors.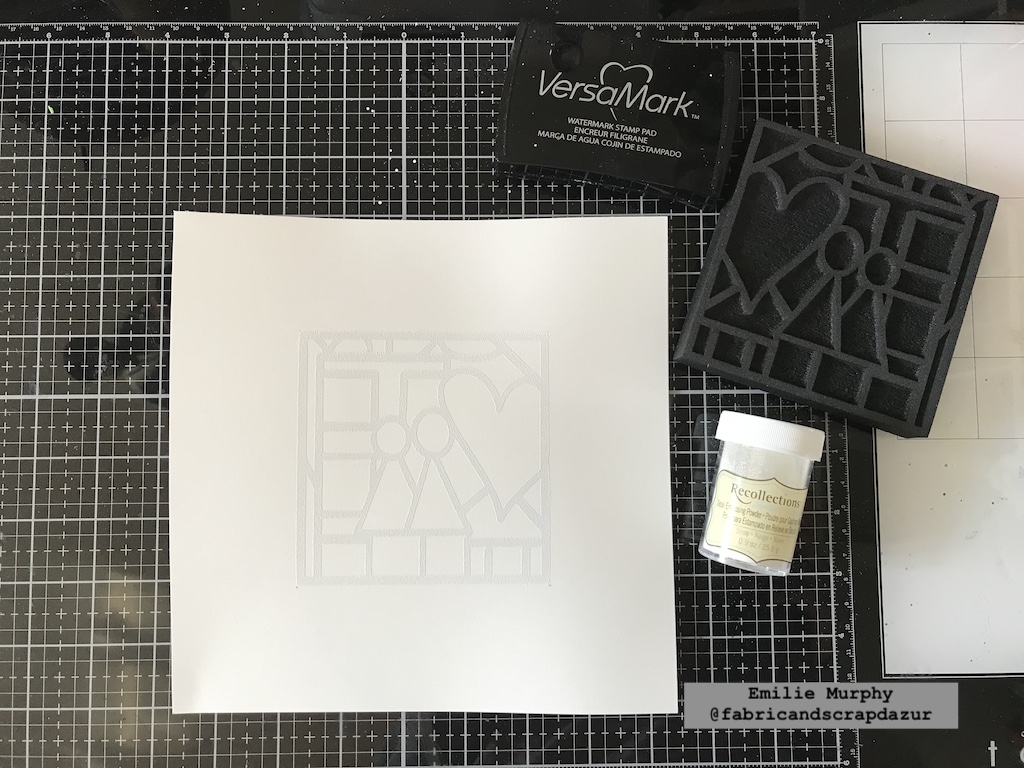 Next, I painted the interior of the stamp with bright watercolors. Don't hesitate to apply enough watercolor pigment because the watercolors get lighter when it dries. I sprinkled some salt on the pink triangle shape to add some texture. I did the same thing on the heart but it didn't show up when it dried. Probably because my surface was too wet and/or I didn't put enough salt on it. Just so you know.
Salt is a nice way to add texture, which adds a little bit of interest when using with watercolors.
I let dry, then, I applied some indigo watercolor to the exterior. I left some white space on purpose and added more watercolor pigment along the exterior edges of the stamp.
What I recommend is to work in layers. First, apply a layer of watercolor, let it dry slightly, then add some more and so on.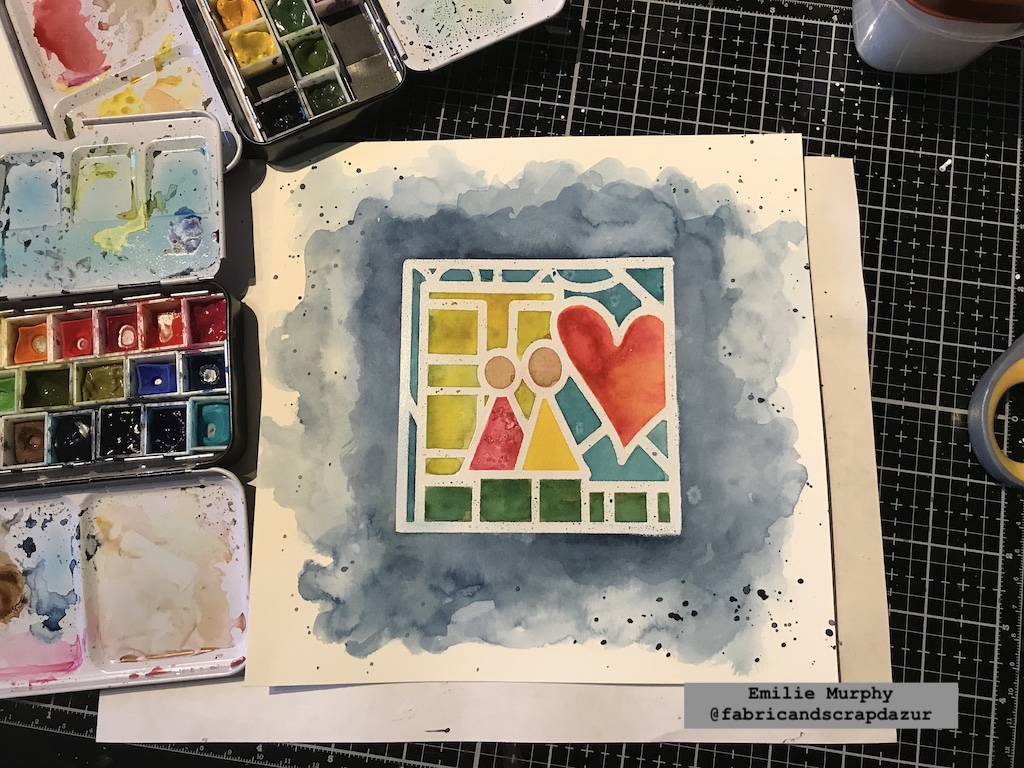 To add some interest to the background, I laid down the "Star Struck" stencil and applied some "Faded Jeans" Oxide ink with a foam applicator, only over the layer of watercolor. I slightly went over the top right corner and bottom just to give an irregular look while still leaving white space.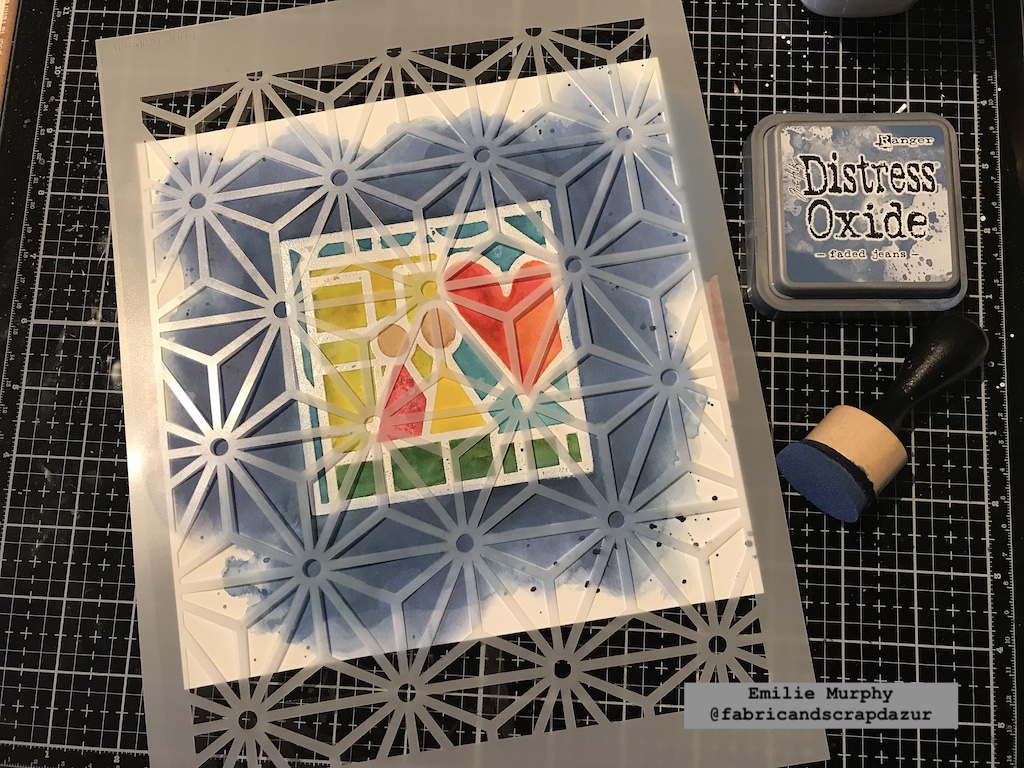 I really love the result. The distress or oxide inks work beautifully with watercolors.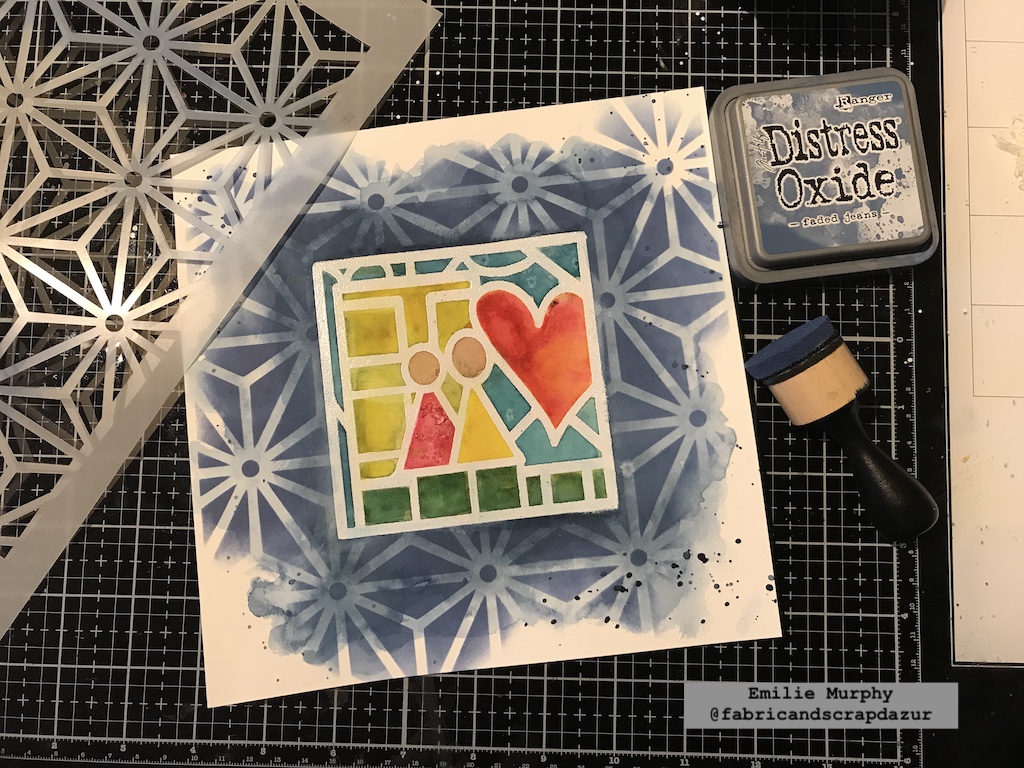 At that point, my painting needed a title. I simply wrote down by hand the sentiment on a piece of white cardstock. I chose the uppercase style by preference.
I slightly inked the edges of my sentiment with some oxide ink. Before gluing it down, I applied some splatters with indigo watercolor hiding my stamp image.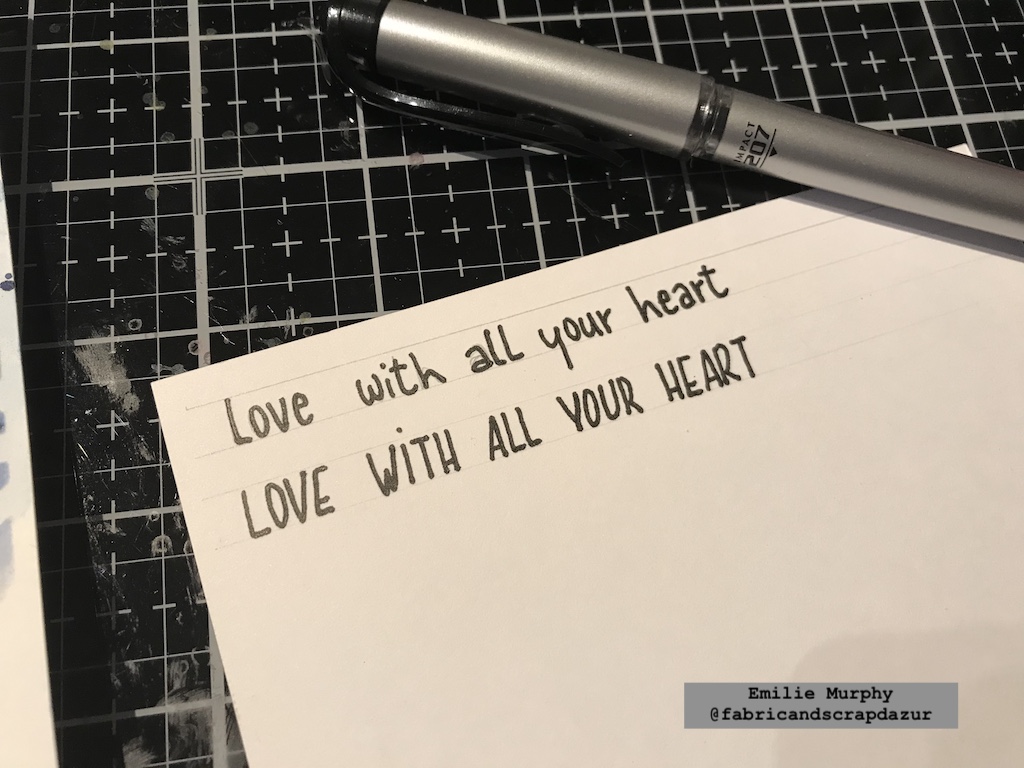 Finally I used some watercolor pencils to add some depth to the image and get a dimensional effect. I first applied a similar color inside each shape to get more depth. Then, I used a brown color to enhance the left and top edges of each shape to get the dimensional effect.
And voila!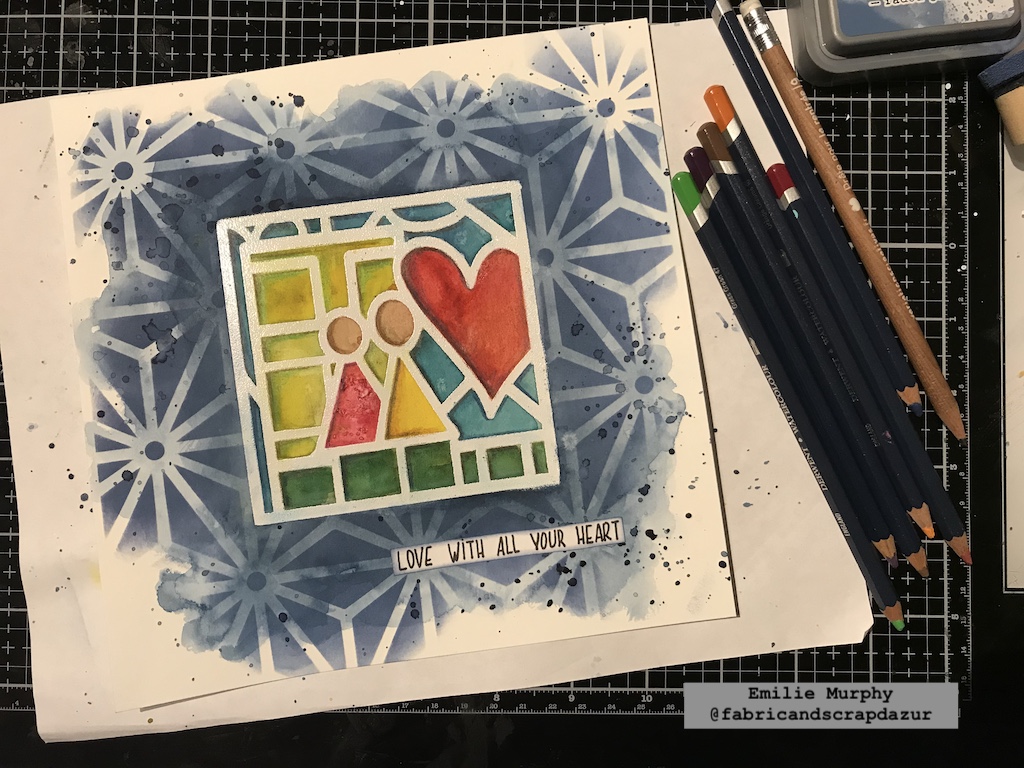 I decided to frame this painting and put it in my son's bedroom. This painting can make a great gift for someone you love.
It would make a nice greeting card or art journal page as well or whatever you'd like to try and make.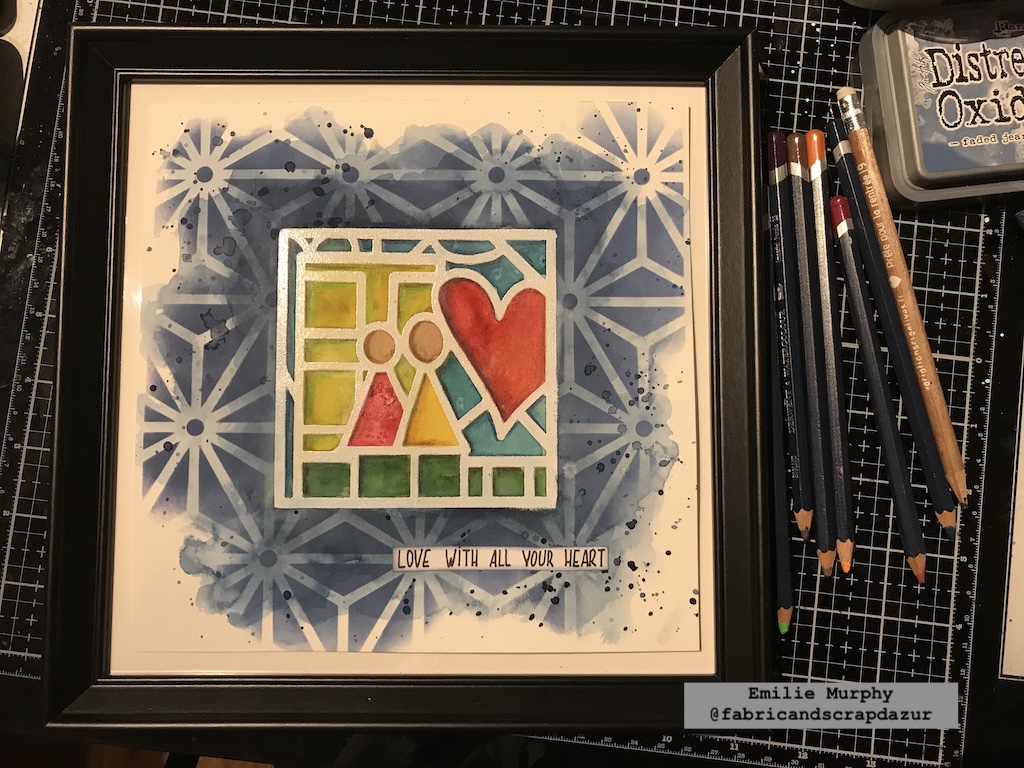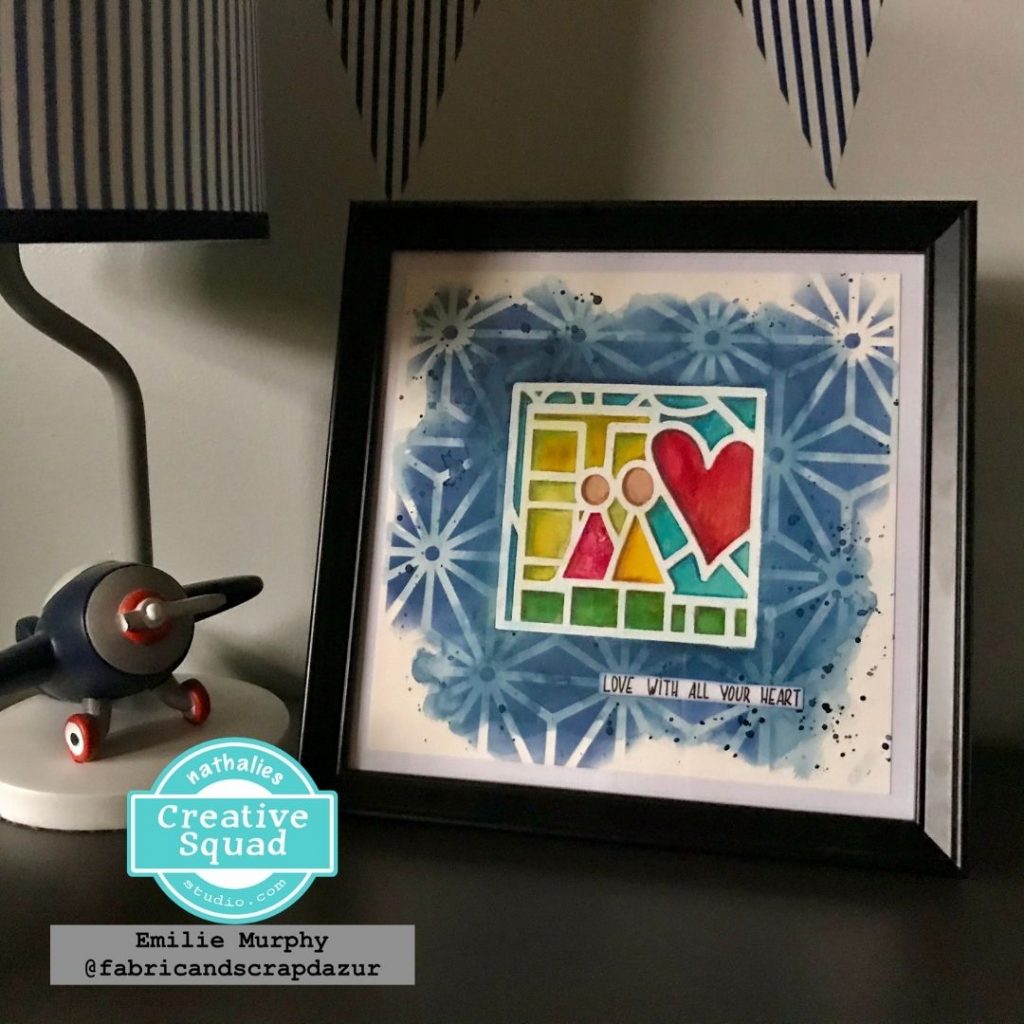 Hope it gets you inspired. What about starting the year of 2021 with some fun and creativity!
Have a good rest of the week and see you next month!
---
Thank you Emilie – absolutely love this piece and that it now has a place in your son's room – lovely!
Give it a try: you can find all my Foam Stamps and Stencils in my Online Shop and here are some of the supplies Emilie used: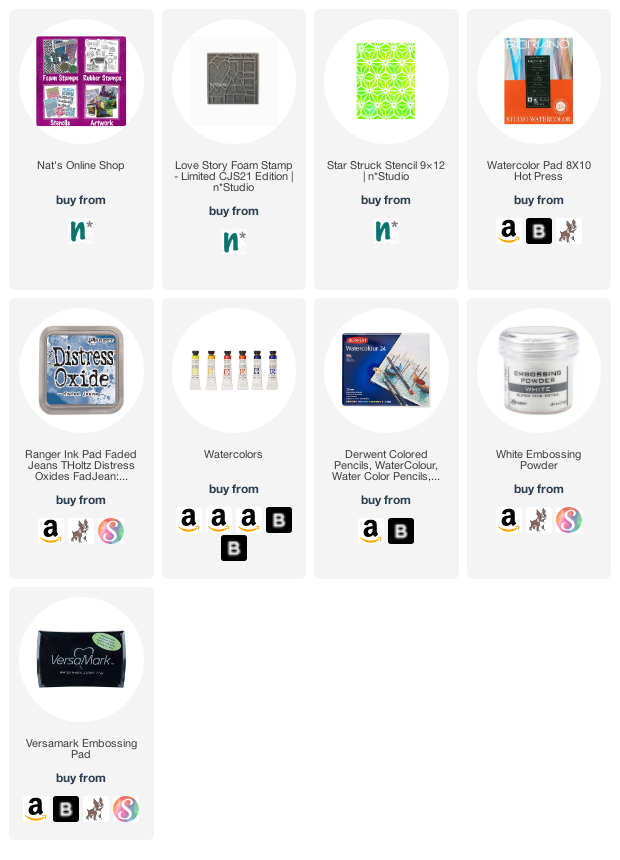 Don't forget to check out Nat's Creative Squad on Instagram too: Each week we post projects, ideas, and inspiration for mixed media art.