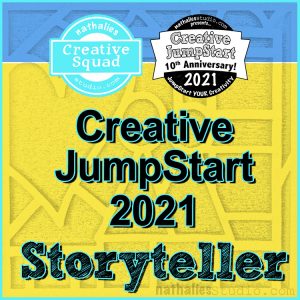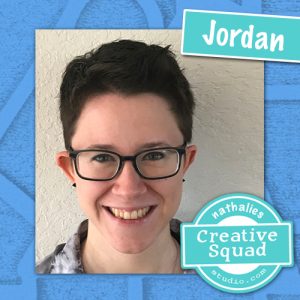 Hello from my Creative Squad! Today we are jumping with Jordan Hill, who is using my Love Story foam stamp and Art Deco Empire stencil to tell a story in her art journal. This month's theme is: Storyteller – This month we're playing along with Creative JumpStart 2021 and the theme Storyteller. We're using our artwork, our color and material choices, and our personal style to tell a Love Story.
---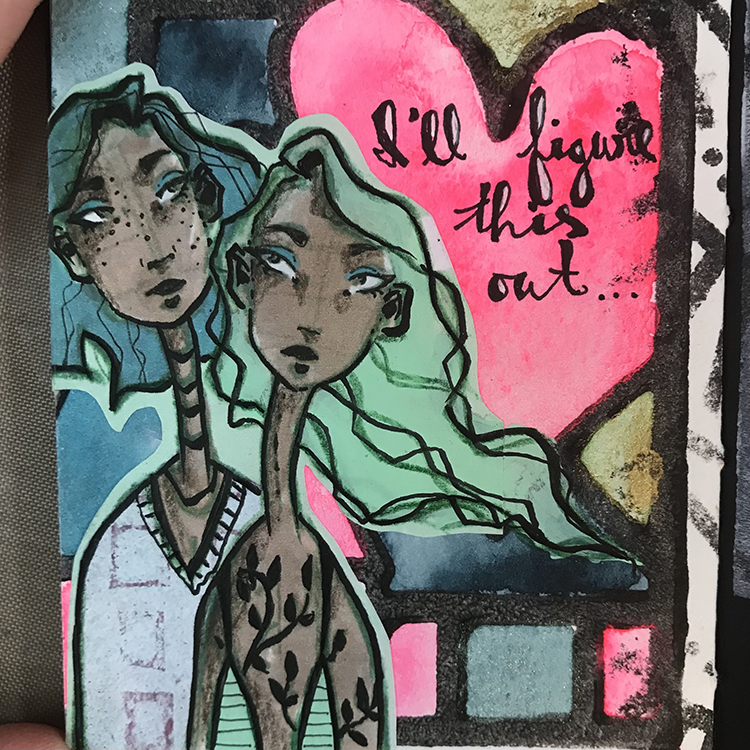 Hello everyone, I'm super excited to be back with my project for this month's theme of storyteller!
For this particular prompt, I did quite a lot of reflection before I actually got to work. The word 'storyteller' is so incredibly complex and can mean so many different things, I wanted to make sure I was accurately portraying what it means to me. When I think of the word 'storyteller', the main theme that comes to mind is the idea of a journey.
My work is a collection of a variety of things that are important and have meaning to me, many of which I have collected over my own journey as a creative person. This collection of ideas is a representation of my story as an artist, and that's what I wanted to try to express in this month's project. Let's get into it!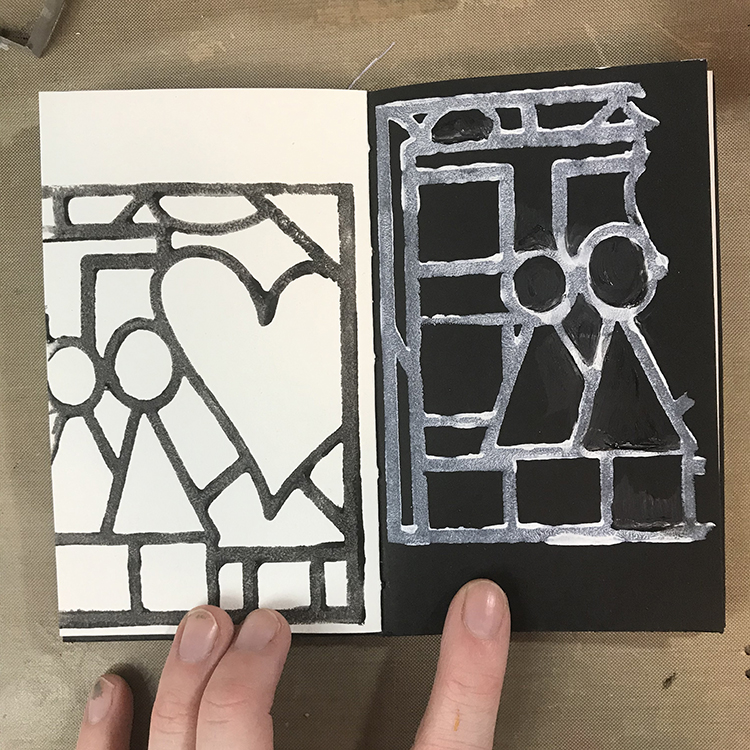 The first thing I did in order to get this page started was pick out a fresh spread in one of my art journals (I chose the journal I created for last month's project – one of the many parts of my creative journey). Then, using Nathalie's "Love Story" Foam Stamp, I stamped the design twice, once on each page. On the white page, I used black acrylic paint, and on the black page I used white. This gave me a fun starting point!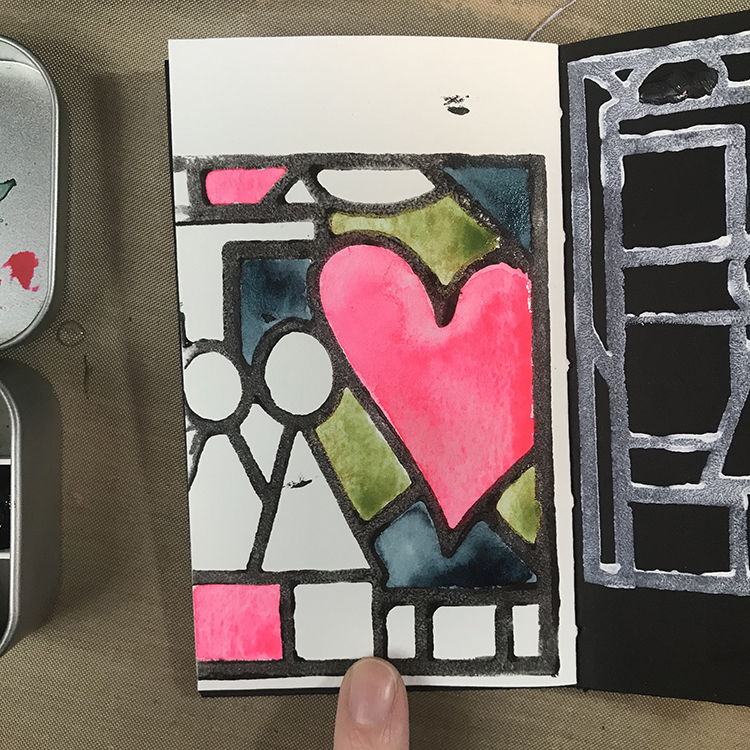 Next up, I knew that I wanted to fill in some of the different spaces with watercolor. The colors I used for this spread were primarily handmade watercolors that I made myself, which is another step in my story that I wanted to document.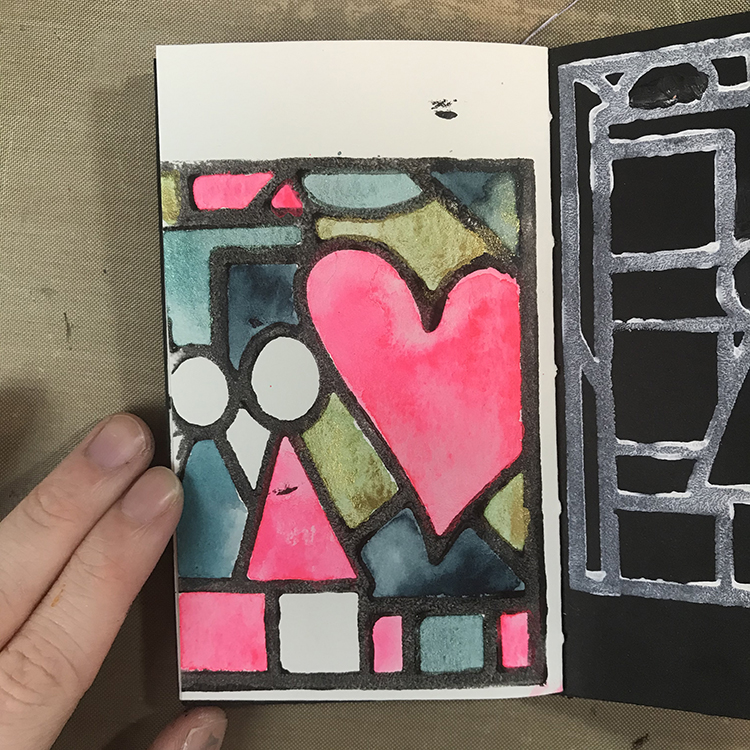 I didn't fill in all of the sections, since I knew I was going to add a piece of collage on top. As I was filling in the spaces, I tried to incorporate the same colors in several different areas in order to keep everything cohesive and lead your eye around the page.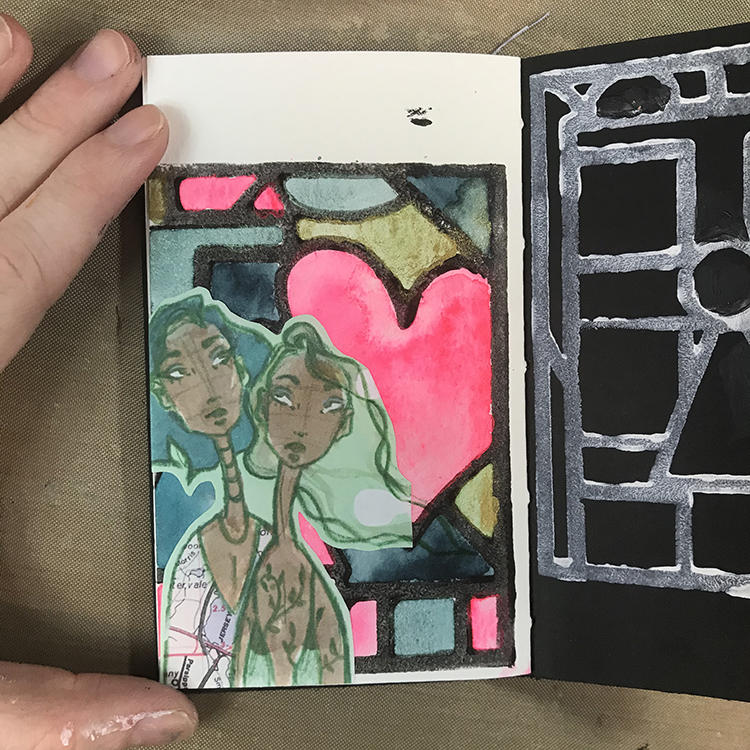 After the watercolor was completely dry, I glued down a piece of collage that was yet another part of my story. This particular image was a previous mixed media piece that I scanned in and printed out to reuse in future work.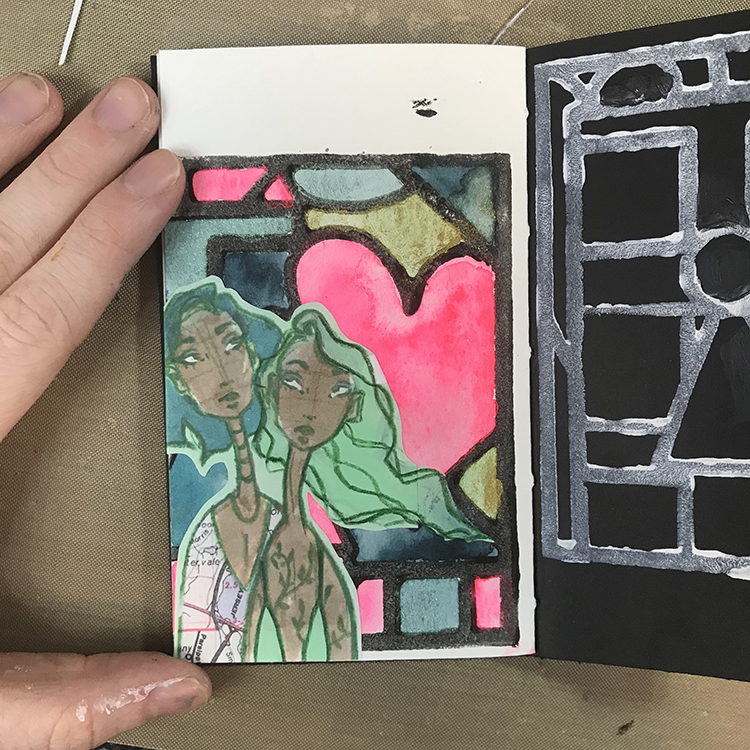 Once the collage piece was glued down, I wanted to incorporate it a bit better into the page. The first thing I did in order to achieve this was extend the shape of the hair. When I was cutting out my image, the figure on the right had hair that ended in a straight line. Using the same color of acrylic paint, I extended the lines of the girl's hair. I also added some of the same acrylic paint to that girl's shirt. I then used a colored pencil to redefine some of the lines that I had lost through adding paint.
Once I was happy with the hair, I then got to work on the details. First, I used Nathalie's "Art Deco Empire" stencil to add some additional interest to the areas of the background (primarily the top and side) that hadn't received a lot of love yet. I really like the way this stencil ended up looking like an extension of the original stamped image.
Next, I cut a piece of gelli printed paper to use for the shirt for the girl on the left. The map piece I had used for the original illustration wasn't working for me anymore and I felt this choice was a lot more neutral. Then, using an ink pen, I started adding details. I traced over almost all of the original line work I had done in pencil and added some stripes and a collar to the shirts. I also gave the girl on the left freckles where she didn't have them before.
This is also the stage where I added words; these ones are words I pulled from a journal where I simply dump my thoughts. As I wanted to continue the idea of the "storyteller" theme, I scanned through and latched onto this particular group of words. It just felt fitting.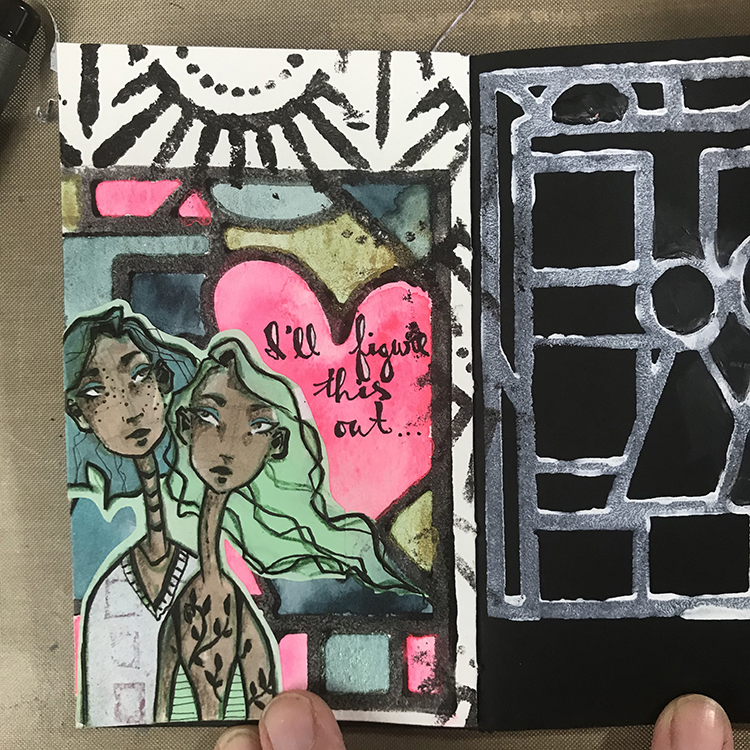 For the final details, I added some colored pencil to the shadowed areas of the faces and traced over the (originally green) vine tattoos of the figure on the right with an ink pen. This gave the figures the final amount of depth I felt they needed in order to call them done!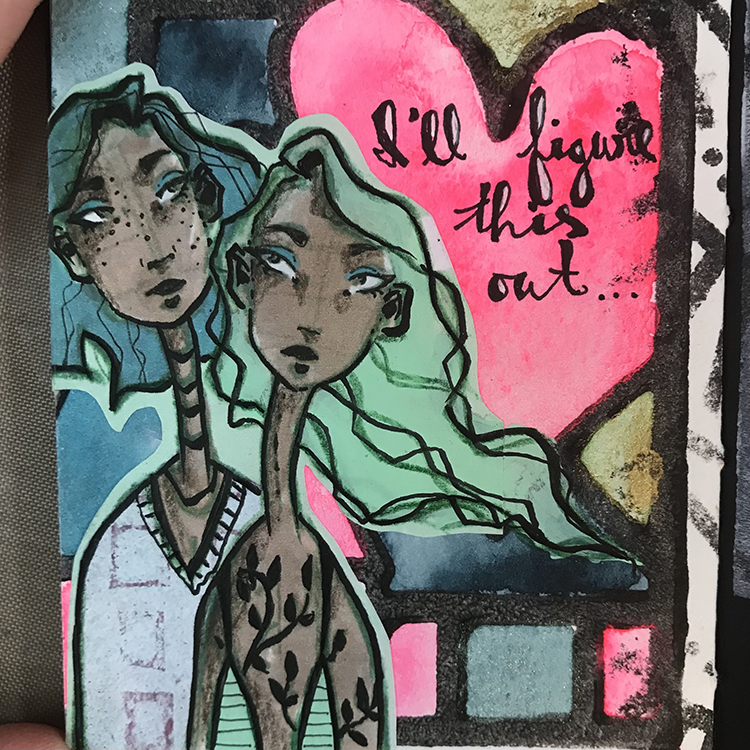 In the end, I think that the combination of the stamped image and the watercolors as a background is very interesting and it reminds me of stained glass, which I like. I hope you enjoyed my project for this month and consider giving it a try yourself!
---
Thank you Jordan – love the combination of the bold stamped background with your detailed collage element figures!
Give it a try: you can find all my Foam Stamps and Stencils in my Online Shop and in addition to her collage element, here are some of the supplies Jordan used: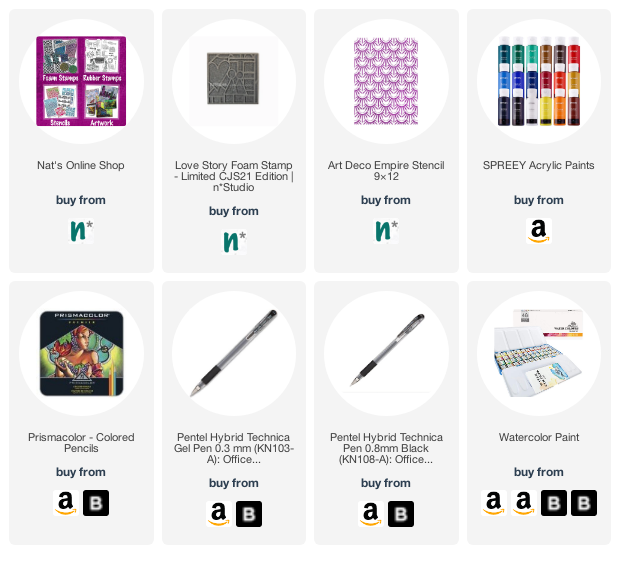 Don't forget to check out Nat's Creative Squad on Instagram too: Each week we post projects, ideas, and inspiration for mixed media art.