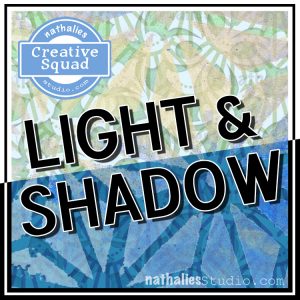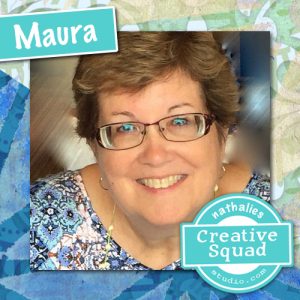 Hello from my Creative Squad! Today we are kicking off a new monthly theme with Maura Hibbitts. She is bringing us some lovely holiday cards in some perhaps untraditional colors, shaking things up to finish up 2020 with my Star Struck, Toledo, and Santiago 4×4 stencils, my Small Circle Jumble rubber stamps, and our theme: Light & Shadow – In art and maybe also in life, the balance between light and shadow is an important consideration. Play with this equilibrium in your art and show us how the two sides work together.
---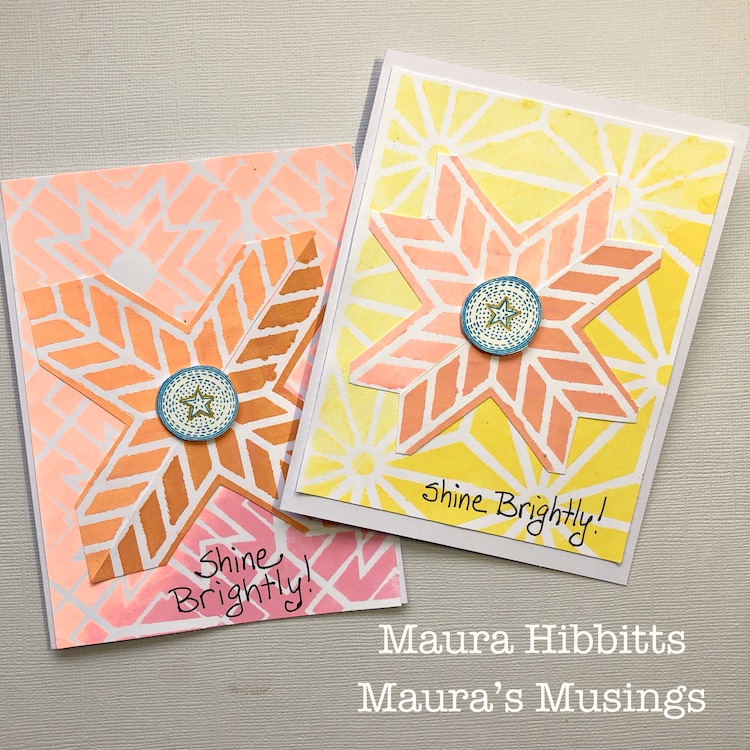 Light and Shadow, dark and light…as the days get shorter and the shadows longer I'm feeling the need for more light in my life. I watch the strip of sunlight on my deck railing in the morning outside of my work window (It was all lit in the summer), and then the shadows as they expand across the yard during the day. Each day will get shorter until the Winter Solstice on December 21. This year, more than ever, I am looking forward to our shift again to more daylight. These thoughts also prompted me to challenge myself to work with bright colors that I would not normally choose – yellow and pink. So, I've ended up making eight holiday cards in very non-traditional colors, check it out.
I started by going through my stash and pulling out paints in varying shades of pink and yellow, so I would have a blend from dark to light.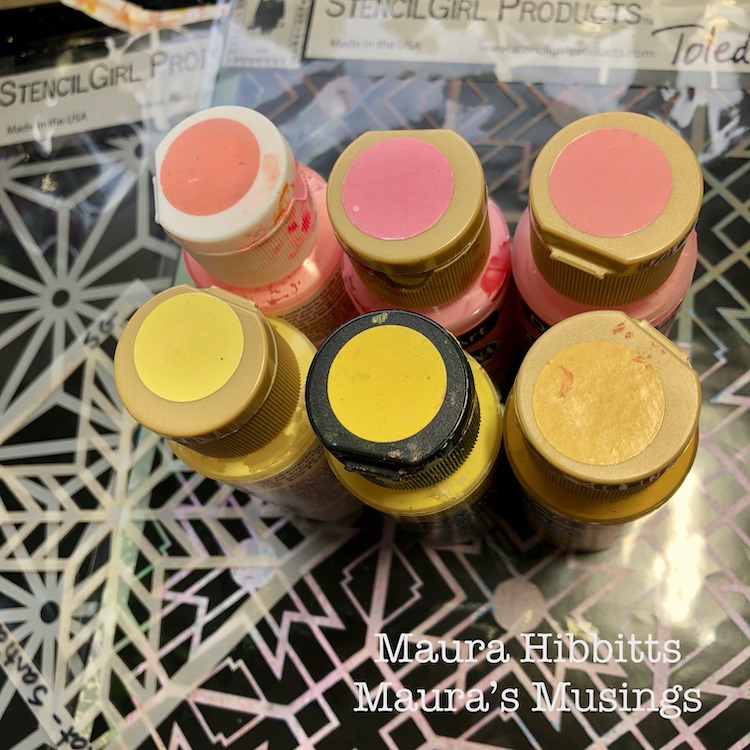 Nat's Star Struck stencil seemed to call for the yellows, so I dabbed the colors in with a cosmetic sponge onto white cardstock, starting with the lightest in the top left, and working my way to the darkest in the lower right. Light and shadow, along with a bit of ombre.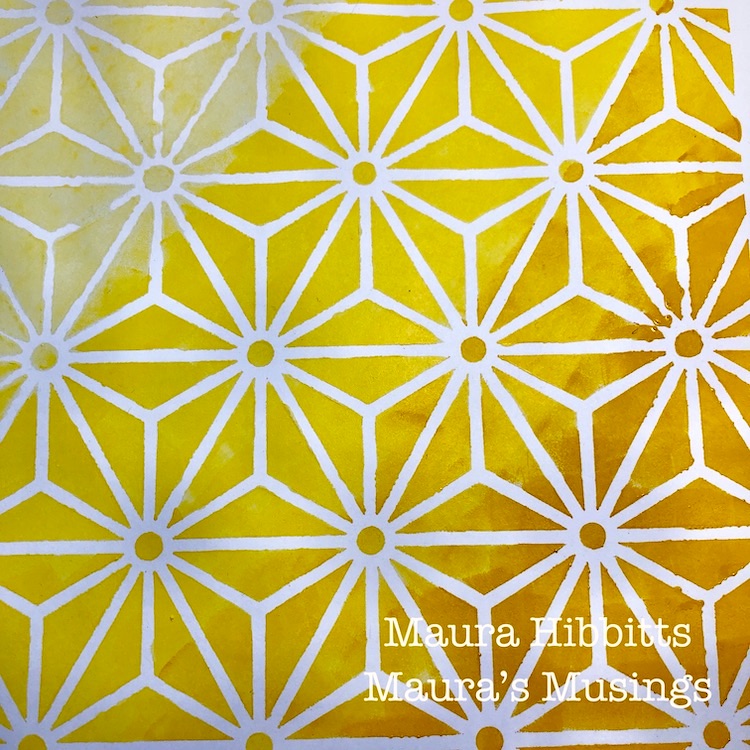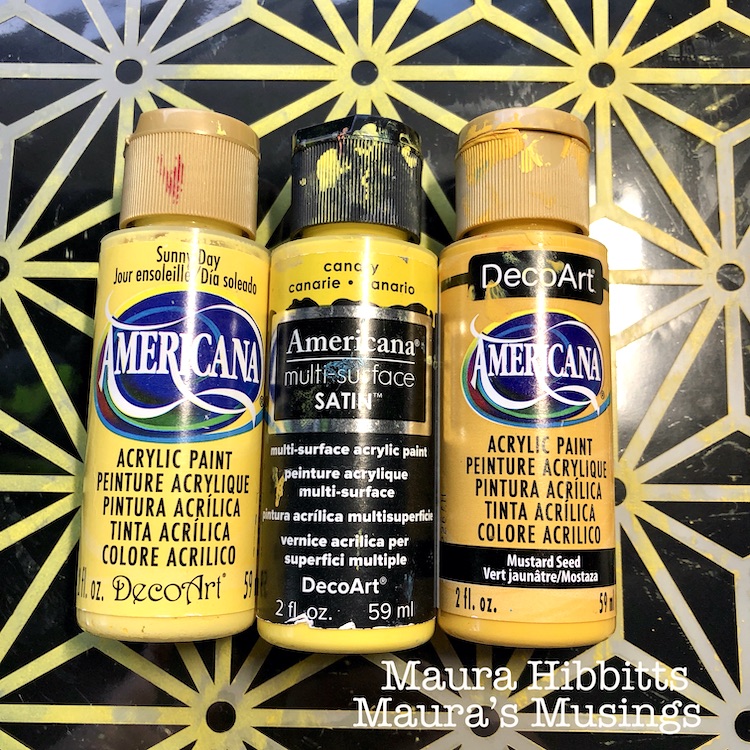 Next up are the pinks. where I repeated the previous step, only this time I used Nat's Toledo stencil.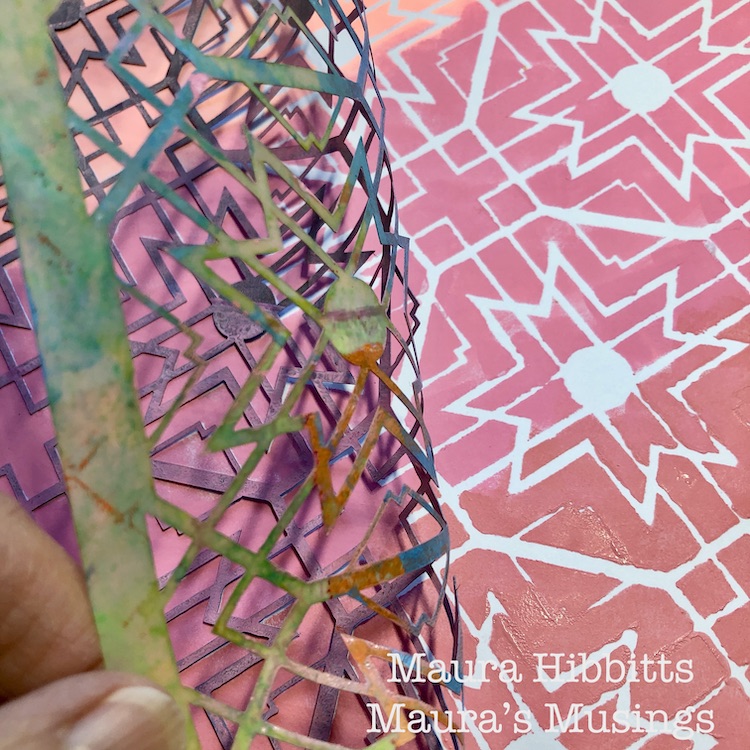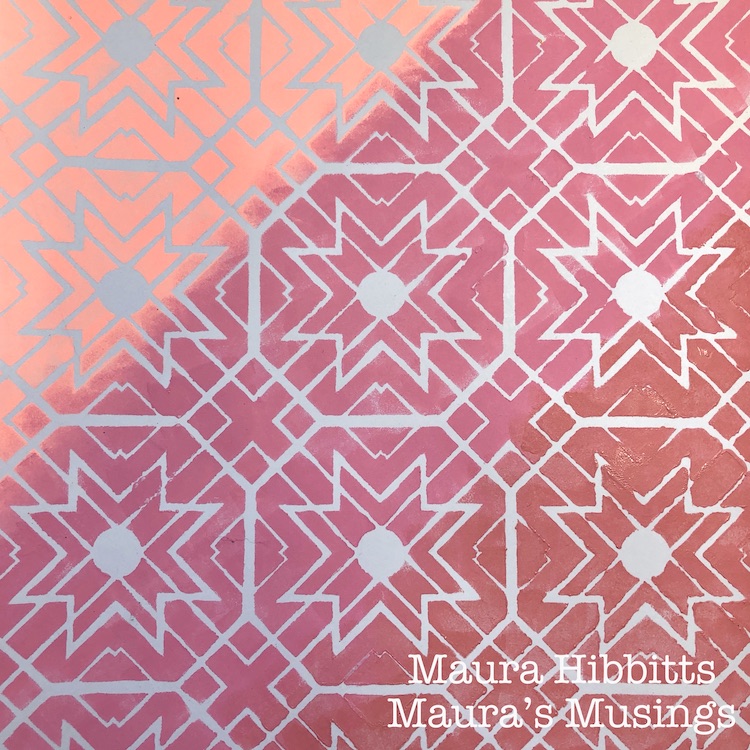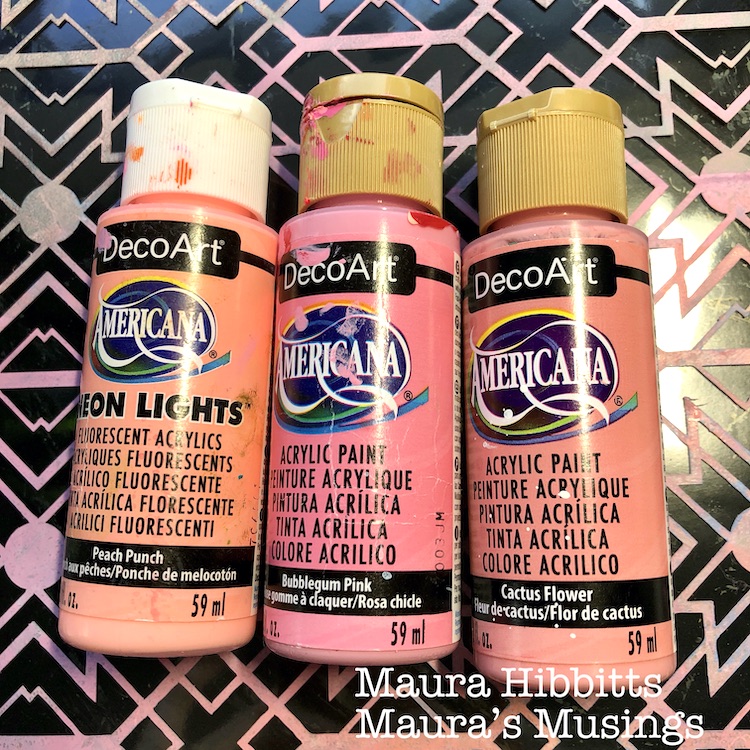 I decided I wanted to create a focal point, so I mixed varying shades of peach and orange, by blending the yellows and pinks, and used Nat's Santiago 4×4 stencil. My goal was to have a mix of light and dark (shadow) shades.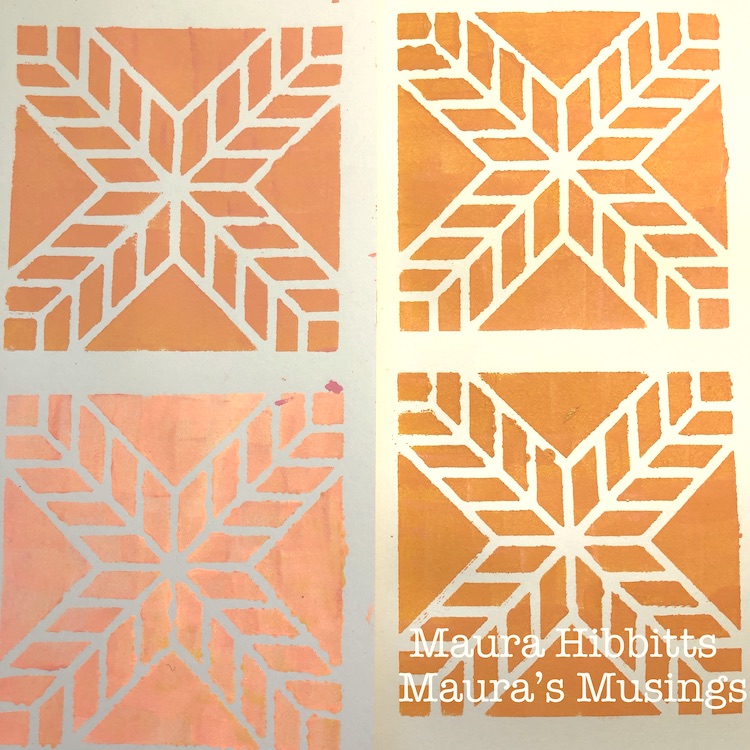 Now that everything is painted and stenciled, it's time to start building the cards. I cut the large sheets of stenciled yellows and pinks into fourths to use as the card background. Next, I cut out the Santiago mini squares, and cut them diagonally in half. I laid the two parts together, decided I wanted more of the background to show, so cut out parts of the smaller stenciled papers. I glued the papers onto the cards using a PVA glue.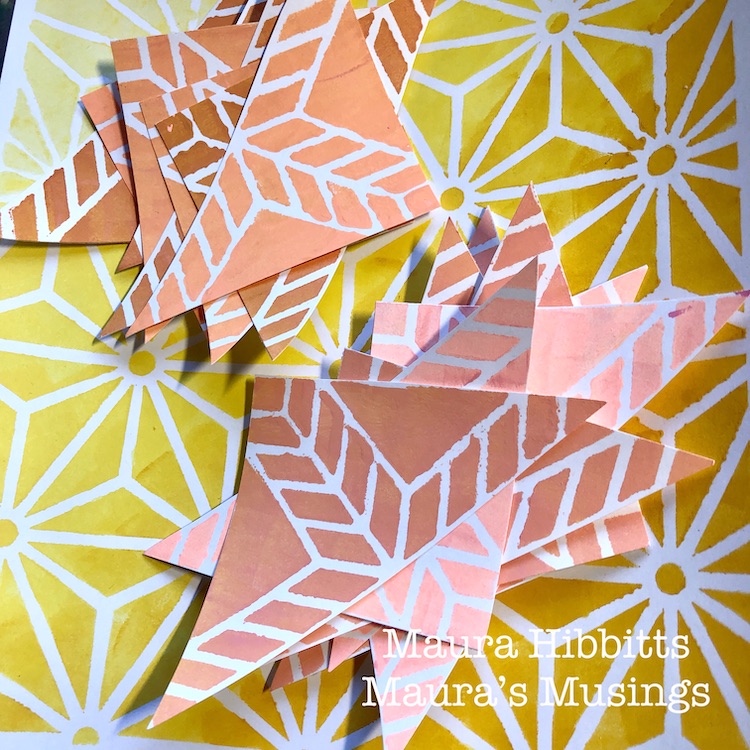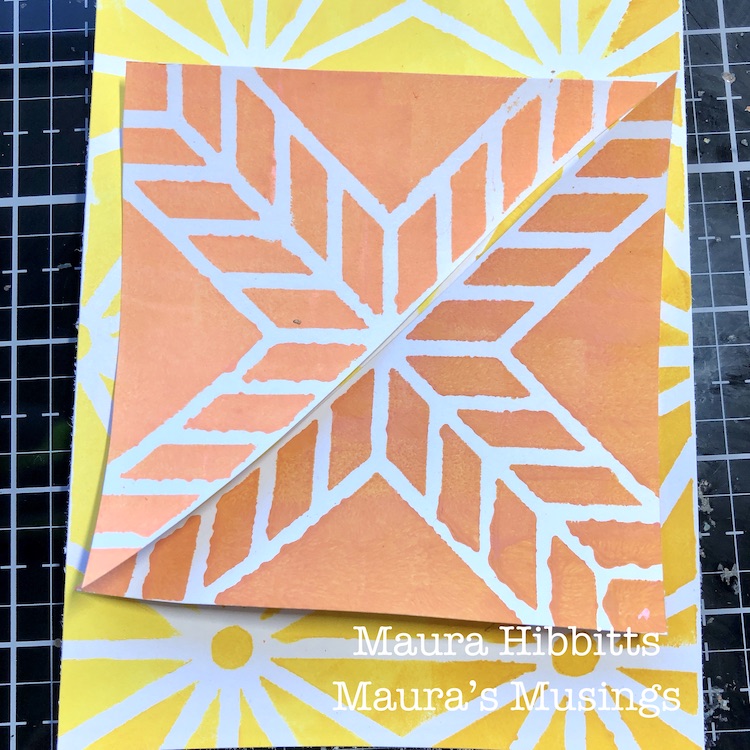 I felt that I needed one more pop of color, so I stamped Nat's Circle Drive Positive small stamp onto watercolor paper with blue ink. I cut these out and popped them up on the center.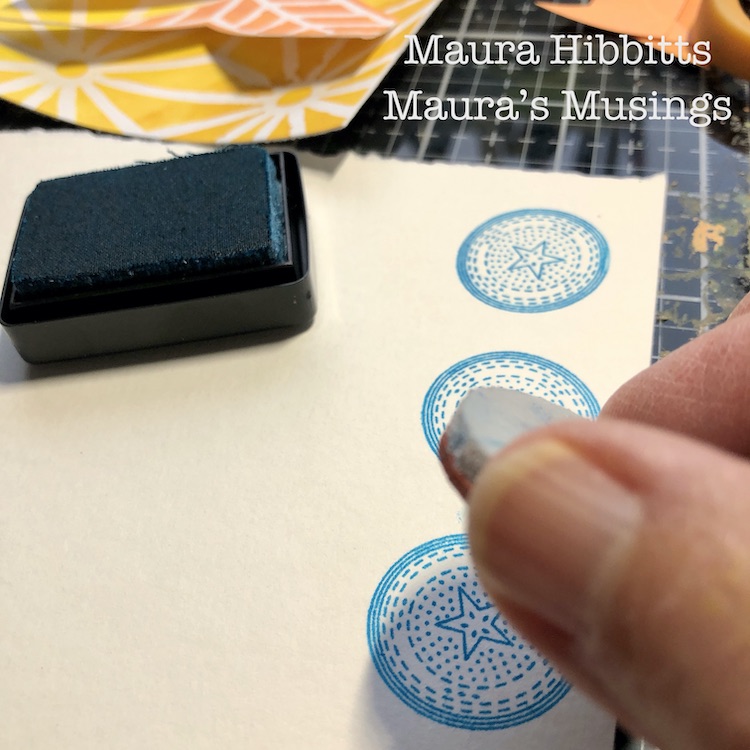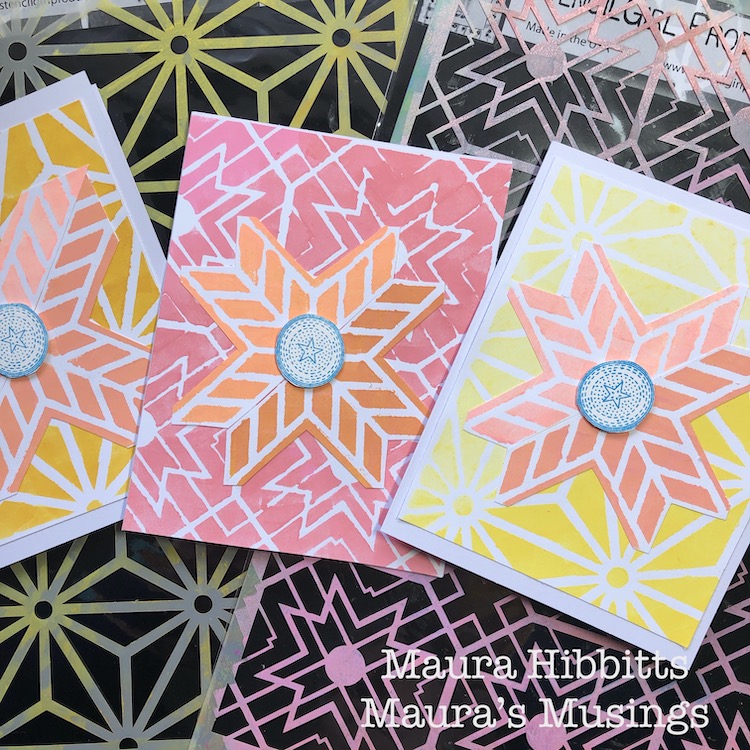 Now for the final touches – a bit of sparkle with a gold pen, where I outlined the star shape, and hand lettered words "Shine Brightly!" I love to use a Platinum Carbon ink pen over dry paint, but any permanent black pen will work.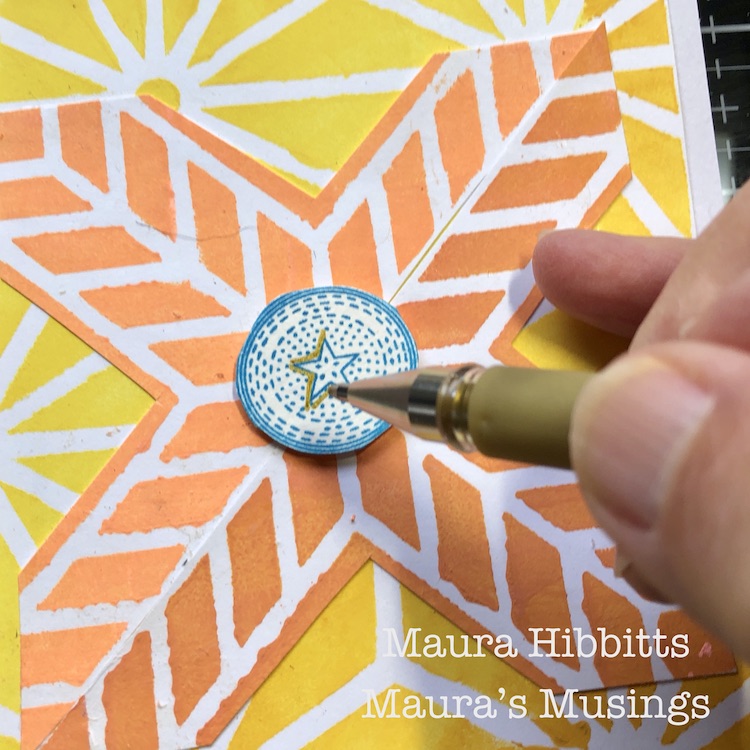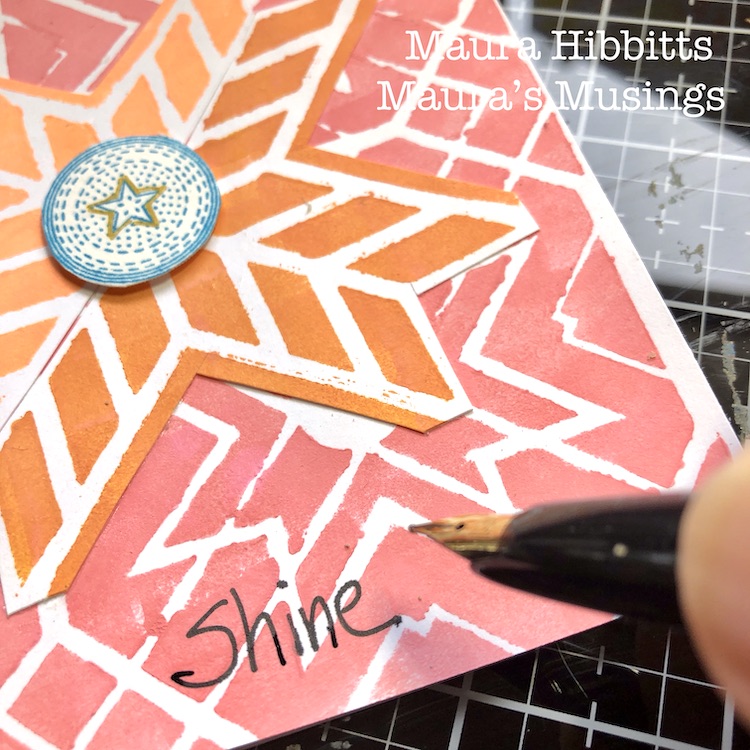 I aimed to use the colors to give a feel of light and shadow, so I worked both the background and focal piece from lightest on the top left, to darkest on the bottom right. What do you think, did it work?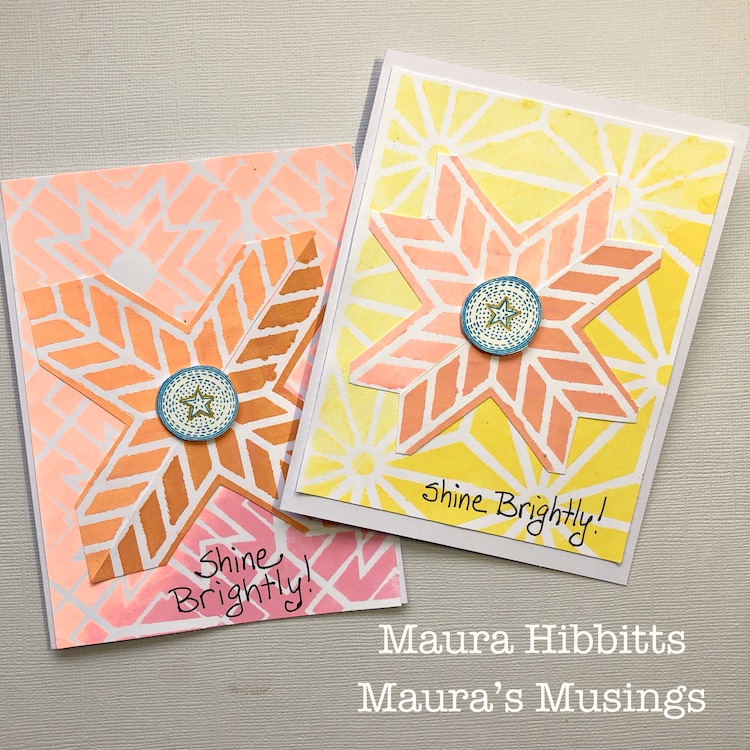 And there you have it, a set of eight cards in a bright array of yellows and pinks. These might be very non-traditional Christmas cards, or maybe Solstice cards. Another thought is to save them, and randomly send them out in the dark days of winter to bring a ray of light to someone. I hope this inspires you to observe the light and shadow in your life and let it guide your creative endeavors. Wishing you health, joy, and light this holiday season! – Maura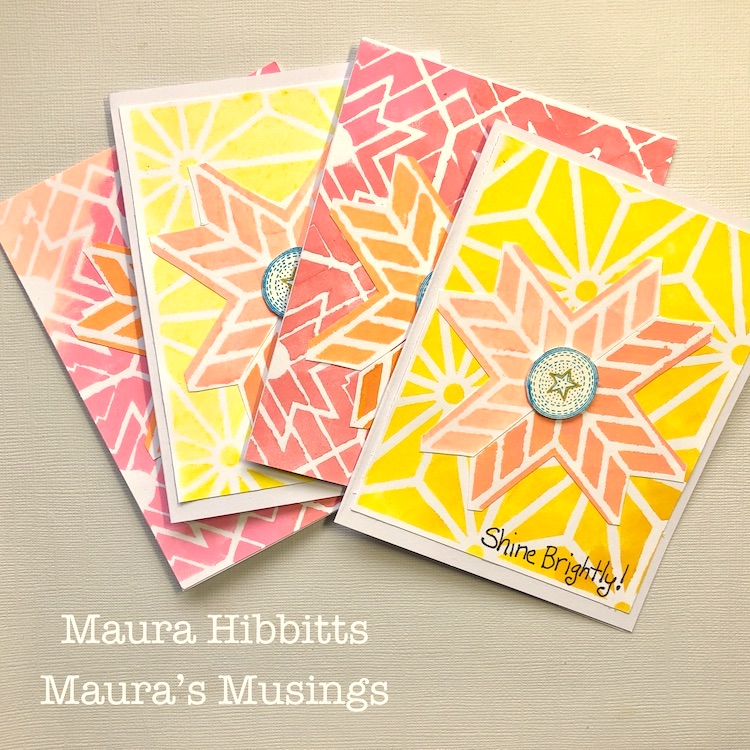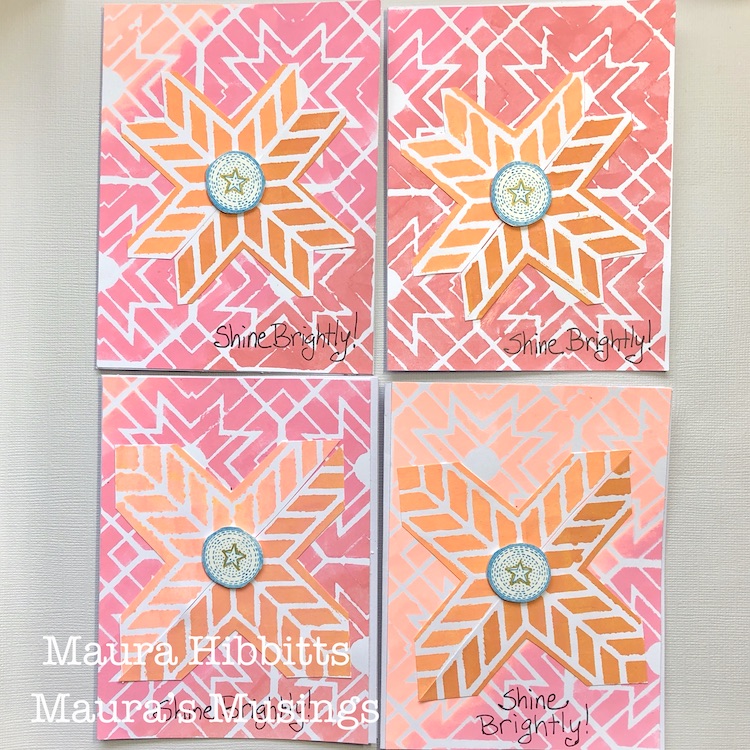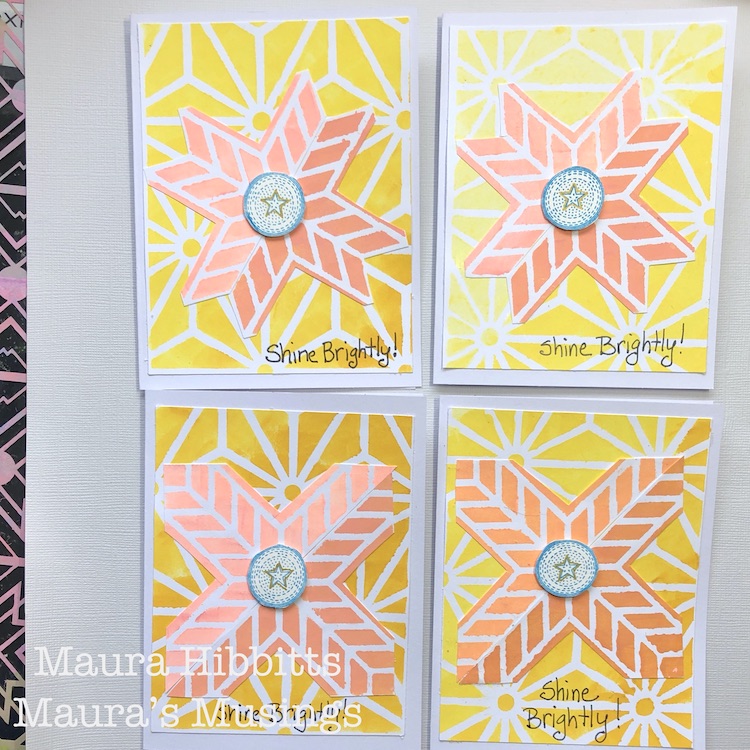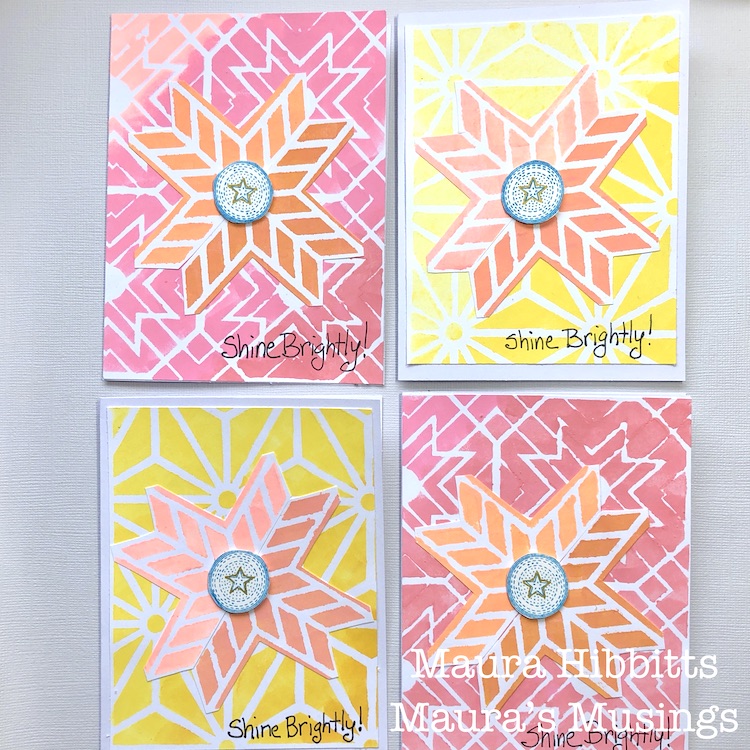 ---
Thank you Maura! We love how your colors make these patterns pop. And nontraditional holiday colors seem perfect for this crazy year :)
Give it a try: you can find all my Rubber Stamps and Stencils in my Online Shop and here are some of the other supplies Maura used:

Don't forget to check out Nat's Creative Squad on Instagram too: Each week we post projects, ideas, and inspiration for mixed media art.